Picture this: you're a busy entrepreneur running a thriving service-based business, your clients adore you, and your appointment book is filled to the brim. One day, as you're juggling multiple calls and sticky notes, it dawns on you: there has to be a better way to handle your schedule and grow your business without drowning in the chaos.
Imagine having a well-oiled machine where clients can effortlessly book available time slots and seamlessly integrate video conferencing for remote appointments. It's like having a personal assistant that never sleeps, takes coffee breaks, or makes typos. In this article, we'll discover the ins and outs of creating a customized scheduling app for your business. We'll cover the essential steps and considerations, from ideation to execution, to ensure your app is tailor-made for success.
Now, you might wonder who we are to talk about this topic and why you should care to learn about it from us. We're IntelliSoft, an IT company with a long-standing presence in the market and a proven track record of delivering successful business projects. With expertise in multiple industries, including healthcare, logistics, IoT, MarTech, legal, and EdTech, we have the knowledge and experience to guide you through developing the best scheduling app for your business.
Get ready to dive into scheduling app development with us as your trusty guide. By the end of this journey, you'll be well-equipped to take your business to new heights with a custom app that streamlines your scheduling, delights your clients, and, ultimately, boosts your bottom line.
Crafting the Ultimate Schedule App for Your Business: Why Should You Bother?
Why do businesses need meeting scheduling apps? A scheduling app helps with schedule management, real-time communication, shift management, analytics, and reporting. It enables businesses to optimize internal processes, ensure clear interaction between departments and employees, and maintain seamless client communication.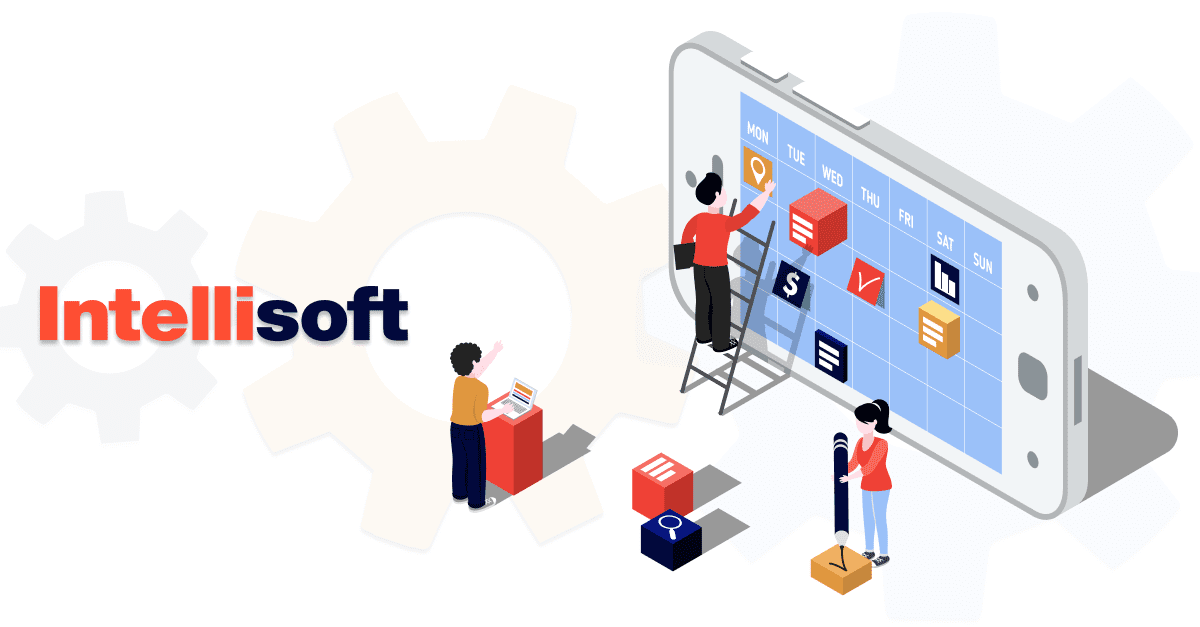 The Power of Feature-Rich Functionality
All the scheduling apps on the market seem to be missing something special, don't they? With a custom-made solution, you can add more features, advanced functionality, integration with existing business ecosystems, and anything else your specific business requires. By creating the perfect application tailored to your needs, you'll not only make life easier for yourself but also attract others who've been searching for the same solution. Ready-made solutions may not fully cater to your company's unique needs, so creating a custom business scheduling app that covers all your requirements is the way to go.
Keeping Your Data Fortress Secure
Nobody wants to experience the "thrill" of a personal data leak. While scheduling app developers are incredibly cautious about security, ensuring that only authorized parties can access sensitive information is challenging. By building your own scheduling app, you become the guardian of your data fortress, taking charge of security and keeping your business and clients safe.
Unleashing the Potential of Customization
Imagine your business sporting its own scheduling app – now that's a showstopper. You'll have a unique platform tailored to your specific internal processes, streamlining meetings management, tracking progress, enhancing communication between employees, partners, and customers, and controlling workload and budgeting. This powerful tool will give you the insights you need for a more efficient and smoothly running company.
From integrating with existing tools like Google Calendar to offering iOS, Android, and web applications for ease of use, a tailored scheduling app will provide transparency in booking, real-time synchronization, an intuitive interface, and quality-of-life features that'll make your business stand out.
The Benefits of Scheduling Apps
As a business owner, have you ever found yourself drowning in a sea of appointments, struggling to keep track of them all? Or perhaps you've experienced the annoyance of no-shows and last-minute cancellations? There is a solution. A scheduling app can easily solve these problems. Let's review the benefits of using a scheduling app.
Boosting Efficiency and Saving Precious Time
Every minute is a scarce resource in today's fast-paced world, and as the saying goes, time is money. Integrating a scheduling app into your business can save you and your employees countless hours otherwise spent juggling appointments, manually updating calendars, and fielding endless calls and emails.
A scheduling app automates the booking process, allowing clients to book, reschedule, or cancel appointments with just a few clicks. It'll keep you and your staff in the loop with real-time updates and notifications, ensuring everyone is on the same page. This streamlined process frees up time for you to focus on your core objective: providing top-notch services to your clients and growing your business.
Moreover, a scheduling app can help you manage your resources more effectively. It can analyze your business's peak and off-peak hours, enabling you to allocate staff and resources accordingly. By optimizing your operations, you'll not only save time but also increase your bottom line.
Enhancing Communication and Collaboration
In any business, clear communication is the backbone of success. Scheduling apps facilitate improved communication and collaboration between employees, departments, and external partners.
A scheduling app ensures that everyone stays informed and connected by consolidating all appointments, meetings, and events into a single, easy-to-use platform. It enables online calendar scheduling, setting up team meetings, and assigning tasks with just a few clicks, keeping everyone on the same page.
Moreover, most scheduling apps have built-in messaging and notification systems, allowing instant communication and updates. It eliminates the need for endless back-and-forth emails and phone calls, providing immediate relief for you and your team.
Some scheduling apps integrate with popular communication tools like Slack or Microsoft Teams, further enhancing collaboration and simplifying workflows. With a scheduling app in your corner, you can foster a more harmonious and efficient work environment, setting your business up for success.
A No-Show No More: Tackling the Cancellations
We've all experienced the frustration of no-shows and last-minute cancellations. They can disrupt your carefully planned schedule, waste valuable time and resources, and ultimately impact your bottom line. Luckily, scheduling apps can help you tackle this problem head-on.
By automating appointment reminders and confirmations, a scheduling app ensures that your clients are well aware of their upcoming appointments. These gentle nudges can significantly reduce the number of no-shows and last-minute cancellations, keeping your schedule running smoothly.
Moreover, a scheduling app can help you implement a cancellation policy that works best for your business. For example, you can set up rules requiring clients to provide a certain amount of notice if they wish to cancel an appointment or even charge a cancellation fee for last-minute changes. This approach not only discourages no-shows but also recoups some of the lost revenue.
Additionally, a scheduling app can help you make the most of unexpected gaps in your schedule. When a cancellation does occur, the app can automatically notify clients on a waiting list, offering them the opportunity to grab that newly available slot. This feature not only fills up empty time slots but also improves customer satisfaction, as clients who were initially unable to book can now secure an appointment at the last minute.
The Bigger Picture: Strengthening Your Business as a Whole
Aside from saving time, improving communication, and reducing no-shows, scheduling apps provide many additional benefits that can propel your business to new heights.
Enhanced Customer Experience
A scheduling app can elevate your client's experience by offering a seamless and user-friendly booking process, making them want to return and recommend your services to others. Plus, features like personalized reminders and tailored appointment suggestions can make clients feel valued and cared for, further boosting their satisfaction.
Data-driven Insights
Scheduling apps can generate valuable data on client behavior, appointment trends, and resource utilization. By analyzing this data, you can make informed decisions to optimize your services, adjust your pricing, or refine your marketing strategies. Knowledge is power, and a scheduling app gives you the information you may need to stay ahead of the competition.
Scalability and Adaptability
A scheduling app can grow with you as your business grows and evolves. Whether you're expanding your services, opening new locations, or hiring more staff, a scheduling app can adapt to your changing needs, ensuring that your scheduling process remains streamlined and efficient.
Integration with Other Tools
You can integrate a scheduling app with other business tools like CRMs, marketing platforms, or accounting software. This interconnected ecosystem can simplify your workflows and automate various processes, freeing up even more time and resources for you to focus on your core business activities.
Branding Opportunities
A custom scheduling app can be designed to align with your brand's visual identity and messaging, creating a cohesive and professional appearance. It not only helps build brand recognition but also instills trust and credibility in your clients' eyes.
Implementing a scheduling app in your business can yield many benefits, from time-saving and efficiency to improved communication and collaboration and, ultimately, a reduction in no-shows and cancellations. By embracing this technology, you can streamline your operations, enhance the customer experience, and set your business on a trajectory for success.
To get all the benefits from a custom scheduling app, you need to know about its features before hiring a software development team. Thus, below we share the core functions for a project.
Core Features of Scheduling Apps
Scheduling apps come in many shapes and sizes, but they typically share several core features that make them indispensable for businesses of all types. Here's a rundown of some key features to look for when selecting the perfect scheduling app for your enterprise:
Event Creation
One of the most fundamental features of any scheduling app is the ability to create and manage events. This process includes:
Setting up appointments
Assigning staff members
Allocating resources
Customizing the duration and frequency of events
A good scheduling app should offer a user-friendly interface, making it easy for both you and your clients to navigate and book appointments without any fuss.
Push Notifications
Push notifications are essential for keeping both you and your clients informed about upcoming appointments, cancellations, and rescheduling. These notifications can be sent via email, text message, or the scheduling app itself. Push notifications can help reduce no-shows, ensure smooth communication, and maintain a professional relationship with your clients by providing timely reminders and updates.
Calendar Integration
Most businesses rely on calendar systems like Google Calendar, Outlook, or Apple Calendar to manage their schedules. Integrating your scheduling app with these popular platforms can make your life much easier, allowing you to keep all your appointments in one place and avoid double bookings. Additionally, calendar integration can help streamline the booking process for your clients, as they can easily see when you're available and book appointments directly through their preferred calendar app.
Video Conferencing
In today's increasingly remote and digital world, virtual meetings and appointments have become more important than ever. Many scheduling apps now offer built-in video conferencing features or integration with popular platforms like Zoom, Microsoft Teams, or Google Meet. By providing a seamless way for clients to book and join virtual appointments, you can expand your reach, accommodate clients from afar, and maintain strong connections even when face-to-face meetings aren't possible.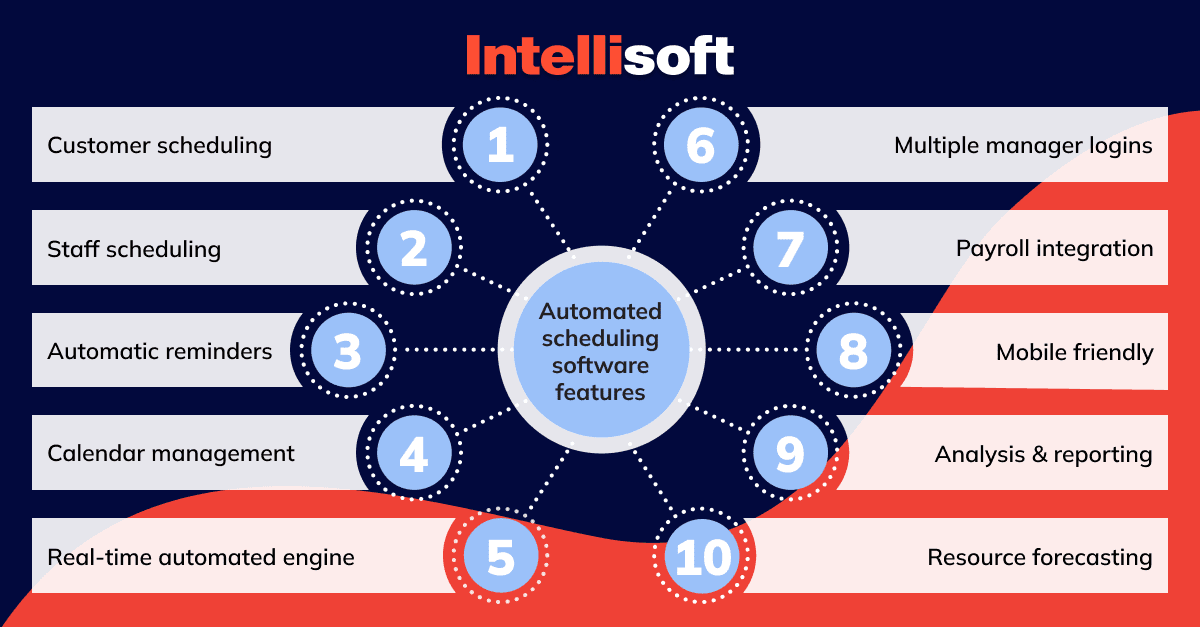 Security and Privacy: Are Scheduling Apps Secure?
In today's digital landscape, security, and privacy are top concerns for both businesses and their clients. When choosing a scheduling app, it's essential to consider how well it protects sensitive information and adheres to relevant privacy regulations.
Most reputable scheduling apps employ robust security measures, such as encryption, secure data storage, and strong authentication protocols. These measures help ensure that your clients' personal information and your business data are protected from unauthorized access and breaches.
Additionally, it's crucial to select a scheduling app that complies with privacy regulations like the General Data Protection Regulation (GDPR) and the Health Insurance Portability and Accountability Act (HIPAA). Compliance with these regulations not only protects your clients' privacy but also demonstrates your commitment to responsible data-handling practices.
When evaluating the security and privacy features of a scheduling app, don't hesitate to ask questions or consult with experts to ensure that the app meets your specific needs and industry requirements. Investing in a secure and privacy-compliant scheduling app is essential to maintaining your clients' trust and safeguarding your business reputation.
Selecting the right type of scheduling app can be a game-changer, boosting efficiency, improving communication, and enhancing client relationships. By carefully considering the features, security, and privacy aspects of the apps you're evaluating, you can find the perfect fit for your unique needs and set your business up for success.
Related readings:
Crafting Your Ideal Staff Scheduler: Custom-Built vs. Off-the-Shelf Solutions
When it comes to staff scheduling, you'll find many ready-made solutions on the market. The variety of options might leave you wondering whether it's even worthwhile to develop a custom scheduling system. To help you determine the best fit for your business, we can recommend exploring the key advantages and drawbacks of both custom-built and off-the-shelf approaches.
Tailor-Made to Fit: Advantages of Custom-Built Schedulers
If your business demands a distinct set of functionalities, a custom aesthetic that complements your brand, or a system that evolves with your growth, custom development could be the ideal choice. Investing in a tailored staff scheduling system can provide long-term strategic advantages, including:
Boosting your organization's productivity and streamlining processes with software designed specifically to address your unique requirements.
Prioritizing security from the start with a robust scheduling platform.
Effortlessly integrating your custom scheduler with the software you already have in place.
Building a system equipped to manage heavy workloads and adapt to changing demands.
Conveniently incorporating new features as your needs evolve over time.
With custom development, you own the system and can mold it as you see fit.
The Ready-Made Route: The Appeal of Off-the-Shelf Solutions
Custom software isn't the optimal choice for every organization. Some businesses might be too small, constrained by limited budgets, or content with the features found in ready-made solutions. If this is your situation, you might want to explore third-party software providers.
To provide you with a broader perspective on off-the-shelf staff scheduling and appointment diary software, let's take a look at three popular options: Shift Admin, Calendy, QGenda, and OnShift. Let's compare them based on functionality, integrations, pricing, and supported platforms.
Shift Admin
This ready-made solution offers an array of features, such as automated scheduling, customizable rule settings, and detailed reporting. It integrates with a variety of platforms and boasts clients in diverse industries, including healthcare and public safety. Shift Admin supports multiple platforms and offers tiered pricing options to cater to businesses of different sizes.
Calendly
What is Calendly? It is a user-friendly scheduling app that simplifies the appointment booking process for businesses and individuals. It offers seamless integration with popular calendar platforms, including Google Calendar, Outlook, and iCloud. The app allows users to set their availability, share personalized scheduling links, and automate reminders for upcoming appointments. Calendly offers a range of pricing plans, including a free version with basic features, making it an attractive option for various business sizes and budgets.
QGenda
Another popular option, QGenda, offers advanced scheduling and workforce management tools. It is designed to streamline the scheduling process while optimizing staff utilization. A strong selling point is its track record of success, with countless clients reporting increased efficiency and satisfaction. QGenda integrates with several existing systems and offers a range of pricing options.
OnShift
As a versatile staff scheduling software, OnShift is designed to help organizations minimize labor costs, enhance employee satisfaction, and streamline workforce management. It offers a user-friendly interface, making it easy for staff to access their schedules and request changes. OnShift integrates with many existing systems, offers various pricing options, and supports multiple platforms.
The decision to build a custom staff scheduling system or use a ready-made solution depends on your business's specific needs, budget, and long-term goals. Both options have their advantages and limitations, so it's essential to carefully evaluate your requirements and resources to make the most informed choice.
How to Build a Scheduling App: A Comprehensive Guide
If you want to scale your business by capitalizing on the growing scheduling app market, then gaining insights into building your own top-notch scheduling app should be on your radar. Let's explore the crucial steps required for developing a cutting-edge online scheduling app that stands out from the competition.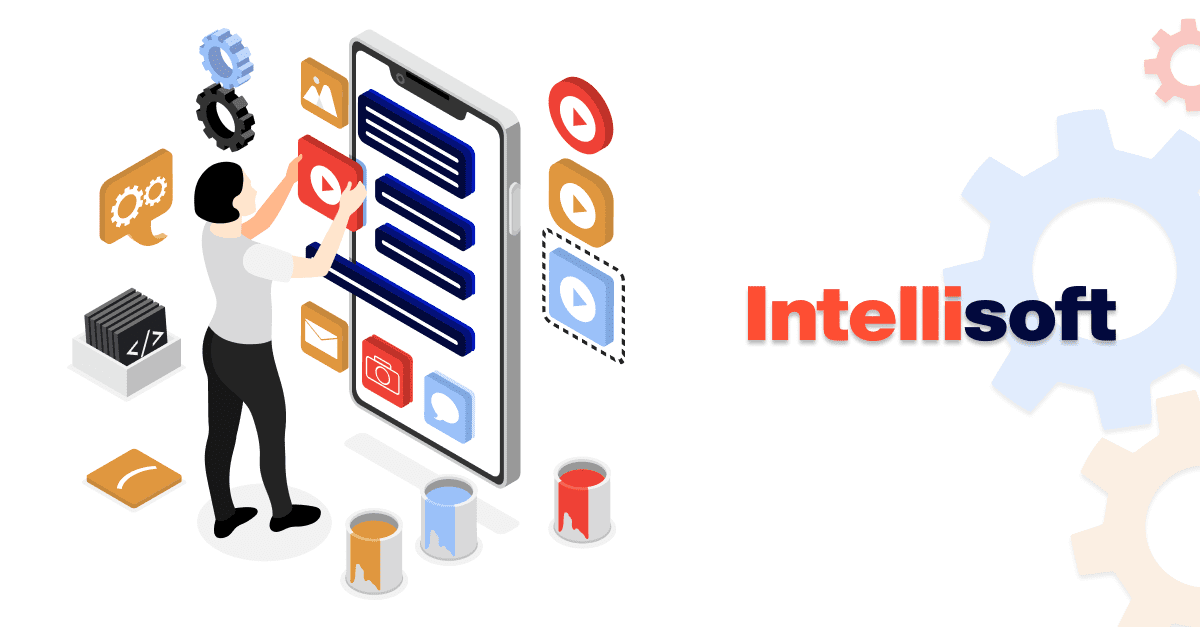 Step 1. Gather Your Dream Team
Begin by assembling a dedicated project team that includes key stakeholders, business analysts, project managers, UX/UI designers, developers, and testers. This group will collaborate and make important decisions throughout the development process.
The Project Manager (PM) should initially focus on determining the project's scope and devising a comprehensive plan. Subsequently, the PM should spearhead the project's execution and oversee all processes, ensuring everything stays on track.
On the other hand, the architect's role is to outline the technical solutions that will bring the project to life. Business Analysts (BAs) should gather and document essential business requirements, ensuring a clear understanding of the project's goals and needs.
Step 2. Hire a Stellar Development Team
When building an exceptional scheduling app, it's crucial to hire a highly skilled and diverse team of professionals. At IntelliSoft, we have the talent you need to bring your project to life.
Our UI designers are experts in creating user interfaces that are visually appealing, intuitive, and user-friendly. They deeply understand the latest design trends and principles, ensuring that your app's interface will be engaging and easy to navigate.
Our web developers are proficient in a variety of frameworks and programming languages, such as JavaScript, HTML, CSS, Angular, and React.JS. They can build robust and scalable web applications that can handle heavy workloads and seamlessly integrate with other software solutions.
IntelliSoft's native Android and iOS developers are skilled in using programming languages like Java, Kotlin, Swift, and Objective-C to create high-performing mobile applications. They are well-versed in leveraging each platform's unique features and capabilities to provide an optimal user experience, security, and performance.
Our testers work diligently to ensure that your scheduling app is free of bugs and runs smoothly on all targeted platforms. They employ a variety of testing methodologies and tools to guarantee the app's quality and reliability.
Lastly, our DevOps engineers are experts in implementing efficient development and deployment processes, enabling smooth collaboration between team members and ensuring the timely delivery of the project.
At IntelliSoft, we take pride in our ability to provide a comprehensive team of professionals to meet your scheduling app development needs. With our know-how, you can rest assured that your app will stand out in the market and deliver the best possible user experience.
Using our convenient outsourcing team cost calculator, you can easily estimate how much money you would need to spend on development.
Step 3. Identify Must-Have Features
Discuss with your team to identify the essential features your scheduling app needs to fulfill its purpose. Consider client requirements, internal operations, and the competitive landscape to create a well-rounded feature list.
Consider incorporating the following features to make your scheduling app stand out:
Creating new events, tasks, webinars, and more with ease
Seamless appointment booking
Accommodating different time zones with world time clocks
Editing existing appointments, tasks, and events effortlessly
Utilizing schedule templates for various event types
Automating scheduling for optimal efficiency
Intuitive and user-friendly workflow
Resource scheduling tools, such as booking meeting rooms
Visibility of team members' available time slots
Displaying free time slots for resources like meeting rooms
Marking days or hours as time off
Incorporating local holiday lists
Effective no-show tracking
Sending reminders through emails, SMS, and in-app messaging
Preventing double bookings
Enabling push notifications
Integrating with popular software like Gmail and Excel
Offering in-app purchases
Integrating with renowned payment platforms like PayPal and Stripe
Step 4. Solidify the Project Scope
Establish the project scope by determining the extent of the app's functionality, integration requirements, and user experience. Determine the target platforms, such as Web, Android, and iOS. Choose the countries you aim to target.
Outline the non-functional requirements (NFRs), such as security, scalability, performance, usability, maintainability, and so on. Craft a comprehensive project requirement document, have it reviewed, obtain the required approvals, and handle any changes.
This step will help you set boundaries and prioritize tasks, ensuring you stay within budget and meet deadlines.
Step 5. Map Out the Minimum Viable Product (MVP)
Start by launching a simplified version of the application with fewer features. Gather market feedback, and if necessary, revise your approach if customers aren't satisfied. If early customer feedback aligns with your initial ideas, continue enhancing the product based on your original plan.
This market-test version of your product is known as a Minimum Viable Product (MVP). You'll refine the MVP in multiple iterations based on market feedback, utilizing the Agile methodology for iterative development.
To determine the features of your MVP, employ tools such as the "pain-and-gain map" and prioritization matrix.
The MVP will help you identify areas for improvement and additional features needed before launching the final product.
Step 6. Assess Third Party APIs/SDKs
Research and evaluate third-party APIs and SDKs that can be integrated into your scheduling app. Here's an evaluation of a few options worth considering:
SuperSaaS API
SuperSaaS is a widely used online appointment scheduling solution. Its API enables seamless online appointment scheduling, and it offers integration with payment providers like PayPal and Stripe. Consult the SuperSaaS developer documentation for guidance on integrating the API.
Calendarific API
To build the best appointment scheduling app, you'll need local holiday data for various countries. Calendarific provides such information for over 230 nations. Refer to the Calendarific API documentation to integrate this RESTful API into your app, ensuring its accuracy across all intended launch regions.
Google Calendar API
To incorporate Google Calendar into your app, you can leverage the Google Calendar API. Google offers step-by-step instructions, as well as API reference documents, to facilitate integration.
These tools can provide additional functionality and save development time, allowing you to focus on building a unique user experience.
Step 7. Choose Your Technology Stack
Decide on the most suitable technology stack for your app, considering factors such as scalability, security, and compatibility with other tools. Select technology stacks for the following areas:
Web Application Development
For front-end web app development, consider using JavaScript, HTML, and CSS or popular web frameworks like Angular or React.JS, which provide useful templates for crafting the user interface (UI).
For back-end development, we recommend Node.js, an open-source runtime environment for JavaScript, which facilitates the creation of scalable and high-performance web apps. Utilize the available open-source Node.js development tools.
Mobile App Development
We suggest developing native Android and iOS apps to maximize the utilization of each mobile device's hardware features. Native apps deliver the best user experience, performance, and security. Native Android apps can be developed using programming languages like Java or Kotlin, while native iOS apps can be built with Swift or Objective-C.
To reduce development and maintenance costs, consider using cross-platform mobile frameworks like React Native or Flutter. While cross-platform apps may not fully match the native user experience, they allow you to use the same codebase for both mobile platforms.
API Development
Create your own APIs, preferably RESTful APIs, as REST (Representational State Transfer) is the widely accepted standard for API development. Host your APIs on a cloud platform and use databases, which may include both SQL and NoSQL databases.
For SQL databases, we recommend MySQL or PostgreSQL, both popular open-source relational database management systems (RDBMSs). If you need NoSQL databases, consider MongoDB or Apache Cassandra.
Consult with your development team to select the best languages, frameworks, and libraries for the job.
Step 8. Sketch a Project Plan
Create a detailed project plan outlining the app's design, development, and testing phases. Include milestones, deadlines, and resource allocations to ensure your team remains on track and focused on the end goal.
Employ the Scrum framework for planning and managing this project, as it is well-suited for Agile projects. The project manager (PM) takes on the role of a Scrum Master and leads the Scrum development team.
In Scrum terminology, iterations are referred to as "Sprints." Scrum teams collaborate closely with business stakeholders to estimate, prioritize, and schedule features across various Sprints.
Step 9. Code, Test, and Launch the App
Now that you have laid the foundation for your scheduling app, it's time for the development team to get to work on coding the application. This phase is critical, as it brings together all the planning, design, and technology stack decisions to create the final product.
During the coding process, following best practices and maintaining clear communication among team members is essential. It ensures that the development progresses smoothly and that all app components are properly integrated.
As your team works on the app, it's crucial to implement a robust testing strategy. It involves carrying out regular tests at various stages of development to identify any bugs, issues, or inconsistencies. By addressing these problems as they arise, you can avoid potential complications down the line and ensure that your app is of the highest quality.
In addition to functional testing, performing usability testing is essential to guarantee that your app provides a seamless user experience. This includes testing the app's navigation, design, and overall performance on various devices and platforms.
Once your app has undergone rigorous testing and meets your established quality standards, it's time for deployment. This process involves making the app available to users through the appropriate channels.
Finally, don't forget to celebrate your team's hard work and dedication! Launching a successful scheduling app is no small feat, and it's important to recognize the effort that went into creating a product that will benefit countless users.
Effective Project Management Tips From IntelliSoft
To ensure a successful scheduling app development project, effective project management is crucial. This involves closely monitoring the project's progress, adjusting as needed, and using Key Performance Indicators (KPIs) to measure the project's success. Let's discuss the importance of Product Development KPIs and Product Management KPIs.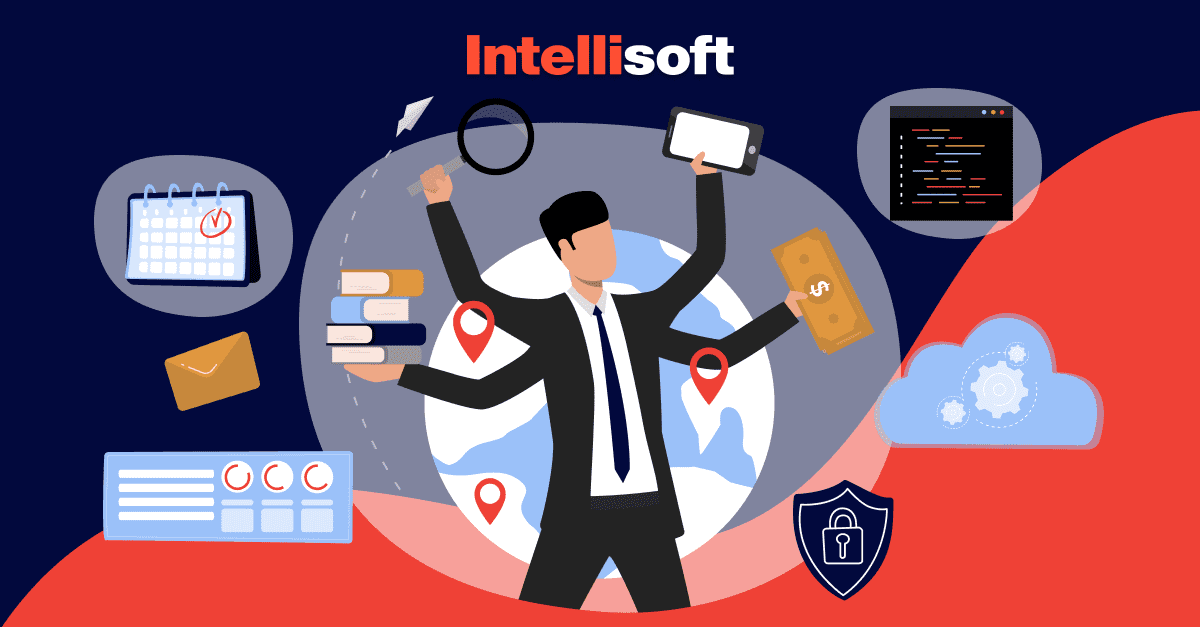 Product Development KPIs
Product Development KPIs focus on the development process's efficiency, quality, and progress. These KPIs help project managers identify areas for improvement and ensure that the development stays on track. Some essential Product Development KPIs include:
Velocity
This KPI measures the amount of work completed during a specific time frame, usually measured in sprints. It helps to evaluate the development team's efficiency and productivity.
Cycle Time
Cycle time refers to the amount of time it takes for a task or feature to move from the start to the end of the development process. This KPI helps identify bottlenecks and streamline the development process.
Code Quality
This KPI focuses on the overall quality of the code, including factors like bugs, security vulnerabilities, and code complexity. High code quality ensures a stable, secure, and maintainable app.
Test Coverage
Test coverage is the percentage of code that is tested during the development process. This KPI is crucial for identifying areas of the app that require more thorough testing to prevent potential issues.
Product Management KPIs
Product Management KPIs are concerned with the overall success and performance of the scheduling app in the market. These KPIs help project managers gauge the app's effectiveness in meeting user needs and driving business growth. Some vital Product Management KPIs include:
User Adoption Rate
This KPI measures the number of new users adopting the scheduling app over a specific period. A high user adoption rate indicates the app resonates with its target audience.
User Retention Rate
The user retention rate is the percentage of users who continue to use the app over time. A high retention rate signifies that the app provides value and satisfies user needs.
Customer Satisfaction
This measure shows how well the scheduling app meets or exceeds user expectations. You can assess this KPI through user reviews, ratings, or direct user feedback.
Revenue Growth
This KPI tracks the app's revenue performance over time, including factors like subscriptions, in-app purchases, and ad revenue. Revenue growth strongly indicates the app's overall success and impact on the business.
By closely monitoring both Product Development KPIs and Product Management KPIs, project managers can ensure that the scheduling app is developed efficiently and performs well in the market, ultimately leading to a successful project outcome.
Partnering with IntelliSoft for Your Scheduling App Development
Choosing the right development partner is crucial for the success of your scheduling app project. IntelliSoft has a proven track record of providing top-notch app development services, making it an ideal choice for your scheduling app development needs.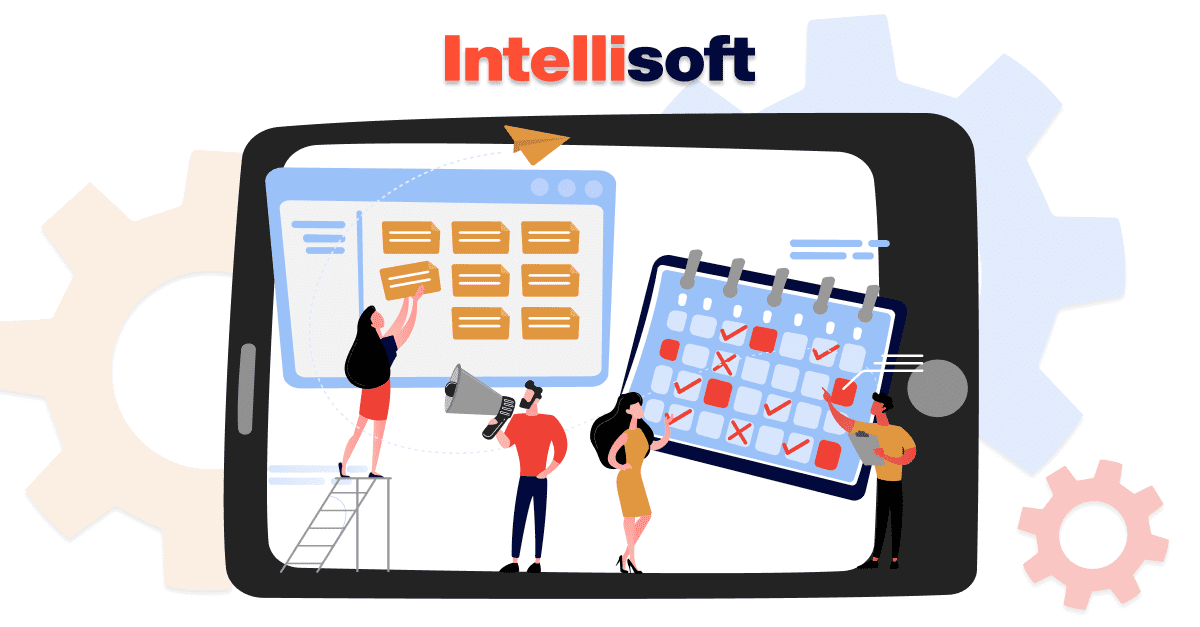 Benefits of Working with IntelliSoft
Working with IntelliSoft on creating your own scheduling app offers numerous advantages:
Expertise
IntelliSoft has a team of experienced professionals with expertise in UI design, web development, native Android and iOS development, testing, and DevOps. We can ensure that your app is built using the latest technologies and best practices.
Customization
We understand the unique requirements of your business and are committed to providing customized solutions tailored to meet your specific needs. We make sure that your scheduling app stands out from the competition and offers a unique user experience.
Agile Methodology
IntelliSoft follows the Agile methodology for app development, ensuring that your project remains flexible and adaptable to changes. This approach guarantees that your app remains in line with user feedback and market trends.
Timely Delivery
We are dedicated to meeting deadlines and delivering projects on time, ensuring that your scheduling app is launched promptly and can start generating revenue as soon as possible.
Ongoing Support
IntelliSoft specialists offer ongoing support and maintenance services, ensuring that your app remains up-to-date, secure, and bug-free. It allows you to concentrate on your core business activities while we take care of your app's technical aspects.
By partnering with IntelliSoft for your scheduling app development, you gain access to a skilled and experienced team committed to delivering exceptional results tailored to your specific needs. Trust us to bring your scheduling app vision to life and set your business up for success.
Final Thoughts
In this article, we've discussed the essential components of scheduling apps and the steps you need to take to create the best software for your needs. We've explored the importance of meticulous project planning, crafting an MVP, selecting the ideal technology stack, and embracing Agile methodologies. Each step of this process is crucial in developing a scheduling app that not only meets the expectations of its users but exceeds them.
However, you don't have to tackle this ambitious endeavor on your own. IntelliSoft is here to help you every step of the way, offering our extensive expertise in app development. With a proven track record and a team of experienced professionals, IntelliSoft is the reliable partner you need for your scheduling app project.
By collaborating with IntelliSoft, you can create a scheduling app that caters to your business's specific requirements. Your app will boast a user-friendly interface, seamless integrations, and a comprehensive set of features that will keep your users engaged and satisfied.
So, embrace the exciting journey of scheduling app development with IntelliSoft by your side. Together, we'll create an exceptional app that makes scheduling a breeze for your employees and clients.

About

Kosta Mitrofanskiy

I have 25 years of hands-on experience in the IT and software development industry. During this period, I helped 50+ companies to gain a technological edge across different industries. I can help you with dedicated teams, hiring stand-alone developers, developing a product design and MVP for your healthcare, logistics, or IoT projects. If you have questions concerning our cooperation or need an NDA to sign, contact info@intellisoftware.net.