Picture this: You're working on a ground-breaking digital product, have a skilled team of developers and marketers, and think that success is within easy reach. But there's a catch – you don't have an expert who can help deal with the digital transformation and ensure that your business needs are aligned with top-notch technologies used by other companies. If so, then you need a solutions architect. Indeed, staying on top of the competition in the rapidly evolving digital market can be tough without an IT solutions architect. But fear not, our IntelliSoft team can help you. We will introduce you to the world of solutions architecture and its importance for any business and offer our skills and knowledge to help you transform your company. Get ready to take a plunge into the universe of digital transformation and take your business to another level with a solutions architect.
What is a solutions architect?
Before talking about the role of a solution architect, let's figure out what solution architecture is. In short, it's the process of designing, describing, and managing technology solutions and ensuring that they match specific business problems. Let's say you want to find a way to protect your customers' data – that is a business issue. To solve it, you need a solution architecture that will help you decide on the type of technology and software you should use.
Who, then, is in charge of this practice? A solution architect. This person is the one who introduces a technical vision for a specific IT solution. It is by far one of the most significant roles in the IT industry because this person evaluates business needs and supports them with tech solutions. Architects speak both the "technical" and "business" languages with their clients, helping them merge the gap between the two.
For example, when you decide to create an app, a solution architect's role will be to explain the options on how to build the app, what programming languages, frameworks, and APIs can be used, and approximately how much time it will take.
However, an IT architect's job is not done here. Next, they define the development stages and help calculate business costs. Since a solution architect knows all the components of a project and the people working on it, they can't stand aside. Solutions architects can also be called project leaders for this reason.
Now, let's discuss solution architects' roles and responsibilities in detail.
What Does a Solutions Architect Do (Duties and Responsibilities)?
An IT architect's role is multifaceted and full of responsibilities. Being a project leader cannot be easy, but solution architects are masters at this. They are responsible for creating a comprehensive architecture for your specific software solution and providing strategic advice and direction throughout the development process.
With their guidance, it will be easier to achieve your business objectives and ensure the product has a scalable, secure, and maintainable architecture.
Duties and Responsibilities
Every solution architect's roles and responsibilities are different, depending on the type of project they're working on. Some may do more, some less, but the key duties remain similar in all cases. Let's talk about them in detail.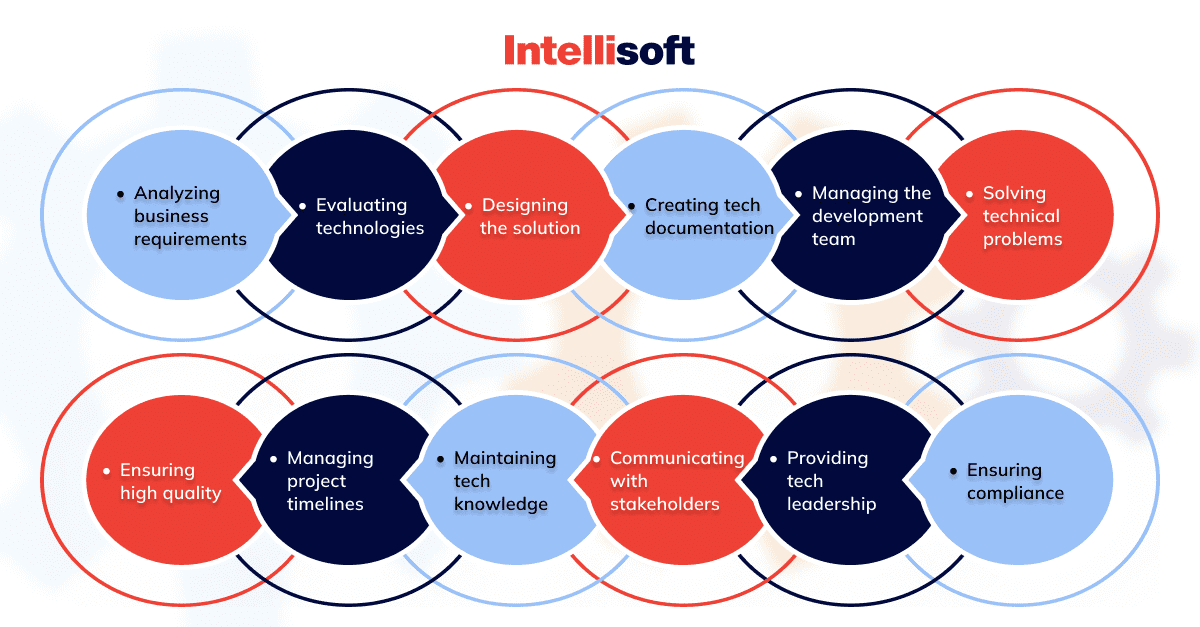 Analyzing business requirements: First, a solution architect must have a clear picture of the company's requirements. They should understand where the company's headed and its end goals. This duty involves analyzing current business processes and workflows and identifying areas of improvement where technology can help achieve better efficiency.
Evaluating technologies: To be able to find the best solution for your case, a solution architect has to evaluate the various technologies and vendors available. They need to conduct thorough research, assess possible solutions, determine what the strengths and limitations are of certain technologies, and compare their costs. Finally, their task is to recommend which technology would be the perfect fit for your case.
Designing the solution: Besides evaluating existing technologies, solution architects design tech solutions based on companies' requirements. They develop technical specifications, create architectural diagrams, define the best software, choose hardware, and identify which network components to use.
Creating tech documentation: Clear and detailed documentation is a must when designing a solution. A solution architect must create this, describe the solution and its specifications, and include diagrams, charts, and data models. Later, these documents will guide the development team through the implementation process, and stakeholders will use them to understand the technical aspects of the solution.
Managing the development team: A solution architect's task is to work with the development team to ensure that everything is going smoothly, the solution is implemented according to the guidelines and documentation, and that it meets the business goals. They need to collaborate closely, have clear communication, and share feedback with the team.
Solving technical problems: An architect should also be able to troubleshoot any technical issues arising during development. This is where communication with the team enters the game – an architect should collaborate with them on finding the solution for each tech problem.
Ensuring high quality: The solution offered by the architect should be of the highest quality and demonstrate excellent performance, speed, and scalability. To ensure this, architects test the solution and validate it regularly.
Managing project timelines: The next duty of an architect is to ensure that the solution is delivered on time and within budget. This is why they should collaborate with project managers to manage timelines. This process also involves identifying risks and problems that can arise, and finding solutions for them beforehand.
Maintaining tech knowledge: Technology is constantly evolving, and trends in the market change, so it's the architect's task to stay up to date with the latest news and trends and continuously learn about new technologies. Architects should attend training sessions and conferences and maintain their knowledge through reading various publications and studies.
Communicating with stakeholders: Besides communicating with the in-house team, architects should also communicate with the stakeholders about the details of the solution. The stakeholders may include end-users, business owners, or investors. The architect's task is to explain complex technical information in a simple manner so that all stakeholders can understand it easily.
Providing tech leadership: Since solution architects are the technical leaders in an organization, their role is to guide others and set technical standards. They should ensure that everyone from the tech team has enough skills and expertise, understand their task clearly, and that the company is using technology in the most efficient way.
Ensuring compliance: The solution must be compliant with the latest regulations and requirements. It should be secure, protect user data, and meet all industry-specific regulations. Thus, a solutions architect should collaborate with the compliance and legal teams to make sure that the solution is designed according to regulations.
Solution architect types
There's not just one type of solution architect; there are a lot of them, depending on the area of expertise. The most common types include: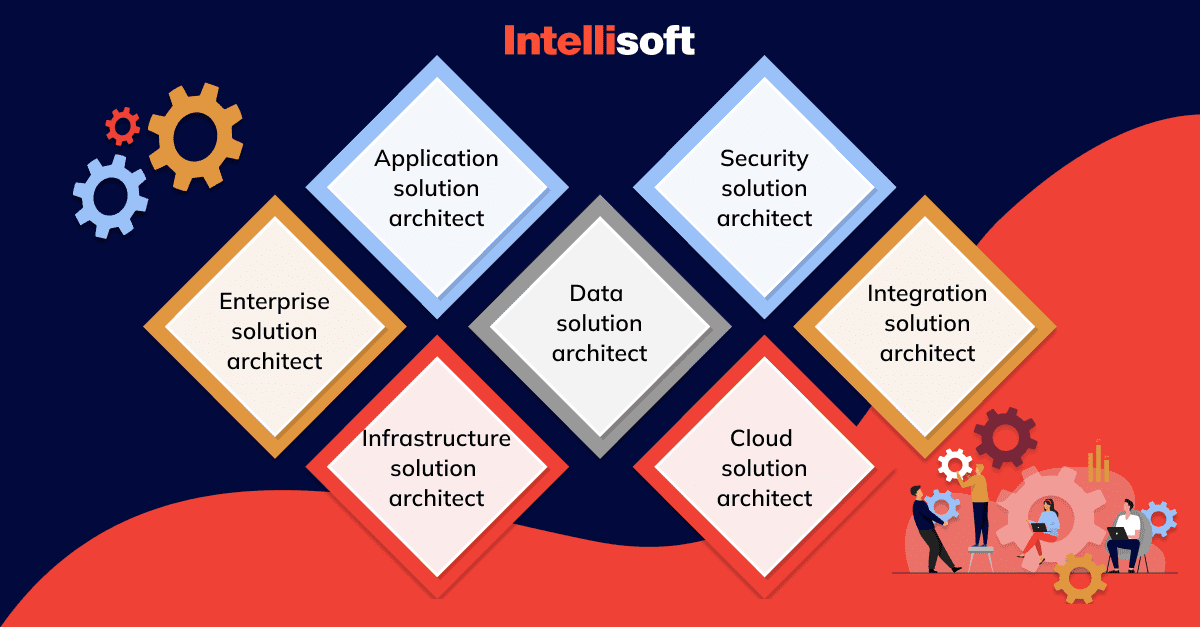 Enterprise solution architect: An enterprise architect focuses on building enterprise ecosystems and solving high-level strategic problems. This architect works with business leaders and stakeholders, helping them define business goals and design solutions that align with these goals.
Enterprise architect vs solution architect:

Unlike regular solution architects who only define how to solve an issue, enterprise architects define exactly what has to be done. An enterprise architect has the full picture of the enterprise's current state of architecture and builds strategic plans for implementing technical changes.

Application solution architect: This type of architect focuses on designing and implementing solutions for apps. Their duties and responsibilities remain the same: They collaborate with the development team, project managers and stakeholders to identify the best-fitting solutions. They also help the team select software design patterns, define software architecture, and make sure that the system is reliable and scalable.
Infrastructure solution architect: An infrastructure architect focuses on a corporate on-premises server or the organization's cloud systems. An infrastructure architect helps maintain the production of a corporate software system, not the software development itself. These experts evaluate current IT systems and explore new ones. When adding new networks and systems, architects ensure they are resilient, secure, and perform well.
Data solution architect: Data solution architects design and implement data management and analysis solutions. This person needs to understand business requirements for the data and ensure that it is of high quality and is governed properly.
Security solution architect: A security solution architect is responsible for working with solutions for information security. They cooperate with security analysts, network engineers, and other stakeholders. They design solutions that protect the company's data and systems from cyber threats.
Cloud solution architect: The name of this architect reveals that they work with cloud-based platforms. They oversee the company's cloud computing strategy, including cloud adoption plans, cloud management, and monitoring. They are often engaged in the legal areas of cloud computing, negotiating contracts, and working with legal and procurement departments.
Integration solution architect: Integration solution architects design and implement solutions for system integration. This involves working with API developers, middleware engineers and other stakeholders to design and implement messaging systems and API gateways.
Core Solutions Architect Skills and Background
If you have already made up your mind and decided to hire a solutions architect, you need to know what to look for in terms of skills and background. Here's a list of the core skills an experienced solutions architect should possess:
Technical background and experience
A good solution architect should have a lot of experience in working with technical solutions. When looking for a person to hire, pay attention to their years of experience – eight years or more is preferable. The architect should have a technical background in IT areas, including:
Engineering and software architecture design
DevOps
IT architecture, cloud development
Business analysis
Project and product management
Excellent communication skills
Solution architects cooperate with development teams, stakeholders, and other company employees, so excellent communication skills are a must. They need to know how to work with different people, negotiate, understand client needs and requirements, and explain technical information in easy terms to non-technical people. When looking for a solutions architect, always pay attention to their soft skills, making sure that this person can listen, empathize, and explain.
Great analytical skills
Without analytical skills, a solutions architect won't be able to understand how different parts of your business work together. Since one of the architect's main responsibilities is to define how a company can achieve its strategic goals, they need to be able to analyze the corporate strategy, collect insights, and find possibilities for growth. Moreover, an architect's work involves data analytics and constantly switching between different business levels.
Project and resource management skills
Solution architects should also be great managers. Even though they are not involved in project management directly, they still need to be able to manage people, deadlines, and resources. It's their job to decide which solutions are beneficial for the company at any given moment, and how to implement them without wasting too much time or money. Moreover, solutions architects must always focus on the end goals and find ways to achieve them, considering the company's budget and timeframes.
Need Help With Software Development?
Hire CTO
Benefits of Having a Solutions Architect in a Company
A solutions architect can be the magic ingredient you've been looking for all this time. When you find your perfect solutions architect, you will see how they benefit your business in the long run. Here are the main benefits of having a solutions architect on your team:
Linking technologies with business needs. With a solutions architect, you don't have to worry that the solution won't meet your business needs and requirements. An SA will eliminate this risk forever.
Helping with estimation and costs. A solution architect will over-see the costs and resources while meeting the stakeholder's requirements. They will help with budget forecasting and resource planning and find areas requiring fewer investments.
Bringing in technical and non-technical specialists together. An architect will be a bridge between your technical and non-technical specialists, helping them communicate on the same level and understand each other. An SA will notify stakeholders about the goals, development process, estimates, costs, etc. This person will be a translator, explaining technical aspects in clear language.

Hire Software Development Specialists

Hire Now

Helping with risk management. Software development is always has some degree of risk. It's the solution architect's task to identify these risks and find ways to mitigate them by testing performance, user experience, security, and other metrics. Moreover, solution architects eliminate factors that may affect a solution's delivery.
Selecting the project tech stack. It's easy to get lost in the ocean of different programming languages, frameworks, libraries, and tools. A solution architect will be your guide in selecting the tech stack and ensuring that all the tools and technologies work flawlessly together.
Related Readings
Solutions Architect Salary and Hourly Rate
Before hiring a solutions architect, you should know their salary and hourly rates. The figures differ based on their years of experience, location, complexity of the project, and the job title. Here's an estimate of annual and hourly rates from ziprecruiter: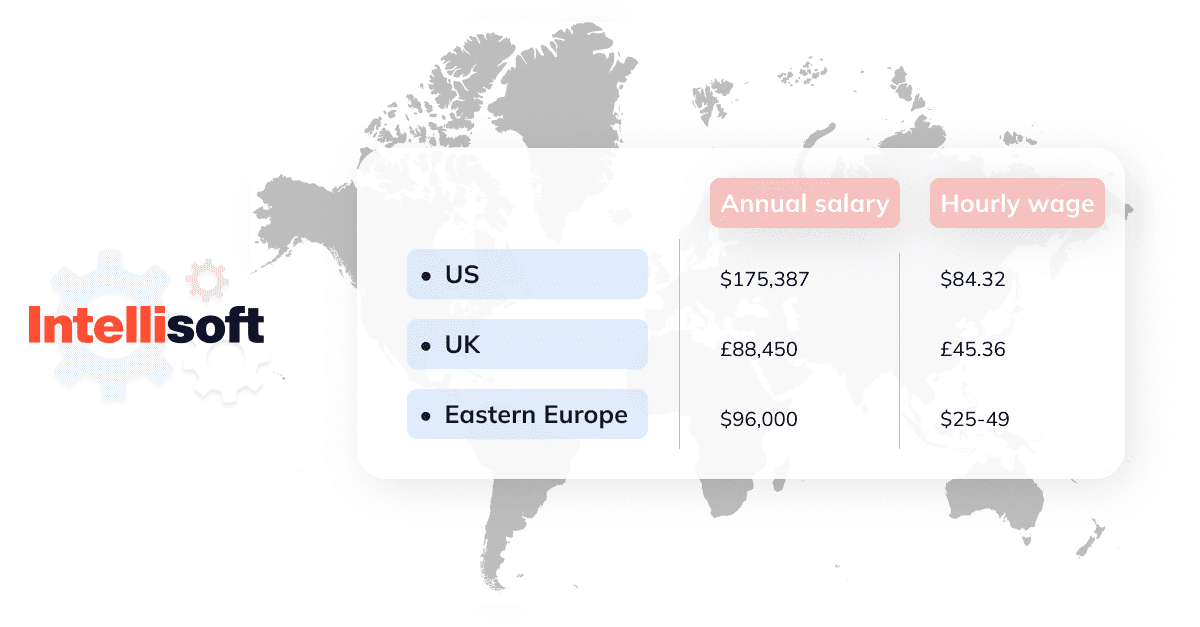 How IntelliSoft Can Help
At IntelliSoft, we know that solution architects are the secret ingredient to any business's success. Thanks to more than ten years of experience in the industry, we have gathered a skillful team of architects who can take on even the most complex projects. Our architects are masters of their craft, working with international clients from the logistics, healthcare, EdTech, MarTech, legal, IoT, and other industries.
The list of services we offer includes product development, machine learning services, quality engineering and testing, DevOps, cloud development, data analytics, and IT support. We will be your co-pilots and guides throughout the entire process, offering our advice, support, and guidance on any questions you may have. If you want to learn more about the way we solve business challenges, check out our cases.
Conclusion
No matter the industry you're in or the size of your company, a solution architect will help you bring your business to a whole new level. It may seem improbable that one person can handle so many responsibilities and tasks and play a crucial role in business success, but this is a fact. A solutions architect will find the perfect way to bring together your business needs and tech solutions to achieve your wildest business goals. If you're ready to embark on the exciting journey of technological transformation, give us a call.

About

Kosta Mitrofanskiy

I have 25 years of hands-on experience in the IT and software development industry. During this period, I helped 50+ companies to gain a technological edge across different industries. I can help you with dedicated teams, hiring stand-alone developers, developing a product design and MVP for your healthcare, logistics, or IoT projects. If you have questions concerning our cooperation or need an NDA to sign, contact info@intellisoftware.net.