Even more quickly than it was prior to the pandemic, the information technology (IT) market is currently expanding. The worldwide IT sector was estimated to be worth $5 trillion in 2021 by Statista. Future projections indicate that this industry will increase by a five percent compound yearly growth rate through 2024.
At the same time, 21% of startups fail in their first year of operation, and 30% more fail in their second. For newcomers, the software development industry is harsh. If your business is one of the fortunate ones, you will nevertheless encounter another obstacle: growing your software development team.
As a result, IT businesses should look for strategies to compete. Software vendors view hiring more employees as one of the most sensible ways to grow their firm in order to achieve this. Increasing the market's supply of experts makes this choice even more effortless.
If you fear outsourcing the whole development process, consider your in-house team extension. Forget about the limited local talent pool, teams lacking certain tech skills and expertise, inflated budgets, and bothering administrative tasks. Extend your software development team if you need to scale fast and find it challenging or impossible with your current development capacity. One of the ways to do so is by contacting IntelliSoft, which offers dedicated teams as a service. First, check out how it all works in this post.
Extended Team Model Definition
Extended Team Model (ETM) or Team Extension Model (TEM) – you compliment your current team of developers with extra experts.
For a single project or permanent collaboration, you hire required specialists from a staff augmentation company. This way, you get missing expertise, skillset, or developing capacity in a few days. You skip headaches about searching and hiring procedures. Instead, you get experienced vetted pros delivering top-notch software products. Your business keeps core competencies in-house. An extended development team operating externally fills tech gaps or strengthens your position. Responsibility allocation is equal between all staff. Extended members are as engaged and motivated as your inner employees. It looks like a merger with your company's ethics and management style to reach a single goal. Total control of both teams belongs to you. Direct communication and accountability build one united team.
Benefits of Development Team Extension
Learn about the privileges you gain with the Team Extension Model.
Suitable for a quick fix or permanent cooperation
Unlimited talent pool all over the globe
Less administrative responsibilities
Your business is secure with strategic competencies in house
The total grip of all development processes
Vetting and confirming staff is under your control
Opportunity to scale fast
Flexible engagement
Fast project launch
Budget saving
Transparent distribution of resources
Robust responsibility engagement motivation
Related readings: 
How to Extend Your Team Successfully?
The main secret is to match your needs with the best suitable development team extension model. Look through our checklist to figure out whether you need team augmentation.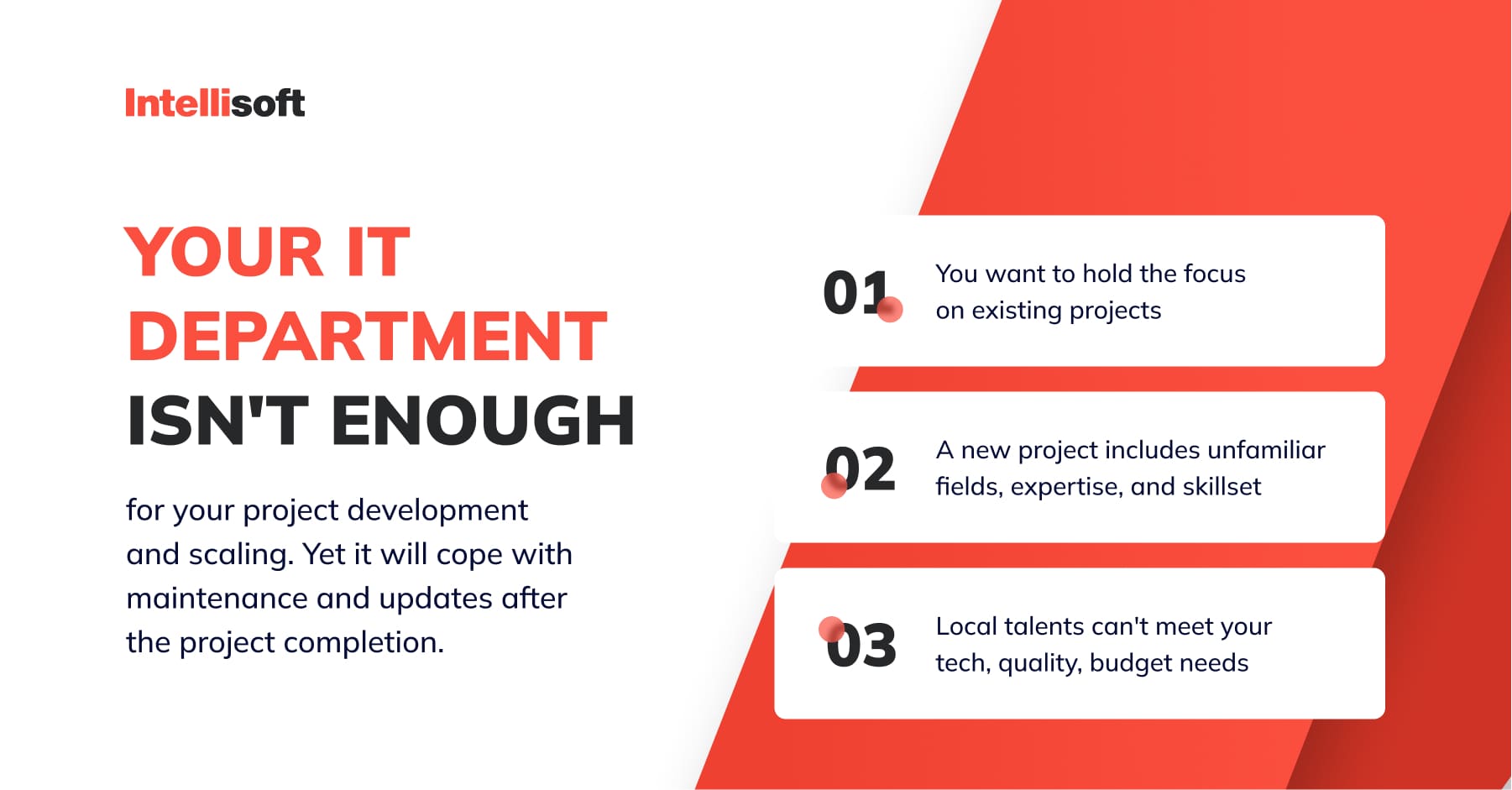 Identify your business needs and project specifications. Find the best match among the most successful extension models. Which one is for you? Let's look at each type in detail.
6 Ways to Extend Your Software Development Team
We'll start with an overview of the most successful models allowing you to enhance your developing potential.
Development Team Extension
Team Extension Model (TEM) – you complement your current IT team with external developers from the staff augmentation provider.
By applying TEM, you find the most appropriate candidates in a few days. The vendor suggests the pool. They work full-time for you but are employed by your vendor. They merge with and resemble your in-house employees. Vendors take over the administration, organization, and many other HR responsibilities.
Dedicated Development Team
Dedicated Development Team (DDT) – you hire the whole software development team from a staff augmentation vendor.
It can work on a separate project or closely cooperate with your IT department. You manage and control its work. The vendor takes care of the rest: team composition, qualifications, HR, legal, and tax issues.
Managed Software Development Outsourcing Services
Outsourcing – you transfer the whole project to a third party. It comprises both: development and management.
The company providing software development outsourcing services takes full responsibility. It controls all project aspects. The vendor builds a team according to your project specifications, business needs, and vision. All responsibilities: managerial, decision-making, quality control, and many others transit to your outsourcing partner. You release plenty of time for your core business.
R&D center
According to Research and Markets forecast, the market value of R&D outsourcing services will rise by $7.2bln by 2025 with an average CAGR of 8 percent. Many global giants, like Google, Microsoft, Netflix, Skype, Opera, and many others, found this model the best fit.
R&D center – you partly move offshore and set up a research and development business unit.
Establishing your own R&D center in the nearshore or offshore country saves your budget. You enjoy a far wider pool of talents and versatile tech expertise. It results in top-notch quality products. Still remember that it makes sense if you need a team of more than 40 employees. The local business environment must be more attractive. You'll have to deal with legal, tax, and cultural issues independently.
Outstaffing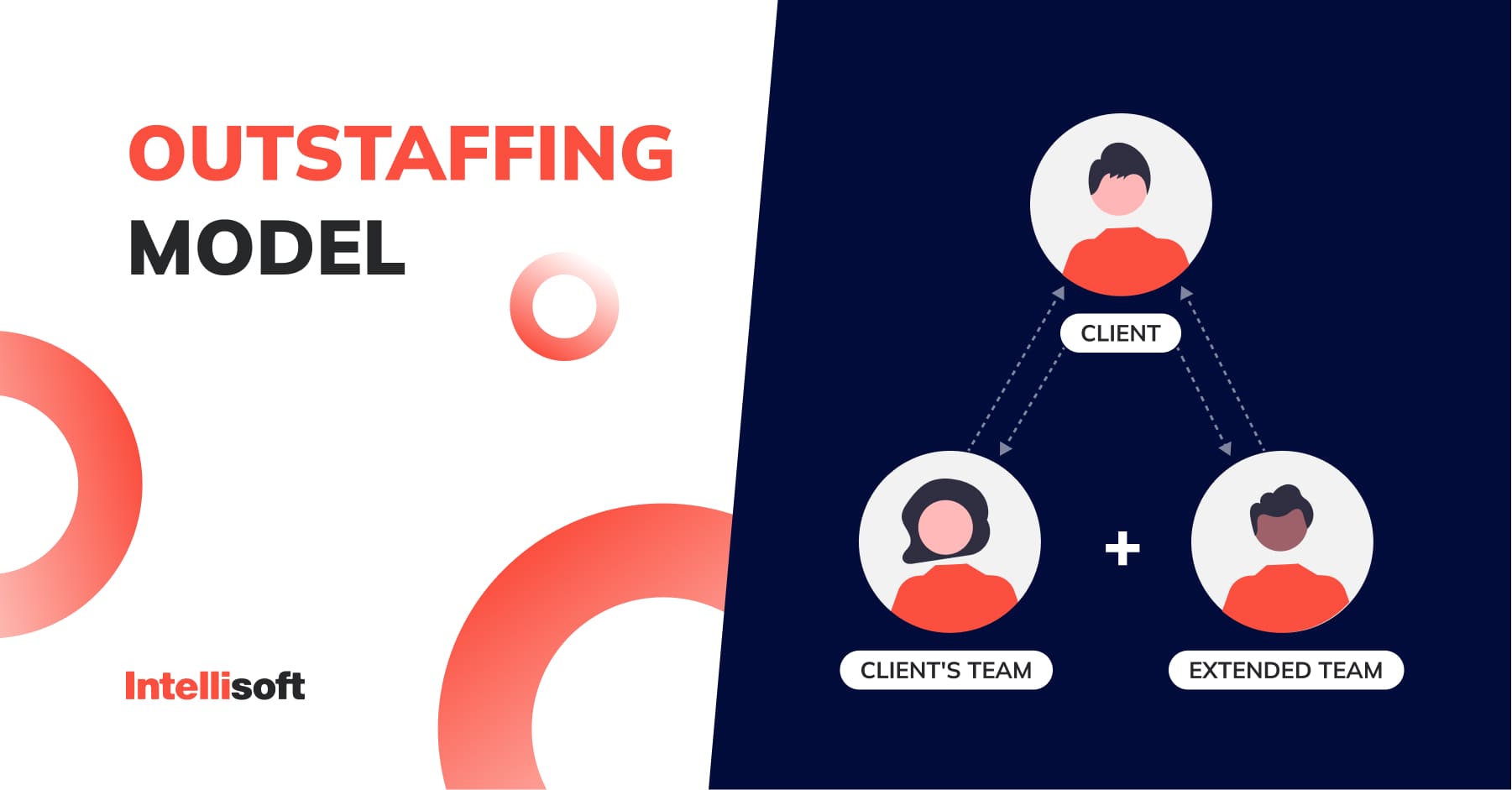 Outstaffing – you expand your development capacity by including the required number of qualified IT specialists.
You hire them externally from the outstaffing service provider. You sign a contract with a vendor and receive remote experienced ready-made professionals for a predefined period. They work on a contractual basis without all HR administrative and legal hassles. They include recruiting, training procedures, payroll, accounting, lower fixed costs, and motivation. Management, team structuring, and task allocation for all team members are in your hands. Direct close communication with outstaffed workers leads to highly productive collaboration and superb outcomes.
Pros:
Straightforward and speedy team augmentation
Cooperation without in-house employment
Access to narrow specific niche expertise, tech stacks
Cost-saving practice compared to in-house employment or project outsourcing. You pay only hourly/monthly rates
Total direct control and management of your team development cycle deliverables quality
In-house developers' professional growth
Keep in mind you'll have to make extra efforts. You'll introduce external developers to your team, as well as unite the workflow, communication, and accountability.
Outstaffing can be a magic wand for:
Startups. It helps distribute resources like people, time, and money effectively.
Small, medium-sized businesses (SMB). It allows them to cope with budget and schedule limitations.
Large companies. It gives them several opportunities: fast project scaling and completion, considerable cost savings on wages, and related payments, like social benefits, incentives, and taxes.
Cons:
Poor communication channels. Make sure it's as direct and transparent as possible. Use Slack, Zoom, Skype, Google Meets, or your own project management tools.
Total responsibility is yours. What is a more substantial investment for you now: time or money?
Cost
Outstaffing works mainly with two contract types "cost" or "cost-plus."
In the first "cost" type of cooperation, clients pay a fixed amount per month to vendors. In their turn, they pay out wages, bonuses, equipment costs, and social packages to outstaffed members. Clients aren't usually aware of how vendors distribute that money. This contract type is easier for you. Still determine rules, principles, and KPIs for high-level engagement and productive collaboration.
In a "cost-plus" type, a vendor gets full reimbursement for his expenses plus some award incentive percentage of fixed fees as a margin. This approach is more transparent. Yet the total expenditure for the project is hard to estimate.
Outsourcing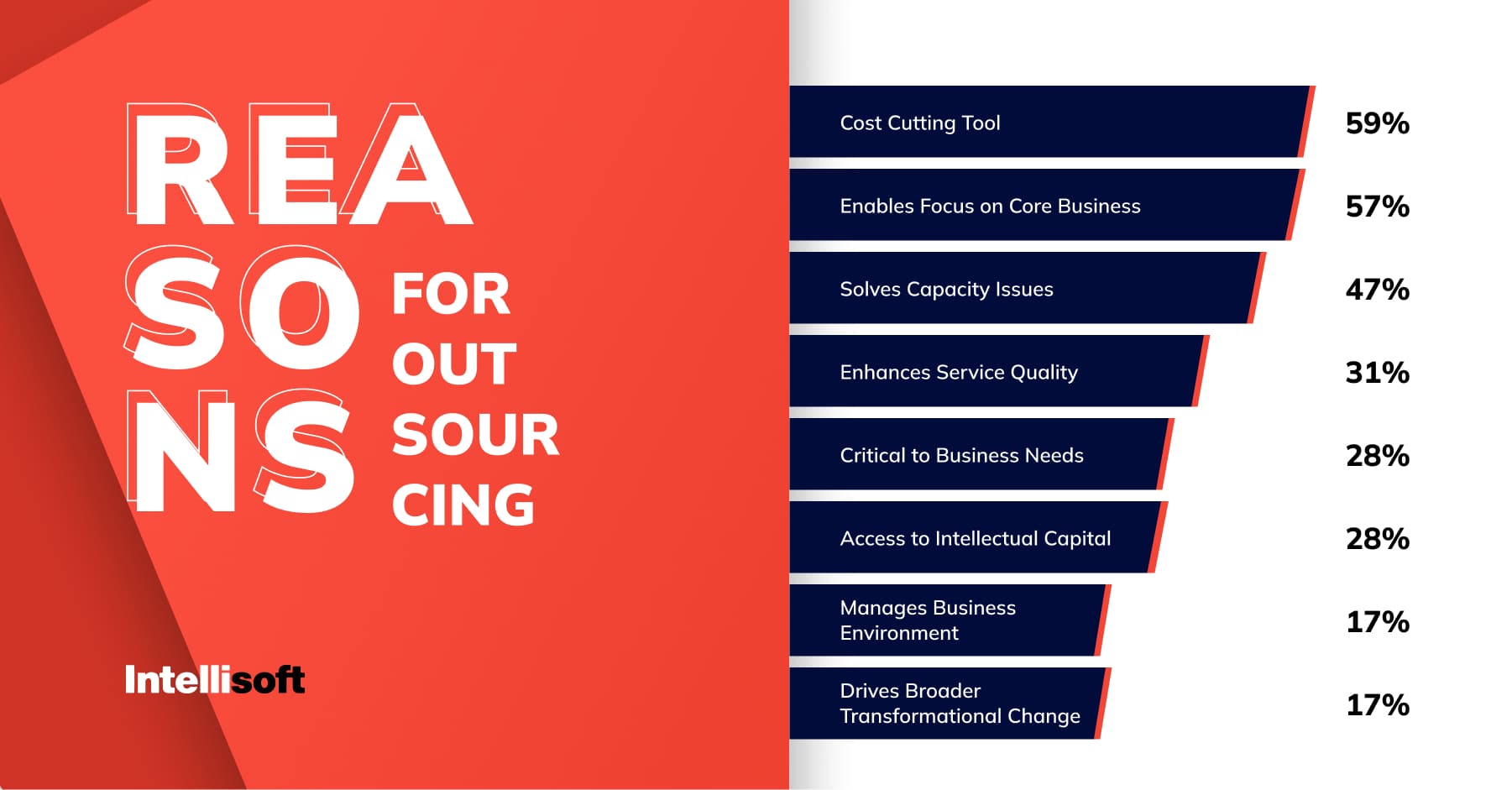 Forrester's report on the U.S.tech market forecasts tech budget growth by 6.8 and especially software spending acceleration by more than 11 percent in 2022. So, if your business requires a development team at affordable rates, consider outsourcing.
Outsourcing – you transfer your whole project to a third-party providing software development outsourcing team.
If you choose a nearshore or offshore outsourcing partner, you can save a significant stake of your budget compared to local offers. You do not compromise quality. Well-established vendors, like Intellisoft, have a vast experience in versatile projects. They gathered a top talent pool with relevant expertise, tech stack, and skills. You provide project specifications, as well as present your needs, vision, and time frame. Your partner bears the responsibility. An outsourcing development team does the job and completes the project on time. The vendor keeps you informed on the latest updates. That's it.
The vendor may choose the agile approach and distribute the tasks into sprints. He can assign front and back-end developers, UI/UX designers, scrum masters, DevOps, project managers (PM), business analysts (BA), quality assurance (QA), and other specialists. The management of the development process belongs to the vendor as well. It saves you a considerable amount of time. It turns into an incredible advantage for you.
Pros:
Top-quality software products
You win time for your core business with the least intervention. No daily tasks to supervise
Lower budget due to affordable talent pool and project management
Ready-made top-notch developers: trained, experienced, skilled
Regular updates from the project manager
HR part lies under your vendor's responsibility
It's pure turnkey service. You omit asset acquisition such as hardware and software licenses. Your vendor may take these expenses into account for total cost project estimation, but they won't be your burden.
The flexibility of resources. It means the vendor can easily invite other specialists for a short consultation or a single task. With outstaffing, you have to hire a full-time employee, which isn't often reasonable.
Cons:
Complex management process of a remote team.
Communication challenges due to time zones shift.
Lack of control could be worrying. If you get used to keeping a schedule, coding, and delivering results under your control, it will be hard to transfer the wheel to your vendor.
Higher budgets compared to outstaffing. You pay not only hourly or monthly rates for developers, but project management, HR, and administration.
Cost
The most common pricing models for outsourcing are Fixed Price and Time & Materials. Fixed Price will best suit small-scope projects and start-ups with limited budgets. Remember, you must have a clear vision and tech requirements for precise estimation. In the Time & Materials model, you multiply developer rates by work hours to receive the final price. It's often cheaper, especially for large volumes.
In-house Hiring
Hiring In-House Developers is a traditional approach to strengthen your team and expand strategic competencies.
You recruit, train, and introduce the most suitable candidates for your project needs, business model, and culture. You can fix an expertise gap or enhance your developing capacity by a long shot. When you have a clear vision of a future website or app, as well as enough time and budget, it will be a hugely rewarding investment into your business.
Deloitte's Q4 survey of Fortune 500 states that 97 percent of CFOs plan to raise investments in labor and talent in 2022. Talent/labor issues take the first place in their top priorities list for the current year. Two points affected increased expenditure. Domestic hiring rose to 5.8 percent in 2021, compared to previous periods. Local salaries/wages went up to 5.2 percent.
Pros:
Full comfortable control management of all project aspects
The tightest communication and the most profound engagement compared to other models
Smooth well-established procedures of integration quality assurance assessment
Cons:
Selection recruitment onboarding takes a long time
Far higher budgets on talents, headhunting, retaining, payroll, and relative payments
No easy way to stop cooperation
Cost
In-house hiring budgets may be huge if you plan a significant team extension. It includes wages/ salaries, taxes, social benefits, vacancies, sick leaves, and incentives. Local labor markets are more expensive compared to offshore or nearshore ones.
Hiring Freelance Developers
Freelance Hiring – you hire developers on a freelancing basis. This means that you pay only for their tasks or projects done without overhead costs.
Recent research shows the stake of freelancers in the US labor market. It reaches 54 mln people and dictates this upward trend over the globe. 80 percent of all workforce (with full-time employees) would like to freelance to increase earnings. One-third has already switched to freelancing recently. Advanced technologies, the digital economy, and the demand for part-time workers made remote work trendy. More and more people choose to freelance. They appreciate flexibility, sound work-life balance, higher income, and self-management.
Pros:
Access to a global talent pool
Budget saving
Low risk and easy cooperation: the contract and legal issues
Time-saving as you don't have to train and introduce new employees
Cons:
Challenging communication flow due to remote location
Your data is not protected from leakage
Low-level engagement
Challenging management, quality control, deadlines, milestones, and outcomes
Cost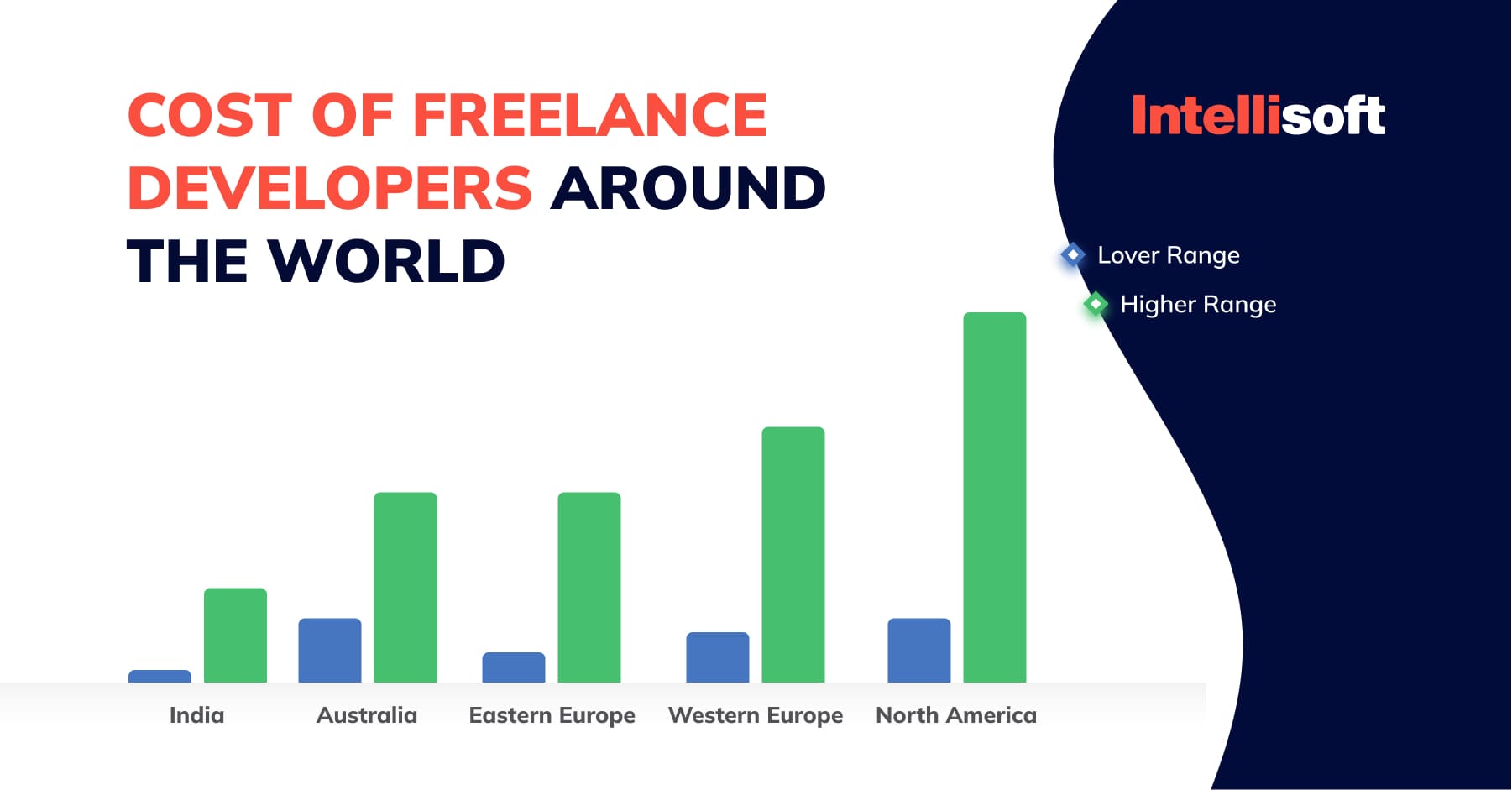 Freelance hourly rates consist of their monthly private and professional costs and expenses. According to a recent freelancer survey, the average freelance expert's hourly rate in the IT sphere was $105 in 2021.
Final Thoughts
There is no single model to extend a development team for everyone. With advanced tech tools, remote cooperation has turned out to be a very successful practice. Don't know which model to choose and where to outsource? Here we are for you! At Intellisoft, we are ready to answer all your questions.