Let's imagine you released your first IT product. What you should do next? Do you know how to update all those integrations and APIs your project includes? Maybe your development team does? But, having an IT support specialist is quite a costly option. Thus, consider outsourcing IT support instead.
Information technology (IT) outsourcing is the process of contracting out IT support services to a different business. Forecasts put the IT services market's CAGR between 2022 and 2027 at 10.36%. Demand for IT services may be inferred from factors such as rising worldwide IT expenditure, rising SaaS usage, and expanding cloud service availability.
As companies may lack the IT skills required for their business, many firms outsource all or part of their IT projects and operations to a more skilled team that can take over with little to no disruption. Consider IT outsourcing services from Ukraine, like IntelliSoft, if you're looking to outsource IT support.
We provide information technology outsourcing services, technical support, and maintenance in such industries as MarTech, Logistics, Healthcare, EdTech, Legal, and the Internet of Things (IoT). We offer a guaranteed level of service level agreement (SLA) and automation of work with applications through the Service Desk. Now, we'll tell you more about outsourced IT support services and their significance for your business.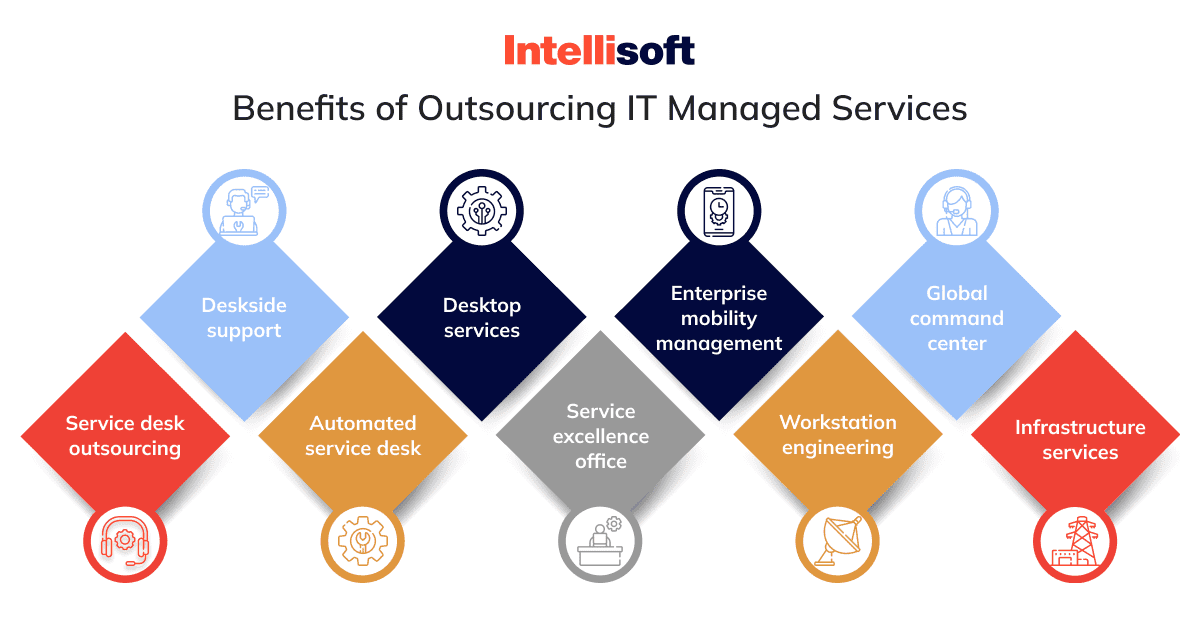 What Is Outsourcing IT Support for Business?
When a problem arises with a computer or other technology, an outside party often finds and provides the solution. You can pick your supplier/IT firm, but you won't be able to hand-pick or recruit any of their engineers or technicians. When there's an issue with your business support systems, you call the maintenance team, and they fix it remotely; otherwise, they come to your location.
Companies choose IT outsourcing when they need to reduce their non-core technical staff. The company may also want to reduce the number of contracts with different contractors, e.g., for the supply of extra equipment (each supplier has its contract), organization of Internet, etc. If a company chooses complex IT outsourcing, many contracts can be replaced by a relationship with a single contractor. In addition, there is an apparent shortage of competent professionals in the regions, which makes it quite difficult and expensive to form one's own IT team.
What Should You Expect From a Contract for IT Support?
The importance of support for your information technology projects is undeniable. When outsourcing information technology, you require a contract at all times. While looking for viable businesses that may assist, it is essential to ensure they are trustworthy organizations that give industry certifications, business support services 24 hours a day, seven days a week, and use cutting-edge technology such as cloud computing. When choosing an outsourcing partner, the next step is to draft a service agreement outlining the information technology (IT) projects and responsibilities you will delegate.
Related readings:
Forms of Outsourcing
Experts stress three main types of outsourcing.
Strategic outsourcing
This form is the most complex type of IT outsourcing. It implies the complete transfer of the company's IT service management to an outsourcer.
Resource/personnel outsourcing
Applying this form of outsourcing, the company-customer uses an outsourcer as a company for the selection of highly qualified personnel. In this case, the customer, using external resources, manages them alone and is responsible for the result. The service provider must provide the customer with the necessary resources and replace them promptly, if required.
Functional outsourcing
A company can improve the quality of its IT services through functional outsourcing and make its cost management much more effective. This form is slightly more complicated than the first but more efficient. The essence of functional outsourcing is that the outsourcer completely takes over all functions the customer transfers to it. Naturally, the criteria of the outsourcer work, including the rate of response to emergencies, the degree of participation in non-standard problems, etc., are stipulated in advance and fixed in a special agreement.
Trends & Patterns in Recent Outsourcing
Although numerous factors were considered when outsourcing IT services, a recent survey found that businesses still saw outsourcing as a driver of change. Companies are starting to take notice of innovative solutions like the cloud, automation, and microservices.
Cloud: 68% of industry leaders use cloud systems for digital enablement. Whether employing offshore or onshore IT personnel, this simplifies access to essential apps. Cloud security is the biggest issue. No one questions worries about public or private cloud performance.
Microservices: IT outsourcing firms are adding microservices and solutions. Your firm can enable or disable these services. Such characteristics offer flexibility in shifting corporate environments. Microservices also streamline business operations.
Automation: Companies who use such technologies allow firms to explore new operating models and gain benefits over rivals who are hesitant to embrace automation because of the breakthroughs made in automation and artificial intelligence (AI).
The longevity of your company's name largely depends on your choice of an IT outsourcing provider. As firms face the difficulties of the new normal, outsourcing will become increasingly important in helping them reach their long-term objectives. Ignoring the significance of worldwide calamities like the COVID-19 epidemic is impossible.
When Is the Right Time to Use Help from an Outsourced IT Provider?
Whether you run a major or minor corporation, having access to the appropriate technology may be the difference between achieving your goals and falling short of them.
Businesses that want assistance with their computer systems but lack the time or competence to manage them themselves sometimes turn to the practice of outsourcing their IT support needs. To be more specific, the following applications are suitable for outsourced information technology support.
Assistance with Information Technologies from Software Developers
Regarding outsourcing IT assistance, software companies are among the most valuable customers. They often employ hundreds, if not thousands, of people in locations worldwide and use dozens of servers.
In an emergency, constant monitoring and maintenance are essential when systems go down or become unstable.
IT Infrastructure Management
Using managed IT support outsourcing services might save time and effort for businesses. Companies may pay for targeted IT services with the assurance that they will receive the expected results.
GlobalNewswire projects that the managed services industry will grow to $393.73 billion between 2022 and 2028.
Benefits of Outsourcing IT Support Services
Improved Business Focus
Outsourcing provides the same service as an in-house team and frees up resources (personnel, money) to better achieve business goals. Having confidence in the work of the chosen IT outsourcer, the heads of the companies receive more freedom in choosing new and changing existing production schemes, trade, logistics, marketing, etc.
Preferred Service Level
Most companies that outsource IT do so on a tiered basis. They deliver whatever services are in the tier you select for a fixed monthly, quarterly, or annual charge. Some companies will pay for them to just be "on call" in case of an emergency. This fact means you only have to buy what your company uses.
Choose a more detailed service plan if you run a sizable enterprise that routinely requires outsourced IT support. Choose a cheaper plan if your business seldom experiences IT issues and needs occasional assistance setting up new hardware, software, or networks. Altering your service tier as your needs evolve is also an option.
Reduced Downtime
Through unique monitoring systems, the outsourced IT provider identifies and fixes potential problems long before users encounter them. This step prevents or avoids costly downtime, which reduces profits and often hurts your image.
Increased Economic Efficiency
Outsourcing reduces time spent on trivia and increases focus on core business issues. The focus of the customer's business shifts toward increased productivity:
Subsystems that directly generate revenue are intensified and prioritized.
Time spent on core business activities increases.
The IT functionality and processing transferred to the IT provider smoothly and technically supports the highly productive work of the company's business units.
Enhanced Application of Resources
You can invest in increasing your in-house IT support and services staff. When you outsource specialists, your in-house team can focus on business-related duties.
Internal resources may concentrate on business expansion and development. Hence, you have saved time and money to satisfy the organization's more significant needs.
Introduced Innovative Methods of Technology
If you are outsourcing your job in information technology to specialists, you must confirm their level of competence in the industry.
They can utilize the most recent technology and innovations to provide cutting-edge solutions. As a result, they will help you maintain your advantage over the other businesses in your industry.
Decreased Threats to Security
Outsourced IT must be mindful of cybersecurity dangers. Several companies keep personal data. A security breach might steal, delete, hold for ransom, or alter this data. A compromise of employee data might lead to lawsuits and loss of trust. Loss of client and customer data—or patient data for health care providers—is the same.
Managed service companies handle cybersecurity well. These professionals know how hackers are stealing login credentials and critical data. They will shield you from danger. They'll also monitor your security 24/7 to resolve any issues quickly. Staff cybersecurity training is also available.
Advantages of Reengineering
With the help of external experts, you may modernize and grow your IT systems while reducing costs.
The client benefits from cheaper access to a broader information base. The outsourcing company also promises a professional with the most relevant experience for each request.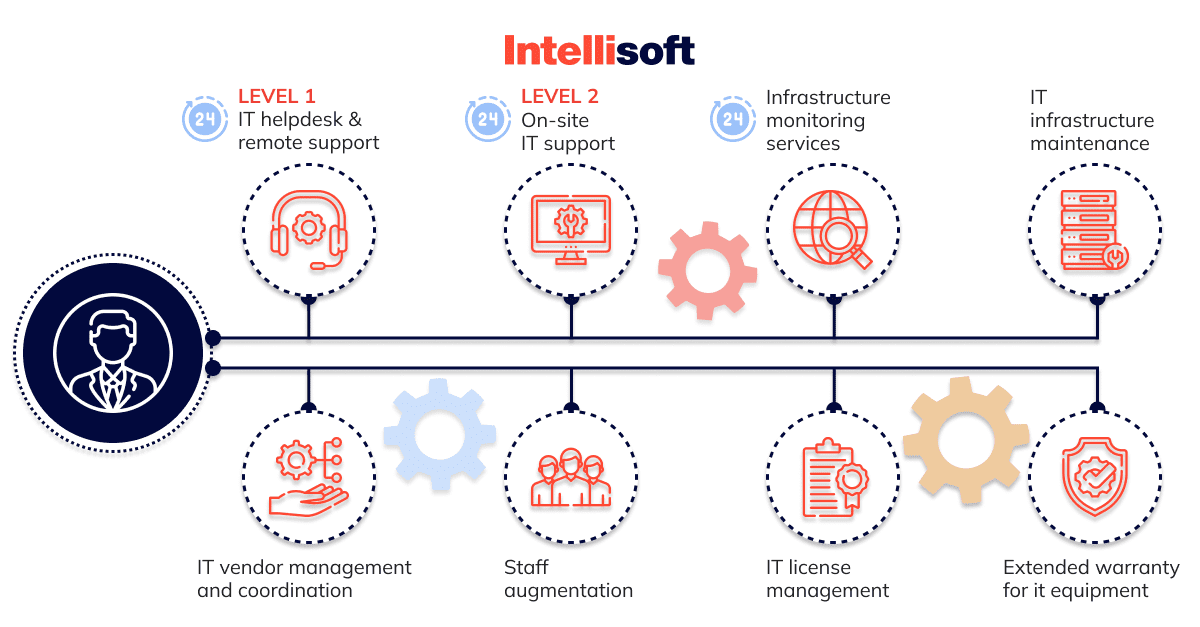 Reduced Personnel Costs
The cost of hiring and training one dedicated employee consistently exceeds the cost of outsourcing. In a growing business, hiring an employee can be risky because of the candidate's lack of qualifications, which is only sometimes possible to identify at the interview stage. The high salaries of IT specialists reinforce these risks even more.
Enhanced Compliance
Keeping up with regulations is a huge source of stress for many businesses. The government's laws and rules are convoluted and subject to frequent revision. An external IT service provider might ensure complete compliance and effective risk management.
Close Attention to the Main Functions
Indeed, the planet's fate is not dependent on your company's success.
Customers still anticipate growth even if you have few resources to do so.
When qualified people support IT, you can concentrate on what you do best. Thus, you will succeed since your devotion and use of technology are a winning combination.
Improved Knowledge Pool
An IT specialist on staff is one person's expertise. An outsourcer's support team is several specialists with experience and specialization in different areas.
The client can access a more extensive knowledge pool at a lower price. In addition, the outsourcing firm guarantees to give a professional the most relevant experience for each request.
Challenges of Outsourcing IT Support Services
Challenges in Terms of Communication
The effectiveness of a corporation may be significantly impacted by how well its employees communicate. Language barriers might make it challenging to have efficient communication with staff located overseas. This issue frequently results in misconceptions regarding the projects, which harms the job's quality.
To address this issue, primarily rely on written communication channels such as emails. Still, relying only on email for all text communication needs is not recommended.
Difficult to Keep Track of External Providers
When you hire outside service providers, it can be hard to keep track of them. This fact is especially relevant for remote services.
Consider it. How would you know a virtual software development team is billing you for their work hours? Suitable software for tracking productivity makes it easy to solve this problem.
Possibly Poor Quality
Being cost-effective is fantastic, but not at the expense of poor work.
You must use extreme caution while recruiting to prevent such problems.
The following are a couple of points to bear in mind:
Conduct a comprehensive background investigation before employing a firm and closely examine the services they have previously provided to other organizations.
When hiring a freelancer, choose a reliable platform and research their IT services. Observe cases, portfolios, reviews, and more.
How Comes Outsourcing Technology Support Services Are Better Than In-House?
IT system stability, scale, failure protection, and force majeure resolution necessitate quick expert intervention. The business owner can either keep an internal IT department or outsource. We show both alternatives.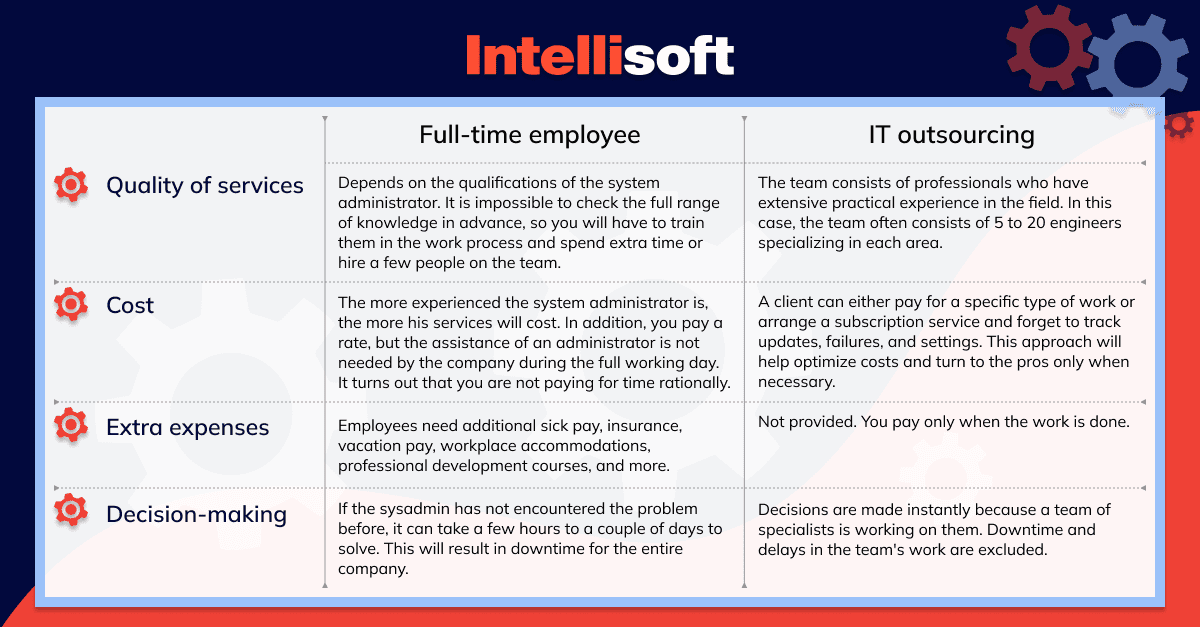 Outsourcing IT Support Pricing Models
Hence, how much money should you anticipate spending on IT support overall? There are six well-known pricing models for managed IT services that you may examine to use as a starting point for your research.
Monitoring-Only Pricing Model
The monitoring-only pricing model lets you keep an eye on your system and informs when something goes wrong. In this case, one may have to use different levels of service. For example, a company that deals with IT may be able to charge for extra activities found through remote monitoring. Companies that usually pay a flat monthly fee for services like spam and virus protection updates, backup monitoring, disk optimization, and operating system services could use this pricing model.
The Per-Device Pricing Model
This template sets a predetermined charge for each compatible device in the client's environment. Compared to other managed IT services pricing models, this one streamlines the price structure for your services, making it easy for potential clients to submit quotations and managed service providers (MSPs) to illustrate costs. It also helps the IT provider adjust the monthly service charge as the client adds devices.
The Per-User Managed Services Pricing Model
The per-user pricing model is similar to the per-device pricing template in some ways. The difference is that the fixed charge is invoiced monthly per end user and includes support for each user's devices. Examples of these gadgets include laptops, office PCs, cellphones, tablets, and any other device that the corporation may utilize.
The All-You-Can-Eat Pricing Model
The highly customizable all-you-can-eat price model includes on-site support, remote services, and bench and lab time for a whole organization for a flat monthly charge. Moreover, it offers year-round services or support on particular days or hours of the month and costs more for services rendered outside these periods.
The Tiered Pricing Model
The tiered pricing structure is the most well-known charging method utilized by MSPs. The idea is to construct different service bundles, with the more expensive bundles giving more benefits to the client organization.
The a La Carte Pricing Model
With the a la carte pricing model, the IT provider delivers services tailored to the organization's needs. These services may consist of data backup, disaster recovery, and patch management. This pricing model allows customers to select and pay for only the required services. It also allows customers to create a bespoke IT solution bundle for their business.
Selecting an IT Service Provider for Your Business
First, decide what services you need now and in the future before picking a managed IT service provider (MSP). Your first goal may be a 24/7 IT help desk for your staff, but you may also want to migrate to the cloud.
Though evident, many firms focus on their immediate needs. Although switching IT providers is expensive and time-consuming, planning ahead is beneficial.
After determining the current and potential future service requirements, you may seek a managed service provider to meet those needs. Many businesses worry that investing in long-term strategies will end up paying for services they don't need right now.
While this is a fantastic place to begin your search, remember that many MSPs provide similar services, so your list of possible MSPs may still be lengthy. We advise assessing every MSP in light of their responsiveness, transparency, knowledge, scalability, and some other factors to tell them apart and understand what it will be like to deal with the organization.
Responsiveness
Whether you will receive the help you require when you require it is one of the most crucial issues to consider. Also, this is among the areas where MSPs diverge the most.
Transparency
You must fully understand what your IT support business is doing and how, even if you want them to manage every area of your IT.
Expertise
After you've narrowed your search to IT outsourcing providers who promote the services you require, verifying their competence is crucial. Start with certificates and case studies.
Scalability
You'd better choose a managed service provider that develops with your business and works with you to drive that growth.
Infrastructure & technology
Technology is constantly changing, and things become old quickly. Small businesses may give outsourced IT some of the most essential business services. Because of this, they need to be reliable and able to keep up with how business and IT are constantly changing.
Customer management
Communication is vital when contracting outsourced IT services from nearby or abroad. Determine ways to contact them with questions or tasks.
Budget
You should better track spending on services since every dollar matters for a small or new company. Find out if your potential outsourced IT partner charges by the hour or has a fixed price per project.
Team
If you use an outsourced IT service for a small business, your IT assistance will probably be shared with other clients. Knowing this will give you a better picture of what to expect from the service provided.
A Helpful Screening List for Outsourcing IT Support
Let us cover some essential questions to ask any prospective IT outsourcing partner.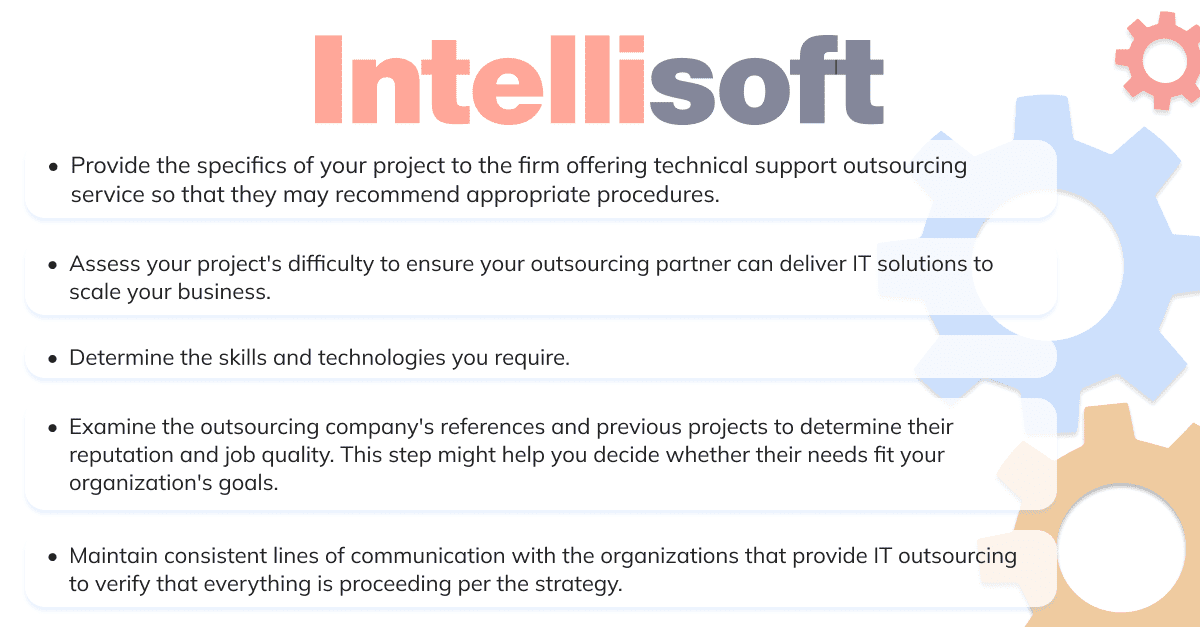 If you want to make the most of the cutting-edge tools available in your industry, hiring IT support pros worldwide is a smart move. If you want to save money on IT while enhancing customer service, consider outsourcing to IntelliSoft.
With IntelliSoft, you can be confident that your outsourced IT assistance is coming from the best pros in the market, giving you the efficiency you need to boost profits and grow your company. Contact us to discuss your project's details and get the price estimation.

About

Kosta Mitrofanskiy

I have 25 years of hands-on experience in the IT and software development industry. During this period, I helped 50+ companies to gain a technological edge across different industries. I can help you with dedicated teams, hiring stand-alone developers, developing a product design and MVP for your healthcare, logistics, or IoT projects. If you have questions concerning our cooperation or need an NDA to sign, contact info@intellisoftware.net.