The world is living in connected times. The latest pandemic has greatly reshaped the tech landscape. It makes no wonder that the IoT industries have all chances to grow up to $639.74 bln by 2022. It is the best proof that this industry is moving into the spotlight, providing tangible competitive benefits for companies operating across a great variety of verticals.
At Intellisoft, our team expects to see a raft of transformative industry improvements while moving into 2022. No matter what your goals are, this year is quite promising for those who deal with the Internet of Things. We are ready to share the most promising internet of things predictions with you.
What Is IoT? Definition and Applications
The Internet of Things, or IoT, is a network of physical objects connected to the world wide web so that they can share data and information to improve productivity, efficiency, services, and more. Internet of Things technology can be found in a great variety of fields, including leading industries (e.g., have a look at the "hot" IoT trends in automotive industry or educational sector), and it makes the concept of the smart home a reality and even helps build the infrastructure of the entire smart city.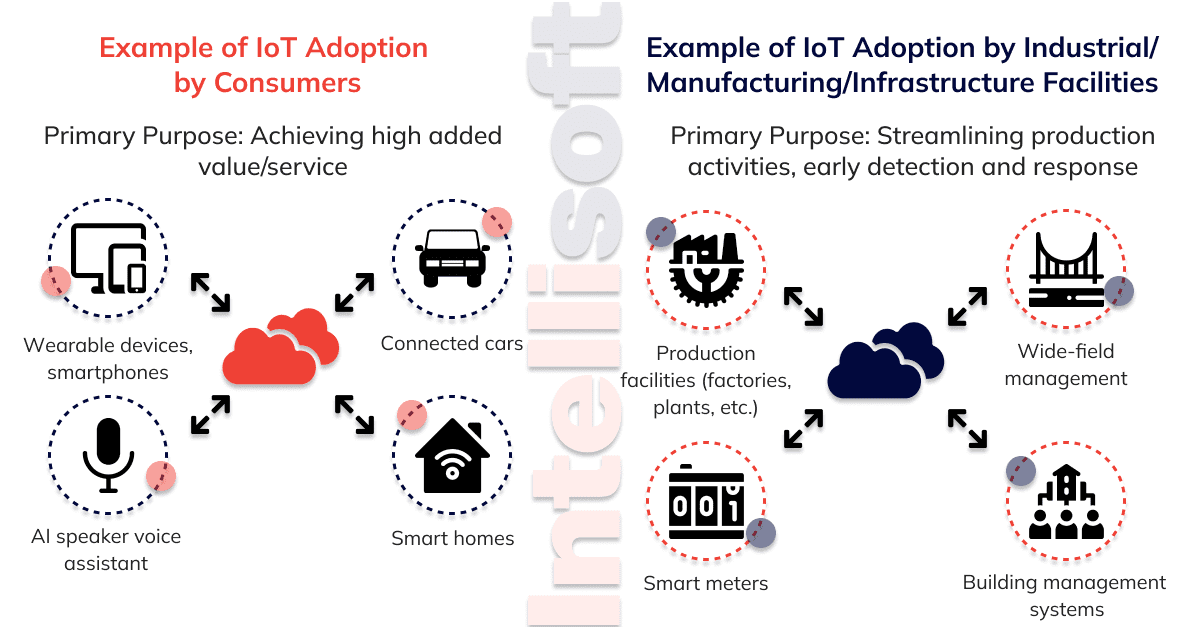 Key Statistics
IoT trends would be difficult to understand without knowing the leading industry statistics and IoT predictions.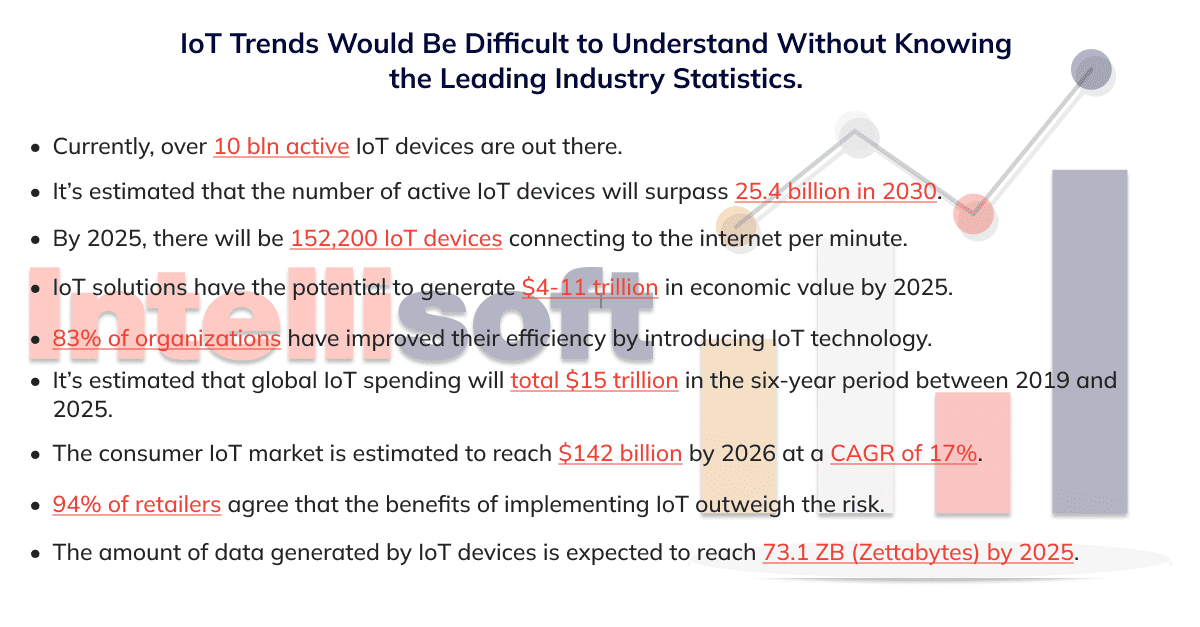 IoT Devices in Agriculture
Smart devices are actively used in agriculture, both in farming and livestock production. Among the best IoT devices in this area, you may think about drones and various tools for checking soil composition, predicting climate change, managing livestock health, and tracking the location of sick animals.
IoT Tools in Retail
Smart devices dramatically improve customer experience inside a store. The most desirable products and services appear right in front of the customer's eyes at the right time and in the right place. The Internet of Things allows for fine-tuning advertising, improving the supply cycle, and analyzing in-demand models. Examples of IoT used in retail also include contactless payment and smart shopping apps.
The Internet of Things in Industry
There is even a special term used in this field: the Industrial Internet of Things, or IIoT. Some of the best examples of IoT applications in industry include all kinds of sensors, software systems, and big data (BD) analytics for futuristic designs and precision computing. Smart machines improve productivity and correct common human errors, especially those related to quality control and sustainability. That is what you have to know about IoT trends in manufacturing.
The Internet of Things in Healthcare
IoT predictions in healthcare deserve a special place on the list of top IoT solutions. The Internet of Things directly affects our lives and illustrates the importance of connected healthcare as a separate field.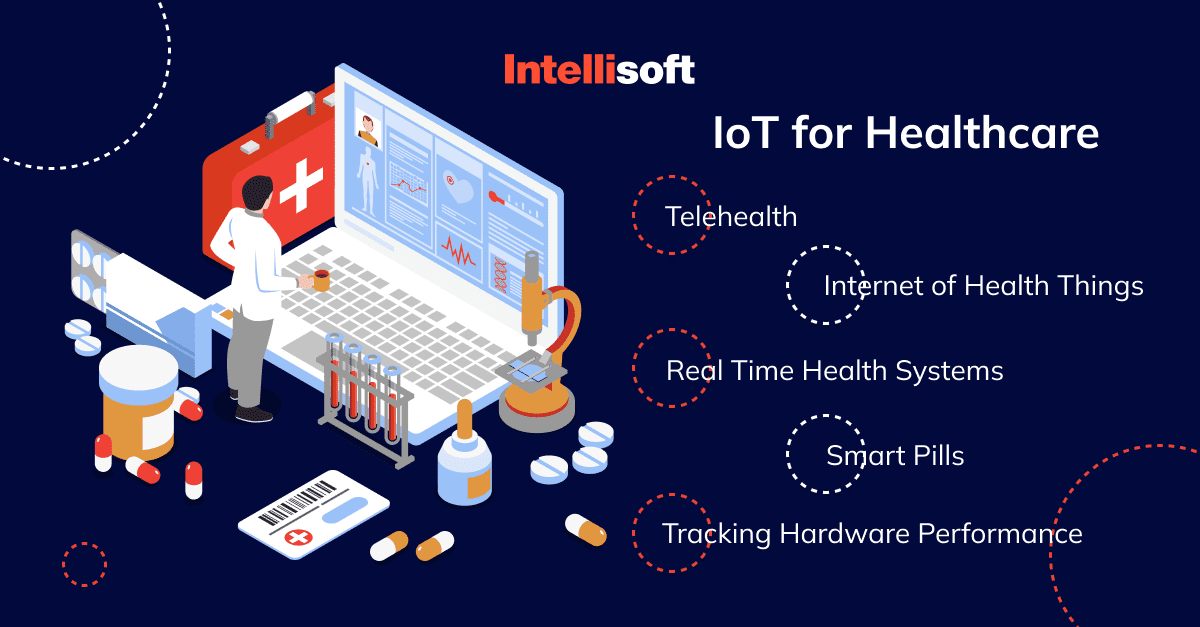 Thanks to the IoT, doctors can provide care over the Internet, drones are being used in medicine, and genetic breakthroughs are impressive. The Internet of Things enables a more personalized approach to analyzing patient health and developing disease treatments. At the same time, the development of IoT applications still faces many challenges, especially when there are conflicts between IoT applications and traditional medicine. Nevertheless, the development of IoT in this industry keeps on progressing.
The Internet of Things in the Energy Sector
The smart grid is able to collect the necessary data and instantly analyze current circulation automatically. As a result, customers and suppliers will be able to optimize their electricity usage.
Smart Home
To explain all the possibilities provided by IoT devices for the households would require a separate article – there are too many of them. For example, smart thermostats, air conditioners, speakers, pet feeders, and other devices perform everyday household functions. This is one of the most popular and promising uses of the Internet of Things.
IoT Forecast: Businesses Will Take IoT More Seriously
According to Forrester research, businesses are playing a major role in the explosive growth of the IoT: 85% of companies are already implementing or plan to implement IoT technologies in 2022.
The Internet of Things delivers a number of benefits to businesses. We have seen some successful experiments in the past few years, such as retailers introducing special devices that interact with customers' smartphones and allow them to display detailed product info on their screens.
However, the driving force behind IoT adoption is the manufacturing sector. Here, during 2019, more and more companies have seen the advantages of connecting their equipment to the network, allowing them to obtain data on the status and efficiency parameters of almost every part and exchange this data with other devices.
Predictive maintenance is one of IoT connections forecast. This technology has long been forecasted by technology evangelists, but, so far, it has only been implemented by the largest companies, which have invested heavily in IoT development over several years. However, their experience is increasing the understanding of how useful and beneficial such solutions can be, so smaller organizations are expected to adopt IoT-based technologies as well, being confident that the investment will pay off.
1. Machine Learning Exponentially Enhances the Intelligence of Apps and Gadgets
If we speak about IoT trends and beyond for 2022, ignoring ML makes no sense. Machine learning (ML) are techniques that empower artificial intelligence (AI) with the ability to learn. Self-learning systems are being deployed in a wide range of fields involving the processing of heterogeneous or simply large data sets. For example, ML is the core of human speech applications such as Siri for Apple devices, Google Voice, or Alexa for Amazon.
The ability to learn helps apps understand human beings and even anticipate future requests. This, in turn, affects marketing and the advertising market. As a result, we are already getting personalized products and offers, even in such subjective areas as fashion and home decor.
For example, machine learning is at the heart of StitchFix, an online personal stylist that makes wardrobe recommendations. The same methods help to optimize logistics by creating more convenient routes for drivers, calculating travel time, and finding the shortest way to deliver cargo.
Other examples of areas where machine learning is applied are: traffic analysis, which helps smart cars navigate the terrain and avoid accidents, and video and image analysis, which allows for face recognition. By the way, in Google Trends, the query Machine Learning has become three times more common over the past three years.
2. Devices Will Become More "Voice-Enabled"
Just as the conventional Internet provided us with voice, the IoT will give voice to all the devices we use. We are already slowly getting used to using voice control with assistants like Amazon's Alexa or Apple's Siri. The rest of our devices will get their own voice interface very soon. Virtually, every automaker is working on its own voice assistant to help drivers ride more conveniently and safely. Voice control with natural speech feedback should also become available for industrial and enterprise technology.
Voice control makes sense in many situations because it allows us to perform the operations without wasting time and effort manually, and it also takes some of the load off our eyes, which can now focus on more important things. This way of communicating with the machine also removes a number of barriers to interaction.
Humanity originally used computer code to send commands to devices, then came user interfaces, graphical environments, and other tools that lowered barriers to entry. Voice recognition and generation is the logical next step to creating technology that everyone can use to work more efficiently or improve their lives.
3. Security
The Deloitte consulting firm's experts note the boom in technologies that facilitate the mechanics of secure data sharing between organizations. The important thing in this case remains the question of privacy.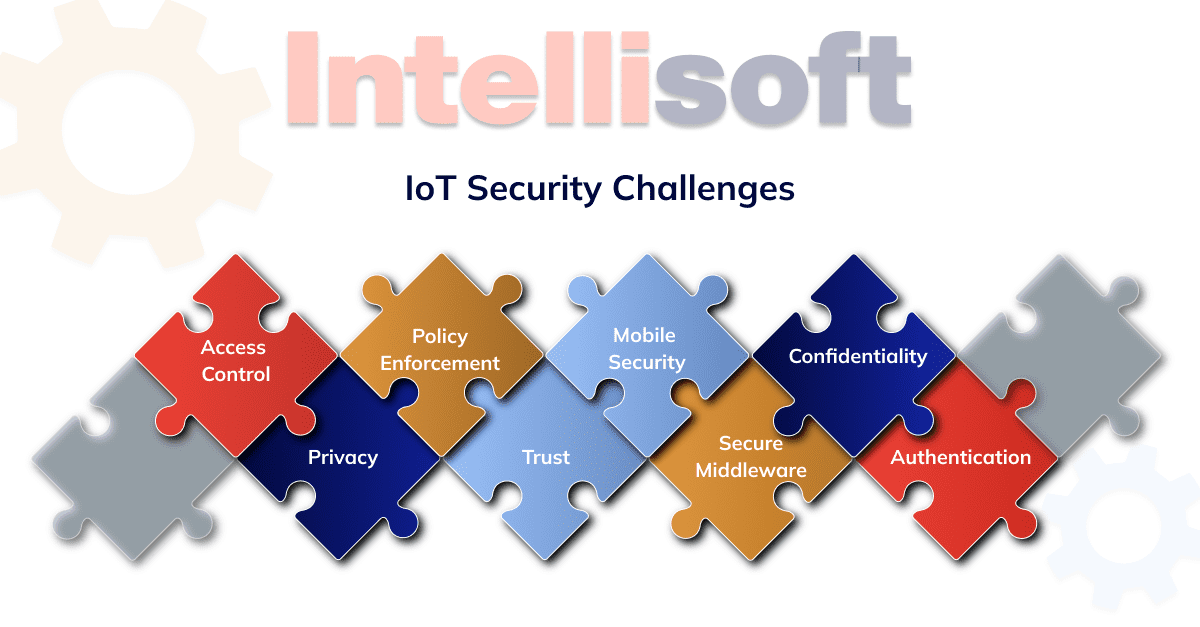 For example, when clinical data were pooled on shared platforms at the beginning of the COVID-19 pandemic, researchers, medical organizations, and drug manufacturers were able to accelerate the development of treatment and vaccines. Moreover, these data-sharing protocols have helped drug manufacturers, government agencies, and hospitals coordinate and implement extensive vaccination programs that prioritize efficiency and safety, as well as privacy and intellectual property protection. However, this is not only true for such large-scale tasks, but for the more mundane sector.
4. Mobile Will Keep on Impacting Our Lives
The online advertising industry is growing at a rate of 20% per year. Much of this growth is possible thanks to the increase in the share of mobile web, which has already achieved 66%. However, it is important to keep in mind that this data covers only 12% of users, which is how many people go online from mobile devices. Still, this number could double, as the number of those who spend time online is 25%.
Entire generations of people are abandoning linear TV in favor of watching videos on OTT and CTV. More than half of all viewers prefer watching the MTV Music Awards on Snapchat rather than on TV. All aspects related to video production and delivery will improve as the cost drops to follow demand.
In the same way, messaging will change in all regions, especially in Asia, where it is most dynamic. It will irreversibly change the way people communicate with banks, cabs, and online stores. Finally, the advent of the fifth-generation era of communication, 5G, will provide unprecedented speed of information exchange, freeing us from cables and fiber optics.
5. Artificial Intelligence Will Help with the Development and Implementation of the IoT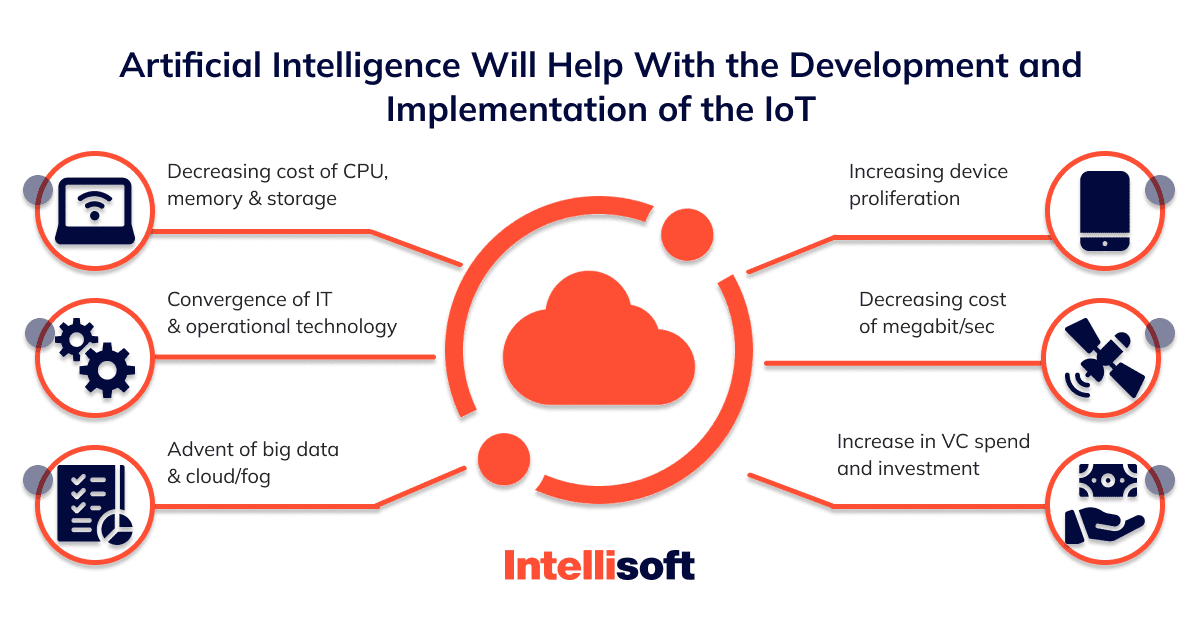 Artificial Intelligence (AI) and the Internet of Things (IoT) are interrelated. The IoT contributes through the incredible amount of new data that will emerge from its development. When hundreds and thousands of machines interact with each other in a production network, analyzing the large amounts of data produced, it is possible to get results that the human mind could never achieve, pretty much less in the same time frame, often critical for decision-making.
Training machine learning algorithms to detect various outliers in this data will allow them to see opportunities to improve efficiency or prevent upcoming problems early.
As IoT networks grow in size and complexity, they become increasingly dependent on new developments in machine learning and AI. This is also important from an IoT security perspective, as additional capabilities for automated threat detection emerge.
6. More Computing Is Done Locally
Edge computing-technologies and algorithms are different in that calculations are done as close as possible to where the data is collected, such as in sensors or cameras. The point is that a huge amount of data collected by such devices turns out to be absolutely useless. A good example is a camera that routinely transmits terabytes of data to a server, while only a few megabytes of these recordings showing suspicious activity may end up being at least somewhat useful.
If such devices are able to perform some kind of primary processing of data instead of mindlessly transmitting it to the cloud, the data network will be much less burdened by useless traffic and much more computing power will be devoted to actually useful computations. In the example above, the image recognition algorithms running on the camera hardware and software itself will be able to analyze frames for suspicious activity and send only potentially useful data to the server for further processing and storage.
You Might Also Like:
IoT Future Trends: Final Thoughts
Hopefully, these IoT future trends and implications will show you the importance of implementing Internet of Things in your business. These technologies have been assisting organizations worldwide with setting lives and businesses straight. Smart cities and factories become realities, and IoT is about to expand to limits unsurpassed by anything yet.
The future of IoT is rapidly evolving, and several IoT future trends are shaping its development:
AI Integration: AI is becoming increasingly intertwined with IoT. By 2025, it's projected that there will be 42 billion IoT-connected devices globally, and AI will play a crucial role in processing the vast amounts of data generated by these devices, enabling smarter decision-making and automation.
5G Expansion: The rollout of 5G networks is a significant driver for IoT growth. It promises faster and more reliable connectivity, making real-time data transmission and remote control of devices more feasible.
Digital Twins: Digital twins, virtual replicas of physical objects or systems, are gaining traction in IoT. They enable better monitoring, maintenance, and optimization of physical assets, leading to improved efficiency and reduced downtime.
Edge Computing: Edge computing, where data is processed closer to the source (devices), is becoming essential for low-latency applications in IoT. It reduces the need for sending data to centralized servers, improving response times and security.
IoT in Supply Chain: Despite challenges like supply chain disruptions, IoT is gaining momentum in logistics and supply chain management. Intelligent data analysis is helping companies overcome these hurdles and optimize their operations.
In summary, the future of IoT involves a deeper integration with AI, the widespread adoption of 5G, the use of digital twins for asset management, the growth of edge computing, and continued expansion in supply chain applications. These trends and the role of IoT are set to transform industries and enhance the capabilities of IoT in the years to come.
Intellisoft provides leading developers and other experts in delivering world-class IoT solutions that empower enterprises and corporations with agile data movement, collection, and evaluation. We help our partners create and automate business projects to ease and speed up their processes. Solutions from our team help to cut costs and optimize outputs. Should it be a shipping fleet or Internet of Things cloud applications, Intellisoft innovative approaches set pedestals for business growth. Thus, contact us ASAP to learn more about our further cooperation.