Are you searching for a competitive advantage? Would you like to enhance the efficiency of your employees' performance but don't know-how. Probably, you plan to profit from collective knowledge and experience, as well as have the necessary information and templates at your fingertips. Not only you! Gartner expects threefold growth of legal tech investments by 2025. Consider the legal knowledge management app and knowledge management lawyer solutions an amazing tool to cover all these needs.
What Is a Legal Knowledge Management App?
A legal knowledge management app is an effective single repository of all business intellectual assets like databases, cases, deals, artifacts, and opinions. This knowledge management lawyer software optimizes creating, managing, storing, and sharing valuable content. It's not a simple app but a whole business strategy. LKM's key goal is to make information easy to find and use. It becomes possible through improved, streamlined information-gathering processes, accessible data, and referring legal knowledge to business assets using KM legal.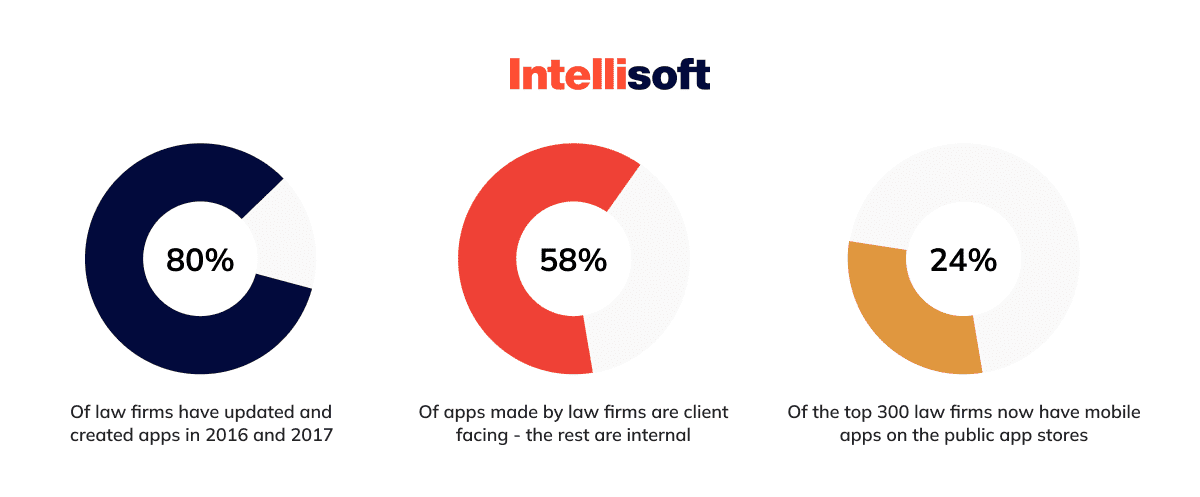 Main Principles of Its Work
Km legal involves two elements, LK infrastructure, and processes. The main functions of infrastructure are to optimize the LKM process and organize a clear, flexible, efficient structure to transfer knowledge and experience. It encourages sharing and cooperation through positive business culture. LKM processes include gathering data, transforming knowledge into special forms – artifacts, and wide-spreading throughout the company. It protects intellectual property from leakage and other cybercrime.
To turn a legal knowledge management platform into tangible results for your business, follow these five principles.
Make your LKM comply with your business strategies and culture. An integrated KM law solution leads to advanced decisions, as well as superior, cheaper, and less time-consuming performance. So, employees feel support and deeper engagement.
Apply Connect and Collect principle. It represents an information flow from suppliers to LK users. Experts connect to discuss issues. Whereas the LKM app collects and codifies the knowledge into docs.
Ensure your LKM handles Push and Pull. A simple supply of information like uploading various formats of documents to the database and publishing materials facilitates enlarging your intellectual assets. Another part of streamlined information flow is pulling the data on demand: answers from the FAQs or searches on the intranet.
Graph example: 4 Legal Knowledge Management Elements: Technologies, Processes, Roles, Governance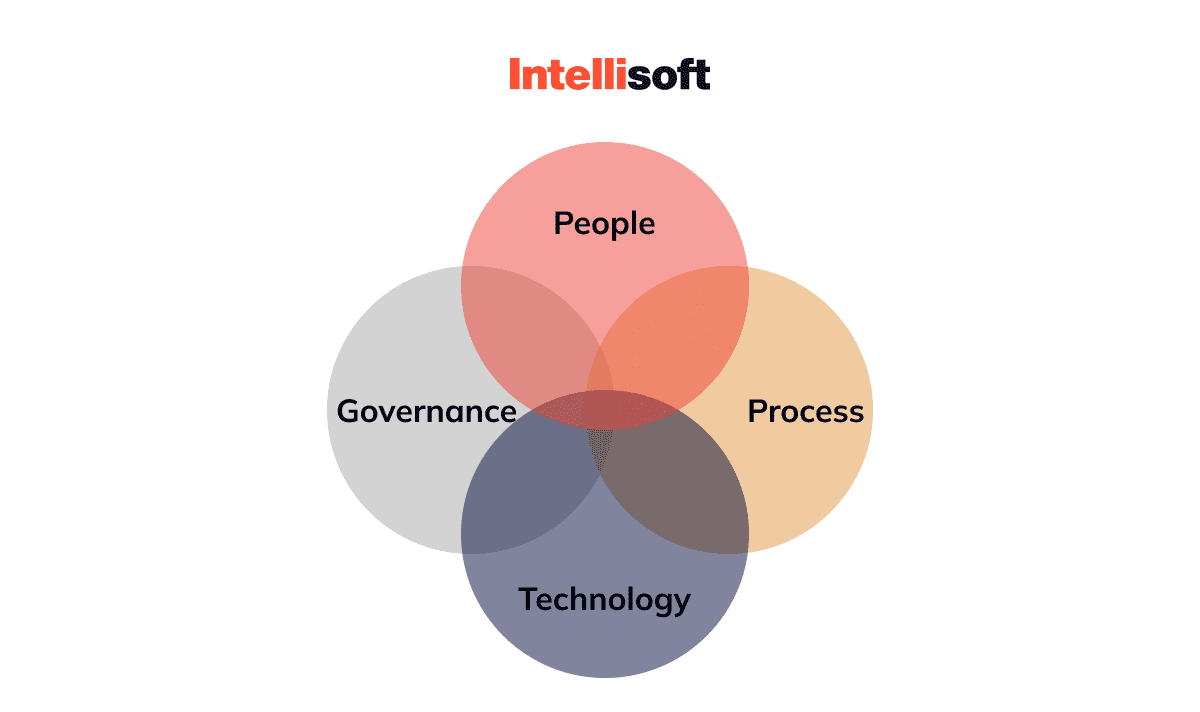 LKM apps must include technologies, processes, roles, and administration elements.
Teck components: search engines, portals, corporation toolkits.
Process components: knowledge asset creation, after-action review, and others.
Roles components: LK managers, owners, and others.
Administration components: support policies, metrics, bonuses.
Install this app into business processes. Try to embed it into the very fabric of all your activities.
Yet many LKM systems failed due to shallow integration. For law companies, information plays a crucial role. No doubt, you must store and find reports, applications, evidence on every investigation, lawsuit, or other legal proceedings. This type of content is unique and precious. All content can be internally ( like templates, regulations, agreements, precedents) and externally produced. LKM systems may operate with extra relative information that is not exactly legal, such as emails, quotes, and others.
Valera, back-end/front-end developer @IntelliSoft (ZyLAB):
I would like to discuss one of our legal apps on the example of ZyLAB. I would like to focus on Tesseract OCR Integration in particular. This solution is frequently used for data collection (e.g., proof) for litigation. For instance, a firm wants to investigate the case. To do so, they have to collect all company docs, including even staff emails stored in their Gmail or Cloud. 

The app assists with both collecting and retrieving text files, as well as recognizing images and other visual files. That is what Tesseract does – text recognition. The tool then stores all information in one place, as well as indexes it so that a user can search for the necessary data hassle-free. 

Then, legal specialists who obtain access to that data can look for info of their interest using various criteria. For instance, any recall of the word "budget." They can sort the discovered files on their own (e.g., "relevant" or "irrelevant"). After that, these experts extract all relevant files. Later, this info can be used in the court, for example.
Six Key Features of KM App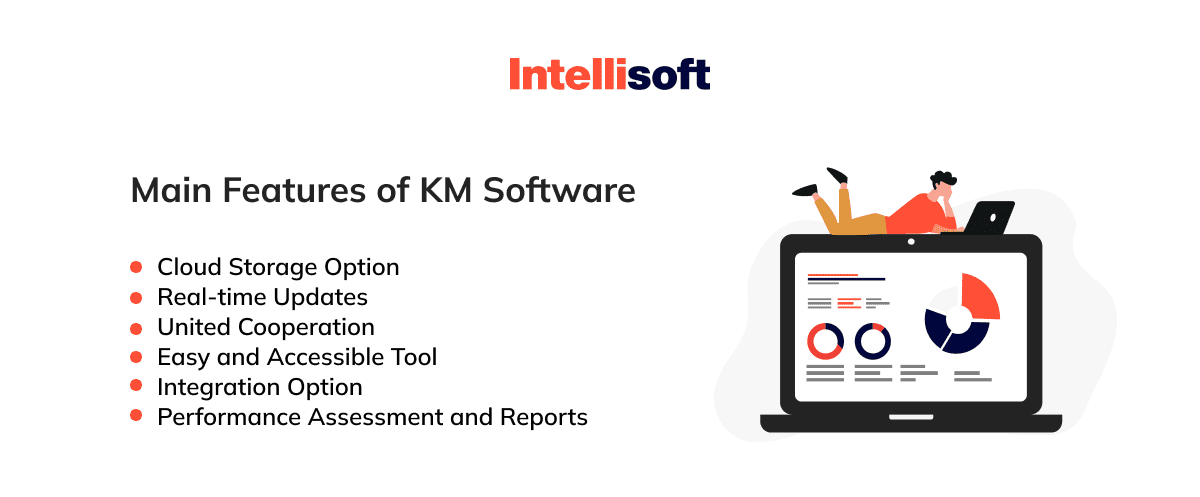 To pick up the best LKM app for your business, pay close attention to these key features.
Cloud Storage Option
Keep all your intellectual assets in one virtual space. You can share documents, access files, and track revision history. With a search filter, you can find any required information. Cloud volume depends on your needs, scope, and budget. Its storage capacity can vary from 5 GB to 1,000 GB.
Real-time Updates
Tracking all changes, statuses, and participants' contributions in real time is crucial for every solid LKM system. It's possible through automatization, which streamlines the update process. You may write comments, chat with both staff members and clients, and create a loop with colleagues on certain projects or separate tasks.
United Cooperation
Work as a single unit with your whole team, even your stakeholders and clients (with guest status). Invite all participants from the beginning. Feel free to use tagging, instant messaging, and video conferencing tools. You can integrate video and set scheduling conferences in your LKM app. To provide a smooth communication flow, check progress, make decisions, solve problems faster, address activity logs, deal with task management, and send notifications.
Easy and Accessible Tool
Every participant must have easy and fast access to updated, accurate information in the system. Remote teams benefit a lot from cloud storage with access to any device.
Integration Option
No one runs a business with a single tool, according to Statista. An average company worked with about 110 applications in 2021, yet the index is increasing. By the time you've decided to apply an LKM app, you've already had some operational software. The possibility of seamlessly integrating your knowledge management system becomes a critical feature. Centralized information repository increases your workflow efficiency without abandoning Google Drive, Zoom, Slack, ClickUp, and MailChimp.
Performance Assessment and Reports
Track and visualize your business outputs with customizable reporting dashboards. Various widgets can guarantee you reach desired results. Peter Drucker, a renowned management guru, was sure that if you can't measure it, you can't improve it.
How to Create MVP for Legal Knowledge Management App
The concept of a Minimum Viable Product implies an early version. It has the most straightforward functionality yet with value for customers. The so-called early adopters or first users provide customer feedback. They help learn market needs, product benefits, and downsides. At this stage, the business generates some revenue to invest in further developing an app with advanced features.
To build an MVP, remember two main ideas. The first rule for the product is to be viable. It can meet core customer needs, release paints, and add value. To ensure further success, early adopters already must receive a complete, efficient experience. The second one is minimum functionality. It should cover the necessary features to produce value for users. Such an approach presents a wonderful opportunity to investigate user interactions to plan the next development cycle.
LKM app minimum viable unit combines processes, technologies, roles, and governance. It is a framework for knowledge transfer from a supplier to a user to turn into real business outputs. A widespread mistake to install only technology like Jive leads to partial shallow adoption. Yet when you introduce a minimum viable framework for community coordination, members must see the value. Through deep integration into a workflow, users contribute to and help develop the existing framework, which meets their needs. What are the exact steps in app development?
Step-by-Step Process Guide to Build Legal Knowledge Management App
At first, creating legal knowledge management apps may seem frightening and need vast investments of time and money. Besides, the ROI of such an input may look vague. Keep your head cool. Follow our step-by-step guide to see how easy the legal knowledge app development process is.
Step 1 Work out the LKM Structure
Define the issues you plan to cover and structure them. After the basic layout idea is ready, you should develop separate workspaces dedicated to key categories. The last point in structuring is designing pages where you will locate content.
Step 2 Generate Content
Most businesses already have various kinds of content, so you will only upload files to your brand new LKM app. Apart from imported documents, you must add templates, guidelines, frequently asked questions, current, and other documents. Show your active example, even if it's from scratch, and engage all your staff in this continuous process.
Step 3 Set up Access Configurations
Give permissions to upload or edit branded sensitive content to a limited circle of employees. Allow or restrict access to manage your LKM System.
Step 4 Introduce a Platform to Your Team
If it's the first time you are onboarding your staff, remember several hacks:
Give clear instructions on the usage, layout, and sections on a user-friendly welcome page.
Include LKMS activity and contributions to your team's KPIs and incentivize them.
Form a FAQ block to help your team adapt work with information on typical questions.
International Data Corp.(IDC) estimates that Fortune 500 businesses have a loss of up to $32 billion annually due to KMS lack. They failed to use collective knowledge to share it effectively.
Understanding the Market
To stand out with an impressive competitive advantage, optimize your user experience (UX). Relevant, customized UX will help you meet your clients' needs and remain trendy. In the coming years, law firms will strive to enhance the conversion of their websites with handy and easy-to-use designs.
Legal sites and blogs will continue to optimize SEO with local experts. The companies will keep hiring content marketing staff to avoid losing their positions. Legal tech tools usage is expanding, providing colossal support, even covering corporate clients. These means are becoming mass products with a significant price reduction. Big legal market players will invest even more in legal tech. As Thomson Reuters reports, tech expenditure went up by 7.1% in 2021, whereas KM – by 4.6%. Overall, law tech has grown by over 101% since 2019.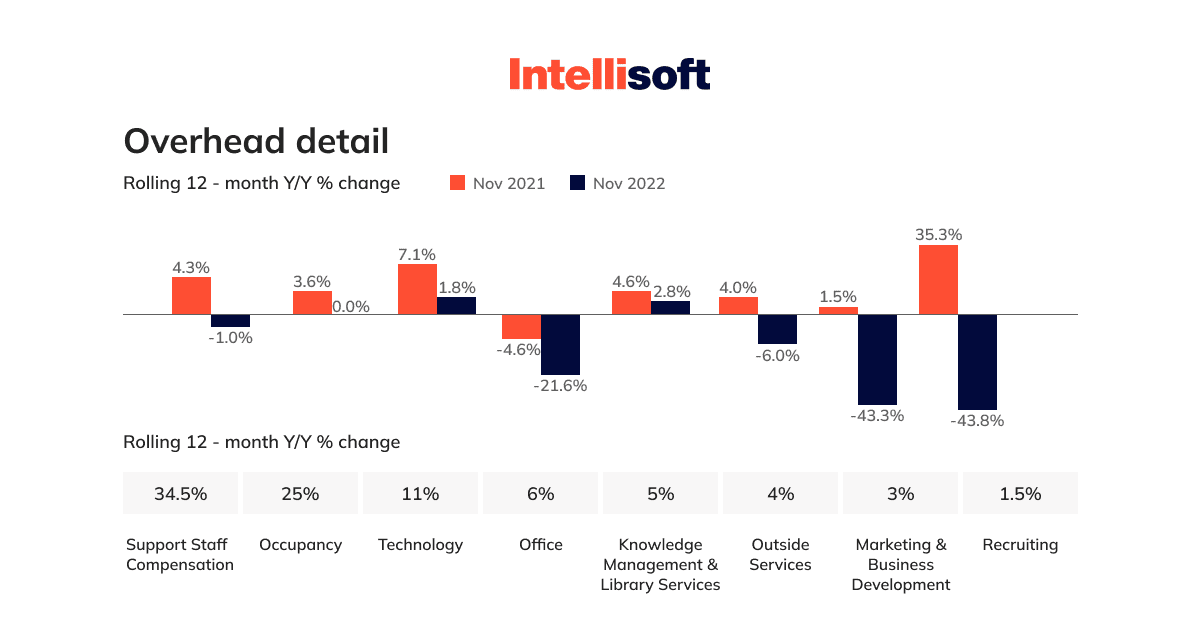 Some forecasts about automation seem very optimistic. Not only documentation but business process automation will be a widespread phenomenon among law firms. Back office and other tools will contribute a lot. Gartner says that 50% of automated key business transactions will take place by 2024. It means a smart business approach with self-service. Digitalization looks realistic with AI and machine learning applications.
Financing
Estimating costs for introducing legal knowledge app development is no doubt a tricky question. Business scope, current tech infrastructure, and objectives affect these calculations. They include hardware, software solutions, relevant training, and others. LKMS may be almost free, like a bare-bone platform with email, intranet, newsgroups service, centralized file system, or databases.
In other cases, it may cost up to a couple of thousand dollars for large enterprises to develop an individual design product. This solution will integrate and transfer all collective knowledge. After half a year or less, the business may expect to pay its investment back. The price may reach $1.5 million to develop a common KMS assisted by a consultant.
Related readings: 
Frenzy Challenges in the Development Process to Beware of
Primary myths. To overcome the prejudices of redundant, risky payback investments, investigate the topic in detail. Check all opportunities and threats.
Onboarding resistance. Teams don't often understand all the benefits from the beginning. Systematic training and communication are the only way out, which requires time and capital.
Security risks. Set knowledge protection a top priority inside and outside the company. In the case of outsourcing, remember to protect your intellectual property. Also, read our free e-book on the issue.
Constant software updates. Don't worry. Watch new tech emergence. Choose the relevant one and update your software.
Best Legal Knowledge Management Apps for 2022
As we have said, the legal sector is where knowledge is the most valuable asset. Thus, managing knowledge using a specific application can result in a more effective workflow, significantly reduce operating costs, and maximize productivity across your legal business(es).  
Valera, back-end/front-end developer @IntelliSoft (ZyLAB):
Traditionally, a large law firm would hire many new lawyers and pay $120,000 per year to them just for doing the paperwork and noting the relevant documents and sections. Using a special technology to read most docs can result in significant time and money savings. For example, a major lawsuit might contain 700,000 documents and require 5,600 hours to review, costing the attorney $280,000. With a computer to assist, the review time is $20,000 per attorney and a maintenance cost of $50,000. Can you see the difference?
KM apps vary from a general-purpose Google drive, intranet, or document management platform to dedicated solutions. In the section below, we list the most helpful knowledge management software for the legal industry. We also highlight the main features and cost of those apps so that you can estimate your budget before using any of them.
West KM by Thomson Reuters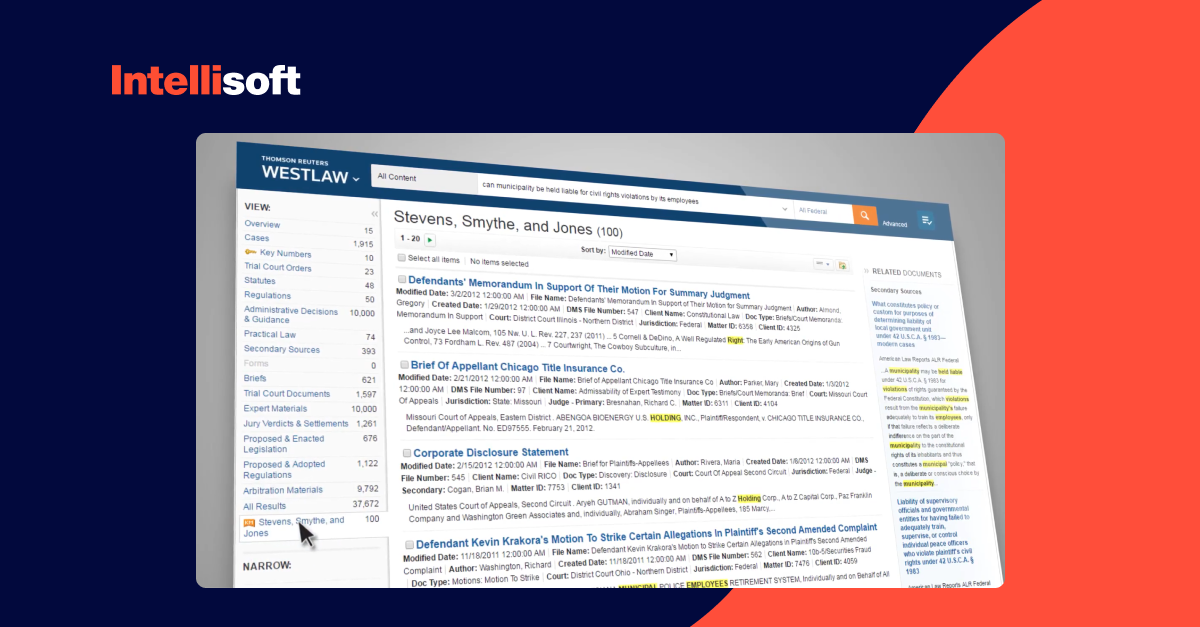 West KM is a knowledge management software that developers can seamlessly integrate into the existing working ecosystem. This software also incorporates Thomson Reuters Westlaw enhancements and legal research technology. 
West KM allows you to integrate this technology with Westlaw and KeyCite citation services so that your attorneys receive access to the related information placed in this online legal research system.
This legal tech product allows you to search for relevant documents quickly and put them at your fingertips, leveraging "intelligent searches" technology. This way, your legal business can work more effectively by streamlining searches and delivering on-point information with less effort from your side. 
Key features of West KM are: 
WestlawNex search methods for documents 

KeySearch hierarchy of legal topics

Search your organization's records and documents on WestlawNext 

Builds and refines a citation list of your organization's docs

Filters the number of documents 

Notes and other feedback about your organization's documents 
Pricing: from $169.60/month for Westlaw Edge Single State Primary Law to $291.20/month for Westlaw Edge All States and Federal Primary Law.
LawVu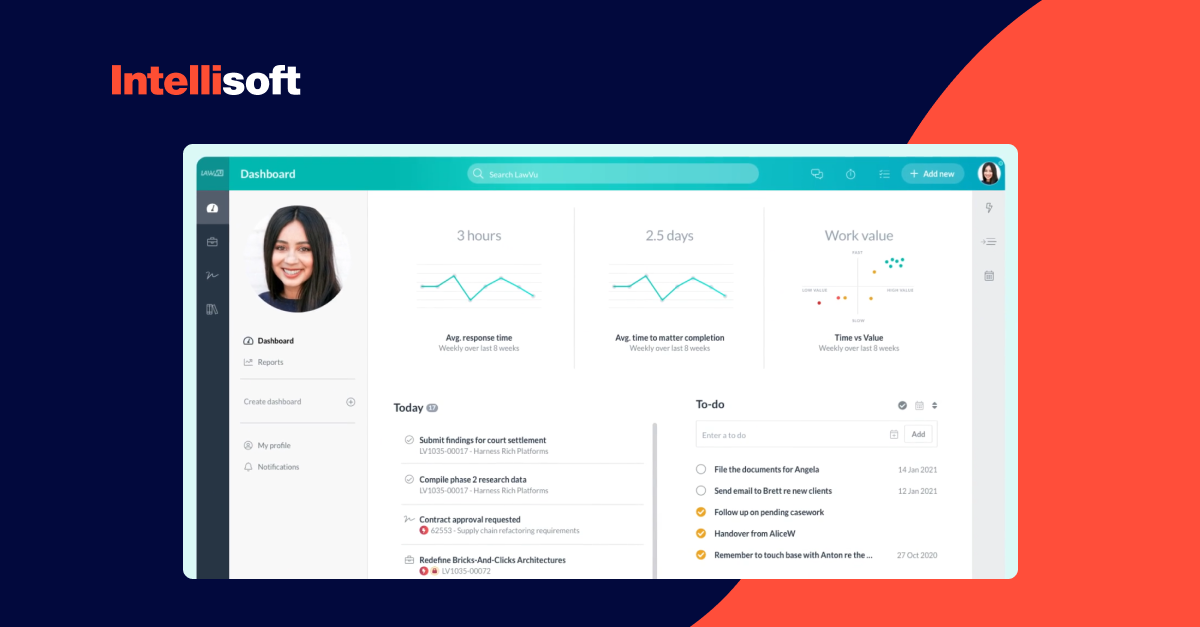 LawVu legal knowledge management software allows users to find information, documents, and historical advice leveraging different searches across document folders, contract management systems, and inboxes. 
This software is one connected system that unifies several information sources into a single knowledge base and document management system. As a result, you can quickly get the necessary information and share that knowledge across a unified collection of collaboration and productivity tools explicitly built for in-house legal teams.
LawVu includes the following functionality:
Matter management 

Contract management and contract automation

E-billing

Knowledge base & document management

Reporting and analytics

Intake, triage, and self-service for in-house legal teams

Integration with Outlook, Slack, Docusign, etc.  
Pricing: contact sales@lawvu.com or book a demo to receive more details about the pricing for your organization.
GaLexy by Legal Suite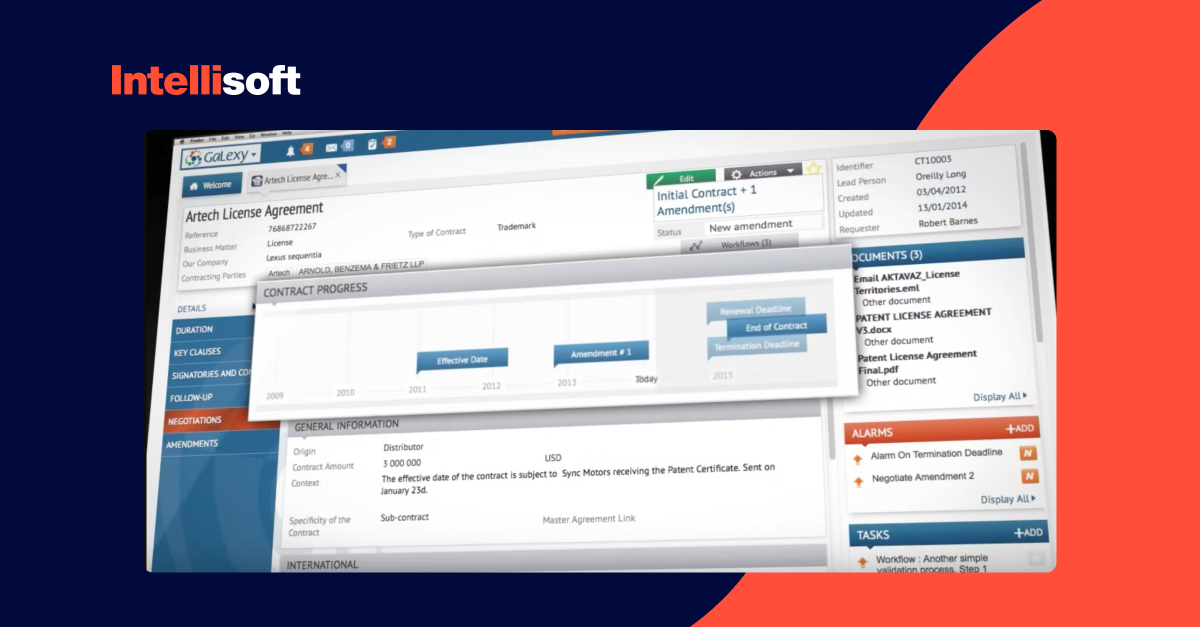 GaLexy is a cloud-based enterprise legal management software developed by Legal Suite. This software allows legal departments of all sizes to track and manage contracts, matters, and compliance risks, as well as litigation, intellectual property, and electronic billing within one platform. GaLexy also enables users to automate all contract management activities by automating listing, sorting, and reviewing contract workflows. 
The platform provides a cloud-based central repository for in-house legal counsel, including emails, contracts, and documents. 
The critical functionality of GaLexy includes:
Contract lifecycle management

Knowledge management

Collaborative portal

Records management

Calendar for critical dates control and anticipation

Documentation management

Electronic billing

Authoring tool

Key Performance Indicators (KPI)

Document Generator

Microsoft 365 Integration
Pricing: to find out GaLexy pricing, reach out to the software provider. 
RazorLex by Practiceleague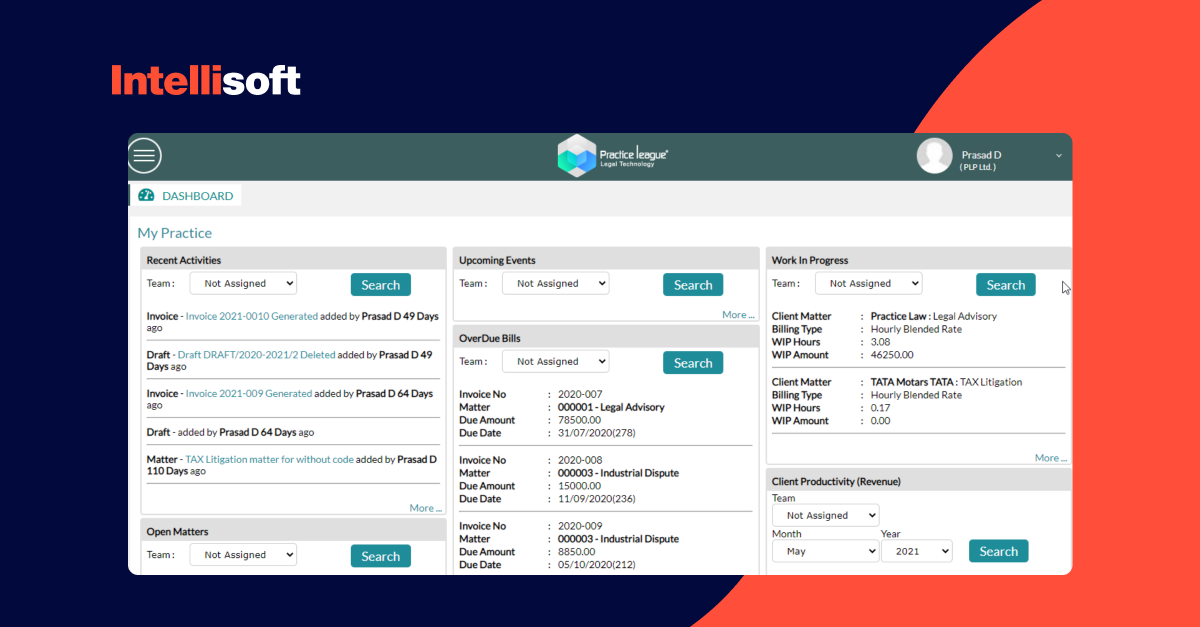 Practiceleague Razorlex is a unique legal practice ecosystem that offers users various modules for successful law practice – Time & Billing, Centralized Clients, Matters & Projects Management Resources. The software functions, such as Document Automation & Management, will help transform your legal business by streamlining the workflow, optimizing costs, and accessing all the information from the cloud for better collaboration. 
Practiceleague Razorlex's main functionality includes: 
Knowledge Repository 

Full-Text Search Search 

Knowledge Filters 

Download/Audit Control Roles 

Contribution 

Reminders & Alerts 

Reports & Analytics 
Pricing: Basic pricing starts from the $15 Pricing Model, then users can pay per feature monthly. 
MyKase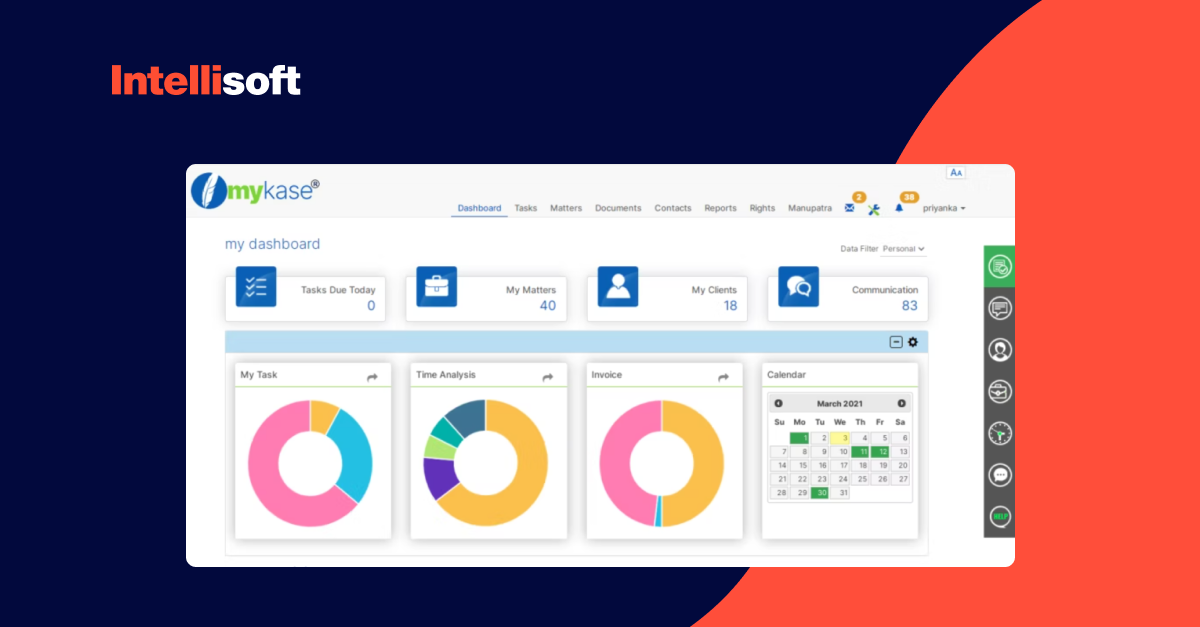 The MyKase knowledge management platform is a handy tool for turning generated and collated data from the law practice into digital form. This platform helps law firms to reach and collect knowledge effectively by leveraging modern technologies so that such firms don't need to spend a significant amount of time searching for required information.
The key functions of MyKase software are:
Litigation Tracking

Streamlined Workflow 

Notice Management 

Litigation Management 

Corporate Legal Platform 
Pricing: starts from $17.03 /month for Starter Plan. The platform offers two other subscription tiers – Advance Plan and Enterprise Plan. 
Those are the leading legal apps up-to-date. Moreover, you can check the next solutions on your own:
Lexis Search Advantage
Neudesic Firm Directory
Legal Search Connect
ROSS by IBM
Fastcase, Ravel
CARA
KIRA
RAVN
eBrevia
KM Standards
Microsoft SharePoint
iManage
Final Words
When built properly, KM law apps make it possible to centralize and manage all case-related info and concentrate on your customers with no missed deadlines. Knowledge management solutions for law firms allow legal companies to manage data related to a case with events, evidence, and necessary docs always at their fingertips. It's just necessary to follow the development phases and get the right team on board.
banner_content_calc description="" title="How Much Will Your Project Cost?" button_text="Calculate Now" link="https://intellisoft.io/outsourcing-team-cost-calculator/"]
Are you looking for ways to boost your team's efficiency and improve quality and cooperation? You can choose the ready-made legal knowledge management solution from the section above. Or you can hire a dedicated team to create a tailored-made platform from the ground up for your law firm's legal process management. 
IntelliSoft is a global software development and IT consulting company with several offices worldwide. Our team provides law firms with pro consultancy, implementation, customization, and maintenance of legal doc management solutions to improve their productivity. Our company is ISO 9001 and ISO 27001-certified. You can be sure that cooperation with IntelliSoft does not pose any risks to your data security. Interested? For more information, write to us.