Most lawyers and other representatives of the legal system face the need to get ready for a case at home or squeeze in work at a restaurant between client meetings. Interestingly, the ABA 2019 Legal Technology Survey Report proves that 72% of these experts telecommute to work using mobile tech. At the same time, 95% legal professionals share that they have to work remotely quite often.
The time they may have to stay at home, fulfilling their job duties, goes up due to various factors like global COVID-19 pandemic. Basic features like calendars and email are no longer enough. So, what are some functions every lawyer needs today? How do the best lawyer apps look? IntelliSoft already has answers to these questions. You can also check what we offer to companies that deal with legal app development.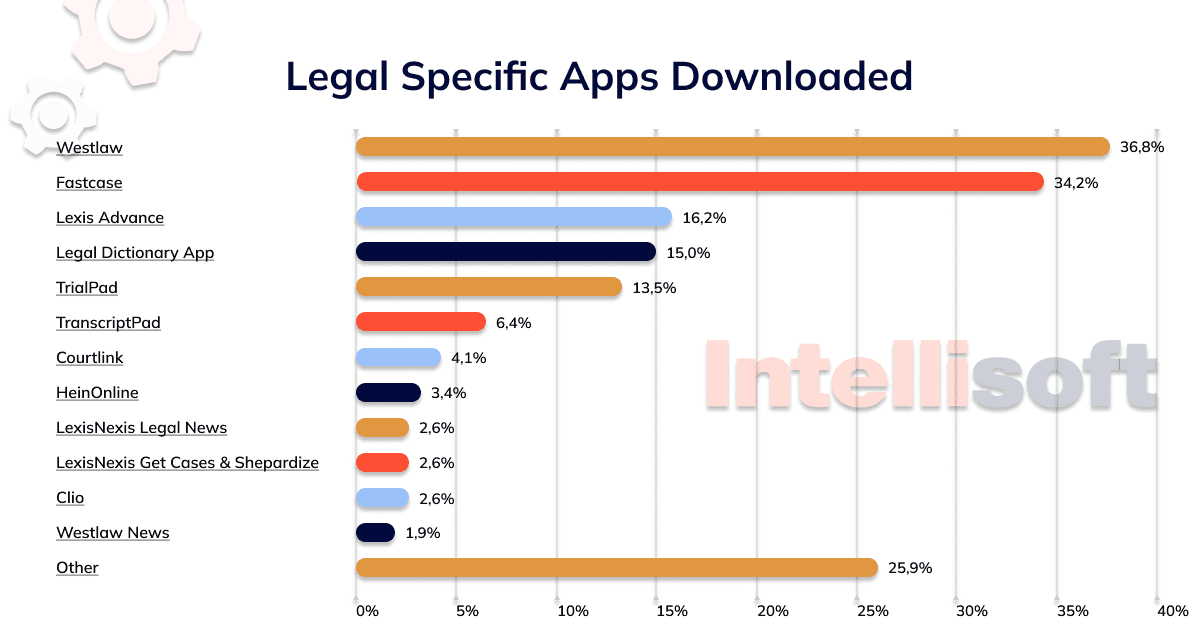 Why You Need to Develop an App for Lawyers
Those who decide to create mobile software for legal firms obtain a number of advantages. In fact, it is a win-win for both clients and professionals. Applications for attorneys enhance internal job processes and guarantee faster, more comfortable, and safe legal services. Mobile apps make lawyers look more approachable.
It is way easier to attract new customers and retain existing ones using mobile tools for law firms. That is because of improved communications and better marketing opportunities. As competition in this field is fierce, effective tools for expanding customer base matter.
Even if you are about to create an app for the first time in your life, the benefits are worth it. To persuade you, we are going to list and go in-depth on ten primary benefits.
1. Improved Time Management
Legal agencies need applications that would allow them to control and schedule the working time of a particular employee or an entire team of lawyers. By adding employees to the team list, for instance, firms can track the time workers spend on their tasks.
Mobile apps for law firms usually make it possible to create general and individual reports in the program. A time tracking feature allows attorneys to estimate their billable hours and arrange appointments hassle-free. Solutions for smartphones prevent lawyers from missing deadlines.
Most mobile apps legal for time management support integration with various popular services (Basecamp, JIRA, Teamweek, Google Calendar, etc.).
2. Higher Productivity
Previous cases for reference are important for attorneys. That is why they benefit from using software with extended digital resource libraries of keywords, precedents, and more. No more need to waste hours on search.
To raise productivity, attorneys also look for task planners that have features such as editing the schedule, setting priorities, sharing information about their tasks and projects with other people, moving tasks to other days, marking the project status, etc. In other words, such lawyer apps offer a picture of one's:
Habits and behaviors
Work (all stages of a project to be accurately calculated)
Progress toward a goal (with a graph of a user's progress)
Schedule
These solutions for law firms will boost both productivity and quality of expert's work.
3. Get Closer to the Audience
The app simplifies and speeds up the process of ordering legal consultation and other services. B.J. Fogg, the Stanford University professor, derived a "formula for any action" consisting of 3 ingredients: motivation, opportunity, and trigger (Nir Eyal, On the Hook: How to Create Habit-Building Products). If even one of these elements is removed, the purchase will not be made.
In other words, a person has a desire to order a legal service with an app at hand. All that's left is to provide a trigger – a highly visible call-to-action button to make it easy. Mobile applications load information about a service or particular lawyer much faster and have a higher level of usability.
4. No More Paperwork
It takes time to deal with all documentation manually. Legal agencies have a lot of docs to handle. The good way out is having an application with folders, docs, and features to digitize all documentation processes and exclude the need for manual paperwork. Many apps legal allow users to convert pictures into various formats and even recognize texts in the images.
5. Increased accessibility
Mobile apps make legal business accessible. This is relevant not only for self-isolation mode, but also in ordinary life. With a majority of people using phones every day and spending an average of two hours on apps daily, owning an application that is accessible from anywhere can make the difference.
A client can get detailed information about services at any time and any place, learn about various legal cases, select attorneys based on individual needs, and much more. Convenience and ease of interaction with the business significantly increases loyalty and strengthens the seller-customer relationship.
6. Personalization of messages
By receiving personalized notifications tailored to their personal needs, the user starts to be more loyal to the law company. The probability that a client will order a service inside the app, having received a notification about a new service or discount, for example, is much higher than when aimlessly surfing the web. To make clients feel secure inside the application, a developer should better add a private, safe online chat.
Push-notifications make it easy to bring clients back to the same service, send bonuses in exchange for registration, notify them of new services in categories they're interested in, etc.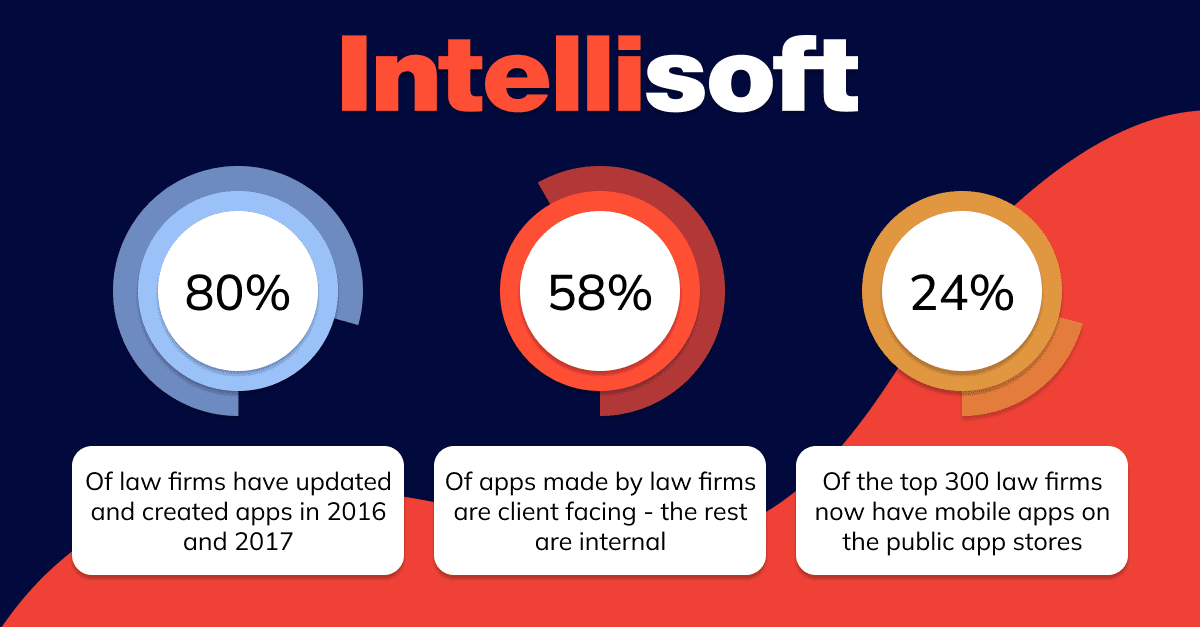 7. Mobile Apps Allow Access to a Growing Market
The rapidly growing mobile eCommerce marketplace is helping business owners strengthen the connection with their customers. More than 50% of Internet users surf the web through mobile devices. If a person installs a specific app on their smartphone, it means they are definitely interested in the offered services. In other words, by having a mobile app, law firms are working only with their target audience.
According to Statista, 22.3% of all digital transactions in the US were made using mobile devices five years ago. These numbers have doubled in the past three years, and the graph has been growing steadily since the second quarter of 2010.
Analytics claims that users spend 90% of their time interacting with their mobile device in apps. Experts believe that this is the "age of mobile apps." The same statistics also show that 79% of smartphone users have one or more applications, and 10% of them have about 6.
Users interested in law services download apps legal with corresponding content more eagerly than wasting time in waiting lines when physically attending legal institutions. Such mobile phone owners are interested in obtaining helpful tips or sharing opinions about various cases.
If you order the development of a mobile application, which will take into account all the interests and desires of customers, you'll be a few steps ahead of the competition. IntelliSoft knows how to help you with Legal app development.
8. Brand Recognition
A mobile app is like an empty billboard on which you can put anything you want. This product can be as functional as possible, informative, stylish, shocking – it all depends on what a company wants.
The main thing is that the application should be user-friendly, with an intuitive, beautiful, and branded design. This way, a law firm will increase brand awareness and establish an unbreakable connection between their services and customers.
9. Knowing User Location
This data can be more than information for audience analysis – it is also a tool that helps users. For example, knowing the location, law firms can offer clients the addresses of the nearest offices that provide legal services. Also, it's a chance to check which areas need legal help more than others before opening another office or targeting ads.
10. Making Referrals
Mobile applications for law firms can be tailored in a way that clients can make referrals. A single touch of a smartphone connects the user with their close people who may need legal services. Sharing such info is super easy via social media.
The word-of-mouth and other types of positive feedback draw the attention of more people to the legal company, making them willing to download and install its app and start using offered services.
11. Continuous Business Monitoring
Many mobile apps have a variety of analytical functions. So law firm managers can see data on the number of customers and the services they ordered, costs and profits, data on prices, etc. This saves managers from having to process this data on their own. Ready figures are always at their fingertips.
Related readings:
Types of Apps for Legal Practice
Depending on business goals, field, and individual requirements of various legal experts, apps for law firms can be of several types. If you already know which kind of software for law firms you plan to develop, you may need some expert opinion, support, and help.
We at IntelliSoft can even create a team of vetted developers and other specialists you may need for your project. You can use the team cost calculator to find out how much our services may cost you.
Law practice management apps
Law firms can use law case management software to record and organize details related to each of their cases. These programs include several features that increase the company's efficiency in dealing with clients. Those who work in case management or a law firm may find it helpful to learn about different case management platforms.
For example, law practice management software helps companies keep track of daily tasks, client contact information, and invoices. It also allows them to communicate with clients and aggregate case information. These tools are also useful for reducing errors, such as missed deadlines.
To be more specific, law practice management applications usually include features that allow law firms to track phone numbers and email addresses of clients. Such solutions should also possess calendar features to coordinate their tasks and meetings, which is important for staying organized.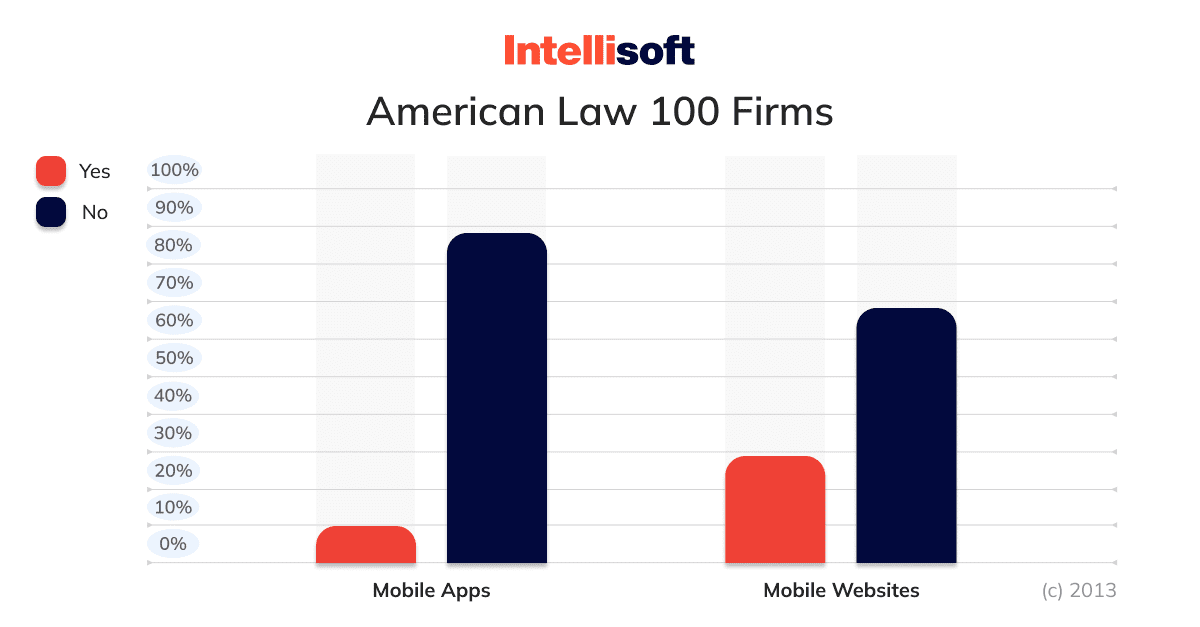 Still, perhaps, the main feature is the ability of software to generate legal documents for a law firm to reduce errors and the time it takes to create documents. Generally, document assembly automates the creation of documents after obtaining client info.
This category of apps enables users to:
Automate documentation
Collect client's information
Create case lifecycles
Track notes history
Track time
Set priorities
Delegate tasks
Schedule reminders
Organize various docs
Communicate with clients
Schedule events
Financial management and accounting app
An attorney might have several cases to work on at once, just like a law firm. Thus, it is difficult to keep in mind the budget. That is when the billing and invoicing processes turn into a challenge. Some law firms deal specifically with finances and accounting. It is twice as important for them to keep all their financial records safely in one place for convenience.
Financial management and accounting apps for law companies allow users to create bills, upload invoices, and even pay using a built-in payment gateway. Most often, the features of such tools include:
Calculating income and expenses
Keeping statistics
Graphs and charts
Distribution of income and expenses by category
Planning the receipt and spending of money
Creating databases
Calculating interest on loans and loan accounting
Import of data from other applications
Personal data protection and sync
Handy integrations with Dropbox, PayPal, etc.
Reminders
Image converter applications for lawyers
When one can't use a particular photo, graphic, or any image file the way they want because the format is not supported, they will often see the Image Format Not Supported warning. It drives people mad, especially people of law as they deal with documentation. Lots of documentation.
Mobile apps for converting files will help law firms and attorneys to convert jpg to png or other formats. This is often necessary when posting an image on the internet or reading and signing a doc. Special image converters will be a handy helper when working with pictures or photos of various kinds. The converter can not only format but also adjust image attributes such as color, quality, brightness, contrast, etc.
Image converter applications allow users to quickly adapt a graphic file for any task. For example, professional cameras take photos in uncompressed RAW-type format. The images are very large but have great color depth. They are easy to edit, but for viewing, storing, or posting it is better to convert them to another format, even with a partial quality loss. In particular, such tools offer the following:
Auto-cropping scanned photos
Scanning any text/image
Scanning multi-page docs
Sharing scans
Batching scan docs
Printing files wirelessly
Saving scan results
Case registry search apps for law firms
This type of an application gives access to the court records or uniform state register of court decisions. In addition, users can search for specific cases and documents, and receive notifications and alerts about court appointments. Such tools help monitor open databases and find any organization by name, or code and inform about any changes in the companies. A smart algorithm will make it possible to jump to the needed material in one click:
Case law and statutes
Expert witness databases
Briefs
Law review articles
Legal blogs
Pleadings
Analytics and secondary treatises
Professional networks
Professional networks for lawyers and their colleagues are a horn that will effectively spread the word about a lawyer as an expert. To do this almost automatically and sometimes even without their participation, special apps were designed.
Such networks also offer the so-called social learning. It is the transfer of skills from one expert to another. The goal is for a professional to understand and incorporate new techniques and tools into their legal practice.
Finally, these networks allow attorneys to reach the podcast, brief, or post with the help of the following features:
Filter by topic/question
Search by tag and speaker
Credit category and data
Examples of the Best Mobile Software for Law Firms
All mobile apps for lawyers can be divided into several categories. Have a closer look at each of them. Some solutions can be mixed in a single tool.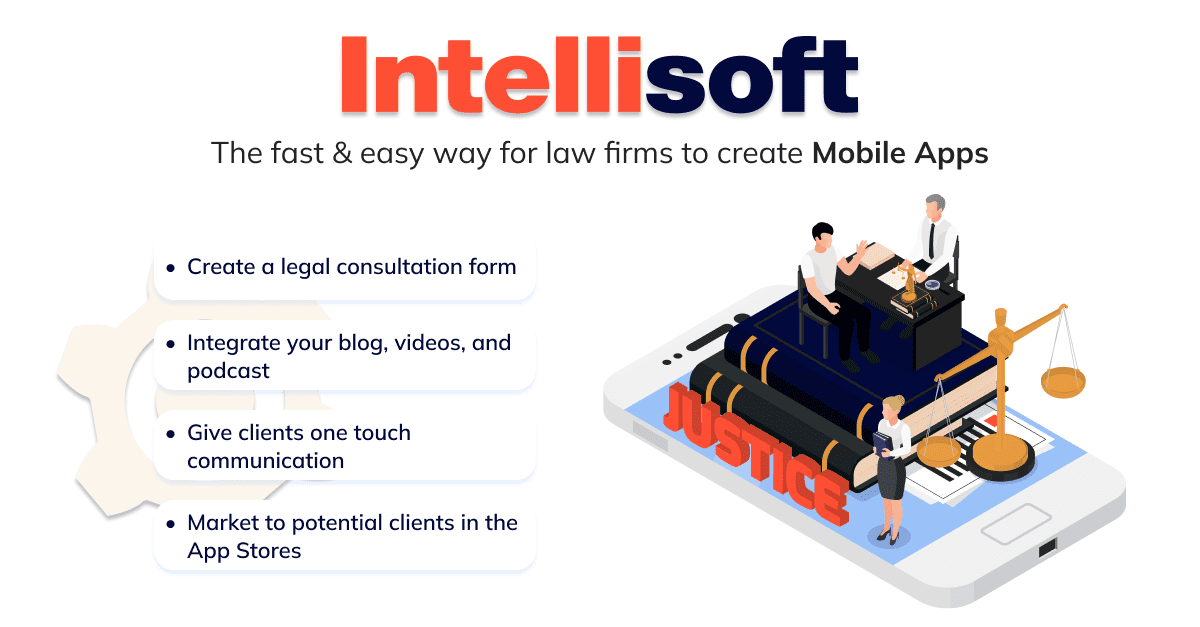 In any business, the most valuable resource is time. This is especially true in companies with a large number of employees, often working in different offices/branches or remotely. It can be difficult to coordinate their actions.
Today's level of IT makes it possible not to waste precious hours on endless meetings, discussions, and briefings. There are apps that allow lawyers to quickly solve organizational tasks in an online format. This greatly improves the efficiency of the team. Consider the most popular software.
For many lawyers, it has become common practice to install this tool on their phones as it's a convenient task scheduler, characterized by an intuitive interface and conciseness.
It is perfectly adapted for teamwork, so it is used as a liaison for the legal department. Its functionality includes common discussions, creation of individual projects, and the ability to support documentation with video and audio files.
This app is good for team activities. Rocket Matter is an organizer that has a synchronized calendar and address book.
The billing function allows users to monitor and record the financial flows. Each case is assigned a corresponding payment transaction via financial billing, and all types of time are accounted for, including time costs and the duration of court sessions.
Attracting new customers is the goal of any business, and law firms are not an exception. An agency simply cannot be successful if the number of clients leaves much to be desired. We can put an equal sign between this indicator and an increase in revenues.
Another question is what methods to use to attract customers. Here is an example of a software for legal industries.
This tool makes it possible to start communicating with clients and showcasing the firm's brand minutes after registration. Evident is basically for legal support and recommendations.
Users can learn more about various laws and even recruit a personal attorney. In 24-48 hours, the selected candidate will start working on the case.
Law firms have to deal a lot with paperwork. Who wants to be dealing with that anymore? It is way easier to electronically manage their back-office, involving client management, work with documents, billing, and timekeeping.
This solution is great for billing, automation of working processes, legal case management, and time-tracking. With it on a phone, a lawyer is able to arrange docs, get ready with and solve cases, and manage invoices/payments. The application integrates well with instruments such as Dropbox and MailChimp.
This software features such helpful functions as calendaring, invoicing, doc management, contact management, and email. This solution is good to increase efficiency of small to medium law firms. Lawyers download and install this application to quickly share docs, and offer a better client experience.
Software for creating electronic signatures (EDS, ES) are cryptographic utilities required for proper operation of all elements of electronic document flow. They are used to generate an electronic signature, authenticate the certificate, and create a signing time point.
DocuSign is an electronic signature solution. It helps quickly sign a full range of documents and forms online, without training or software installation. The app simplifies workflow, provides legally valid tools, and guarantees a secure signing process that protects against copying.
Apps for maximizing time & productivity
Ineffective time management can manifest itself in many ways. Whether it's procrastination, distractions with personal matters, or long-drawn-out projects, there are many things that waste an attorney's time on a daily basis. Wasted time causes lawyers to disrupt their life-work balance, feel more stressed, and face tight deadlines.
Fortunately, today's technology offers plenty of options for more productive time management.
This is a software specifically designed to record the hours worked for each client, project, or legal case. With this technology, lawyers can see and analyze how they are investing their time: how many hours were actually productive and which ones should be paid.
Some law firms may lack qualified experts to handle all cases. Thus, not only clients need convenient mobile legal software applications to find and recruit professional lawyers in their area.
This app might work if a law firm wants to hire a qualified expert. It is focused on finding a legal specialist in a specific field. A user has to refine their filters to find those experts. The Lexgoapp app also allows a user to enter a database of lawyers after a quick registration procedure.
Such solutions assist with managing all tasks in one place. From legal research to routine follow-ups, the assignments are discussed via emails and spreadsheets, but this is not very effective. Luckily, more and more law firms are starting to mobilize task board systems mentioned below.
Asana is a cloud-based software for teamwork. Setting tasks, creating checklists, checking tasks – that is what it offers. The app is useful for law firm managers as it allows them to create projects and monitor the team's performance.
Slack is a popular communication tool for teams. It's a great tool for correspondence with different teams in one place. Members can transfer files, grade work, talk, and more.
Apps for working with content
Should it be writing tools or image converters, these solutions are vital for lawyers. After all, attorneys and law firms deal a lot with writing and processing other types of content.
There's probably no better place to write texts and save them. It's convenient and easy. One can work offline, always having all thoughts at their fingertips. It's also possible to take quick notes with audio or photos.
This application allows attorneys to keep up with their social media and write quality content. Users can write a post and publish it everywhere at once. In other words, it's autoposting. For example, with the click of a button, a user can publish a post to Twitter, Facebook, and Google+.
This software allows attorneys to quickly scan documents, convert them into the preferred format, adjust the quality of images, and send scanned documents in a few clicks.
Video conferencing software
Incorporating user-friendly communication via videos leads to an enhanced client experience. Video conferencing makes lawyers look more confident and persuasive. Some mobile applications offer multiple communication options.
The main idea is to make it possible for private lawyers and firms to host video meetings with clients. There is no need to download and install this software. It is enough to pick the invitation link in a web browser and start a conversation.
One more cool feature is a screen sharing feature and recording. The first one allows the parties to view the same document in real time, discuss and make necessary edits. The second feature is helpful for recalling the call details. Lawyers can use this app without the video option.
Steps to Develop an App for a Law Firm
What would a mobile app development plan look like? The approach to defining the stages of application development should primarily be based on the principles of Human-centered design (HCD), i.e. focus on user problems, and rely on the interface. We can distinguish the following stages of mobile app development.
Step 1. Market and Audience Analysis
It all starts with the search for the main idea of the application, its concept (the development of something unique or improvement of an existing one). This stage also includes an analysis of the market and existing products, interviews with stakeholders/investors, and user research.
Before moving on to the next stage, it's necessary to thoroughly describe the business requirements of the product (business goals, target audience, competitiveness, brand requirements, and success metrics). It is also important to determine the identity of key customers (their motivations, needs, goals, triggers, etc.).
Step 2. Definition of Features
The next stage is about defining basic functionality – the minimum viable product (MVP). Often, mobile applications are built gradually: first, a demo version with simplified functionality is released to the world.
Then new features are released in subsequent releases, and this approach is usually financially justified.
The developer collects feedback from users and understands what to emphasize in further development, and can even make some profit. At this stage of the mobile app development, the user experience map is determined, i.e. the set of basic functions and features available to the user and their interaction.
Step 3. UI/UX Design
At this stage, we can start working with specific functionality and with a clear understanding of what the client's steps will be. This is where the information architecture is created, that is, the basic structure of the app's navigation system.
During this phase, a use case is specified, system analytics are connected, and prototypes and design of interactions are created. It is important to clarify that at this stage, we are not talking about the design of the application – we work only with prototypes or simple layouts.
Step 4. Prototype Validation
Usability tests are needed at this stage. This stage is also related to the designer's work – whether the users see the value of the application and be able to figure out how to use it. Based on the test results, the designer makes changes to the design.
A designer, project manager (PM), and/or other experts create a detailed requirements specification for a developer.
Step 5. Development
Development of the mobile app and auxiliary services follows. In the process of creating a mobile app, professionals are constantly testing and improving the project., But it is important to stick to the initial plan because in the process customers may come up with new ideas on functionality and design, which can completely affect both the speed of the development process and the promotional plan.
Step 6. Promotion
This is where you connect the maximum marketing artillery you have funding for – banners on a website for lawyers, search engine advertising, SMM, mailing lists, SEO, tracking virality, media publications and news portals, etc.
At this stage, it's important to determine where your loyal audience is and which communication channels respond best.
Step 7. Final Tests
Next comes the re-testing of application functionality and searching for bugs, reassessing app or website design for lawyers and requirements, and creating test documentation (test cases). We fix bugs and bring the application to pre-release state.
Step 8. Release
When the series of revisions are complete and all departments are happy with the result of the work, the software can be released to the world, or rather its first demo version can be downloaded to the app stores.
However, this is not the end. After that, you need to carry out continuous technical support of its performance, improve and extend its functionality.
We know how to ease and speed up the development process. Hiring developers with knowledge and experience in the legal industry has many benefits, such as saved time and costs, understanding of industry standards, expanded talent pool, complete correspondence to security and quality standards, and more.
One example of our cases for legal projects is the one we did for ZyLab, a software developer for eDiscovery, data risk management, email management, records, doc management, knowledge management, and workflow.
Initially, ZyLab software was developed as a desktop application, but the company was no longer satisfied with the system's performance. The client contacted the IntelliSoft team as the company needed to extend the R&D team with experienced dedicated developers.
Despite the client's high standards for developers since the product processes high amounts of data, has a scalable complex infrastructure, and has high standards of security, our team managed to cope with all tasks successfully. We gathered a team of six dedicated software specialists working on the project for about a year.
The project is ongoing, and we have a large tech track planned. At the end of 2021, ZyLab decided to broaden the scope of cooperation, and IntelliSoft is going to create a new team to work on the company's Insights product.
How Much Would a Legal App Cost?
At IntelliSoft, we know that speed of development is crucial for working in dynamic markets. The earlier you release the MVP, the faster you can gather feedback and present the idea to investors.
To avoid changing developers in the middle of a project, we recommend working with professionals from the very beginning and checking the portfolio of your contractor with whom you are going to work in advance.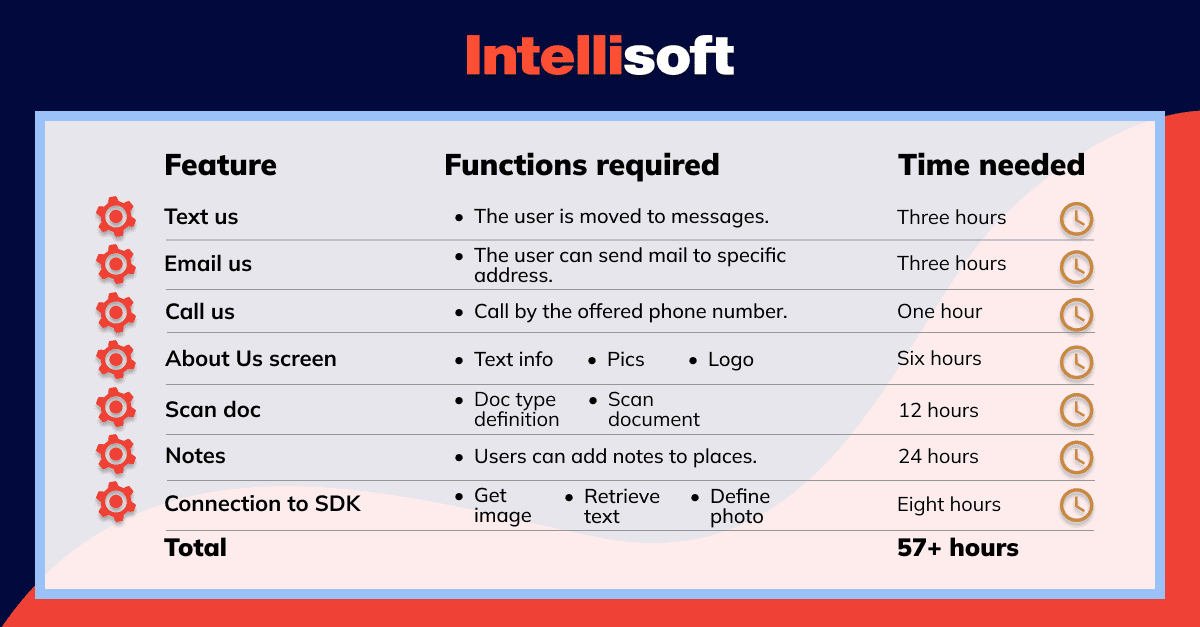 As a rule, the cost to build a mobile application MVP for a law firm starts from $15,000, as estimated by our company based on our experience.
Mind that the costs of a fully-fledged lawyer mobile app development may vary based on the number and complexity of features, as well as the number of mobile platforms and the hourly rate. It is way lower to hire an expert in Ukraine than in the UK, for instance. Here are some figures based on the region:
Developers from the United States charge up to $250 hourly.
Developers from Western Europe may charge $60-150 hourly.
The rate of an engineer from Eastern Europe varies from $40-80.
To sum up, the cost of building mobile apps for law firms starts from $130,000 and could be as high as $650,000.
Verdict
As you can see, developing a mobile app is a rather long and time-consuming process. There is no ready-made scenario, and mobile application development plans can vary and be adjusted depending on the project.
Although app or website development for lawyers may seem a challenge, the benefits that clients and professionals obtain are obvious. For instance, lawyers can respond to customers right from the application without the extra stress.
An app can be created to store everything in a single place and assist law firms with running smoothly.
On the whole, legal software can be built for anything on the legal spectrum. No matter whether a firm or individual is into public or private practice, having a mobile app that caters to the clients' needs is always a big plus. If you turn to IntelliSoft for help, we will help you brand your image, obtain visibility, and expand your client base depending on your mobile application content.

About

Helen Rachyna-Kyselova

Helen is a marketing expert, editor-in-chief, and head of content. She demonstrated success in negotiating win-win compromises, conducting A/B testing, launching e-mail campaigns, writing personnel manuals, publishing authorized articles, implementing corporate policies, and more. She currently works for Intellisoft, being part of its marketing dept.