With their ease of use and more competitive and straightforward pricing structures, cloud eDiscovery solutions are gaining market traction. However, the eDiscovery process can be challenging to manage, especially if a legal team still relies on time-consuming manual methods. That's why it's vital to use SaaS solutions.
E-Discovery software automates the discovery process, saving legal teams money and time. It allows users to upload, review, and create documents to speed up the discovery process.
As a collaborative platform enables legal teams to discover, illuminate, and act on information to drive internal investigations and influence litigation outcomes, you may think about building an eDiscovery app or integrating SaaS for eDiscovery. If you're looking for an outsourcing partner for your product in this category, turn to IntelliSoft. We have done such projects before for such an industry leader as ZyLAB.
ZyLAB One is a cutting-edge SaaS platform that aids in automating the eDiscovery process. The company contacted IntelliSoft because it needed to add experienced dedicated developers to its R&D team. We have completed the client's requirements and assembled a team of six dedicated software specialists working on the project for approximately a year, turning this on-premise SaaS into a cloud-based one.
As field experts, we'll go over the electronic discovery process, list benefits from such software, and explain how to select the best solution for your business.
What Is eDiscovery?
eDiscovery is the process of identifying, legally validating, and analyzing digital evidence to generate responses to questions posed by clients and their lawyers in letters or inquiries. This process involves the request, protection, location, examination, and retrieval of electronic data to use as evidence in a civil or criminal case. Offline eDiscovery can be done on a single computer or a computer network.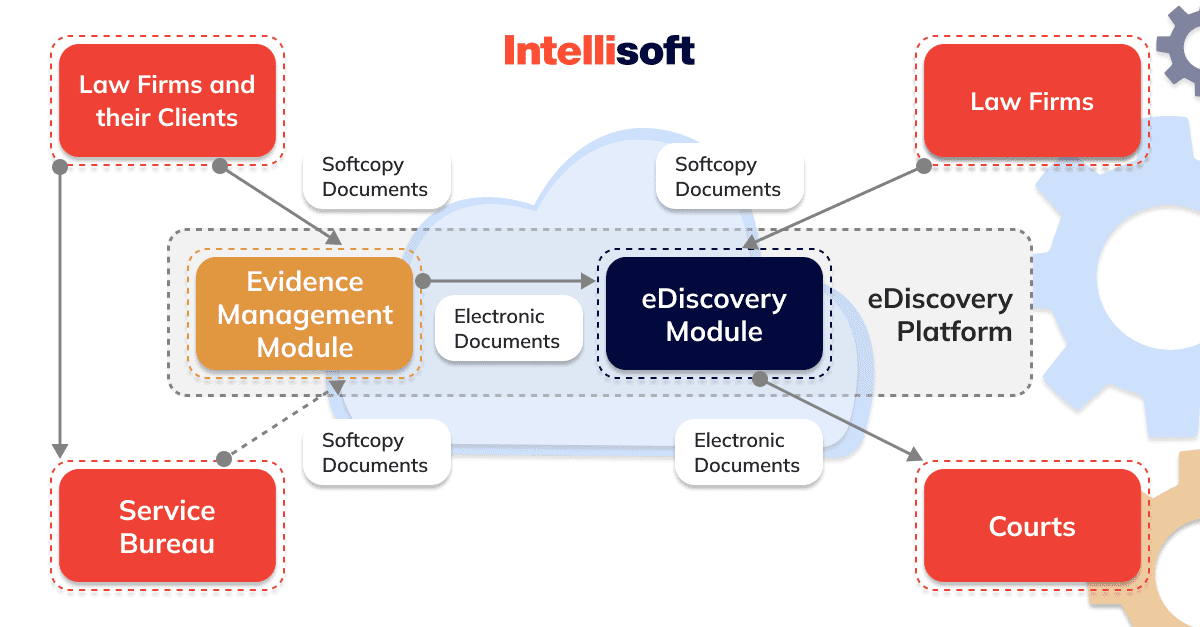 There are common eDiscovery subjects, such as Email, database information, voice mail messages, instant messenger chat information, image files, video files, and social media information. The eDiscovery software should turn all these types of evidence into readable and sherable form. Why? Since there are various individuals, such as attorneys on both sides, IT managers, forensic scientists, and case managers, may be associated with the process.
Why Does eDiscovery Matter?
EDiscovery aims to ensure that technical experts who present the findings of digital evidence research interact with business people and their attorneys. Tech experts safeguard digital evidence so that the second party has no reason to accuse the first party of altering or destroying evidence in any way while obtaining evidence or violating procedural rules for handling evidence.
The required digital evidence is frequently found in a massive array of poorly structured data from various sources, including company servers, clouds, databases, archived copies of data, IoT devices, etc. When working with such sources, it is nearly impossible for an untrained person to search for the necessary data. eDiscovery solutions give lawyers this opportunity and assist in selecting only the information relevant to the client from a mass of heterogeneous data, reducing the time the company spends on external/internal audits and investigations.
How Does eDiscovery Work?
The majority of procedures have a few stages. These electronic discovery phases were developed to enhance the gathering, preservation, and presentation of information that may be pertinent.
1. Identification
At the initial stage, potentially important documents are identified by the eDiscovery system for further investigation and verification. Failure to comply with a written notice of detention when litigation is reasonably anticipated would be considered gross negligence.
Сustodians of potentially sensitive information or documents are identified. Data mapping techniques are frequently used to ensure the complete identification of data sources. Because the data volume can be initially enormous or uncertain, efforts are made by legal departments to reduce the overall volume – for example, by limiting document identification to a specific date range or custodians.
2. Preservation
A realistic expectation of litigation triggers the requirement to retain information. Data deemed potentially relevant is put on legal hold during retention. While reducing the likelihood of data loss or destruction is the ultimate goal, making the process as secure as possible is another objective. Sanctions may be applied if preservation is not maintained. If the missing data places the defense "at an unacceptable disadvantage in justifying its argument," the court may impose a fine.
3. Collection
Data is collected when being transferred from the business to the legal counsel, who has to decide whether the data is relevant and how to utilize it. Some companies that frequently deal with legal issues have software enabling them to swiftly retain particular custodians in court when an event (like legal notice) arises and start the collecting procedure immediately. Other businesses might need to hire a digital forensics specialist to stop data theft. The stage of identification affects the collection's size and breadth.
4. Processing
Your files are processed in this phase so they may be uploaded to the Document Validation Platform. Extracting text and metadata from the source files is a standard part of this step. This stage makes use of a variety of data extraction techniques, including NIST deletion and deduplication. Files may occasionally be converted to a dated, paper-like format (e.g., PDF or TIFF) to make editing and formatting easier. Advanced analytical methods can be used by legal entities with modern processing tools to enable lawyers to evaluate documents more correctly to discover potentially pertinent materials.
5. Review
Docs are examined for responsiveness to discovery and privilege demands during validation. Many of the duties involved in this process can be aided by various document review platforms, including swiftly detecting potentially relevant papers and selecting documents based on different criteria, such as date range, keyword, etc.). By providing collaborative tools and packages to speed up the process and avoid duplication of effort, the majority of review solutions also make it simpler for big groups of lawyers to evaluate files with cases.
6. Production
A document is delivered to the opposing counsel in accordance with the predetermined guidelines. This production frequently comes with a download file that can be used to upload documents to a site for document viewing. Documents can be created either as separate files or with metadata in a preserved format (e.g., PDF or TIFF).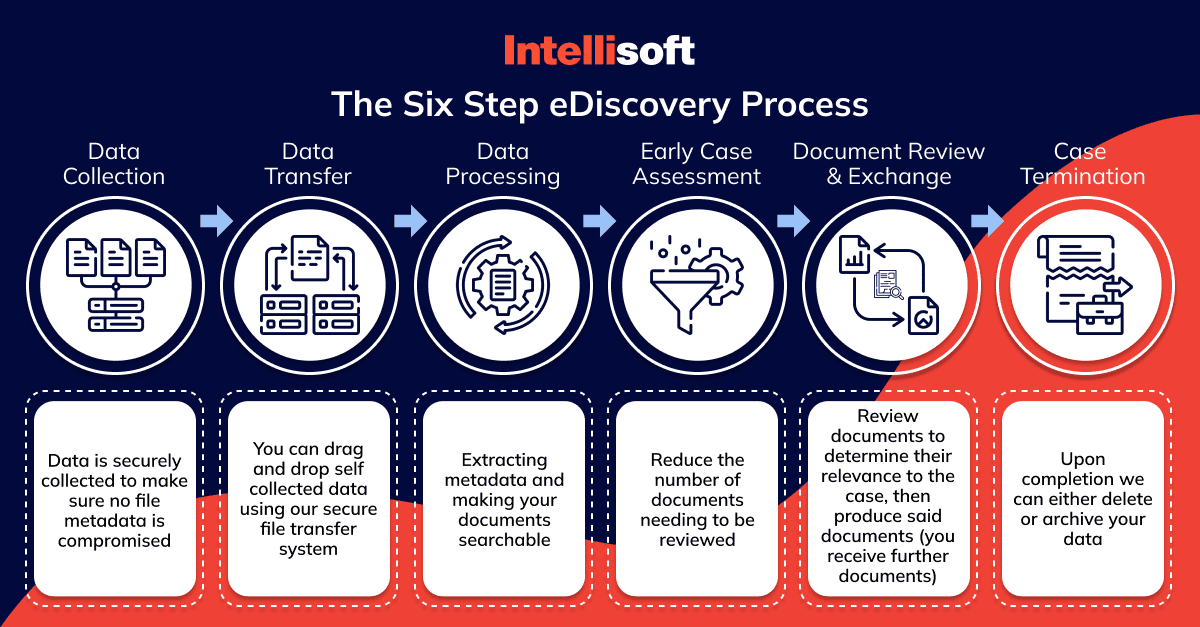 Reasons Why You Should Be Using a SaaS eDiscovery Solution
eDiscovery solutions offer a variety of advantages for legal companies. Other fields may also benefit from these points.
Scalability
Most legal teams have an average caseload and data size per one. In turn, a big case comes with the data to back it up. If you run an on-premises solution, you'll almost certainly need to rely on an outside service provider, which can boost data risk, increase costs, and expand timelines. However, if you run your own SaaS eDiscovery solution, it is entirely scalable regarding caseloads and data sizes so that you won't miss a beat.
Distant Access
With the impending mass shift to a remote workforce in 2020 (41.8% of the US workforce worked distantly at that time) and the ongoing trend of keeping workplaces mobile and flexible, the issue of access is vital. If you run an on-premises eDiscovery system, access is limited by location. SaaS solutions, which are secure enough, don't require additional and specialized staff to do the task because you can access them from any location via any browser. Data uploads are self-service.
Price Predictability
SaaS eDiscovery platforms' subscription-based pricing guarantees cost stability and frequent savings for legal staff. If you own a law firm, you may pass on the transparency and cost savings to your clients, giving you a better chance to compete in the current market.
Auto-Upgrades
A television being disconnected from WiFi for a while may start experiencing minor glitches or upload stalls. However, as you reconnected to WiFi, everything loads and works again. When using an eDiscovery program locally, the same thing occurs. Outdated software may no longer have access to updates. You won't need to worry about it when using SaaS eDiscovery platforms. Upgrades are carried out automatically without a separate IT department.
Analytics
You can purchase analytics packages to overlay legacy solutions or employ an outside service provider, but doing so may add risk, time, and expense. A SaaS upgrade provides access to the most recent concepts in idea clustering, near-duplication, entity search tools, email threading, and AI-driven search. Additionally, you may frequently tailor the analytics you use, preventing you from overpaying.
eDiscovery Use Cases
The legal field has many branches. However, experts may find eDiscovery SaaS helpful for data privacy regulations or criminal investigations.
Legal operations
For businesses to participate in commercial arbitration, they require the accuracy, cost savings, and speed that eDiscovery technology offers. Organizations for commercial arbitration in the EU let parties engage in discovery procedures comparable to those outlined in the US Federal Rules of Civil Procedure. When conflicts include contracts with parties outside of Europe, such as those in Africa, Asia, and the Middle East, where legal systems differ substantially, commercial arbitration is a well-liked time- and money-saving practice.
Data privacy and security regulations
Every organization that gathers, processes, stores, and transfers personal data faces significant compliance issues due to privacy rules. The data controller must always safeguard info, regardless of where it's kept: in data centers, the cloud, or with a third party. Data security and privacy laws may be in effect when exchanging data internationally. Data needs varied levels of protection as it crosses borders, depending on how sensitive it is. Both data in transit and at rest may be subject to stringent encryption rules. Information security must adhere to all relevant regulations, including those outlined in the ISO/IEC 27001 series. However, it's better to obey the rules no matter what, as businesses that ignore privacy laws and are found to be weak in privacy protection will incur 100% greater compliance costs than those who comply. When cross-jurisdictional data transactions are subject to privacy and security rules, an eDiscovery platform will help meet the necessary information security standards. Additionally, it can automate the redaction of private data, making compliance with privacy laws as simple as possible.
Criminal investigations
The processing of large amounts of digital evidence from various sources, such as body-worn video and security camera footage, smartphones, desktop computers, laptops, online communications, and wearable devices, is traditionally handled by law enforcement agencies and legal teams that use electronic discovery technology. More and more European nations now permit the seizure of digital evidence. While there are many ways that eDiscovery technology helps criminal investigations, one of the most helpful ones has to do with finding important evidence amidst vast amounts of useless material.
FOIA and public info requests
To uncover the truth, citizens seek transparency in corporate and governmental operations. Kansas City's Johnson County, Pierce County, and Scottsdale are some cities that use eDiscovery technology to process public records requests, as are several European governments, including various Dutch national government departments.
Regulatory oversight and internal investigations
​​Your internal capacity to manage compliance tasks and regulatory responses from start to finish is expanded by an eDiscovery platform. Additionally, it encourages routine internal audits so you may proactively get ready to meet legal obligations and avoid any trouble, fines, and reputational harm.
eDiscovery tools may find the hard-to-find narrative buried in the data by separating the pertinent facts. Visual data representations provide a quick understanding of relationships and communication patterns that might otherwise need months of human review.Every procedure is documented to ensure justification.
Variety of eDiscovery Services
Legal organizations and lawyers may win from using a range of services with eDiscovery certification.
Data collection services and computer forensics
Electronic discovery helps to quickly and accurately identify the circumstances of computer incidents. One stage of investigating computer incidents is collecting evidence by non-destructive copying data from storage devices to ensure safe analysis and legitimacy of its results. In particular, eDiscovery services assist with the following: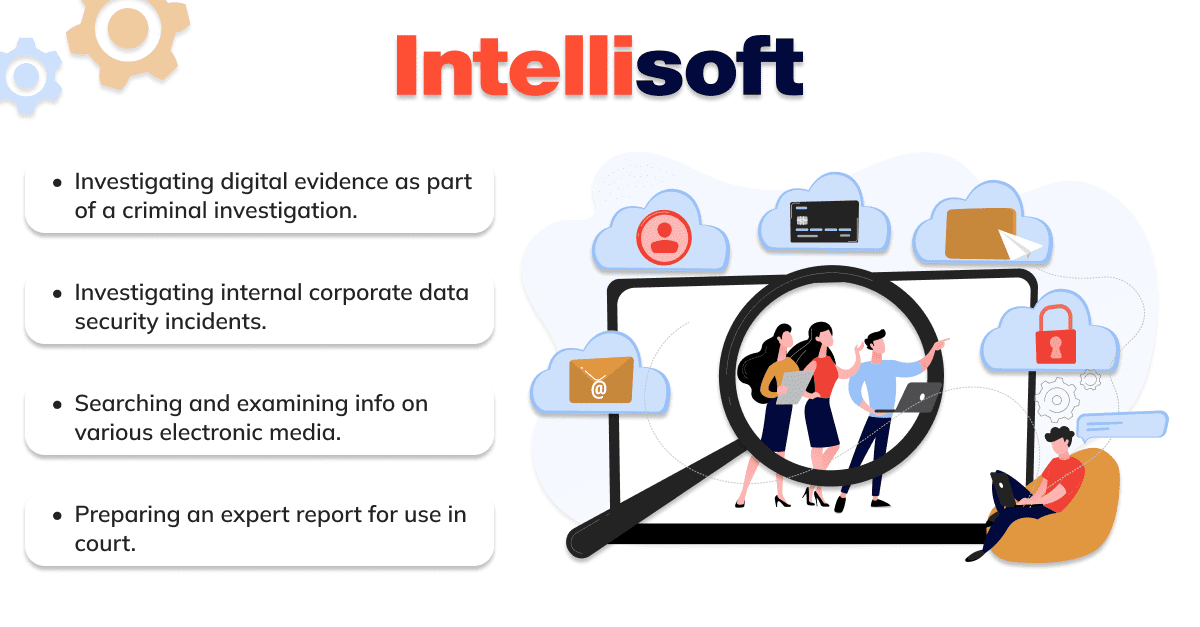 Data preservation
This service implies preventing data from being erased or changed by third parties. Correspondingly, it prevents false information. The auto in-place preservation, collect-to-preserve strategy, and legal hold procedure are all examples of common data preservation strategies (such as freezing the delete function).
eDiscovery processing
This service extracts pertinent information from documents and cleans up the eDiscovery findings to get them ready for review and production. Deduplication, cataloging, and metadata extraction are all involved (ensuring that only one copy of each relevant document is available).
Early case assessment (ECA)
Early Case Assessment (ECA) offers a thorough knowledge of the data and evidence available at the outset of a problem. It makes it possible to calculate the expense and risk of pursuing a specific legal course of action.
IntelliSoft Can Help With Legal Software Development
Learn More
Legal teams can rapidly locate the pertinent topic, important individuals like witnesses, and gaps in email exchanges by utilizing a variety of analytics and search options. They may also spot patterns and trends in the data to make wise judgments and informed decisions.
Summary reports give a broad information overview and analyze trends like date and email traffic by domain to delve into pertinent data sets prior to a thorough document inspection
Top eDiscovery SaaS for Your Legal Practice
When comparing e-Discovery software, consider some criteria for evaluation to be aware of if you want to choose the best eDiscovery software solution for your business.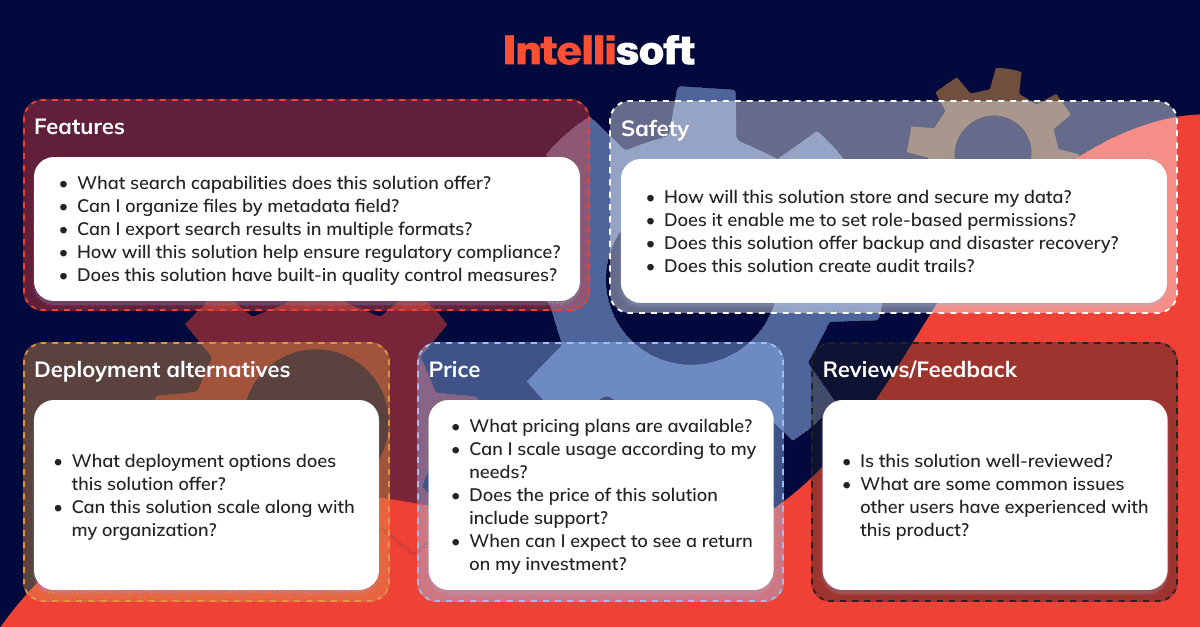 Relativity
Cloud-based electronic discovery reference model Relativity, formerly known as kCura, provides fact management, case assessment, review, production, analytics, and legal hold features as part of a suite. There are applications for iOS and Android.
Early case evaluation is another aspect of Relativity that enables users to look into scenarios using the information at hand. Filters allow them to remove information irrelevant to their cases. Legal document management is another program's component that enables users to arrange files according to different criteria. Lawyers can try this eDiscovery tool for free.
Exterro
Exterro is a cloud-based project management tool that supports legal and eDiscovery processes for law firms and internal legal teams. The software offers user-defined workflows and customized project orchestration to manage all proper operations and tasks.
The platform also offers established workflows and auditable processes to coordinate with outside vendors, internal staff, and external law enforcement authorities. The price starts from $100.
ZyLAB ONE
Users can perform quick, convincing eDiscovery with ZyLAB One, a simple-to-master eDiscovery platform, from beginning to end. Customers can utilize ZyLAB's robust data navigation tools to quickly sort out papers that don't merit further examination and launch their legal discovery.
Professionals can scan and store business documents in a single location. Pricing information is available upon request. Corporations often choose ZyLAB One for their eDiscovery and public records requirements since it's the logical choice. The initial package is free of charge.
Logikcull
Logikcull alters the conventional approach to discovery, legal holds, and investigations by enabling thousands of in-house legal teams. The noise will be automatically sorted and filtered by Logikcull. This software will enable the legal and IT teams to discover the signal quickly, preserve it, and achieve deadlines without exceeding the budget. More than 1500 in-house legal teams, law firms, and government agencies, according to the vendor, use Logikcull to make holds and discovery quick, economical, and secure. Users are charged a flat rate of $395 monthly.
Nextpoint
Modern legal teams can streamline the dynamics of data management with the help of Nextpoint's unique on-demand software, which automates eDiscovery processes and case preparation procedures. The solution is built on a cloud architecture.
The foundation of Nextpoint is a feature-rich, user-friendly document review workflow with unlimited data hosting. Users may change practically everything in real-time (views, tags, coding, bulk actions, and more) for your specific team or project. This eDiscovery tool was designed to streamline and automate the entire process. It's possible to use this software for free.
Lexbe
To better manage complicated eDiscovery requirements, Lexbe was developed with boutique law firms, in-house legal departments, and lawyer companies in mind. Lexbe would be an excellent choice for attorneys with more complex ESI needs who prefer a DIY approach to eDiscovery and foresee a need for more users to assist with ESI needs. The Lexbe eDiscovery Platform is Android, Apple, and Microsoft compatible. The price per plan starts from $5.00 per month.
CasePoint
The cutting-edge legal discovery technology from Casepoint enables businesses to increase efficiency while lowering risks. It's intended to simplify complex legal proceedings, inquiries, compliance, and other obligations. Top businesses, governmental organizations, and law firms have confidence in the Casepoint legal discovery platform.
The legal eDiscovery tool from Casepoint uses advanced analytics to help users gain information more quickly. Users may cut costs associated with the discovery by streamlining their procedures on a single, secure platform. The legal platform from Casepoint is cloud-based, scalable, and secure. It provides advanced analytics, data processing, and cloud collecting. It may cost up to $395 monthly.
eDiscovery Point
eDiscovery Point is a legal e-Discovery software system that runs in the cloud. It is intended to assist solo practitioners and small legal firms in managing the demands of eDiscovery in a way that puts the user in control of time and expenses, which is a welcome improvement over current technology and the eDiscovery process.
With eDiscovery Point, users can manage compliance, extract info, trace docs, and extract full text. It's best suited for attorneys in small and medium-sized legal firms and seeks to improve their productivity and decrease their workload. A free trial version of the platform's premium features is available so users can test them before purchasing the genuine product.
Reprise
Reprise is a web-based software platform and electronic discovery tool with various features that enhance this program's functionality. It's simple to track and index case-related documents. Case analytics, keyword search, and discussion threads are all available in Reprise.
Users can organize the related documents or articles around a particular theme/subject using the topic clustering feature. The software can be a helpful tool for compliance management activities. To make a document full-text searchable, you can extract the content from it and transmit it alongside the doc to the repository. It may cost $0 or $250 per month.
Digital WarRoom
A cloud-based, on-premises eDiscovery tool called Digital WarRoom assists legal firms and lone users in processing, reviewing, and producing documents. It's possible to specify keywords and filters throughout the corpus of docs using the tool's drag-and-drop processing interface, which automatically extracts and indexes metadata from files.
Privilege log, redactions, right-click and mark, email thread visualizer, language identification, and more are some of the key features of Digital WarRoom. It offers a price of between $1 to $10 GB per month hosted.
Related readings:
Challenges of eDiscovery
Even though the industry is quickly growing as you can see on the graph, today's eDiscovery technologies are not perfect. There are still some challenges to consider, but the solutions to them are already known.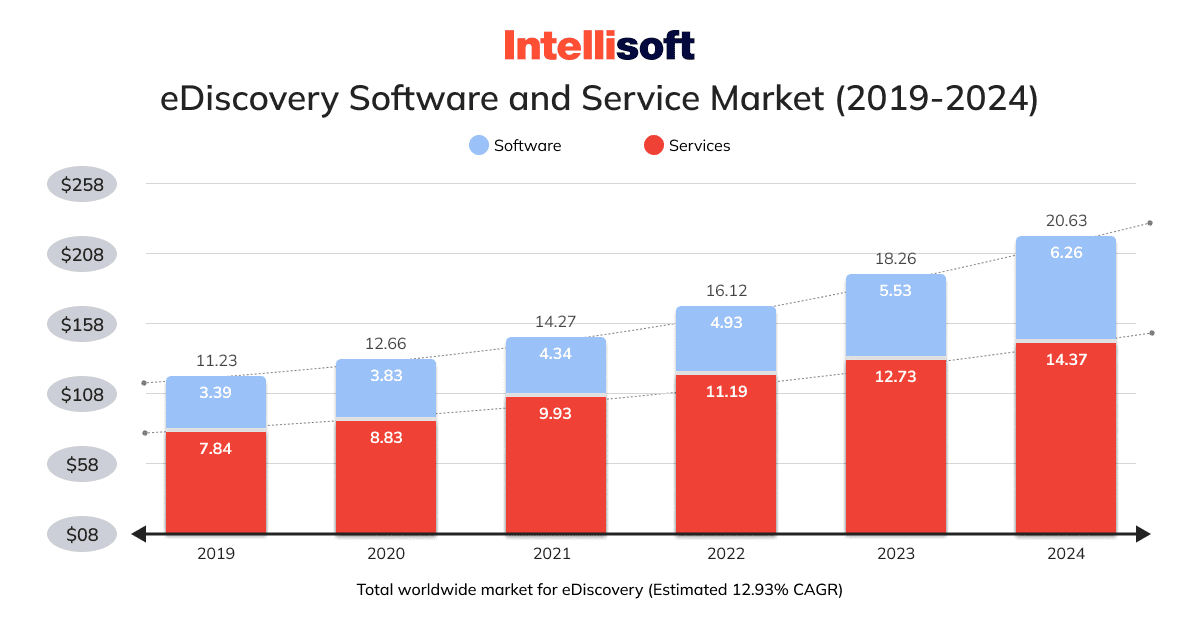 1. Data Disparity
It's essential to have the ability to look for and store pertinent information. More challenging data carriers can be opened and searched using the right tools. Modern eDiscovery technologies can make information searchable if it isn't already by using OCR, machine translation, audio/video transcription, and attachment extraction.
Solution: Legal teams can manage the preservation of such material using legal hold solutions. However, it's critical for legal departments to keep in mind that these solutions are not a panacea. It takes effort and the right equipment to prevent potential evidence spoliation problems.
2. Resource Constraints
Bloomberg claims that corporate legal teams are finding themselves in increasingly awkward situations. Workload increases and predicted budget cuts go hand in hand.
A legal department's daily operations don't leave much room for experiments. When significant risks involved and tight timelines to meet are present, it is challenging, if not impossible, to appropriately try anything new.
Gartner observes the tendency for legal teams to hire non-lawyer staff in place of generalist attorneys. This is partly because hiring lawyers is expensive, but it's also a sign of changing skill requirements. A diverse set of abilities or viewpoints will likely be necessary to advance important improvement and innovation activities like those associated with eDiscovery.
Solution: Many businesses discovered that digital transformation might be the way out. Technology appears to be the only option to complete the task at hand with the resources available, especially since finances are getting tighter and labor-intensive work cannot be completed any faster.
3. Interdepartmental Challenges
The manner in which data is preserved, stored, and managed has grown to be a critical worry for legal as businesses generate and keep more and more information. The legal department and IT must communicate effectively in order to keep each other informed about the organization's data holdings. These divisions must work together to create policies for information governance, data preservation, and data retention.
A new breed of legal experts must enter the legal department due to the greater overlap with IT. Data scientists are gradually making their way into the legal field. Today, unfortunately, legal cannot carry out its duties wholly independently from other departments.
Solution: The purpose of the law is still to shield the business from legal risk. The fundamental objective is to ensure police compliance, but with the right collaboration mechanisms in place, legal authorities may be able to do more.
4. Juggling Responsibilities
Balancing old and new responsibilities is another struggle. No matter how many changes take place, compliance, and risk minimization always take precedence. Every time a new statistic is released demonstrating how much faster and more precise computers are at performing a certain task, it's natural to feel frightened by artificial intelligence.
Solution: It's absurd that lawyers spend their time drafting or analyzing NDAs when they are so conceptually similar to one another. A program that could automate this procedure would allow experienced lawyers to focus their time on more important responsibilities.
5. Data Growth
Last but not least, legal organizations may find that the quantity of data, rather than its variety, is the bigger problem. Data growth is anticipated to keep exploding on a global scale. When a court case starts, there will be additional information to sort through, evaluate, and search over.
Solution: Regulation-based risk exposure is decreased when needless information is minimized, and valuable data is managed. This is where interdepartmental cooperation is crucial. To control data bloat and guarantee the security of the entire enterprise, IT and legal must collaborate.
Wish to avoid the challenges mentioned above? Do you need a tool to centralize legal data, eliminate data silos, and minimize the impact of legal holds? We at IntelliSoft know how to assist you with building and implementing eDiscovery SaaS into your business ecosystem. Get in touch with us to get quality and fast help with your project.

About

Kosta Mitrofanskiy

I have 25 years of hands-on experience in the IT and software development industry. During this period, I helped 50+ companies to gain a technological edge across different industries. I can help you with dedicated teams, hiring stand-alone developers, developing a product design and MVP for your healthcare, logistics, or IoT projects. If you have questions concerning our cooperation or need an NDA to sign, contact info@intellisoftware.net.