The year is 2023, and we're at the point where the development of artificial intelligence and machine learning technologies is jaw-dropping and almost terrifying. AI-powered tools that perform tasks in seconds are no longer ideas from sci-fi thrillers; they are whirring alongside humans and used by the representatives of numerous industries. Experts in IT, legal, healthcare, and other spheres worry that someday AI will take their jobs, and there's already such a case in the legal industry.
When DoNotPay, a legal company, sent an AI-powered robot to court to represent a client, it was as if lightning had struck the very foundations of tradition. Does it mean that soon all lawyers will be AI-powered machines, ChatGPT will write cases, and law firms will rely only on AI? That is partly true. AI is revolutionizing the legal industry, helping experts automate routine tasks, help investigate, calculate, and process data, and improve decision-making faster than you can say "order in the court!"
At IntelliSoft, being on the market for more than 16 years has allowed us to be true visionaries of the future of AI in the legal industry. We're not just now jumping on the AI bandwagon; we are steering the wheel confidently. We realize the importance of utilizing AI in legal industry and the main ways to do that, and we're excited to share this knowledge about AI in the legal field with you. Let's jump into the world of AI in legal industry and help you answer the question how can law firms use AI. 
What Is Artificial Intelligence?
There are many definitions of AI based on the functions it performs. Frequently, AI is also called cognitive computing or machine learning, as it uses computing power to perform tasks that people usually do. AI perceives and synthesizes data to make decisions, automate tasks, and mimic the human mind's capabilities.
There are five components of AI: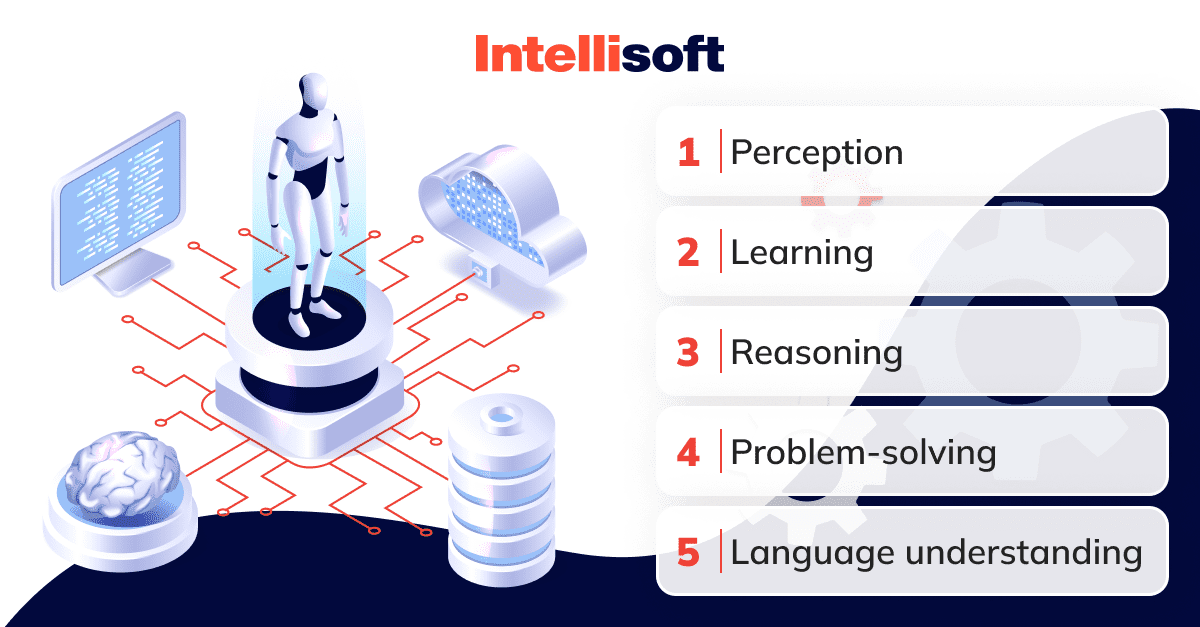 How is artificial intelligence being used today? AI is supposed to think and act like humans, yet do it a hundred times faster and more efficiently. It's the fuel behind self-driving cars, virtual personal assistants, and the algorithms that curate your streaming playlists.
Have you ever thought about how your smartphone can recognize your face every time, despite your new haircut, new glasses, or when you just woke up? That's all thanks to AI algorithms that analyze and match features, providing a secure and seamless user experience.
Natural language processing, machine learning, and robotics accompany AI everywhere, but what are these terms? Are they the same as AI or completely different?
Machine learning is a subset of AI. This is when people train computers to learn automatically based on data input. Machine learning tools look for patterns in data, draw conclusions, and learn by themselves, constantly improving.
Natural language processing (NLP) is another component of AI that helps machines communicate with people. It enables computers to read and process text, speech, and handwriting and interpret it. In other words, this is when computers act like humans when processing text. Unlike people, though, NLP tools are able to process huge amounts of data quickly, identifying patterns and highlighting the essential parts of information.
Robotics is about robots. It's a branch of engineering and computer science that creates machines, or robots, that are capable of performing various tasks instead of humans.
There's almost no industry that has remained untouched by the transformative power of AI. Is there an AI for law, you may ask. Yes, professionals in the legal field utilize AI to scan vast libraries of documents and cases, collect critical information, and help lawyers build their arguments. We will cover many more applications of AI in the legal industry in this article, and its future is brighter than the sun, offering promising possibilities for experts of all kinds.

Now, let's see what are the advantages of leveraging AI for lawyers.
Benefits of Artificial Intelligence in Law
Artificial intelligence in law firms has proven to be a golden ticket to increased productivity, improved decision-making, and higher competitiveness in the industry. It's no wonder that so many legal professionals utilize AI for lawyers in their law firms. If you are considering implementing AI in the legal field, read on. Here are the main benefits of using AI in the legal industry: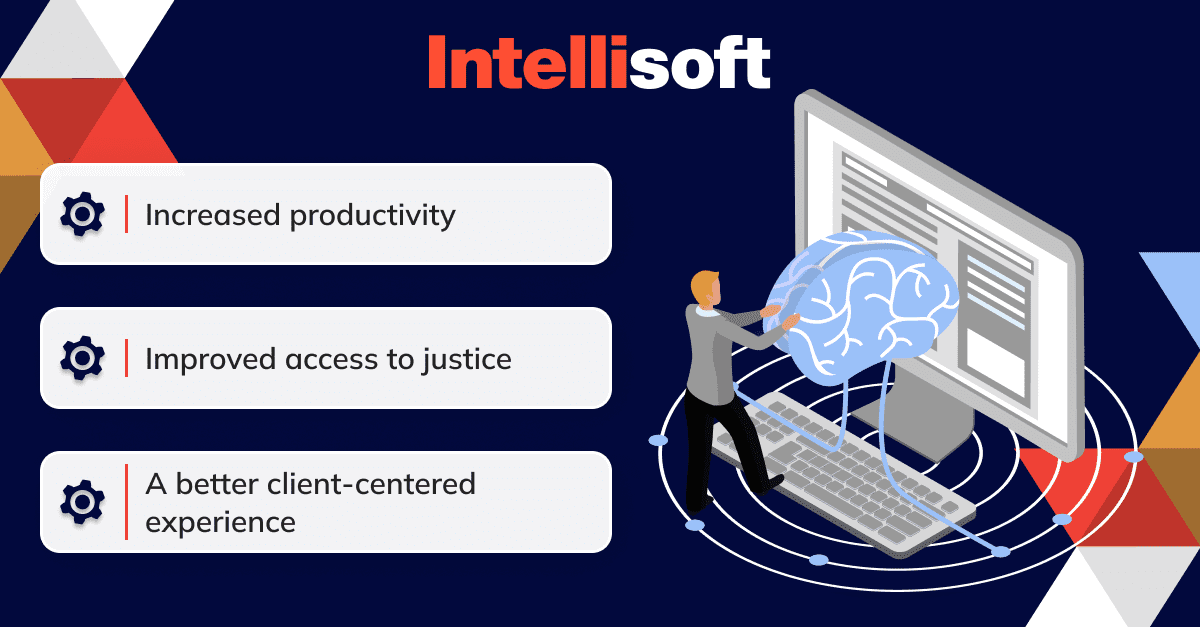 Increased productivity
Legal professionals utilize AI tools to automate routine tasks that usually take a lot of time and effort. By assigning these tasks to artificial intelligence algorithms, it's possible to focus on core business functions and spend more time with clients.
Manual tasks such as looking for a specific case, searching for a contract, creating invoices, or conducting due diligence can all be performed by AI much faster, eliminating the possibility of human error. As a result – with AI for a lawyer, you receive improved productivity and efficiency and can handle more tasks in a shorter time.
Improved access to justice
Accessing legal help is often expensive, and not everyone can afford it. AI helps solve this issue and makes legal services more accessible. How does this happen? AI and ML save professionals the time they would usually spend on routine work, which helps them reduce costs for clients. For that reason, you should consider using artificial intelligence for lawyers. 
For example, without using AI, research can take more than 24 hours, resulting in incredibly high costs. With Ai technology, the same research can take 2-3 minutes. Moreover, the more routine tasks AI performs, the more clients lawyers can service. That is a perfect combination of how AI and law work together.
A better client-centered experience
As mentioned earlier, artificial intelligence in a legal practice provides lawyers and other law practitioners with much more time, allowing them to spend that time with their clients and create closer, more meaningful experiences.
Legal practice is not merely about helping people with their cases; lawyers must create relationships with their clients, spend enough time with every person to get to know them, and find a unique approach to truly understand what they're going through. Fortunately, artificial intelligence for lawyers helps achieve this by saving lawyers time.
Related Readings:
How Can Lawyers Use AI in Law Firms?
The use of AI in the legal industry is expected to grow from $0.94 billion in 2023 to $3.29 billion by 2023, according to recent reports. It's now helping lawyers do their jobs more efficiently, and more and more firms will start utilizing AI technology as they notice how beneficial is AI and law is through the example of their competitors.
Let's explore the impact of artificial intelligence in law firms through a few ways in which lawyers can use AI in their firms to optimize their work and offer more client-oriented services.
E-Discovery
One of the usages of artificial intelligence for lawyers is E-Discovery. Electronic discovery in law is the process of collecting, storing, reviewing, and exchanging information related to a specific case in an electronic format instead of keeping everything in paper form.
Searching for relevant information and details is daunting when all case documents are stored on paper. Lawyers need to review tons of documentation that are often stored in various places and may waste a lot of time to find one tiny detail. Let's be honest; it's not efficient nor an option if time is a deciding factor in a case.
With e-discovery AI-driven tools, lawyers can get instant responses and find any information they need in seconds. Moreover, with AI and the law industry, it is possible to use filters and specific parameters, such as geographic locations or dates, when searching for data via AI driven tools.
Legal research
Another example of AI and the law industry is legal research. Legal research still needs to be done by people, but AI can make this process much easier. When lawyers use AI legal research software, they can search and scan databases of statutes, regulations, jurisdictions, case laws, and more.
Again, there's no longer a need to go through paper versions of these documents when everything can be done online in a matter of seconds.
AI law algorithms allow conducting of more thorough, comprehensive research, leading to better case understanding, speeding the research process, and saving clients money with AI for attorneys.
Document management and automation
Another example of using AI and the practice of law is document management. Moving away from paper documentation is a trend in multiple industries, but does it mean electronic storage is a flawless option with no challenges whatsoever? Unfortunately, electronic records also have some challenges, especially when it comes to sorting and finding relevant information.
That's why law firms use AI law algorithms to work with their electronic records more efficiently. It helps lawyers organize and store files such as cases, contracts, emails, and notes, and improves the finding process. AI can analyze vast amounts of data in seconds and find what you need.
Moreover, the documents are securely stored as the software requires an ID check in order to look for documents and access them. As a result, it helps maintain security and control over the documentation. You can connect the software with Microsoft Office, or similar tools that use AI for attorneys, if you need to share the files.
Automation is also vital when it comes to documentation management. AI-powered software allows creating templates to automate the process of case record creation, saving lawyers a lot of time. All they need to do is fill in the details without the need to write everything from scratch. The same applies to invoices, motions, agreements, pleading, and bills.
Due diligence
During the due diligence process, lawyers must review vast amounts of contracts, which takes a lot of time and is of the main challenges of law firms. Law firms can use AI-powered due diligence solutions to speed up the process and make it more efficient. These tools with AI for an attorney find and retrieve documents needed for due diligence and can notice changes or issues in these documents.
Litigation analysis
To be able to determine the potential success of a legal case, or calculate its costs, lawyers need to examine past landmark cases thoroughly. AI for lawyers can swiftly analyze these precedents, enabling legal professionals to craft documents that are more precise and aligned with the data-driven insights derived from the analysis.
Concerns regarding AI
Of course, you can have concerns over the use of AI in your law firm; how can you trust a computer to make decisions and perform tasks usually done by professionals? AI is not a panacea; it can't solve all your problems and run your law firm for you. Let's get you prepared for the possible issues you might face with the use of AI so that you're fully armed in case they arise.
Violation of privacy laws
You have probably seen movies where AI machines collect information about humans and then use it against them. Unfortunately, that's not entirely a fairytale. AI-powered tools can use personal information for automated decision-making, which can go wrong.
According to the EU General Data Protection Regulation (GDPR), law firms must take specific measures to ensure that data is processed correctly and protected against being used for new purposes. It is impossible to accurately predict what AI algorithms may use data for, and how they will learn, so ensuring data protection beforehand is vital, which is one of benefits of AI in law.
Ethical considerations
By default, computers don't have any moral or ethical views and beliefs; they are blank slates filled with information by humans, so they can function properly in society according to their values. Since AI often processes historical data, this data may contain gender or racial biases, and the system may learn and perpetuate those biases.
Intellectual Property (IP)
Unfortunately, any work created by AI algorithms cannot be protected under any copyright laws, so the issue of Intellectual Property arises. Let's imagine a situation where your AI software generates some new data that is considered an invention.
Who is the owner of this invention: you or your AI software? Can anyone own the rights to the output at all? It's essential to ensure that AI tools don't extract data from publicly available sources because it can cause legal issues.

What are pros and cons of AI in the practice of law? 
Pros of AI in the Practice of Law:
Efficiency and Time Savings. 

AI can automate routine and time-consuming tasks, such as document review and legal research, allowing legal professionals to focus on strategic aspects of their work.

Enhanced Legal Research. 

AI-powered tools can quickly analyze legal data, helping lawyers find relevant cases, statutes, and precedents more efficiently than traditional research methods.

Improved Document Review. 

AI can review and analyze big volumes of documents for relevant information and potential risks, reducing the time and human effort required for document review processes.

Predictive Analytics. 

AI algorithms can analyze patterns in legal data to provide insights into case outcomes, helping lawyers and legal professionals make more informed decisions and predictions about the likely success of legal strategies.

Cost Reduction. 

Automating repetitive tasks and more efficient use of resources can lead to cost savings for law firms and clients.

Enhanced Due Diligence. 

AI can assist in due diligence by quickly and accurately reviewing contracts, financial documents, and other relevant information in mergers and acquisitions or other legal transactions.

24/7 Availability. 

AI tools can operate around the clock, providing constant availability for legal research and document analysis tasks.
Cons of AI in the Practice of Law
Job Displacement. 

Automating certain tasks could potentially lead to job displacement for some legal professionals, particularly those whose work involves routine and repetitive tasks.

Lack of Human Judgment. 

AI systems may struggle with understanding nuanced and context-specific legal cases requiring human judgment, empathy, and a deep understanding of cultural and social context.

Bias in Algorithms. 

AI systems can inherit and perpetuate biases in the data used to train them. This process may lead to discriminatory outcomes or reinforce existing inequalities in the legal system.

Security Concerns. 

Handling sensitive legal information using AI raises concerns about data security and the potential for unauthorized access or malicious use.

Complexity and Cost of Implementation. 

Implementing AI in a legal practice requires significant technological, training, and infrastructure investment. The complexity of AI systems may also pose challenges for integration into existing workflows.

Ethical and Legal Challenges. 

The use of AI in law raises ethical questions, such as accountability for decisions made by AI systems, the transparency of algorithms, and the need for ethical guidelines in developing and deploying legal AI.

Resistance to Change. 

Some legal professionals may resist adopting AI technologies due to unfamiliarity, concerns about job security, or a preference for traditional methods. Overcoming this resistance can be a challenge in the implementation process.
Future Trends of AI in Legal Businesses
If AI algorithms are so advanced nowadays and keep developing, imagine what will happen in 10, 20, or even 50 years. We can't say for sure whether robots and machines will rule the world, but one thing is certain – we will notice some key trends in AI development, including: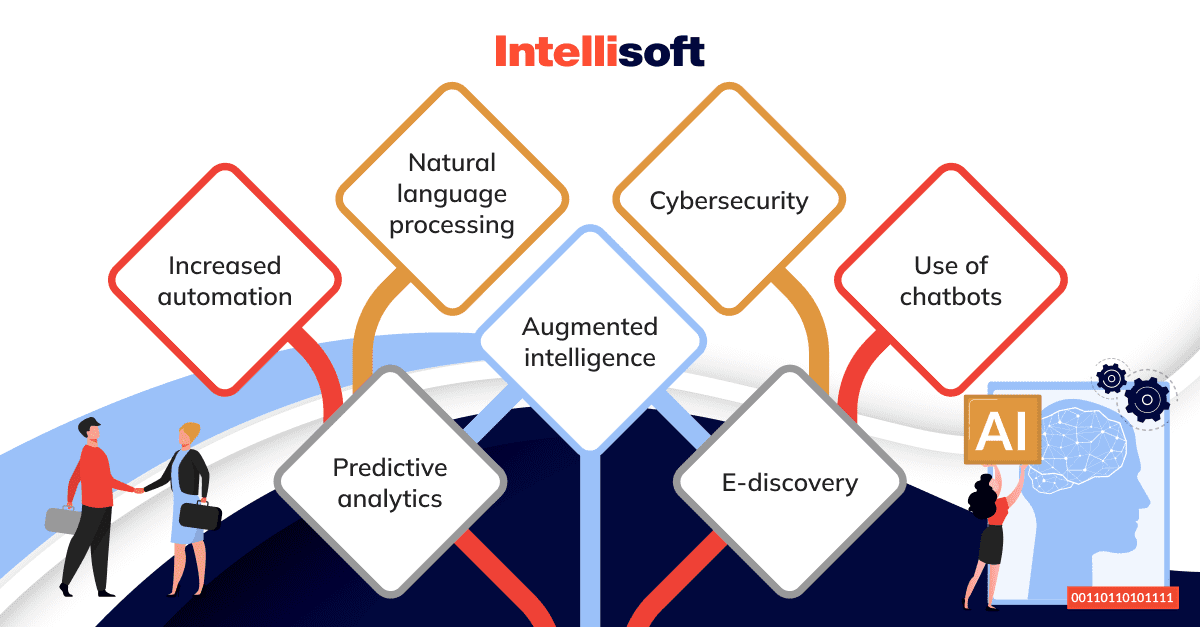 Increased automation: Law firms will use AI in the future to automate a great segment of legal tasks, including contract analysis, legal research, and document review. They will strive to minimize manual work as much as possible.
Predictive analytics: AI will help law firms tell the future. In other words, these algorithms will be used to predict the outcomes of certain cases based on historical data. The more advanced the technology becomes, the more accurate the predictions will be, helping law professionals advance their strategies.
Natural language processing: NLP tools will continue developing and helping lawyers and other legal professionals interpret complex documentation and understand the legal language better.
Augmented intelligence: Don't worry; robots will not replace lawyers in the near future. AI is not a threat, but rather, a magic wand for lawyers, helping them make more informed decisions, handle cases faster and more efficiently, and build closer relationships with their clients.
Cybersecurity: As law firms move online and store all their data there, the question of cybersecurity will become as important as ever. It is essential to implement more powerful security features now to protect client information and prevent breaches.
Use of chatbots: The chatbots technology will advance even further, helping clients receive answers to their questions any time of the day. Right now, chatbots are used to answer basic questions, but in the future they will be able to help people with complex issues.
E-discovery: This process involves collecting, storing, and producing ESI (electronically stored information) for legal proceedings. AI can help make the e-discovery process faster by identifying patterns and trends in data, analyzing it, reducing costs, prioritizing documents, and eliminating the chance of human error.
Conclusion
Advanced technology is no longer playing a supporting role in the legal theater – it is taking center stage. AI is now a full-blown revolution that helps the legal industry dissect documents at the speed of light, predict case outcomes, and forget about paper documentation.
It doesn't matter whether you're an experienced attorney with hundreds of successful cases behind your back, or a postgraduate who wants to start utilizing the latest technology right here and now; it's high time to embrace the endless possibilities of AI.
If you considered the benefits of AI in law and are ready for AI to be your guiding star through the legal galaxy, IntelliSoft can let you reach this star. We've been to the AI universe and back, exploring all its opportunities and challenges, so we know the right path. Don't let the future slip through your fingers like sand; reach out to us, and together, we will explore the AI galaxy and show you how vast its possibilities are.
FAQ