Digital transformation (a.k.a. digitalization) stands for a set of purposeful and systematic changes in business through the usage of modern digital tech solutions. Today, digital transformation is, in fact, the slogan of the IT industry.
Most of the world's leading companies have already chosen digitalization as their development strategy. In the domestic market, digital transformation engines have also emerged.
The mobile revolution of the last decade has led to the need for businesses to interact with customers in brand new ways through recent channels of communication. There have been major changes in customer expectations and behavior, including the rise of an entire generation – the so-called Generation Z born around 2000.
Gen Z has had little to no recognition of offline shopping. All of this has led not only to changes in working with the customer, but also to the transformation of business models. Here are some facts that prove the perks of digital transformation:
Gartner asserts that 56% of CEOs say digital improvements have led to increased revenue.
89% of all companies have already or plan to adopt a digital-first business strategy.
According to Mckinsey, companies with an engaged Chief Digital Officer are 1.6 times more likely to report a successful digital transformation.
Let's try to understand what has changed in recent years and why the classic approaches to information technology, automation of business processes, and website promotion are no longer suitable for many businesses.
Market Growth Rate & Adoption: Digital Transformation Statistics, Trends, and Forecast
Sources predict the global digital transformation market can go up to $1,009.8 billion by 2025.
Investments ro digital transformation may achieve up to seven trillion dollars in 2023. That is because many organizations have developed new approaches to digitizing their products and services.
Meanwhile, global information technology spending has all chances to increase by roughly five percent.
It is planned to add 100 trillion dollars to the world's economy through digital transformation by 2025.
Interestingly, a bit more than fifty percent of the efforts are caused by growth opportunities and over forty percent by growing pressure from competitors.
Digitally developed organizations will probably contribute to over 50% of the GDP by 2023, meaning $53.3 trillion.
Importance of Digitization and Digital Strategy
The data slightly varies for various markets. For instance, while for the healthcare industry it's necessary to consider the global wearable medical device market, inretail, data analytics matter the most.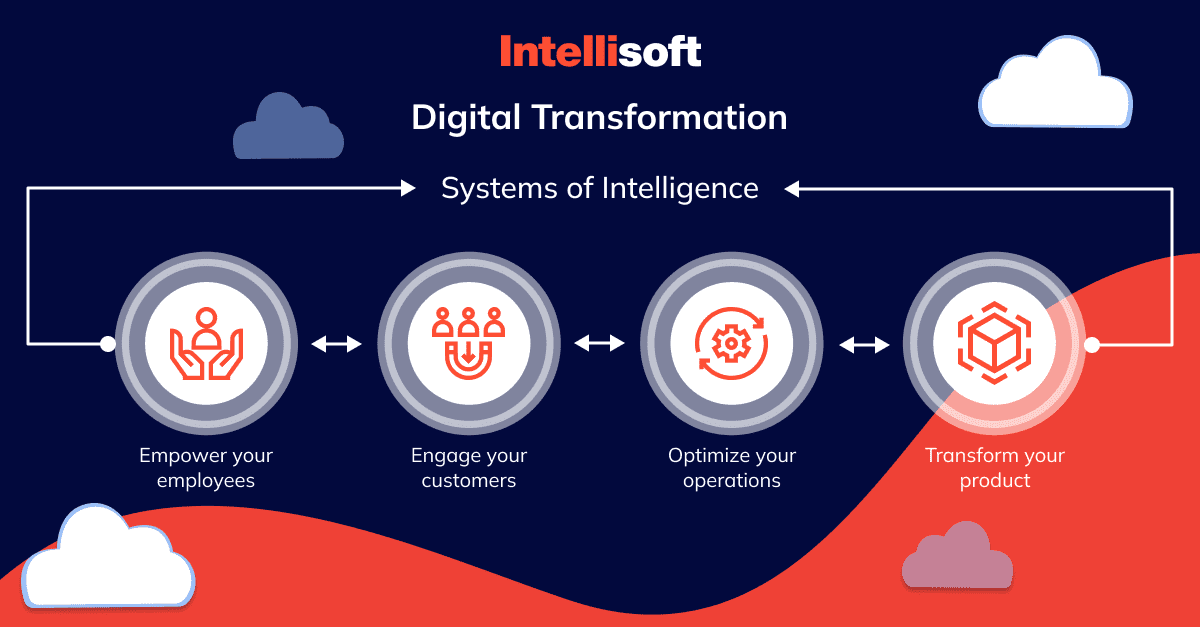 Before looking at the industry-specific stats, we suggest that you watch Overview of the 2023 Digital Transformation Report – by Eric Kimberling [Digital Strategies, Trends, and Lessons] to grab even more facts and stats than you can find in our post.
Industry-Specific Digital Transformation Statistics and Predictions
Here's a list of digital transformation figures that allow you to gain deeper insights into the current scenario across different and varying industries.
Digital Transformation Statistics for Retail
According to Fujitsu, over ⅔ of businesses think digital transformation matters for retail, and only slightly more than nine percent of them are early adopters.
Fujitsu also adds that harsh competition, minimized cost, enhanced efficiency, improved customer relationships, and boosted profitability are the key drivers of digital transformation.
Gartner also has something to say: 63% of retail market players plan to invest more than ever in data analytics, while 35% are about to contribute to the development of AI.
Statistics for Healthcare Digital Transformation Trends 2022
Banking and Insurance Statistics & Trends in Digital Transformation
3/4 of banking systems and credit unions have launched at least one digital transformation initiative before 2022.
The insurance sector is overloaded with bottlenecks and manual processes, which is quite tiring. That is why 25 percent of the field's representatives plan to fully automate the market by 2025.
Digital Transformation Statistics for Manufacturing
85 percent of manufacturers share that just one hour of system downtime can lead to the loss of 300,000 dollars on average, as ITIC fairly admits.
In this market, digital transformation will probably be valued at $767 billion by 2026.
Digital Transformation Statistics for Human Resources Management (HRM)
Because of the digital transformation worldwide, almost 55 percent of staff will probably have to get new skills or improve the existing ones in 2022.
58% of human resources staff share that they use artificial intelligence to enhance quality and consistency.
Analysts think that automation has certain risks to human employment as it can cut 29% of workplaces by 2030, as per Forrester.
Digital Transformation Statistics for Other Industries
Main Trends in Digital Transformation You Should Consider Today
Digital transformation today is almost impossible to imagine without the usage of digital platforms, such as Google Analytics, Android, iOS, Blue-Ray, etc. Where should you actually start with digital business transformation? It should begin with a deep understanding, acceptance, and support by the executives of the organization of the meaning and goals of digitalization. Digital transformation should be a comprehensive organizational development strategy, covering all aspects of the organization, not just business process optimization or digital marketing. That is why digitalization trends matter.
Here are the reasons why adopting digital transformations is essential:
Processes are accelerating tenfold, and this is becoming the new norm that businesses must comply with.
Get rid of outdated (legacy) technology that has long been unprofitable and inadequate to the demands of the digital marketplace.
It's much easier to spend on new technology and expand the customer pool than to slowly go bankrupt trying to maintain an unprofitable tool.
Improving organizational efficiency, flexibility, and acceleration of business processes is both a goal and a result of digital transformation.
Digital transformation gives a company an additional competitive advantage.
Data is not just used to record the status of the production process or business results; data is a new enterprise asset that brings profits.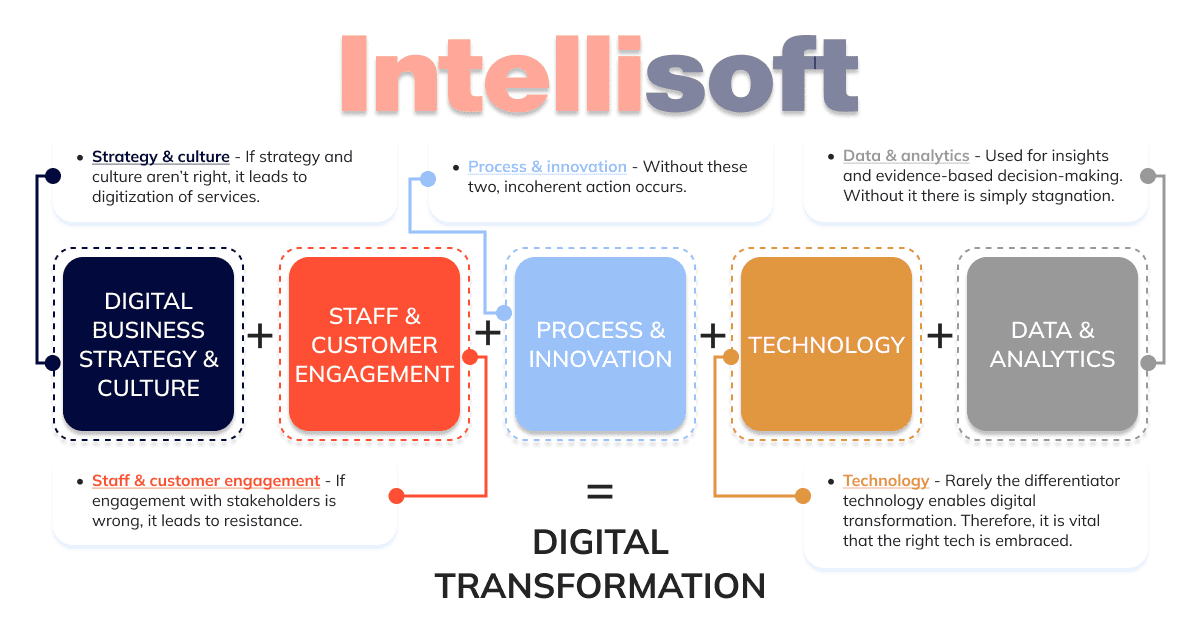 Artificial Intelligence (AI)
Automation and data analytics services are still involved in most of today's business processes. However, they do not reveal themselves to the fullest extent, because the processing of scenarios and results is still done manually. In the coming years, a rapid leap in the development of AI is expected, which will have a positive impact on retail.
By using artificial intelligence in conjunction with machine learning (ML), an unprecedented level of autonomy and adaptability can be achieved. For example, AI itself would learn to make decisions, place orders, and analyze consumer requests. So far, this is on the edge of science fiction, but this line is gradually being blurred by new discoveries and research. This technology will become commonplace.
Connected, Hybrid Experiences
The workplace is rapidly evolving. With it, so are employee expectations, forcing organizations to adopt digital technologies and connected experiences to improve productivity and retention.
The use of collaboration platforms alone grows with amazing speed. The majority of the global workforce, though mostly highly skilled workers in verticals such as finance, insurance, and IT, can work most of their time away from the office without any impact on productivity.
User Experience (UX)
User experience is a priority for most businesses, but it's in e-commerce that it plays a key role in the number of returns and customer loyalty. From the moment a product is presented to pickup at the logistics company's branch, each step is evaluated and added to the score a store receives after the transaction is completed. It affects the rating of the business and the level of trust and loyalty.
Already many brands are making UX optimization a primary goal, offering users new features, quality feedback, cross-selling, and support. This vector of e-commerce development will continue in 2022-2023 and will be popular for another couple of decades.
Privacy
Security of user data is a trend in recent years that will remain in demand until vulnerabilities are completely eliminated. That is, technologies and tools to protect customer information from leaks will always improve and evolve.
Now there is a progressive solution – blockchain, which has not yet exhausted its potential and has already shown effectiveness in protecting data from parsing and other types of fraud. The trend for information security on the Internet will always be relevant, wandering between trend ratings from year to year.
Automation
In hybrid and connected work environments, automation matters in the first place. The use of low-code methods will be important, with many business users citing them as critical to creating a more connected employee experience. So, most organizations have already implemented automation initiatives to create it or are currently implementing such initiatives.
Top automation priorities for 2022 include improving operational efficiency, increasing productivity, and creating a better connected experience. Top priorities for investing in digital transformation to enable teams to work effectively together include process change and technology.
Augmented Reality (AR)
How do you see the difference between a real shopping mall and, for example, a showcase in a marketplace? Make digital copies of products and allow users to literally feel them before buying. This technology is not new, but not advanced enough to abandon its implementation in the coming years.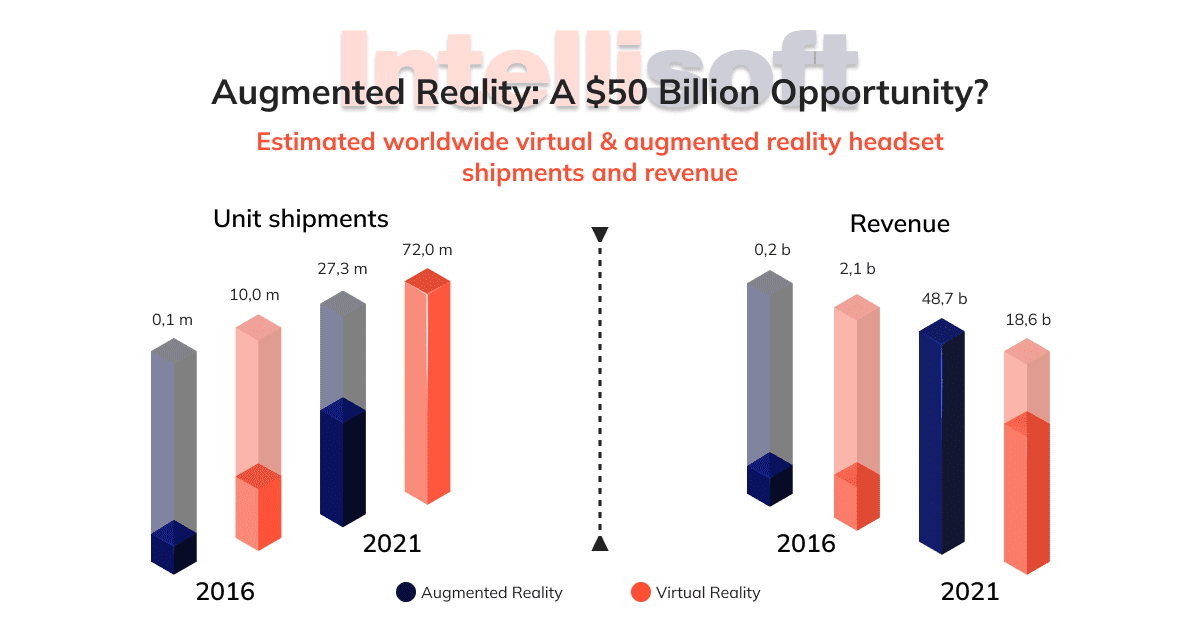 An example of a relatively good implementation is the one from IKea, which has incorporated AR into its native application. With its help, users can accurately match any furniture to their interior by simply projecting a virtual model through their smartphone camera and evaluating the result. Although it looks futuristic, the technology actually needs substantial refinement, which will be IT companies' priority for 2022.
Omnichannel
Digital retail is designed to expand distribution outlets and scale up traditional businesses. The trend of 2022 directly points to the vector of its development, namely the increase in sales and advertising channels.
Omnichannel means working simultaneously with several sources of traffic: social networks, traditional stores, blogs, relevant resources, and influencers. The more places are involved in product promotion, the better the coverage of the audience. The result is the higher the final income of the enterprise.
With the development of technology, such as chatbots, constant presence on various websites, groups, Telegram channels, and Facebook/Instagram has become a reality. By analyzing user requests and messages, it is possible to virtually automate the ordering process and optimize store operations.
Public and private APIs
One of the most effective ways for organizations to increase agility and meet rapidly growing expectations is to become a composite business built on reusable APIs. These APIs can be used to turn an organization's digital capabilities and data into a series of interchangeable building blocks that employees can reuse to create their own solutions.
Reusable APIs are a great way to achieve compatibility, which is why the majority of global organizations already use public or private APIs. After studying API concepts and differentiation with a focus on event-driven APIs and architectures, researchers concluded that such architectures are more flexible and extensible than their RESTful counterparts, due to supporting the seamless real-time interactions that consumers now expect.
We have found that four out of five organizations recognize the need to make data and integration accessible to business users to improve productivity, provide connected experiences, and drive innovation. Many organizations today say they have a mature approach to giving non-IT users the ability to easily integrate applications and data sources through APIs, and some companies are developing plans to implement this capability.
Related readings:
Default Security
Default security is becoming a necessity as organizations increasingly realize that their applications and automated systems are only as secure as the building blocks on which they are built.
Security concerns have always been a barrier to digital initiatives. The majority of IT and business leaders say security concerns have slowed the pace of innovation. Specific security and governance issues have grown as their systems have become more integrated. API attacks will probably be the most frequent attack vector leading to data breaches from enterprise web applications in 2022-2023. That is why security decision makers plan to prioritize security in development processes. Many others will follow suit in the coming years as the era of business technologists continues to gain momentum.
Hyper Automation
Hyper automation unlocks digital value. That is true. Hyper automation will increase productivity, accelerate time to market, and transform the employee and customer experience.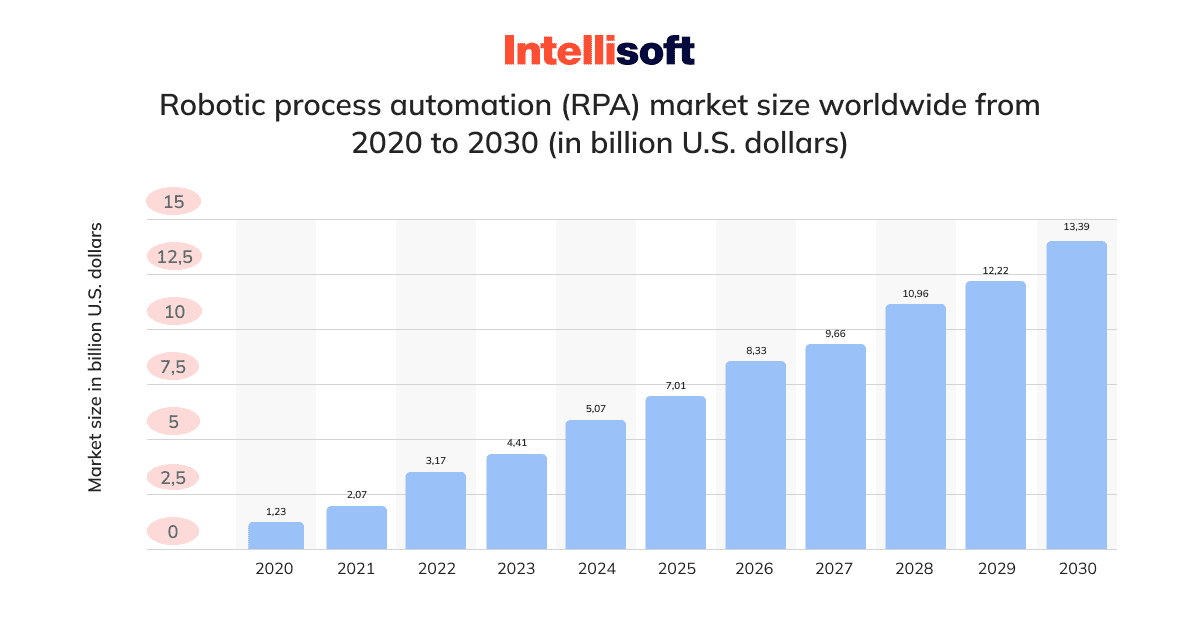 Automation will not just be used for individual projects, but remain the main driver of today's digital enterprises. Hyper automation is about scaling automation across the enterprise by reusing processes and deploying multiple integrated technology capabilities, such as low-code platforms, ML, and process robotics (RPA).
Most organizations nowadays are either already using or planning to implement automation initiatives to meet strategic goals, such as improving productivity and operational efficiency, as well as creating a better connected customer experience.
Hyper automation will accelerate the decentralization of the business with the growth of digital investments and strategic focus on new opportunities.
Customer service is an example of an area of business where significant hyper automation will occur. Given its proximity to changing customer needs, this area provides useful insights into how workflow automation can increase team flexibility, efficiency, and satisfaction.
Automating routine tasks allowed them to focus on more complex work. Even under budget constraints, many service decision makers are accelerating automation initiatives.
One area of service automation that is receiving a lot of attention is chatbots. Today, the majority of customers expect to communicate with someone immediately when they contact the company. This dynamic puts pressure on already overburdened teams. Not surprisingly, at the same time, we're seeing rapid growth in chatbot adoption.
Conclusions
Technology is transforming everything we are used to: social networks are replacing communication, movie websites are replacing cinema theaters, food and ready-made meals are being delivered right to your door, and you just need to open a browser or an app to go to the store. Time will tell whether this is good or bad. The only thing we can say for sure is that digitalization of business is the No. 1 trend in the world today.
The main trends driving digital transformation in 2022 include hyper automation, hybrid experiences, distributed environments and data explosion. IntelliSoft's research on these trends concludes with the following recommendations for IT and business leaders to improve collaboration and speed of execution:
Empower IT teams to deliver composite services, API products, and bots across the organization.
Empower business teams to automate integration with common systems without coding, leveraging reusable IT assets, support, and governance.
Automate repetitive and manual tasks with reusable and composite bots that can intelligently process documents, enter data, or perform actions on behalf of the user – all without coding.
IntelliSoft is an experienced IT provider that can adopt any digital transformation trend in your business. IntelliSoft is the right tech partner to turn those digital transformation trends into life. Just contact us today and find out how much our pro help will cost you!

About

Helen Rachyna-Kyselova

Helen is a marketing expert, editor-in-chief, and head of content. She currently works for Intellisoft, being part of its marketing dept. Demonstrated success in negotiating win-win compromises, conducting A/B testing, launching e-mail campaigns, writing personnel manuals, publishing authorized articles, implementing corporate policies, and more.