Digital technology has been changing how we live and work for years. In 2023, this change will gain even more significant momentum. Digital transformation has excellent potential to help companies of all kinds modernize their operations and services. It is the magic tool for gaining a competitive edge in the digital world and standing out among competitors. AI, ML, IoT, blockchain, the use of 5G, and other trends in digital transformation show that the possibilities are endless; all you have to do is get ready to take and use these tools and technologies to your benefit.
At IntelliSoft, we have followed digital transformation trends for more than 15 years, not being scared to jump on the bandwagon of using advanced technologies. Now, we're ready to share our experience and knowledge with you. In this article, you will dive into the world of the latest digital transformation trends that will influence business growth and learn how to adopt these trends.
What is Digital Transformation?
Digital transformation is the process of using digital technology in all business areas, improving how a company works and handles its tasks.
According to the latest digital transformation statistics, more than $3.4 trillion will be spent on digital transformation worldwide by 2026. This number should not surprise you. Digital transformation has the potential to revolutionize business processes, so it's no wonder that more and more businesses globally invest in modern tools and technologies.
Digital transformation is also a tremendous cultural change for companies, making them change their status quo and not be afraid to experiment and fail. It also means changing the traditional ways of thinking, doing business, and adopting new practices.
Remember that digital transformation is not just an option; it is a must for any company that wants to survive in the cutthroat competition and thrive. Thus, you need to clearly understand why, how, and when to start transforming your organization, or else you can't expect this process to be successful.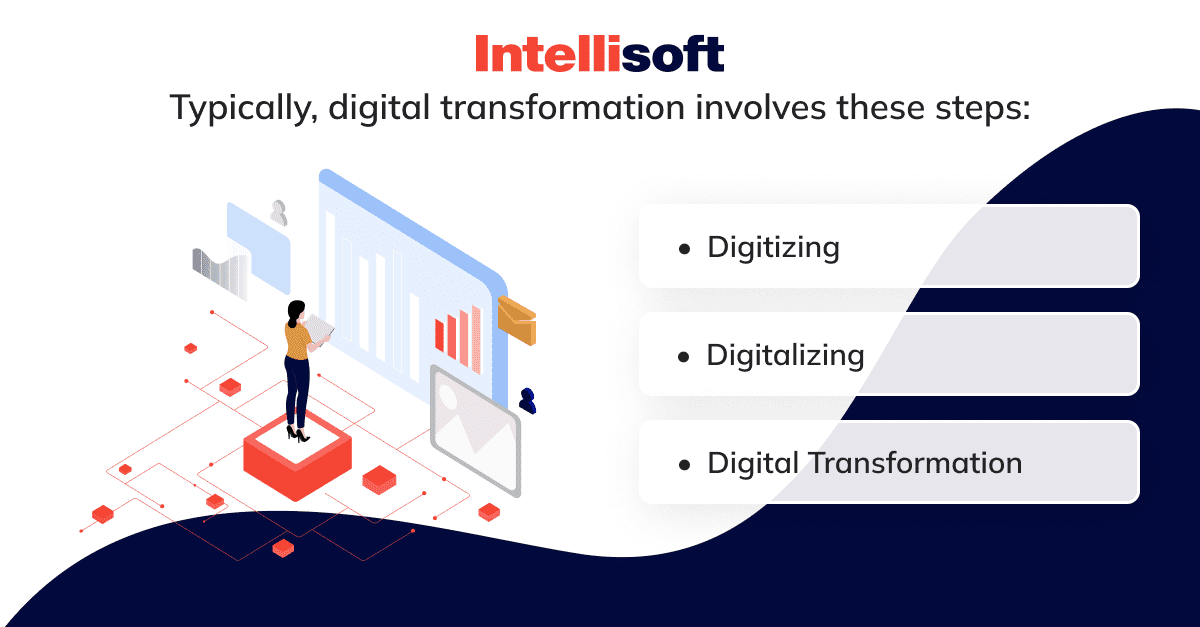 Digitizing is an essential business process of converting paper documents into an electronic format and designing electronic collaboration between business parties.
Digitalizing: This is when the shift happens, and the company drastically changes how it works and delivers its services.
Digital transformation: This step is a cultural change in the way the business operates, in its corporate culture, and in how it uses marketing strategies, all while working under new conditions.
Benefits of Digital Transformation
Digital transformation is a multifaceted process that isn't easy to implement. Even though it might seem too complicated or even scary at first, as you have to change how your business operates, the outcomes of digital transformation are well worth it. Here are some of the benefits you will experience once you implement the changes: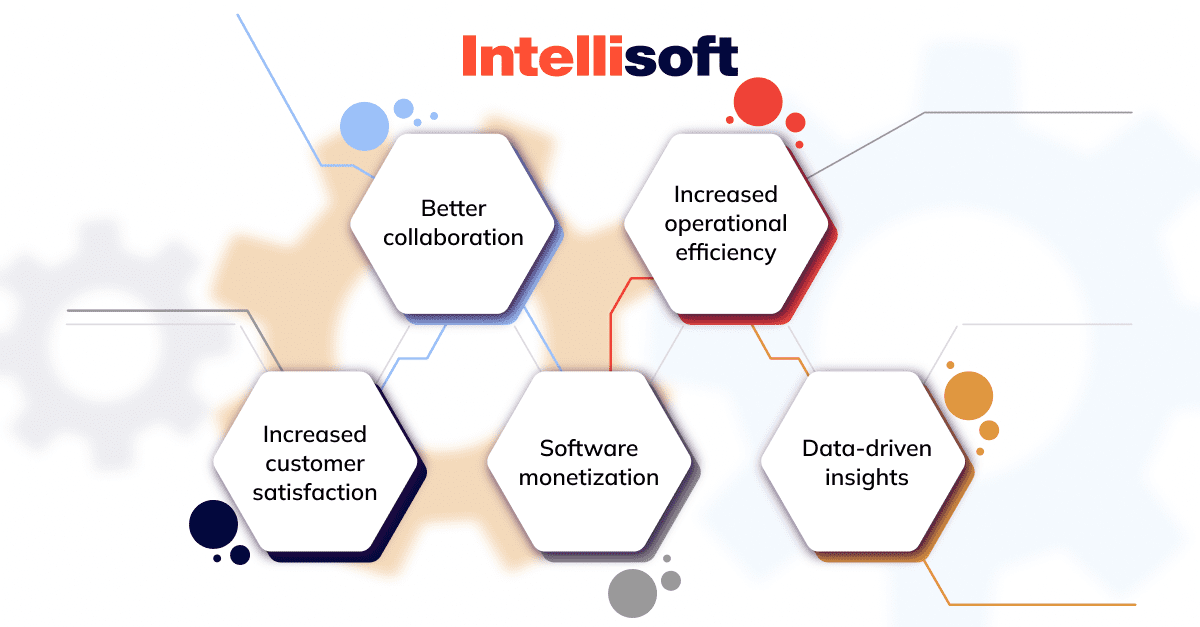 Increased customer satisfaction
You can significantly improve customer experience by implementing the latest digital tools and strategies. People no longer want to wait for all tasks to be completed manually, which takes time and effort. Instead, your clients want everything to happen automatically, receive personalized services, and have the ability to access your product fast, no matter what device or browser they are using. If you use AI or ML, you will be able to analyze customer data more effectively and offer the users a more personalized experience, leading to improved satisfaction.
Better collaboration
Digital transformation is an excellent way to ensure that all teams within your company communicate effectively. This is one of the most critical factors that drive innovation and ensure that everyone is on the same page. Digital transformation can help you eliminate redundancies, make the response time faster, ensure no information is lost, and facilitate team idea-sharing. As a result, you will receive improved productivity, creativity, and accountability.
Software monetization
Nowadays, a lot of companies choose to change their focus from a product-centric approach focus on software, as software monetization gives the best ROI. Digital transformation is a fantastic way to enable software monetization. You can use various software management solutions to identify new revenue streams, protect your software licenses, and gain access to business-critical data.
Increased operational efficiency
Digital transformation can increase operational efficiency by automating messy manual tasks and product updates and streamlining organizational workflows. By automating routine tasks, you can reduce the time and effort and let your teams focus on more important operations. Moreover, it helps reduce human error. Digital transformation also enables companies to adopt agile methodologies and practices, making them more adaptable to changes in the market. Operational efficiency is also achieved thanks to streamlined workflows, faster data sharing, and improved cooperation within an organization.
Data-driven insights
The latest tools and technologies will allow you to collect, store, and analyze data faster, leading to more data-driven insights. You can turn the data into actionable insights that generate revenue. The decision-making process will be much easier with centralized data storage and tools that analyze information.
Main Digital Transformation Trends
In 2023, the digital transformation landscape will keep evolving the way organizations operate. There are some trends in digital transformation shaping the market that you should pay attention to if you want to gain a competitive advantage. Let's talk about these digitalization trends in detail.
Low Code/No Code
One of the main digitalization trends this year is low-code/no-code platforms. Low-code platforms allow businesses without technical backgrounds to easily build and deploy software applications. There's no need to know any coding language to create a low-code or no-code platform. Thanks to the drag-and-drop tools provided and the graphical user interface (GUI), it is possible to design new solutions fast.
According to the latest digitalization facts by Gartner, low code/no code platforms will account for over 65% of software development by 2024. This number is not surprising, considering the benefits of low-code/no-code platforms. They include:
Low code/no code can be used by almost anyone, even people without technical skills and knowledge of programming languages, with little to no risk of errors.
Lower development costs due to its high accessibility and quicker turnaround times.
Automation features allow the creation of software solutions much faster.
Low code/no code will allow businesses to streamline their software development processes and even share the responsibilities across the organization, involving people with little to no technical background. What's more, it will reduce the need to employ certain specialists, lowering software development costs and bridging the current digital skill gap.
Migration to the Cloud
Keeping all business data on-premises is no longer an option. More and more companies rely on cloud technologies to store valuable information, improve the accessibility of data, cut expenses, and automate routine tasks.
As to the digitalization facts, the McKinsey report states that many organizations have shifted IT hosting to the cloud, aiming to allocate 80% of their budget toward the cloud by 2024. This is caused by the greater accessibility, scalability, and security cloud technologies offer. The main benefits of migrating to the cloud include: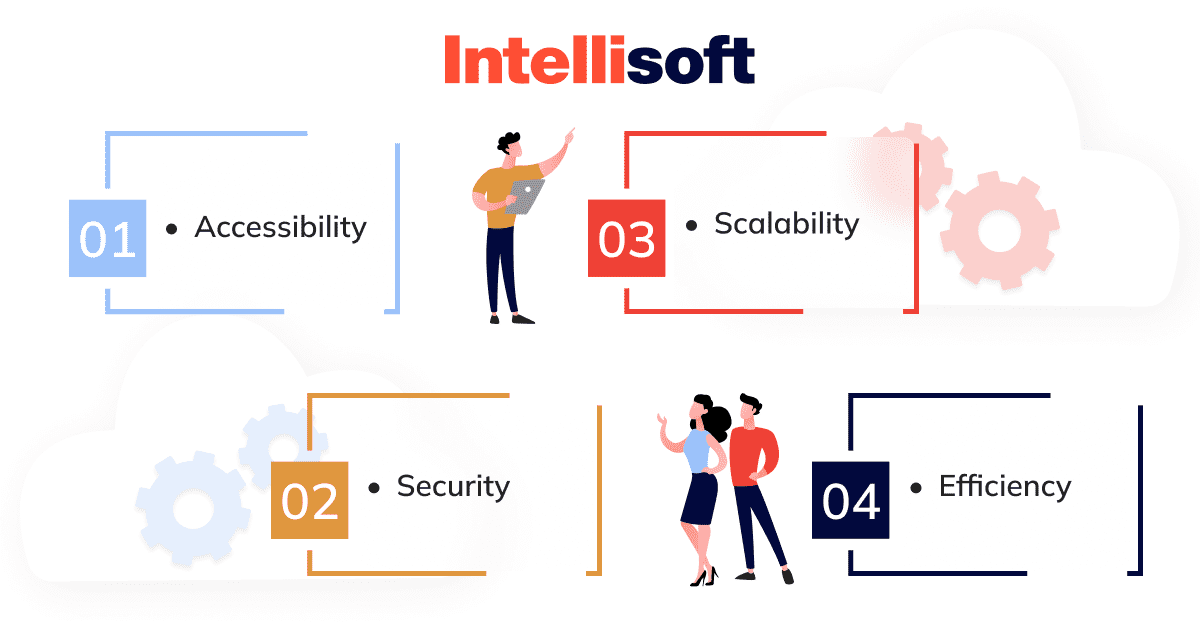 Accessibility: With the cloud, it is possible to access data from anywhere in the world, no matter what device you use. This is great news for organizations operating remotely, whose employees are scattered worldwide and need to access critical information at any given time of day.
Security: According to RapidScale, 94% of businesses saw a drastic improvement in security after migrating to the cloud. Indeed, the cloud is inherently more secure than keeping data on-premises as it keeps all the files safe, reducing the risks of breaches.
Scalability: As your business grows, its demands and requirements grow. That's why you need great scalability to meet these requirements, and the cloud can give you this opportunity. It can meet demands for any storage capacity or processing power.
Efficiency: Cloud computing and business efficiency come hand in hand. Migrating to the cloud can help your company work remotely, reduce costs, and improve collaboration. In fact, 80% of businesses state that they saved money and improved productivity and security through cloud adoption, as mentioned by Microsoft.
The Use of 5G
5G technology is no longer a concept from the movies about the future; it is upon us. Even though 5G is not yet in common use, it will be soon, and it will transform the digital world.
Digital transformation stats state that 5G will serve 40% of the globe by 2024. It will benefit not only telecom providers, but also other types of businesses, offering numerous benefits.
First, 5G will change how content, services, and experiences are delivered to users, making this process incredibly fast. Moreover, 5G will provide lower latency and a higher density than 4G networks.
Under perfect conditions, 4G tops out at 1 gigabit per second, while 5G demonstrates 20 gigabits per second. Thus, 5G will solve traditional cellular service problems, allowing organizations to benefit from its speed and move huge amounts of data much faster without any network issues.
5G technology will also promote the use of IoT, allowing companies to use multiple devices simultaneously without sacrificing speed and efficiency. 5G can support around one million connected devices per .38 miles, which is incredible.
Finally, you can be sure that 5G is a future-proof technology, considering it is still in its infancy stage. Thus, if you adopt it as soon as possible, you will gain a tremendous competitive advantage over other organizations.
Customer Data Platforms (CDP)
Customer data is like the oil of the 21st century – it is precious, and all companies incredibly value the data they collect from their customers.
CDPs are used to collect and integrate all customer data into a single database for easier access and analysis of the data. Collecting customer data in one place allows marketers to gain valuable insights that help them adjust their marketing strategies and offer a more personalized experience.
For example, a CDP can collect data from Facebook, email, the company's website, and other web pages where people interact with the company. Then, all the data points are collected and consolidated in one place. This process allows companies to use segmentation to better understand their customer's behavior.
In the future, this data can be used to create more personalized advertisements and marketing campaigns and attract potential customers.
Focus on Cybersecurity
The digital world revolves around big data, and all companies that want to adopt digital transformation must ensure that this data is highly protected from breaches and hackers. Cybersecurity has already been a trend for several years, and it will only continue to evolve, becoming more integrated and layered.
In fact, in 2023, it is expected that 33 billion accounts will be breached. This will happen if companies overlook the importance of adopting modern technologies to ensure higher security of data.
One of the ways to build more powerful algorithms to deal with cyber threats is by utilizing AI and ML technologies. Some cybersecurity measures you can take are:
Conduct risk assessments
Train employees
Implement security controls
Monitor and adjust
One of the key advantages of implementing robust cybersecurity measures during the process of digital transformation is the enhanced protection it offers to sensitive data. By safeguarding valuable information from unauthorized access, cyber threats, and potential breaches, organizations can maintain the confidentiality, integrity, and availability of their data assets.
Automation
Automation is an integral part of digital transformation; once one is adopted, the other follows. Automation provides digital value, increasing productivity, accelerating time to market, and transforming the employee and customer experience.
According to Salesforce's digital transformation stats, 95% of IT and engineering leaders are prioritizing workflow automation in their companies. By automating routine tasks, you can save time and focus on more important tasks, which leads to increased operational efficiency.
Remember that you can have automation without digital transformation, but not vice versa. Digital transformation without automation does not exist. If you have been thinking about transforming your business, it's time to start with process automation.
One of the main advantages of automation is that it helps deliver world-class customer service by making your company available to customer requests 24/7. It's no longer necessary to do everything manually, wasting time and slowing down the process. With automation, your employees can focus on more important aspects of customer service, while software solutions handle repetitive tasks.
AI and ML
Another digital transformation trend is artificial intelligence (AI). AI always comes hand in hand with machine learning (ML), natural language processing (NLP), and predictive analytics.
All these technologies help businesses make more data-driven decisions and predict future digitalization trends and events to adjust their strategies accordingly.
In other words, AI and ML help businesses predict the future and be prepared to face any issues. Moreover, AI-driven automation helps businesses deliver 24/7 client support through chatbots. There's no need to wait for a response from an employee; an AI-powered chatbot is available any time of day.
Using AI can help you achieve an unprecedented level of autonomy and adaptability. For instance, AI algorithms can learn to make decisions, place orders, and analyze consumer requests, making the process faster and more effective, freeing up your precious time.
What's more, AI and ML technologies are constantly evolving, and what you have once seen in movies can soon become a reality, so it's time to start using these technologies now.
Anything as a Service (XaaS)
More and more companies pay attention to Anything as a Service (XaaS) these days. XaaS encompasses everything that is delivered as a service: tools, technologies, products, etc. All of this is delivered to customers online rather than locally.
XaaS is similar to SaaS; it is its early example, and both terms refer to the delivery of a cloud service. XaaS is a more general term, SaaS being one of its components. It also includes platform as a service and infrastructure as a service.
Common examples of XaaS include:
SaaS: Apps like Microsoft Office 365 and Google Apps.
PaaS: Hardware and software tools like Amazon Web Services (AWS) Elastic Beanstalk, Google App Engine, and Apache Stratos.
IaaS: In this case, a cloud provider offers IT infrastructure to the client, such as data storage, servers, or other networking resources. IaaS examples include Google Compute Engine and Microsoft Azure.
XaaS is gaining popularity for a reason: it is cost-effective, has great technical support, is incredibly scalable, and presupposes less physical overhead.
Blockchain
According to recent digital transformation stats, 81 out of 100 public companies are using blockchain technology, and so should you if you want to facilitate digital transformation. Blockchain is a shared database of ordered records called blocks. These blocks are linked together and protected by cryptography. All members of an organization can access the shared record.
Blockchain technology offers exceptional security, especially important for organizations that store private information or finance records. It can also be used for authenticity checks in educational facilities, reducing cheating.
IoT
The Internet of Things (IoT) is taking the digital world by storm, and it's an integral part of digital transformation. It presupposes the interconnection of physical devices, machines, and even vehicles with computing systems or other devices via the Internet.
IDC predicts that by 2025, 55.7 billion connected IoT devices will generate around 80 billion zettabytes of data. IoT devices can be used to access customers' behavior, preferences, and needs and provide more personalized services. Moreover, it provides better interactivity with users and allows employees to handle various operations remotely at any time.
Related Readings
Conclusion
Digital transformation is the key to staying competitive in 2023. If you have been thinking about utilizing the latest technologies such as AI, ML, low-code/no-code platforms, IoT, or blockchain, following digital transformation trends will help you improve your operational efficiency, streamline and automate your processes, and ensure better customer satisfaction, so why think twice?
If you are unsure how to start your digital transformation journey and what steps to take first, worry not; IntelliSoft can be your guide and help you transform your organization and take it to the next level; just contact us, and let's embark on this journey.
FAQ