Picture yourself as a master chef, an apron on, ready to create a gastronomical masterpiece. Each ingredient, every spice, and each cooking technique has a crucial role to play. Similar to this situation, choosing the right tech stack for video streaming functionality is essential for creating an intricate recipe for your future video streaming app. Every technology, every line of code, and every protocol is an ingredient, and when combined correctly, the result is an appetizing feast of data streaming seamlessly across the digital landscape.
Welcome, fellow digital chefs, to the grand kitchen of streaming technology. As your guide in this culinary adventure, IntelliSoft is here to help you slice, dice, and sauté your way to a perfect dish. With more than 15 years of experience and a huge list of successful projects that have served our global clientele, we've refined our recipe for success in software, web, and cloud development services.
In this article, we're going to dive into the luscious broth of video streaming entertainment technology, helping you understand its flavors and textures. We'll taste the streaming statistics, explore the importance of the right tech stack, and learn what is streaming and how it works. We'll also season our knowledge with key factors like scalability, performance, cost, and security when choosing a tech stack.
We'll take you through the key components of a tech stack, peek into what tech stack industry leaders are cooking with, and discuss the emerging trends in video streaming technology. We'll even give you a tour of popular media processing platforms.
So, tie your apron, sharpen your knives, and let's dive into the grand kitchen of video streaming technology. Your diners are waiting.
Curious Video Streaming Statistics
Think of video streaming as the trendy ingredient that's taking the culinary world by storm. One day it's just a humble side dish, and the next, it's the main course everyone is craving. The numbers don't lie.
According to Statista, the global live video streaming market has been simmering nicely, growing from a solid $30.29 billion mark in 2020. But hold onto your chef's hats because, by 2025, this dish is expected to explode into a sizzling $106.19 billion feast. That's a compound annual growth rate of 32.2%, indicating a robust and rapidly expanding industry.
The Asia-Pacific region stands out in this trend, projected to outpace all other regions in terms of growth rate. The expected CAGR for this region is an astonishing 38.4%, which underscores the immense potential and increasing demand for live video streaming services in these markets.
American consumers have shown a definitive preference for videos over written content. In fact, 80% of Americans have indicated that they would rather watch videos than read blogs. This preference demonstrates the critical role video content plays in reaching and engaging with audiences in the US.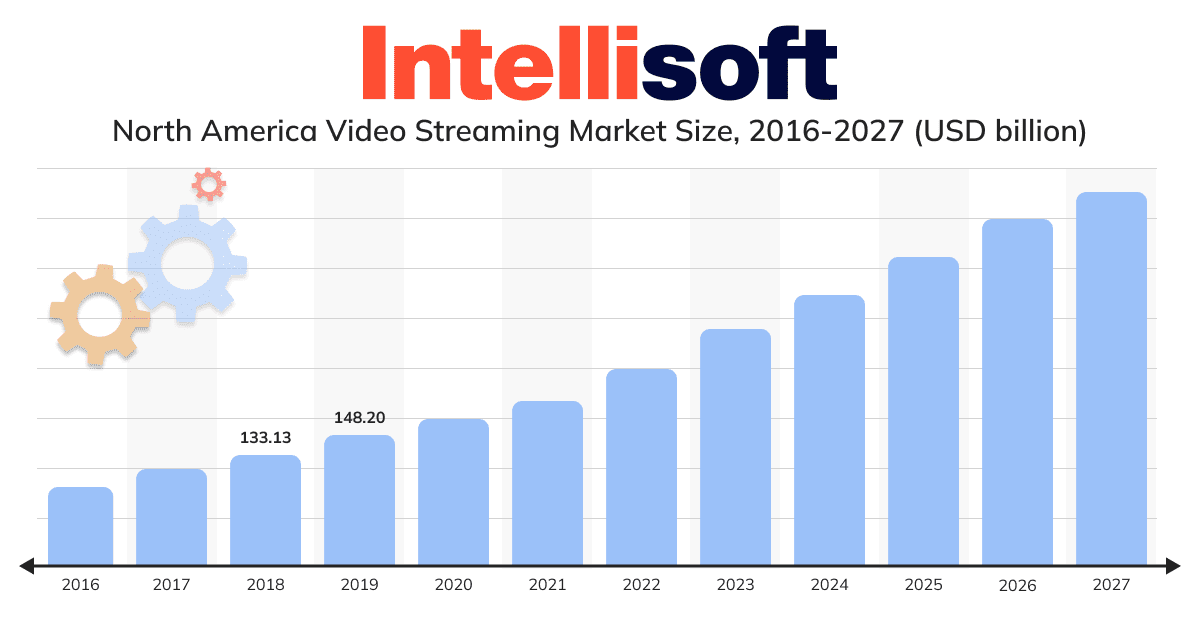 The impact of this shift is not just confined to live streaming. The revenue of Video-on-Demand services is also poised for dramatic growth, expected to reach a net worth of US$157.9 billion by 2027. Moreover, the live-streaming industry itself grew by a striking 99% between April 2019 and April 2020.
In 2020, China reported 600 million live-streaming users, a figure that underscores the gigantic audience that this medium can reach. Furthermore, as of Q2 2021, viewers across all streaming platforms had spent an astounding total of 8.99 billion hours watching live-streaming content.
Live streaming is not just popular; it outpaces the viewing rates of on-demand videos by 10 to 20 times. This indicates the enormous pull that real-time, interactive content has on audiences. About 34% of Generation Z has shown a marked interest in live streams, especially on social platforms, which suggests that this trend is only set to grow with younger demographics.
Finally, video features are proving to be a vital tool for businesses. Companies that use video features have seen their revenues grow 49% faster than those that do not. These figures emphasize the importance of video streaming functionality for businesses looking to stay competitive and engage effectively with their audience.
So, if you're ready to whip up a batch of success, it's clear that video streaming is the secret sauce you need.
Examples of Projects that Require Streaming Features
In today's digital age, various project types can significantly benefit from incorporating streaming features. Let's look at the three key types of projects where these features prove particularly valuable: Live Broadcasting Apps, Audio Streaming Apps, and Video-On-Demand Streaming Apps.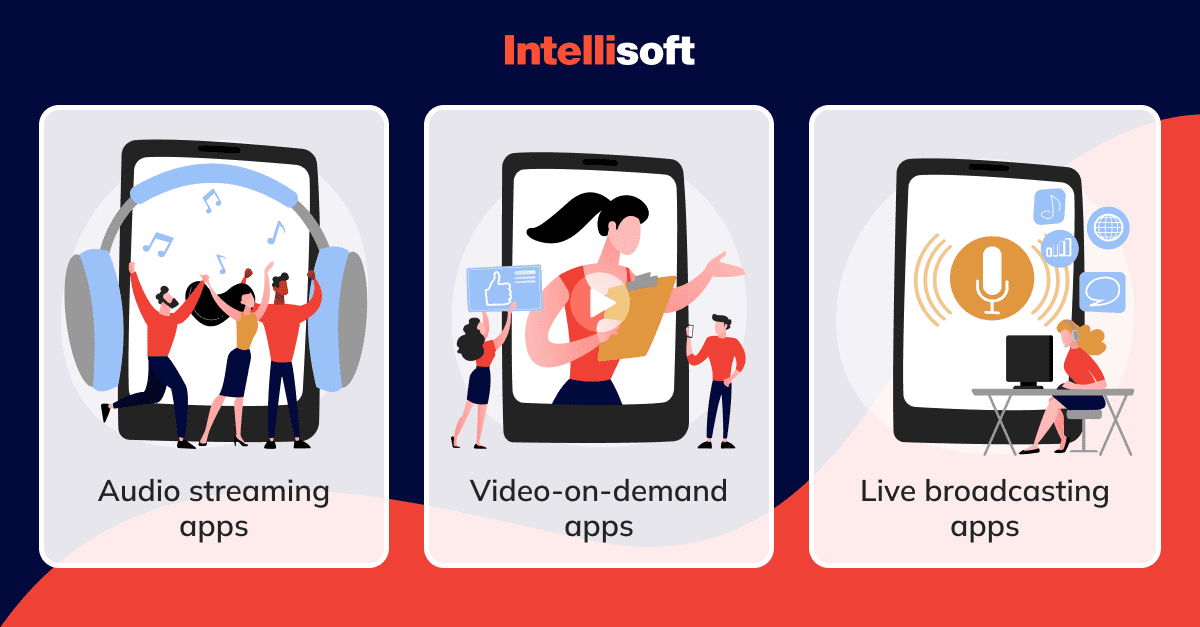 Live Broadcasting Apps
Live broadcasting apps have truly come into their own in recent years as they offer real-time interaction and engagement. These apps serve multiple sectors, including news, sports, entertainment, and social media, by providing live video feeds directly to the user's device.
Live broadcasting apps like Twitch, Facebook Live, and Instagram Live have proven the appetite for real-time content. For example, eSports competitions, live news broadcasts, or even real-time updates from influencers and celebrities captivate audiences who crave immediacy and interactivity.
Creating a brilliant live broadcasting app requires careful consideration of your streaming features. You'll need to ensure high-quality video and audio, low latency to reduce delay in live streams, and robust scalability to handle varying levels of demand. Additionally, interactive features like live chats, reactions, or polling can significantly enhance the user experience and engagement.
Audio Streaming Apps
Audio streaming apps have also seen a surge in popularity. These platforms, like Spotify, Audible, or Clubhouse, cater to a wide variety of audio content, including music, podcasts, audiobooks, and live audio chats.
If you're developing an audio streaming app, you'll need streaming features that deliver crisp, clear, and seamless audio to your users. Buffering and latency issues can disrupt the listening experience, so it's essential to prioritize a smooth and uninterrupted audio stream.
Furthermore, features like offline listening, playlist creation, and personalized recommendations can elevate your app's functionality and make it more appealing to users. Consider also including social features that allow users to share their favorite content or create collaborative playlists.
Video On-Demand Streaming Apps
Video On-Demand (VOD) streaming apps have revolutionized the way we consume video content. Platforms like Netflix, Hulu, and Disney+ offer a vast library of films, TV shows, documentaries, and more, ready to stream whenever the user chooses.
Creating a VOD streaming app requires a strong foundation of streaming features. Foremost, you'll need to ensure high-quality video streaming that can adapt to different device capabilities and network conditions. This often involves using adaptive bitrate streaming which adjusts the video quality in real time based on the viewer's network speed.
Moreover, features that enhance the user experience, such as personalized recommendations, subtitles and language options, and user-friendly search and navigation, can help your app stand out in a crowded market. Also, consider including download options for offline viewing and multiple profile management to cater to different user needs.
Whether you're developing a live broadcasting platform, an audio streaming app, or a VOD streaming application, streaming features are pivotal. They not only ensure a seamless experience for your users, but also help differentiate your app in the competitive digital landscape.
The Importance of Choosing the Right Tech Stack
Navigating the world of app development is a lot like assembling a complex puzzle. Each component is essential to the whole, and the system cannot function properly if even a single element is missing.
The technological components of your project, or "tech stack," are these crucial pieces. When it comes to video streaming services, the impact of your tech stack on performance cannot be understated.
Your solid tech stack is like a sturdy foundation for a future house. You wouldn't want to build your video streaming service on an ill-suited tech stack. A carefully chosen tech stack ensures stability, robustness, and scalability. It's the bedrock that supports high volumes of data, adapts to changing user demands, and guarantees continuous, uninterrupted service.
However, picking the right tech stack isn't a one-size-fits-all affair. Much like every house is unique in its design, each video streaming service has its specific needs and goals. Your tech stack needs to align with these requirements. Are you building a simple streaming service or a complex platform packed with features? The nature of your project will guide your choice of tech stack.
Choosing the right tech stack is a strategic move if you want your marvelous platform to be built to last. You are able to launch a video streaming service that's not only functional but also delivers a top-notch user experience if you have the appropriate technology stack.
So, remember to pay due attention to your tech stack. It's not just a part of the puzzle – it's the backbone of your video streaming service.
Related readings:
How Does Streaming Video Technology Work?
A video stream is a swift, continuous flow of data that arrives at your device, creating a seamless viewing experience. But how does this happen? Let's take a dive into the digital river of video streaming technology.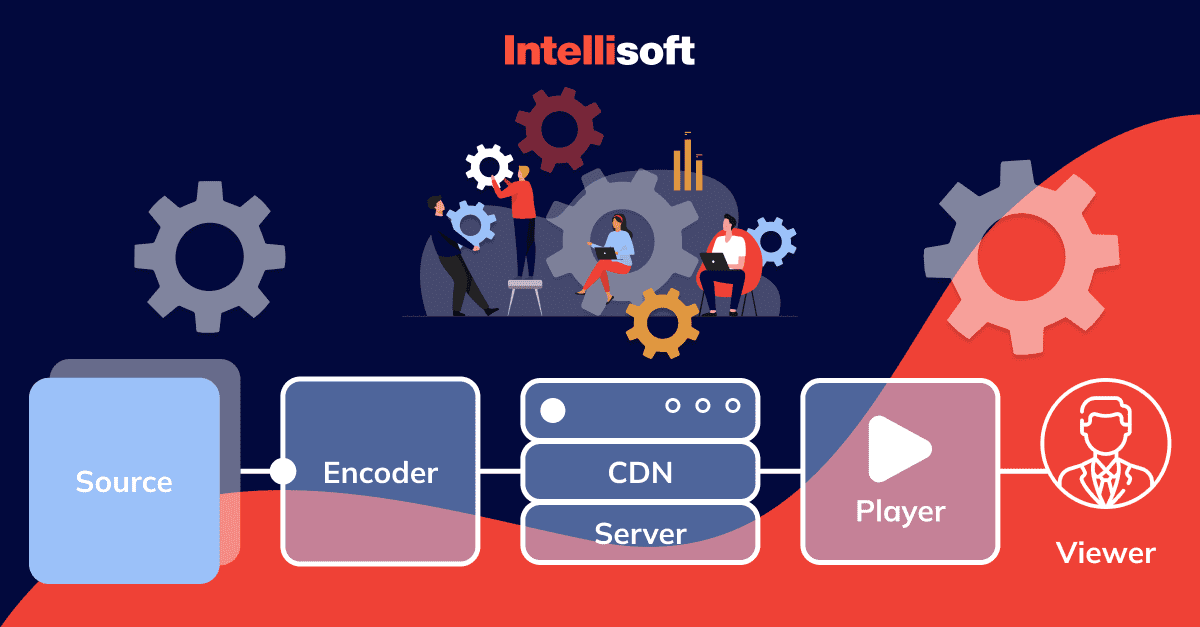 Video streaming works by delivering video content over the internet in real time, making it possible for you to start watching videos without the need to download them first. You can enjoy each show like a live concert as it's happening, with no waiting around for the release of a digital copy.
The Architecture of Live Streaming
The architecture of live streaming is like the anatomy of a river. There's a source where the water (or, in our case, the video content) starts flowing from, and there is a path of the flow that undergoes various processes before it reaches the viewer. Let's dissect this flow into two major components: video encoding and decoding, and the Content Delivery Network (CDN).
Video Encoding and Decoding
When it comes to delivering high-quality video over the internet, size matters. Raw video files are bulky and hard to transmit quickly. It's like trying to send a whole watermelon through a garden hose. To make this process smoother, we use video encoding.
Video encoding compresses raw video files making them easier to transmit over the internet. It's like sending the juice instead of the whole watermelon, so what you're left with is a smaller, more manageable package.
Once the encoded video reaches its destination – that's your device – it undergoes decoding. This process decompresses the video for playback, making it visible and enjoyable for you. It's as if the juicy watermelon is reassembled, and voila, you're ready for the picnic!
Content Delivery Network (CDN)
Now, how does this "watermelon juice" get to you? That's where the Content Delivery Network, or CDN, comes into play. The encoded video is delivered to you via a CDN, which is like a fleet of delivery trucks, each carrying a portion of the video content to your device.
A CDN caches the video content, sort of like the trucks stocking up on watermelon juice, and then delivers it to users. This procedure assures that you have a smooth and uninterrupted experience while streaming video, no matter where in the world you might be.
There are numerous CDNs out there, each with its unique strengths. Among the top players for streaming apps are Amazon CloudFront, Edgio, Microsoft Azure, KeyCDN, and Akamai.
Amazon CloudFront
Amazon CloudFront is a popular choice for many, and for good reason. It offers a highly secure, programmable, and scalable CDN service with deep integration into Amazon's extensive ecosystem. It simply knows how to get your stuff where it needs to go.
Pros:
Vast infrastructure – Amazon's global presence means your content is delivered quickly and efficiently, wherever your viewers may be.
Advanced security features – built-in security protocols such as AWS Shield, AWS WAF, and Route 53 guard your content like a pack of security dogs.
Flexible pricing – pay-as-you-go rates, and a free tier for newcomers, make it a cost-effective solution.
Cons:
Complex pricing – despite the flexibility, the pricing model can be confusing, especially for newcomers.
Lack of immediate customer support – unless you opt for a paid support plan, immediate assistance might not be available.
Edgio
Edgio, formerly known as Limelight Networks, is an American company providing CDN service, specializing in delivering digital content with finesse. It has a solid reputation for reliable video and media delivery, with a particular focus on the broadcasting industry.
Pros:
Excellent performance – the platform is known for its speed and reliability, even for live video streaming.
Real-time analytics – provides actionable insights into viewer behavior.
Multi-device delivery – it efficiently delivers content to a variety of devices, including desktops, smartphones, and TVs.
Cons:
A limited free trial is time-bound, which may not be enough to fully explore its capabilities.
It might be overkill for smaller, less media-intensive projects.
Microsoft Azure
Microsoft Azure is like the Swiss Army knife of CDNs, offering a range of integrated cloud services, including analytics, networking, and storage, alongside its CDN capabilities.
Pros:
Integration with other Azure services allows for a seamless and efficient workflow.
Reliable security – Microsoft's robust security measures help protect your content.
Scalability – Azure is designed to scale with your needs, making it a good choice for growing businesses.
Cons:
Complex pricing structures can be confusing, especially for those new to Azure.
Steeper learning curve – due to its extensive features, it may take some time to fully navigate and utilize.
KeyCDN
KeyCDN is the underdog of this lineup, but don't underestimate it. It's a straightforward, no-frills CDN service that focuses on performance, simplicity, and affordability.
Pros:
The user-friendly interface is straightforward and intuitive – because of this, both the setup and management are quite simple.
Competitive pricing – it offers one of the best price-performance ratios in the market.
Free SSL – unlike many other CDNs, KeyCDN provides free custom SSL.
Cons:
Limited feature set – it doesn't offer as many features as some of the larger CDNs.
Less global coverage – its network isn't as globally spread as some competitors.
Akamai
Akamai is one of the earliest and most respected players in the CDN game. With more than two decades on the market, the company knows every twist and turn of this business.
Pros:
Extensive network – with servers in many parts of the world, Akamai ensures fast, reliable content delivery.
Advanced security features – it provides robust protection against various online threats.
Superior analytics – detailed real-time analytics can help you better understand and reach your audience.
Cons:
Expensive – Akamai's advanced features come at a higher price tag.
Complex interface – extensive features can make the platform more difficult to navigate for beginners.
Each of these CDNs offers unique advantages, and which would be right for you will depend on your specific needs, budget, and technical capabilities.
Key Factors to Consider When Choosing a Tech Stack
Selecting the right tech stack for your video streaming application can feel like navigating a high-stakes maze. One wrong turn and, suddenly, you're face-to-face with performance issues, bloated costs, or security vulnerabilities. By taking into account the key factors below, you can confidently chart your course and emerge victorious on the other side.
Scalability
When your user base grows – your tech stack needs to handle the increased demand without buckling under the pressure. Scalability is all about your application's ability to handle growth seamlessly. It's the invisible bouncer at the door, smoothly managing the flow of new users into your service without causing a jam.
Your tech stack should be able to scale both vertically (by adding more power to your existing servers) and horizontally (by adding more servers). This approach ensures that your app can handle peak viewing times and a growing user base with grace and ease.
Performance
Performance is the main attraction of any video service. It's what keeps users coming back for more. Your streaming service needs to deliver smooth, high-quality playback with minimal buffering. If your service stutters during the crucial climax of a movie or the final seconds of a live sports event, your users might just decide to jump ship to a competitor.
The key to outstanding performance lies in the right combination of technologies in your tech stack. It includes everything from your encoding software to your CDN. The performance also extends to the user interface. A fast, responsive, and intuitive interface enhances the user experience and increases the likelihood of user retention.
Cost
Technologies with superior features usually come with a higher price tag. But just like with any product, there's a balance to be found between cost and quality. Providing a high-quality experience for your customers is crucial, but it's important to balance this with spending wisely.
Cost considerations extend beyond just the initial setup. There's also the ongoing cost of server maintenance, CDN usage, potential licensing fees, and updates. Pay attention to these factors when budgeting. Choosing an open-source solution or a tech stack with a pay-as-you-go pricing model can help keep costs manageable.
Security
In the digital world, security is king. It's the digital equivalent of a moat around your castle, protecting your content and users' data from cyber threats. Any tech stack you choose must have robust security measures in place.
This includes encryption for data in transit and at rest, secure access controls, and protection against common web attacks. It's also crucial to ensure compliance with data protection regulations like GDPR or CCPA, depending on where your users are based.
Choosing the right tech stack for your video streaming service is a critical decision with far-reaching implications. By focusing on scalability, performance, cost, and security, you can choose a tech stack that not only satisfies your requirements right now, but also has the ability to change, develop, and grow with you into the future.
Tech Stack Components for Video Streaming
Just as any new building needs a sturdy foundation, a robust video streaming service needs a solid tech stack. It's the core that holds everything together, ensuring a smooth and seamless user experience. Let's dig into these foundational elements, starting with video streaming protocols.
Video Streaming Protocols
In the world of video streaming, protocols set rules for how data should be sent and received, ensuring that everything flows smoothly without any hiccups. We will now learn about the video streaming protocols that are frequently used:
Real-Time Messaging Protocol (RTMP)
Originated by Adobe, RTMP is a stalwart in the video streaming industry. It's primarily used for live streaming, delivering high-quality video in real time. But it's kind of like a classic car – it has its charm but lacks the fuel efficiency and speed of newer models.
MPEG-DASH
As an adaptive bitrate streaming protocol, it adjusts video quality on the fly, ensuring smooth streaming even with fluctuating internet speeds. It's like a smart car, adjusting its performance based on the road conditions.
HTTP Live Streaming (HLS)
Developed by Apple, HLS is another adaptive bitrate streaming protocol. It's like the trusty family sedan – not the newest or flashiest, but reliable and widely accepted.
WebRTC Protocol
WebRTC is designed for real-time communications, making it ideal for interactive use cases like video conferencing. It's like a speedy sports car, providing fast, real-time interactions.
H3: Encoding and Decoding Technologies
Next up, we have encoding and decoding technologies. These are translators converting raw video into a digital format for transmission, then converting it back for playback. Here are some important examples:
H.264, AVC
This is the most commonly used video encoding standard, thanks to its balance between compression efficiency and quality. It's the universal translator of video codecs. It provides excellent video quality and is widely supported across devices and platforms.
VP9
Developed by Google, VP9 offers high-quality video compression, making it great for delivering high-resolution content.
FFmpeg
This is a free software suite that includes a codec library. It can handle encoding, decoding, transcoding, and more.
XviD
An open-source video codec, XviD offers impressive compression capabilities, making it a great choice for squeezing high-quality video into smaller files.
Media Containers
Now, let's talk about media containers. These are like suitcases, holding together different elements of a video file – the audio, video, metadata, and more. Here are some of the key players:
MKV
This flexible, open-source container can hold virtually any codec, making it a versatile choice for many different use cases.
MP4
This is a popular choice for streaming thanks to its wide compatibility and efficient compression.
AVCHD
Used primarily for high-definition video, AVCHD is a favorite of camcorders.
AVI
One of the oldest container formats, AVI is less efficient than newer options but still widely used.
DMW
This container format is often used for Panasonic and Leica raw stills.
MOV
Developed by Apple, MOV is a commonly used format for saving video files.
FLV
Flash Video is a format created by Adobe Systems. It's primarily used for streaming content over the internet.
WMV
Did you know that Microsoft developed a group of video codecs and their matching video coding formats called Windows Media Video? It's a pretty cool technology that allows for high-quality video playback on Windows devices.
SWF
This is a file format for multimedia, vector graphics, and ActionScript in the Adobe Flash environment.
CDN and Storage
Finally, we come to CDN and storage options designed for delivering your content quickly and storing it safely when not in use. Here are a few options to consider:
Amazon S3
Offering scalable and secure storage, Amazon S3 is a popular choice for storing video content.
Google Cloud Storage
Another robust storage solution, Google Cloud Storage, offers high durability and scalability.
Cloudflare, Fastly
These are popular CDN options, delivering content quickly and reliably to users around the world.
Open Connect
This is Netflix's in-house CDN. They provide it for free to ISPs, improving streaming quality for Netflix viewers.
It's important to carefully choose the components that make up your tech stack for your video streaming service. Each component plays a vital role in performance, so select wisely and pay attention to the details.
Other Technologies
When creating the perfect recipe for a video streaming service, programming languages are the key ingredients. Here's a look at the main ones used in web and mobile app development:
For web app development, we have:
C++ (GO)
An efficient and flexible language, C++ is a powerhouse that provides speed and control. It's like the black coffee of programming languages – robust and not suitable for those who are easily scared or intimidated.
HTML5/CSS3
HTML5 is the standard markup language used by professionals around the world to create stunning web pages that users love, while CSS3 is the style-sheet language for describing their look and formatting. Together, they're like the bread and butter of web development.
JavaScript (Node.js, React, RxJS, Restify, Ember JS, AngularJS, Backbone JS)
JavaScript is a robust programming language utilized to build engaging web pages, and its array of frameworks supercharges its capabilities. It's like a Swiss Army knife, coming with a tool for almost any job.
Python
Python is a popular choice for server-side web development due to its usability and legibility.
Ruby (Ruby on Rails)
Ruby, particularly with the Rails framework, is a favorite for web app development due to its efficiency and ease of use.
For mobile app development:
Swift (for iOS)
Swift is the go-to language for iOS app development, known for its speed, efficiency, and simplicity.
Kotlin/Java (for Android)
Kotlin, a modern alternative to Java, is now the preferred language for Android app development due to its clear syntax and safety features.
Effective data management systems are essential for storing, retrieving, and efficiently managing data. Here are a few key players:
Atlas-DB, Cassandra, MySQL, Oracle, PostgreSQL
These database management systems are like the libraries of your service, neatly cataloging and storing your data for easy retrieval.
For analytics and insights:
Google Mobile App Analytics, Flurry Analytics, Hadoop, Hive, MixPanel, Localytics, Mode, Parquet, Pig, Presto, Spark
These technologies provide crucial insights into user behavior, helping you optimize your service. They're designed to help you see the finer details of your operation.
For geolocation:
Google Maps API, MapKit/Core Location frameworks (for iOS)
These tools provide location services, essential for localizing content and providing location-based features.
For messaging:
Firebase, SendBird, PubNub, Twilio
These services handle real-time messaging, which is crucial for interactive features and notifications.
Tech Stack Used by Video Streaming Leaders
Now, let's take a peek into the kitchens of some video streaming giants to see what they're cooking with.
Netflix
Netflix uses a combination of Java, JavaScript, Python, and other languages for development. Their data is stored in a combination of Cassandra, MySQL, and other databases, and they use Amazon S3 for storage. They also famously use their in-house CDN, Open Connect.
Hulu
Hulu uses a mix of JavaScript, Ruby, Swift, and other languages. They store their data in MySQL, among other databases.
Disney+
Disney+ uses a variety of technologies, including JavaScript, Java, and Swift. They also use Amazon S3 for storage, just like Netflix.
Understanding the tech stacks of these industry leaders can provide valuable insights as
you choose your own.
Popular Media Processing Platforms
In the world of video streaming, media processing platforms are the backstage heroes, ensuring your content is ready for the limelight. Below is a roster of the most frequently used products available in the market:
Brightcove
This platform is known for providing a complete suite of video technologies. It's like a jack-of-all-trades, supporting video hosting, live streaming, monetization, and more. It's a platform with a solid reputation and a vast feature set, but it's not the most budget-friendly option on the market.
Contus VPlayed
Contus VPlayed provides an end-to-end video-on-demand and live-streaming solution. It's like your own personal streaming assistant, offering a wide range of features including monetization, video management, and analytics. However, it might be overkill for those looking for a simple, straightforward solution.
DaCast
DaCast is a robust live-streaming platform that offers features such as an integrated paywall, password protection and analytics. It offers a vast range of tools that cater to all your streaming needs.
Adobe Media Server
This platform, by Adobe, enables the streaming of live and on-demand video content. It's the old hand in this space, having been around for quite a while. The software suite allows content publishers to deliver protected HD-quality video to a global audience using any device with a screen.
JWP
This platform offers an easy-to-use interface, ad integration, and real-time analytics. It's a solid, user-friendly option for live streaming, but it is missing some of the advanced features of other platforms.
Livestream
Now a part of Vimeo, Livestream offers powerful streaming features such as live event broadcasting and video on demand. It offers excellent quality but at a higher price point.
Muvi
Muvi is an all-in-one platform offering on-demand and live-streaming services. It's like a one-stop shop, providing everything from video management to monetization tools. The platform's comprehensive nature might make it a bit overwhelming for beginners, though.
IBM Video Streaming
After acquiring Ustream, IBM provides live and on-demand video streaming services. The company offers solutions for virtual events and corporate communications focused on privacy, reliability, and scale.
Vimeo PRO
Vimeo PRO offers a clean, ad-free platform for video hosting and live streaming. It's the minimalist's choice, providing a clean, user-friendly experience, but it may lack some of the bells and whistles of other platforms.
Wowza Video Platform
Wowza offers customizable streaming solutions for live and on-demand content. This streaming platform offers customized solutions, like a tailor-made suit, but it may require some technical knowledge to fully utilize its features.
When selecting a video streaming platform for your service, it's crucial to take into account your specific requirements and resources, as each platform has its advantages and disadvantages.
Emerging Streaming Trends
As the world of streaming evolves, so do the technologies and trends that drive it forward. Let's explore some of the latest developments in streaming speeds, AI in content creation, and the rise of AR, VR, and the Metaverse.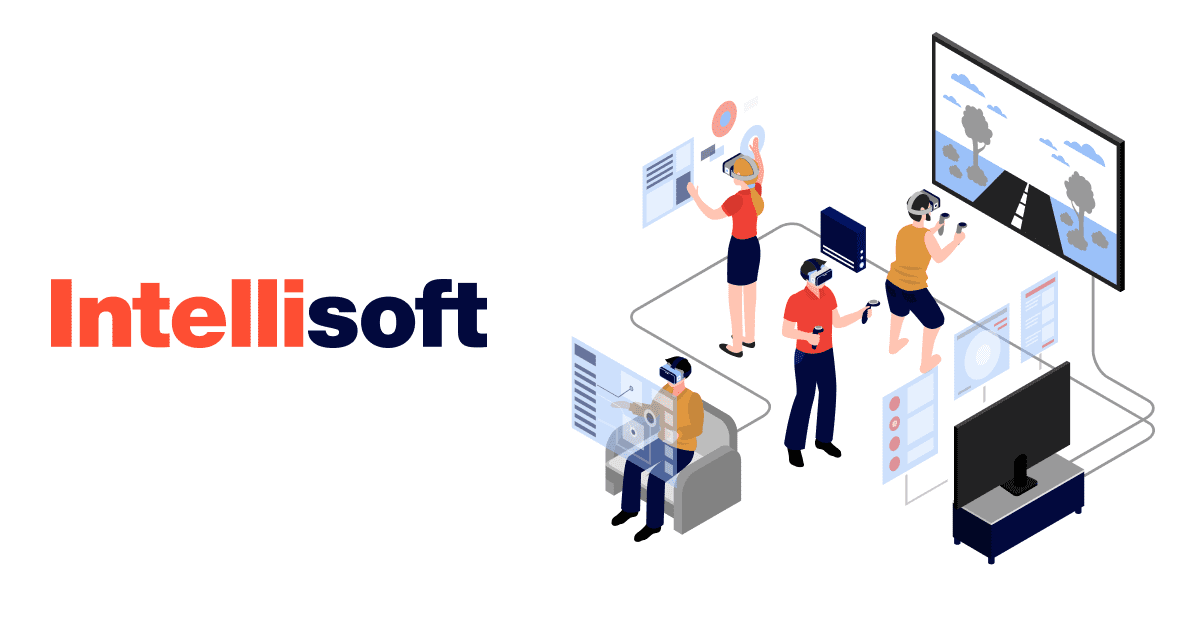 Advancements in Streaming Speeds
The need for speed is always a priority in the streaming industry, and various innovations are helping to reduce latency and provide a smoother user experience:
Web Real-Time Communications (WebRTC)
WebRTC is a project that allows audio, video, and data to be shared in real-time using web browsers. It is an open-source initiative. This technology bypasses the need for plugins, allowing for faster streaming and seamless communication.
High Efficiency Streaming Protocol (HESP)
HESP is designed to optimize streaming speeds and reduce latency, making it ideal for live streaming events. With its ability to deliver video content in real time, HESP is a game-changer for streaming providers looking to offer low-latency, high-quality experiences.
Wowza's Real-Time Streaming at Scale feature
Wowza has developed a solution to deliver video content to massive audiences without sacrificing quality. Their Real-Time Streaming at Scale feature leverages advanced technologies to minimize buffering and ensure a seamless viewing experience.
New codecs (H.265/HEVC and AV1)
Emerging codecs like H.265/HEVC and AV1 offer improved compression efficiency, meaning they can deliver higher-quality video at lower bitrates. This leads to faster streaming speeds and reduced buffering for viewers.
The Use of AI in Content Creation
The streaming industry is being influenced by Artificial Intelligence (AI) which is helping in the creation of content.
Writing scripts
AI-powered algorithms can now analyze data and generate scripts for video content. These scripts can be tailored to specific audiences, helping streaming platforms create more engaging and relevant content.
Use of virtual humans as hosts
AI-generated virtual hosts are becoming more popular in live-streaming events. Virtual characters can engage with viewers in real time, creating a unique and immersive experience that blurs the boundary between reality and the digital realm.
AR, VR, and Metaverse
Augmented Reality (AR), Virtual Reality (VR), and the Metaverse are transforming the streaming landscape, offering new ways for users to engage with content:
AR streaming
AR allows users to overlay digital content onto their physical environment, creating an immersive and interactive streaming experience. AR has a wide range of applications. It can be utilized to integrate virtual objects into live sports events or offer extra information during news broadcasts.
VR streaming
VR streaming takes users into fully immersive virtual worlds, providing a level of immersion that traditional streaming can't match. As VR technology improves, streaming platforms are exploring new ways to offer unique, engaging experiences to their audiences.
The Rise of the Metaverse
According to Gartner, a quarter of users will spend a minimum of one hour daily in a Metaverse for purposes such as work, shopping, education, social media, and entertainment by the year 2026. This shift towards the Metaverse will open up new opportunities for streaming providers to create and distribute content in these digital realms.
As the world of streaming continues to evolve, these emerging trends will shape the future of the industry. By staying ahead of these advancements, streaming providers can ensure they're offering the best possible experiences to their audiences.
Conclusion
In this thrilling journey over the video streaming technology landscape, we've explored the towering peaks of streaming statistics to the lush valleys of tech stack components. We've ventured through the winding paths of video encoding and decoding, examined the indispensable role of Content Delivery Networks, and surveyed the vast field of tech stack options for your future streaming project. We've also gazed into the horizon, marveling at the emerging trends of streaming technologies.
Just as an experienced guide is essential for an ambitious journey, so is the right partner when embarking on the intricate voyage of crafting a top-notch video streaming service. The tech stack you choose for your project isn't just a checklist of tools and software—it's the foundation of your service, and it has a direct influence on the user experience you provide.
And this is where we at IntelliSoft step in. With our extensive experience in software, web, and cloud development services, we are the expert guide you need to navigate the vast terrain of video streaming technology. Our proficient team of developers can assist you in selecting the right tech stack that perfectly suits your project's needs, ensuring you can scale effortlessly, maintain optimal performance, and deliver a seamless user experience.
At IntelliSoft, we are not just your developers – we are your partners in innovation. We can assist you with every phase of the process, starting with the planning phase all the way to launching and beyond. With our expertise, you can create a streaming service that keeps up with the industry's rapid evolution and set new standards. You can even assess your future investments into the development using our dev team calculator. Let's shape the future of video streaming together.

About

Kosta Mitrofanskiy

I have 25 years of hands-on experience in the IT and software development industry. During this period, I helped 50+ companies to gain a technological edge across different industries. I can help you with dedicated teams, hiring stand-alone developers, developing a product design and MVP for your healthcare, logistics, or IoT projects. If you have questions concerning our cooperation or need an NDA to sign, contact info@intellisoftware.net.