Who else can argue with the fact that mobile apps are driving business? More and more users are moving to the mobile application format, which is not surprising. Just the fact that an ordinary American spends an average of three hours on the phone confirms this. In the end, if users have the opportunity to order or buy or just launch something on the run, they will not refuse such an opportunity.
This is why mobile apps are moving the market. Business owners understand this and are betting on this factor if they want their startup to flourish and generate income. So they go to an app development agency, outsource mobile development, or hire an inhouse team to do it.
Related readings:
What Is Mobile App Development?
This is all about apps, trends, and technologies in this sector. It is a promising direction that is rapidly gaining in demand and momentum. US users consume 69% of the content from the mobile app. This is more than half.
Mobile application development is a laborious and painstaking process. This is a task for competent outsource developers who know Java and Kotlin, guided by today's trends and technologies of app creation. Customers prefer to look for such specialists abroad; that is, they resort to outsourcing.
Mobile app development outsourcing is a practice that is currently widespread at various enterprises in various industries. This means hiring a remote mobile app development team from another country and joining your project upon request to create a mobile app for your business.
Price is the main reason business owners are looking for outsourcing companies to develop their applications. This is due to the lower cost of living in these geographic regions compared to the US, UK, and Europe.
Mobile App Developing Trends 2022
Given the continuous development, mobile app development will acquire more and more new trends in response to current requests. Following this trend is one of the key conditions for commercial business success.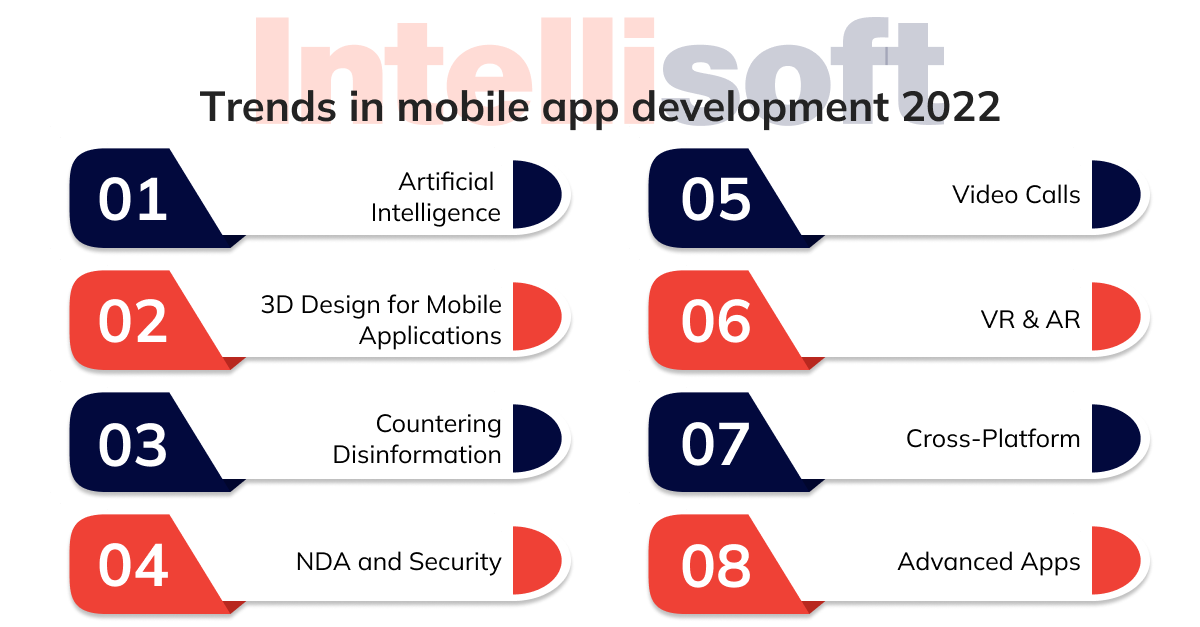 When turning to outsourcing mobile app development, consider the current market position as well. Today, several such trends are relevant.
Artificial Intelligence
AI has long since moved out of the fantasy world and has become a part of our lives. Indeed, today it isn't easy to surprise anyone with a smart home or voice search for information on the web. And nevertheless, this is the most promising trend in the direction of mobile app development.
Especially when it comes to virtual creation assistants, that will be more interesting and functional than projects like Amazon Alexa, Google Now, Apple Siri, and so on.
It will be something like a virtual friend, assistant, and, in some way, an interlocutor. Already in 2022, programmers are striving to create this.
Video Calls
Remote work involves additional tools for communication, especially video calls. This means that mobile development outsourcing will also focus on modernizing and improving video calling applications.
Moreover, this is a promising and demanded direction not only for business videoconferences. Users can also contact their doctor, shop, and communicate with friends in this way.
Based on this, apps for video call development are in trend now, and this is a demanded direction in almost all countries of the world.
3D Design for Mobile Applications
Don't rush to say that 3D graphic design will surprise no one. In this regard, it has not a decorative but a functional role.
So, from a commercial advertising point of view, 3D graphics will also add benefits. For example, this tool will provide a complete product overview that will be a winning approach to online shopping from all angles.
Virtual Reality and AR
Today, virtual reality is a popular technology in gaming, science, and medicine. But, over time, it will spread to other areas of life.
Mobile platforms continue to develop applications using augmented reality technology; many well-known companies are investing in AR technologies, Apple, for instance.
The creation and modernization of AR glasses have captured the minds of many developers worldwide, so this direction will continue to develop steadily and actively in the future.
Countering Disinformation
Fakes and manipulation of facts are some of the sharpest issues of the 21st century. But unfortunately, users don't have time to analyze all the information due to the exorbitant volume and lack of time. Also, some media outlets present distorted information on social networks very convincingly.
Some developers have thought about countering this trend and created special algorithms. For example, they will hide or flag fake information or block it on shared sources.
Cross-Platform
The cross-platform software products' promising direction is reaching a new level. The main aspiration of developers is to make mobile applications available for use on computers and vice versa.
Cross-platform applications will allow reach a wider audience of users; in addition, such versatility will provide the ability to choose a device to open an application at any given moment.
NDA and Security
Many commercial projects create a paradoxical situation. On the one hand, they take care of customers' safety by collecting information about them. But on the other hand, they create a sense of constant monitoring in this way. These alarms users; they are afraid of the threat of leakage and don't trust IT projects.
All this causes the need to improve the security of personal data, which is what the leaders of the information industries are working on, particularly app development outsourcing. For example, they improve security measures for logging into a resource or generate a peer-to-peer email that redirects emails to the user's one.
Super Applications
This is one of the latest, freshest, and most current trends around the app development world. If only specific applications were initially actively created for a particular purpose, today, multifunctional applications set the trend.
First of all, this trend will affect communications and payments. Mass development of such products will make a real breakthrough in the App industry.
Why Outsource Custom Mobile App Development Service?
Many entrepreneurs worldwide have already appreciated the many outsourcing application development benefits. However, someone may think that there is no need for this because they can do it themselves. The truth is, it's much better to leave this to the experts while you focus on your day-to-day tasks.
As statistics show, mobile apps are expected to generate over $935 billion in revenue by 2023. Also, app development outsourcing brings some economic benefits, as found in the table below.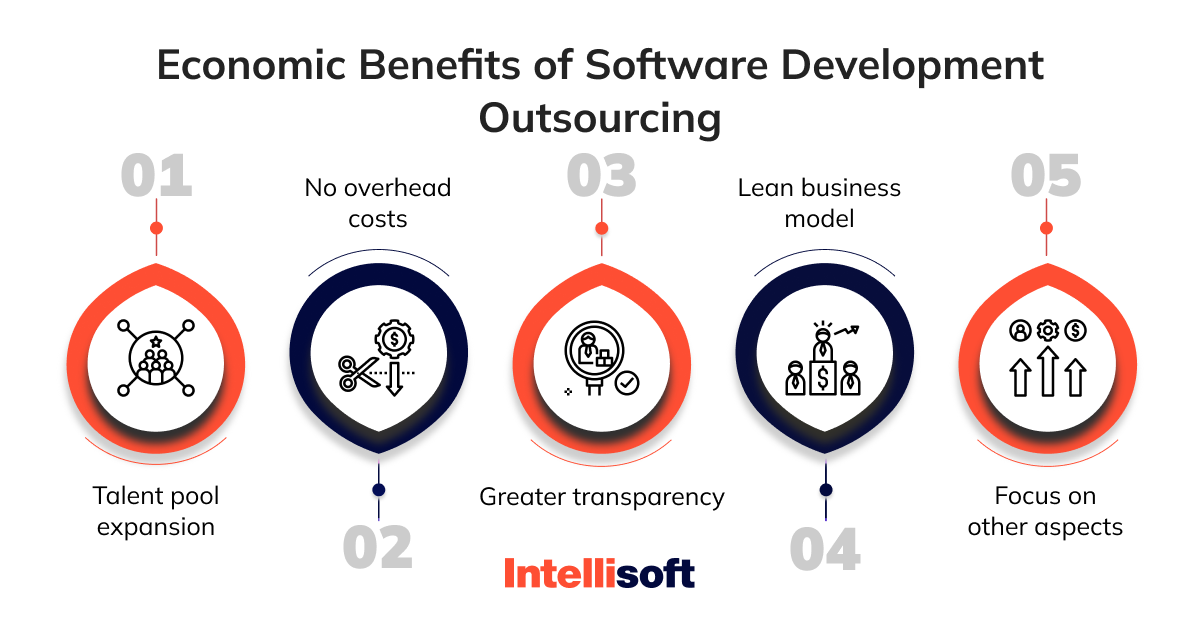 Here are some of the assets that outsourcing mobile app development can bring to your business strategy.
Reason 1. Economy and Affordability
First and foremost, it is a tactic that allows companies to cut costs and focus on other important tasks.
This is a more cost-effective solution because freelance developers from Ukraine, China, or the Philippines work much cheaper due to the lower cost of living there.
These countries don't just offer quality work for less cost but also have a great talent pool with specialists of all profiles. Thus, app maintenance costs are lower in this region too.
Reason 2. Stress-Free Hiring
Another significant benefit of outsourcing mobile app development is that you don't have to spend time profiling, interviewing, and hiring the best professionals for your project.
All this can be done by the company's HR manager you are going to work with. This person is specially trained to recognize talent and suggest the best candidates to the employer.
Reason 3. Time-Saving
This is probably one of the most attractive application outsourcing benefits. There's no need to spend most of your precious time micromanaging, which is one of the most time-consuming tasks during the entire development process.
Reputable companies usually emphasize hiring qualified and experienced project managers who oversee the workflow, lead the team, and avoid the undesirable thing of micromanaging your project.
Reason 4. You Focus On Your Tasks Only
Among other things, this approach allows you to entrust the development process to professionals and focus on managing the tasks and projects of your internal team. In the end, you will have more time to spend with your family.
Reason 5. You Can Hire Pro Outsource Developers
This approach allows you to deal with qualified people who perform their highly specialized work at the highest level. You can work with an expert in the world who knows his business and knows how to create apps.
This will help you achieve the best results at every stage of development and create a mobile app that will win the market competition in the long term.
Reason 6. Valuable International Experience
This knowledge and experience can help you forge future partnerships and collaborations with other companies and organizations worldwide.
On the one hand, mobile development outsourcing introduces you and your team to different mentalities, lifestyles, values, ​​and worldviews. But on the other hand, it will teach your company to communicate with foreign teams, be tolerant and think about the cultural characteristics of the people involved in the project.
Reason 7. 24/7 Business
Outsourcing is also an excellent opportunity to optimize your business for an around-the-clock format. So, while it is night in your country, specialists from the country's outsourcing perform the assigned tasks and deliver them without delay.
You and your house team can concentrate on other critical tasks during this time. This is especially important when the load increases as your business grow.
How to Choose Outsource App Development Agency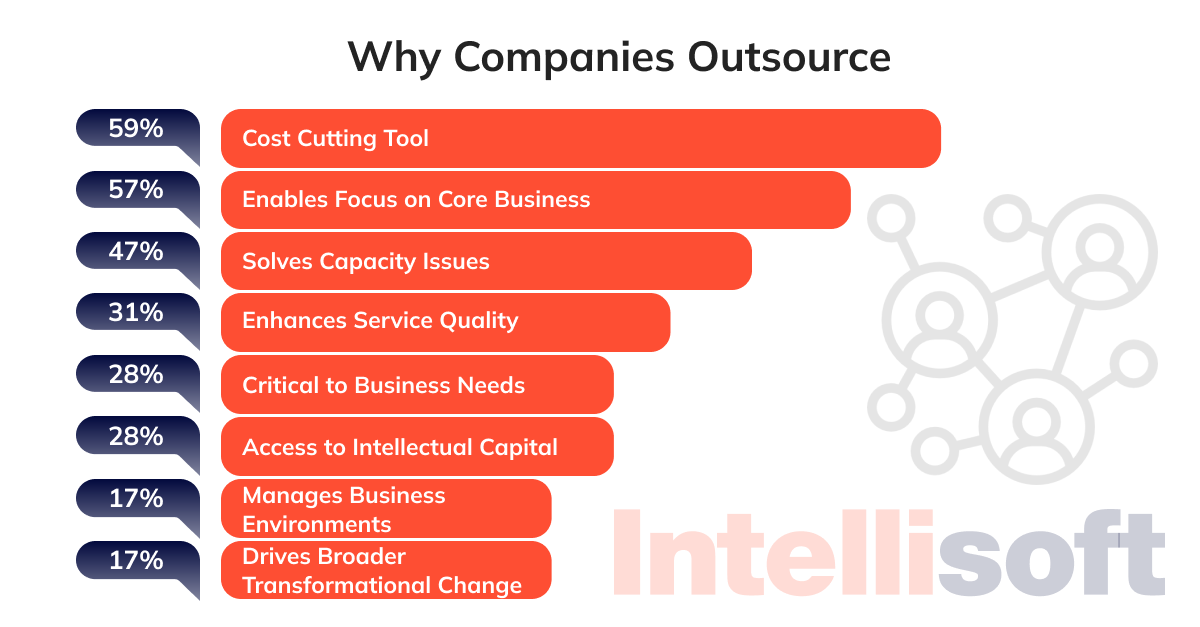 We offer you a small checklist for choosing a contractor for outsourcing app development.
This will protect you from unscrupulous contractors and help you avoid wasting money.
Real reviews. Find real clients who have dealt with this app development outsourcing company. Notice how the outsourcer responds to positive and negative comments about their work.
Experience with similar projects. Check out the relevant outsourcer's experience. In this case, this company must be competent in app development and related trends.
Place in the ratings. It is better to focus on the middle part of the list; there are companies with a good reputation and an acceptable price.
The efficiency of communication. The speed of reaction also shows efficiency and diligence. If the performer answers you only after a couple of days, it's not worth it.
They are clarifying questions. If a potential performer asks you a lot, it speaks of competence. An outsourcing provider also demonstrates interest in the project in this way. It will also be better to ask the developer a few questions in return.
Post-release support. It's not enough to make an application; the customer needs technical support and further project development. This is a good sign if a company offers such a service and does not leave the customer alone with the app immediately after the release.
So, it's better to spend a little time and find a professional app development agency than suffer from unscrupulous performers and their hacky approach.
The Bottom Line
The digital age dictates business trends. Today, the key one is mobile app development. Moreover, it's not just about creating an app for the client. It has directions and vectors of development and is constantly evolving. So, today's trends in this direction are:
Artificial Intelligence.
Virtual reality.
Augmented Reality.
Improved security and anonymity.
3D Functional Design.
Video Calls.
Multifunctional Applications.
This is taken into account by any mobile app development agency committed to its products' success. Business owners often turn to current companies or freelancers for outsourcing app development benefits.
This solution will be ideal for you if you are looking for decent, smart performers who work for application development outsourcing or if you need to upgrade your app in the near future. So, what are the benefits of outsourcing:
Saves expenses.
Solves the problem of hiring the right specialists.
Allows your business to run around the clock.
Offloads you and your home team.
And of course, it gives you international experience with decent specialists.
All this will be given to you by our IntelliSoft team. We have been helping businesses to realize themselves through outsourcing development for 13+ years. We always get into the top 5 best companies and help our clients do it too. With us, you will conquer new business heights.