IoT technology, or the Internet of Things, penetrates deeper into people's daily lives. IoT involves connecting everyday objects through 5G. Cars, kitchen appliances, and even cardiac monitors can be connected through the IoT. For example, a coffee machine connected to this technology will know when you get up for work and start brewing coffee.
However, healthcare is the most promising area for introducing IoT devices. According to a study conducted by analysts from the Aruba Networking Products Department, six out of ten global medical organizations already use IoT devices.
We at IntelliSoft are eager to share with you our top-notch IoT solutions. One of our clients, a well-known Swiss manufacturer of industrial heating systems, for instance, asked us to help with the control and monitoring of remote heating systems utilizing IoT devices. In addition to the innovative business resource planning, we provided them a committed workforce (ERP).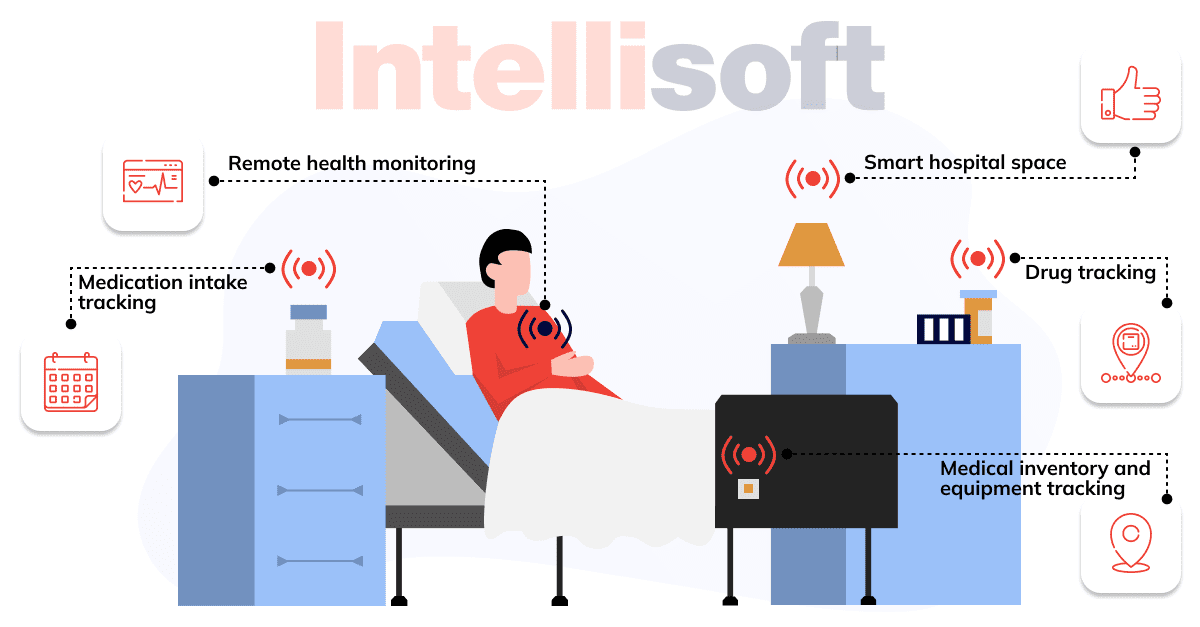 In this post, we will tell you more about the role of IoT in healthcare, as well as why and how to develop corresponding solutions. You will also find tips on launching a medical IoT start-up and giving it a powerful start.
IoT in Healthcare: Market Overview
The COVID-19 pandemic has prompted medical solution providers to respond promptly to the growing demand for high-quality services to protect against the virus. Such solutions as telemedicine, remote, and inpatient patient monitoring are of particular relevance.
As studies show, the main drivers of the Internet of Things for healthcare market are:
the development of IoT solutions to reduce the cost of medical care
the development of artificial intelligence (AI) technologies
the increased investment in medical solutions
increased efficiency of network technologies
the growing penetration of connected devices in medicine
the potential of developing countries
With the advent of 5G networks, the Internet of Things (IoT) in healthcare will function more effectively. Hybrid cloud computing and the promise of wireless technologies to streamline the collaboration between hospitals, clinics, laboratories, and technical departments are enhancing the practice of providing comprehensive patient care. For instance, companies like IBM and AT&T are working to improve the capacity of 5G networks to provide telemedicine services to the medical field. Telemedicine allows doctors to remotely consult with and monitor their patients utilizing video, audio, and messaging services.
That said, Statista reports that at least 75 billion smart medical devices will be installed worldwide by 2025. At the same time,GlobeNewsWire is almost sure the Internet of Medical Things will grow to $285.5 billion, with a CAGR of 28%, by 2029, with telemedicine being the leading field.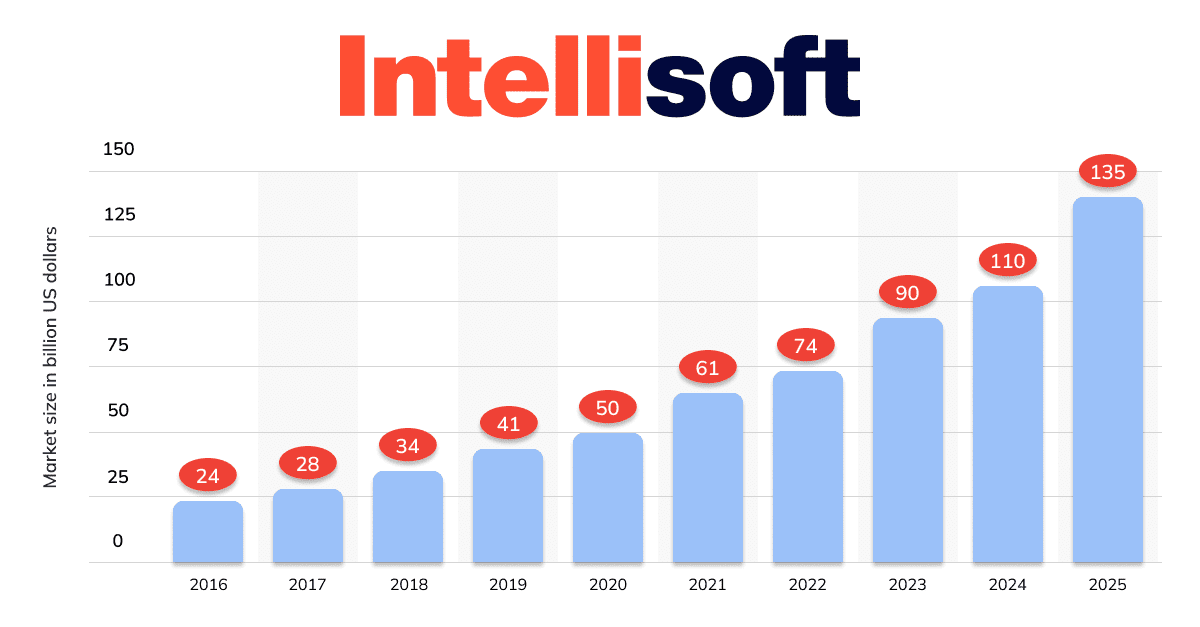 The global IoMT covers five major geographic regions:
North America
Asia-Pacific region
Europe
The Middle East
Africa
Latin America
In particular, China, Japan, and India are actively using IoT technologies to meet the growing demand for healthcare services.
The key players in the segment are Cisco Systems (USA), GE Healthcare (USA), SAP SE (Germany), Qualcomm Life (USA), Honeywell Life Care Solutions (USA), and Stanley Healthcare (USA) as.
Related readings:
IoT Applications in Medicine
One of the key success factors for a medical startup is the right niche. We have highlighted promising IoT-based healthcare applications. Perhaps, they will become your ideas for a breakthrough business project.
Medical Equipment
Keeping track of the condition of all equipment, especially in large clinics, is not easy. Lack of an established monitoring system can lead to sudden breakdowns, which can, at best, affect the company's financial performance and, at worst, patients' health. IoT sensors embedded in equipment reduce these risks.
The sensors provide ample crew time to react to emergencies like CT scanner breakdowns or biomaterial refrigerator overheating. If medical professionals are alerted soon, they can stop the bleeding and save lives.
Devices for Patients
Most IoT devices in the medical field monitor patients to know when they need help. These technologies are used to:
Track blood glucose levels. One in ten people on Earth has diabetes, so these devices are extremely important to them. The CGM (Continuous Glucose Monitor) constantly monitors glucose levels and sends them to smartphones. No need to purchase a glucose meter any longer.
Control the psychological state. IoT devices can also be useful to those prone to anxiety or depression. Health indicators such as pulse, blood pressure, and eye tracking are all tracked by modern wearables. In addition, unique medical IoT apps will check in with patients on a regular basis to inquire as to how they are feeling.
Monitor cardiac. Periodic cardiac rhythm checks do not protect against rapid changes in status, and conventional continuous cardiac monitoring devices require patients to be connected to wired machines at all times. A medical heart-rate monitoring device allows patients to move around with their heart conditions constantly monitored. Such devices are about 90% accurate.
Send handwashing notifications. Special sensors detect the level of hand contamination and notify patients when they need to wash their hands. Of course, the devices can't wash their hands for patients, but regular use of this kind of technology can significantly reduce the spread of infections.
Create smart contact lenses. In addition to helping you see better, these IoT-enabled devices can be integrated with other services – for example, allowing you to take a picture just by looking at an object. These technologies can make the human eye a powerful tool for interacting with the world.
These devices make patients healthier, treatment more convenient, and life safer. They can dramatically change people's lives if well thought out and properly executed.
IoT for Physicians
By adopting IoT-enabled wearables and other home monitoring devices, doctors may better monitor patients' health. They can monitor a patient's adherence to their treatment regime or any urgent medical needs.
Healthcare personnel may now actively engage with patients and be more vigilant thanks to IoT. IoT device data can assist doctors in choosing the most effective course of therapy for patients and achieving desired results.
IoT for Hospitals
Defibrillators, wheelchairs, oxygen pumps, nebulizers, and other similar monitoring devices are examples of medical aids and equipment that may be tracked in real-time using IoT in hospitals thanks to sensors integrated into the technology. It allows for the examination of medical staff deployment at various sites in addition to equipment.
Additionally, asset management techniques like environmental monitoring and pharmacy inventory control, such as controlling refrigerator temperature and humidity, can be aided by these Internet of Things for healthcare devices.
The medical IoT addresses several problems common in the healthcare ecosystem by involving multiple stakeholders. Those are inadequate patient care, supply chain administration, medical research, and rural healthcare administration.
IoT for Health Insurance Companies
With IoT-connected intelligent devices, health insurers have a lot of options. Health monitoring device data can be used by insurance companies underwriting and claims departments. Thanks to this data, they will be able to identify candidates for underwriting and discover fraud claims. In the underwriting, pricing, claims handling, and risk assessment procedures, IoT devices increase transparency between insurance companies and their clients. Customers will have sufficient visibility into the underlying reasoning behind every decision taken and the results of the process in light of IoT-captured data-driven decisions in all operational tasks.
Clients may receive rewards for using and sharing health data produced by IoT devices. Those who use IoT devices to monitor their regular activities, adherence to treatment programs, and general health precautions can earn rewards. This will drastically lower claims for insurance. Insurance firms may be able to verify claims using IoT devices and the data they collect.
IoMT Use Cases
Many examples of IoMT use cases may inspire you to launch a startup, come up with new ideas on how to improve medical care or release new products/services. We have highlighted some of the most important cases.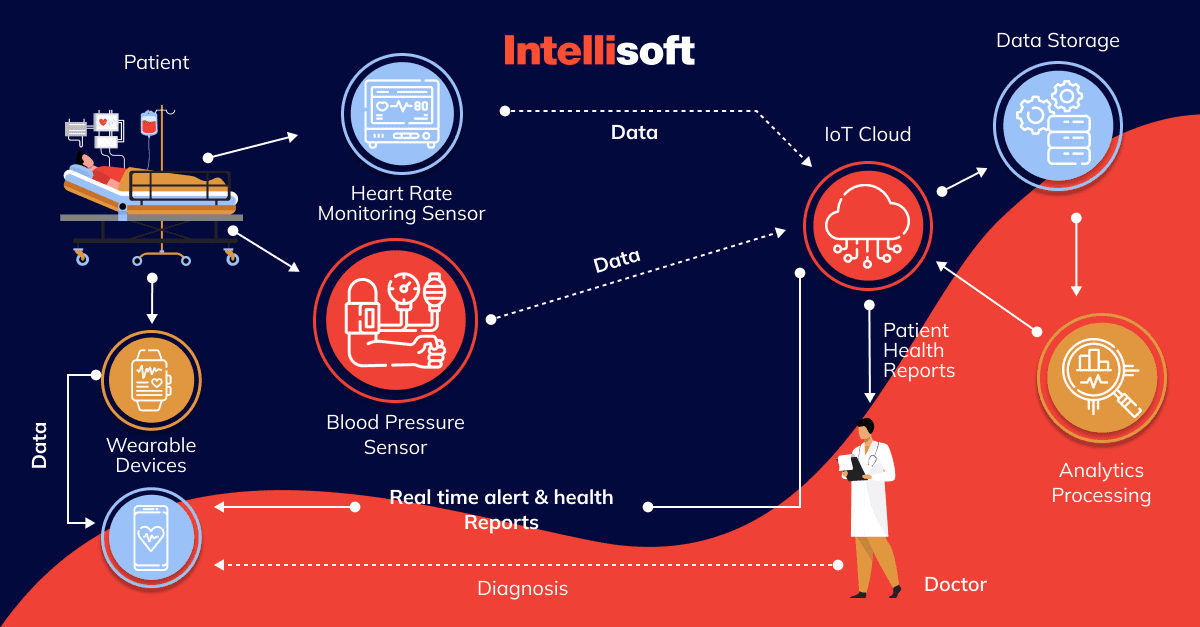 Faster and more accessible treatment
The success of emergency treatment hinges on the accuracy and completeness of the information obtained before the patient arrives at the hospital. Using Internet of Things (IoT) devices for data collecting or real-time data transmission aids emergency personnel's ability to plan and offer better and faster medical treatment.
Remote patient monitoring
Medical institutions can keep tabs on patients thanks to the Internet of Things (IoT) devices like RFID tags, BLE (Bluetooth Low Energy) beacons, and wireless ID cards equipped with RTLS (Real-Time Location Systems). It aids in the control of new patients. In times of crisis, they can quickly discover the appropriate personnel and reallocate unused assets.
Reducing waiting time
Healthcare IoT apps that can be used on a mobile device relay information about patients' health and fitness status to mobile devices. It helps doctors provide faster responses to patient questions during virtual visits.
The patient can keep track of their health statistics without the intervention of a medical practitioner. This practice excludes waiting lines.
Greater range of surgical procedures
Artificial intelligence (AI)-powered robotic systems are already commonplace in operating rooms, allowing for more precise execution of a wide range of surgical procedures. Sensors and apps connected to the Internet of Things can reliably gather, transmit, and analyze data related to surgical procedures, which can aid in preventing difficulties. They help medical personnel save time both before and after an operation.
Simpler data collection and analysis
Patients' vital signs (heart rate, temperature, etc.) can be collected by medical IoT devices even when not in a clinical setting, such as in their homes. Through specialized software, medical professionals can now access information, analyze it, and provide remote medical advice. In addition, they are able to monitor the patient's deviation from their recommended healthcare regimen and the necessity for prompt medical assistance.
Better team cooperation
The Real-Time Health System (RTHS) is a framework for software solutions that aim to unify healthcare's administrative, clinical, and operational processes. It's essential for every sophisticated hospital of the present day. Health systems get better situational awareness and visibility into vital patient events and clinical data as data silos are eliminated. Healthcare service quality is improved by RTHS due to increased cooperation between operational, clinical, and administrative teams.
Identification of chronic diseases
Medical professionals can benefit from real-time data on patient reports that require prompt treatment thanks to electronic health records (EHR) systems equipped with the Internet of Healthcare Things (IoHT).
Similarly, IoT in healthcare solutions allows individuals with chronic illnesses to reach out to doctors whenever needed. We can assist you with modernizing your EHR system and incorporating IoT so that you can collect and analyze dynamic data as well, whereas most EHR systems only collect static data.
What Is the Function of IoHT (Internet of Healthcare Things)?
Most Internet of Things products have a four-step process. In terms of data acquisition and processing, they are all intertwined.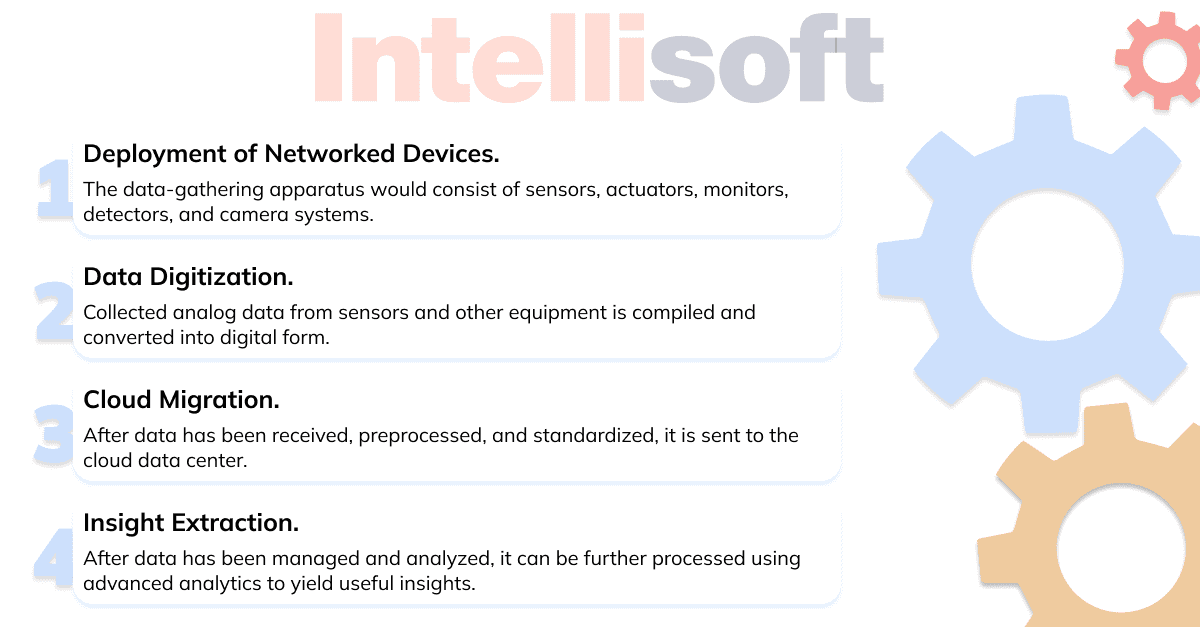 The Architecture of the Internet of Things in Healthcare
Three main levels of architecture of IoMT are known today.
Perception level: Data collection
Perception and identification technologies are the foundation of the Internet of Things. Sensors are devices that can perceive environmental changes, including infrared, cameras, GPS, and medical sensors. Sensor technologies allow for real-time monitoring of treatment and facilitate the acquisition of multiple physiological parameters of a patient so that a quick diagnosis and quality treatment.
Network level: Data transmission & storage
The network layer of IoT technologies includes wired and wireless networks that exchange data and store processed information locally or in a centralized location. Communication between things can occur at low, medium, and high frequencies, the latter being the main focus of the Internet of Things. These include short-range communication technologies, such as RFID, wireless sensor networks, Bluetooth, ZigBee, Wi-Fi, and global mobile communication systems.
Transmitted data is stored locally or sent to a centralized cloud server. Cloud computing to support healthcare delivery has many advantages because it is ubiquitous, flexible, and scalable in collecting, storing, and transferring data between devices connected to the cloud.
Application level: Interpreting data
The application level interprets and applies the data, being responsible for providing the user with specific health information for service delivery.
Common Internet-of-Things Gadgets in Healthcare
The functions that various IoT gadgets serve might help us categorize them. Those things are:
Devices that use the IoHT for diagnosis aid physicians in their quest for rapid and precise diagnosis. Diabetes, heart rate, hand hygiene, depression, etc., monitors are all a part of this suite.
Health and illness prevention through smart technologies, such as fitness trackers. Also, they provide patent data for analytics that advance the field of preventative medicine.
Devices designed specifically for treatment greatly facilitate and enhance the treatment procedure—things like insulin pumps and sensors that can be swallowed, automated pill dispensers, etc.
Advantages of IoMT
The Internet of Things has significant potential to transform the healthcare industry. The emergence of this digital technology has made it possible to find solutions to meet the growing need for improved diagnostics and more personalized therapeutic tools.
The Internet of Things is changing the business model in the healthcare industry. Patients and providers benefit for several reasons.
Simultaneous reporting & monitoring
With the help of IoMT technology, doctors obtained the opportunity to track a patient's health in real time. Patients' vital signs can be continuously tracked, and the information can be sent to their doctor immediately. This is particularly helpful where every second counts.
Another illustration is the simultaneous data collection and analysis from several patients in clinical trials. This aids in accelerating the search for novel medical treatments and cures.
End-to-end connectivity
Tracking and diagnosing illnesses becomes simple and takes less time, thanks to technology like Bluetooth and Wi-Fi. IoT, for instance, can link various systems and gadgets in a hospital, improving care coordination. IoT can also save healthcare expenses by boosting productivity and enhancing patient outcomes.
IoT aids in the remote monitoring of patients with long-term diseases, which may eventually result in fewer hospital readmissions. Similar to smart tablets, wearable sensors can enhance drug adherence and reduce unfavorable side effects.
Data analysis & assortment
Massive amounts of data regarding the patient's medical history are stored as part of the IoT benefits in healthcare. IoT devices in healthcare transmit data to other devices without encountering any problems. It is hard to manually analyze such massive amounts of data, but Internet of Things-enabled medical devices can.
With the use of a cloud database, IoT medical devices may collect, analyze, track, send, and receive data. Due to the amount of the data, which is enormous and cannot be saved on the server, the cloud base is necessary. The Blockchain of Things has the potential to accelerate its adoption and increase efficacy in terms of data storage and transfer. IoT and healthcare can work together in parallel to demonstrate their value to the healthcare sector.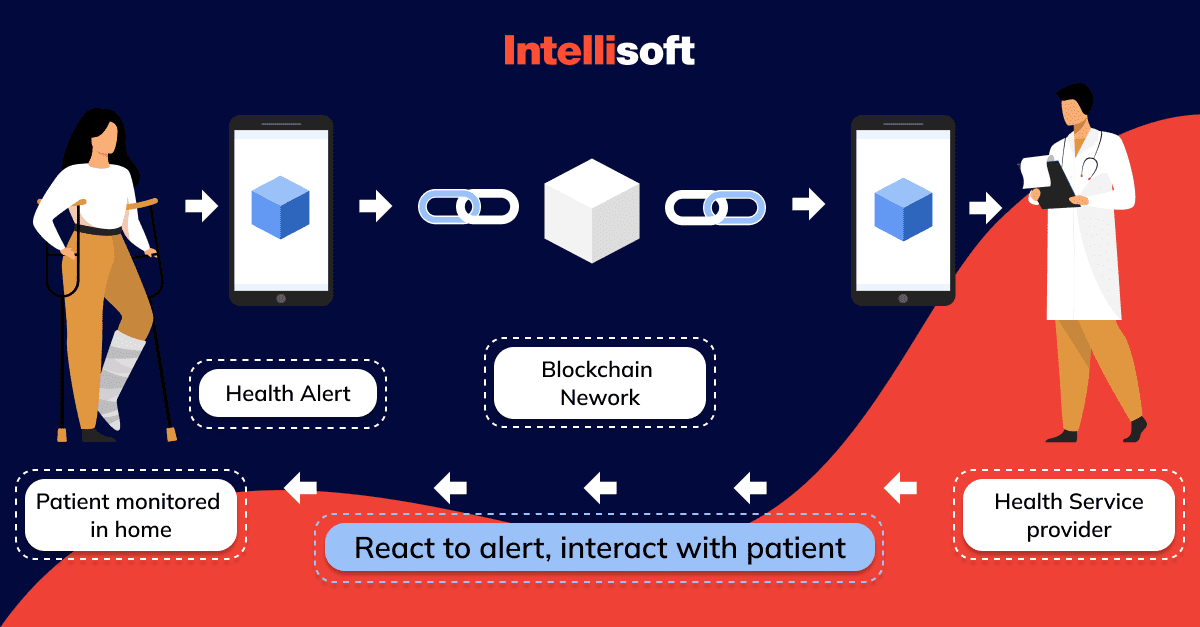 Helping and supporting the elderly
The support of the elderly is a significant sector benefiting greatly from the introduction of IoT healthcare solutions. Caretakers can deliver a higher quality of care while lowering the risk of hospitalization or other health concerns by giving elders devices that can monitor their vital signs and send reminders to take medications.
Additionally, IoT-enabled gadgets are being utilized to track falls and notify caregivers right away in case of an emergency. For instance, Apple watches include fall detection technology to determine if the user has fallen.
IoT healthcare solutions are crucial in ensuring that the elderly receive the care they require as the population ages and the demand for high-quality healthcare rises.
Real-time tracking and alerts
Think about how many lives could be spared if patients issued emergency signals. This is now feasible because of the Internet of Medical Things. A patient's medical information can be recorded in real-time and transferred to the doctor with the use of smart gadgets in healthcare. The doctor will be informed immediately if there is a threat so they can respond appropriately.
Consider a patient with a cardiac problem who wears a wearable gadget to track their heart rate. The device might send an alert when it detects an abnormal heart rate or pressure. This would enable the medical professional to respond right away, possibly averting a major medical issue.
Check-in on the go
Patients can simply contact doctors via their mobile gadgets with the use of IoT devices in healthcare and receive prompt support. The newest Internet of Things (IoT) medical technologies enable clinicians to diagnose any illnesses while on the fly, saving time and money on travel.
Medical gadgets with sensors, for instance, can send patient data to a single place so that doctors and nurses can keep an eye on it. As a result, issues can be diagnosed more quickly and accurately, and better customized care can be given. Additionally, by lowering the need for doctor visits and hospital stays, the usage of IoT in healthcare can contribute to lower overall healthcare costs.
Challenges of Applying IoT in Healthcare
Despite its benefits for the healthcare sector, IoT has several drawbacks and difficulties.
Privacy & Security
The vast amounts of routinely exchanged and kept data are vulnerable to hacking and could be exploited against the patient and the doctor. Hackers can make fraudulent identification documents to buy prescriptions and medications, only to utilize them improperly later. However, a remedy for this annoying problem is to adhere to the healthcare requirements established by the government and respected organizations.
Multiple Devices & Protocol Integration
There are many different types of devices, protocols, and standards in the complicated IoT environment. Because of this, integrating IoT solutions into current healthcare infrastructures may be challenging. Additionally, various IoT healthcare devices frequently employ incompatible protocols, which can make integration attempts more challenging.
Healthcare businesses must work with seasoned IoT solution providers that can guide them through the complicated landscape and assist them with choosing the best devices and protocols for their requirements if they are to overcome these obstacles. Healthcare firms can only fully profit from IoT's advantages by collaborating with knowledgeable partners.
Overloading & Inaccuracy
Storing patient data entails saving an insurmountable volume of information. The more data that medical IoT devices gather, the more challenging it is to manage and understand that data. Decision fatigue and wrong diagnosis may result from this. Additionally, sensors and other equipment are not always reliable, which might result in data sets that are inconsistent or lacking. In order to prevent these difficulties, it is crucial to carefully analyze how IoT technology will be applied in healthcare.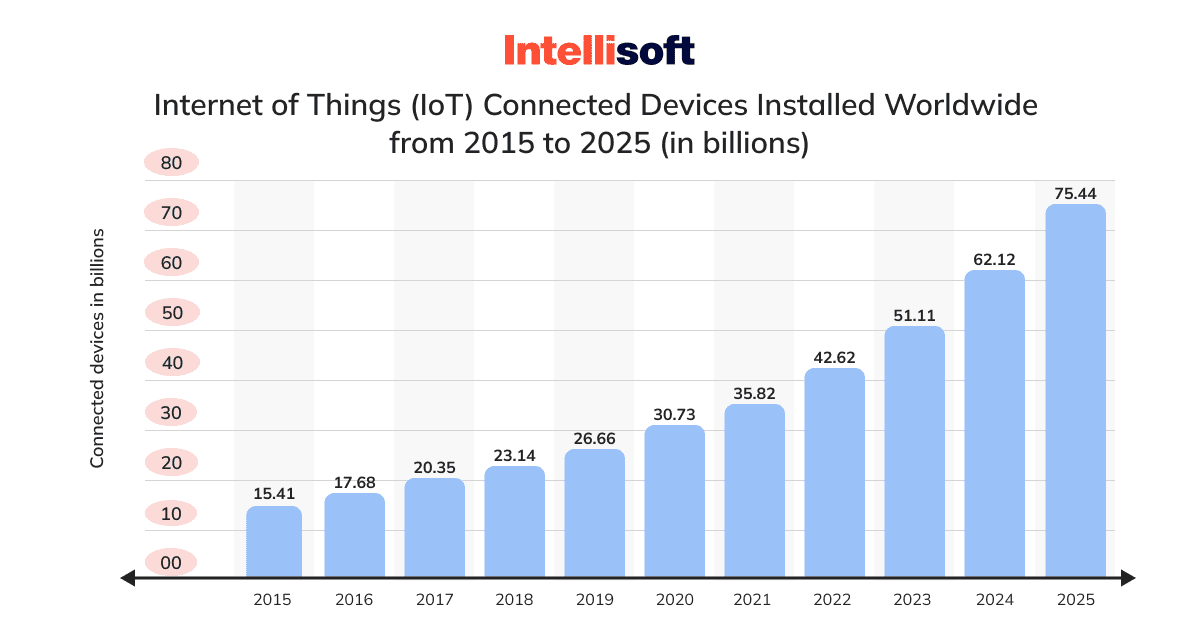 Technology Cost
IoT prices being included under difficulties must come as a surprise. However, the truth is that IoT hasn't yet been able to lower the cost of treatment for the average person. It will take time for the IoT and healthcare to make things cost-effective. People now travel to developing nations for medical care since it is considerably cheaper there, a phenomenon known as medical tourism. IoT app development is more expensive than traditional mobile app development.
Examples of the Most Successful Companies in IoT Healthcare
Even now, many projects that have entered the IoMT market timely have become in demand all over the world. Here are a few interesting startups that may serve as examples or inspirations for you.
MedAngel. Ambient Temperature Sensors
Medications are spoiled by exposure to high temperatures. Artificial intelligence (AI) technology allows MedAngel sensors to monitor temperature and environmental conditions and alert the user if they are close to a critical point or if medications are already spoiled. This project is important for those who take heat-sensitive medications.
Self-Care Originals. Smart Monitoring Systems
The system detects symptoms of asthma attacks, heart attacks, or epilepsy before they start. It automatically notifies the owner and designated caregiver to alert them to dangerous changes. This system also works in conjunction with the app and web portal to help asthma patients get medication reminders, view data from the device, and manage their treatment plans.
Medicsen. Automated Drug Delivery Systems
Systems consist of an implanted medical device with wireless connectivity and an external drug delivery device. They monitor an individual's vital signs and regulate the amount of medication administered. Users have convenient access to relevant, personalized data. Predictive glucose levels set based on the patient's data help avoid potential risks with the device.
InPen. Smart Syringes
Smart injection pens automatically record the time and size of the dose of medication administered. They then immediately recommend the next dose. The devices communicate with a smartphone app that stores long-term data. This helps patients calculate their medication dose and get analytical reports.
Elfi-Tech. Self-Testing Devices
A monitoring system with self-testing options allows patients to check their blood, urine, etc., and helps them monitor their vitals. This allows people to avoid wasting time in waiting lines at the medical center, especially if they need to check their vitals regularly. Test results are immediately available on the patient app connected to the tester. The device noninvasively measures blood flow in the skin, blood flow rate, coagulation, vascular health, and relative cardiac output (RCO) in addition to pre-existing parameters such as heart rate and motion.
How to Build an IoT Healthcare Solution?
You should take several steps in case you decide to create your own medical solution based on IoT.
Define the use case
You can consider the use cases described in this post. What is your primary goal? Maybe, it's about quicker and more accessible treatment or remote patient monitoring. Perhaps, you want to help patients avoid waiting lines and provide them with a wider range of medical services. You may want to create a solution for better drug management or identification of chronic diseases. Think about it first.
Choose the type of IoT devices
IoT devices are hardware objects that collect and exchange data online, such as sensors, gadgets, appliances, and other machinery. They can be integrated into other IoT devices and are configured for specific uses. For instance, an IoT device in your car may detect traffic up ahead and immediately notify the person you're about to meet of your imminent delay. Thus, decide which type of device suits you better.
Prepare project requirement specifications
Clearly defining the features, constraints, and scope of your product's capabilities before development is necessary if you want to build a useful and profitable product based on your business idea. You must ascertain who will use the app and the tasks they intend to carry out with it.
A smart method to do this is to create a solid paper outlining the criteria for mobile IoT applications. It offers a solid foundation for all future development and contains a cohesive perspective of the application's functional and technological requirements. Here is what to include in project requirement specifications.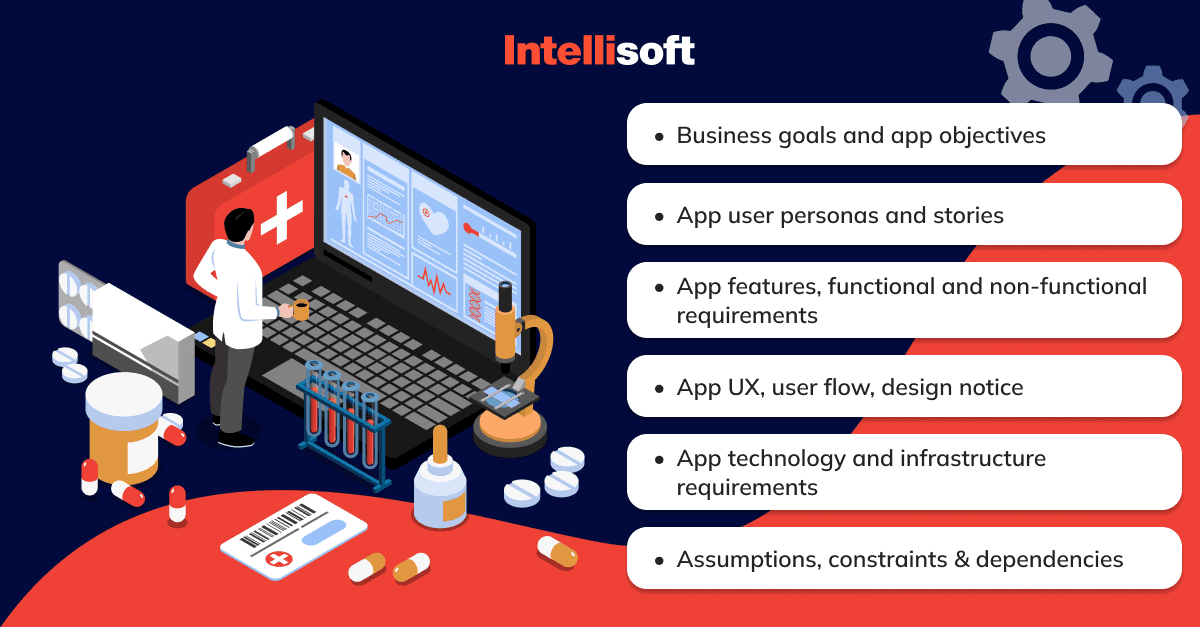 Hire an outsourcing team
Due in part to the enormous variety in software outsourcing, finding an outsourced development team may initially appear a little scary. The top tech talent is, however, very busy. You must therefore be ready to put up some effort to locate a committed team available promptly. Check recommendations (referrals) from people you know. Look at software development outsourcing listings. Also, remember both paid and organic results on the internet can be helpful.
Summary
The Internet of Things has the potential to transform healthcare completely. There are still a lot of obstacles to overcome, especially technological ones. However, multiple benefits outperform them. In its turn, IoMT brings ongoing health control, makes insurance claims transparent, assists with medical research, assists with keeping track of your patients, and generally makes hospitals smarter.
We hypothesize that the vast majority of doctors would agree that fully incorporating and adapting IoMT is the best strategy for medical progress if asked their view. Our team can help you implement your idea and create an IoT system or application upon your requirements. Just let us know what you need – get a free consultation today.

About

Kosta Mitrofanskiy

I have 25 years of hands-on experience in the IT and software development industry. During this period, I helped 50+ companies to gain a technological edge across different industries. I can help you with dedicated teams, hiring stand-alone developers, developing a product design and MVP for your healthcare, logistics, or IoT projects. If you have questions concerning our cooperation or need an NDA to sign, contact info@intellisoftware.net.