When you decide to travel to a country you've never visited before, you'll probably start with a plan. You need to check the price of the tickets, transfer options, find somewhere to stay and what places to visit, and probably learn some basic phrases in the local language just in case. Without planning, there's a chance that your trip will turn into a real challenge, and you won't enjoy it at all.
The same goes for UX research – without a clear plan, you'll waste time and money and won't be able to align your business goals with a research strategy. Think about UX research as the starting point of your product development, and always start with a problem, never an idea. When you understand what issues users have, you can come up with a solution more easily.
At IntelliSoft, creating UX research plans has been one of our main tasks for more than 16 years of working with clients, so we know how nuanced this process is. Fortunately, this experience now allows us to guide our clients through the process of UX research and help them build a base for their future products.
If you want to learn more about research planning and how to become a master in it, keep on reading.
What is a UX research plan?
Planning ahead is the key to conducting usability testing or user research. A research plan is a detailed description of the steps you will take during your UX research. Think of it as a roadmap and guide that helps you conduct research easier and faster because you have everything outlined in front of you in a document.
A UX research plan usually includes details about the methodology of the research, types of studies, and information about the timing, scope, and respondents.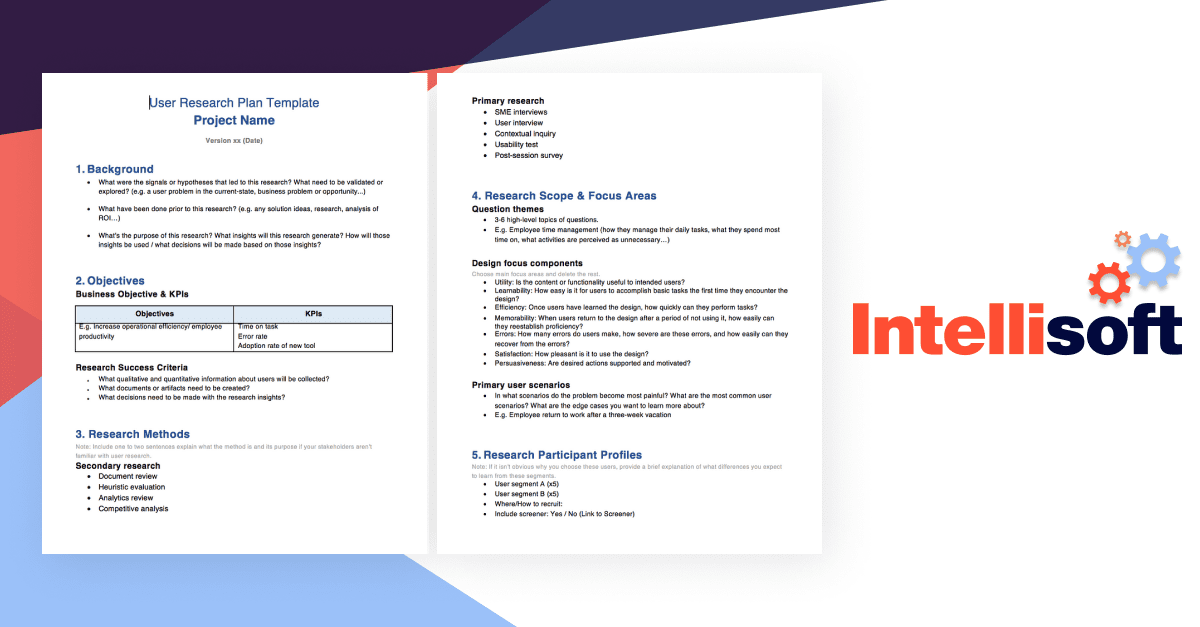 Don't confuse a UX research plan with a strategy – they are two separate things. A strategy contains goals, expectations, vision, and business goals, while a plan explains how a team will achieve those goals. A strategy is a guide, but a plan is what helps put it into action.
When to use UX research plans
Research plans are useful if you want to have a clear outline of your project scope and know what steps to follow. It also helps teams answer questions regarding customers' needs and who the target audience is. Moreover, it helps companies identify whether their current design works for customers or needs to be altered somehow.
A detailed plan also helps researchers to:
Clarify ideas, research approaches, and issues that need to be solved
Identify what works for stakeholders
Keep stakeholders invested in the research results
With a plan, there's less chance that everyone will switch the research goal in the middle by mistake, or get lost in all the details. Moreover, plans allow researchers to ensure that all set goals will be met in the most efficient way and according to the timeline.
What are the benefits of having a UX research plan?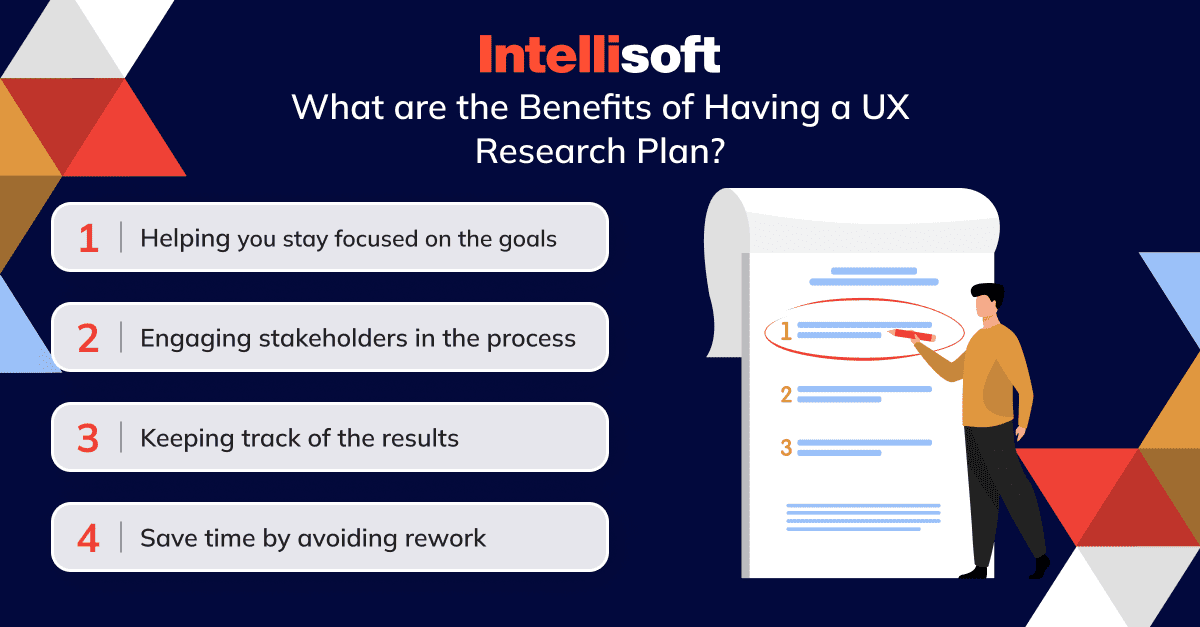 You can't start any research without having clear goals in mind, so having a UX research plan is incredibly beneficial for your product's success and your business as a whole. Let's take a look at the main benefits of creating a detailed plan.
Helping you stay focused on the goals
Setting goals is one of the primary aspects of creating a research plan. You need to know what you're moving towards and how you'll get there. A research plan helps you stay focused on those goals and not get distracted. When you have goals outlined in a document, your entire team is constantly reminded of the end goal and works towards it. With a clear plan, all your goals become measurable rather than vague and unachievable. Moreover, you can turn it into a UX research plan template and reuse it for future projects to save time.
Engaging stakeholders in the process
A written plan is an awesome way to engage your stakeholders in the project and ensure that they are on the same page regarding the timeline, scope, and goals before you start working. When you align all the details of your research in one document, updating stakeholders on the progress of your project and the achieved goals is a piece of cake. Your stakeholders need to see your achievements and that your project is going somewhere, so a research plan will help you keep them invested.
Keeping track of the results
You can't keep track of your UX research results in your head because it will explode. A plan will serve as a handy roadmap of everything that has already been done and what's in the process, keeping all data in one place and structuring it efficiently. You also need this plan to monitor your progress or see what areas require improvement.
Save time by avoiding rework
If you don't have a clear plan, the chances are you'll have to redo certain tasks, fix usability issues, and waste a lot of time. With a plan, you can make changes during the design or prototyping phase, which is far less expensive and time-consuming. Once you launch your product, making even small alterations can cost you a fortune and affect the usability of the product. Moreover, when your team has a plan in front of them, they know what direction to take in their research, so it positively influences the use of resources.
What should a UX research plan include?
Your plan is a detailed guide that will help you follow the steps you need to go through during research, and ensure that your study is more effective. This is what a plan should include:
Background information about the project, reasons for the study, and information about internal stakeholders
Research goals and what the team wants to learn
Data about research participants, who they are, sample size, and how people will be recruited
Research methodology, the way the research is conducted, and explanation of why you chose the specific test methods
An interview guide/template and list of questions
A list of expectations, including deliverables, type of results, and timing
Resources that can help the team, such as scripts, previous studies, etc
The test set up and/or guidelines such as screening questions, scenarios, and duration of pilot tests
When and how the results will be presented
Estimations about costs or requests to go over budget
How to create a UX research plan
Now that you know exactly why you need a research plan, it's time to explain all the hows. Here is a detailed guide on how to create a plan that you can later use as a UX research plan template.
1. Define the problem statement
You need to start with the problem. Identify what exactly you want to solve and what you want to achieve with your research. Don't do it by yourself, though. You can sit with the stakeholders and brainstorm, looking at the problem space. You can also perform team sessions, analyze customer feedback, or interview your stakeholders to better understand what issues might need solving. The problem statement is all about defining the research scope and understanding the deliverables and end goals.
Related readings
2. Identify your objectives
After you have identified the issue, move on to identifying the objectives. The research objectives should align with the UX strategy and your business goals as well as meet the targets you have set for the research. Your plan should include information about what you are doing, why you are doing it, and what you expect from the UX research.
These are the research plan example objectives:
Improve customer loyalty
Discover what technology your competitors are using
Prioritize new features and learn how people use them
Understand why people spend a specific amount of time on your website and (don't) return to your web page/app
Learn when people interact most with your web page/product
If you don't set valuable objectives, you can suffer from scope creep and let your stakeholders ask any types of questions they want, leading your research in a wrong direction. When you set objectives, they influence the type of questions asked, giving your research more focus.
To help you identify the objectives, ask yourself and your research team these questions:
What do you plan to do with this information?
What decisions will it influence?
How are you going to use these insights?
3. Involve stakeholders
It is essential that you involve stakeholders at the earliest stages of plan creation. Your goal should be to ensure that everyone is on the same page about the goals of the research. Moreover, involving stakeholders helps you gather more context, make adjustments based on their feedback, and focus on what matters the most to them.
Identify key stakeholders and present the plan to them, aligning the scope of the research and letting them know when and how you will present the research findings. Moreover, this step helps you broaden your vision and take into account stakeholders' opinions on the product. Listen to what they have to say, analyze this information, and use it to your benefit. Your stakeholders should be participants, not just viewers.
4. Choose the research method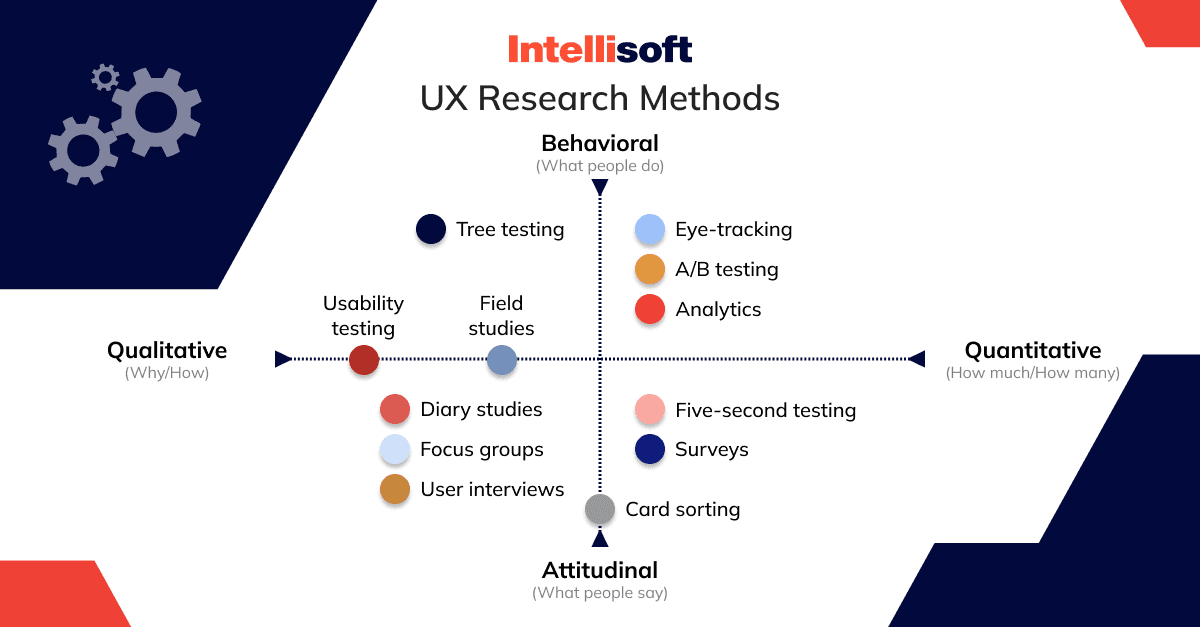 There are numerous research methods to choose from, but you need to go back to your research goals first. The method of research will also depend on the stage of product development, your resources, constraints, and the timeline of the project. You can also mix different research methods to get a clearer picture of the issues you need to solve.
For example, performing user interviews or field studies is a great way to generate new insights about your target audience at the early stages of the design process. If you have already created a new design and want to see how people use it, you can run usability tests and gather feedback.
Let's look at the list of UX research methods you should consider:
Five-second testing: It helps you gather insights about what information users take away and what their impression is within the first five seconds of viewing the design. The participants view the design for five seconds and then answer some questions, usually about the purpose of the page, the main elements that a person can recall, or whether the design looks trustworthy.
User interviews: This is a fast and easy way to gather user feedback and learn about users' perceptions of your design. You need to set a goal for the interview, prepare a list of questions, and ask follow-up questions based on your research goals.
Surveys: Surveys allow you to collect both qualitative and quantitative insights from users. They should be conducted across all customer journey stages to identify what is blocking users from progress.
Tree testing: This research method is used to evaluate the hierarchy and findability of topics in a website/app. It consists of category or text labels that are organized hierarchically. The goal of this method is to answer the question of whether the user can easily find what they are looking for. It also helps identify gaps in navigation, see whether the content is grouped logically, and identify how easily users can access specific functionalities.
Field studies: When using this research method, you observe people in their natural environment to gather insights about their behavior, obstacles, preferences, and so on. This method helps identify how digital products or services can be better integrated into the daily lives of users.
Card sorting: Card sorting helps you see how users categorize information, making your UX more user-oriented and competitive. During card sorting, people are asked to group labels according to the criteria that make more sense to them. As a result, you can learn more about peoples' domain knowledge and meet their user expectations with your app/website design.
Diary studies: Diary research is used to collect qualitative data from users' diaries where they collect their thoughts and feelings while using the product. Users should report data during an extended period of time, allowing you to understand the user experience better and what influences it. This research method functions as a window into the real way people interact with the product.
5. Recruit participants
Your plan should always include data about the participants and the way you will recruit them. You should identify who your perfect candidate for the research is by revisiting your goals and the list of questions you need answering. Build a target user persona based on this information, including the demographics and use cases.
These are the questions you need to answer during this step:
Do you already have a user base you can collect information from?
What is your recruiting budget?
Is there a need to hire external participants?
How many users do you need to interact with?
You should have several target personas, so keep that in mind when recruiting participants. This means that you should recruit people who are your target base and those who aren't, but will still interact with the product. Moreover, if you create an app for different devices and OSs, recruit people for testing it, too. Some participants will use your app on iPhones, while the other group will test it on Android phones.
Always reward your participants for their time and effort. That's why you need to plan your budget ahead and take into account this spending. If your budget is limited, run moderated or unmoderated research.
6. Prepare the brief
The next step is preparing the brief for your research session. The type of brief will depend on your research method, but if you choose to conduct user interviews, focus groups, or field studies, you need to outline the questions you will ask and create a script.
Your script should cover the following:
Introduction: A message you will say to the participants before the session. This will help you start the conversation, set the tone for the meeting, and explain the purpose of the research.
Interview questions: Always include the list of questions you will be asking. You can include pre-planned questions or test tasks for your participants to perform.
Outro message: Finally, you should inform your participants about the next steps, ask if they are open to future research, and thank them for their time.
7. Establish the timeline
Even though it's challenging to estimate objectively how long the project will take, it is essential to determine an approximate timeline at least. You should set deadlines for the project and findings review and present this timeline to the stakeholders. Moreover, this step will allow you to manage their expectations better. You can also add milestones to indicate your progress and see how much time each activity takes.
8. Decide how you'll present your findings
Presenting your findings to the team during UX research is one of the key steps. The format of the presentation matters because you should present the findings in a concise and easy way so that everyone understands how the research will influence the design and development of the product.
You can present your findings in the following ways:
A PDF report (either physical or digital) with key takeaways and statistics
A digital whiteboard
An interactive online report
A presentation with information about the results
UX research plan template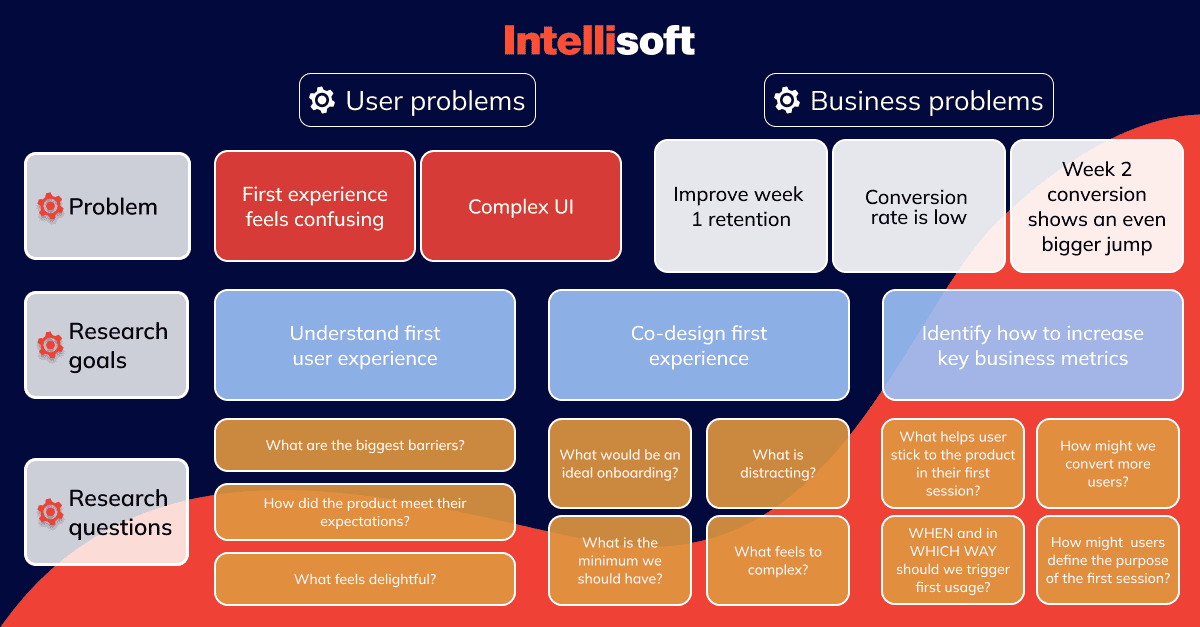 If you want to create plans quickly, you can either use an existing UX research plan template or turn your previous plan into one. Either way, a UX research plan template should consist of the following:
1. Background
This first section should include information on why you decided to initiate this research. Think of it as a brief explanation for anyone wondering why you're doing this.
You can break this section down into 3 paragraphs:
1 – What led to the research? What needs to be explored?
2 – What has already been done prior to this research?
3 – What insights will this research bring? How will this data be used and what decision can be made based on it?
2. Objectives
Your plan should cover two types of data: business/product objectives and KPIs, and research success criteria.
The business/product objectives and KPIs section should cover information about what your stakeholders/teams are trying to achieve. Some of the objectives might include customer loyalty, revenue growth, customer growth, or efficiency.
The research success criteria usually consist of the following:
What qualitative and quantitative data about the users will be collected?
What documents should be created?
What decisions should be made with the insights generated during the research?
3. Research methods
Next, you should list all research methods you will use, both primary and secondary. You should also include brief explanations of each method for your stakeholders if they are not familiar with some of them.
4. Research scope & focus areas
In this section, write down approximately 6 topics of questions (can be less) and rank them by importance. Next, design focus components that include interface qualities. Finally, include primary user scenarios. All this will help identify the research scope and not get overwhelmed while collecting information.
5. Research participant profiles
Include information about user segments, where and when you will recruit them, and information about the criteria used to screen them.
6. Appendix
This is the final part of the plan. It should include the information discussed prior to creating the research plan. For example:
Highlights of meeting notes
Initial hypotheses
User ecosystem map
Conclusion
A UX research plan is what lets you breathe out and be sure that the research process will go smoothly and without unpredictable issues. Once you have the plan in front of you, you know what to focus on, how to talk to the stakeholders, and manage your team. It's one of the easiest ways to align everyone's expectations, gather feedback, and ensure that everyone knows exactly what to do during the research. If you have never created research project templates and need guidance, Intellisoft is there to help, just contact us.
FAQ