Let's imagine you came to the restaurant. You select the meals from a menu, but it takes ages for a waitperson to get your order. Once your meals are served, you discover they are cold and poorly prepared. What can it tell you? It's a restaurant with poor-quality service. Because quality is something that you can measure, which also applies to healthcare tech start-ups, where the quality of your software will directly affect patients' life.
IntelliSoft has been in the healthcare market for over 14 years. Since then, we have helped Daintel Clinical Information System (CIS), a healthcare start-up, develop its MVP and launch it to the market. The IntelliSoft developers also connected medical devices to the Cambio electronic medical record system (EMR). Follow this link to learn more detailed information about those projects.
In this article, we share tips on what a quality measurement system (QMS) is, why businesses need one, and how to apply it to medical device start-ups.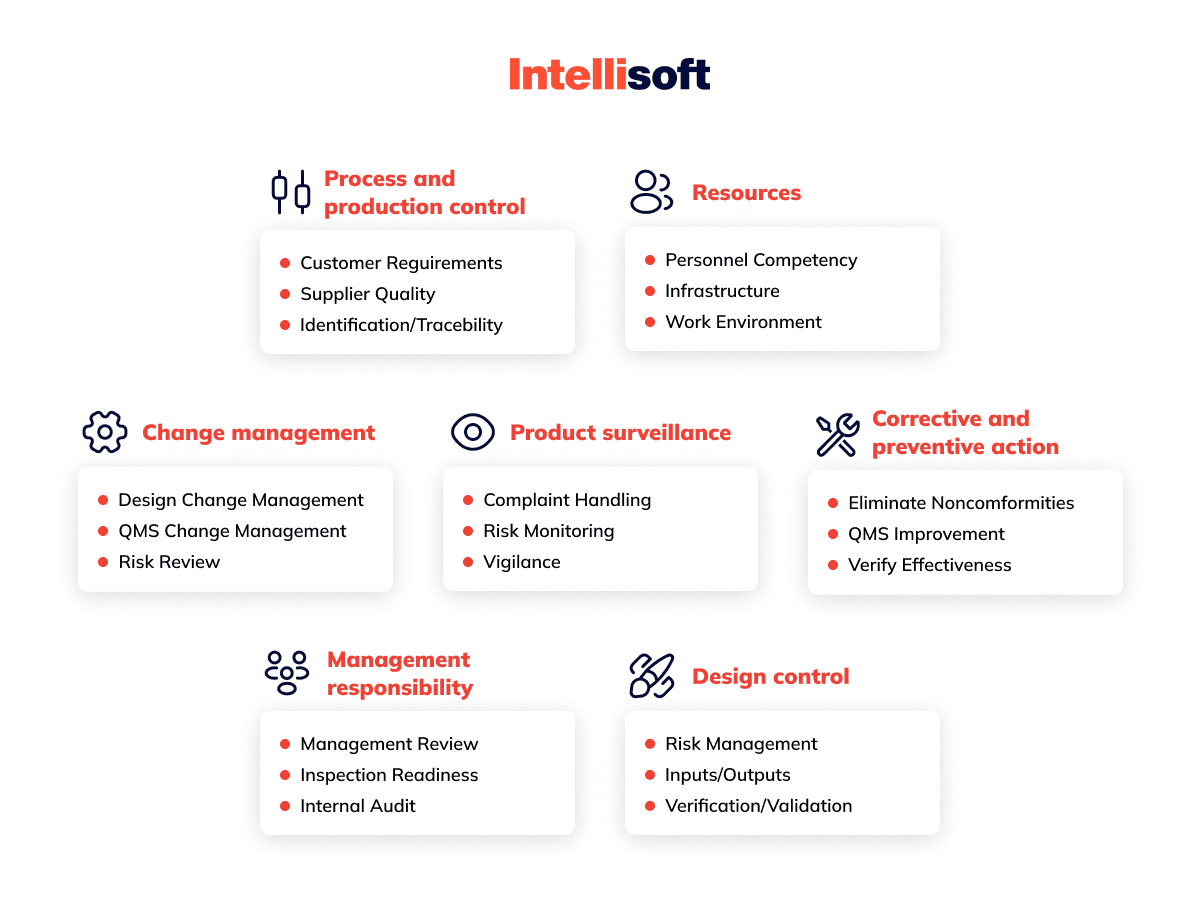 What Is QMS?
The Quality Management System (QMS) is an enterprise management style in which managers, engineers, and technicians strive to improve product quality and the enterprise management system. The QMS requirements are outlined in the international standard ISO 9001:2008, which is called Quality Management System Requirements. The standard was developed by the international organization for standardization (ISO). It summarizes the best world experience in management practices.
The Quality Management System (QMS) is a part of the overall company management system, which ensures consistent quality of products and services.
The QMS methodology is based on the principles of system and process approaches. The principle of consistency is implemented in the company's management as a system of interrelated processes aimed at achieving business goals.
The process approach allows identifying the procedures that have the most significant impact on achieving the goals. In this case, inputs and outputs of processes, internal and external customers, suppliers, and other interested parties are determined and assessed. Thus, the processes performed within the product lifecycle determine the enterprise's organizational structure. All processes execution for all elements of the organizational structure is documented.
The organization of the QMS involves the creation of the following documentation structure:
Quality manual
Quality policy and objectives
Mandatory documented procedures
Regulations of processes and procedures, work instructions
Quality records

Why You Need an Industry-Specific Medical Device QMS
The quality of medical care is a set of qualities that confirm the compliance of the rendered medical care with the existing needs of the patient, their expectations, the current level of medical science, technology, and standards. The following qualities of the medical care quality are distinguished:
Professional competence. It implies theoretical knowledge and practical skills of medical workers and support staff, as well as how they use them and follow clinical guidelines, protocols, and standards. If we talk about a manager's competence, it is, above all, professional skills in developing and making managerial decisions.
Accessibility. This feature means that medical care should not depend on geo, economic, social, cultural, organizational, or linguistic barriers.
Interpersonal relationships. This health care quality refers to the relationship between healthcare staff and patients, medical personnel and their management, the health care system, and the population.
Efficiency. Efficiency is the ratio of the achieved economic effect to the costs. The importance of this ratio is determined by the fact that healthcare resources are usually limited, and an effectively functioning medical system should provide optimal quality of medical care through the rational use of available resources.
Continuity. This characteristic means that the patient receives all necessary medical care without delays or tiring waiting lines, unjustified interruptions, or unwarranted repetitions in the diagnosis and treatment.
Safety. As a quality characteristic, safety means minimizing the risk of adverse effects of diagnosis, treatment, and other iatrogenic manifestations. It applies to both healthcare providers and patients. Safety measures are critical in providing both specialized and primary health care.
Convenience. This trait means a system of measures aimed at creating an optimal therapeutic and protective regime, such as ensuring comfort and order in medical institutions, rational placement of wards and therapeutic/diagnostic units, equipping them with modern equipment, organization of the patient's daily routine, reduction of exposure to unfavorable environmental factors, etc.
Compliance with patient expectations. For patients in a particular medical institution, medical care quality is defined by the extent to which it meets their needs and expectations. Do they get treatment on time? Patients most often pay attention to the convenience, efficiency, accessibility, continuity of health care, their relationship with the medical staff. Patients' satisfaction with medical care depends on assessing health-related quality of life.
You should also understand why it is necessary to implement a quality system that meets the requirements of ISO 9001.
Having a certified quality management system is a formal requirement for state accreditation of a medical institution.
The unified approach to the recognition of the QMS compliance with the ISO 9001 requirements all over the world creates advantages for the higher educational establishments interested in attracting international students or building commercial relations with other countries.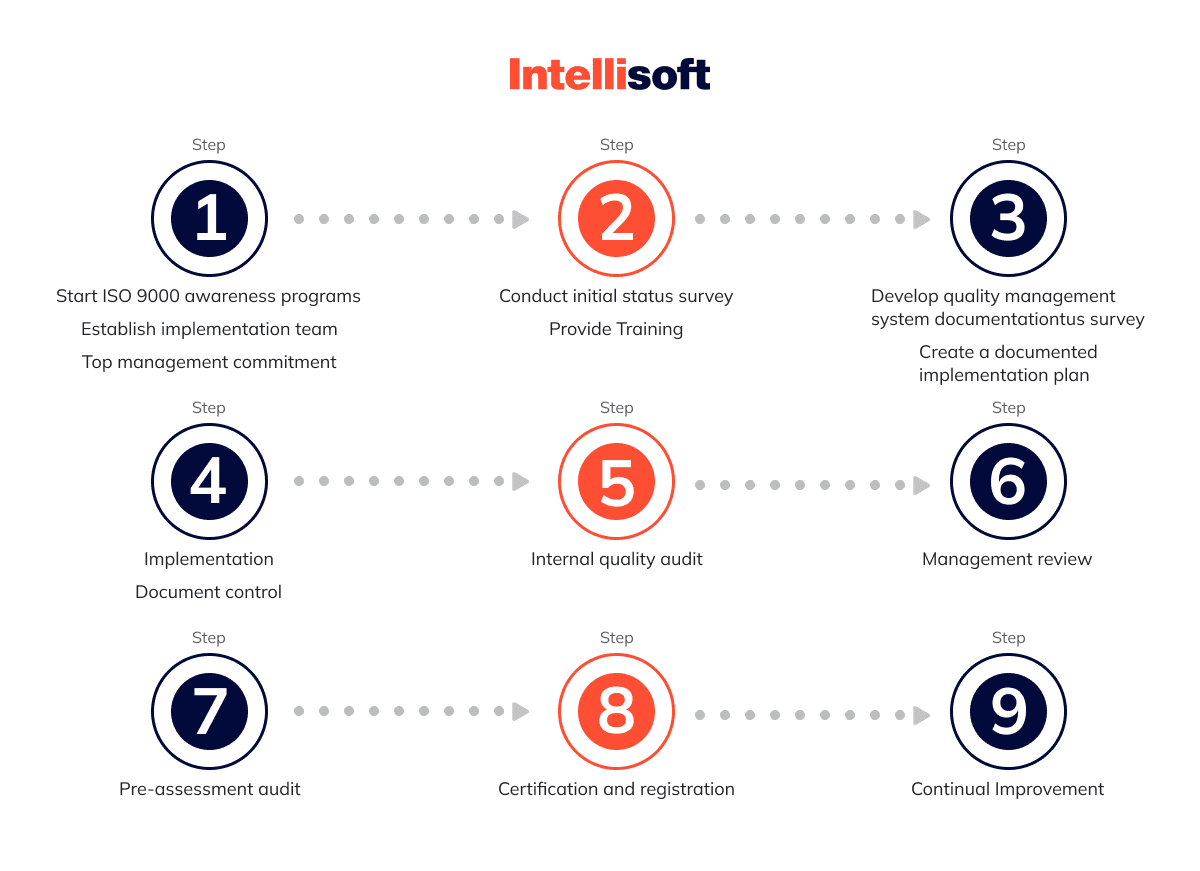 Having a certified QMS guarantees the quality of the medical process in the eyes of existing and potential patients.
An effective QMS creates a competitive advantage for medical institutions.
How to Develop QMS
1. The first stage of QMS implementation: Analysis of the current situation in the organization and staff training.
Step 1: Development and implementation of the quality management system is a project with goals, deadlines, and certain resources. Therefore, the management must have the ability to support the administratively
the quality system project, as well as allocate appropriate resources.
An order is issued in the beginning, and it should specify several things.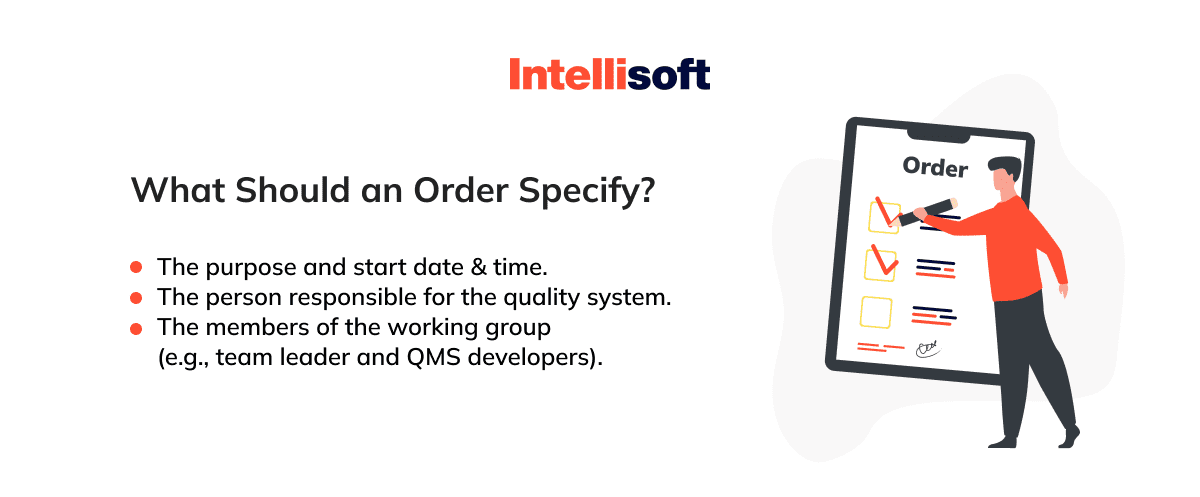 For a large medical institution (100 employees and above), several members may be needed to form a group. The team leader is the head of the organization's quality service. This person should devote almost 100% of their time to the issues related to building a QMS.
Other group members are the employees of the quality service, who devote more than 50% of their time to the relevant questions.
Step 2: Training the working group members, informing them about the requirements of ISO-9001 series standards.
The team leader has to be trained just like less experienced members. The analysis of the status quo and the development of a quality system are their primary tasks.
Step 3: Analyze the current situation. In order to understand how much current business activities deviate from the requirements of
ISO-9001:2008 standard, it's necessary to conduct an in-depth analysis of the current situation. Baseline data collection is mainly carried out by two methods – via questionnaires and interviews.
2. The second stage of QMS implementation: Development and implementation of documentation.
That is when you may face changes in the quality of employees' work. This stage is the most labor-intensive and time-consuming. During it, such processes as the design, development, and implementation of
documentation of the quality system, as well as the implementation of changes in the medical staff work and organization, take place.
Step 1: At this phase, it's necessary to plan how the quality system will be built, the scope of application, which processes will be included in the quality system solution, and how the quality system will be implemented.
It is essential to plan how the quality system will be implemented and disseminated.
Step 2: The basic principle of the ISO-9001:2008 standard.
To implement it, the standard requires that all organizational processes be defined and documented. To meet this requirement, the working group must first formalize the development processes. Then, it's necessary to make changes to these processes according to the requirements specified in the standard.
Step 3: Documenting and implementing the QMS procedures.
The ISO-9001:2008 standard requires that an organization's processes be defined and documented.
3. The third stage of QMS implementation: Conducting an internal audit of the quality system.
The main purpose of this stage is to check the work of the quality system before the certification audit. Additional objectives at this stage would be:
Providing practical training of internal auditors
Conducting audits
Training staff before the certification audit
You Might Also Like:
4 Approaches to a Quality Management System
A lone ranger is the first option to consider. Individual contractors possess vast experience in QMS at various device firms. You can either hire them full-time or on a fractional basis. Some of these guys may work on the so-called "use it or lose it" monthly retainer. While picking a lone ranger, decision-makers should look for a person who sees no tasks as rather menial, lest the company will be impressed when it requires doc control maintenance, for instance. It is not recommended to hire such an expert part-time or remotely.
Hiring is not a flexible way though enough businesses choose this option. This option works well in case the management has a particular individual or team in mind with whom it used to work sometime in the past. It should be a trusted person. Otherwise, preparing and placing job vacancies, interviewing applicants, onboarding, training, and retaining may take a while. In most cases, it is wiser to hire an experienced quality manager instead of a Director or Vice President (VP).
There is also the DIY approach. This abbreviation stands for "do-it-yourself." Thus, you may guess what it means. All a business needs, in this case, is a set of standard operating procedure (SOP) templates. The responsible person will then have to fill in those templates according to the company's data and reports. This choice is feasible for several groups of managers who have.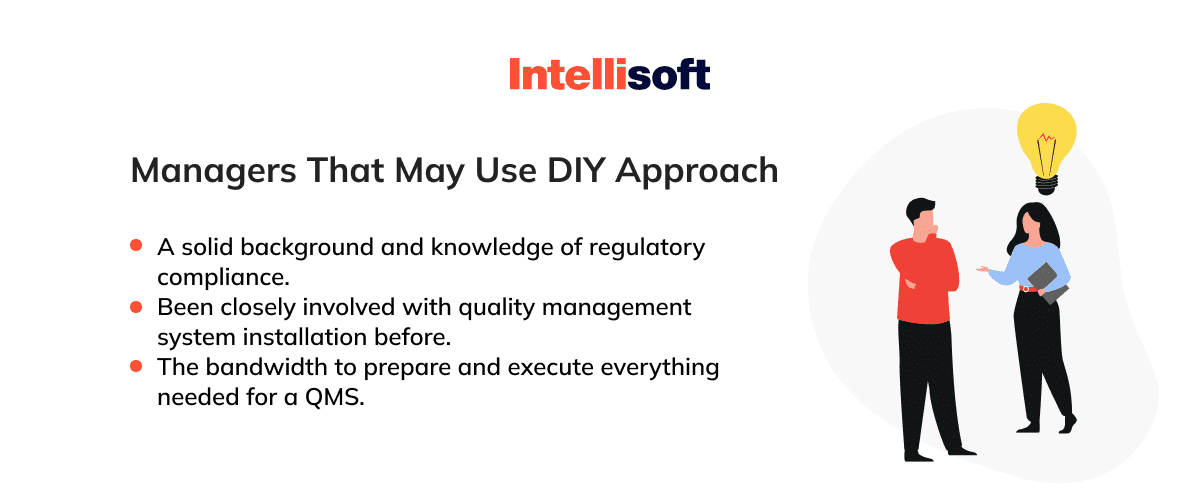 Those who choose the DIY approach may still demand some external help from time to time. For instance, from experts in internal or supplier auditing.
QMS expert firm is the last but not the least favored option. In the healthcare device ecosystem, many QMS specialist agencies exist. Such a model implies paying only for hours spent on the project. From doc maintenance to strategic management, entrepreneurs can pick whatever they want out of the list of services. These agencies can replicate a full-service QA department. The QMS service providers can quickly scale up and down to meet the client's expectations ASAP. Your company obtains full support in all functional roles in this case.
Costs of Developing a QMS
How much you pay depends on the approach you choose, as well as project peculiarities and deadlines. For instance, if hiring is your choice, average annual wages can be around $164,000 for a Quality Director and as high as $258,600 for a VP. So, it makes sense to hire a Quality Manager whose typical salary is $142,000 per year. Sure, more flexible options are available, but make sure that the price corresponds to the quality of services you get.
As for the DIY approach, customizable templates can be found at prices starting from $1,000. $4,000 is usually the top price. You can check, for example, the U.S. Food and Drug Administration (FDA) official website.
As for the agencies, the fee depends on the company's size and its experience with quality management systems. The agencies typically deliver ready solutions within half a year, and it may cost you roughly 25,000-40,000 USD.
Final Words
A quality management system must be implemented as early as possible while working on a new medical device. QMS for a medical device is a guiding framework to ensure that your business has robust processes, from risk management and prevention to manufacturing procedures and vendor management.
It comes down to building a secure, effective solution that provides a smooth way to market. A properly established quality management system assists with bringing consistency. However, you may sooner or later get stuck with your QMS software development because of some issues with QMS or other stages. In this case, you can count on a dedicated development team or other types of team extension offered by Intellisoft. We are always ready to lend you a helping hand with your medical project – just let us know what the problem is, and we'll figure it out for you!