Imagine you're at a bustling city airport, luggage piled high, barely holding a coffee, when suddenly, a cab pulls up. Out pops a valet who whisks your bags away while you enjoy your latte in peace. The stress of hauling your luggage is averted. Now, imagine that feeling every time you need to move homes or offices. Sounds good, doesn't it? That's the magic of a Packers and Movers app.
In this article, we'll put you in the driver's seat of creating such an app, navigating through market needs, app features, development processes, and even app monetization strategies. At IntelliSoft, we've been mastering the art of software solutions for industries like healthcare, logistics, IoT, and many more.
So, buckle up and get ready to transform the world of moving, one app at a time. Trust us. You wouldn't want to miss out on this ride.
Why Do You Need An App For Moving?
The primary problem a Packers and Movers app solves is to streamline and simplify the often complex and disordered process of moving. Whether it's moving to a new home or shifting an entire office, efficiently managing such tasks is challenging. This app aims to handle every facet of the moving process, from finding reliable services and booking them to ensuring that belongings are safe and tracked until they reach their final destination.
App For Moving Market Overview
Before starting the development journey, first, it's necessary to examine the market landscape. The global moving services market had a value of $88.4 billion in 2022 and is expected to grow to $149.8 billion by 2030.
Despite this expansive market size, there is a gap in the adoption of technology. Many moving organizations are still using traditional pen and paper for some operations instead of using industry-specific software but plan to increase their spending on technology. This means a significant opportunity for creating a comprehensive and user-friendly Packers and Movers app.
Solving User Challenges
If you want to design a successful app, it is essential to understand and solve user challenges effectively. Two primary issues that your app should address are the struggle of users to find reliable moving services and the complexity of the booking process.
Finding trustworthy movers is often a major concern for users, and your app should ease this process. It should provide a curated list of reliable movers based on user reviews and ratings, eliminating the uncertainty and risk from the decision-making process.
The second issue is the often complicated and opaque booking process. Your app can streamline this process by offering an intuitive, step-by-step approach to booking, providing clear pricing and easy scheduling options.
In short, understanding the market needs and addressing user challenges is fundamental for your Packers and Movers app. With these insights in mind, we are ready to delve deeper into the details of app development.
What is a Packers and Movers App?
A Packers and Movers app offers a helping hand for anyone embarking on a moving journey. Whether you're a homeowner moving to a new neighborhood, a business shifting offices, or a student relocating to a university dorm, this app aims to make the moving process more efficient and less stressful.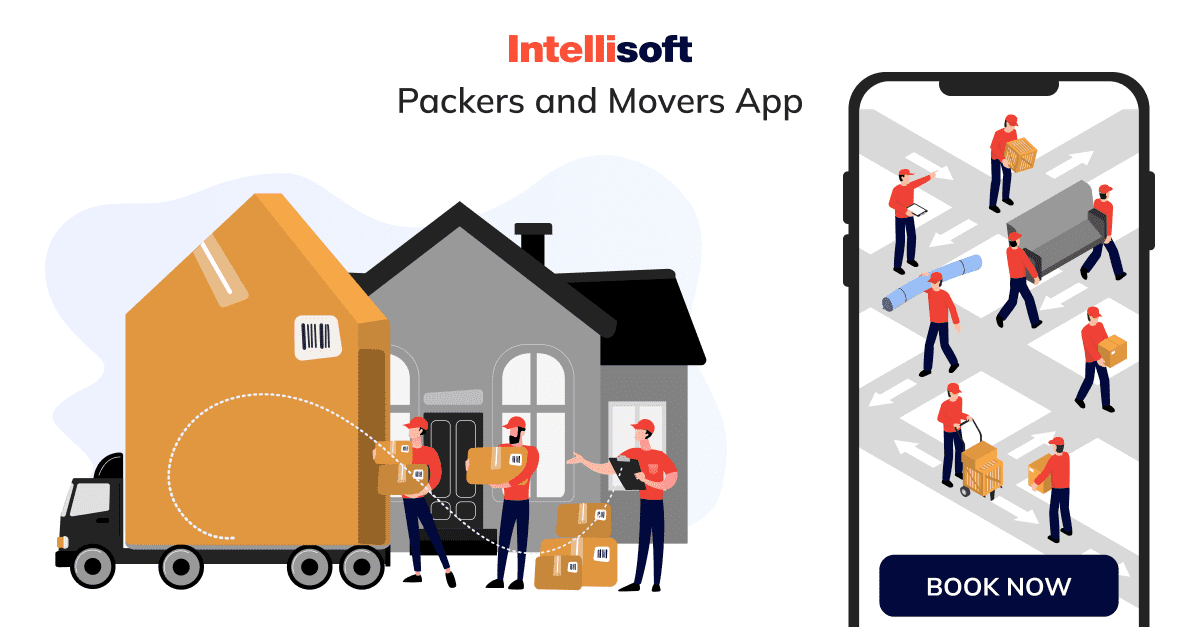 Primarily, the app is designed to simplify the three core processes of moving: finding, booking, and tracking relocation services. But let's break it down even further to really understand what this means.
Finding Relocation Services
When it comes to moving, the first step is always finding a reliable service provider. It's a critical decision that can heavily influence the moving experience. A Packers and Movers app provides users with a platform where they can easily browse through different service providers.
But it's not just a list. The app provides crucial information such as services offered by the movers, their operating hours, service coverage areas, and, most importantly, ratings and reviews from previous users. This transparency empowers users to make informed decisions, selecting a provider that is most suitable for their requirements.
Booking Relocation Services
Once the user has identified a suitable service provider, the next step is booking the service, which, without a dedicated platform, can be an ordeal in itself. Emails, phone calls, paperwork – it's a cumbersome process.
A Packers and Movers app completely transforms this experience. Users can schedule their move with just a few taps on their smartphones. They can choose the date and time for the move, specify the types of items to be moved, and even request special services like packing assistance, handyman to help move furniture, or insurance coverage.
Moreover, the app offers a secure platform for financial transactions. Instead of worrying about cash payments or bank transfers, users can pay directly through the app using their preferred payment method. It's a seamless process that saves users from unnecessary hassles.
Tracking Relocation Services
Now that the move has been scheduled, the user would naturally want to stay updated about the status of their service. That's where tracking comes in. With a Packers and Movers app, users have real-time tracking features at their fingertips. They can monitor the progress of their move, knowing when the movers have started, their estimated time of arrival, and when the job is completed.
Some applications with moving checklist app functionality also allow users to track their items, giving them peace of mind knowing their belongings are safe on their way to their destination. Furthermore, the app can send notifications about important updates or changes in the schedule, ensuring users are always in the loop about their move.
Convenience at Your Fingertips
In essence, a Packers and Movers app is the embodiment of convenience. It's an all-in-one solution that simplifies a traditionally complicated process, making it accessible and manageable for anyone with a smartphone. From the comfort of their homes or offices, users can plan and execute their move without any unnecessary stress.
But the convenience extends beyond the users. For service providers, the app offers a platform to reach more customers, manage their bookings more efficiently, and receive instant payments. It's a win-win situation for all parties involved.
In short, a Packers and Movers app is a transformative tool in the moving industry. By leveraging the power of technology, it turns a daunting task into a smooth and manageable process, providing convenience literally at the fingertips of users. With such an app, moving is no longer a dreaded chore, but a streamlined experience that can be tackled with confidence.
Benefits of Creating a Packing and Moving App
In the modern, digitally interconnected world, businesses across various sectors are leveraging mobile applications to offer better services, reach more customers, and gain a competitive edge. The packing and moving industry is no exception. Creating software for moving companies brings a wealth of benefits, from improved customer service to better bottom-line costs. Let's talk about each of these advantages.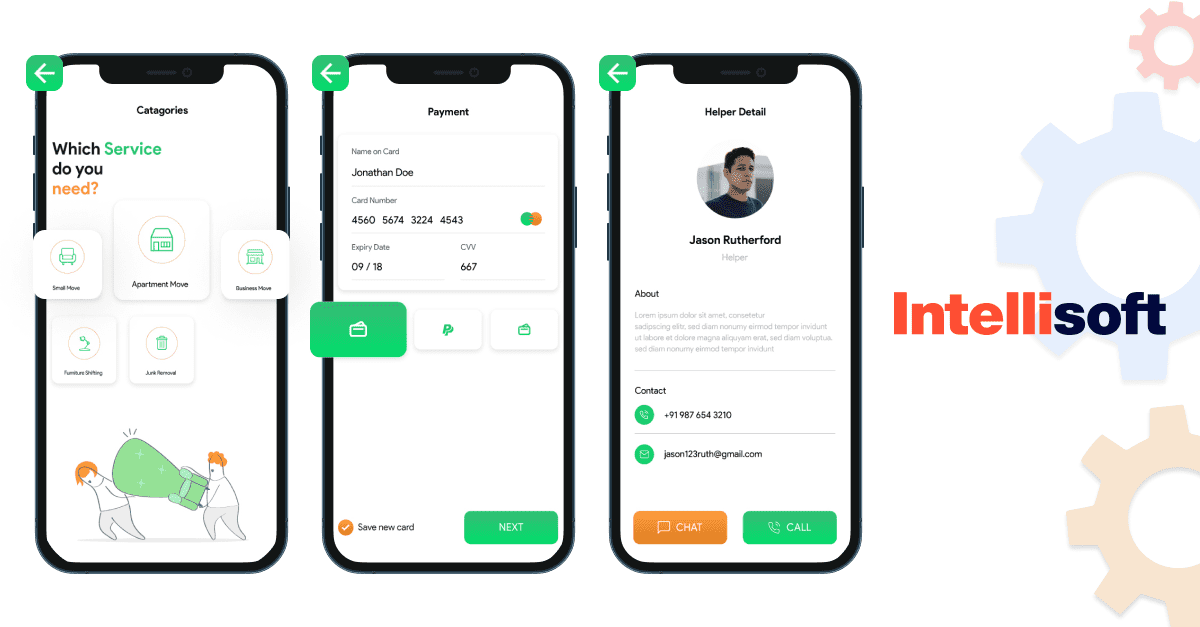 Improved Customer Service
Exceptional customer service is a fundamental aspect of any thriving business, and software for moving companies can significantly enhance this aspect. With such an app, customers can easily access your services round the clock, schedule their move as per their convenience, and even track their belongings in real time. This fosters a positive customer experience, leading to increased customer satisfaction and loyalty.
Moreover, the app can feature a dedicated section for customer support where users can raise queries or concerns and receive prompt assistance. This ensures that any issues are resolved swiftly, further enhancing the customer service experience.
Wider Customer Reach
A mobile app essentially puts your business in the pockets of potential customers. It allows you to acquire a larger audience beyond geographical constraints. Whether they're in the next neighborhood or halfway across the country, customers can access your services with a simple tap on their smartphones.
Furthermore, the app can be equipped with marketing features like push notifications, allowing you to engage with your customers directly and inform them about new offerings, promotions, or updates. This not only helps in retaining existing customers but also in attracting new ones.
Staff Management and Monitoring
Managing a moving company involves coordinating with various teams – from customer service representatives to movers and drivers. Software for moving companies can simplify this process. It can feature a dedicated admin panel for staff management, where you can assign tasks, monitor progress, and even track your fleets in real time.
This leads to improved operational efficiency, as any issues can be identified and addressed promptly. It also enables better communication and coordination among teams, contributing to a smoother execution of services.
Better Bottom-Line Cost
Developing a mobile app might require an upfront investment, but the long-term financial benefits it brings are substantial. First of all, the operational efficiencies gained through the app can lead to cost savings. Secondly, by offering a user-friendly platform, the app can help attract more customers, thereby increasing revenues.
Moreover, the app can provide valuable insights into customer behavior and preferences through in-app analytics. This can inform your business strategies, helping you make data-driven decisions that optimize your services and maximize profitability.
Competitive Branding
In the competitive landscape of the moving industry, having a mobile app can set your business apart. It signals to your customers that you're a forward-thinking company that leverages technology to enhance their experience. This can significantly boost your brand image and reputation.
Moreover, the app serves as a direct channel of communication with your customers, allowing you to build stronger relationships with them. You can customize your app's design and content to align with your brand identity, creating a consistent brand experience across all touchpoints.
As you can see, a Packers and Movers app brings lots of benefits – from customer service and reach to cost-efficiency and competitive branding. It's a powerful tool that can propel your business to new heights of success in the moving industry.
Related readings:
Moving and Transportation App Examples
Now let's look into some successful examples in the industry. By examining some of the best moving apps, we can gain valuable insights into what works well and how these applications have managed to carve a niche for themselves in the competitive moving market.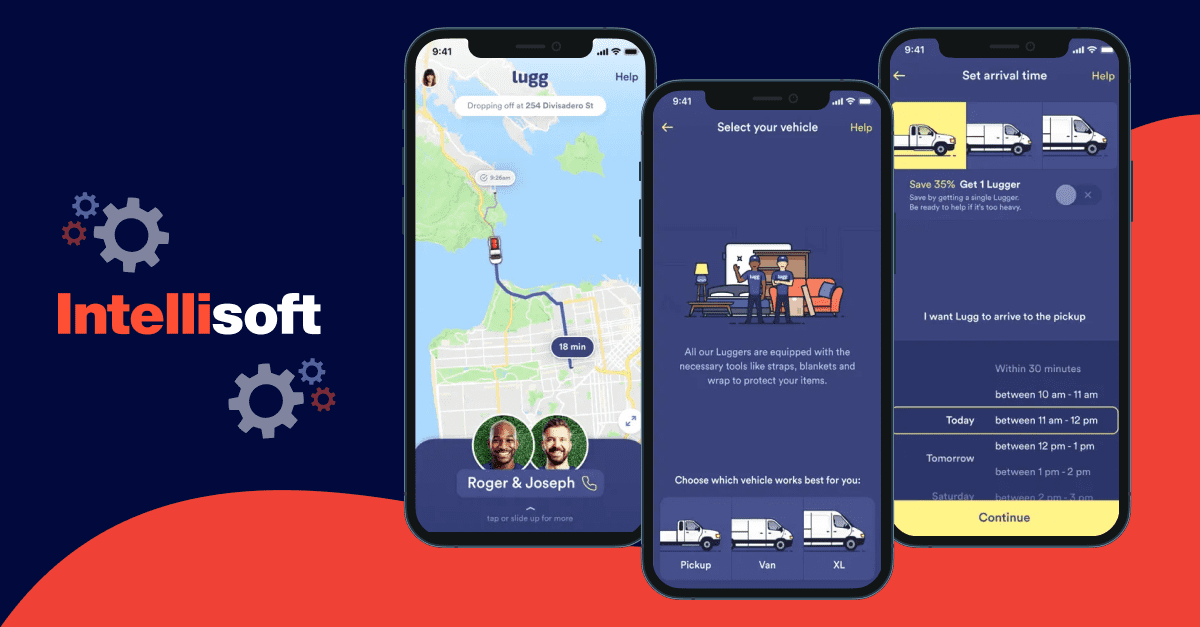 Lugg
Considered a frontrunner in the on-demand moving and delivery market, Lugg has quickly gained popularity among users. It's been hailed as the "Uber for moving," and with good reason. The app provides a user-friendly platform where users can hire a truck and two movers within minutes.
Whether it's delivering a couch from a store, moving an apartment, or donating old furniture, Lugg has made it a breeze. The app also offers real-time tracking and guarantees the security of items, thereby building trust among users. It's an excellent example of a service-oriented Packers and Movers app that prioritizes user convenience.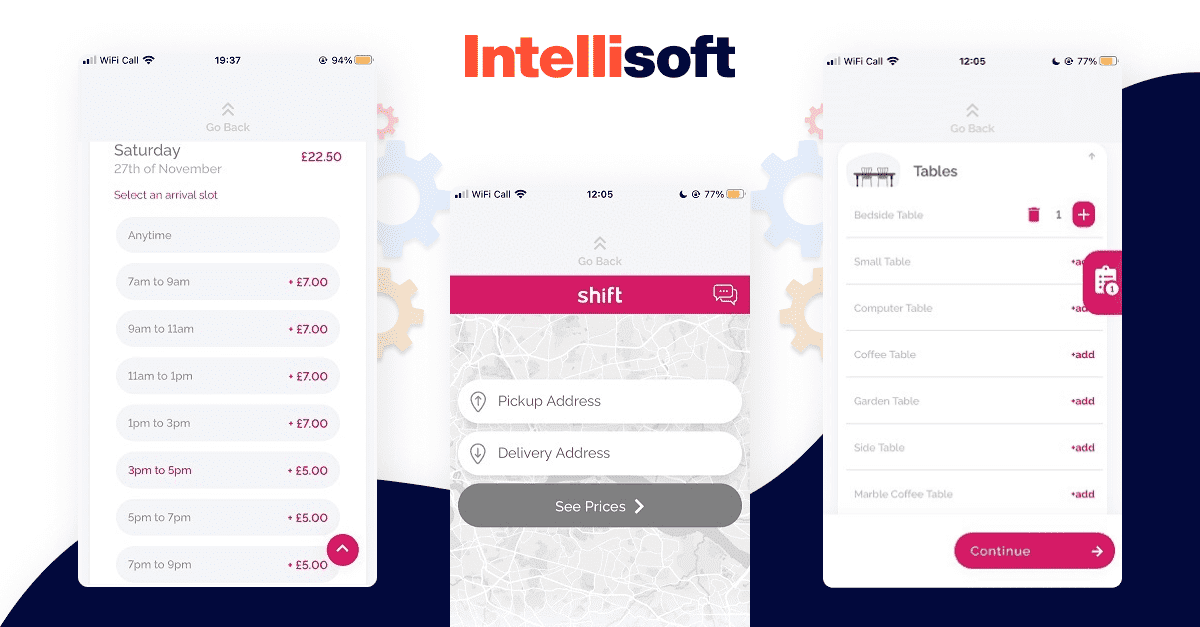 Shift
Shift takes a different approach to the traditional moving process. Rather than focusing solely on the moving service, Shift emphasizes the organization aspect. The app provides an intuitive platform where users can create a visual inventory of their items. They can categorize their belongings, add photos, and even note the dimensions of each item.
Once the inventory is ready, Shift calculates the moving cost and allows users to schedule their move. The emphasis on organization sets Shift apart and caters to a significant need of users – to keep their belongings sorted and accounted for during the move. This unique approach makes Shift a noteworthy example in the Packers and Movers app market.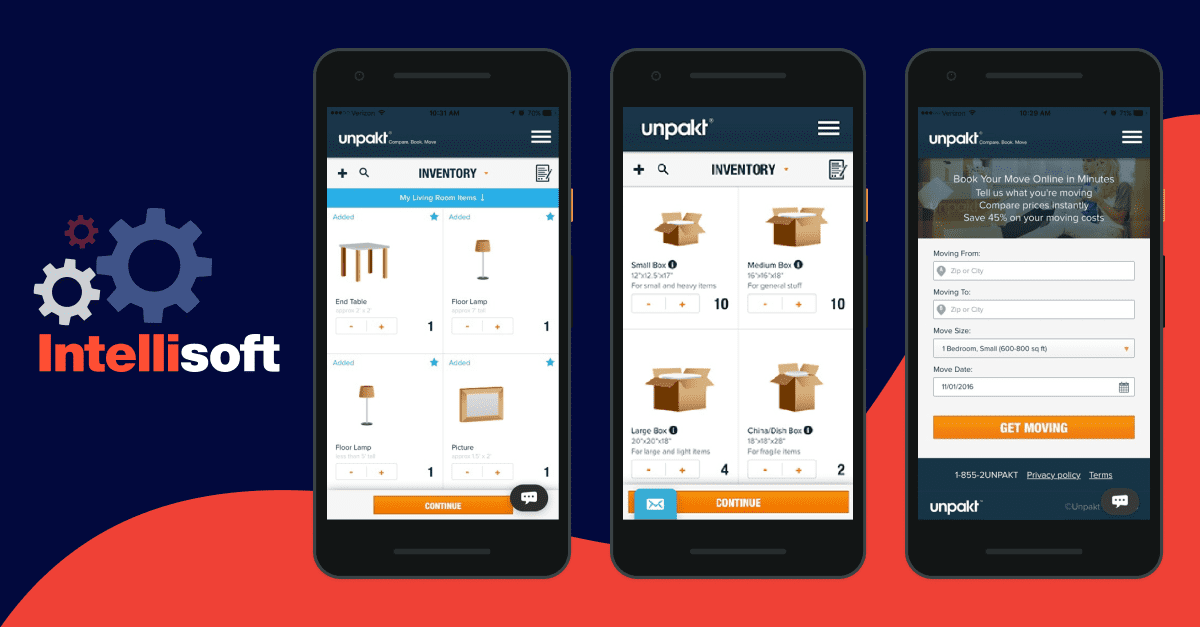 Unpakt
Unpakt stands out in the moving industry by offering a comparison platform for moving services. Users can enter their moving details, and Unpakt provides a list of available movers along with their prices. What makes Unpakt unique is its fixed pricing policy – the price quoted at the time of booking is the final price, with no hidden costs or last-minute surprises.
Moreover, Unpakt features verified reviews from past customers, enabling users to make informed decisions. The app simplifies the often complex process of comparing and choosing a mover, thus creating a hassle-free experience for users.
Each of these apps – Lugg, Shift, and Unpakt – offer unique solutions to the challenges of moving. They've leveraged technology to simplify the moving process and enhance user experience, thus setting a benchmark in the business.
Essential Features of a Packers and Movers App
Creating a successful Packers and Movers app is not just about providing a platform for moving services. It's about creating an intuitive, feature-rich application that addresses the varied needs of the users and enhances their moving experience. Here are some essential features that your app should include.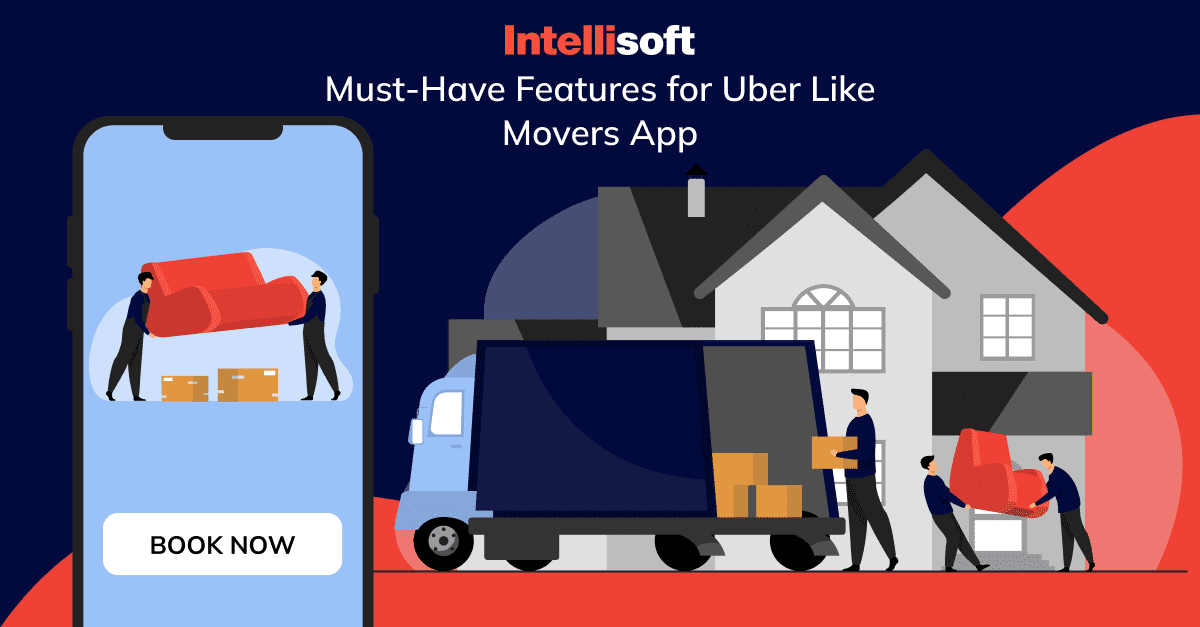 User Registration
The first point of interaction between your app and the user is the registration process. It's crucial to make this as simple and quick as possible. Users should be able to register through their email or social media platforms, reducing the time and effort involved in the registration process.
A simple registration process makes it easier for users to access your services, thereby increasing user engagement. Additionally, it's a good idea to provide a walkthrough or a brief tutorial post-registration to help users familiarize themselves with the app and its features.
In-app Search and Booking
A key feature of a Packers and Movers app is the ability to search for and book moving services. An easy-to-use search functionality allows users to find the best movers in their area based on their specific requirements.
It would be beneficial to allow users to filter their search results by various parameters such as location, cost, distance, ratings, and so on. Once they've found a suitable service, users should be able to book it with just a few taps, making the booking process hassle-free and efficient.
In-App Communication
In-app communication is another critical feature that enhances the user experience. Users may have various queries or concerns about their move, and being able to address these within the app significantly boosts user satisfaction.
The app could feature a chat function where users can ask their questions and receive instant answers. Alternatively, it could also support voice or video calls, allowing users to communicate with the movers directly. This not only builds trust but also ensures that the moving process is transparent and well-coordinated.
Home Inventory
One of the biggest challenges in moving is managing and tracking the numerous items. Your app can simplify this by offering a Home Inventory feature. Users can create a list of items they're moving, categorize them, and even create virtual rooms for better organization.
This feature can be made more intuitive with a drag-and-drop functionality, allowing users to easily add household items to their list. They could also rearrange items, track which items are in each box by adding QR code labels, and even get an estimate of the shipment weight. This feature greatly reduces the stress of managing items during a move and ensures that nothing gets lost or left behind.
Insurance Feature
Moving involves a certain degree of risk – items could get damaged or lost in transit. An insurance feature can provide users with the assurance that their belongings are covered. The app can send users alert notifications if any shipments are delayed or damaged.
Moreover, the app could offer insurance coverage for all the assets being shipped. This could be done through third-party app integration and should cover various risks such as damages during transit, cyber risks, or other general liabilities. An insurance feature not only builds trust among users but also provides them with peace of mind during their move.
Real-time Tracking
One of the main concerns of users when moving is the status of their belongings. Real-time tracking is an essential feature that can alleviate this worry and provide users with peace of mind. With this feature, users can monitor the progress of their items from pickup to delivery, knowing exactly where their belongings are at any given time.
Real-time tracking not only provides users with the comfort of knowing their items are safe but also offers transparency in the moving process. This feature further solidifies trust in your app and improves the overall user experience.
Cost Calculator
An integral part of the moving process is understanding the associated costs. A cost calculator or estimator tool can help users get a rough estimate of the relocation cost based on various parameters such as distance, number of items, and the type of service required.
The cost calculator increases transparency and allows for better budget planning. By providing users with a clear breakdown of costs, you can eliminate hidden charges or surprise costs, fostering trust and satisfaction among your users.
Billing and Invoicing Module
Managing payments is a crucial part of any app providing services. Your app should feature a billing and invoicing module that provides a list of secure online payment methods, making it convenient for customers to pay for the services.
The module should also allow for tracking of all billable activities, providing users with a comprehensive and understandable invoice. This not only ensures transparency but also helps users keep track of their expenses.
Reviews and Ratings
Allowing users to rate their experience and leave reviews is a valuable feature that helps build trust among your app users. Reviews and ratings provide potential users with real experiences and insights about the services, helping them make informed decisions.
Moreover, reviews and ratings can also serve as valuable feedback, helping you improve your service quality and identify areas that may need enhancement or changes.
Data Analytics and Reporting Module
Last but not least, a data analytics and reporting module is a must-have feature in your app. This feature allows you to gather insights into user behavior, service usage, popular features, and more.
With data visualization, these insights can be easily understood and used to make informed decisions about updates, new features, or improvements. This not only helps you keep your app updated and relevant but also ensures that your app continues to meet the needs and expectations of your users.
By including these features in your Packers and Movers app, you can provide an enhanced user experience, foster trust, and ensure the overall success of your project.
Team Composition For Developing a Moving App
Creating a successful Packers and Movers app is a collaborative effort that requires a diverse team of skilled professionals. Each member plays a crucial role in shaping the app, ensuring it meets the needs of the users while aligning with the business objectives. Let's take a look at the key players involved in this process.
Frontend Developers
These are the magicians who work on the client side of the app, creating the interface and interactions that users see and engage with. They make sure that the app is visually appealing and intuitive and provides a smooth user experience.
Backend Developers
These tech wizards work behind the scenes, dealing with server-side logic. They ensure that all the features and functions of the app work correctly, handle databases, and manage APIs and servers.
Business Analyst
The business analyst bridges the gap between the technical team and business needs. They understand the business objectives, carry out market research, and help in defining the features and functionalities of the app based on user needs and market trends.
Project Manager
The project manager takes full responsibility for overseeing the entire development process. This means effectively coordinating with the team, efficiently managing resources, and making sure that the project stays on track and remains within the allocated budget.
Testers
Testers play a critical role in the app development process. They perform various tests to ensure that the app works flawlessly, identify bugs and errors, and help enhance the overall quality of the app.
Designers
Designers are responsible for the app's look and feel. They work on the app's UI/UX design, making sure that it is visually appealing, user-friendly, and provides an enjoyable user experience.
Solution Architect
The solution architect designs the technical solution, selecting the appropriate technologies and defining the architecture of the app. They ensure that the technical solution aligns with the business objectives and user needs.
CTO
The Chief Technology Officer (CTO) provides strategic guidance and leadership in terms of technology. They ensure that the technology used in the app aligns with the company's objectives and stays up-to-date with the newest trends and advancements in the tech world.
How Much Does a Moving App Cost?
The cost of developing an app for moving can vary significantly, depending on several factors. These include the complexity of the app, the number of features, the design, technology used, experience level of the team, and the geographic location of the development team.
However, to give you a rough estimate, the cost of developing a Packers and Movers app, including design, can range from $60,000 to $150,000.
It's important to remember that this is just an estimation, and the factual cost may vary. The best way to get an accurate estimate is to discuss your specific requirements and expectations with your development partner.
The Development Process
Building a successful Packers and Movers app involves more than just a great idea. It requires a comprehensive and strategic approach to development, involving various phases that collectively contribute to the creation of a user-friendly, efficient, and popular app. Let's discuss each of these phases and talk about how IntelliSoft's expertise fits into this entire process.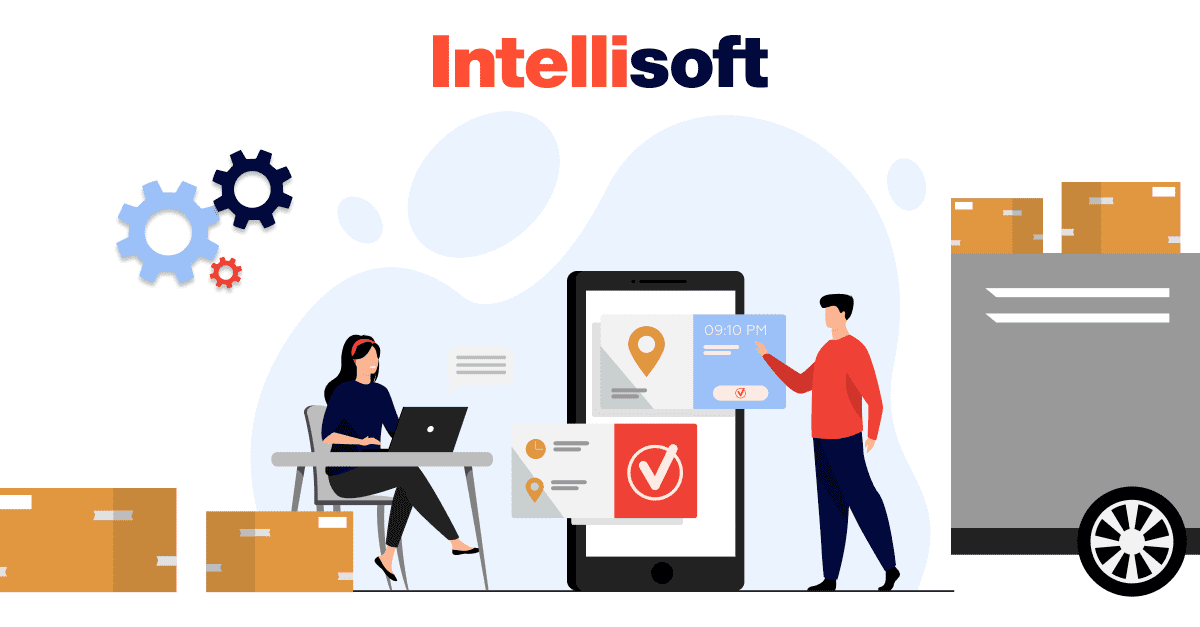 Partner with an Experienced Development Team
The first and foremost step is to partner with an experienced development team that recognizes and shares your vision and has the expertise to bring it to life. With its vast experience in building custom apps across numerous industries and its dedicated team of experts, IntelliSoft is a perfect partner for this endeavor.
We understand the complexities and nuances of developing a Packers and Movers app and have the necessary resources and expertise to deliver a high-quality app that meets your expectations and provides an unmatched user experience.
Idea Validation
Before diving into the development process, it is crucial to validate your app idea. This involves confirming that there is a demand for your app and that users are willing to use it. Idea validation helps to ensure that your app will be successful and that your investment in its development will be worthwhile.
Idea validation can be done through market research, surveys, and user interviews. We can assist you in this process, leveraging our industry knowledge and research capabilities to accurately gauge the demand and potential success of your app.
Planning and Design
Once your idea is validated, the next step is planning and design. This involves defining the user flow, creating wireframes, and finalizing the app's UI/UX design. The aim here is to create an intuitive and engaging design that users will find easy to navigate and pleasant to use.
Our design team at IntelliSoft excels in creating visually appealing and user-friendly designs that fit your brand's concept and resonate with your target audience. We meticulously plan the user journey within the app, ensuring a seamless and enjoyable experience for your users.
Development
With the design finalized, we move into the development phase. Our developers build the app feature by feature, following the design blueprints and using the latest technologies and best practices.
At IntelliSoft, we follow an agile development methodology, allowing us to maintain flexibility and adaptability during the development process. We ensure that each feature is implemented correctly and that the app functions as expected, providing an exceptional user experience.
Testing
An integral part of the development process is testing. This step ensures that the app works flawlessly and provides a smooth user experience. It involves checking the functionality, usability, performance, and security of the app, among other things.
Our team at IntelliSoft has rigorous testing protocols in place to ensure that your app is free from bugs and errors, functions as intended, and provides a top-notch user experience.
Deployment
Finally, once the app has been tested and refined, it's time for deployment. This involves launching the app on the relevant app stores for users to download and start using.
We will handle the entire deployment process for you, ensuring that your app meets all the necessary store guidelines and is optimized for discoverability.
Building a Packers and Movers app involves a strategic and comprehensive approach to development. By partnering with IntelliSoft, you can ensure a smooth and successful development process, resulting in an app that meets your expectations and delights your users.
Choosing the Right Technology Stack
Choosing the right technology stack for your Packers and Movers app is a pivotal decision. The technology you use impacts the functionality, performance, and user experience of your app. In essence, it's the foundation on which your app is built. So, let's dig into the tech stack that we recommend for a stellar moving app.
Node.js for Backend
Node.js is a JavaScript runtime built on Chrome's V8 JavaScript engine. It's ideal for developing server-side applications with the need for high input-output operations, real-time features, and data-driven APIs. Node.js offers non-blocking, event-driven architecture, which is excellent for handling multiple client requests simultaneously – a common requirement in logistics apps. Moreover, Node.js enables developers to write both frontend and backend web applications in JavaScript, creating a consistent and integrated development environment.
React Native for Mobile Development
React Native, a framework developed by Facebook, is a fantastic choice for mobile app development. It allows you to build natively-rendered mobile apps for both iOS and Android using JavaScript and React. The advantage of using React Native is that it enables developers to share a significant portion of the code across different platforms, speeding up the development process and reducing costs. Furthermore, it offers high performance and a smooth user interface, which are vital for providing an excellent user experience.
AWS for Cloud Services
Amazon Web Services (AWS) is a universal cloud computing platform that offers a mix of infrastructure as a service (IaaS), platform as a service (PaaS), and packaged software as a service (SaaS) offerings. AWS provides a robust, scalable, and secure platform for hosting your moving app. It also provides a plethora of services for computing power, storage options, and other functionalities that your app might need.
By selecting the right tech stack, you're setting a firm foundation for your app's performance, scalability, and future growth. The technologies you choose must align with your app's objectives and the team's expertise. Therefore, take the time to discuss these aspects thoroughly with your development partner before making a decision.
App Monetization Strategies
One of the critical elements of success for a Packers and Movers app is an effective monetization strategy. After all, your app isn't just a tool to facilitate moving and packing services – it's also a significant revenue generator for your business. Let's explore a few strategies you could adopt to monetize your app.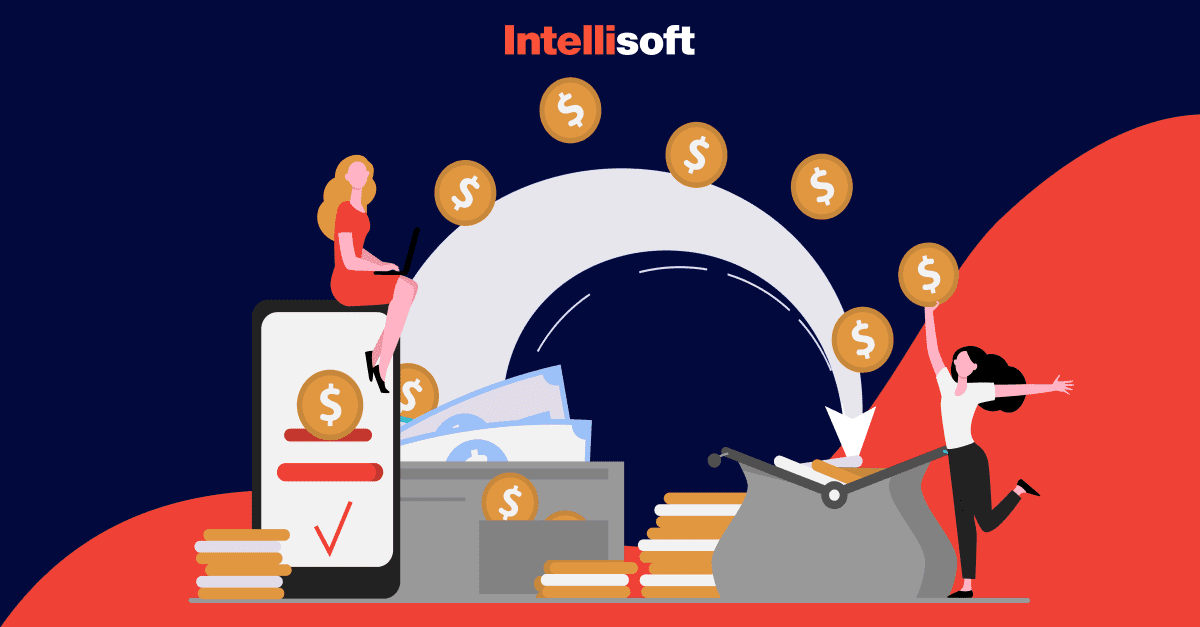 Service Fees
The most direct way to earn revenue from your moving app is by charging service fees. You could impose a fee for every booking made through the app, much like a commission. However, it's important to ensure that your service fees are competitive and do not deter users from using your app.
In-App Ads
In-app advertisements are a popular monetization strategy. By displaying ads in your app, you can earn revenue from advertisers. The key here is to ensure that the ads are relevant to your users and do not disrupt the user experience. Additionally, it's vital to strike a balance in the recurrence of your ads to prevent users from getting annoyed and abandoning your app.
Premium Features
Offering premium features is another excellent way to monetize your app. This could be in the form of advanced functionalities, access to exclusive deals, or an ad-free experience. Users could avail of these premium features either through a one-time payment or a subscription model. This monetization strategy can increase your revenue while enhancing user satisfaction as they get value-added features.
Remember, your monetization strategy should align with the needs and preferences of your users. It's important to consider your target audience and market dynamics when choosing a monetization strategy. The goal is to create a win-win situation where your users derive value from your app, and you generate revenue.
Importance of Marketing and User Acquisition
In today's digital era, building a fantastic Packers and Movers app is only half the battle won. The other half is attracting users to your app and retaining them – that's where marketing and user acquisition come into play. Let's discuss the key strategies to bring your app to the forefront and attract users.
SEO
Search Engine Optimization (SEO) is a powerful tool to increase your app's visibility on search engines. By optimizing your website and app description with relevant keywords (such as 'best moving apps,' 'handyman to help move furniture,' and 'software for moving companies'), you can improve your search engine rankings and drive organic traffic to your app. Additionally, app store optimization (ASO) is an important aspect of SEO that puts an emphasis on improving your app's visibility in app stores.
Content Marketing
Content marketing aims at attracting and engaging your target audience by creating and sharing relevant, valuable content. This could be in the form of blog posts, articles, infographics, or videos that provide insights into the moving industry, tips for a smooth moving experience, or features of your app. Content marketing not only helps establish your brand as an authority in the moving industry but also drives traffic to your app.
Social Media Marketing
With billions of users globally, social media platforms offer a lucrative opportunity to reach your target audience. You can use Facebook, Instagram, Twitter, and LinkedIn to promote your app, engage with your audience, and drive downloads. Social media ads, regular posts, user testimonials, and engaging videos can be used to highlight the features and benefits of your app.
Marketing and user acquisition are ongoing processes that need continuous effort and monitoring. While these strategies can help attract users to your app, it's equally important to focus on user retention and engagement strategies to ensure the success of your Packers and Movers app. The ultimate goal is not just to acquire users but to turn them into loyal customers who would recommend your app to others.
Wrapping Up and Looking Forward
From recognizing market needs to designing user-friendly features, choosing the right tech stack, and devising effective monetization strategies, we've charted the course for developing a successful Packers and Movers app. What's important, we also underlined the critical role of marketing and user acquisition in propelling your app to the forefront.
As we reach the end of this guide, you might be eager to start this exciting journey but wondering how to navigate the complexities of the app development process. This is where IntelliSoft steps in.
At IntelliSoft, we can simplify the app development maze for you. Our talented team of developers, designers, and business analysts is adept at translating your unique business needs into a technically robust and user-friendly app.
So, whether you aim to streamline your moving business, broaden your customer base, or revolutionize your services with an innovative app, we are here to turn your vision into reality. From ideation to launch, we'll walk with you every step of the way, ensuring a seamless app development experience.
Ready to get the ball rolling on your Packers and Movers app? Let's make it happen together with IntelliSoft. After all, moving doesn't have to be a headache – and with the right app, it truly won't be. Let's start moving toward success today.
FAQ