Online shopping has taken over 21st-century customers for a reason. Who doesn't want to purchase new clothes, appliances, or gifts without leaving their beds and receive everything the next day with door-to-door delivery? With the ever-growing demands of modern users, who expect swift, fee-free, and dependable deliveries, modern businesses find themselves navigating treacherous waters as they try to stay competitive in the cut-throat logistics market.
How can companies accomplish this, and which aspect of the delivery process should they prioritize? In practice, customers often focus primarily on the last phase of their orders' delivery. What holds the most significance to them is having real-time visibility into their order's location and receiving an accurate estimated arrival time.
Therefore, in the world of e-commerce, last-mile delivery software is the digital glue that binds together warehouses, delivery drivers, and customers, ensuring that parcels travel the final miles with precision. If you're a business looking to master the art of last-mile delivery and want to dive into the world of logistics technology, you're in the right place.
At IntelliSoft, we have been at the forefront of revolutionizing last mile delivery software for more than 15 years. In this article, we will guide you through the fascinating universe of last-mile delivery services, unraveling the main strategies, innovations, and technologies that will allow you to create a competitive, scalable, and successful solution. Buckle up, and let's embark on this journey together.
What is Last Mile Delivery?
The term "last-mile delivery" is self-explanatory; it represents the ultimate phase in the delivery process where customers' orders are transported from a pickup point to their intended destination, typically the customer's doorstep. The orders can be delivered by bike, foot, van, or any other vehicle. This final leg of the order's journey may seem to be simple, but it's one of the most complex, costly, and important steps of the entire retail supply chain.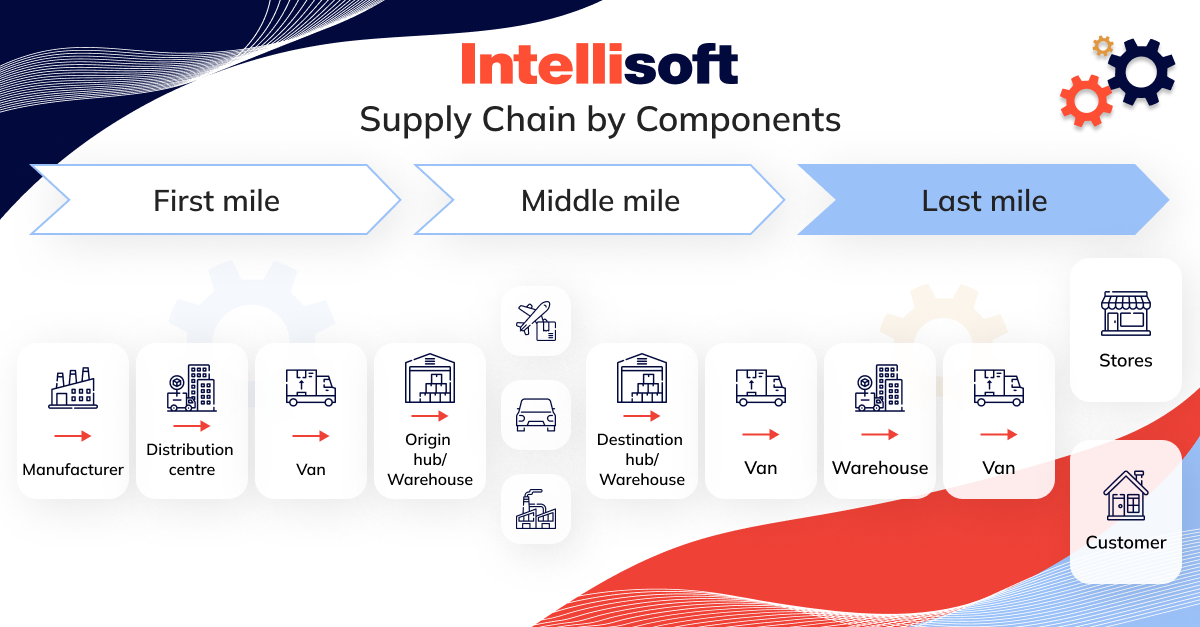 Why is the last mile delivery so costly if it is the final, and often the smallest, step of the delivery? An efficiency problem causes this – the need to take numerous stops with low drop sizes. Moreover, traffic in cities and huge distances in rural areas also slow down the process and make it more costly.
Customers also expect their orders to arrive on time, often the same day they make a purchase. In fact, some people will no longer choose a business that doesn't offer same-day delivery. This issue is known as the "Amazon effect." Amazon has set an exceptionally high standard for swift delivery, providing customers with service at the speed of light. This benchmark is incredibly challenging to surpass. Achieving and enhancing last-mile delivery without the necessary technology and expertise in the team is close to impossible.
Key Last Mile Delivery Challenges
Whenever shipping companies think of final mile delivery, they start shivering. This process is surrounded by challenges such as fuel expenses, labor shortages, and supply chain distributors, while customers expect to receive their order as soon as possible and wait for the courier at their door. What makes last-mile delivery so complex and challenging? Let's take a look:
Time
In the previous stages of the supply chain, all goods are moved in bulk, allowing to speed up the process. The final leg, on the contrary, involves the delivery of individual packages to people's homes, making it more time-consuming.
Cost
As all the packages are delivered separately to different addresses scattered around the city, the cost of such delivery is much higher than when it's done en masse. With customers also expecting free shipping, companies have to cover the costs from their pockets, which often makes it hard to keep their operations profitable.
Routes
Let's say you have to deliver 20 packages in one city. You have to build the delivery routes in a way that allows you to minimize the distance traveled between the pickup and drop-off points while maximizing the number of deliveries. Building these routes is not a piece of cake, considering constant traffic changes, weather conditions, road closure, and other factors.
Failed deliveries
Unfortunately, these are quite common in the logistics industry during the final mile. This situation often happens when customers are not at home, or they have given an incorrect address. Besides being costly, failed deliveries also affect shipment companies' reputations and customer satisfaction.
Last-Mile Delivery Services Market Stats and Growth
The last-mile delivery segment is continually growing, especially in on-demand industries. In 2022, the global last-mile delivery market size was valued at USD 132.71 billion, and this number will continue to grow in the coming years. It is expected to grow at a compound annual growth rate (CAGR) of 8.8% from 2023 to 2030.
What is driving the growth of last-mile delivery? These factors include:
Same-day and next-day deliveries
Real-time tracking and visibility
On-demand services
Last-mile delivery also gained more popularity during the COVID-19 pandemic when people were opting for contactless home deliveries and could not shop offline.
Here are a few more stats about the state of the market:
Benefits of Last Mile Delivery System
The last mile represents the crucial and most significant stage for your customers. It serves as the primary and final interaction point they will have with your company, and ensuring this last step is as enjoyable as possible is paramount. Therefore, it is advisable to prioritize investments in last-mile delivery logistics, particularly in robust last-mile delivery management software. Such software can streamline the process, provide real-time updates, and contribute to cost savings. Here's why you should consider developing last-mile delivery software for your business: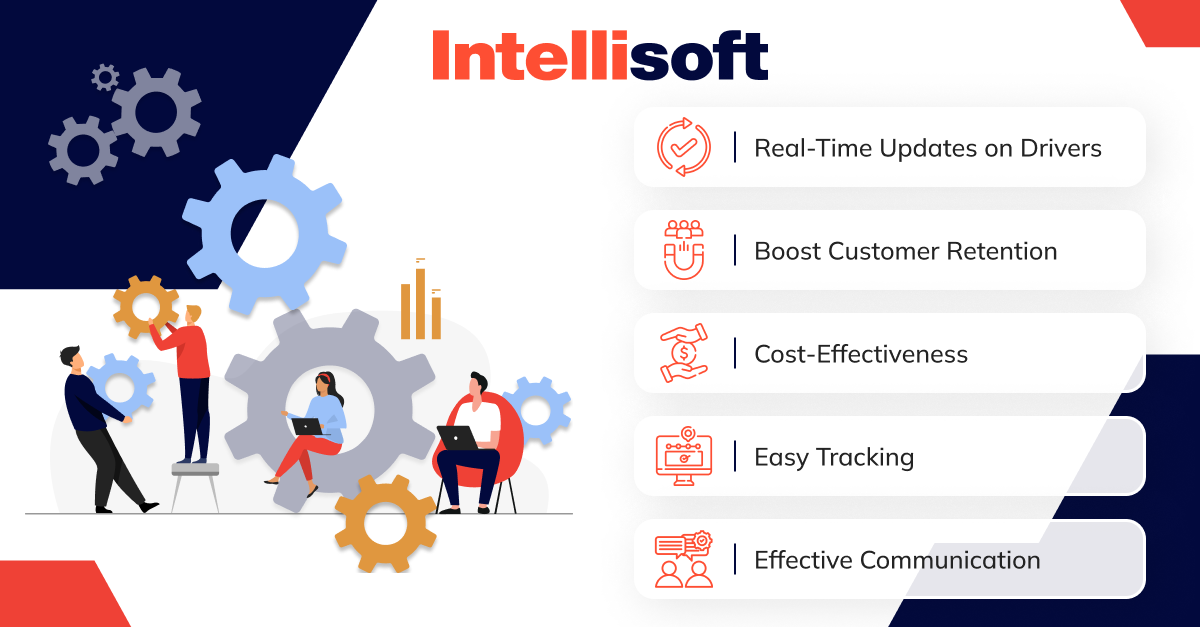 Real-Time Updates on Drivers
With a delivery management system, you can receive real-time updates about the drivers and movement of goods. You can access drivers' and customers' locations by integrating GPS, build routes, estimate delivery time, and quickly receive notifications about any issues.
Boost Customer Retention
Enhancing customer retention is a common objective for businesses, given the fierce competition they contend with, and the delivery management industry is no different. Companies must devise fresh strategies to engage their customers and cultivate their loyalty, and last-mile delivery solutions can play a pivotal role in achieving this goal. By implementing this software, you can optimize the delivery process, ensuring swift order fulfillment. The quicker you can deliver orders, the more satisfied and content your customers are likely to be.
Cost-Effectiveness
Once you adopt last-mile delivery software into your business, it causes a chain of interconnected events that lead to substantial cost savings in the long run. How does it happen? Automating your process helps you save money you would otherwise spend on hiring more employees to handle all of these tasks. The fewer people you need to hire – the less expenses go on paid sick leaves, vacations, buying everything needed for an office space, etc. Thus, with software performing manual tasks, your team can focus on core activities, and you can save money in the long run.
Easy Tracking
Delivery delays are not great news for any company, but if you get notified about them on time, you can solve these issues quickly and not let them affect customer satisfaction. With last-mile delivery software, you can receive real-time notifications about the movement of goods and always know when something is wrong with the delivery.
Effective Communication
One of the main features of last-mile delivery solutions is data collection. Once you have gathered all the necessary information, it is entered into the system and distributed among the drivers. Eliminating any chance for confusion or miscommunication.
Related Readings:
How Does Last-Mile Delivery Application Work?
All last mile delivery management software works in a similar way, relying on route optimization, proof of deliveries, dispatching, customer updates, and real-time tracking. With this app, you can talk with customers and drivers, send the product through the software system, and gather and analyze all the related data.
Here's the process from order to delivery:
The person places an order, which is then processed by the Order Management System (OMS).
The item is picked up and packaged. After that, it is dispatched from the warehouse.
After it gets dispatched, the driver receives a notification about the order and a GPS or route optimization system to locate the customer's address.
Next, the ordered goods are delivered to the customer, where the driver takes OTP or asks the customer to sign a proof of delivery.
If the customer is not satisfied with the delivery time or quality of the product, the item can be returned or exchanged.
Popular Examples of Last-Mile Delivery Software
Here are some of the best last mile delivery software on the market:
1. On-Fleet
This delivery software has improved delivery capacity by 50%, making it one of the top solutions in the segment. It works with the route optimization engine, serving pharmacies, restaurants, grocery stores, flower deliveries, and various E-commerce companies. The product includes intuitive smartphone apps for drivers, a web dashboard for dispatchers, and automatic notifications and real-time customer tracking. On-Fleet also uses an AI engine to optimize delivery roots and discover the most efficient package delivery methods.
2. Tookan
Tookan works with B2C and B2B clients, giving complete control to the admin team to track real-time operations. Its features include real-time monitoring, optimized routes, digitized last-mile delivery operations, etc. It concludes SMS gateways, payment gateways, custom field templates, inventory management, and more.
3. LogiNext
LogiNext offers last-mile delivery options for E-commerce retailers who want to provide highly customer-friendly shipping. Its route-mapping feature has a dynamic rerouting option, allowing drivers to change roads per customer request if the details change at the last moment. Moreover, LogiNext provides cash on delivery as a payment option and allows tracking of deliveries in real time.
4. Onro
Onro is one of the best last mile delivery software for businesses of all sizes, allowing them to scale up as their demands grow. It offers a white-label branding option for E-commerce enterprises so that customers see the company's logo and colors once they check where their order is. What's more, it is possible to select the carrier vehicle and chat with the driver in real-time to provide them with instructions.
Key Features of Last Mile Delivery Software
Last-mile delivery solutions are complex software suites that consist of a mobile app for drivers, a fleet management system for dispatchers, and a tracking and notifications mechanism for customers. Even though these solutions differ from each other based on their advanced features, the set of must-have features usually remains the same.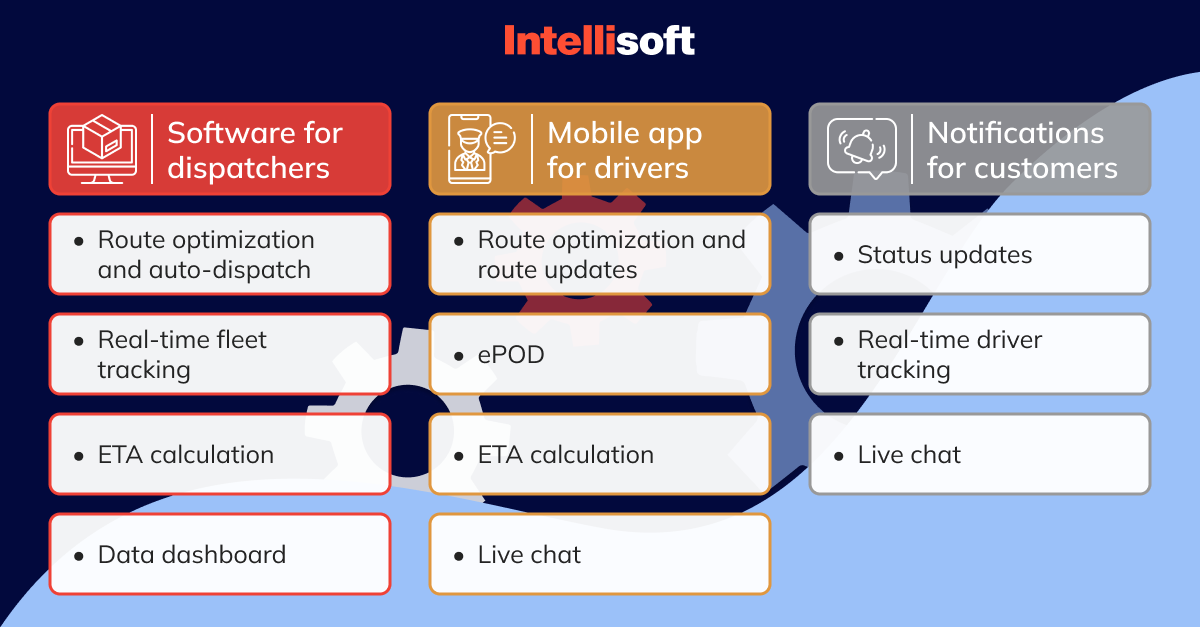 Smart Order Allocation
One of the main features of last-mile delivery software is smart order allocation, using the order's size, weight, and product type. Taking into account the customer's location, the solution helps determine what vehicle to use for specific orders based on their properties.
Auto-Dispatch
In the logistics industry, the vehicles' capacity should be utilized to its maximum, and that's where the auto-dispatch feature comes into play. It helps ensure the tasks are assigned to the right drivers, saving labor costs and service time.
Automated Route Planning and Optimization
This feature builds and optimizes routes for drivers, helping them minimize driving hours and deliver more orders daily. It considers factors such as traffic jams, weather conditions, road closures, and customers' locations to plan routes effectively. Moreover, it can rebuild routes in real time per drivers' requests.
Real-Time Tracking
Real-time tracking uses GPS technology and drivers' smartphones to ensure complete fleet visibility. It helps keep operations as efficient and seamless as possible, allowing customers to track the location of their orders in real time after the dispatch.
Driver Management
This feature analyzes the orders and chooses the driver to assign the task. Moreover, it allows drivers to manage their trips and receive all the necessary data about the customers' delivery requirements. It also allows drivers to receive updates if the customer changes the delivery details or reschedules.
Customer Review
Customer feedback is essential for any business; it helps companies improve, grow, and change and lets others learn more about the businesses they're interested in. Collecting user feedback is necessary if you want to alter your strategies and improve the processes. Moreover, meeting their needs and expectations helps offer your customers a more personalized and pleasant user experience.
Proof of Delivery
You need the proof of delivery feature to prevent misunderstanding or any issues with delivered orders in the future. An electronic proof of delivery could be images of the product delivered, in-app signatures, timestamps, geo-coordinates, etc. If the order goes missing or is not delivered on time, this feature will allow you to manage these issues more easily.
Data and Insights
Your last-mile delivery solution is all about data, and the software you develop should be able to gather, store, and analyze it properly. Thus, this feature helps you make more informed decisions and use valuable insights for improving your strategies. It also helps you generate metrics like feedback scores, service time, success rates, and more.
How to Develop a Last Mile Delivery Software?
Now that you understand that a last-mile delivery solution is your golden ticket to success, it's time to figure out how to develop it and ensure it meets all your requirements. Here's a step-by-step approach to the software development process: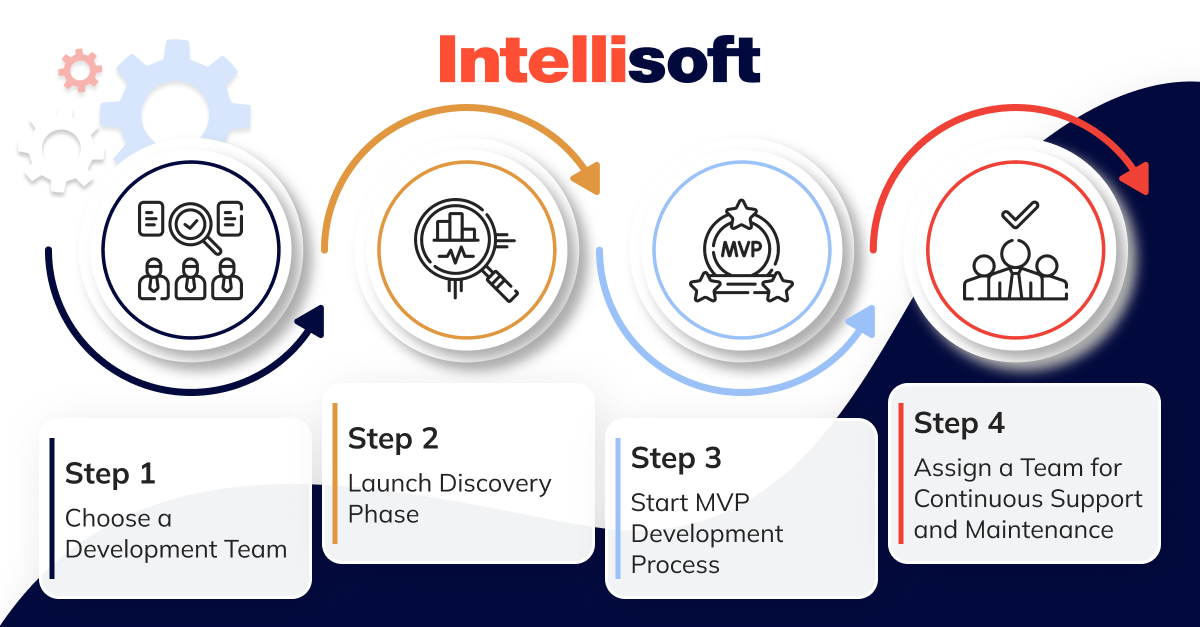 Step 1. Choose a Development Team
You need to find a team who will develop the solution for you. If you have a skilled in-house team who can do that, opt for this option. However, most businesses usually stick to outsourcing these processes to save money, focus on core tasks, and receive high-quality products with fewer investments.
Where should you look for developers, and what you pay attention to?
If it's your first time outsourcing development processes, research various tech blogs, review platforms, and LinkedIn to look for third-party experts.
Platforms such as TechCrunch and Hacker News often feature articles and discussions about development teams, which can be helpful.
Reviewing a provider's Clutch profile can help you learn more about their previous cases, client reviews, and overall stats. For instance, you can check IntelliSoft's profile to learn about track records and reviews.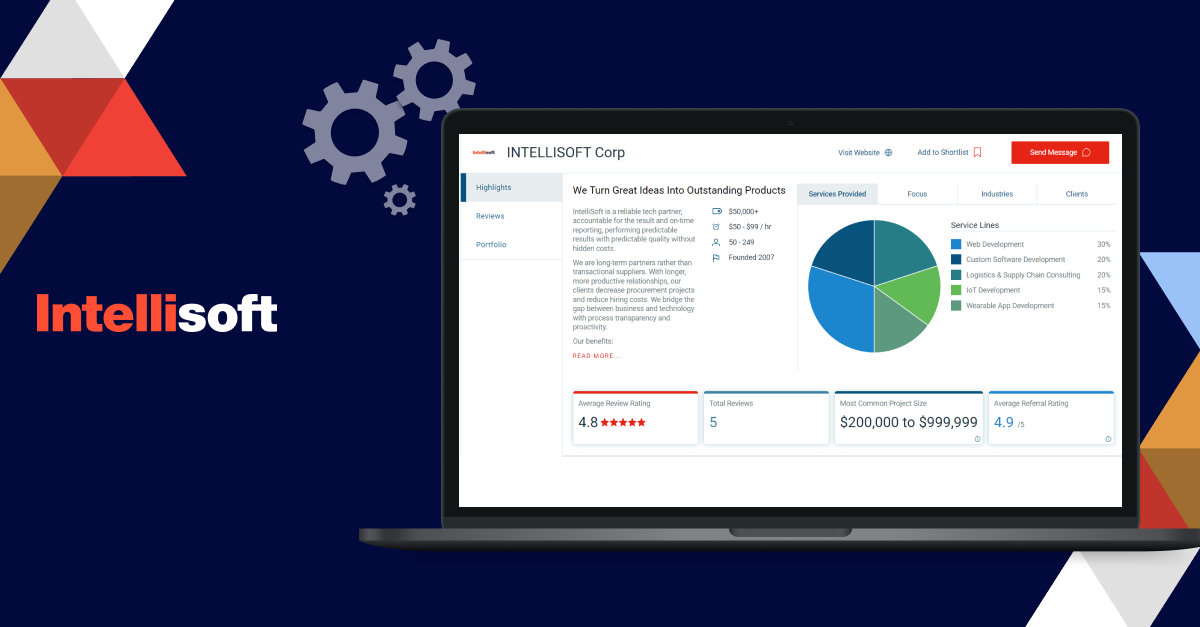 LinkedIn is also an excellent platform for connecting with professionals in the software development field. You can browse profiles, see their work history, and directly communicate with potential candidates.
How do you evaluate your development team once you have a list of potential candidates?
Dive deep into the development team's portfolio. Look for projects that align with your last-mile delivery software requirements and pay attention to the complexity of projects they've handled and the technologies they've employed.
Moreover, you can schedule consultations with prospective development teams to discuss your project's details, goals, and challenges.
Finally, request project estimates from multiple teams. This will help you compare costs and evaluate whether the proposed budget aligns with your financial resources.
Step 2. Launch Discovery phase
The discovery phase is akin to laying the foundation for your Last Mile Delivery Software project. During this stage, your team will meticulously analyze and document project requirements, ensuring a clear and shared vision.
Who is responsible for the discovery phase?
Here's a list of all the team members who will take part in this process:
Business Analysts (BAs): These experts will cooperate with you to understand your business goals, objectives, and the challenges you want to solve with the software.
Designers: Designers are the essential team members who create your app's wireframes and initial design concepts. These visual representations will then guide the development process.
Developers: Developers are responsible for the technical foundation of your project for bringing it to life. During the discovery phase, they provide insights into the technologies required and the potential challenges to be addressed.
Project Managers (PMs): A dedicated project manager ensures that the discovery phase progresses smoothly. They oversee the team's activities, manage timelines, and communicate with you.
Usually, a discovery phase ranges from a few weeks to several months. Everything depends on your project's complexity and how much time you have. At the end of the discovery phase you'll receive:
a detailed project plan
wireframes and prototypes
user stories,
the project scope document
All of this will serve as a foundation for your future project.
How much money should you expect to spend on the discovery phase?
The cost of the discovery phase typically falls within the range of $5,000 to $10,000. The actual cost depends on the depth of analysis required and the size of your project.
Step 3. Start MVP Development Process
After you have created a detailed project outline, it's time to follow this guide and build a Minimum Viable Product (MVP) based on that. This is a crucial phase in the development of your solution as this version of the software will include all the essential features and will allow you to collect user feedback. This stage aims to make an MVP as simple but usable as possible; it should be the first functional version of your product that you will later refine and alter.
When building an MVP, you should prioritize the features that you want to include first. To approach feature prioritization, identify the features that directly address the most pressing needs of your target users. Focus on solving their pain points effectively. You should also conduct comprehensive market research to understand your competitors and what features are essential to them. Finally, collaborate with your development team and listen to their recommendations on an optimal feature set.
Who is responsible for developing an MVP?
It's the task of your developers, designers, and QAs. They will form a perfect team that will code the software, design the interface, and test the MVP for any bugs or issues.
Depending on the selected features and complexity, This process can take a few months to a year. The final cost also depends on the set of features you include, the project scope, and the development team's rates.
Step 4. Assign a Team for Continuous Support and Maintenance
The launch of your product is not the last step of cooperation with a dedicated team. Your journey continues with support and maintenance. That is why you should consider hiring a new team for maintenance or ensure that the one you're currently working with offers these services.
Why do you need such services?
Once your solution transitions from a testing environment to a live one, it may encounter unforeseen issues. App maintenance specialists will address these challenges to ensure that the software functions properly. Moreover, you need these experts to help your solution scale up and face high traffic and load once your user base grows.
Finally, the app maintenance team can help you identify and resolve bugs, implement updates, and add new features based on user feedback and changing market conditions.
Tech Stack to Build Last-Mile Delivery Software Development
Here's the tech stack you need to develop last-mile delivery software solutions: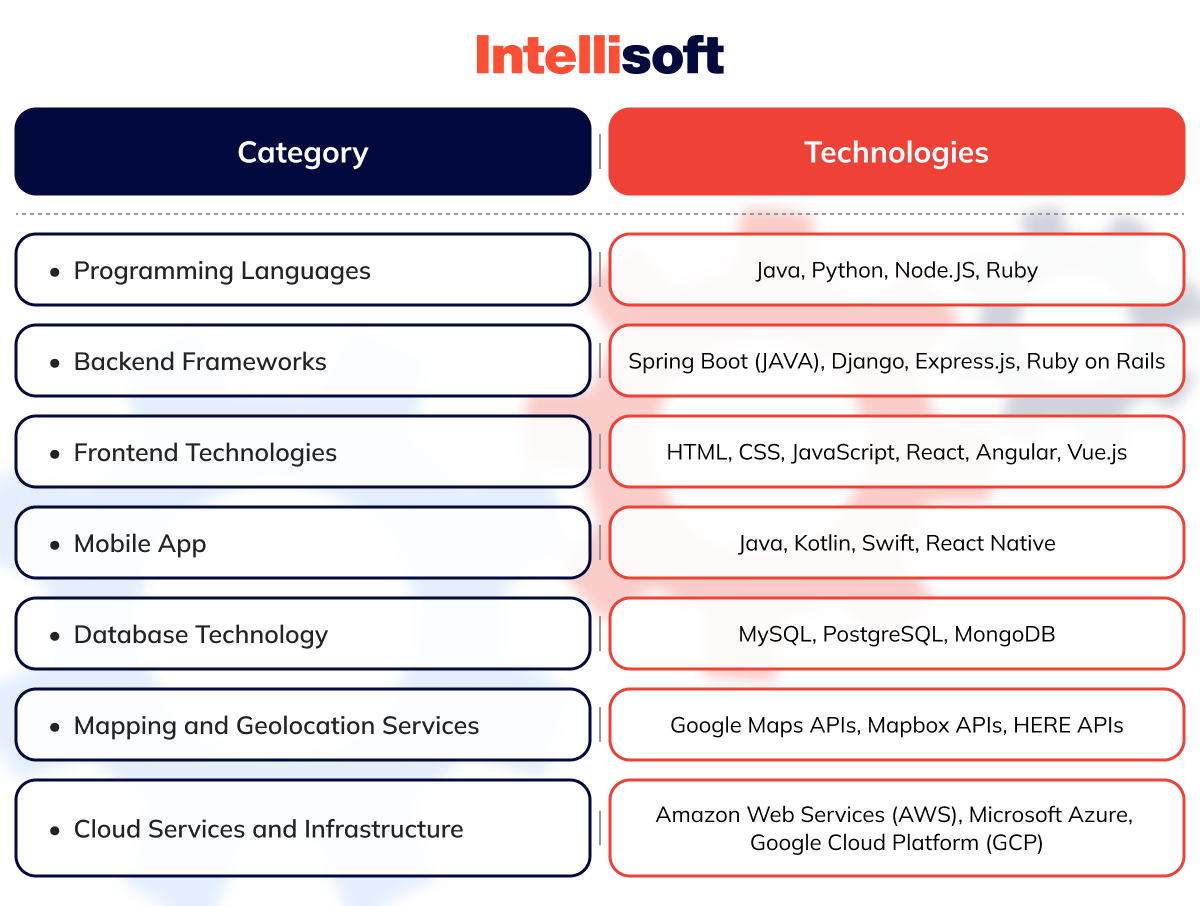 What is the Cost of Building Last-Mile Delivery Software?
The cost of building last-mile delivery software is from $50,000 to $300,000 but it varies depending on the team you work with, their rates and location, the features you want to include in the app, project scope, etc. If you want to receive an estimate for your project scope, you can use our development team calculator.
These are the factors that influence the end price of your project: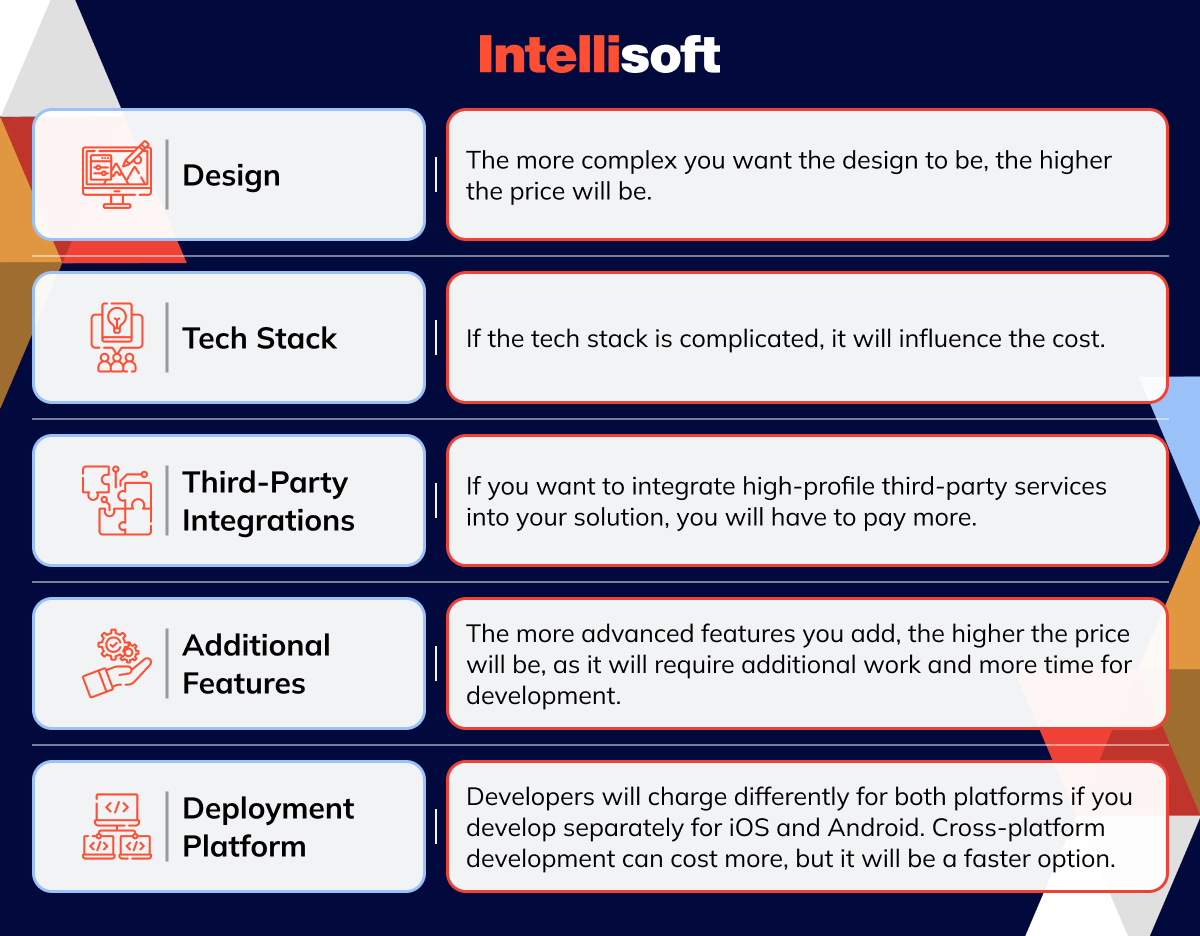 Trends and Innovations for Last Mile Delivery Software
Currently, online shopping and same-day deliveries are the hot trend, and it appears that this will not change in the future. People have experienced all the benefits of shopping from their homes and receiving their orders instantly, so why would they return to the old-school way?
Advancements in deliveries are great news for customers, but they mean higher competition for businesses. To win over users, you should pay attention to the following trends:
Artificial Intelligence (AI)
Dynamic routing is the cornerstone of any modern last-mile delivery solution, and it is only possible to achieve with the use of AI. Artificial intelligence in last-mile solutions helps build routes and change them in real-time based on traffic and weather conditions, deadlines, the number of deliveries in the area, and so on. With AI, drivers don't have to worry about figuring out the routes by themselves and can deliver more orders quickly.
IoT
The trend of IoT in logistics is not going anywhere; instead, it will soon become a must-have feature for any last-mile delivery solution. Without it, it wouldn't be possible to track order movements, collect data about traffic, weather, etc., and monitor vehicles and how they perform.
Drones
When you think of orders delivery, you probably think they are delivered by cars, bikes, or other vehicles on land. In the past, it was true, but nowadays, drones are taking over the delivery industry. Drone delivery companies already aim to lower delivery costs and deliver more parcels to people. In fact, 22% of US retailers plan to use drones for delivery in the next five years.
Conclusion
While for most customers the final step of the delivery process is the fastest and simplest, it's one of the most challenging parts of the delivery for logistics companies. With all the customer demands and the incredible number of parcels to be delivered, this final leg can make or break the business.
Fortunately, it is possible to optimize the last mile with the help of software solutions, making this process a tiny bit simpler and more automated, meeting customer demands, and staying competitive in the fast-paced industry. A last-mile delivery solution is your ticket to being always on time with your deliveries, giving your customers exactly what you expect, and optimizing all your internal processes. Think of it as a compass that will help you steer your business toward success.
If you need an experienced guide at this pivotal crossroads, IntelliSoft is ready to illuminate your path through the world of last-mile logistics. With our expertise and cutting-edge solutions, we can help you design a software solution that, not only streamlines your operations, but also sets you on a course for growth and customer satisfaction. Don't miss the opportunity to leverage our knowledge and resources in this dynamic field; contact us, and let's start this journey together.
FAQ