The human mind is a complicated labyrinth, a maze of neurons, synapses, and thoughts that can make even the most magnificent Rubik's cube look like a toddler's toy. Now, imagine if this enigmatic organ had its own GPS system, helping it navigate the treacherous twists and turns of mental health issues. Today, mental health apps can be designed to be your psyche's personal guide.
We're IntelliSoft, a titan in the software outsourcing industry with a decade-plus of experience and global footprints in all parts of the world. Our wheelhouse includes everything from Web to Mobile and IoT Development, and yes, we've got a soft spot for healthcare solutions. We like fueling businesses with technology that makes a difference. Stick around, and you'll discover why partnering with us could be the best move for your organization. After all, when it comes to the health of the mind, it's good to know all the intricacies of how to develop an app that benefits the most vulnerable patients.
Why Mental Health Apps Are More Crucial Than Ever
Today, we've got more computing power in our pockets than NASA had during the Apollo missions. Yet, despite our exponential advances in technology, it seems we've also ushered in an era rife with mental health challenges. Let's deep-dive into why you should consider mental health app development, not just as a business venture, but as a necessity for humanity.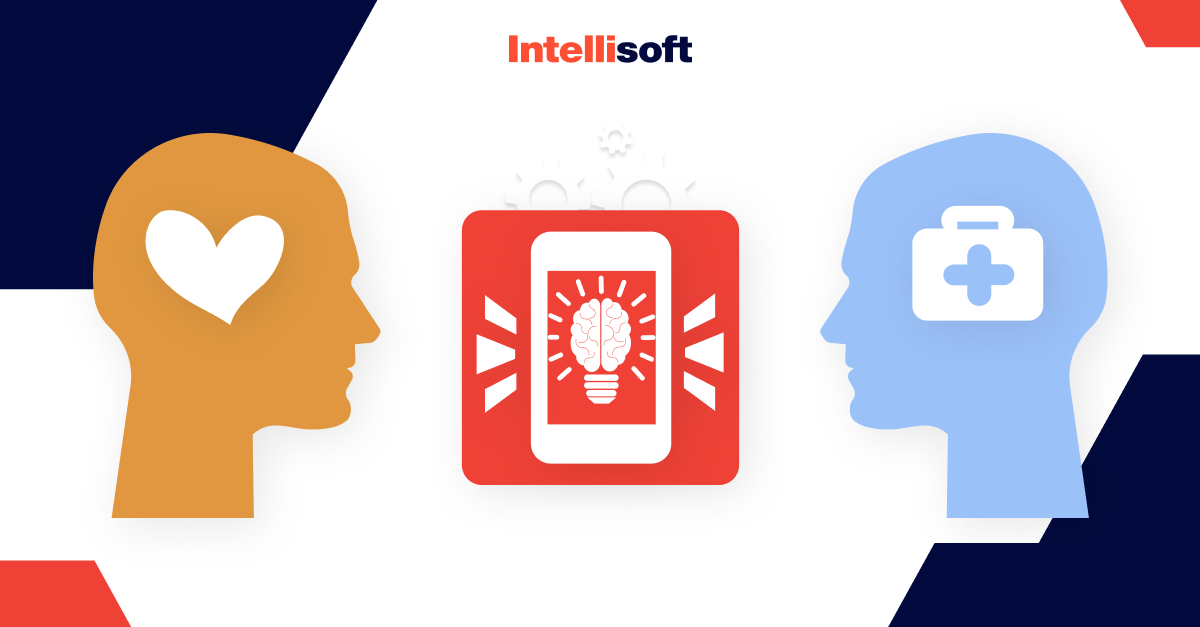 Understanding the Need for Mental Health Apps
Mental health issues are rising like dough in a baker's oven, and frankly, that's not the kind of rise we want to see. According to data presented by the World Health Organization, an estimated 280 million people suffer from depression alone. And that's just the tip of the iceberg, considering the prevalence of other issues such as anxiety, PTSD, OCD, you get the drift.
Now, let's talk about the creaky, old-school mechanisms we have for treating these issues, traditional therapy and counseling methods. Don't get us wrong – a seasoned therapist can be worth their weight in gold. However, not everyone has access to Fort Knox. Time constraints, high costs, and geographical limitations often barricade the road to traditional mental health care. And let's not even talk about the social stigma attached to walking into a mental health clinic. It's like wearing socks with sandals in public, people are bound to give you the side-eye.
The Digitalization of Mental Health Support
Enter the technology, armed with the promise of democratizing access to mental health resources. Imagine having the wisdom of Yoda, the empathy of Oprah, and the guidance of a seasoned therapist all wrapped up in your smartphone. That's what mental health support apps are doing, bringing therapy out of the secluded rooms and into the pockets of those who need it.
These apps serve another potent purpose: smashing the sledgehammer of stigma. When mental health assistance is as easy to access as your favorite playlist, it begins to normalize the idea of seeking help. Forget the clandestine visits to a therapist, your path to mental wellness could start with a simple tap on your screen.
Statistics Speak Louder Than Words
Now, let's sprinkle some cold, hard stats onto this hearty discussion. More than 1 in 5 people in the US alone experience mental health issues at some point in their lives. It's like a game of Russian roulette that nobody wants to play. More alarmingly, around 700,000 people worldwide die due to suicide every year. Yes, you read that right. It's more than just a societal issue, it's a humanitarian crisis.
But here's the silver lining. Studies show that mental health apps can have a tangible impact on treatment outcomes. For example, users of the Recovery Record app have reported improvements in managing eating disorders. Others, like the NOCD app, have helped individuals get a grip on obsessive-compulsive disorder. The Calm app has gained a huge following for its assistance in managing stress and promoting mindfulness. In a world where geographical limitations and financial constraints often impede access to mental health care, these apps are stepping in to save the day.
The case for why mental health apps are not just a trend but a necessity is clear as a summer's day. As the digital world evolves, mental health support can become more accessible, equitable, and less stigmatized. And that is an opportunity worth seizing.
Benefits of Mental Health Apps for Patients
Let's get into the meat and potatoes of why mental health apps are the perfect tools for ensuring emotional well-being.
Easy Round-The-Clock Availability
Insomnia's kicking in at 3 am, and you want to talk to someone about your existential dread? Traditional therapy offices are closed, but guess what's not? Your mental health app! These digital sanctuaries are like the 24/7 diners of mental care. Whether it's dawn or dusk, Monday, or a holiday, you can get your fix of emotional support whenever you need it.
Ambiguity: Stealth Mode for Mental Health
We get it. Not everyone feels comfortable letting the world know that they are in need of mental health assistance. These apps offer the kind of ambiguity that would make even a secret agent proud. You can engage in therapeutic activities without your friends, family, or coworkers being any the wiser. So, you get all the help without any judgmental raised eyebrows or unsolicited advice.
Budget-Friendly Mental Care Method
Traditional therapy often comes with a price tag that could make you need more therapy. Mental health apps are like the store-brand cereal of psychotherapy: just as nutritious but easier on your wallet. Monthly subscriptions or one-time fees often amount to less than one traditional therapy session.
Remote Access and Extensive Care in Emergency Areas
Imagine being in a place hit by a natural disaster. Therapy offices would be shut, but mental distress would be sky-high. In such scenarios, mental health support apps are like digital first-aid kits for your mind. Access to care isn't bound by geographical boundaries or emergency conditions. Your emotional well-being is just a click away.
Consistent Help
Remember that New Year's resolution you never kept? Consistency is hard, but it's a lot easier when you have a pocket therapist reminding you to breathe, count your blessings, or confront your anxieties. Whether it's daily meditation reminders or weekly check-ins, mental health apps provide a structure that can help make emotional stability the norm rather than the exception.
Personalized Support
No two minds are alike. Why should their care be? These applications offer a variety of customizable tools to fit your specific needs. It's like having a buffet of coping mechanisms at your fingertips, and you're free to pick and choose what suits your palate.
Real-Time Data Collection
Ever wish you could track your moods as easily as you track your steps? Well, dream no more. These apps can collect real-time data such as mood fluctuations, location, and even physical activity to give both you, and potentially your healthcare provider, a fuller picture of your mental health landscape. It's like having a mood ring, but it's a thousand times more sophisticated.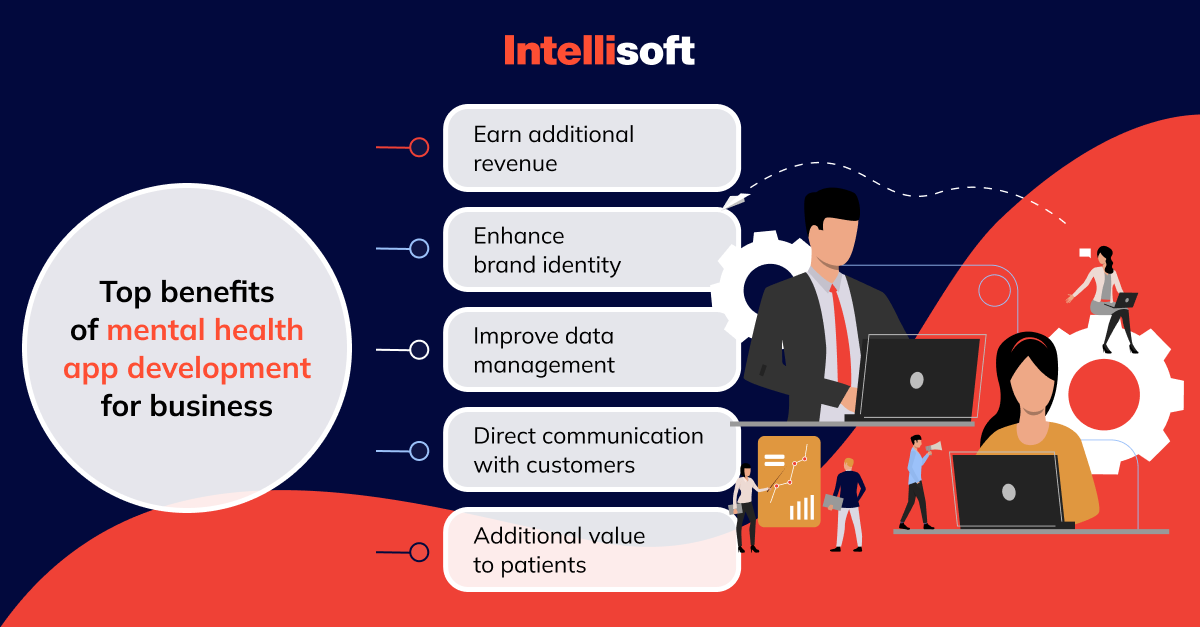 The benefits of mental health apps are as clear as a sparkling water stream. Easy access, affordability, and personalized care make them a hard-to-ignore weapon in the battle against mental health issues.
Different Types of Mental Aid Apps
Alright, it's time to venture into the buzzing ecosystem of mental aid apps. There are different kinds, and each app brings its unique features to the table.
Self-Care Apps
Think of self-care apps as your personal wellness concierge. They serve up daily affirmations, spoon-feed your meditation techniques, and even nudge you to drink water or take a walk. Whether it's breaking bad habits or building good ones, these apps are your go-to for cultivating a lifestyle that screams, "I've got it together, and I know it."
Telehealth Apps
Now, for those moments when you need more than a motivational quote and a glass of lemon water, telehealth apps are your gateway to professional help. You can video-chat with a qualified therapist as easily as you'd call your grandma to wish her a happy birthday. No appointment anxiety, no waiting rooms, just straight-up wisdom from the comfort of your own home. It's as if you're having a mental health pit crew on standby, ready to tune up your emotional engine.
Trackers and Analyzers
Ready to geek out over your feelings? Trackers and analyzers are here to satisfy your inner data scientist. These apps don't just note down your mood swings, they dissect them, often employing AI to offer insights into mood patterns you'd need a magnifying glass and a detective coat to spot otherwise. Picture Sherlock Holmes, but instead of solving crimes, he's untangling the web of your emotional life.
There's no one-size-fits-all in the world of mental aid apps. Whether you're a do-it-yourselfer seeking to cultivate better habits, someone who needs professional advice without the hassle of a commute, or a data-lover eager to analyze your emotional ebbs and flows, there's an app for that. And not just any app, but one tailored to fit your needs like a glove.
Top 3 Examples of Mental Health Apps
You're looking for a mental health app, but the App Store is a jungle of icons and 5-star reviews. What do you do? What do you do? Don't sweat it, we've got your cheat sheet right here. Let's peek into the VIP lounge of mental health apps. These are your go-to champions of the mental health app arena.
Moodfit
Welcome to the Swiss Army knife of mental health apps. Moodfit is designed to shape up your mood, just like a gym shapes up your body. Can't decide whether you need mood tracking, cognitive behavioral therapy exercises, or gratitude journaling? Why not all three? Moodfit is your 24/7 emotional fitness coach.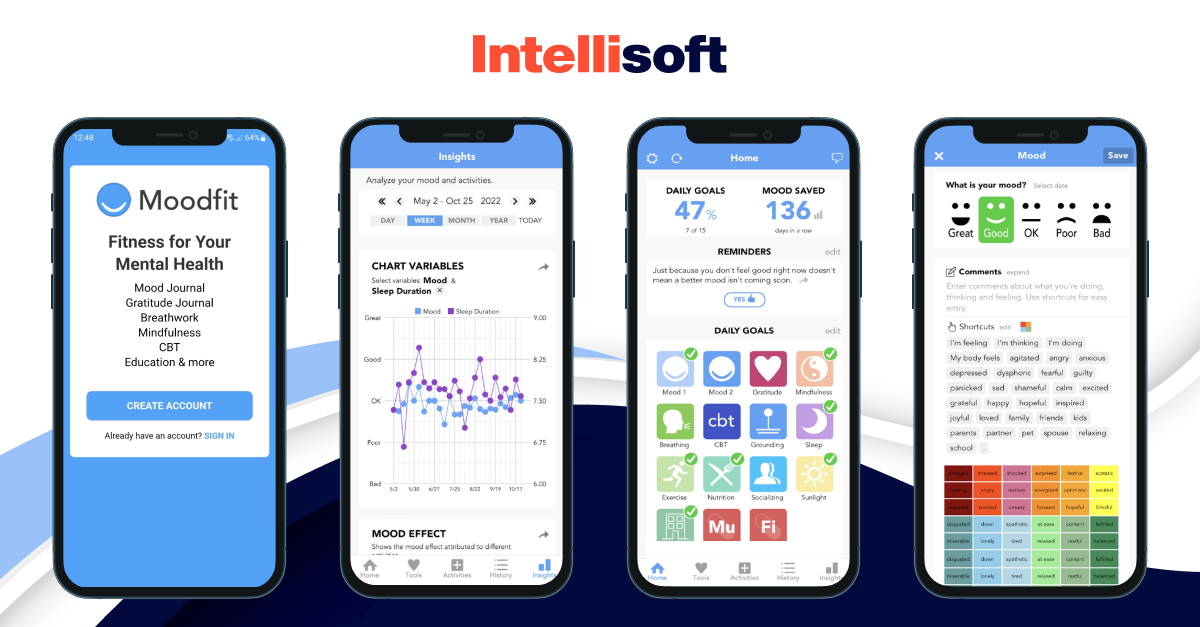 Features
Mood Tracking: Log how you're feeling and get real-time analytics.
Cognitive Behavioral Therapy (CBT) Exercises: Mini-lessons to rewire your thinking.
Gratitude Journaling: Reminders to jot down the positives.
Medication Reminders: Because you don't want to forget those.
Breathing Exercises: Quick and effective way of dealing with stressful situations.
Costs
Free to download, free basic features, and free Premium features for seven days. Otherwise, it's $29.99/year, $39.99/2 years, or $99.99/lifetime.
BetterHelp
Think of BetterHelp as your emotional support hotline in app form. There are no bots, no generic advice, just licensed therapists to offer legit psychological counsel. It's the closest you'll get to a therapist's couch without leaving your own couch.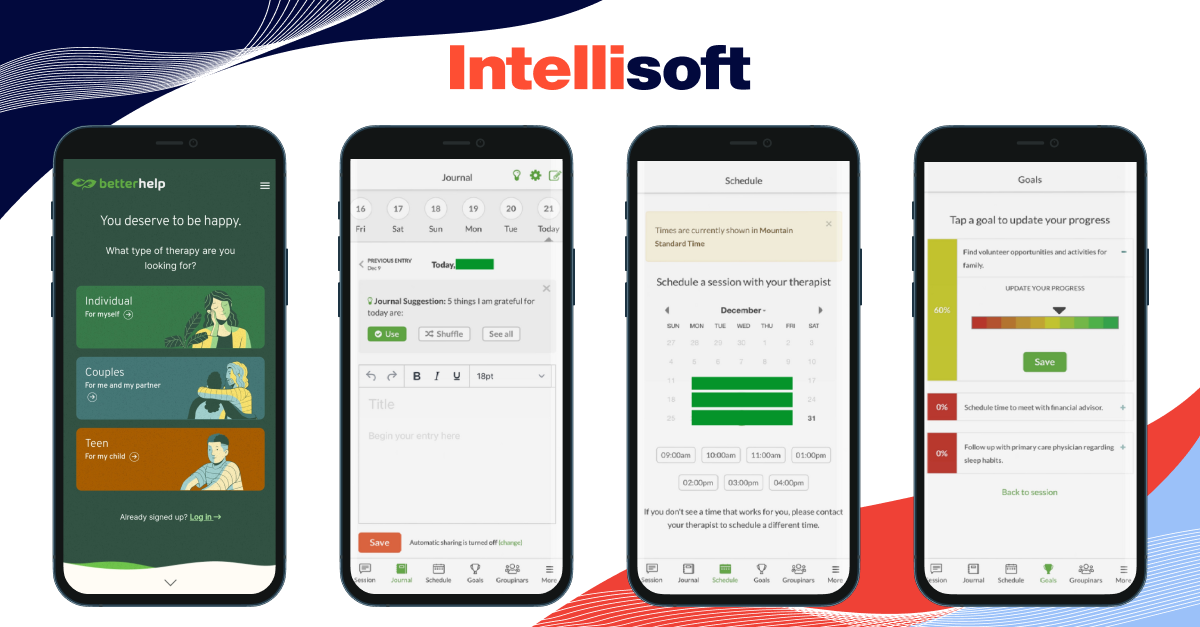 Features
Real Therapists: We're talking certified professionals, not AI chatbots.
Video Calls: Face-to-face interaction for that personal touch.
24/7 Messaging: Because mental health doesn't keep business hours.
Customizable Plans: Tailor your therapy sessions to your needs.
Costs
Hold onto your wallets – this one ranges from $60 to $90/week, depending on the patient's preferences, location, and therapist availability. But hey, can you really put a price on mental wellness? By the way, the company offers six months of therapy at no cost for Ukrainians affected by the war.
Calm
Imagine yourself sitting in a cozy chair, wrapped in a warm blanket on a chilly evening, slowly sipping a cup of fragrant herbal tea, feeling relaxed and at ease. That's exactly how using the Calm app feels, it's a serene and calming experience that helps you unwind and destress. It's a sanctuary for your mind, packed with meditation sessions, sleep stories, and even breathing exercises to kick stress out the window.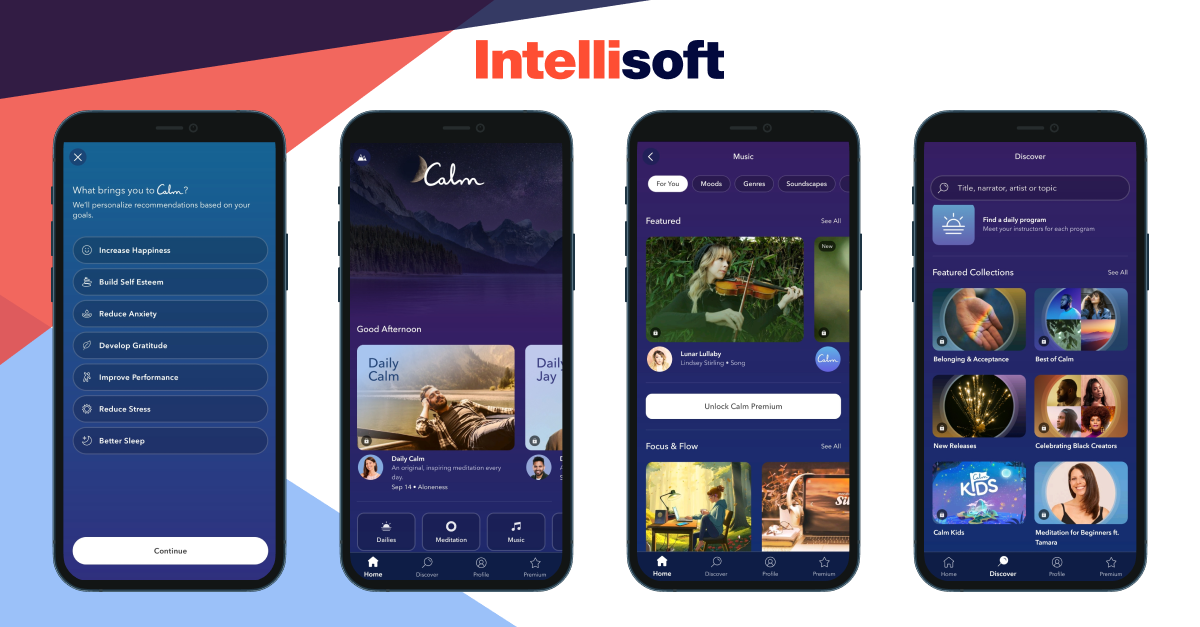 Features
Guided Meditations: From 3 minutes to 25, choose your meditative journey.
Sleep Stories: A place where you can listen to narrations by your favorite celebrities, such as Matthew McConaughey or Cillian Murphy.
Music: Different genres, moods, and soundscapes.
Movement and breathing exercises.
Masterclasses: Delve deep into topics like motivation, breaking bad habits, or improving focus.
Costs
It's free to download, a 7-day free trial, but for unlimited access, you're looking at $69.99/year or $399.99/lifetime.
Whether you're trying to get emotionally fit, need professional guidance, or just want to mellow out, these top-shelf mental health apps have got you covered. Choose wisely, and may your mental health game be forever on point!
Related readings:
Key Features of a Mental Health App
Designing a mental health app that sticks is a lot like building a Transformer. You need to pack in a lot of firepower, have the agility of a sports car, and the versatility of a multitool. From dashboards to gamification, let's dissect the essential organs that make up the body of a stellar mental health app.
Dashboard
Think of the dashboard as your app's mission control. One for the users, displaying all their goals, progress, and recent activities. Another for healthcare workers is to get a bird's eye view of the patient's progress and needs.
Sign Up Page
Nobody likes a tedious sign-up process. Make creating an account quick and painless but thorough enough to gather essential info. The more personalized the user profile, the more personalized the experience.
Goals Setting & Progress Tracking
What's a journey without a destination? Features for setting goals and tracking progress are like the GPS for your mental wellness odyssey.
Mood Tracking
Imagine having a mood ring that actually works! Mood tracking lets users log their emotional states and visualize trends over time.
Meditation Exercises
The ol' sit-and-breathe routine, but leveled up! This is your built-in Zen garden, providing mindfulness exercises to users.
Personalized Advice
One-size-fits-all is for socks, not mental health. The app should offer tailor-made advice based on user activity and progress.
Online Communities
Nothing says "You're not alone," like a forum full of strangers going through the same thing. Online communities can offer peer support, that's invaluable.
Gamification
Turn self-care into a game, and boom, you've got yourself an addiction in a good way. Points, badges, rewards, make it fun, and they'll come back for more.
Sharing of Files
From therapy worksheets to meal plans, the ability to share files adds an extra layer of convenience and comprehensiveness.
Notifications and Reminders
A nudge here, a ping there, and voila! The user is back on track. Never underestimate the power of a well-timed reminder.
Online Articles on Mental Health
Information is power. A library of well-curated articles can turn your app from a utility tool to a trusted resource.
Chatbox & Calls
Sometimes, texting "U ok?" just doesn't cut it. The option to message or video call brings the warmth of human connection into the digital realm.
Monitoring
Real-time data collection, such as location or physical activity, could offer nuanced insights into the user's state of mind.
Emergency Mental Health Support
Just like a fire extinguisher behind glass, an emergency support feature should be one touch away because you never know when you'll need it.
Multipurpose Platform
Above all, the app should be a jack of all trades, yet a master of each. Variety is the spice of life and, in this case, the elixir of mental well-being.
So there it is the anatomy of a rock-star mental health app. Whether you're a developer or a discerning user, keep an eye out for these features to ensure you're getting or giving the most comprehensive care possible.
Other Important Elements for Developing a Mental Health App
Let's not wrap up the discussion without diving into some additional but critical features that could elevate your mental health app from being just another utility to an essential tool for users. While the core features are integral, these additional elements ensure that the app functions seamlessly, prioritizing user experience and data security.
User-Friendly Interface
A straightforward, clean interface is essential for a mental health app. Users should be able to navigate easily through various features without getting confused or frustrated. The layout should be intuitive, eliminating the need for extensive instructions or a learning curve. A user-friendly design ensures that users can focus on what's most important: their mental health.
Data Analytics
Data analytics should be employed to provide tailored experiences to individual users. By analyzing metrics like usage patterns and behavioral tendencies, the app can offer personalized advice and recommendations. Customized experiences not only make the app more engaging but also more effective in addressing specific mental health needs.
Security is Not an Afterthought
Data security is particularly crucial in mental health apps, where sensitive personal information is stored. Strong encryption techniques, secure login methods, and transparent data usage policies must be in place to protect user data. Security isn't just a secondary consideration, it's a vital aspect of user trust and legal compliance.
These additional elements ensure that your mental health app isn't just functional but also secure, personalized, and easy to use. When developing or choosing a mental health app, paying attention to these areas can make a significant difference in its overall effectiveness and user satisfaction.
How to Develop Mental Health Application
Developing a mental health app is more than just coding and design. It's about making a meaningful impact in the lives of users. Every step, from the initial idea to the post-launch strategies, plays a pivotal role in determining its success. Let's take a look at the major steps of creating a top-notch mental health app.
Step 1. Ideation to Validation
All great apps start with a spark, an idea. But how do you know your idea holds water? Start by turning that vision into a concrete concept. Outline its features, benefits, and the problems it addresses. Once done, validate your concept. Seek feedback, conduct surveys, or even prototype it. This step ensures you're on the right path.
Step 2. Identifying the Target Audience
Knowing who your app is for is paramount. Dive deep into market research. Who faces the challenges your app aims to solve? Identify your core user base, their preferences, and how they interact with similar apps. With a clear audience in mind, you can tailor your app's features and design to resonate more powerfully.
Step 3. Assembling the Right Team
Behind every successful app is a team of skilled individuals. It's not just about technical prowess – it's about understanding the nuances of mental health. This is where IntelliSoft shines. Our team of expert mental health app developers combines tech expertise with a profound understanding of mental health needs. We're not just coders, we're enablers of wellness.
Step 4. Developing an MVP
Begin with a Minimum Viable Product (MVP). It's a simplified and streamlined version of your app stripped down to its essential features, offering basic functionality. It's a smart way to test the waters without going all-in. By launching an MVP, you get invaluable user feedback, which can guide further development, ensuring your final product is refined and laser-focused on user needs.
Step 5. Monitoring and Analyzing Performance
Once your app is out there, the journey isn't over. It's time to observe, learn, and evolve. Monitor user interactions, gather feedback, and understand usage patterns. This continuous analysis allows for iterative improvements, ensuring your app remains relevant and valuable.
Step 6. Launching Marketing Campaigns for Your App
Even the best apps need a nudge to gain visibility. Craft a compelling marketing campaign. Whether through social media promotions, partnerships, or influencer outreach, let the world know what your app offers and why it's a game-changer.
Step 7. Ensuring the Profitability of Your Mental Health App
At the end of the day, sustainability is key. Dive into unit economics. In the case of our mental health app, a single user can be considered a unit. Compare the customer's lifetime value to the cost of acquiring them. By ensuring profitability without compromising on value, your app doesn't just survive but thrives.
Creating a mental health app is a blend of tech, empathy, strategy, and business acumen. And with each step, you're one step closer to making a difference in the world of mental health.
Tech Stack for Creating a Custom Mental Health App
The soul of any successful app lies in its technology stack, the set of tools, frameworks, and libraries that make it all work. When developing a mental health app, your tech stack must not only be robust but also secure and efficient. Here's our suggested stack for creating a mental health app that's as strong on the inside as it is user-friendly on the outside.
Angular for the Front-end
Angular provides a powerful platform for building dynamic and responsive user interfaces. Its component-based architecture allows for reusability, making the development process more efficient. With features like two-way data binding, Angular ensures a seamless user experience.
Daily.co for Secured Video Calls
Telehealth is a significant part of any mental health app, and secure video calls are non-negotiable. Daily.co offers end-to-end encryption, ensuring that sensitive conversations remain private and secure.
Ionic for Developing a Hybrid Mobile App
Ionic enables you to develop high-quality, cross-platform mobile apps from a single codebase. This framework allows you to launch both Android and iOS apps simultaneously, thereby broadening your user base.
Node.js for the Back-end
Node.js is known for its high performance and scalability. It's ideal for building the back end of your mental health app, where processing speed and data handling are critical. Plus, its extensive library supports a wide range of functionalities.
Amazon S3 Bucket for the Messaging Feature
Text-based communication is another vital feature of mental health apps. Amazon S3 Bucket provides a reliable and scalable environment for developing a custom messaging feature, making sure that interactions are stored safely and can be retrieved when needed.
MongoDB for Secured Database
In a mental health app, data security is paramount. MongoDB offers robust encryption features to ensure that all user data is stored securely. Furthermore, its NoSQL architecture provides flexibility in handling different types of data.
Redis for Session Queues
For effective real-time processing, Redis can manage session queues with high performance and low latency. This is crucial for features like real-time chat or updating therapy session schedules.
Pusher for Push Notifications
Push notifications can serve as gentle nudges to engage users, but they should never expose sensitive data. Pusher helps you send secure, real-time push notifications, ensuring user confidentiality.
Kafka for Microservices
In a complex app, different services need to communicate effectively. Kafka serves as a reliable message broker, allowing seamless data flow between microservices, thereby ensuring that all features of your app work in harmony.
Selecting the right technologies and frameworks is crucial for your mental health app's success. The mentioned tools not only offer robust functionalities but also come with the assurance of security and scalability.
Best Practices for Designing a Mental Health App
Design isn't just about what looks good – it's about how it makes users feel, especially when we're talking about mental health apps. Thoughtful design choices can elevate user engagement and even the efficacy of the app. Below are some design practices to keep in mind while venturing into the realm of mental health applications.
When it comes to mental health, details matter. Every component should be meticulously planned, from button placement to font readability. A well-designed interface can genuinely make a difference in a user's journey to improved mental well-being.
User Experience (UX)
The user experience should be calming and intuitive to ensure that navigating the app does not add stress. Streamlined navigation, easy-to-find features, and an intuitive layout are key to a soothing user experience.
Colors
The tones of colors we perceive through our eyes can deeply influence our feelings and psychological well-being. For example, blues and greens are generally considered calming, while red might induce stress. Using the right color palette can subtly support the app's purpose of promoting mental well-being.
Pop-Ups and Notifications
Imagine being in the middle of a calming breathing exercise, and suddenly, a pop-up ad loudly disrupts your zen. This is a user experience no-no. Avoid sudden pop-ups and loud notifications that can jolt the user out of their tranquil state.
The Role of Sound
Sound can also play an essential role in mental health apps. Whether it's calming music for meditation or motivational affirmations for a positivity boost, ensure the sounds are non-intrusive and truly enhance the experience.
Quick Load Times
Slow load times can frustrate users, discouraging them from using the app again. Quick load times not only improve user engagement but also contribute to an overall smoother experience, which is critical for an app focusing on mental health.
Remember, designing a mental health app is not just about functionality but also about form. The design should serve to elevate the user's emotional and mental state, making their journey toward better mental health as smooth as possible.
Team Composition for Mental Health Application Development
Developing a comprehensive and effective mental health app requires collaboration and teamwork, as it involves various aspects such as research, design, development, testing, and implementation. It requires a team of professionals, each contributing specialized skills to bring the project from ideation to reality. Let's take a closer look at the essential roles within a development team, particularly when focused on creating an app in the mental health space.
Business Analyst (BA)
The business analyst is the bridge between the client's needs and the solutions provided by the tech team. They evaluate business requirements, identify potential bottlenecks, and outline the best path for development. The BA ensures that the app is not just technically sound but also aligned with market needs and user preferences.
Project Manager (PM)
The project manager is the orchestra conductor, ensuring all team members are in sync and that the project is on time and within budget. They assign tasks, monitor progress, and are the go-to person for any issues or challenges that arise during development.
System Architect
Think of the system architect as the master planner of the project. They design the technical architecture and make key decisions on technologies, frameworks, and platforms to be used. Their role is critical in ensuring that the app is scalable, maintainable, and robust.
Developers
The developers bring the project to life, coding the features and functionalities outlined in the project specs. A team typically consists of front-end and back-end developers, often specializing in various technologies relevant to the project.
UI/UX Designers
While the developers work on the logic and structure, UI/UX designers focus on the user experience and visual aspects of the app. They make sure the app is not just usable but also visually appealing and emotionally resonant, particularly crucial in a mental health app.
QA. Managers
Quality assurance (QA) managers ensure that the app is free from bugs and glitches. They run multiple tests on different devices and scenarios to make sure the app functions as expected. They are the last line of defense before the app goes live, ensuring it meets all quality benchmarks.
IntelliSoft can quickly assemble a dedicated team with these skill sets for your project, which is vital for the successful development of your mental health app. Each member has a unique set of skills, ensuring the end product is not just functional but also tailored to meet the needs of its target audience.
HIPAA, PHIPA, and GDPR Compliance
In the world of mental health apps, user trust is paramount. One breach, one leak, one mishap, and that trust is shattered. This is why understanding and adhering to international privacy and data protection regulations, such as HIPAA, PHIPA, and GDPR, is critical for any app handling sensitive health information.
HIPAA – Health Insurance Portability and Accountability Act
Originating from the US, HIPAA aims to safeguard health records and establish industry standards. Any app collecting, storing, or transmitting health data of US citizens must be HIPAA compliant. This means having encrypted data transfers, secure storage solutions, and restricted access controls. Failure to ensure compliance with these regulations may lead to substantial penalties and a damaged reputation.
PHIPA – Personal Health Information Protection Act
Canada's answer to health data protection is the PHIPA. For apps catering to a Canadian audience, understanding the nuances of PHIPA is essential. Similar to HIPAA, PHIPA mandates the protection of personal health information, emphasizing individual consent and the right to access one's own health data. The legislation sets out specific requirements for the collection, use, and disclosure of personal health information, focusing on the principle that individuals should retain control over their own health data.
GDPR – General Data Protection Regulation
GDPR is a comprehensive data protection law enacted by the European Union, but its effects are felt worldwide. Any app that deals with EU citizens' data, regardless of where the app itself is based, must comply with GDPR regulations. This involves ensuring explicit user consent, the right to data deletion ("right to be forgotten"), and transparent data usage policies, among other stringent requirements. While not exclusively focused on health data, the regulations are extremely relevant for mental health apps that may cater to the EU audience.
For any mental health app developer, understanding these regulations is not just a matter of legal adherence but also about building and maintaining user trust. By showcasing compliance with these stringent standards, apps can reassure users that their sensitive health information is in safe, capable hands.
Cost of Creating a Mental Health App
In the real world, good intentions always meet the pavement of financial reality. Creating a mental health app that genuinely helps people is noble, but it also comes with a price tag. So, what are we talking about in terms of cost? In general, developing a comprehensive mental health app can start from around $80,000 and go up from there. Yep, you read that correctly. Before you make wrong conclusions, let's break down where that money typically goes.
Design and Development
The biggest chunk of your budget will undoubtedly go towards the design and development phase. This includes costs for UI/UX designers, front-end and back-end developers, and perhaps even machine learning experts if your app uses AI for personalized advice. These professionals don't come cheap, and their expertise is critical for the success of your app. You can reduce these costs by hiring an outsourcing software development company located in parts of the world with lower costs of living but with a high IT proficiency level, such as Ukraine.
Tech Stack
The specific technologies used can also add to the cost. For example, using Angular for the front end or MongoDB for a secured database may come with licensing fees or higher developer costs due to the specialization of the technology.
Compliance and Security
Ensuring HIPAA, PHIPA, or GDPR compliance is a non-negotiable expense. Securing the app's data environment, encrypting sensitive information, and ongoing security audits can eat into your budget, but they're necessary to build user trust and avoid legal repercussions.
Maintenance and Updates
Once your app is live, the work isn't over. Regular updates, bug fixes, and perhaps the addition of new features will require an ongoing investment. Don't forget to budget for these not-so-hidden costs.
Marketing and User Acquisition
Unless you've built the Field of Dreams, users won't just come. Marketing and user acquisition costs can vary widely, but expect to allocate a significant portion of your budget here, especially in the highly competitive mental health app market.
Although the initial cost may seem high at first glance, it's important to view it as an investment in a product that has the potential to not only generate revenue but also significantly change the lives of many individuals for the better.
How to Create a Mental Health App with IntelliSoft
So, you're revved up about the possibility of creating a mental health app that could potentially change lives. Awesome! But maybe you're a tad overwhelmed with the technical jargon and the roadmap ahead. No worries! Let's put those anxieties to rest. Here's how to make your mental health app dream come true with IntelliSoft.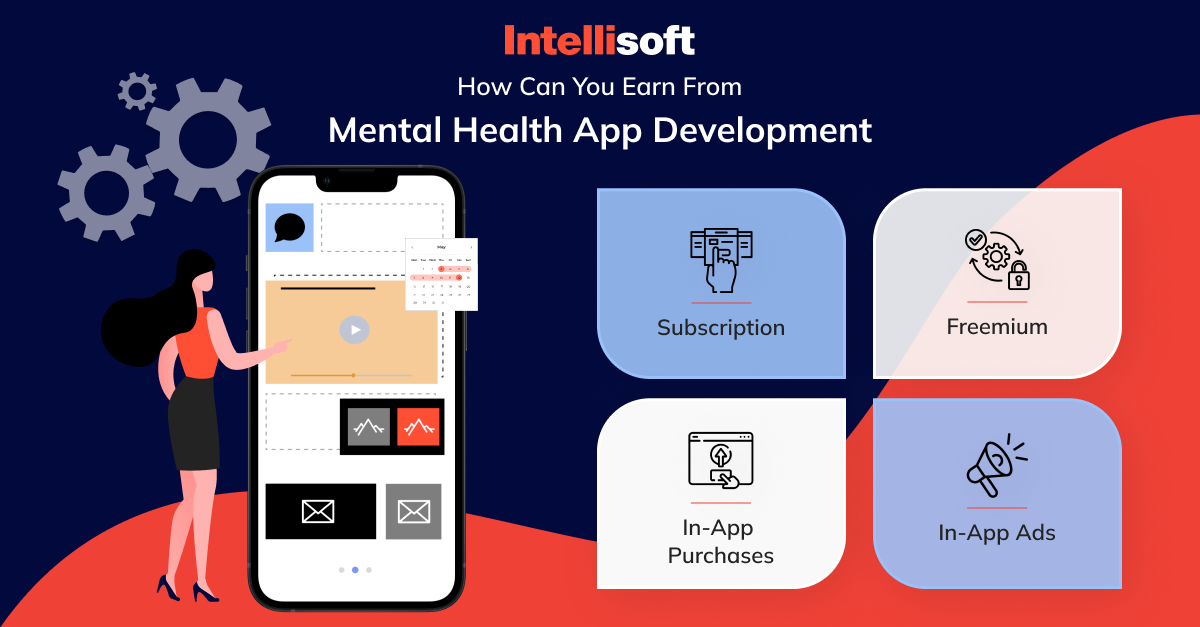 Why Partner with IntelliSoft?
Sure, there are other fish in the development sea, but why settle for guppies when you can have a shark? IntelliSoft is no rookie in the field of health applications. With more than 16 years of experience in the healthcare industry, a team of 50+ specialized engineers, and a proven track record in creating successful healthcare projects, we know what we're doing. We've been around the block long enough to understand the nuances that go into creating an app that's not just functional but transformative.
Our Development Process
Buckle up because we're about to take you on a smooth ride through our streamlined development process.
Collaborating with Mental Health Professionals
No one knows the mental health landscape better than the experts who work in it every day. We kick off our projects by collaborating with mental health professionals to ensure that our apps address real-world needs with effective solutions.
Outlining App Functionalities and Design Wireframes
The blueprint stage is where your vision starts taking shape. Our experienced team will work in close collaboration with you to expertly plan and design your app's features and layout, ensuring a flawless user experience. Think of it as the digital equivalent of architectural blueprints.
Utilizing Agile Development Methodology
Change is the only constant, especially in technology. That's why we use Agile methodologies for more efficient development and updates. The flexibility that it provides enables us to promptly adjust to changes while keeping the primary objectives of the project in focus.
Performing Thorough Testing and Quality Assurance Processes
We're not fans of the phrase, "Oops, let's fix that later." Before your app sees the light of day, it undergoes rigorous testing to ensure that every feature works as intended. Our QA managers won't rest until every bug is squashed and every function performs flawlessly.
In short, if you're looking to create a mental health app that checks all the boxes for user engagement, compliance, and overall quality, IntelliSoft is your go-to partner. Let's embark on this meaningful journey together and make a tangible impact on mental well-being.
Conclusion
Well, we've made it to the finish line, and what a ride it's been! By now, you should have a rock-solid understanding of the ins and outs of developing a mental health app. From identifying the need to selecting the right tech stack and complying with legal norms, we've covered the ABCs and XYZs of this crucial endeavor.
But hey, we get it. It's a lot to take in, and if you're feeling like a deer caught in the headlights, don't sweat it. No need to brave the complexities of mental health applications development on your own. This is the part where you tap into a reliable, seasoned partner to bring your vision to life, and yes, we're looking right at you with a wink and a nod.
IntelliSoft is not just another software company, we're a partner committed to your success. With 16+ years of experience and a proven track record in healthcare software solutions, IntelliSoft has the expertise you're looking for. Our team of engineers and designers will work closely with you every step of the way, making sure your app not only meets but exceeds all expectations. Flexible team structure? Check. Long-term partnerships? Absolutely. Cutting-edge tech stack? Oh, you betcha. With IntelliSoft, you're not just developing an app, you're crafting a solution that can genuinely improve lives.
So let's team up and make mental wellness accessible to everyone, shall we? Feel free to reach out to us to discuss how IntelliSoft's mobile app development services can turn your dream project into a lifesaving reality.
FAQ