You wander into your favorite retail store, and – bam! In a few moments, you're in possession of that shirt you've been eyeing online and that coffee maker you didn't know you needed, but somehow it was on discount at the same time your old one started to misbehave or look shabby. It feels like magic, right? But this is not some mystical mumbo jumbo, but rather the application of cutting-edge data science, machine learning, and artificial intelligence that's transforming the retail landscape right before our eyes.
Welcome to the rabbit hole of predictive analytics in retail, the secret weapon behind the scenes that's transforming customer experiences while boosting your return on investment (ROI). I bet you're wondering, "What does it have to do with my business?" Well, if you've ever been curious about the blend of technology and intuition, that somehow always suggests the perfect product at just the right moment, you're in the right place.
At IntelliSoft, we pride ourselves on being not just observers but active players in this data revolution. With our hands firmly on the pulse of the latest retail data analytics technologies, we've assisted numerous businesses in turning their data into actionable insights, driving profitability, and offering customers an unrivaled shopping experience.
This article aims to uncover the intriguing and ever-evolving world of predictive analytics in the retail industry. We're going to break down complex concepts, delve into real-life applications, and reveal the reasons why this field is so integral to the future of retail.
This is an expedition into a domain where technology and intuition intersect, where every data point is a piece of a larger puzzle, and where the promise of improved customer experiences and boosted ROI awaits discovery.
So, if you're ready to unlock the hidden power of your data and truly understand the role predictive analytics plays in transforming retail, let's dive in.
Understanding Predictive Analytics in Retail
Let's kick things off with a seemingly simple question: What is predictive analytics in retail? Imagine you're a fortune teller, but instead of crystal balls or tarot cards, your tools are data, statistical algorithms, and machine learning techniques. Your task? To gaze into the digital future and predict what customers will want, how they will behave, and what trends will impact your business. That's predictive analytics in a nutshell.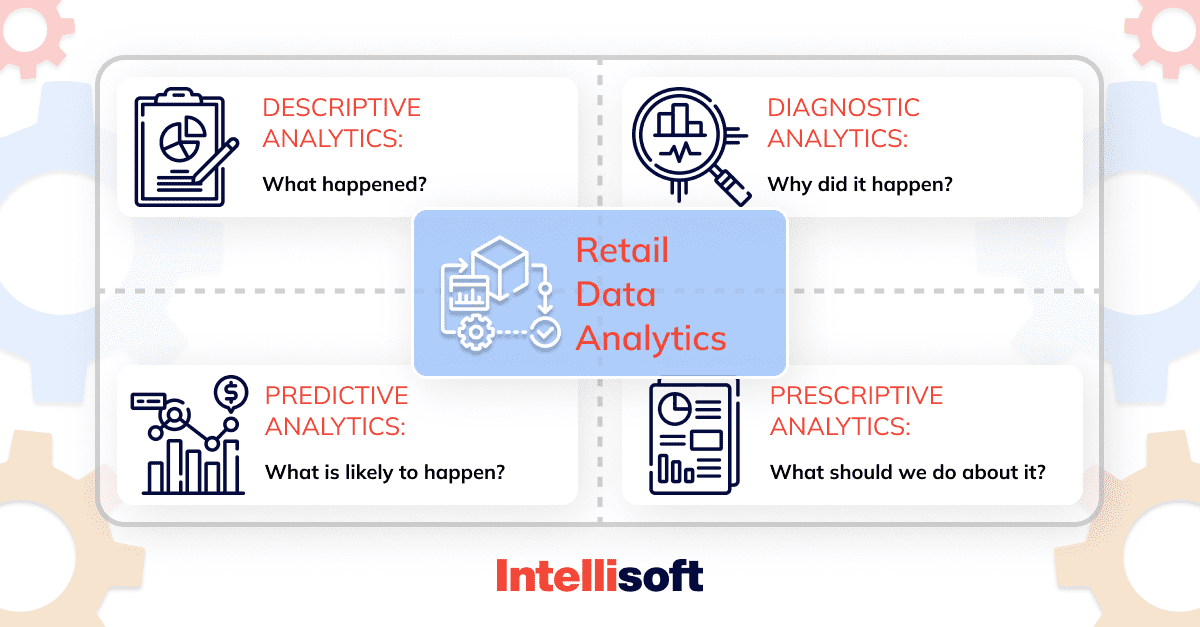 Unlike traditional analysis, which examines past events, predictive analytics delves deeper, harnessing the power of data to anticipate the future. It's like driving your car using the rearview mirror versus the windshield – the latter gives you a much better idea of what lies ahead. But don't get us wrong – this isn't about randomly predicting next week's lotto numbers. It's about using the treasure trove of collected data to create evidence-based, statistical predictions that provide concrete guidance for retail businesses.
In the retail world, predictive analytics turns copious amounts of data into a crystal-clear roadmap. Think customer data, transaction data, online reviews, social media interactions, and much more. All of these, when combined and analyzed, can offer a goldmine of insights into future customer behavior and market trends.
Game-changer for Retail
The retail industry is a constantly evolving beast, driven by ever-changing consumer needs and preferences. Trying to be proactive and anticipate what might happen next in this dynamic landscape can feel a bit like playing a game of 4D chess while juggling flaming swords – not for the faint-hearted, indeed!
And here's where predictive analytics shines. It's like having a secret weapon that offers invaluable insights into the future, transforming the challenge of uncertainty into an opportunity for growth. But the benefits don't just stop there. Let's delve into a few more ways predictive analytics is revolutionizing retail.
Personalized Customer Experiences
Every retail store owner knows this mantra: "Customer is king." But with predictive analytics, we're pushing that to "The customer is the king, and we know exactly what the king wants." By analyzing customer buying habits, preferences, and behavior, you can offer personalized experiences that resonate with individual customers.
Imagine you're a shopper who loves vintage fashion. Wouldn't it be a delightful surprise to receive personalized product recommendations, discounts, and notifications about the latest vintage collection from your favorite store? That's predictive analytics at work – it's like having a personal shopping assistant who knows you better than you know yourself!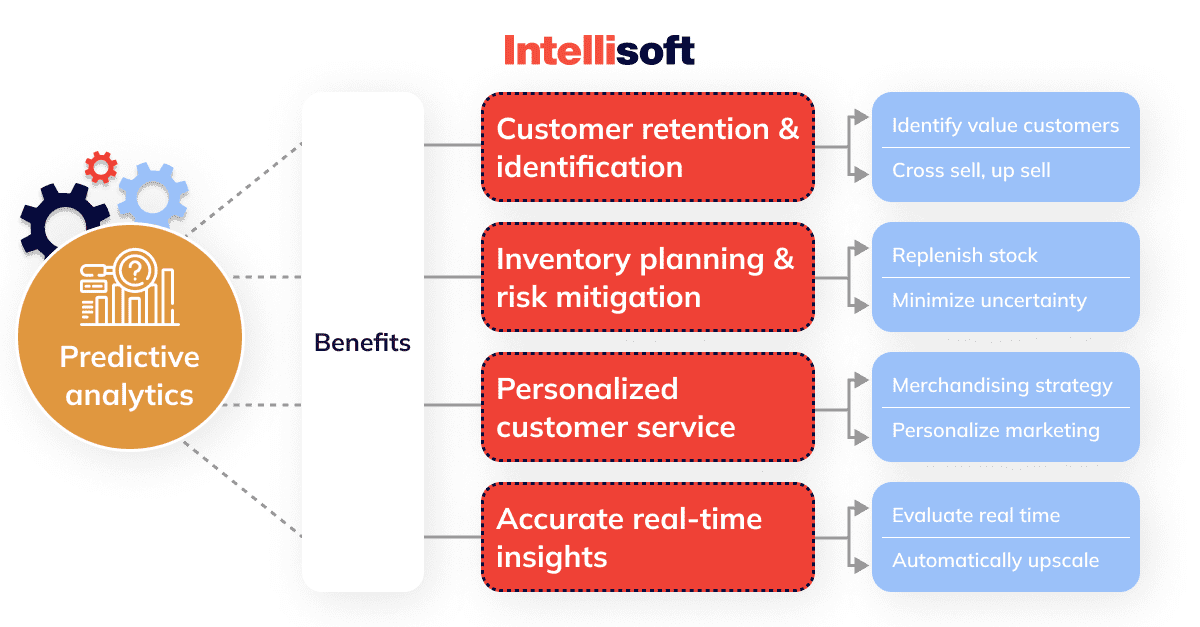 Optimized Operations
On the business side of things, predictive analytics can help optimize operations in ways you may have never imagined. For instance, by predicting sales trends, you can efficiently manage your inventory, ensuring that you have just the right amount of stock to meet customer demand. This not only prevents stock-outs and overstocks but also leads to significant cost savings.
Or consider workforce management. Predictive analytics can help forecast the busiest hours or days, allowing businesses to optimize staff schedules. The result? Enhanced productivity and improved customer service. It's like having a crystal ball that guides you to make the right decisions at the right time!
Increased ROI
At the end of the day, every retail business is driven by one primary goal: increasing return on investment. Predictive analytics has the power to anticipate market trends and customer behavior and allows you to make proactive, data-driven decisions that significantly boost ROI.
Utilizing predictive analytics is crucial for determining the optimal price point of your product, pinpointing areas of inefficiency and waste, and identifying effective marketing strategies. These insights can significantly contribute to maximizing profits while minimizing costs.
In short, predictive analytics for retail is like your best friend who always has your back – offering personalized customer experiences, optimizing operations, and helping you rake in those profits.
Enhancing Customer Service and In-Store Experience
Ever walked into a store or opened an e-commerce website and felt like every product, every offer, and even the music was tailored just for you? Like you had stepped into a retail wonderland, where your preferences were the guiding force? Sounds too good to be true? Well, welcome to the brave new world of in-store personalization powered by predictive analytics.
The Power of Personalization
In this era of retail, personalization is the name of the game. Today's discerning customers crave shopping experiences that are tailored to their tastes and preferences. And that's precisely where predictive analytics steps in, weaving its magic to create a unique shopping experience for each customer.
Remember our metaphor of predictive analytics being akin to a fortune teller? Now imagine this fortune teller could anticipate your needs before you even knew you had them. What if your favorite store could predict you're likely to need a new pair of running shoes soon because your current pair is nearing their end of life? Or that you have a penchant for organic skincare products and notify you whenever a new line hits the shelves? That's predictive analytics hard at work, turning your shopping experience from mundane to memorable.
Predictive analytics takes personalization a step further by not only tailoring products and offers to individual preferences but also creating more engaging and satisfying shopping experiences. It's the kind of service that makes customers feel seen, understood, and valued – the ultimate goal for any retail business.
Retail Customer Analytics: Better Product Recommendations
In the world of retail, there's a fine line between making a sale and losing a customer to the competition. That's why product recommendations are so crucial. They can be the difference between a full shopping cart and an abandoned one.
Predictive analytics takes the art of product recommendations to a whole new level. By analyzing a customer's past purchases, browsing history, and social media interactions, these advanced tools can suggest products that a customer is most likely to be interested in.
Let's take it a step further with a technique known as market basket analysis. Ever noticed how when you buy a new smartphone online, the website often suggests a compatible phone case or screen protector? That's market basket analysis in action – it recommends items that typically "go together" with a customer's chosen product. It's like your very own personal shopper, offering advice and suggestions that enhance your shopping experience.
The outcome? Increased customer satisfaction and a boost in sales – a win-win situation for both retailers and shoppers.
Unraveling Customer Journeys with Analytics
Shopping is not just about purchasing a product – it's a journey, a series of interactions that a customer has with a brand. Predictive analytics enables you to unravel this journey, mapping the customer's path to purchase.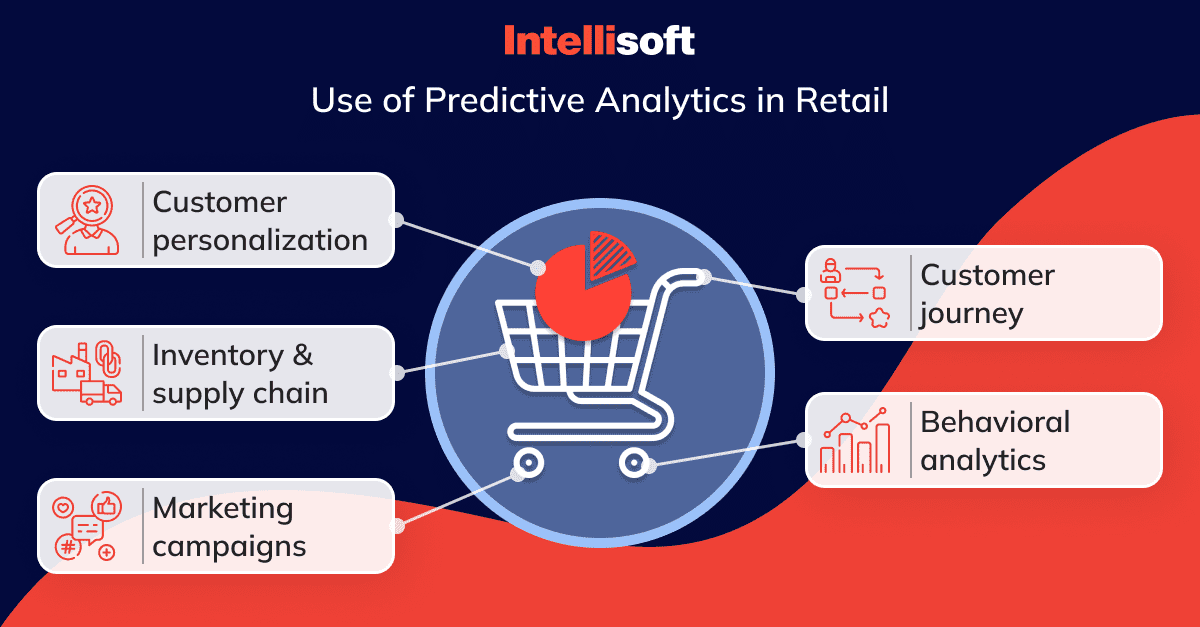 Imagine having a bird's eye view of your customers' journeys. You see how they discover your brand, which channels they use to interact with you, which products catch their attention, and what finally convinces them to hit that 'purchase' button. This level of understanding is incredibly powerful. It can highlight areas for improvement in your customer service, unveil opportunities for engagement, and ultimately enhance the overall shopping experience.
In today's retail landscape, it's not just about selling products – it's about creating memorable experiences. And predictive analytics is the secret ingredient that can transform your store from a mere shopping destination to an exciting customer journey. By leveraging the power of personalization, offering better product recommendations and understanding the customer journey, you can elevate your game, increase customer loyalty, and, yes, boost that all-important bottom line.
Related readings:
Operational Efficiency and Supply Chain Management
It's time to turn our spotlight onto another key area where predictive analytics flexes its muscles – operational efficiency and supply chain management. This is where the rubber hits the road, where your meticulously designed customer experiences must be underpinned by a seamless, efficient operation.
Predictive Analytics Tools for Streamlined Inventory Management
Imagine this scenario. A customer visits your store, excited to buy a product they've been eyeing for a while. They've seen the product online, checked its availability on the shelves, and here they are, ready to make the purchase. But alas, the product is out of stock! The customer leaves, disappointed, and you've just lost a sale.
Looking For Data Analytics Experts?
Hire Us
This is where predictive analytics can be a game-changer. Specialized predictive analytics software can help forecast demand and optimize inventory levels, ensuring you're stocking the right products at the right time in the right stores. Predictive analytics is like a well-oiled machine, churning out data-driven insights that keep your inventory management humming along, avoiding both overstocks and stock-outs.
But that's not all. Predictive analytics can also help with better staff scheduling. For example, if the data indicates that your store gets a surge of customers during lunch hours on weekdays, you can ensure you have enough staff during those hours to provide excellent customer service.
Furthermore, these tools can be a goldmine when it comes to collecting data for business expansion. With accurate, reliable predictions about which products are likely to do well in different locations or at different times of the year, you can make informed decisions about where and when to open new stores.
Optimizing Trade Promotions with Analytics
Who doesn't love a good deal? That's right, everyone. And that's why trade promotions are such a crucial part of the retail strategy. However, executing a successful trade promotion isn't just about slashing prices and hoping for the best. It's about understanding your customers, anticipating their needs, and offering them the right deal at the right time. Sounds challenging? Well, predictive analytics is here to help.
By boosting the effectiveness of trade promotions, predictive analytics can help you maximize your marketing dollars. It can forecast the potential impact of different promotional strategies, helping you identify which promotions are likely to resonate most with your customers and drive sales.
Consider this example: Your predictive analytics tool has identified a segment of customers who are health-conscious and regularly buy organic products. Based on this insight, you decide to run a promotion on your range of organic produce. The result? A surge in sales from your targeted customers, higher overall customer satisfaction, and a successful promotion that delivered a higher return on your marketing investment.
Moreover, predictive analytics can even help personalize coupons based on individual customer's shopping habits. For instance, if a customer frequently buys a certain brand of coffee, you can send them a coupon for that exact product. Now, that's what we call putting your customer data to good use!
Predictive retail store analytics isn't just about enhancing the customer experience – it's also about improving operational efficiency, streamlining inventory management, and optimizing trade promotions. Whether you're looking to avoid the nightmare of out-of-stock scenarios or want to turbo-charge your promotional strategy, predictive analytics is the super-tool that can help you achieve your goals.
Anticipating Change with Predictive Pricing
In the world of retail, price is one of the most critical factors influencing customer decisions. But pricing isn't a one-size-fits-all game – it's a dynamic and ever-changing field that must adapt to market conditions, consumer trends, and the competitive landscape. This is where predictive pricing comes into play, employing the power of predictive analytics to anticipate changes and maximize profits while maintaining customer satisfaction.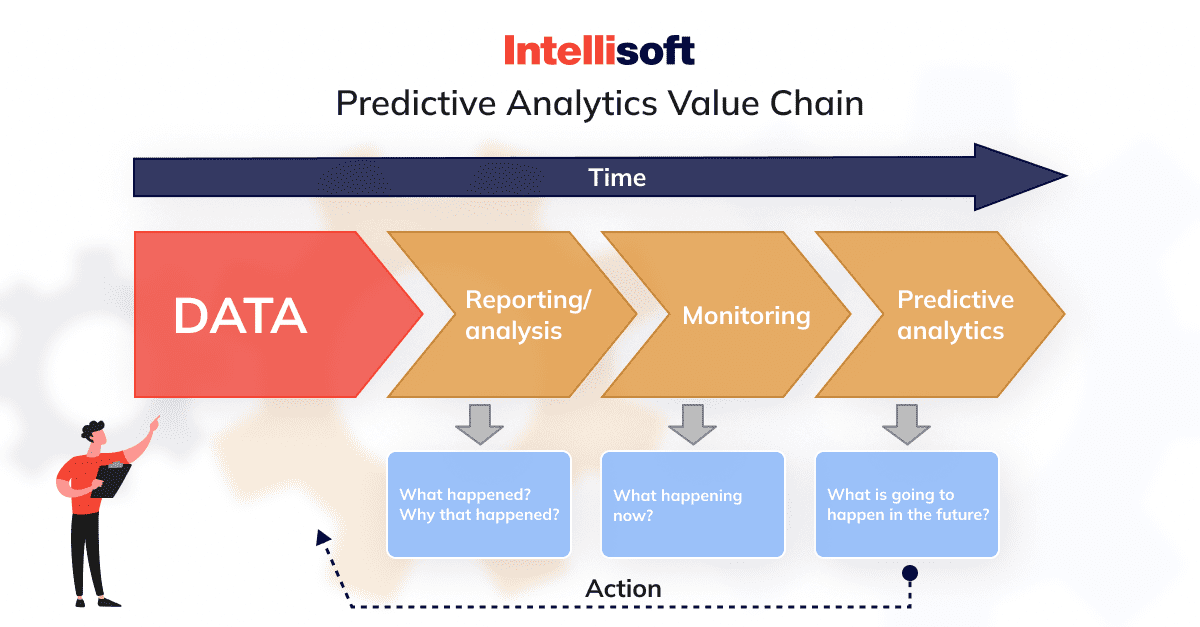 The Role of Dynamic Pricing
You can compare surfing with riding the waves of pricing in the vast ocean of retail. Like an experienced surfer, you have to adjust your strategy with every wave, ready to take advantage of the next big one. This is dynamic pricing – a strategy that involves adjusting prices based on various factors, such as demand, time, and competition.
But how can you, as a retailer, dance this intricate dance effectively? The answer lies in predictive analytics. Dynamic pricing isn't about making random price changes – it's about making informed decisions based on data-driven insights. And predictive analytics provides the insights needed to make those decisions.
Anticipating Price Changes
Predictive analytics shines bright when it comes to anticipating price changes. By analyzing data on demand, competitor pricing, and customer buying patterns, predictive analytics can make a prognosis on how prices should change in the future. Like a seasoned weather forecaster, it looks at patterns in the data to predict what's on the horizon.
For instance, if your analytics tool identifies a rising demand for a product, you can anticipate that its price might go up. Similarly, if the tool spots a decrease in demand, you can prepare for a possible price drop. By being proactive and planning your next steps, you can optimize your pricing strategy and maximize profits.
Furthermore, predictive analytics can also give you insights into your competitors' pricing strategies. If your tool identifies a trend in your competitors' prices, you could adjust yours accordingly to stay competitive.
Maximizing Profits and Maintaining Customer Satisfaction
It's a delicate balancing act – maximizing profits without compromising on customer satisfaction. Set your prices too high, and you risk losing customers. Set them too low, and you might be leaving money on the table. But predictive analytics can help strike that perfect balance. By understanding the price sensitivity of your customers, you can adjust prices to levels that maximize profits while keeping customers happy.
Consider this: Your analytics tool identifies a segment of customers who show high brand loyalty and less price sensitivity. You could potentially increase prices for this segment without affecting their purchase behavior, thereby maximizing profits.
In contrast, for price-sensitive customers, predictive analytics can help identify the perfect price point that maximizes their purchases and business profits. The result? A win-win situation for both you and your customers.
Predictive pricing harnesses the power of predictive analytics to make pricing a dynamic, data-driven process that not only maximizes profits, but also enhances customer satisfaction.
The Impact of Predictive Analytics on ROI
The power of predictive analytics in retail isn't just an abstract concept or a trend that's 'good to have'. It's a tangible force, a veritable game-changer with demonstrable results. How, you ask? The magic is in its impact on the return on investment. Let's look through real-world predictive analytics examples and highlight how predictive analytics can boost your retail ROI.
Case Studies: Retail Predictive Analytics Examples
Ever wondered why some retail giants like Amazon and Walmart seem to have an uncanny understanding of what you want, often before you even realize it yourself? Their secret weapon is predictive analytics.
Below we gathered the most prominent examples of how retail industry leaders leverage this advanced technology.
Amazon
Consider Amazon, the world's largest online retailer. Amazon collects vast amounts of data on customer behavior, from browsing history to past purchases. This data is then fed into clustering algorithms to segment customers into different clusters. What does this mean? Picture a huge high school reunion. Instead of treating everyone as an undifferentiated mass, you would naturally group people based on their interests, like the football team, the theater enthusiasts, and the chess club. That's what Amazon does with its customers.
Once the customers are segmented into different clusters, Amazon can then target specific promotions to each group. It's like speaking directly to theater enthusiasts about the latest Broadway sensation or recommending the perfect chess set to the chess club. The result? Highly personalized promotions that resonate with customers, leading to increased sales and customer satisfaction.
Walmart
Another excellent example is Walmart. The retail giant uses a predictive analytics solution named Inkiru, which incorporates machine learning technologies to automatically enhance the accuracy of algorithms. Picture a self-learning robot that gets better with every task it performs – that's what Inkiru does with data.
Inkiru can integrate with diverse external and internal data sources, providing a comprehensive view of the retail landscape. This holistic perspective allows Walmart to make data-driven decisions that optimize operations, enhance customer service, and boost sales.
As we can clearly see from these compelling retail examples, predictive analytics has the power to revolutionize your business and become that competitive advantage you were looking for.
Retail Sales Analysis: Boosting ROI
How does all of this translate into improved ROI? It's quite straightforward when you break it down. By driving sales through personalized promotions and product recommendations, predictive analytics directly boosts revenue. But that's just one side of the predictive ROI coin.
On the flip side, predictive analytics helps reduce operational costs. How? By streamlining inventory management, optimizing staff scheduling, and enhancing supply chain efficiency, predictive analytics helps you run a leaner, more cost-effective operation.
Finally, predictive analytics also enhances marketing efficiency. Through techniques like market basket analysis and customer segmentation, predictive analytics ensures that your marketing efforts are targeted, relevant, and effective. No more shooting in the dark or wasting resources on ineffective campaigns.
Put all these together, and what you have is a powerful tool that can substantially increase your ROI. By driving sales, reducing operational costs, and enhancing marketing efficiency, predictive analytics can lead to increased profits and a better return on investment. It's like a magic formula that transforms raw data into gold – a formula that every retailer should be eager to embrace.
Overcoming Challenges and Looking Ahead
Predictive analytics in retail, as powerful as it is, isn't without its challenges. But every challenge presents an opportunity for growth and innovation. As we look forward into the future, it's important to acknowledge these roadblocks, understand their implications, and explore strategies to overcome them.
Data Quality
One of the key challenges in implementing predictive analytics in retail is data quality. Imagine trying to bake a cake with spoiled ingredients – no matter how great your recipe or baking skills, the result won't be appetizing. The same principle applies to data. If the data you're feeding into your predictive analytics algorithms is inaccurate, incomplete, or outdated, the insights you glean won't be reliable.
To overcome this challenge, you need to invest in data management and data cleaning processes. Tools that automatically cleanse, standardize, and enrich data can go a long way in ensuring that your data is of high quality. Also, adopting a culture of data governance across the organization can help ensure that data quality is everyone's responsibility.
Skill Gaps
Predictive analytics isn't a plug-and-play solution that magically delivers insights. It requires a certain level of expertise in data science and analytics. To leverage predictive analytics effectively, consider investing in training and developing their teams or hiring the right talent. Another great option, which is also the most cost-effective one, is partnering with an outsourced team of data analytics specialists like IntelliSoft.
Privacy Concerns
And then, there's the elephant in the room: privacy concerns. With increased data collection comes increased responsibility. Retailers must be vigilant about protecting customer data and ensuring that their predictive analytics practices comply with all relevant privacy regulations.
Future of Retail Predictive Analysis
While these challenges may seem daunting, the future of retail predictive analytics is still bright. In fact, it's almost blinding in its promise.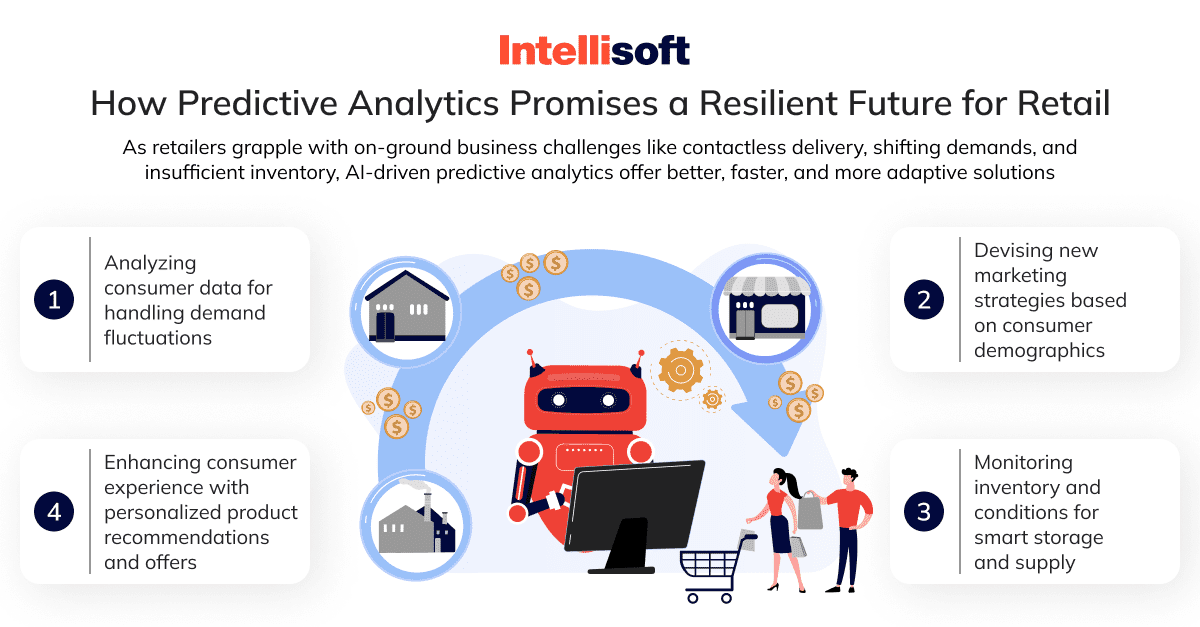 Increased personalization is one of the major trends on the horizon. As predictive analytics becomes more sophisticated, so too does its ability to provide personalized experiences. In the future, retail experiences will be so tailored to individual preferences and needs that shopping will feel like interacting with a personal assistant who knows you inside out.
AI integration is another promising development. Predictive analytics and AI are a match made in retail heaven. AI's ability to learn and adapt makes it a perfect tool for enhancing the accuracy and relevance of predictive insights. Moreover, as AI continues to evolve, it will become even more integral to predictive analytics, driving deeper insights and creating more efficient retail operations.
Lastly, the future of retail predictive analytics will see a strong focus on privacy. As privacy concerns continue to mount, retailers will have to prioritize data protection in their predictive analytics strategies. Transparency, control, and security will become even more important in how businesses collect, store, and use customer data.
The road ahead for retail predictive analytics is filled with exciting opportunities. By addressing challenges head-on and embracing new trends, you can utilize the power of predictive analytics to drive growth, enhance customer experiences, and stay ahead of the competition. The future is here, and it's predictably brilliant.
Conclusion
As you can see, predictive analytics in retail isn't just a fad or a buzzword – it's a game-changer for many aspects of your business. It's a forward-thinking advisor ready to guide your every decision, and a secret weapon to navigate the challenging landscape of modern retail.
We've explored the realm of predictive analytics, from understanding its role in the retail industry to its potential challenges and future directions. We've danced around personalized customer experiences, peeked into streamlined operations, and discussed strategies for boosting ROI. You've seen real-life predictive analytics examples and how they can be instrumental in building retail giants. But, all of these insights and opportunities are just the tip of the retail iceberg. The true depth and potential of predictive analytics can only be unlocked when you dive right in.
Here at IntelliSoft, we don't just talk the talk – we walk the walk. With years of experience and a dedicated team of data science wizards, we're in the business of harnessing the power of data to drive tangible results. We know that every retail business is unique, and that's why we offer tailored predictive analytics solutions that serve your specific needs and fit your budget.
You can always contact us to learn more about our cutting-edge tools and technologies that will help you unravel the mysteries of your data, empower you with actionable insights, and propel your business toward a future where growth and customer satisfaction are not just goals, but a way of life.

About

Kosta Mitrofanskiy

I have 25 years of hands-on experience in the IT and software development industry. During this period, I helped 50+ companies to gain a technological edge across different industries. I can help you with dedicated teams, hiring stand-alone developers, developing a product design and MVP for your healthcare, logistics, or IoT projects. If you have questions concerning our cooperation or need an NDA to sign, contact info@intellisoftware.net.