Welcome to our in-depth exploration into the captivating world of applying data science in the pharmaceutical industry. This riveting journey will whisk you through the bustling boulevards of big data pharma analytics across the sprawling landscapes of the industry, and come to a crossroads where the two worlds meet.
We at IntelliSoft have extensive experience in the field to produce a harmonious blend of data science, AI, and machine learning. We've been there, done that, and achieved impressive results in multiple industries, including healthcare, IoT, EdTech, and more. Our track record demonstrates that we have assisted numerous businesses in navigating the winding paths of data analytics.
So sit back, grab a snack, and hopefully, you'll learn something new and leave with a pocketful of insights that will change your business for the better.
Introduction to Data Analytics
We'll start our exploration by setting a solid foundation and delving deeper into the concept and significance of data analytics.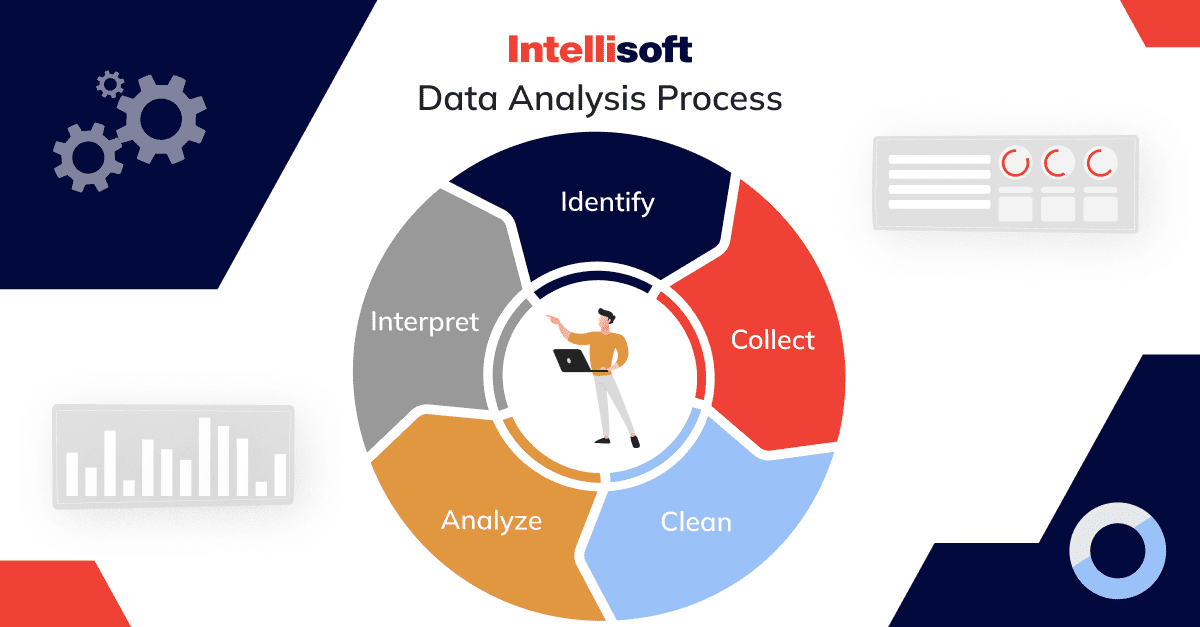 What is Data Analytics?
Data analytics is a sophisticated process that uses a multitude of techniques to reveal meaningful patterns within raw information. It's a systematic, scientific approach that includes examining, cleansing, transforming, and modeling data to obtain critical insights. In essence, it takes raw, unrefined information, and like a craftsman, polishes it into a thing of value.
Imagine data as thousands of pieces of a jigsaw puzzle. Each piece on its own doesn't tell you much, but when you put them together, they create a complete picture. Data analytics is the process that assembles these pieces. It uses sophisticated algorithms and statistical methods to sort, organize, and analyze puzzle pieces. The resulting picture provides valuable insights into patterns, trends, and relationships within the information, driving well-informed decision-making.
This process is inherently iterative. It begins with defining the problem or question. Next comes the data collection phase, where relevant information is gathered from multiple sources. The data is then processed, cleaned, and transformed into a structured format. Advanced analytical models are used to dissect this structured data, revealing patterns and trends. The final step is interpreting these results and transforming them into actionable insights that inform decision-making.
Why is Data Analytics Important?
You may be wondering why there is all this fuss about data analytics. The answer lies in its transformative potential. In today's information-rich world, data analytics is a vital tool for organizations, regardless of their size or industry.
Data analytics enhances the decision-making process. It provides clear, objective insights into an organization's performance, customer behavior, market trends, and much more. These insights inform strategies, streamline operations, and improve customer relationships.
For instance, through customer behavior analysis, businesses can understand what motivates their customers, which products or services are popular, and how their customers interact with their brand. These insights can inform marketing strategies, helping businesses tailor their products to meet their customers' needs and preferences.
In operations, data analytics can identify bottlenecks and inefficiencies. It allows organizations to optimize their operations, resulting in cost savings and improved productivity. Moreover, data analytics helps you stay agile in a dynamic market landscape. It provides foresight, enabling businesses to identify and respond to market trends, competitive threats, and opportunities.
As you can see, data analytics has become a powerful tool that turns information into a strategic asset. It brings clarity in a world overwhelmed with information, enabling organizations to navigate their path with confidence and precision.
Data Analytics and the Pharmaceutical Industry
Stepping into the world of pharmaceuticals, we encounter an industry that is a hotbed of data generation. Each step of the pharmaceutical process, from drug discovery to patient outcomes, produces vast amounts of information. This goldmine of information presents unique opportunities and challenges. Pharma analytics is the key to unlocking these opportunities and overcoming these challenges.
Current Scenario
In the pharmaceutical industry, data generation is a constant process. From initial drug discovery and development phases to clinical trials, production, distribution, and monitoring of patient outcomes, each phase leaves a trail of data. For instance, during the drug discovery phase, thousands of potential compounds are examined and tested, each generating its own set of data. The clinical trial phase brings in information from multiple patients across different demographics.
Once a drug is launched, information related to its manufacturing, distribution, sales, and even patient feedback, continues to accumulate. Today's healthcare ecosystem also generates data related to patient health records, treatment outcomes, side effects, and so much more.
While this massive data generation might seem overwhelming, it's actually a treasure trove waiting to be tapped. Harnessing this information through analytics can provide invaluable insights, helping pharmaceutical companies to make better decisions, improve operations, enhance patient outcomes, and even foster innovation.
Benefits of Data Analytics in Pharma
So, how exactly does data analytics benefit the pharmaceutical industry? Here's a look at some of the areas where pharma analytics can truly make a significant difference.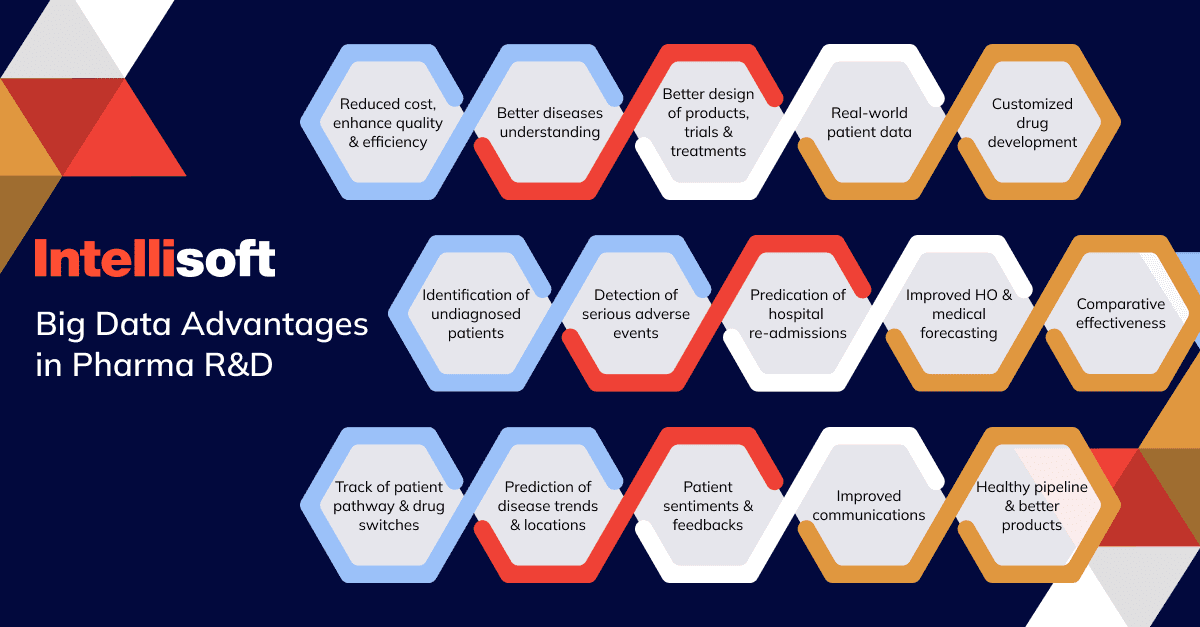 Boosting R&D Efficiency
The drug development process is a costly and time-consuming affair. It often involves testing thousands of compounds and conducting multiple clinical trials. With data analytics, pharmaceutical companies can enhance R&D efficiency. Advanced algorithms can predict the success rate of a drug based on historical data, reducing the number of unnecessary tests. In clinical trials, predictive analytics can identify potential risks and side effects earlier, improving the safety and efficacy of the drug.
Enhancing Supply Chain Management
Managing the supply chain is another critical aspect of the pharmaceutical industry. Data analytics can bring significant improvements here too. By analyzing information from various points in the supply chain, companies can gain insights into demand patterns, inventory levels, delivery schedules, and more. This helps in optimizing the supply chain, reducing costs, and ensuring timely delivery of drugs to pharmacies and healthcare providers.
Improving Patient Outcomes
Last but not least, pharma analytics can significantly improve patient outcomes. Through analysis of patient data, pharmaceutical companies can gain insights into how a drug is performing in the real world. They can track patient health outcomes, identify side effects, and even monitor patient adherence to medication. This allows them to make necessary adjustments to their drugs and provide doctors with accurate information, which results in better patient care and outcomes.
Here, we barely scratched the surface of how data analytics can revolutionize the way the pharmaceutical industry operates, leading to more efficient processes, cost savings, and improved patient care. We'll dig deeper into popular use cases in the next section.
Related readings:
Top 10 Use Cases for Data Analytics in Pharmaceutical Industry
In the vast and complex terrain of the pharmaceutical industry, data analytics shines a beacon of clarity, offering multiple ways to enhance efficiency, reduce costs, and improve patient care. Let's discuss the top ten use cases for data analytics in the pharmaceutical industry.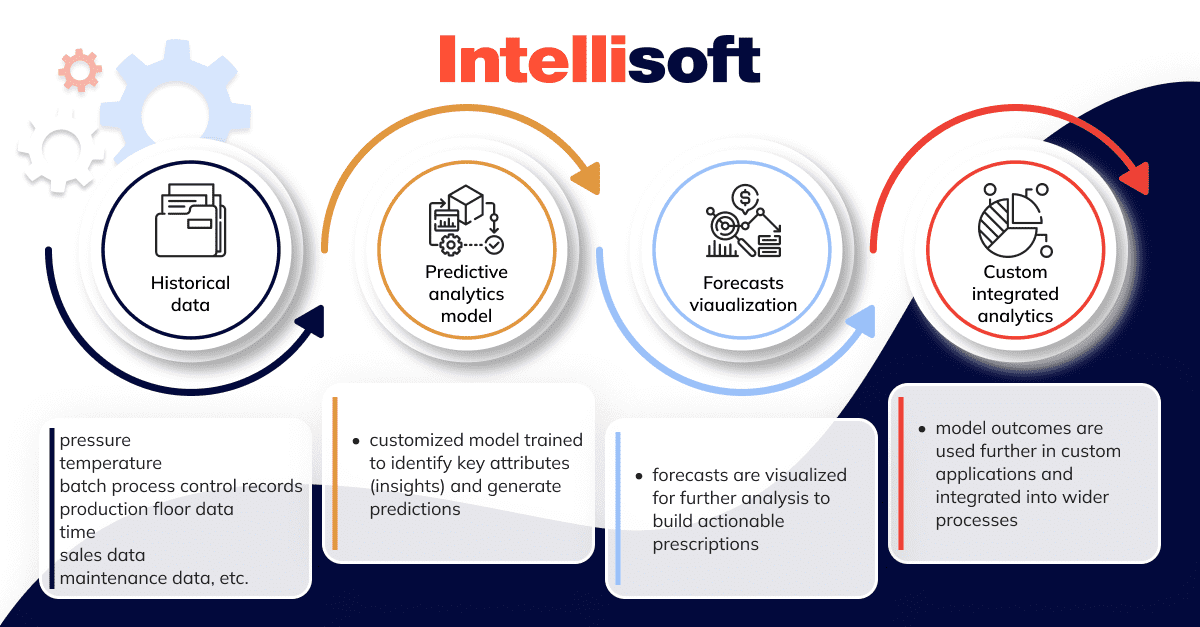 1. Drug Development Using Predictive Models
Predictive modeling stands at the forefront of drug development, providing a vital tool for pharmaceutical companies to create safer, more effective medications faster and more cost-effectively.
This approach leverages machine learning algorithms, regression analysis techniques, and deep neural network models to predict future results based on past observations. The application of these advanced data analytics techniques allows pharmaceutical companies to identify promising drug compounds more quickly, potentially reducing the time and costs associated with new drug discovery.
Moreover, predictive modeling can provide an in-depth understanding of patient profiles, aiding in the design of personalized treatment strategies. The knowledge gleaned from these predictive models can help identify the care patients need to recover faster and maintain healthier lives.
In essence, predictive modeling in drug development is like having a crystal ball that provides glimpses into the future, guiding pharmaceutical companies in their quest to develop life-changing medicines.
2. Predicting Demand
For a pharmaceutical company, accurately predicting the demand for a particular drug is vital. It ensures that production schedules are aligned with market needs, avoiding the costly repercussions of overproduction or, conversely, drug shortages.
Data analytics comes into play by building predictive models using existing information, such as historical sales data, market trends, and even public health data. In addition, patient surveys can be an invaluable source of information for these models, offering insights into patient preferences, needs, and future healthcare trends.
For instance, a rise in lifestyle-related diseases could indicate a growing demand for drugs to manage these conditions. Or, a growing elderly population may signal the need for more medicines catering to age-related health issues.
Predictive analytics in demand forecasting equips pharmaceutical companies with the foresight to make strategic decisions about production, distribution, and even research and development.
3. Clinical Trial Optimization
Clinical trials are an essential part of new drug development, but they can be time-consuming, expensive, and strained with challenges. Pharma data analytics can revolutionize this process, optimizing the design, execution, and monitoring of clinical trials.
Predictive analytics can be used to forecast trial outcomes, helping to identify promising drug candidates early on and enabling the early termination of trials likely to fail. This not only saves time and money but also reduces unnecessary risks to trial participants.
Furthermore, pharmaceutical analytics can help identify suitable participants for clinical trials. ML algorithms can analyze patient data to find individuals who meet the specific criteria for a trial and are more likely to adhere to trial protocols.
Finally, real-time data analytics allows for the continuous monitoring of trial progress. This can flag up any issues early on, allowing for swift action to rectify problems and keep the trial on track.
4. Supply Chain Optimization
In the pharmaceutical industry, an efficient and responsive supply chain is paramount. After all, delays and inefficiencies can lead to more than just financial loss – they can disrupt patient care and even cost lives.
By analyzing information related to procurement, manufacturing, logistics, and sales, companies can gain valuable insights to streamline their supply chain. For instance, predictive analytics can determine the best times to purchase raw materials, taking into account factors such as price fluctuations, supplier reliability, and demand forecasts.
Similarly, data analytics can optimize manufacturing schedules based on predictions of demand, minimizing waste and ensuring timely production. On the logistics front, analytics can help plan efficient delivery routes, reducing transportation costs and delivery times.
The power of data analytics also extends to inventory management, helping companies strike the perfect balance between demand and supply and avoid costly overstocks or stock-outs.
In essence, by leveraging data analytics, pharmaceutical companies can transform their supply chain into a well-oiled machine, reducing costs, improving delivery times, and enhancing patient care.
5. Drug Development for Personalized Care
In today's healthcare landscape, one size definitely does not fit all. Personalized care, which tailors treatment based on a patient's individual symptoms and genetic makeup, is increasingly becoming the norm, and pharma data analytics is fueling this revolution.
With the help of data analytics, pharmaceutical companies can delve into a treasure trove of patient data, uncovering patterns and correlations that can guide the development of personalized drugs. This involves analyzing patient health records, genetic information, and even lifestyle information using advanced techniques such as machine learning and predictive modeling.
The result? Drugs that are tailored to individual patients offer a higher probability of treatment success and fewer side effects. This approach not only improves patient outcomes but also enhances patient satisfaction and loyalty, driving growth for pharmaceutical companies.
6. Calculation of the Expected Life Cycle of Drug Patents
A pharmaceutical company's profitability is closely tied to its drug patents. With a patent in place, a company can monopolize the market for a particular drug, often for several years. However, once the patent expires, competitors can enter the market with generic versions, often leading to a significant drop in sales for the original drug.
Therefore, understanding the expected life cycle of drug patents is crucial. By using data analytics, companies can analyze past data to predict how long it might take for competitors to come up with a similar drug once the patent is in place.
This insight can help companies forecast future revenue streams and plan their R&D investments more strategically. For instance, if the patent life cycle is expected to be short, a company might decide to invest more in developing new drugs or extending the patent life cycle of existing ones.
In short, data analytics can provide pharmaceutical companies with a roadmap to navigate the complex and competitive landscape of drug patents, ensuring they make the most out of their intellectual property.
7. Ensuring Regulatory Compliance
Compliance with regulatory norms is non-negotiable in the pharmaceutical industry. The stakes are high, with violations potentially leading to hefty penalties, reputational damage, and even a halt in operations. Data analytics can be a powerful ally in ensuring regulatory compliance.
One of the key regulatory challenges in the pharmaceutical industry involves protecting personal health information (PHI). With the advent of privacy laws such as HIPAA and GDPR, companies must ensure that PHI is detected and anonymized before using it for analytics purposes. Here, data analytics tools come to the rescue, automating the process of PHI detection and anonymization, thereby reducing the risk of compliance violations.
Beyond PHI, data analytics can help pharmaceutical companies maintain compliance in areas such as drug safety, quality control, marketing practices, and more. By continually monitoring and analyzing information, companies can identify potential compliance issues early on and take corrective action, reducing the risk of violations and the associated penalties.
Healthcare Provider Engagement
Engaging effectively with healthcare providers is crucial for pharmaceutical companies. These professionals are not just the prescribers of their products but also influencers who can impact a drug's acceptance in the market. By understanding the needs and behaviors of healthcare providers, companies can craft more effective engagement strategies, and pharma data analytics is the key to achieving this.
Data analytics can help companies segment healthcare providers based on various parameters such as their prescribing habits, preferences for engagement, patient demographics, and more. This segmentation allows companies to tailor their outreach and education efforts to match the preferences of different provider groups, enhancing their effectiveness.
For example, analytics can help identify providers who are early adopters of new drugs, allowing companies to focus their launch efforts on this group. On the other hand, providers who are more conservative in their prescribing habits may need more education and evidence about a new drug before they consider prescribing it.
9. Increasing Revenue and Reducing Costs
Cost management and revenue generation are critical for the profitability of any pharmaceutical company. Data analytics offers a robust way for companies to analyze various metrics in detail and use the insights gained to enhance financial performance.
For example, by conducting a granular analysis of ingredient cost per prescription, companies can identify ways to reduce production costs without compromising drug quality. Similarly, analyzing rebate data can help companies optimize their pricing and discount strategies, maximizing profitability.
Beyond cost and revenue, pharma commercial analytics can also help companies understand market trends and predict consumer behavior. For instance, predictive analytics can help forecast demand for your drugs, enabling you to align production and inventory accordingly. Furthermore, companies can use data analytics to craft effective marketing strategies, driving sales and boosting revenue.
10. Social Media and Search Engine Monitoring
In the age of digital media, what people are saying about your company online matters. Companies can leverage data analytics to monitor conversations on social media and search engines, gleaning insights that can guide their strategies.
Social media monitoring can help companies understand how their drugs are perceived by the public, identify any concerns or misconceptions, and take steps to address them. It can also provide an understanding of the latest market trends, competitive activity, and customer preferences.
Similarly, search engine monitoring can offer valuable insights. For instance, analyzing search engine data can help companies understand what information people are seeking about their drugs and tailor their online content accordingly.
In short, by leveraging data analytics, pharmaceutical companies can not only listen to the digital pulse of their stakeholders but also respond in ways that enhance their brand image and drive business growth.
With these diverse applications, data analytics is indeed revolutionizing the pharmaceutical industry. As the volume and complexity of information continues to grow, the opportunities for leveraging it will only multiply. Stay ahead of the curve by integrating data analytics into your pharmaceutical operations ASAP.
Steps to Apply Data Analytics in the Pharmaceutical Industry
In the pharmaceutical industry, data analytics can play a transformative role. However, the key to reaping its benefits lies in following a structured and systematic approach. We can recommend these five steps to apply data analytics effectively in this sector:
Step 1: Identifying the Right Data
The first step is to identify the right information that aligns with your organization's goals and objectives. It's important to ask the right questions to ensure the data collected is relevant and meaningful. What are your company's pain points? What insights are you hoping to gain? By determining what you want to achieve through pharmaceutical analytics, you can better identify the data that will help you reach your goals. This could be information related to drug development, clinical trials, customer behavior, market trends, and more.
Step 2: Data Cleaning and Preparation
Raw data often contains errors, inconsistencies, or missing values that need to be addressed before analysis. This step, also known as data cleaning or data wrangling, involves checking for inaccuracies, dealing with missing information, and correcting inconsistencies. It's a crucial stage to ensure that the subsequent analysis is accurate and meaningful. Having a clean, organized, and high-quality data set increases the reliability and validity of the analytics outcomes.
Step 3: Choosing the Right Analytics Tools
The third step is selecting the appropriate analytics tools that align with your company's needs and capabilities. There is a broad spectrum of data analytics tools and pharma analytics companies available, each with its unique features, strengths, and limitations. When choosing a tool, consider factors such as its scalability, ease of use, integration capabilities, and cost. It's also essential to ensure that the tool can manage the volume and type of information you intend to analyze. Some of the examples are solutions by Tableau, SAS, and IBM to name a few.
Step 4: Analyzing and Interpreting the Data
With the right information and tools in place, the next step is to analyze the data. This involves applying various statistical, mathematical, and computational techniques to understand patterns, correlations, and trends in the data. The goal here is to extract meaningful insights that can inform decision-making. This stage may involve exploratory analysis to understand the data's structure and characteristics, as well as predictive analysis to anticipate future trends and outcomes.
Step 5: Implementing Changes Based on Insights
The final step is arguably the most critical one – acting on the insights gained from the data analysis. Data analytics can provide a wealth of knowledge, but it's the application of these insights that generates value. This could involve making changes to operational processes, adopting new strategies, making informed decisions about drug development, or enhancing customer engagement methods. Measuring and assessing the impact of these changes regularly can help ensure they are driving the desired results and contributing to continuous improvement.
By following these five steps, your pharmaceutical company can harness the power of data analytics to drive innovation, enhance efficiency, and improve decision-making, ultimately leading to better patient outcomes and business success.
Challenges and Solutions
Even though data analytics can bring numerous benefits to the pharmaceutical industry, implementing it might come with many challenges. However, with the right approach and solutions you can effectively manage these obstacles.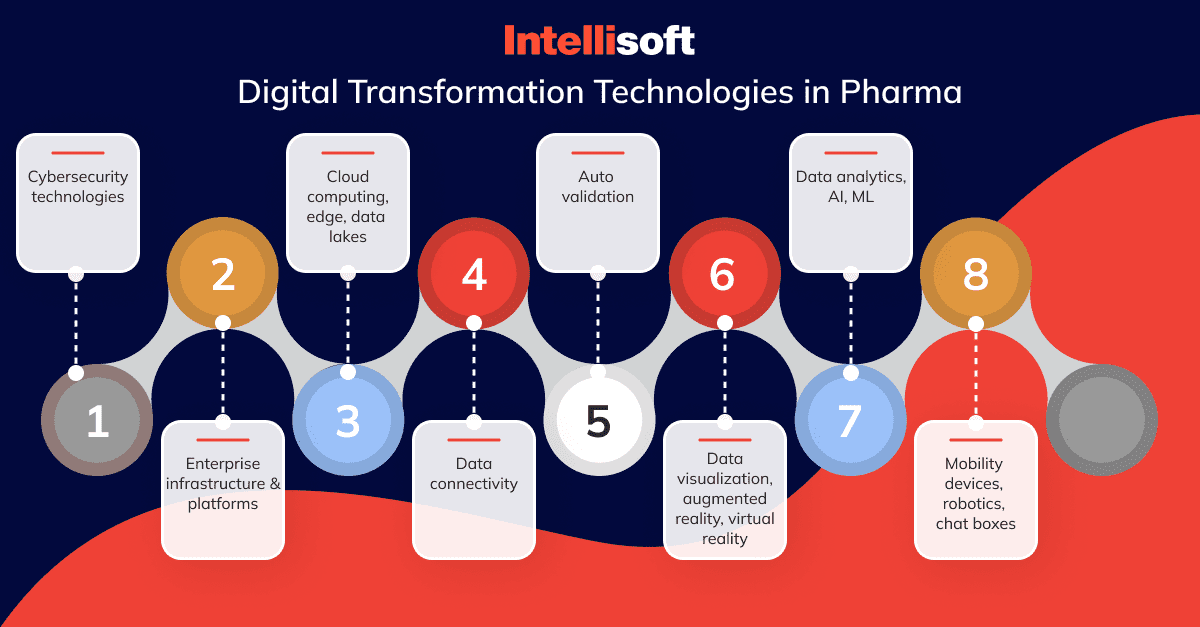 Potential Hurdles in Implementing Data Analytics
One of the significant hurdles in implementing pharmaceutical analytics is data privacy concerns. With the increasing emphasis on data protection and stringent regulations like GDPR and HIPAA, handling sensitive patient information becomes a complex task. Not complying with these regulations can result in hefty fines and reputational damage.
Another challenge is the lack of technical expertise. Data analytics requires specific skills and knowledge in areas such as statistics, machine learning, data cleaning, and visualization. Not all pharmaceutical companies have these capabilities in-house, which can hamper their data analytics initiatives.
Lastly, resistance to change can also be a major barrier. Traditional pharmaceutical companies may be used to relying on intuition or established practices for decision-making. Transitioning to a data-driven approach can be a significant cultural shift that may meet with resistance from staff at all levels.
Overcoming Data Science Challenges
Overcoming these challenges requires a strategic and considered approach. To address data privacy concerns, companies can invest in robust data governance frameworks. These frameworks outline the policies, procedures, and standards for information collection, storage, and usage to ensure compliance with data protection laws.
To overcome the lack of technical expertise, companies can invest in training and development for their existing staff. They can also partner with external experts, such as IntelliSoft, or consider outsourcing to fill the skills gap. It's crucial to build a team with diverse skills, including data science, business intelligence, data engineering, and data governance, to cover all aspects of data analytics.
To tackle resistance to change, fostering a culture of data-driven decision-making is key. This involves demonstrating the value of data analytics through pilot projects, communicating the benefits clearly to all staff, and encouraging participation in data analytics initiatives. Leadership support is crucial in this aspect – when leaders champion data analytics, it helps to drive adoption throughout the organization.
By addressing these challenges, your company can successfully implement data analytics, unlocking valuable insights and driving innovation in its operations. It's an investment in your future – one that can lead to higher efficiency, improved decision-making, and, ultimately, better patient outcomes.
Conclusion
We hope that this article made a compelling argument that data analytics is a powerful tool that can unlock significant potential in the pharmaceutical industry. From boosting R&D efficiency to enhancing supply chain management and improving patient outcomes, data analytics has the ability to transform every facet of your pharmaceutical business.
However, implementing data analytics is not without its challenges. These can range from data privacy concerns and a lack of technical expertise to resistance to change. However, with a strategic approach, it's possible to overcome these obstacles, paving the way for a data-driven future.
At IntelliSoft, we're passionate about helping businesses harness the power of data analytics. With our deep industry expertise, technical know-how, and commitment to delivering actionable insights, we can guide you on your data analytics journey, helping you navigate any challenges that arise along the way.
As the pharmaceutical industry becomes increasingly data-driven, now is the time to embrace data analytics. Are you ready to explore how data analytics can benefit your organization? Get in touch with IntelliSoft to learn more about how we can help you unlock the full potential of your information. Let's shape the future of the pharmaceutical industry together!
FAQ