Data leakage is a headache for many companies. There have been many cases of massive violations of data storage and significant losses because of this: fines, litigation, or even business failure. Moreover, this problem is gaining momentum. So, 2019 has demonstrated 3,800 leaks, and four years before that, there were half as many such cases.
That is why adequate legal requirements for storing business documents are one of the company's priorities. This also implies basic requirements in data monitoring, risk identification, and a proactive approach to data storage in principle.
Data Protection Act 2018: Main Principles
If you are interested in preserving data and want to guarantee complete privacy for your customers, you should be aware of the Data Protection Act (DPA) of 2018. It is a set of data principles that describe legal requirements for security and confidentiality and provide rules for handling and protecting data.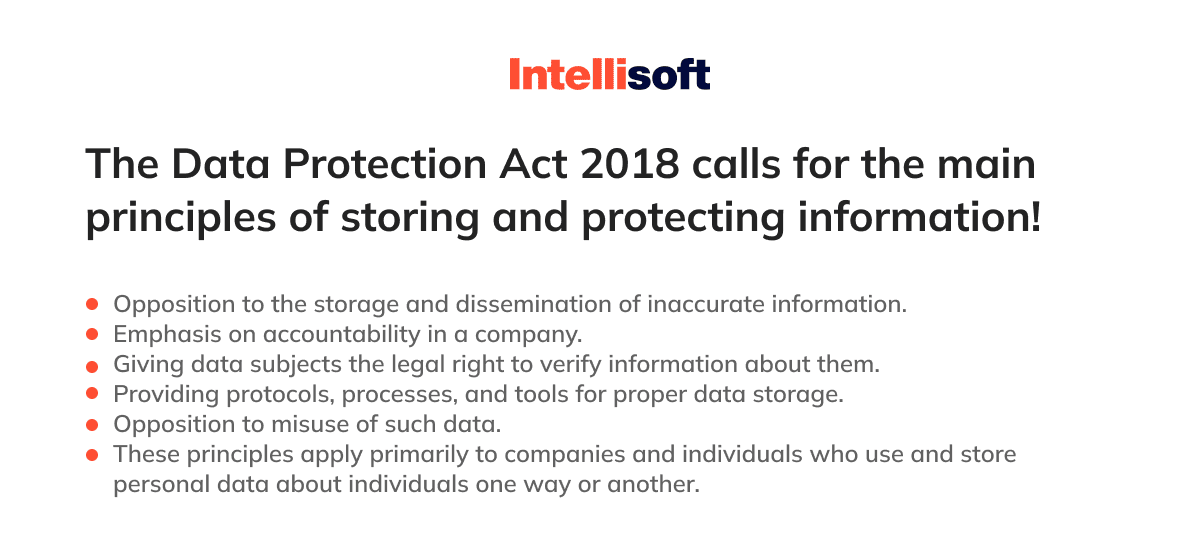 The Data Protection Act 2018 applies to the EU and the United Kingdom, and its violation is a criminal offense.
The General Data Protection Regulation (GDPR)
We share our information with the digital world every day. So, we leave our fingerprints, phone numbers, selfies, or date of birth. But what happens to this information then?
This question began to worry Europeans as early as 1998. Then they came up with the Data Protection Act, which was then updated in 2018. But this was not enough, and so, on April 27, 2016, the General Data Protection Regulation was drawn up. But it took effect only two years and one month later to give companies time to prepare.
What Are the Main Entities of the GDPR?
In the European Union. Moreover, the GDPR is relevant even for companies outside the Union.
This provision is relevant for any company and any startup focused on. Moreover, the European GDPR has an explicit provision that explains relevant legislation and external regulation relating to data protection
as follows:
"Processing of personal data in the context of the activities of establishing a controller or processor in the Union, whether or not the processing takes place in the Union."
Given today's scale of technology, virtually every company in the world must comply with the provisions of the GDPR.
What Are the 8 Principles of GDPR?
Today, there is even debate about how many principles the GDPR has: five, seven, or eight. However, given that some versions simply combined several principles into one, we will still consider eight main principles about the legal requirements of data preservation and management.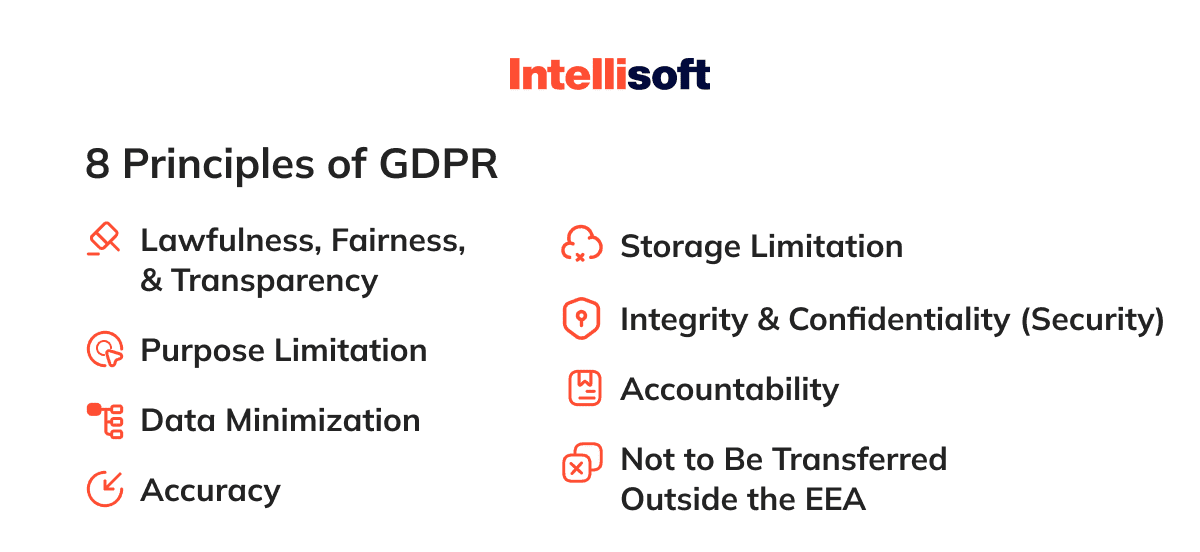 Lawfulness, Fairness, and Transparency
First and foremost, regarding data protection and use, these are your guarantees to the user that his data will be used:
Without any harm to the user.
With completely transparent conditions.
The user will be aware of everything related to his data provided to your company.
And the main point that the GDPR emphasizes in this aspect is the mandatory legality of data requests from the user. This is especially true for employees and data on criminal records.
Related readings: 
Purpose Limitation
This is exactly the case when organizations and companies cannot transfer user data to third parties. Your company may only use personal data for the purpose you requested from the user. And the user should be aware of this purpose.
The GDPR also states that data relating to medical, biometric, or genetic information can only be requested for a relevant purpose. For example, in a clinic or health care organization.
Data Minimization
This principle implies restraint and conciseness in the requested data. For example, you must not request more data than is necessary for the purposes.
This clause also means that companies should be more explicit about the "how we use your information" clause and notify the user to withdraw his information as soon as he wishes.
Accuracy
Companies must ensure that the information provided by customers is up to date. And if it is outdated or changed, you should check with the client for the latest information.
Important clarification: all information must be updated to reflect current goals, no less and no more.
Storage Limitation
Restrictions should concern the amount of information stored and the timing of its storage. Firstly, it will simplify the storage and deletion of this data.
Secondly, these are again the key legal requirements for business, where users' rights are respected (especially if they refuse any services and want to withdraw their data). So, you should keep only that necessary and sufficient information about the person to keep it and delete it if necessary.
Integrity and Confidentiality (Security)
This is all about cybersecurity, storage, and data protection. You must also apply data protection principles in your field of activity. Logically, the banking sector has additional data protection means, unlike, say, a clothing store.
The GDPR also states that large companies (with 250+ employees and 5,000 accounts per year) must hire a DPO or data protection officer. He will be responsible for everything related to cybersecurity.
Accountability
This principle provides another aspect of protecting the account user and his right to dispose of data. For example, the GDPR thus provides the user with the right to be forgotten or for his desire to transfer all his data from one system to another upon request.
Not to Be Transferred Outside the EEA
This provision especially confirms the importance and impact of the GDPR. According to it, the company is responsible for the safety of the data user outside the European Union and is responsible in case of data leakage to another country.
How Long Can You Store Data Under GDPR?
According to one of the GDPR principles, user data should not be stored longer than it is supposed to. The data storage period also depends on their categories.
For example, employee and company data can be stored for three to ten years. Thus, data on industrial accidents are stored for ten years. At the same time, records of collective layoffs are kept for no longer than three years.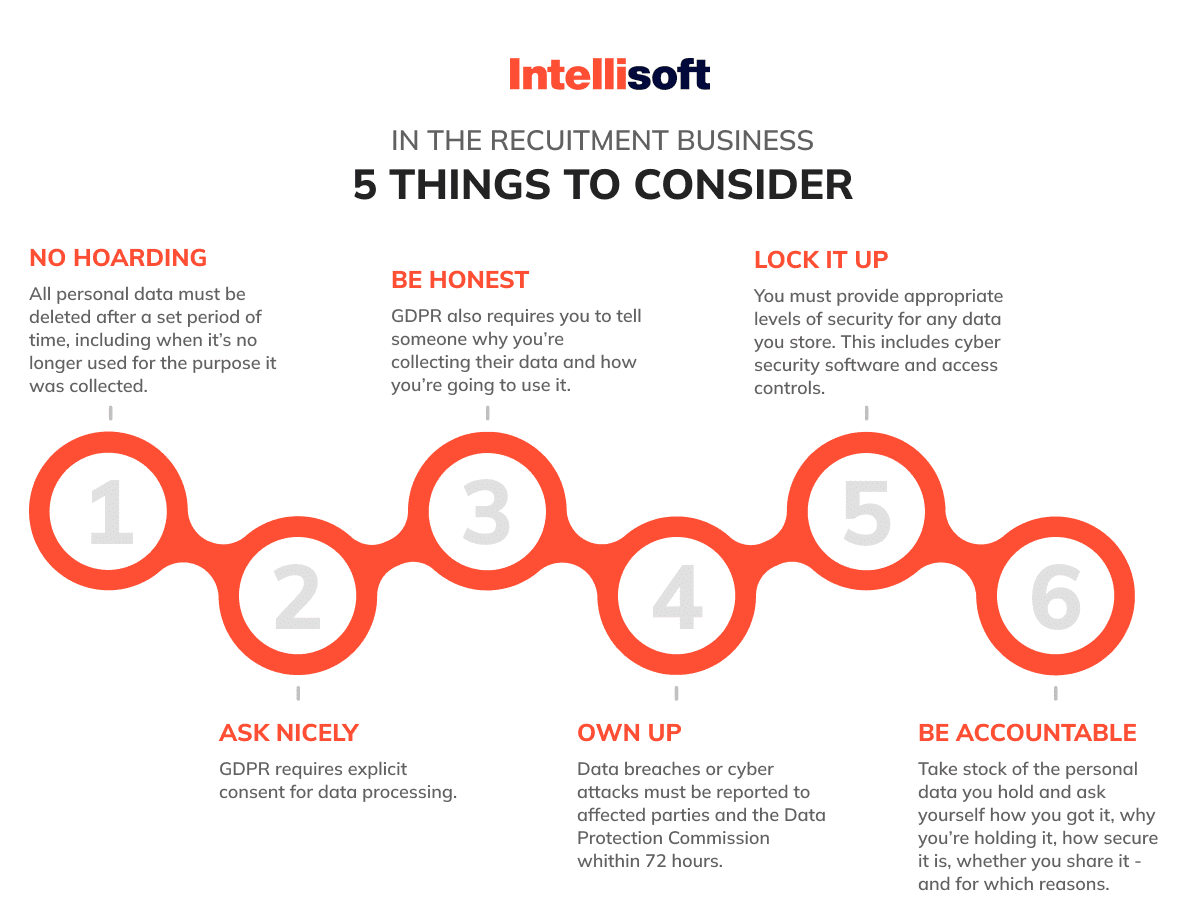 Online Services That Related to GDPR
It is worth noting that this includes only those services and resources that can be visited and used by an online user. So, the category of online service for legal requirements for storing business documents includes:
Websites.
Search engines.
Marketplaces.
Online Games.
Video resources.
Applications.
Download platforms.
Online content services (streaming, video and music, online cinemas).
Note: TV and radio broadcasts do not fall into this category because they provide content for general broadcast but not on demand.
Legal Requirements for Business and Pitfalls
Perhaps the biggest disadvantage of GDPR, which should be taken into account, is the cost and long time. Many companies have already gone through such difficulties as paperwork, bureaucracy.
Also, keep in mind that it has very expensive GDPR penalties. For example, a company could be forced to pay a huge $23.5 million fine, or 4% of global revenue. If you are not sure that you will withstand all the requirements or such a fine, this factor can greatly complicate your work.
GDPR and Data Protection Act 2018 Summary
Data protection has become one of the basic points for compliance, which is why the GDPR and Data Protection Act 2018 was created. It was created to regulate the storage of data.
These two provisions oblige to respect and observe the rights of data subjects. This means that they must be aware of the purposes of use, processing methods, and further use of this information.
In fact, the GDPR underlies and complements the Data Protection Act 2018. For example, there may be some need for some additional measures.
6 Steps to GDPR Compliance
It may seem that becoming a GDPR Compliance is a complex and dreary process. Yes, it requires some attention and discipline. Use this little checklist to get you started.
Step 1. Understand the main principles and framework in the GDPR.
Step 2. Data Creation register for DPA and GDPR.
Step 3. Organize the data by importance, priority, and accountability.
Step 4. Act according to priorities: request and store only the data you need.
Step 5. Prepare an action plan in case of risks or unforeseen circumstances related to data.
Step 6. Stick to the project and double-check.
In essence, you must adhere to the legal requirements for security and confidentiality and ensure that they are adequately implemented.
9 Tools for Managing Data Compliance
So, if you have decided to adhere to the DPA and GDPR and want to find a tool where should you store information that you are working on, pay attention to this list of tools:
SolarWinds Access Rights Manager
OneTrust
Wired relations
LogicGate
ManageEngine EventLog Analyzer
privIQ
Vigilant Software GDPR Manager
Netwrix Auditor Perform
Really Simple Systems CRM
Platforms and resources like these will get you out of any data confusion and help you develop a proactive strategy.
Final Thoughts
Protection of data and consumer rights is one of the primary standards of decent service. Therefore, companies that provide services in the European Union or outside it must use user data by the GDPR and Data Protection Act 2018.
These are principles and provisions that explain how legal requirements and codes should be used and maintained without violating the data subject's rights. They are guided by eight main conditions and make companies strictly responsible for any violation of data storage. Every company that will become GDPR Compliant has to go through all the requirements, including bureaucracy and some costs. On the other hand, it guarantees the trust of customers (or employees) and the legal conduct of business.
IntelliSoft follows all the provisions of the GDPR and Data Protection Act 2018, guaranteeing you secure and transparent cooperation.

About

Helen Rachyna-Kyselova

Helen is a marketing expert, editor-in-chief, and head of content. She demonstrated success in negotiating win-win compromises, conducting A/B testing, launching e-mail campaigns, writing personnel manuals, publishing authorized articles, implementing corporate policies, and more. She currently works for Intellisoft, being part of its marketing dept.