Convenience and efficiency always reign supreme in the ever-evolving digital landscape. Every sphere of our life keeps changing, chasing utility, and mobile banking apps are one of the best examples of this digital revolution.
Today, we decided to dig into the process of mobile banking application development. We'll unfold the layers of designing user-centric mobile banking apps for Android and iOS, dissect the technological advancements driving this sector, and explore the future that awaits. Whether you're a CTO at a start-up or leading an established organization, this article could become your compass in the dynamic world of mobile banking applications.
At IntelliSoft, we don't just talk tech – we breathe innovation and foster partnerships that turn visionary ideas into digital realities. Let's start this journey to decode the secrets of mobile banking app development, where each byte of information could be the key to unlocking new possibilities for your business.
The Age of Seamless Financial Transactions
In a world where digital convenience is necessary, mobile banking application development is a cornerstone in the financial industry. So, what exactly is mobile banking app development? It's the process of creating applications that allow users to perform various banking tasks from their smartphones. This convenience includes checking balances, transferring funds, paying bills, etc.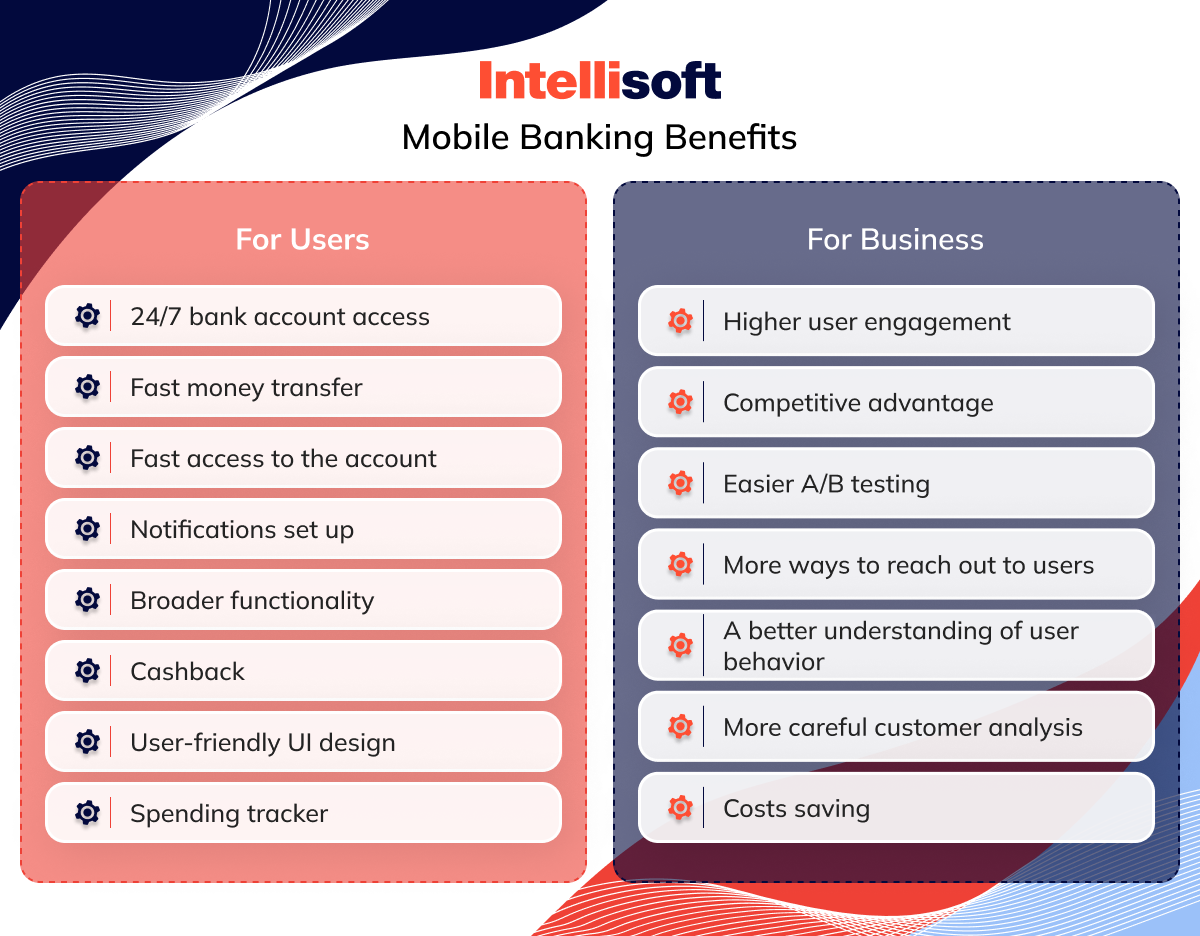 The Essence of Mobile Banking Apps
These apps are digital gateways that connect users to their financial world with unprecedented ease and security. They encapsulate a range of functionalities, all designed to deliver a seamless and efficient banking experience. The exponential growth of app sophistication is driven by innovation and user-centric design.
The significance of mobile banking apps in the financial sector cannot be overstated. They have revolutionized how people manage their finances, bringing the bank to the palm of their hand. In a time where instant gratification is the norm, these apps meet the demand for quick and easy access to financial services.
For users, the mobile banking benefits are clear: convenience, efficiency, and enhanced control over their financial dealings. For businesses, these apps open a new realm of customer engagement and service delivery. They provide a platform for financial institutions to offer personalized services, gather valuable insights into customer behavior, and enhance user satisfaction.
Driving Financial Inclusion
Beyond convenience, mobile banking applications are pivotal in driving financial inclusion. They are vital tools in regions with sparse or non-existent traditional banking infrastructure. These apps are crucial in promoting economic empowerment and growth by bringing banking services to underserved and unbanked populations.
The evolution of mobile banking apps for Android and iOS mirrors users' changing expectations and behaviors. In an age dominated by digital interactions, users expect banking services to be as straightforward and user-friendly as ordering food online or hailing a ride. Mobile banking applications respond to this expectation by offering a blend of functionality, security, and ease of use.
Mobile banking brings your entire financial life to your fingertips, where managing your money is easy and enjoyable. It's time to dig deep into the heart of mobile banking app development, exploring the key mobile banking app features and functionalities that set these digital financial tools apart.
Key Mobile Banking App Features and Functionalities
Since you are willing to develop such a solution, let's explore what features should your mobile banking app include. You can use this information as a guideline, when partnering with a trailblazing mobile banking application development company like IntelliSoft.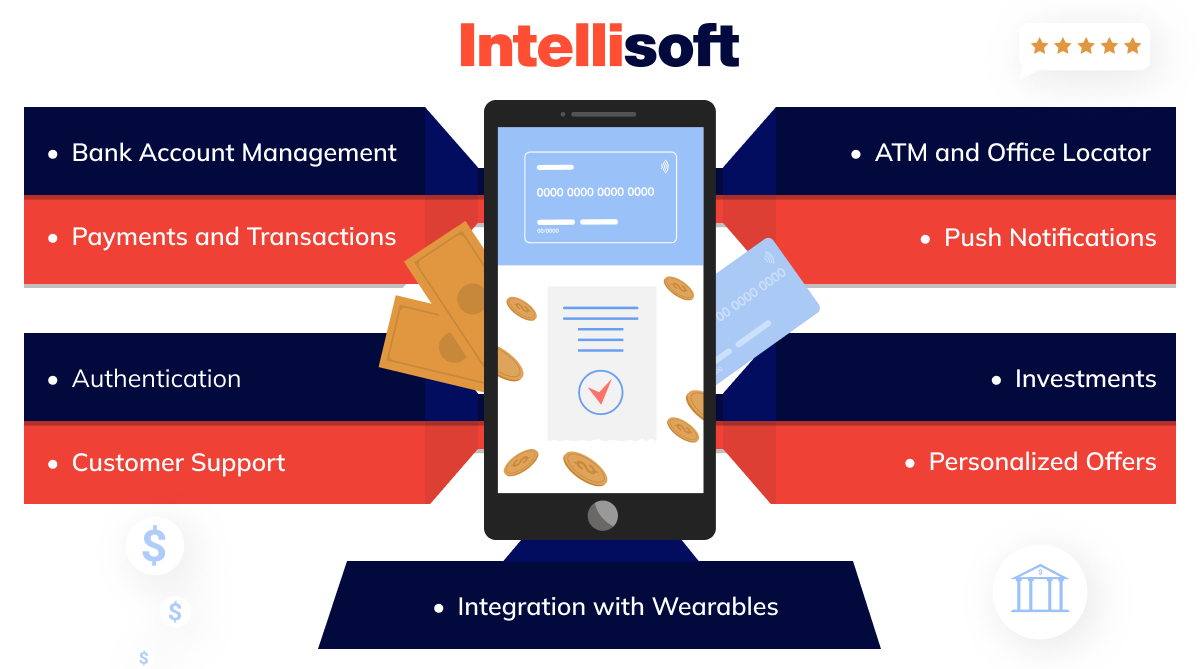 Account Management
Users can easily monitor their account activity with a few taps. It's all about offering users a comprehensive view of their financial status at any given moment, empowering them with information traditionally accessed through bank statements or visits to a bank branch.
Fund Transfers
Mobile banking apps provide a swift and secure platform for transferring funds. It is one of the main mobile banking benefits. Whether transferring money between personal accounts, sending money to friends and family, or making business payments, these applications make financial transactions a breeze. The key here is the ease of navigation and transaction speed, ensuring users can move their money around without hassle.
Bill Payment
Paying bills is no one's idea of fun, but an online banking application makes it as painless as possible. With features for setting up one-time or recurring payments, users can manage all their bills from a single app. This method saves time, helps in better financial management, and avoids late payment fees. Integrating bill payment within mobile banking apps is a testament to their role as a one-stop financial hub.
Mobile Check Deposits
The advent of mobile check deposit features has revolutionized the way checks are handled. Users can now deposit checks by simply photographing them with their smartphone. This method eliminates the need to visit a bank and provides a much faster way to access funds. The underlying technology involves advanced image processing and security checks to ensure the accuracy and authenticity of the check being deposited.
Security Measures
Security is paramount in mobile banking apps. These applications employ various security measures such as encryption, biometric authentication, and secure login protocols to protect user data and financial information. This authentication method creates a secure environment where users can confidently conduct their financial transactions.
Push Notifications
Push notifications in mobile banking apps serve as a personal financial assistant, providing real-time updates on account balances, transaction alerts, and reminders for bill payments. This feature keeps users informed and engaged, helping them stay on top of their finances without constantly checking their accounts.
ATM Locator
For those times when digital money isn't enough, the ATM locator feature comes to the rescue. This functionality guides users to the nearest ATM, saving them time and hassle. It's useful in unfamiliar areas or during travel, ensuring users are never too far from accessing their cash.
Budgeting and Financial Insights
Mobile banking apps are evolving to offer more than just transactional capabilities. They now include features for budgeting and providing financial insights. These tools help users track their spending, set budget goals, and receive personalized insights into their financial habits. The goal is to provide users with the necessary information and resources to equip them with the ability to make confident and well-informed financial choices.
Customer Support
Effective customer support is a crucial feature of mobile banking applications. Users expect quick and easy access to help whenever they encounter issues or have questions. This feature can range from in-app chat support to easy access to customer service via live chat or phone. Ensuring users feel supported and heard is key to maintaining trust and satisfaction.
Card Management
Card management features allow users to manage their debit and credit cards directly from the app. This functionality includes activating new cards, setting transaction limits, blocking or unblocking cards, and reporting lost or stolen cards. This level of control adds a layer of security and convenience, making it easier for users to manage their cards in a fast-paced world.
All these features collectively contribute to a seamless, secure, and engaging banking experience. Each functionality of mobile banking works together to provide an intuitive user journey that empowers users to take charge of their financial health.
As we navigate the intricate world of mobile banking app development services, it becomes evident that these features and considerations are not just technical requirements but essential in shaping a secure, efficient, and inclusive financial environment. They must reflect your commitment to delivering good service that resonates with users' needs and expectations.
Design Considerations
It's important to note that the design of a mobile banking app is not merely focused on its aesthetics – it's about creating an intuitive and efficient user experience. Good UI/UX design in mobile banking apps ensures that users can navigate the app effortlessly and perform their desired financial tasks without confusion or frustration. Such a design involves:
Clean and organized layout
Intuitive navigation
Clear call-to-action buttons
The objective is to minimize user effort, enhance aesthetics, and boost functionality.
It's crucial to prioritize functionality over visual appeal when designing a product, even though an attractive design is also important. The best mobile banking applications strike a balance between aesthetics and usability. The design elements should support the app's functionality, making it easy for users to understand and engage with the features. Designers strategically use colors, fonts, and imagery to highlight important information and guide the user's journey through the app.
Inclusivity and accessibility are critical aspects of mobile banking app design. You should design apps that everyone can use, including people with disabilities. Features such as screen reader compatibility, adjustable text sizes, and high-contrast color schemes ensure that the app is accessible to visually impaired users. Similarly, simple and clear language benefits users with cognitive or learning disabilities. An inclusive design broadens the user base and reflects a commitment to serving all sections of society.
Security Measures in Mobile Banking Apps
The importance of security of a mobile banking app is non-negotiable. With the increasing sophistication of cyber threats, robust security measures are essential to protect user data and maintain trust. Let's explore the fundamental security features integral to mobile banking apps for Android and iOS.
Encryption
Encryption is a fundamental security measure in mobile banking applications. It involves encoding data so that only authorized users can access it. Encryption protects sensitive information such as user IDs, passwords, and transaction details from being intercepted by unauthorized parties. Strong encryption algorithms ensure that user data remains confidential and secure, maintaining the integrity of the financial transactions conducted through the app.
Biometric Authentication
Biometric authentication has become increasingly popular in mobile banking apps to enhance security. Verifying users' identities using their unique biological characteristics like fingerprints, facial recognition, or voice recognition is becoming increasingly common. This authentication method is more secure than traditional passwords and more convenient to users.
Regular Software Updates
Keeping the mobile banking app updated with the latest software is crucial for security. Regular updates often include patches for newly discovered vulnerabilities, enhancements to existing security features, and improvements in overall app performance. Encouraging users to update their apps regularly helps safeguard against potential security threats.
Secure Download Sources
Ensuring that users download the mobile banking app from secure and official sources is essential to prevent the installation of malicious software. Banks should guide their customers to download apps exclusively from trusted app stores like Google Play Store or Apple App Store, where the applications undergo rigorous security checks before being made available.
Two-factor authentication (2FA)
One of the most effective ways to enhance the security of mobile banking apps is to enable two-factor authentication (2FA), an additional layer of protection ensuring that only authorized users access their accounts. This method requires users to provide two different authentication factors to verify themselves. It can be something the user knows (like a password or PIN), something the user has (like a mobile device or security token), or something the user is (like a fingerprint). Combining two factors, 2FA significantly reduces the risk of unauthorized access.
Banking Apps for Teens
In the digital era, financial literacy and independence are becoming increasingly important for the younger generation. Banking apps for teens are a growing segment in the mobile banking industry, designed to cater to the unique financial needs and habits of this demographic.
Tailored to Young Users
These applications are tailored to engage teens, often featuring user-friendly interfaces, gamification, and educational content. The goal is to make banking fun and informative, encouraging responsible financial behavior from a young age.
Parental Oversight and Control
A key feature of banking apps for teens is the ability for parents to monitor and control account activity. They can set spending limits, track transactions, and have the ability to lock or unlock the account. Such features provide a safety net, allowing teens to learn about money management within a controlled environment.
Building Financial Skills
These apps often include budgeting tools, savings goals, and financial literacy resources. By providing these tools, teen banking applications help inculcate important financial skills like budgeting, saving, and understanding the value of money.
Preparing for the Future
By using these apps, teens can get a head start on managing their finances effectively, laying the groundwork for financial independence and responsibility in adulthood.
Banking apps for teens represent an essential step in financial education and independence for younger users, offering a safe and engaging platform for learning and managing money.
Technologies and Banking Industry Trends
The landscape of mobile banking application development is continually evolving, driven by emerging technologies and industry trends. Staying updated with the latest technology helps create efficient, reliable, and secure applications. This approach ensures that these applications remain ahead of their competition.
Current Technologies in Mobile Banking App Development
Let's explore the current technologies and trends shaping the future of mobile banking apps.
Front-end Frameworks
The front end of a mobile banking app is what users interact with. It's the face of the app, and therefore, choosing the right front-end framework is crucial. Contemporary mobile banking applications often utilize frameworks like React Native, Flutter, or Xamarin to provide a native app experience while allowing cross-platform development. These frameworks enable our developers to create fast, responsive, visually appealing interfaces that operate seamlessly across different devices and platforms.
Back-end Technologies
The back-end of a mobile banking app is where all the data processing happens. It's the engine room of the app. Technologies like Node.js, Ruby on Rails, and Python are popular choices for back-end development due to their scalability, efficiency, and robust performance. These technologies ensure the app can handle multiple user requests simultaneously, process transactions swiftly, and store data securely.
Database Management
Database management is critical for mobile banking apps as they handle a large amount of sensitive user data. Technologies like MySQL, PostgreSQL, and MongoDB are widely used for their reliability and ability to handle large volumes of data. These databases safely store user and transaction data and provide quick data retrieval to ensure a smooth user experience.
Security Measures
Security is paramount in mobile banking application development services. Advanced security technologies such as SSL/TLS encryption, OAuth, and JWT (JSON Web Tokens) are employed to protect data transmission. Additionally, secure coding practices, regular vulnerability assessments, and penetration testing are essential to safeguard the app against potential cyber threats.
Cloud Services
Cloud services play a significant role in mobile banking app development. They provide scalability, reliability, and enhanced security. Technologies such as AWS, Azure, and Google Cloud Platform offer a range of services, including hosting, data storage, and security features. Cloud services ensure that mobile banking applications can handle high volumes of traffic and data without compromising performance or security.
Payment Gateway Integration
Payment gateway integration is crucial for enabling transactions. Secure and efficient payment gateways like Stripe, PayPal, and Square are integrated into mobile banking apps. These gateways provide a seamless transaction experience and adhere to compliance standards like PCI DSS to ensure the security of financial data.
DevOps Tools
DevOps tools are instrumental in streamlining the development process of mobile banking applications. Tools like Jenkins for continuous integration and delivery, Docker for containerization, and Kubernetes for orchestration help automate the deployment process, ensuring consistent and error-free releases. These tools support a collaborative environment where development and operations teams work together for quicker and more efficient app releases.
Monitoring and Analytics
Monitoring and analytics are key to understanding app performance and user behavior. Tools such as Google Analytics, Mixpanel, and Firebase are providing useful information on how users engage with the application, which features are most used, and where improvements can be made. Real-time monitoring tools also help promptly identify and address any performance issues, ensuring a smooth and uninterrupted user experience.
These are just a few essential technologies and trends in mobile banking app development that we can highlight for their contribution to creating sophisticated, secure, and user-friendly banking apps. These technologies drive the functionality and security of the applications and shape the future of how financial services are accessed and managed digitally. To get a more personalized list of technologies for your banking application, contact IntelliSoft.
Development of Mobile Banking Apps Step-by-Step
Developing a mobile banking application involves multiple critical stages. Every step plays a vital role from the initial concept to the final release and beyond. Let's discuss the key stages in developing a mobile banking app.
Step 1. Conceptualization
The journey of mobile banking app development begins with conceptualization. This stage involves defining the app's purpose, target audience, and core functionalities. It's about identifying the problems the app will solve and the value it will add to the users. Market research, competitor analysis, and understanding of user needs are crucial in this phase to ensure the app's relevance and competitiveness.
Step 2. Team Formation
Once the concept is clear, the next step is to assemble the right development team. This team should consist of skilled professionals, including project managers, developers, UI/UX designers, and QA specialists. Each team member plays a distinct role in the development process, contributing their expertise to bring the app concept to life. The team should also be cohesive and collaborative, with a shared vision for the project. IntelliSoft can quickly assemble a team of dedicated developers that will meet the needs of your project.
Step 3. Prototype Building
Building a prototype is the first tangible step in the app development process. It involves creating a basic version of the app to visualize its layout, design, and functionalities. This prototype is used for initial testing and feedback, helping to refine the concept before full-scale development begins. It's crucial to validate the app's design and functionality with stakeholders and potential users.
Step 4. Security Implementation
Early implementation of security is critical in mobile banking software development. This step includes integrating encryption, secure communication protocols, and data protection measures. Security considerations should be ingrained in every aspect of the app's development, ensuring the protection of user data and financial transactions.
Step 5. Design UI/UX
Creating a visually appealing, easy, and intuitive app involves designing a user-friendly UI/UX. This stage involves designing the app's layout, graphics, and navigation, ensuring that it aligns with user expectations and preferences. The UI/UX design should facilitate a seamless and engaging user journey through the app.
Step 6. Development
During the development phase, skilled programmers write the necessary code that brings the app to life by implementing its functionalities and features. This step involves front-end and back-end development, ensuring the app is functional, efficient, and scalable. The development process should be agile, allowing for iterative improvements based on ongoing testing and feedback.
Step 7. Integration with 3rd Party Services
Integrating third-party services, such as payment gateways, analytics tools, and cloud services, is crucial for enhancing the app's capabilities. This stage ensures that these integrations are seamless and do not compromise the app's performance or security. It also includes ensuring compliance with financial regulations and standards.
Step 8. Testing
Testing is a continuous process that runs alongside development. It includes various types of tests such as unit testing, integration testing, security testing, and user acceptance testing. The goal is to recognize and fix bugs or issues, ensuring the app is reliable, secure, and user-friendly.
Step 9. Release
The release phase involves deploying the app to a live environment and making it available to users. This step includes finalizing all app store listings, descriptions, and metadata. The release should be well-planned, considering factors such as timing, marketing, and user support.
Step 10. Post-launch Support
The development process does not end with the app's release. Post-launch support is crucial for maintaining the app's performance, addressing user feedback, and implementing updates. This stage includes monitoring app performance, fixing emerging issues, and releasing updates to add new features or improve existing ones.
These are the essential steps we take in developing a mobile banking application. They highlight the meticulous planning, execution, and ongoing support required to create a successful and secure app. Each step is crucial in ensuring that the app meets the high standards expected in the competitive world of mobile banking.
Challenges and How IntelliSoft Overcomes Them
Developing a mobile banking app comes with its unique set of challenges. In this ever-evolving digital landscape, addressing these challenges is crucial for the success and reliability of the app. At IntelliSoft, a mobile banking application development company, with its years of expertise and innovative approach, stands adept at tackling these challenges head-on.
Addressing Security Concerns
In the world of mobile banking, security concerns are paramount. Protecting sensitive user information and financial transactions from the ever-evolving and advanced cyber threats has become a crucial and complex challenge for businesses and their clients.
At IntelliSoft, addressing security concerns is a top priority. We employ a multi-layered security approach, incorporating the latest encryption technologies, secure coding practices, and regular security audits. Our mobile banking development process includes rigorous testing for vulnerabilities and potential threats. By staying updated with the latest security trends and employing advanced security measures like biometric authentication and two-factor authentication, we ensure that our mobile banking apps are robust against current threats and well-prepared for future challenges.
Ensuring Regulatory Compliance
The financial sector is heavily regulated, and each online banking application must comply with various regulations, including data protection laws and financial industry standards, such as Sarbanes-Oxley Act (SOX), Bank Secrecy Act (BSA), Gramm-Leach-Bliley (GLB) Act, and others. Ensuring compliance with regulations can be an overwhelming and complex process that demands meticulous attention to detail and a significant amount of effort.
IntelliSoft's approach to regulatory compliance is comprehensive and proactive. We form a dedicated team that stays abreast of the latest regulatory changes and ensures that all our mobile banking apps comply with these regulations. These measures include adhering to international standards like GDPR for data protection and PCI DSS for payment security. We work closely with legal experts to ensure that our applications meet all regulatory requirements, thus safeguarding our clients from legal and financial risks.
Overcoming User Adoption Challenges
With the variety of banking apps available, user adoption is a major challenge. Creating an app that stands out, is user-friendly, and meets the target audience's specific needs is crucial for high user adoption rates.
IntelliSoft focuses on creating intuitive and engaging user experiences to overcome user adoption challenges. Our UI/UX designs are user-centric, ensuring ease of use and accessibility. To create an app that meets the needs and preferences of our target audience, we invest significant time and resources in conducting thorough user research and testing. This approach helps us understand our user's needs and preferences, which we use to customize the app's features and functionalities to best meet those needs.
By integrating innovative features such as AI-powered financial advisors and personalized financial insights, we make our applications, not just tools, but partners in our users' financial journeys. Additionally, we invest in effective marketing strategies and user education to enhance visibility and user confidence in our apps.
Our commitment to security, regulatory compliance, and user-centric design positions IntelliSoft as a leader in developing secure, compliant, and user-friendly mobile banking applications. This approach addresses the current challenges and sets a foundation for future advancements in the field.
Best Examples Of Mobile Banking Apps
The mobile banking sector has seen numerous success stories, each highlighting a unique approach to overcoming challenges and meeting user needs. Let's examine some notable examples of successful mobile banking app implementations, providing insights into their strategies and outcomes.
Chase Mobile: Prepaid Cards Excellency
Chase Mobile, the mobile banking app of JPMorgan Chase, is a prime example of excellence in mobile banking. This app offers comprehensive features, including account management, fund transfers, bill payments, and mobile check deposits.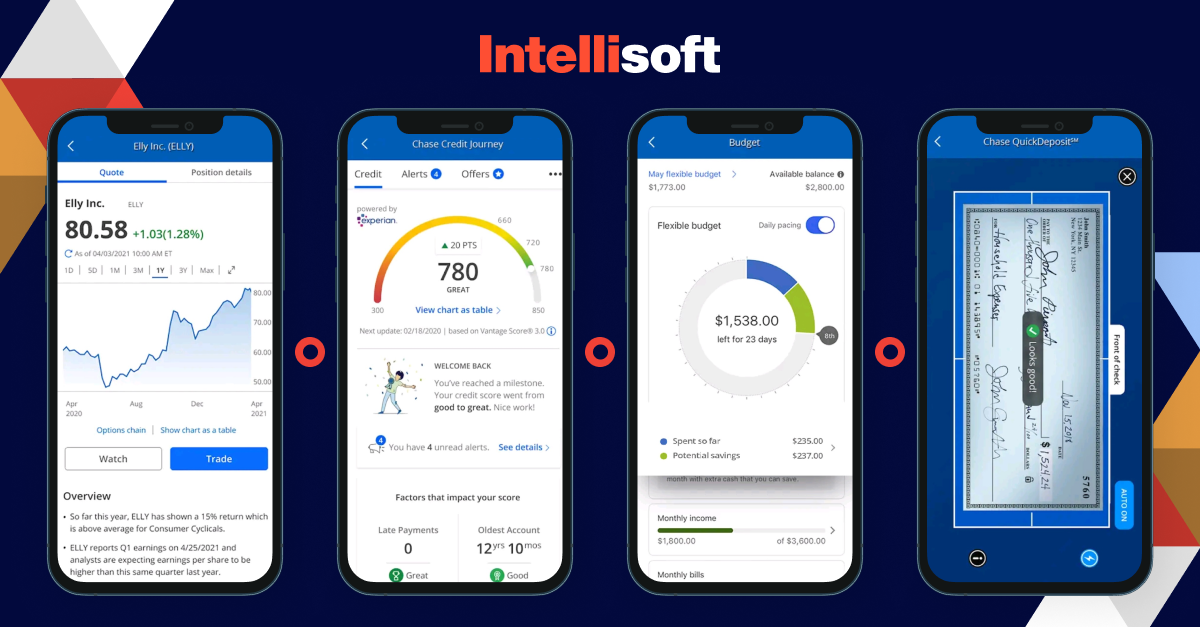 Key Success Factors:
User-Friendly Interface. Chase Mobile has been praised for its intuitive and easy-to-navigate interface, which enhances user experience and engagement.
Robust Security Measures. The app employs advanced security measures such as encryption and biometric authentication, ensuring the safety of user transactions.
Innovative Features. Features such as snapshot balance viewing and customized alerts set Chase Mobile apart, offering users convenience and control over their finances.
Capital One: Well-Rounded Online Mobile Banking
Capital One's mobile banking app has garnered high praise and top ratings, reflecting its user-centric design and comprehensive functionality. In 2022, J.D. Power ranked it the top banking mobile app, a testament to its user satisfaction and feature-rich offering.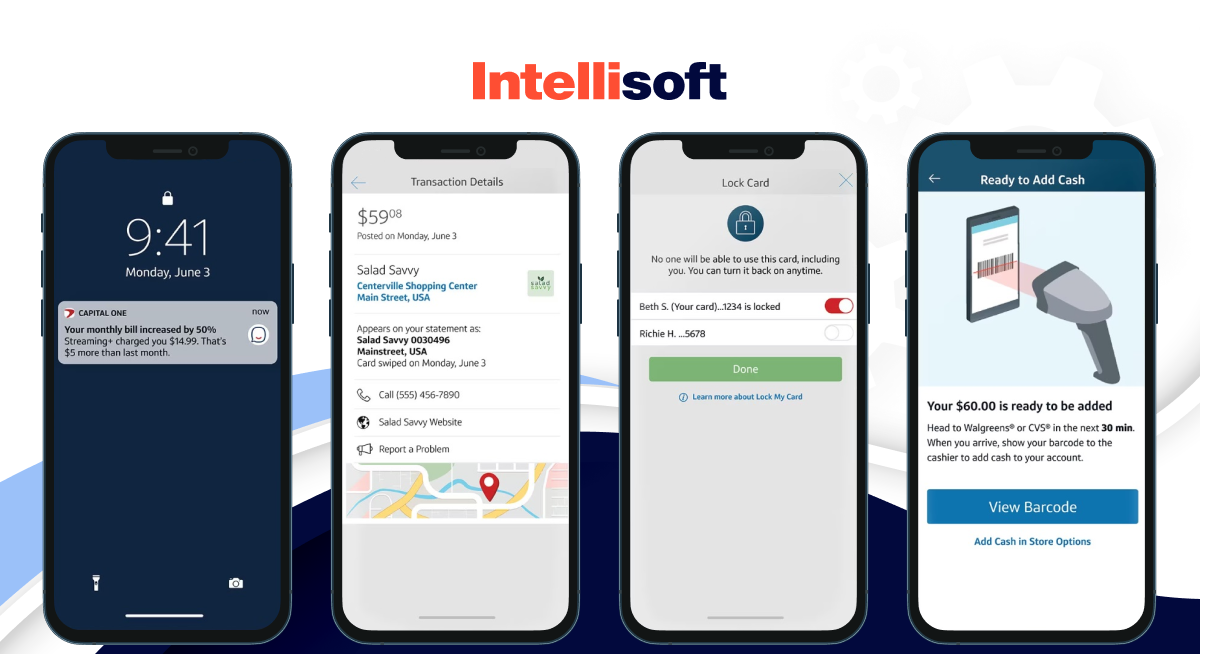 Key Success Factors:
Broad Functionality. The app provides a holistic view of user accounts, including loans, and offers features like credit score tracking and credit card reward redemption.
Enhanced Security Features. Capital One's app allows users to lock their cards instantly if lost, ensuring financial security. Reporting fraud directly from the app enhances user trust and safety.
Innovative Access Options. The app's compatibility with devices like the Apple Watch, and secure login options such as fingerprint authentication, exemplify its commitment to convenience and security.
Bank of America: Top Security
Bank of America's mobile banking app stands out for its exceptional security features. It is known for high customer satisfaction and advanced security measures, ensuring a safe and reliable banking experience.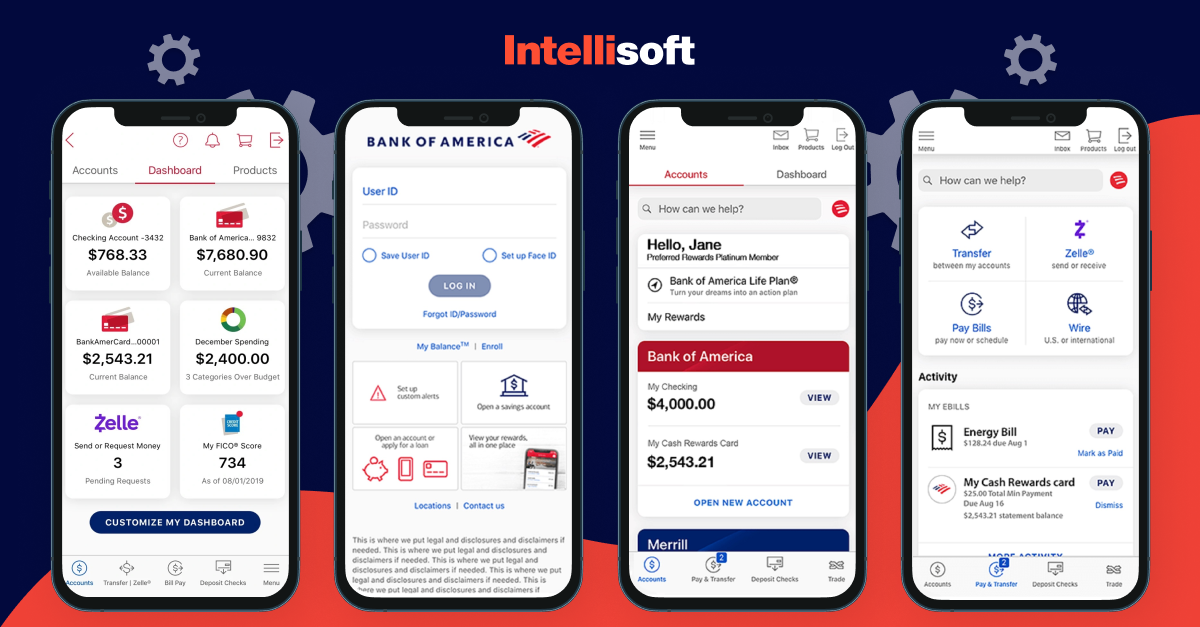 Key Success Factors:
Strong Security Focus. The app offers features such as travel notices for accounts and the ability to activate or replace cards directly, enhancing security for on-the-go users.
Proactive Fraud Detection. With proactive contact in case of suspicious activity and a policy that absolves users from liability for fraudulent transactions reported within 60 days, the app prioritizes user security.
Commitment to User Protection. The app's strong stance on protecting users from fraudulent transactions further cements its position as a leader in secure mobile banking.
These case studies demonstrate the diverse approaches and strategies to successfully implement mobile banking applications. Each example highlights the importance of understanding user needs, implementing robust security measures, and maintaining a commitment to innovation and continuous improvement. These stories inspire and provide valuable lessons for you venturing into the mobile banking software development world.
Monetization Strategies
In the competitive landscape of mobile banking, developing a successful app involves creating a user-friendly and secure platform while devising effective monetization strategies.
Understanding Different Revenue Models
Let's explore various revenue models you can apply for your mobile banking project:
Subscription Fees
One common revenue model is charging subscription fees for premium features. Banks may offer basic services for free, while premium mobile banking app features, such as advanced financial analytics or personalized financial advice, are provided at a subscription fee.
Transaction Fees
Transaction fees are another revenue stream. While basic transactions might be free, banks could charge for high-value or international transactions. This model is beneficial as it aligns the bank's revenue with user activity, encouraging more app usage.
Third-Party Partnerships
Collaborating with third parties can be a lucrative model. Banks can partner with financial service providers, retailers, or other businesses, earning commissions or fees for referrals or transactions made through the app.
Value-Added Services
One effective way to increase your earnings is to provide supplementary services that add value to your offerings. For instance, you could offer your clients financial planning, investment advice, or insurance. By doing so, you expand your revenue streams and enhance your client's experience with your business. These services can be integrated into the app, providing users with a one-stop solution for their financial needs.
Balancing Monetization with User Experience
While monetization is important, user experience should never be compromised. The key is seamlessly integrating revenue-generating features without making the app feel cluttered or overly commercialized.
Transparent Pricing
Transparency in pricing is crucial. Users should be informed about any charges or fees associated with services. This approach builds trust and prevents any user dissatisfaction due to unexpected costs.
Providing Value
Any paid feature or service must provide discernible value to the user. Users are more willing to pay for services that offer convenience, save time, or provide meaningful insights into their financial health.
User Feedback
Regularly gathering user feedback can help in fine-tuning the monetization strategy. Understanding what users are willing to pay for, and how they perceive the value of different services, is essential for balancing monetization and user experience.
While monetization is important for the app's sustainability and success, it should not detract from its core value and usability. By providing value and maintaining transparency, your bank can create a monetization strategy that supports your revenue goals and users' satisfaction.
Future Outlook Of Mobile Banking Apps
The landscape of mobile banking app development is dynamic and constantly evolving. As technology advances and user expectations shift, the future of mobile banking apps is poised for significant changes. Let's try to predict the evolution of online banking application development and the potential innovations that might shape its future.
Evolution of Mobile Banking Apps
Artificial Intelligence (AI) and Machine Learning (ML) are expected to play a more significant role in mobile banking. From personalized financial advice to predictive analytics for fraud detection, AI can offer a more tailored and secure banking experience.
Personalization will likely become more sophisticated. Mobile banking apps might use data analytics to offer customized product recommendations, financial advice, and user experiences based on individual user behaviors and preferences.
As voice-assisted devices become more prevalent, mobile banking applications may integrate voice and conversational interfaces, allowing users to conduct banking tasks through voice commands, making the experience more intuitive and accessible.
Blockchain could revolutionize mobile banking, offering enhanced security and transparency for transactions. Its potential for facilitating faster, more secure international payments is particularly promising.
Mobile banking apps should increasingly incorporate tools and features that help users manage their financial health, such as spending trackers, budgeting tools, and savings goals.
Potential Innovations and Advancements
Augmented Reality (AR) could be used in mobile banking to provide users with more immersive and interactive experiences, such as visualizing financial goals or finding nearby ATMs and bank branches.
Integrating the Internet of Things (IoT) with mobile banking could offer seamless financial management, with smart devices automatically conducting financial tasks based on predefined user preferences.
The newest mobile banking applications might employ more advanced biometric security features, such as retina scans or voice recognition, providing additional security and convenience.
AI-powered virtual financial assistants could become more commonplace, offering users advice on financial decisions, answering queries, and providing personalized alerts and insights.
The future of mobile banking app development is expected to be marked by significant technological advancements and an increased focus on personalization, security, and user engagement. These developments will transform how users interact with their finances and redefine the very essence of digital banking.
The Final Work: Developing Mobile Banking Apps
The journey through the versatile banking mobile app development world reveals a landscape rich with opportunities and challenges. The key to successful mobile banking app development service is understanding and addressing user needs, staying ahead of technological advancements, and maintaining a balance between monetization and user experience.
Our mobile banking app development company stands at the forefront of the digital revolution, ready to lead the charge in developing cutting-edge mobile banking apps. With our deep industry expertise, commitment to innovation, and a user-centric approach, we are uniquely positioned to help your business navigate the complexities of mobile banking app development.
Whether you're looking to create an app from scratch or enhance an existing one, IntelliSoft's team of experienced professionals can deliver an app for mobile banking aligned with your strategic objectives. Our services encompass everything from conceptualization and design to development, integration, and post-launch support, ensuring a comprehensive and seamless process.
Partner with IntelliSoft and take the first step towards transforming your mobile banking vision into reality. Together, we can create a banking app that not only meets the demands of today's digital-savvy users but also sets new standards in the world of financial technology.
FAQ