What are the reasons to create mobile applications today? By 2025, there will probably be 7.49 billion mobile users globally. The average mobile user spent 4.8 hours on their preferred device in 2021. 7/10 minutes on mobile was spent on social and photo and video applications in 2021. At the same time, software crashes cause 71% of uninstalls and some other problems. That is why, to prevent them, it is necessary to build good apps from the very beginning.
So, what is cross platform meaning? Cross-platform programs are the ones that work on several operating systems (such as iOS and Android) at once. The programmer's task is to write a code that works well on all operating systems.
The universal approach to development allows companies to fulfill two important conditions: saving time and money. Developers are much faster at adding features or updating software. The program itself is being developed in pretty much the same way as the iPhone or Android apps. However, if the business orders the add-on for different systems, it takes twice as much time to develop cross platform mobile apps (as well as the money).
Some disadvantages still cannot be ignored. For instance, one drawback is cross-platform programs are not as flexible as the native ones, so it is difficult to implement all the functions so that they work well on different devices. App stores have their own requirements, which must be taken into account during development. This creates additional discomfort and difficulties.
Regardless, cross-platform add-ons are very popular and effective. Depending on the business, you can create unique tools with which the user interacts. Quick launch, wide audience coverage, and relatively low development cost allow you to quickly implement ideas, launch powerful tools, and digitize your business to catch up with the latest trends.
In the article below, we'll show you how you can develop a cross platform mobile application and list required resources.
3 Examples of Famous Cross-Platform Apps
Before digging into more details, let's see some famous examples of cross platform applications.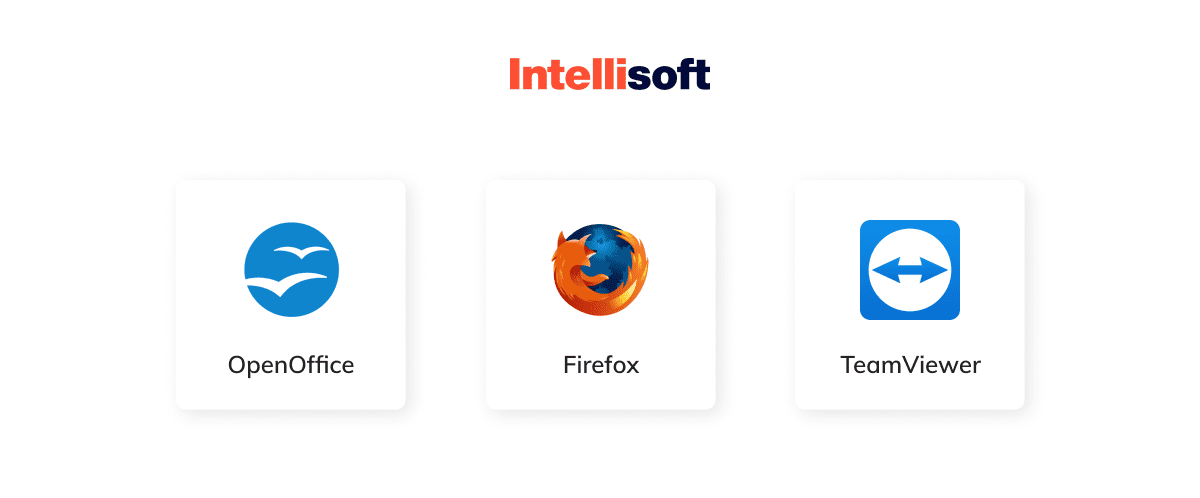 OpenOffice. This software makes it possible for users who cannot afford Microsoft Office to operate well in a business or educational setting. This application is actually one of the pillars of the open source communities and one of the most vital apps up-to-date.
Firefox. It is the browser that has come as close to usurping Internet Explorer as possible. The popularity can be justified by multiple apps and services being carried out online. This solution has assisted with ensuring companies do not lock down their websites and platforms to a single browser.
TeamViewer. Those who deal with support realize the importance of apps that would allow you to remote into a client's machine. Some of such tools are cross-platform by the way they are used within a browser. TeamViewer is one such beast. With a client for Windows, Linux, Mac, and iPhone, there will rarely be a case you cannot support.
Cross-Platform vs. Native App Development
Native software refers to programs developed for a particular OS (operating system), using a stack of technologies suitable for solving specific problems.
The advantages are high productivity, maximum utilization of all platform features, and outstanding user interface. Such software is more easily available in stores. On the other hand, it takes a lot of time, respectively the cost of creating native add-ons significantly increases. It is not supported on other operating systems, so engineers must develop a separate program for them, which is also expensive and takes a lot of time.
So what is the key difference between native and cross-platform development of applications? It is necessary first to understand what function the software will perform for the business, who is included in the target audience, and why, in general, the development is needed. If there is no need to be present on two platforms at once and there is time and budget, you should give preference to the active add-ons. If the add-on is simple, functional, and purposeful, with clear goals and objectives, the cross-platform solution will be the best.
Benefits of Cross-Platform Application Development
Cross-platform development opens up new business opportunities and allows you to launch as soon as possible. If the product is not too complex, clear, and performs certain tasks, it is the best solution for a quick and efficient launch.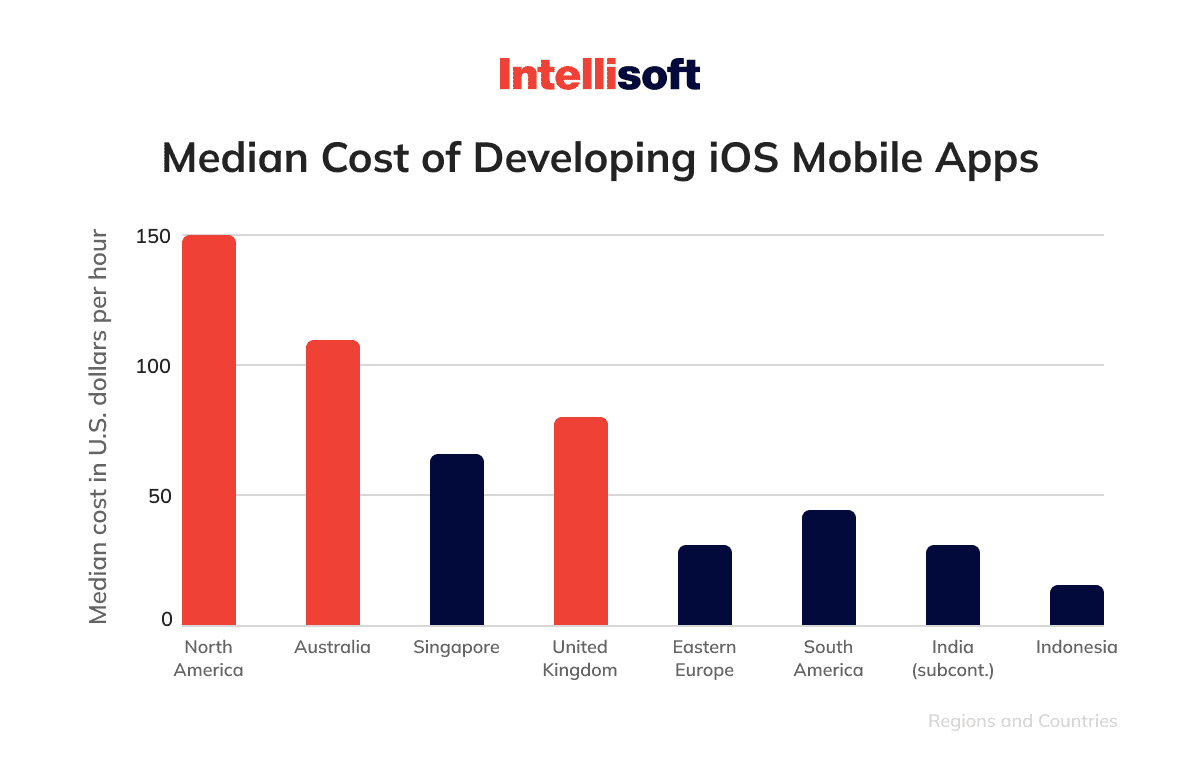 Maximum exposure to your target audience
If you know that your customers use both Android and iOS, covering all types of mobile devices will help get a broad segment of users. Of course, there are many nuances to consider when developing an app, in particular, the display of the interface and compliance with the requirements of the platforms. However, against the backdrop of opportunities, fulfilling these conditions will not be difficult. For businesses, this is a profitable investment, allowing them to get more customers.
Easy maintenance & deployment
Deployment is much faster since a single code base can be easily integrated into any OS. Subsequently, maintenance and changes are much faster because the changes only apply to a single code base. By releasing an update, it works on all operating systems. This saves not only time but also budget.
Reduced development costs

A single technology stack is used, both for Android and iOS. Fewer specialists are required to participate as the development process is simplified by creating a single module for different systems. Therefore, if a company wants to save money but still get a quality application, cross-platform development is a great way to achieve the desired result.
Easy cloud integration
Integration with the cloud is quick and seamless. It's easy to set up functionality, connect the necessary services, and use tools for an efficient startup. The cross-platform app quickly transmits data to the cloud and processes it just as quickly. Therefore, the probability of crashes, breakdowns, or other negative factors is reduced.
Fast development process
The speed of creating a mobile app increases dramatically. Imagine having to develop an app for Android first and then for iOS. It's a long process. It is worth taking into account the interface and a number of system requirements. At the same time, cross-platform development allows the creation of a single app that works perfectly on all devices.
Fast time-to-market and adaptation
Launching a cross-platform application on the market is much easier. It is enough to take into account a number of requirements that stores put up. The promotion on the market is easier, and users are eager to download an app to their devices. After all, such an application complies with all security conditions, has a user-friendly interface, and adapts to different smartphones.
Related readings: 
Drawbacks of Cross-Platform Application Development
Sure, there is always another side of the coin. Be aware of several drawbacks.
Low performance
Low performance and slow response time. This is what you often hear about a cross-platform application. Indeed, compared to native apps, you may notice that the software is not as fast. However, this difference is mostly tiny and can only occur in heavy tools with high-quality graphics and animations.
Even in this case, a solution can be found – all you need is to collaborate with an iOS or Android cross platform mobile app developer to tune and finalize the solution.
Difficulties with upgrades
Sometimes, app performance and functionality depend on new features announced by Apple and Google in iOS releases. The SDKs for native apps update fairly quickly, but the same cannot be said for mobile development on the cross-platform. It takes some time for an app to be updated so that it can support the new features.
Fixing bugs before publishing updates can be another cause for concern. After all, users may be waiting for new features, but they are not happy to encounter bugs every time they launch an app on their smartphone or tablet.
Complexity
While coding for two platforms in the same environment looks like a great idea, that doesn't mean it's any easier than creating a couple of applications. Complex algorithms and hundreds of exceptions due to differences between devices require extra work. The more complex the code, the more bugs there are. That's why most of a programmer's work is not code writing but bug fixing.
5 Best Cross-Platform App Frameworks
Cross-platform application development is done with frameworks. This is a stack of technologies that allow you to implement tools and create the right functionality that solves business problems. There is quite a large number of frameworks, but there are five best ones that are actively used by developers.
Once you explore these cross platform apps and decide to build such a masterpiece, think about whether you have enough resources and expertise for that. If you lack professional developers or other members of a team, you can use our team extension or mobile development services to get the best results shortly.
Xamarin
This framework from Microsoft can be used not only to develop applications for various mobile devices but also programs for Windows. It supports the programming languages such as C# + and .NET. It appeared relatively recently and is compatible with any OS and allows you to create cross-platform apps that are virtually indistinguishable from the native. It has an extensive library, as well as compilers for iOS and Android.
Pros:
Allows you to implement complex ideas for any platform.
High performance.
Proprietary technology for testing – you can quickly identify bugs and fix them.
Excellent compatibility with various devices and operating systems.
A wide range of open-source tools.
Allows you to create complex algorithms, including banking systems.
Cons:
The ecosystem, although developed, is quite limited.
You can only use the libraries that are available in the system.
Not suitable for platforms with a need for high-performance graphics.
The application weight is large.
Not all services are capable of integrating with this platform.
Not too frequently updated.
Flutter
Flutter uses its own programming language known as Dart. Despite the fact that developers will have to learn to work with this framework, it opens up vast opportunities for development. The principle of its work is simple: it uses the same code on different platforms but does not turn it into native code as if it "draws" a window on the phone screen and displays the data.
Pros:
Uses its own language, which any OS understands.
Many developers are migrating to this platform.
Easy to learn thanks to the large library of documentation and active support.
A wide set of tools allowing you to implement the most complex ideas.
High performance.
Applications are reliable and fast.
Cons:
The visual editor is not of very high quality, so many things have to be done without it.
API is rather crude – the specification can be changed on the fly.
Some things that should work flawlessly still lead to some errors – so far, there are glitches and bugs.
Complicated work with widgets – it is often necessary to develop them separately on the native.
React Native
React Native is one of the most popular frameworks used to develop cross-platform applications. It is able to provide the native look of the app. All you need to do is assemble elements, build a hierarchy, integrate third-party services, and create an interface in React Native.
Pros:
Easy workflows, meaning you can create an application in a short time.
Significant time savings due to open source plug-ins (any tasks can be implemented quickly).
High performance.
The same code is used for different platforms, and the user interface (UI)can be customized for each platform.
Applications turn out similar to the native ones in terms of behavior and speed.
Cons:
Due to the fact that the platform is young, there are constant updates.
Not suitable for complex graphics, animation, and tricky interface.
When developing an interface for the iPhone, complications are possible since there is no visual editor.
Adobe PhoneGap
PhoneGap allows you to apply mobile web technologies while developing cross-platform applications. It uses programming languages such as JavaScript, HTML, and CSS. It can be easily combined with Adobe Dreamweaver to make development easier and more transparent.
Pros:
The apps turn out to be lightweight since the pages are often in the cloud.
The application interface has advanced features.
Large community to help find answers to questions and solve problems.
Suitable for developing small apps with an interesting design.
Cons:
Low performance, not suitable for complex solutions.
The speed of applications depends on the interface and functionality.
Plug-ins are often outdated, so you will have to expand features manually.
Ionic
What is Ionic framework? Ionic has a huge library, so it is popular. It works based on the following principle: the application on the phone works in a special shell, and it already outputs data. In essence, it resembles the principle of web applications that require a browser. The main advantage is the ease of learning and vast possibilities, which makes the framework one of the fastest to implement.
By the way, it is Ionic that IntellSoft used for the AMOS project by SpecTec that we helped to develop. Just look at the app screens from the project. You can read about this case in detail to get inspired and see how it works.
Pros:
Huge library with ready-made toolkits that make it quick and easy to create interesting apps.
Tools are known to developers, and the platform is easy to learn.
Many ready-made templates and presets – you can create an application even without advanced skills.
It is possible to see what the app looks like in a browser during development, which reduces the likelihood of errors and edits.
Cons:
Testing is quite complicated, sometimes even impossible (for example, you cannot test a shaking smartphone camera).
On older devices, such apps will either not work at all or work poorly.
Native "features" are quite difficult to interact with or mix with each other.
Is not capable of working with complex graphics.
Which Cross-Platform App Frameworks to Choose?
The choices for mobile app cross platform development are quite extensive, and it is difficult for a business owner to choose the right solution. Use the recommendations from our experts.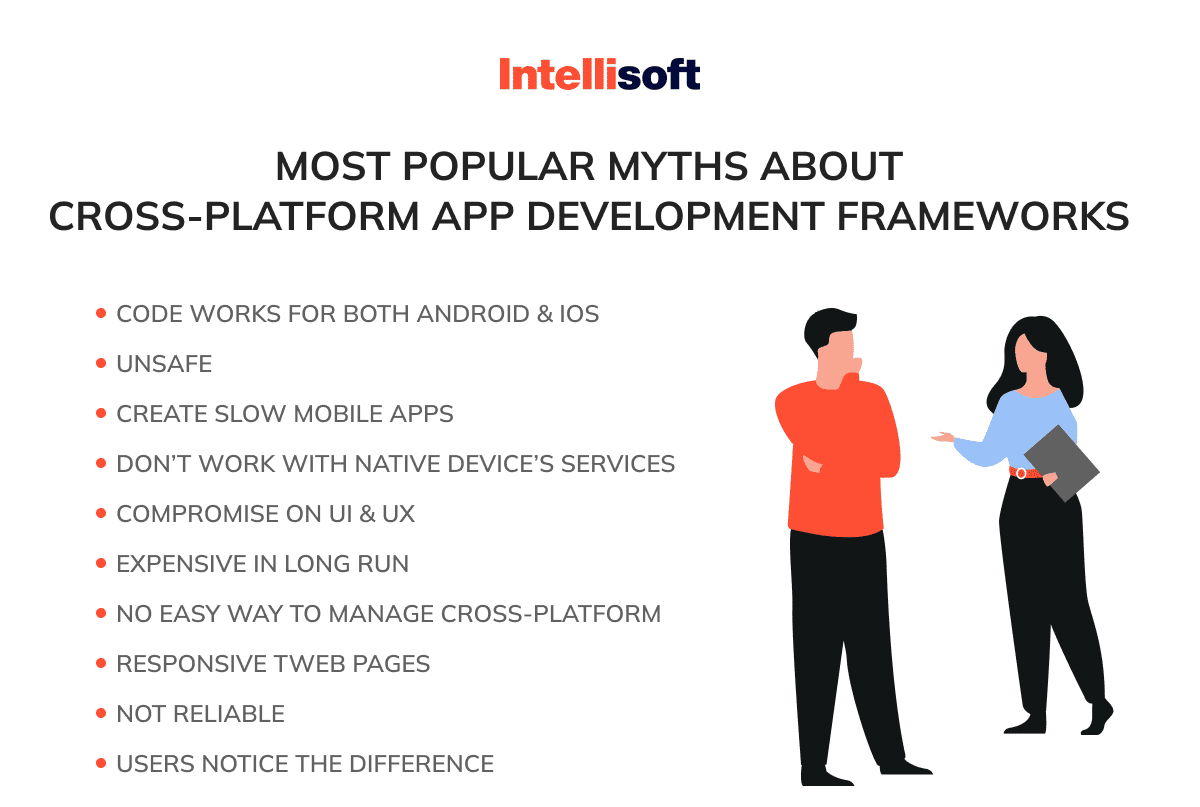 Cordova and HTML5 are suitable for quickly building an app that will work on all devices. Its functionality is limited, as is its design, but it allows you to launch quickly, test a niche, and see if it's worth investing in developing a better app.
Do you need to create a quality business app that will last for years and work without problems? Then it is better to use native development, but only if you have the means to create multiple sets of code for each OS or if there is no need to promote on multiple operating systems (for example, you offer services or goods only for iPhone owners).
PWA is suitable for creating beautiful, flashy, but not overly functional apps. It's an attractive wrapper for a low-quality product. Nevertheless, if you don't want to create complex features, PWA is a great solution for creating a cross-platform mobile app quickly and inexpensively.
Xamarin is suitable for those for whom functionality is more important than graphics. For example, for creating calculation apps or corporate software for employees. Simple design and high functionality are the main triggers of Xamarin.
React Native can help you create a beautiful app that's fast and functional, but the feature set has limitations, so if you want to create a lot of features in one application, it won't work. For business applications, this solution is fine.
Flutter will help build a nice and powerful app, but its weight will be pretty large. If it is not crucial, Flutter is a great solution both visually and technically.
In any case, in choosing the right solution for the cross-platform development of mobile applications, only a specialist can help. Just after discussing the project and figuring out all the tasks, the most effective solution will be offered.
Hiring IntelliSoft for Developing Your Cross-Platform App
If you turn to our company for professional advice and help, know what and how we do:
Tech documentation. Forget about paperwork like risk management reports – we'll do that for you.
App design. We possess all necessary instruments to come up with the perfect UI and UX design.
Business assessment. We will assess your business based on in-depth market research and analysis.
Feature integration. We take care of project road mapping, API development, security standards, and third-party platform installation.
MVP development. This service includes complete project control & support, counseling, and in-house staff onboarding.
Fully-fledged mobile solutions. From the unique idea to its implementation and maintenance, we're in to boost user experience and cut costs.
Code optimization. Thanks to this stage, your product will consume less memory, execute faster, and perform way better in general.
Cloud architecture. Let us utilize flexible MCC to deliver top-quality apps to various mobile devices, both iOS and Android.
Full app support. IntelliSoft will maintain the product even after its launch. We take care of OS updates, API updates, app scaling, and DevOps.
24/7 tech support. Our customer care service is available to lend a helping hand with any questions or problems you may ever face.
Conclusions
Cross platform app development is a great solution for business tasks. If the emphasis is not on the visual design, but the functionality, this method of development allows you to significantly reduce time and budget, as well as craft an effective application that will benefit the business. Cross-platform application development is good for simple, lightweight apps. If you need a mobile version for a store, a pizza delivery, or an arcade game, this is the perfect solution.
However, if you are looking for a 3D shooter with a lot of animations, an MMORPG, or some service where users enter their financial data, it's better to find experts in creating native apps. As mentioned above, hiring IntelliSoft to develop your cross-platform app is one of the most effective ways.
IntelliSoft is a great tech partner for outsourcing cross-platform app development. We do everything step-by-step, from tech documentation and app design to code optimization and cloud architecture. Our team also does the following: business assessment, feature integration, MVP development, fully-fledged mobile products, complete application support, and 24/7 tech support. You can check our portfolio with previous projects or fill in the contact form to hire IntelliSoft experts right now!

About

Kosta Mitrofanskiy

I have 25 years of hands-on experience in the IT and software development industry. During this period, I helped 50+ companies to gain a technological edge across different industries. I can help you with dedicated teams, hiring stand-alone developers, developing a product design and MVP for your healthcare, logistics, or IoT projects. If you have questions concerning our cooperation or need an NDA to sign, contact info@intellisoftware.net.