Do you want to keep up with the competition in the mobile application development industry? You already know that a mobile app is almost a necessity when building a connected ecosystem, but you may wonder how to leverage its capabilities. One of the ways to do so is by implementing Internet of Things (IoT) technologies.
The number of connected IoT devices has grown by 18% to 14.4 billion globally. The Internet of Things is not only an executive refrigerator that orders its owner's favorite food or a helpful kettle that boils water at the first request of a smartphone. These are smart sensors in the fields, drones with cameras remotely monitoring soil conditions, sensors in public transport, and unified systems for monitoring city life. In other words, the Internet of Things technology will become the world around us in a few years.
We at IntelliSoft agree with those predictions. Our team has extensive experience in the development industry, including IoT. One of our clients, a well-known Swiss manufacturer of industrial heating systems, required professional assistance with their IoT mobile solution. They asked us to help control and monitor remote heating systems utilizing IoT devices. In addition to the innovative business resource planning, we provided them a custom resource planning platform (ERP).
As field experts, we have put together some tips on how updating the level of smart mobile app IoT technology can help you succeed and bring more satisfaction to your customers and higher revenues to your business. In particular, we decided to share our experience about how useful IoT mobile apps are in different fields.
What Is an Internet of Things Application?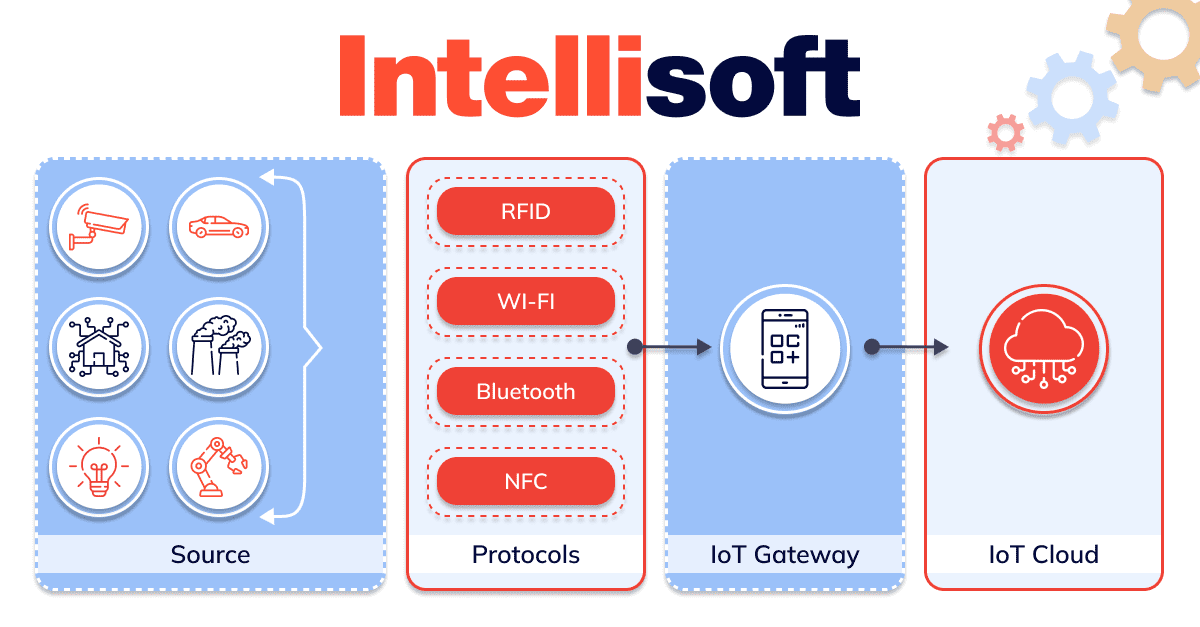 What is IoT? IoT is about the vast number of things connected to the Internet to exchange data with the Internet of Things applications, connected devices, industrial machines, and more. Internet-connected devices use embedded sensors to collect data and, in some cases, act on it.
IoT-connected devices and machines can improve the way we work and live. Examples of IoT applications are: from a smart home that automatically adjusts heating and lighting to a smart factory that monitors industrial machines to detect problems and automatically adjusts to avoid failures.
IoT applications are geared toward smart buildings and smart homes. They turn into efficient ways to lower maintenance and energy expenses while boosting security. The security and improved power efficiency challenges in IoT will be resolved by mobile apps.
How Much Impact Do Mobile Apps with Enhanced Internet of Things Features Have on Business?
The Internet of Things technology has entered almost every vertical and fundamentally changed how businesses operate. Of course, a mobile app is only part of the Internet of Things infrastructure.
However, combined with new tech advances and technologies at this point, it can increase productivity levels and completely change the way you do business.
More data for analysis: Internet of Things (IoT) systems collect and process data from sensors, connected devices, and cell phones. When a smartphone becomes another connected infrastructure, it provides plenty of data about its users' habits, preferences and lifestyles, opening the door to more personalized promotions, home settings, and other use cases. These elements are then used by mobile app IoT development services to personalize apps.
Accessibility: The cell phone's mobility ensures its user has 24/7 access to IoT monitoring systems.
IoT Mobile Market Brief Overview: Why Is Mobile IoT the Hottest Trend?
The industry is going with the speed of light. Total investment in customer and industrial IoT technologies and services will exceed $1 trillion by 2022. As experts from McKinsey admit, every second, 127 new devices are connected.
According to Gartner, there will be around 20 billion IoT-connected devices by 2020, with IoT product and service providers adding a $300 billion revenue stream. ​​Four in five people think smart cities can be created with the Internet of Things. Thus, we can say that it's a primary technology in building smart things.
What about smart and connected automobiles? Statista predicts that by 2025, there will be over 400 million connected cars on the road, up from 237 million in 2021. It is expected that by 2030, 96% of all new automobiles sold will have built-in connectivity. Thus, drivers are among the main consumers of IoT-based mobile software.
At the same time, both developers and users might be concerned about some issues. For instance, possible attacks on Internet of Things gadgets that affect crucial operations are the top security concern. Thus, experts do everything possible to enhance IoT device safety.
There are certain fields in which mobile IoT applications are more popular than in others. Let's have a look.
In What Areas Are Internet of Things Applications Popular?
The Internet of Things is often used to build and maintain smart houses and cities. Many industries benefit from using IoT applications as well, so let's check popular use cases of IoT.
Smart Homes
Smart IoT technology for home may record how much energy has been used this month – no need to run around and check the bills. Some smart home solutions even show how much a particular light bulb or household device connected to the grid is using. Smart elevators notify about breakdowns. Heat control systems in the house remotely show the temperature in the room and can be turned on/off via a smartphone. For example, if you install such a system at the cottage, you can heat the room in advance by pressing a couple of buttons in a mobile app – and come straight to a warm house.
Smart Cities
City transportation with motion sensors, garbage cans with occupancy sensors, planning transport routes based on data on how citizens move around, video surveillance, monitoring of water levels in bodies of water, noise and pollution sensors, and more innovations make cities more convenient and safer. The big data collected as a result of the sensors enable city authorities to understand the needs of residents better.
Smart Cars
If smart unmanned vehicles are still the technology of the future, which is just preparing for a mass assault on cities, then a modern, controlled car with sensors to analyze the state of the system and quick diagnostics has already become a reality.
Healthcare
Medical devices connected to the Internet not only save money on treatment by preventing serious complications (since data are collected and sent to the doctor automatically) but also save lives (since the system alerts doctors if a patient's tests are too bad or they haven't had them done in time).
The medical Internet of Things is supported at the state level in some countries. For example, the Korean authorities are trying to make devices available to the elderly, and Turkey has implemented state-business partnership programs to combat diabetes and its complications.
Logistics & Transportation
Thanks to the Internet of Things, the delivery of any goods from production or warehouses to stores becomes much more predictable, which is important for the end consumer as well as for business. Logistics companies can track where a vehicle is or when it's time for it to arrive for loading. In addition to trucks, the system is also used for waterborne transport (on cargo ships, for instance). Sensors monitor the condition and position of the vehicle as it saves logistics company owners unnecessary calls and repair costs.
Retail
Department stores without cashiers, cameras that recognize customers' emotions, virtual and augmented reality (AR), which allows you to tell more about the product – these technologies already exist in many countries like Japan or the US.
Basic Elements of an IoT System
For the Internet of Things to work properly, you only need four main components: a smart device, the cloud, software, and a network or Internet connection.
Software
Consider a dashboard in a car with all of the information the driver requires. The same is true for the Internet of Things: the user requires a platform to monitor the way devices operate. This function is frequently performed by an IoT application.
Hardware
This category involves smartphones, motion sensors, thermostats, switches, light bulbs, and other devices. Most IoT startups work with intermediary companies that provide all the necessary equipment, both standard gadgets and custom models for your project. So there is no need to worry about this part.
Cloud
Simply said, the cloud is a network of servers that collects, processes, and stores data from all smart devices. The benefit of cloud platforms is that you don't need physical space to store data, and you may access it remotely at any time of day or night.
Network
Because the Internet of Things is a system, linked devices are necessary for it to function. You can connect using various technologies and network protocols, including WiFi, Bluetooth, HTTP, or LAN for stationary devices.
Key Features of an IoT Application
Internet of Things mobile applications have various features, but some of them are common. Make sure your solution has these basic functions for user convenience.
User Account
Personalization is crucial for IoT mobile applications so that users may tailor each device to their preferences and goals and can send emails, push notifications, and recommendations specifically tailored to them. You must first get to know the user in order to accomplish this; obtain their name, age, email address, and preferences for the frequency of push notifications, as well as assist in tying smart devices to their profiles.
Dashboard
This feature displays the most important data, such as the availability of parking spaces, the temperature in your apartment, or the geolocation of the next bus. The specifics are determined by the type of IoT software.
Contact Form
It is a method of gathering input and identifying chances to improve the app. Typically, the IoT platform provides a distinct tab or screen where users may describe the problem in detail and even attach a screenshot.
Notifications
This function aids in getting people the info they require fast and keeping them up-to-date. Smart doorbells, for example, include motion sensors, and when someone comes to the door, the owner receives a notification on their phone.
Safety
IoT apps need to be protected because they store a lot of sensitive data. This covers data encryption, platform access control, FaceID or PIN login, and secure pathways for data transfer.
Onboarding
Users are introduced to the app's user interface (UI) and essential functionality through a succession of displays. Onboarding aids in enticing customers to use the product and raises their level of satisfaction.
Customization
By generating bookmarks, templates, device lists, and quick actions for repeated operations, customization enables you to personalize the application.
Related readings: 
Mobile App IoT Ideas
You can control the entire premise from one small device. Just look at the examples that you can offer to your customers.
1. Smart Agriculture (Farming) System
How does Smart Farming work? It is an ecosystem with four categories of users: farmers, transporters, warehouses, and stores. Depending on the category, the user has access to certain features of the ecosystem.
The key idea is that each participant understands their area of responsibility and how their violations will affect the final cost of products.
The system allows complete automated control of parameters during the transportation of farm products from the place of cultivation to the warehouse and storage.
Let's say we speak about a smart warehouse. It is equipped with special telematics equipment that measures parameters and transmits them to the cloud platform during product storage:
Temperature
Humidity
Light
Volatile organic compounds
Mass
Air exchange rate
The storage facility may also be equipped with actuators that control the air exchange and/or the cooling system.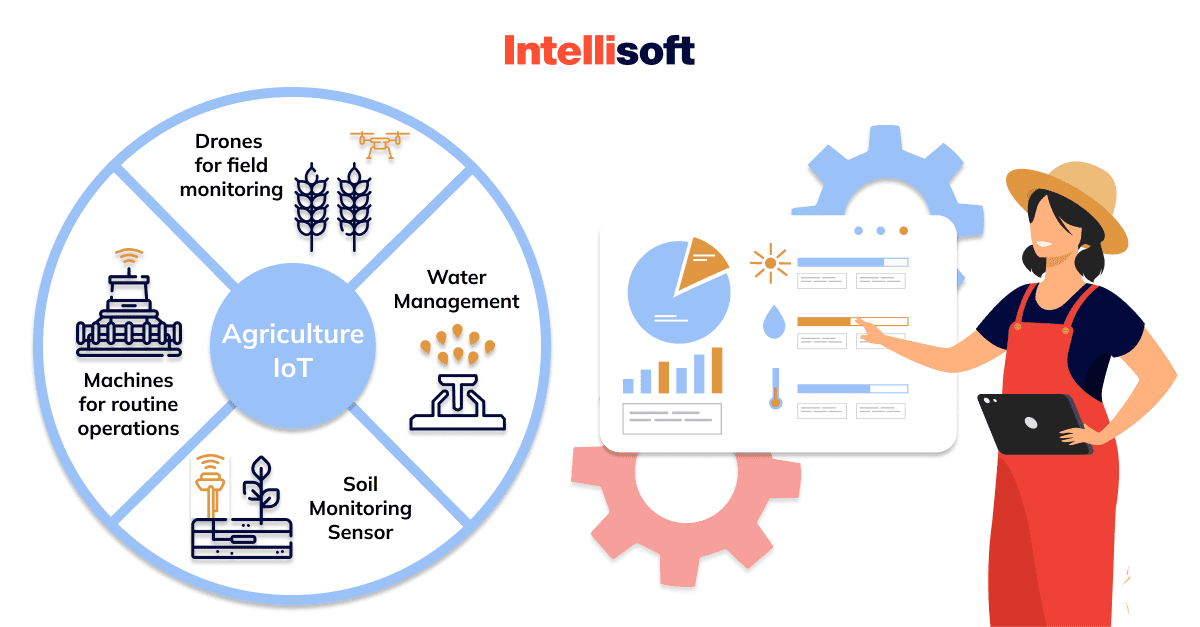 2. Weather Reporting System
Such solutions provide real-time weather data for your home. It also lets you know a variety of parameters. From temperature to outside humidity; from air quality outside your home to barometric pressure – why does all this matter? To have accurate weather forecasts. Homeowners can also analyze useful information about the rooms, such as temperature, humidity, and overall air quality. The Internet of Things application provides information about the amount of CO2 present in the house and therefore signals when and how much air is in the house to make it healthier.
3. Home Automation System
The Smart Home automation system can have a set of typical scenarios with preset settings to increase comfort. Lighting, outlets, security & climate systems, multimedia, and telecommunications are all linked into a single set of home automation, allowing residents to control and change conditions cumulatively. These settings are defined and programmed during the home automation installation phase. Home automation scenarios could be:
"All Home."
"No one's home."
"Morning."
"Evening."
"Home Theater."
"Journey."
"Party."
Smart Home control system is available from mobile applications for iOS or Android, voice commands (Siri, Google Assistant, Alexa), desktop, or wall-mounted touch panels and switches.
The functionality of each button is scripted and can be customized at any time.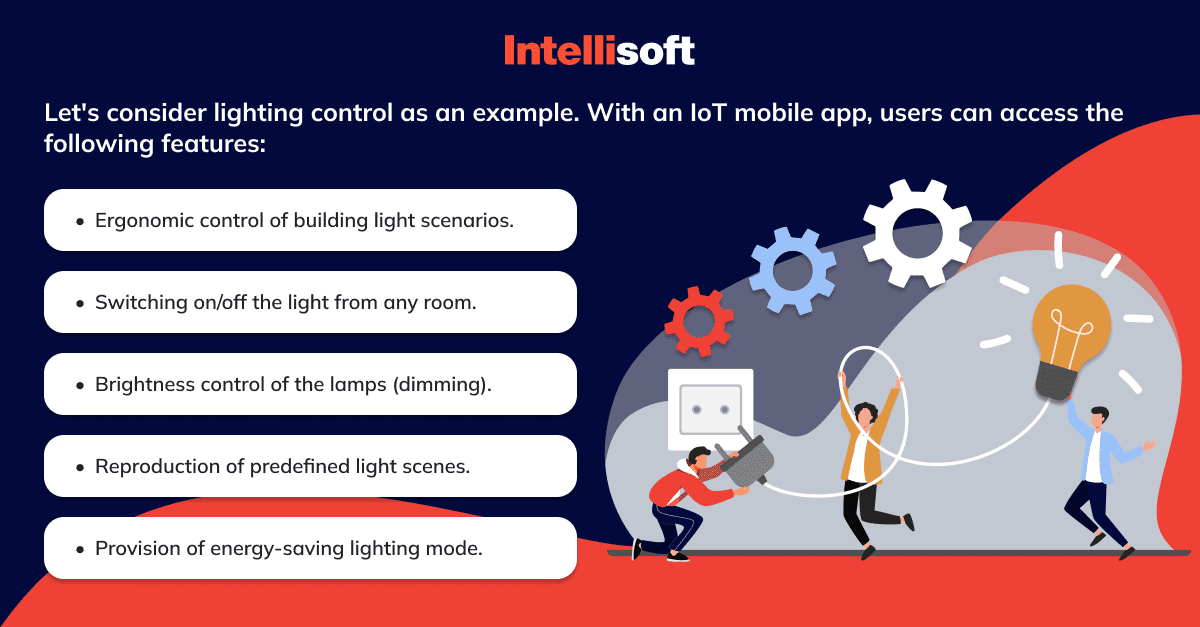 4. Face Recognition Bot
Face recognition is the latest user authentication trend. Face ID is used by Apple, whereas Face Unlock is used by OnePlus. Baidu employs facial recognition instead of ID cards to obtain entrance to the office, and crossing the border into the UAE is as simple as looking into the camera. A mobile app with face recognition tries to minimize the distance between similar images and maximize between different images. This information is used to determine who the person in the picture is. It allows for greater security when using various devices.
5. Smart Garage Door
People who own a private home often have a garage. A convenient solution is to use an automation system. This usually allows the gate to open after a button is pressed on the remote control attached to the keys or in an IoT mobile app. Many devices use artificial intelligence (AI) in their systems, making the garage door one of the elements of a smart home system. Such solutions increase the safety of family members. Check out the advantages and disadvantages of installing a smart garage door.
Examples of IoT Mobile Apps
Several examples of mobile applications for the Internet of Things exist. They can give you a better idea of how these solutions function.
Latch
Latch is a famous IoT application in the United States. It is a digital lock that can unlock the elevator or open doors to an apartment, foyer, or terrace.
The user sees a list of locations to which they have access, selects the door, and clicks the Unlock button to easily navigate the application. The app connects to the lock through Bluetooth to communicate with it. Users can also see activity logs and grant guests access to the platform.
Google Home
Google Home is an Internet of Things app that lets you operate your home smart devices. You can, for example, alter the temperature, the brightness of lights, or the volume of a speaker. Wi-Fi allows devices to communicate with one another.
The dashboard is the app's main interface, displaying connected devices and saved modes. The activity history is displayed on the second screen, which lists all prior modifications performed in the program or via the voice assistant.
Salesforce IoT Cloud
By sending data created from connected devices straight into Salesforce, where sales, service, marketing, and other teams can take appropriate action, Salesforce IoT Cloud assists businesses in making the most of their Internet of Things investment. Salesforce IoT enables enterprises to add commercial value to every connected device meaningfully.
You may gain a completely new level of insight into your consumers thanks to Salesforce's most recent offering. By gathering, evaluating, and delivering real-time IoT data on product usage and customer behavior directly to your CRM system, it enables you to specifically optimize anything, from your product design to your marketing efforts.
Not only do new devices become possible thanks to the Internet of Things, but also new industries. Ride-sharing, home automation, electric vehicles, medical monitoring, and even factory robots are prominent examples.
Tech Stack for Creating an IoT Mobile App
The following technologies are required to construct an Internet of Things app: programming language, framework, cloud IoT platform, protocol, hardware, and sensors. Combine them according to your individual tech needs, and if you're unsure, don't be afraid to seek professional assistance.
Framework
IoT.js
AngularJS
Node.js
Device.js
Programming languages
Ruby
C/C++
Python
JavaScript
Protocols
Cloud platforms
IBM Watson
OpenHAB
AWS
Microsoft Azure IoT
Arduino
Google Cloud
Sensors
Hardware
Google TPU
Arduino
Raspberry PI
FPGA controllers
How to Create an IoT Application in 6 Steps
An IoT mobile solution has a distinct development process from design to support, just like any other technology, and it's essential that you become familiar with it before starting your own adventure with IoT applications. Let us now walk you through the steps for developing iot apps:
Come Up with a Business Plan
A business plan is a detailed plan of action for a company that lasts a specific amount of time. This type of doc is required not only to dazzle investors but also to build development strategies, plan for market hazards, and gain a deeper understanding of your own business.
The company plan's cohesive form will allow you to spot errors in planning that are simple to overlook individually. We guide how to create your own paper and use it to acquire a foothold in the market. Ensure your business plan includes company information, market analysis, product/business model, marketing plan, sales strategy, financials, and risk management. You may also want to craft a technology roadmap or product roadmap for your convenience.
Hire Mobile App IoT Developers
Use all available resources to find IoT developers, including Facebook, Clutch, Upwork, various industry communities, and professional social networks. You may contact private recruiters if you cannot close a job on your own.
However, there is one more option. IoT developer outsourcing will help you significantly increase your talent pool, reduce hiring costs, focus on core business activities, access the recent technologies and best skills, stimulate the company's growth, and more. Besides, you can get top-qualified specialists in the same time zone who speak the same language.
Design UX/UI
Today, mobile apps that are part of the IoT network are created with better integration with other connected devices in mind. On the one hand, they must interact with other parts of the system; on the other hand, they are expected to realize the benefits of applications, namely portability, as well as intuitive usage and seamless integration into daily routine activities.
Develop an MVP
Remember that the purpose of the Minimum Viable Product (MVP) is not to test technology but rather to determine whether users need such a product and whether the underlying business model's hypotheses are true. The fundamental goal of an MVP is to cut down the time and resources required to assess an idea's viability in the market.
An MVP enables you to involve actual users in the project as advisors who help modify the business model and fundamental features of the future product, lay out the development directions, and establish the roadmap for updates. The entire product version can be developed if the MVP stage is successful.
Collect Feedback & Test
After the MVP is released, you must gather customer feedback to enhance the program. Asking for feedback is the simplest method to gather it. Thus, designers frequently include polls in user interfaces.
Post-Launch Support
It's time for the final release after you've gathered feedback, examined the data, eliminated all bugs, and enhanced the product. However, the developers' job does not stop there. They assist with application support, updates, and scaling after the launch.
Challenges That You May Face
That is true, creating a mobile application might take a while. It may require many other resources, such as money, tools, and talents. So, what are the primary challenges associated with developing IoT software?
Data kept in IoT mobile apps can't be fully trusted
Since we can't verify whether the data was changed or altered before sending, we can't entirely trust information saved on IoT platforms. Major car-sharing companies like Uber, for instance, don't have an app that enables them to exchange map or travel information. Such datasets must be independently gathered and stored.
The Internet of Things software lacks security
When it comes to the problems related to IoT mobile app development, security is the primary worry. The greater the number of linked devices, the greater the vulnerabilities and safety concerns. Large amounts of sensitive data are frequently stored on servers, making them a target for knowledgeable hackers. Financial losses of up to $120 billion are frequently the result of these attacks.
IoT does not provide user privacy
Another problem in IoT mobile app development is the invasion of customer privacy. Many polls conducted by various organizations worldwide demonstrate that customers are mostly concerned about their privacy while engaging with IoT mobile apps. They do not want their personal information to be disclosed to third parties.
How Much Does It Cost to Build IoT Application?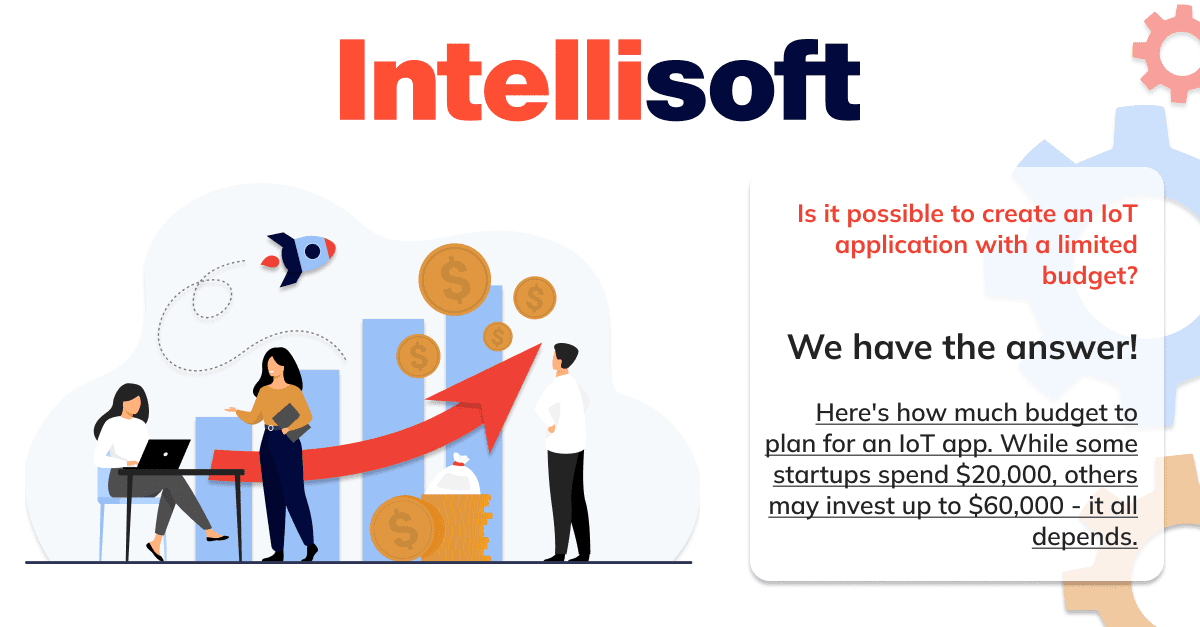 The exact budget of the project will depend on the details: your idea, preferences, and initial data. The final amount can be found after consultation with the development team.
Features of your IoT software. For startups and small companies, simple IoT mobile apps are recommended because they have restricted device connectivity and basic functionalities that allow them to handle user data. A sophisticated IoT application may include various third-party connections, device integrations, multiple sensors, tracking data, and so on, and it may be costly to start. A simple feature-based IoT mobile application development is advised for the upkeep of your ecosystem till new features are added over time.
Issues associated with hardware and software. Having a clear vision and focus for your project might assist you in incorporating the elements that you desire, both hardware and software. Certain hardware devices have more built-in functions than others. Hardware serves as a monitoring system and an interface for user engagement. As a result, the priority should be to adopt technology and software that allows users to connect seamlessly.
Software safety. Because of the large number of devices participating across several channels, there are numerous entry points for security, data, and privacy violations in IoT mobile apps. Large datasets, third-party integrations, real-time scans, and device synchronization are also potential targets. Inviting a security specialist to your team might cut future costs and help you avoid potential security problems.
Major interfaces of the IoT ecosystem. IoT hardware includes a variety of sensors, bridges, and routing devices. An IoT ecosystem involves hardware boards, firmware, edge computing, and sensors. For instance, in the case of Android IoT apps, the user's smartphone serves as partial payment for the hardware. Choose hardware appropriate for your project if you want an affordable interface.
Team of engineers. Your application's development duration will vary depending on your needed functionality and the team you employ. An estimate of the time needed for app development from a skilled team might help with the process. For creating, implementing, deploying, and supporting your IoT-based application, you'll need a project manager (PM), developers (both front-end and back-end developers), designers, QA engineers, and QA testers.
Conclusion
The concept of the Internet of Things was invented a long time ago. The list of tasks solved by e-devices is large and expanding. At the forefront of IoT technology implementation is the corporate sector. You can consider one of the following scenarios for creating IoT technologies:
Developing software from scratch.
Buying an off-the-shelf solution.
Developing your solution based on a framework.
Hiring an expert team to build an app for you.
For start-ups, the last option looks the most logical and is most often used because doing everything from scratch is expensive, time-consuming, and difficult, and ready-made projects do not always meet all requirements. In the market of urban and residential IoT, ready-made offerings from mobile operators and providers dominate, and the best way to compete with them is to come up with custom software with original solutions.
IntelliSoft has already helped many of its clients implement innovative Internet of Things solutions. To learn how much it might cost you and specify project details, you can send us a query. We'll implement your ideas with a professional touch!

About

Kosta Mitrofanskiy

I have 25 years of hands-on experience in the IT and software development industry. During this period, I helped 50+ companies to gain a technological edge across different industries. I can help you with dedicated teams, hiring stand-alone developers, developing a product design and MVP for your healthcare, logistics, or IoT projects. If you have questions concerning our cooperation or need an NDA to sign, contact info@intellisoftware.net.