Live streaming has surged from being a novel trend to an essential medium for businesses and content creators. Its rapid rise has captured global attention, offering real-time experiences that resonate deeply with audiences worldwide. This increasing demand and relevance may have nudged you towards the tantalizing thought: "Why not create my own live-streaming website?" If that's the case, you're in the right place.
We are IntelliSoft, a global software development company with a presence in different parts of the world, including the U.S. and Europe. Our team delivered projects to customers worldwide, demonstrating its mastery of all the latest cloud and web development technologies.
So, whether you're an executive eyeing to expand brand reach or a visionary aiming to bring something fresh to the table, understanding how to create a live streaming website is paramount. And who better to guide you than us? So, let's unravel the intricacies of live-streaming web development together.
What is Live Streaming?
Live streaming is the answer to real-time connection and engagement. In essence, it's the broadcasting of live video content to an audience over the internet. But besides pushing pixels across screens, it's about bridging the gap between creators and viewers, making the world feel a little bit smaller and more connected. Whether it's a gamer sharing a playthrough, an artist unveiling their creation process, a teacher conducting a class, or a musician delivering an electrifying performance, live streaming offers a raw, unedited window into real moments as they unfold.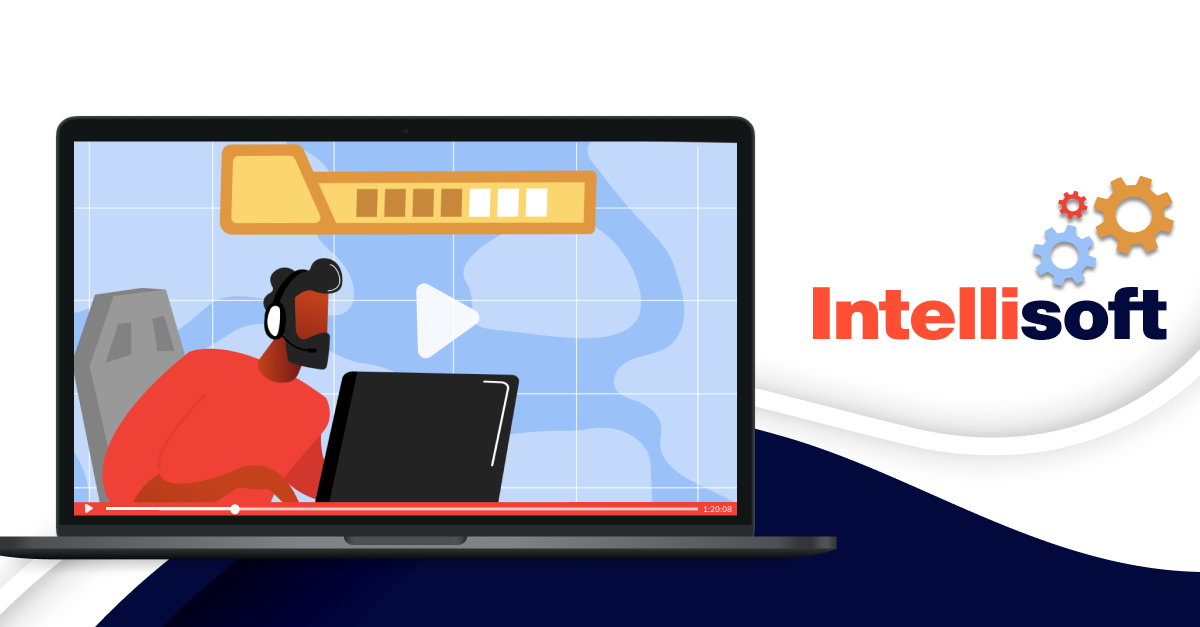 The appeal of live streaming lies in its immediacy and authenticity. There's an element of unpredictability and improvisation that recorded content doesn't quite capture:
For viewers, there's the allure of being part of an event as it happens, the excitement of interaction, and the possibility of influencing the content in real time.
For creators, it's an opportunity to build a direct rapport with their audience, receive instant feedback, and foster a community.
As technology evolves and internet speeds skyrocket, the boundaries of live streaming are continually being pushed, redefining how we consume and engage with online content.
Let's take a virtual dive into the electric world of live streaming. Have you ever sat on your couch, phone in hand, watching a live event unfold halfway across the globe, and thought, "How to create a streaming website?" Well, you're in the right place.
Key Features of a Live Streaming Website
When you think of a live-streaming website, you might immediately envision a video playing. However, beneath that visual surface lies a host of features that enhance user experience, drive engagement, and ensure seamless broadcasting. Let's dive into the essential features that set successful live-streaming platforms apart.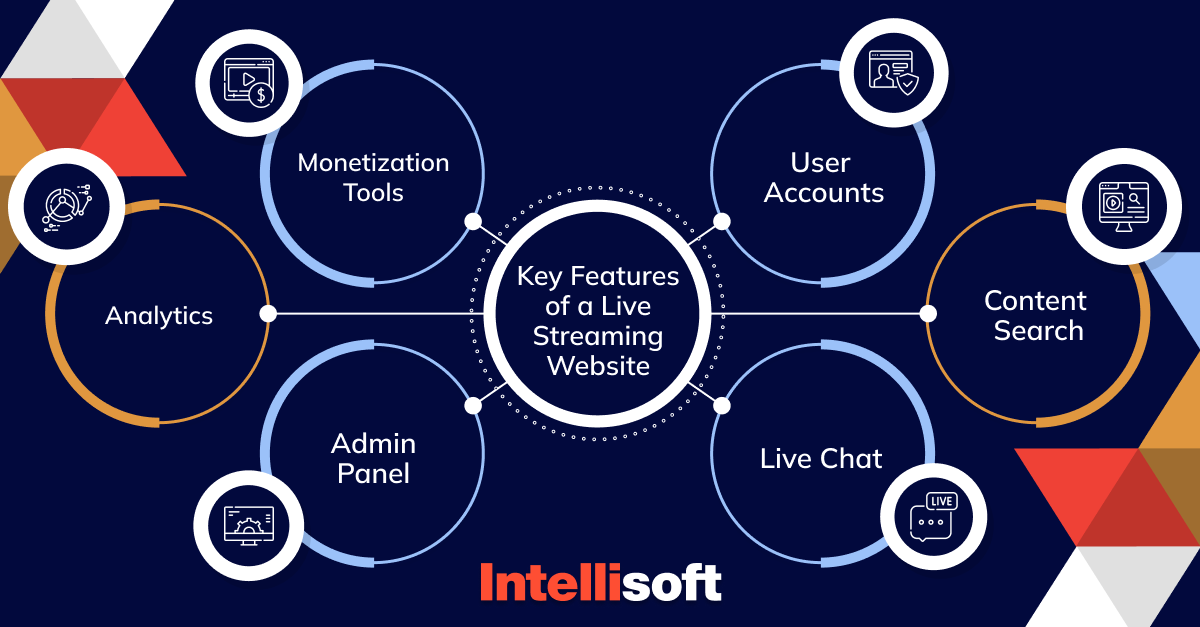 User Accounts
Personalization is at the heart of modern digital experiences. By allowing users to create accounts, you offer them a tailored experience, from saving their preferences to allowing them to comment, like, and even broadcast their own content.
Content Search
With the volume of content available on live-streaming platforms, a robust search feature is indispensable. Users should be able to quickly locate streams or channels based on keywords, categories, or even by broadcaster name.
Content Discovery and Recommendations
Beyond just search, platforms can use machine learning algorithms to suggest new content to viewers based on their viewing history, enhancing user engagement and keeping them on the platform longer.
Live Chat
Interaction is a massive part of live streaming's allure. Live chats let viewers communicate with the broadcaster and each other in real time, creating a dynamic community feel. It also gives content creators immediate feedback.
Admin Panel
For those running the platform, an intuitive admin panel is crucial. It should provide tools for moderating content, managing user accounts, overseeing chats, and accessing analytical insights about viewership trends and demographics.
Analytics
Understanding viewer behavior is pivotal for growth. An analytics feature provides data on viewer count, average watch time, peak viewing times, and more. This data can guide content strategies, promotional efforts, and even technical adjustments.
Monetization Tools
To make the platform lucrative for content creators and ensure sustainability, built-in monetization tools are vital. This can range from ad placement and subscription models to pay-per-view options.
Adaptive Bitrate Streaming
Given the variability in users' internet speeds, the platform should automatically adjust video quality to provide smooth playback. This ensures that viewers with high-speed connections get HD content, while those with slower connections get a lower resolution to prevent buffering.
Mobile Responsiveness
With a significant chunk of users likely accessing the platform via mobile devices, ensuring the website is mobile-friendly is non-negotiable. This means easy navigation, intuitive controls, and video playback optimized for smaller screens.
Even if you know how to make a live streaming website, crafting it requires a blend of technical prowess and a keen understanding of the viewer's experience. Each feature plays a distinct role in making the platform a go-to destination for broadcasters and audiences.
Types of Live Streaming Services
It's time to wade a bit deeper into the waters of live streaming. Just as your favorite diner offers various dishes to tantalize your taste buds, live streaming offers services tailored for every type of viewer.
On-Demand Streaming
Let's say your best friend tells you about this mind-blowing show they watched last night, but you missed it. Fear not. On-demand streaming is here to save your day. It allows you to watch content at your convenience on your own time. You pick what you want to watch when you want to watch it. Whether it's that new thriller, a documentary on penguins, or a cooking show, they're all queued up, ready and waiting. No timetables, just your schedule, and your content. Netflix, Hulu, and Amazon Prime are some of the big names in this realm.
Live TV
Remember the anticipation of sitting in front of the TV at a specific time to catch the premiere of a new episode or a live event? That's Live TV for you in the digital era. It's the adrenaline rush of live moments broadcasted in real-time. You're not alone in your excitement; thousands or even millions around the globe are hooked to their screens, sharing the experience. It can be compared to attending a live concert. The energy, the unpredictability, the communal experience. Platforms such as YouTube Live and Twitch primarily capitalize on this type.
Real-Time Video Streaming
Ever had a video call with a loved one across the globe? That's real-time video streaming at its most basic. This service is the spontaneous dance-off at the party. It's about creating, sharing, and enjoying content on the fly without any lag or delay. Here, content is streamed directly without any storage buffer, offering viewers an authentic, real-time experience. Instagram Live and Facebook Live are notable examples. It's the thrill of watching a creator develop a painting step-by-step, joining a live workout session, or attending a virtual seminar and being able to comment, ask questions, or simply be a part of that fleeting moment.
These streaming services cater to different appetites, ensuring there's something delightful for everyone. Whether you're a planner who prefers on-demand, a thrill-seeker who loves live TV, or someone who enjoys the immediacy of real-time video streaming, there's a plate ready for you in the buffet of live streaming services.
Live Streaming Server
Navigating the digital landscape of live streaming is much like charting a course through an expansive city. In this cityscape, a live streaming server acts as a central hub, ensuring traffic flows smoothly and everyone can reach their destinations without disruptions.
A live streaming server is a specialized set of hardware and software that hosts and distributes live and on-demand media content. It's the bridge between the content creator (or broadcaster) and the viewer. Just as an airport facilitates the takeoff and landing of numerous flights, a live streaming server manages the broadcast, ensuring viewers receive the content without lag or buffer.
Let's talk about the benefits of having your own server.
Control
Possessing your own server gives you full control over content distribution, allowing you to set your broadcast parameters and manage bandwidth.
Monetization
With your own platform, you get the entire pie! Implement your monetization strategies without sharing revenue.
Customization
Tailor the server according to your brand and needs. This means customized player interfaces, features, and viewer experiences.
Security
Control accesses to content, ensuring unauthorized users or competitors can't pilfer your hard work.
If you want to learn how to build a live streaming server, you can always contact IntelliSoft specialists for more information.
Streaming Encoder
Before we dig into the nitty-gritty of encoders, let's establish a simple parallel. Imagine converting an entire book into a digital format that's easy to share online. A streaming encoder essentially does the same but with video content. It converts raw video files into digital formats suitable for online transmission, ensuring viewers receive content in accessible, compressed forms that don't compromise quality.
Here are some of the most popular streaming software in the market:
OBS Studio
It is a favorite among many for its open-source nature and compatibility across multiple operating systems.
Wirecast
Known for its professional-level features, catering mainly to those who need advanced streaming capabilities.
vMix
A comprehensive solution that allows for a mix of live video production and streaming.
While each encoder has its own set of features, the core function remains the same – converting and optimizing your video for the best live streaming experience.
As you start your live video streaming website journey, remember that a suitable encoder is like a trusty compass – essential for a smooth and prosperous voyage.
Related readings
A Deep Dive into Streaming Protocols
Now it's time to shed some light on streaming protocols. Don't let the technical jargon of ports, packets, and pathways discourage you on your journey. By the end, you'll be navigating these waters with confidence.
What is a streaming protocol?
At its core, a streaming protocol is a set of rules governing audio and video content delivery over the internet. Think of it as the language that your devices (be it your computer, smartphone, or smart TV) speak to ensure they can smoothly receive and play the media you wish to view.
Streaming protocols act like the traffic signals and road signs of the Internet routes, ensuring the smooth flow of media data without causing jams or errors. They dictate how data should be packaged, transmitted, received, and decoded to provide a seamless streaming experience.
Various streaming protocols are available, each designed with specific scenarios in mind, from live broadcasts to on-demand streaming. But today, we'll shine our spotlight on a protocol that stands tall among its peers – the Real Time Streaming Protocol.
Real-Time Streaming Protocol (RTSP)
If streaming protocols were rock bands, RTSP would be one of the legends, belting out timeless classics that resonate across ages and devices. Introduced in the late '90s, RTSP is a tried-and-true protocol that has played a pivotal role in the evolution of the streaming landscape.
Real Time Streaming Protocol, often abbreviated as RTSP, is a network control protocol designed for use in multimedia entertainment systems. Its primary function is to establish and control media sessions between endpoints. Imagine RTSP as the director of a play, guiding actors (media data) on when to enter or exit the stage, ensuring the performance (stream) flows without a hitch.
Here are the main reasons why RTSP is so revered:
Flexibility
RTSP isn't tied to a specific transport protocol. Instead, it acts as a framework, offering flexibility to pair with various transport protocols like RTP (Real-time Transport Protocol) and RTCP (Real-time Control Protocol) to deliver content efficiently.
Control
RTSP's design gives clients more control over the media stream. This protocol allows viewers to play, pause, rewind, or fast-forward media, making it especially valuable for on-demand streaming services.
Interoperability
Its enduring legacy means that a broad spectrum of devices and software solutions support RTSP. This widespread adoption ensures content can be streamed to various devices without compatibility hiccups.
Enhanced Security
RTSP boasts a robust set of security measures. With capabilities to support encrypted streams and authenticated access, it ensures that content remains secure from unauthorized access or theft.
However, no system is flawless. One of the challenges of RTSP is that, due to its connection-oriented nature, it may sometimes face difficulties in traversing firewalls and NAT (Network Address Translation) setups. But with proper configuration and modern enhancements, these hurdles can be mitigated.
Streaming protocols operate behind the scenes to ensure that the vast array of online content reaches us in pristine quality and without interruptions. As for RTSP, its enduring legacy in the annals of streaming history speaks volumes about its capabilities and reliability.
Ways to Monetize Your Live Streaming Website
So, let's say you've managed to sail through the tricky waters of setting up your live-streaming website, and now you're wondering how to make it rain gold doubloons, right? Okay, perhaps not doubloons, but some monetary gains would certainly be nice. With more people tuning into live streaming every day, a veritable treasure chest is waiting for you, provided you know the right keys to unlock it. Let's dive into some time-tested strategies that can help you monetize your live-streaming website.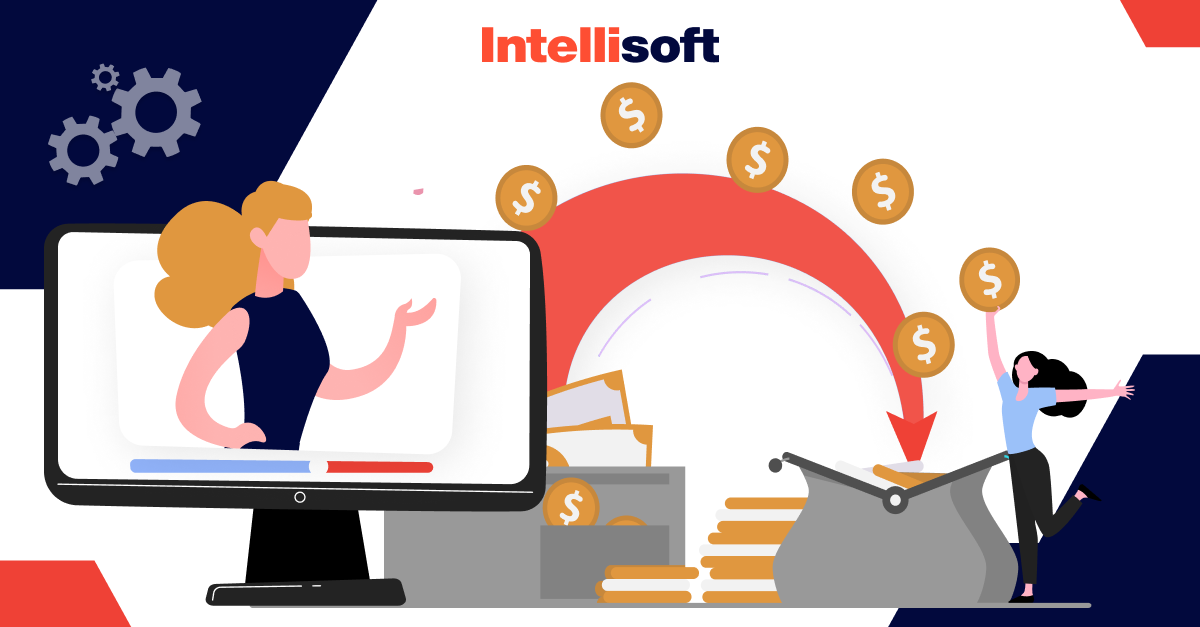 Subscription-based Models
Welcome to the era where Netflix and Spotify reign supreme. The subscription-based model has become the Holy Grail for many online platforms, and with good reason.
Steady Revenue Stream
Instead of one-time purchases, subscriptions ensure a consistent inflow of money every month or year. This predictability is great for planning and growth.
Loyalty and Community
Offering exclusive content to subscribers fosters a sense of belonging. Your viewers become members of an exclusive club, which often leads to higher engagement and loyalty.
Scalability
Once you've established a solid base of content, adding more doesn't necessarily increase costs significantly, but it can attract more subscribers.
It's essential to strike a balance between what's available for free and what's behind the subscription wall. Too much free content, and there's no incentive to subscribe. Too little, and potential subscribers might not see the value.
Pay-per-view Events
While subscriptions are great for steady revenue, pay-per-view (PPV) events can be your golden goose, especially if you're broadcasting something exclusive or highly anticipated.
High Revenue Potential
A much-anticipated event can bring in significant revenue in a short period, especially if you've marketed it well.
Flexibility
Not every piece of content may be suitable for a subscription model. With PPV, you can monetize specific events or special broadcasts.
Attracts Casual Viewers
Not everyone will commit to a subscription, but many may be willing to pay a one-time fee for a special event.
Pricing is key. If it's too high, you might alienate potential viewers. If it's too low, you may not cover costs or turn a profit. Analyze your audience, the exclusivity of the event, and the general market rates before setting a price.
Advertisement and Sponsorships
Remember when TV shows were often interrupted by, "And now, a word from our sponsors"? That's because advertisements and sponsorships have been tried-and-true revenue sources for decades, and they still hold potent potential in the digital age.
Consistent Earnings
Advertisements, especially if they're recurring, can provide a stable income. It might not be as much as subscriptions or PPV events, but every bit counts.
Variety
There are numerous ways to incorporate ads, from pre-roll videos that play before your stream starts to banner ads on your site. The flexibility allows you to choose what best suits your content and audience.
Partnerships and Collaborations
Sponsorships often go beyond just money. They can offer cross-promotion, increasing your reach. Plus, having reputable sponsors can boost your platform's credibility.
The key is not to overdo it. Too many ads can annoy your viewers, leading them to seek content elsewhere. Aim for relevancy. Ads that resonate with your content and audience are more likely to be successful.
Monetizing your live-streaming website is a blend of art and science. While the strategies above offer a robust starting point, it's essential to continuously analyze, tweak, and adapt based on your audience's preferences and market trends. In the world of live streaming, content may be king, but a wise monetization strategy is the trusted advisor guiding it to prosperity. So chart your course, set your sails, and let the winds of monetization fill them, guiding you to a horizon gleaming with gold!
A Step-by-Step Guide on Creating Your Own Live Streaming Website
Alright, it's time to roll up your sleeves and clear your workspace. We're about to venture into the intriguing journey of building your own live-streaming website. Remember, Rome wasn't built in a day, nor will your website be. But, by breaking things down step by step, we can make that mountain of a task seem like a friendly neighborhood hill.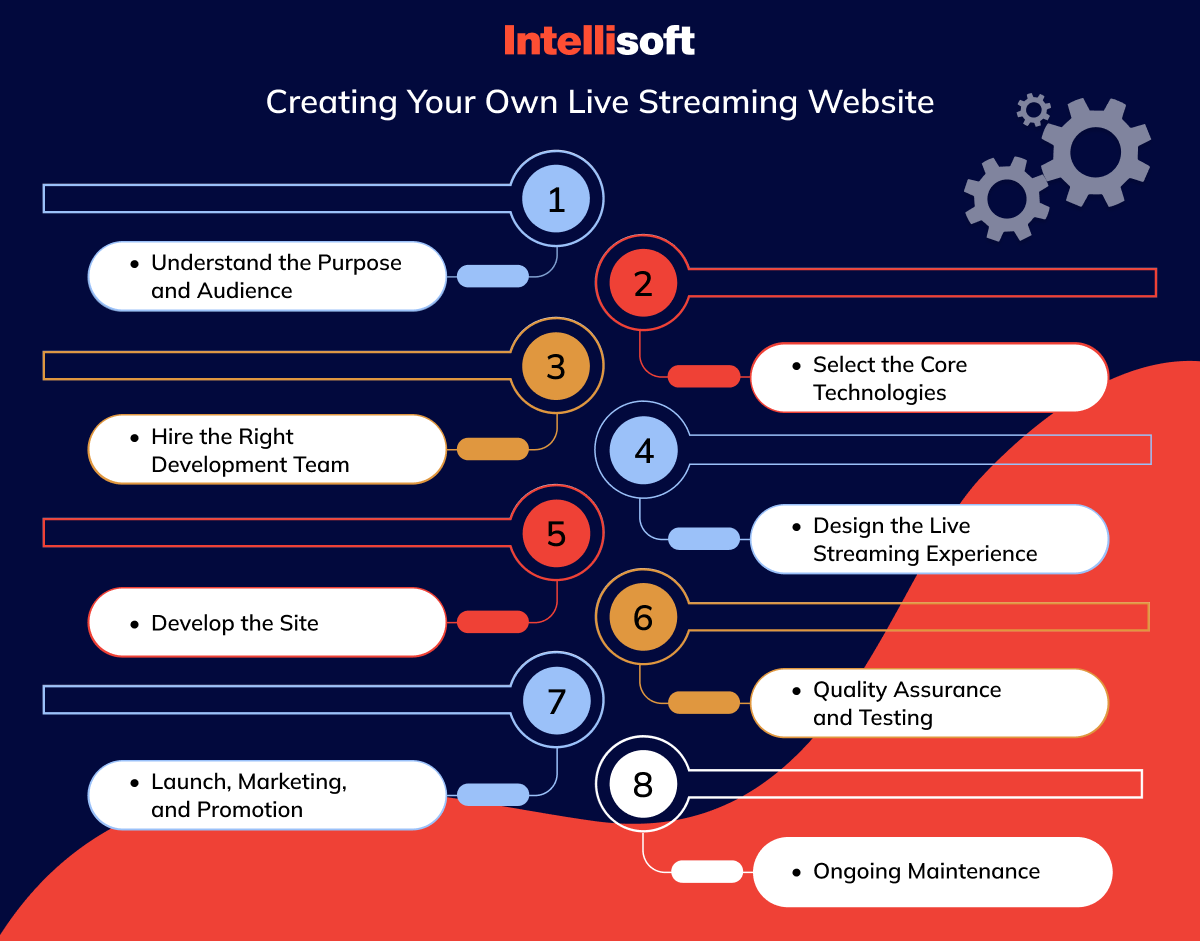 Step 1. Understand the Purpose and Audience
Before you even type a single line of code or sketch a design, take a step back and ask yourself: "What's the most important reason for building my streaming site?" Knowing the purpose and audience will guide every other decision you make.
Purpose
Are you aiming to create a platform for budding artists to showcase their talents? Or perhaps a specialized platform for yoga and wellness enthusiasts? Clearly define what your website will offer that others don't.
Audience
If you're targeting Gen Z, your design and content choices will differ dramatically from a platform aimed at baby boomers. Dive into your target audience's demographics, preferences, and online behavior.
Choosing a Domain Name
Ah, the realm of ".coms" and ".nets." Your domain name is more than just an address – it's your brand's online identity. Make it memorable, easy to type, and relevant to your content. If your site is about jazz music streams, "JazzyStreams.com" might work better than "BobLovesJazz.net." Keep it succinct, avoid complex words or spellings, and ensure it resonates with your site's purpose and audience.
Step 2. Select the Core Technologies
You need to pick the core technologies that will form the backbone of your website. But beware, this isn't a candy store. You can't just pick everything that looks shiny. Instead, focus on what's necessary for your site's function and growth.
Content Management System (CMS)
Platforms such as WordPress, Joomla, or Drupal can be your best friends, especially if you're not a coding wizard. These systems allow you to manage, publish, and organize a large volume of content seamlessly.
Streaming Protocol
As discussed in our previous chapters, choosing the right streaming protocol, such as RTMP, HLS, or MPEG-DASH, is crucial for the quality and reach of your streams.
Web Hosting
Your live video streaming website will need a robust and reliable host, especially if you're expecting high traffic. Look for hosting solutions that offer ample bandwidth, excellent uptime, and strong customer support.
Security Technologies
With cyber threats lurking in the shadows, ensuring your website is fortified against potential attacks is imperative. Consider SSL certificates, secure streaming solutions, and regular security audits.
We're well on our way. But remember, while these first steps lay a solid foundation, the real magic starts when we build upon them.
Step 3. Hire the Right Development Team
The construction of your live-streaming castle is not a solo project. Behind every magnificent website is a group of tireless builders: the development team. Now, you might be tempted to hire a budget-friendly freelancer or cousin Joe because he once built a blog about cats in high school, but let's face it, creating a live-streaming website requires a higher level of expertise.
Know Your Requirements
Before you embark on the hiring journey, chalk out what you need. Specific programming languages, familiarity with particular streaming protocols, or experience in developing similar platforms?
Peruse Portfolios
This isn't about admiring pretty websites but understanding the depth of a developer's or team's work. If they've nailed a live-streaming project before, it's a good sign.
Effortless Communication
You don't want your ideas lost in translation. The team you choose should understand your vision, be open to feedback, and be there when you ping them with a dozen questions.
Budget and Delivery
Quality comes at a price. While you shouldn't blow your entire savings, remember that you get what you pay for. Set a realistic timeline, keeping some buffer for those unforeseen technical hitches.
And speaking of the right team, collaborating with time-tested outsourcing companies like IntelliSoft can make the journey smoother. With experience spanning numerous projects, a dedicated team of professionals, and expertise tailored for live streaming solutions, IntelliSoft could be the partner you're searching for.
Step 4. Design the Live Streaming Experience
As we are diving into the design realm, it's time to ensure that your users don't just watch content but experience it. A great live-streaming website is intuitive, engaging, and easy on the eyes.
User Interface (UI)
Think of UI as the decor of your website. It's the buttons users click on, the layout, the visuals, and even the typography. The goal? Simplicity and beauty. You want users to navigate through your site effortlessly.
User Experience (UX)
If UI is the decor, UX is the architecture. It's how users interact with your website. For instance, if they want to find a replay, can they do so easily? Streamline their journey from landing on your website to playing a stream.
Interactive Features
Live chat? Polls? Reactions? Depending on your audience and content, integrating interactive features can enhance viewer engagement. If it's a live concert, maybe viewers can drop a virtual applause.
Mobile Responsiveness
In today's fast-paced world, many users might access your site from a mobile device. Ensure your design looks as impeccable on a smartphone as it does on a desktop.
Feedback Loop
Before the official launch, test your design with a select group. Gather feedback, make tweaks, and test again. The goal is not just to design for your viewers but to do it with their help.
A captivating design intertwined with a seamless user experience can be the difference between a one-time visitor and a loyal user. Put on your design cap, empathize with your audience, and craft a live-streaming experience that's nothing short of magical. IntelliSoft specialists can make the process effortless for you.
Step 5. Develop the Site with IntelliSoft
If you've chosen to partner with IntelliSoft, congratulations! You've already taken a step towards excellence. Here's what to expect next:
Initial Consultation
IntelliSoft doesn't believe in cookie-cutter solutions. The team sits down with you to understand your vision, needs, and unique selling points. This isn't just about finding a tech solution, we are aimed at grasping your dream.
Customized Development
With a keen understanding of your requirements, IntelliSoft's experts start sculpting your platform. You won't get generic templates. We offer tailored craftsmanship designed to make your streaming site stand out in the crowd.
Regular Updates
The IntelliSoft way is transparency. As development progresses, you'll be kept in the loop with regular updates, allowing for feedback and tweaks along the way. Remember, this is a collaboration.
Incorporating Special Features
User Accounts, Live Chat, Analytics, Monetization, and whatever features you've envisioned, IntelliSoft ensures they're integrated seamlessly, enhancing user experience while ensuring stability.
Step 6. Quality Assurance and Testing
This is where the mettle of your live-streaming website is truly tested. With IntelliSoft by your side, it's about precision:
Comprehensive QA
IntelliSoft's QA team works tirelessly, finding bugs and trying to achieve perfection. Every feature, every click, every function undergoes rigorous testing to ensure it works flawlessly.
Real-World Scenarios
Your website isn't just tested in a sterile lab environment. IntelliSoft simulates real-world scenarios (different devices, varying internet speeds, and more) to ensure your site remains resilient and robust.
Feedback Loop
On the rare occasion that any issues pop up, the QA team immediately loops back with the development squad to iron out wrinkles. This iterative process ensures that when your site goes live, it's in the best shape.
Final User Testing
Even after in-house tests, a round of user testing gives an outsider's perspective, allowing for any last-minute refinements.
With IntelliSoft's commitment to quality and its meticulous testing approach, you can rest assured that your live-streaming platform is exemplary. Now, you can gear up for the grand launch, knowing you're backed by one of the best in the business!
Step 7. Launch, Marketing, and Promotion
Your live streaming platform, carefully crafted with IntelliSoft, is ready for the spotlight. But a great product needs great visibility. Here's how you kickstart your streaming stardom:
The Grand Launch
Timing is everything. Choose a date and promote it. Generate anticipation through countdowns, teasers, and sneak peeks. Make your audience feel they're on the brink of something revolutionary.
Leverage Social Media
Platforms such as Twitter, Instagram, Facebook, and LinkedIn are gold mines. Share engaging content, collaborate with influencers, and run targeted ads to reach your potential audience.
Engage Through Content
Blog posts, videos, or podcasts are great for sharing stories about your platform's journey, its unique features, or the inspiration behind it. Make your narrative relatable, and you've got a hooked audience.
Promotions and Offers
A limited-time discount, an exclusive webinar, or a celebrity livestream can act as catalysts. Give your audience a reason to jump in immediately.
Feedback and Engagement
Post-launch, gather feedback. Engage with your users, address their queries, and make them feel heard. A community that feels valued is a community that stays.
Step 8. Ongoing Maintenance with IntelliSoft
The journey doesn't end at the launch. To stay on top, you need continuous refining and updating. Luckily, with IntelliSoft as your tech partner, the voyage is smooth sailing:
Routine Checks
IntelliSoft team schedules regular check-ups for your site. Just like a health check-up, this ensures everything is functioning optimally and catches potential issues early.
Updates and Upgrades
As the tech world evolves, so should your platform. Whether it's integrating a new feature, updating to a new software version, or enhancing user experience, IntelliSoft is on it.
Security
In a digital age, security is paramount. IntelliSoft ensures that your live streaming site is fortified against potential threats, keeping both your content and your users safe.
User Feedback Implementation
The feedback loop continues. IntelliSoft values the voice of your audience, implementing changes based on user suggestions, making your platform truly dynamic and user-centric.
24/7 Support
Hiccups happen. But with IntelliSoft's round-the-clock support, you're guaranteed swift resolutions. Whether it's a minor glitch or a significant query, you're never alone in this journey.
With IntelliSoft by your side, you're not just getting a one-time solution. You're entering into a long-term partnership, one that guarantees your live-streaming website remains at the pinnacle of excellence every single day.
Team Composition
Creating a live-streaming website isn't a one-man show. It's a symphony, with each instrument playing its part to create a melodious experience for the user. Let's peel back the curtain and meet the all-stars that make the magic happen.
Project Manager (PM):
A ship without a captain is destined to be lost at sea. Enter the Project Manager. They're the ones holding the compass, ensuring the project remains on course.
Role & Responsibilities
Setting the vision and defining the project scope.
Creating a detailed work plan which identifies the sequence of tasks to be done.
Coordinating with all team members, ensuring tasks align with project objectives.
Monitoring progress and making adjustments as necessary to meet project outcomes.
Reporting progress to stakeholders.
Backend Developers
If your live-streaming website were a theater, the backend developers would be the backstage crew, ensuring everything runs smoothly behind the scenes.
Role & Responsibilities
Designing and maintaining the server, database, and application.
Ensuring speed, performance, and scalability.
Integrating front-end elements into the application.
Developing solutions for user authentication, data storage, and more.
Collaborating with front-end developers to integrate user-facing elements.
Front-end Developers:
The artists are the ones responsible for the aesthetics of your platform. They ensure the audience enjoys not just the content but the environment it's presented in.
Role & Responsibilities
Turning UI/UX designs into visuals.
Ensuring responsiveness across devices.
Optimizing the platform for speed and scalability.
Crafting features that enhance user experience.
Collaborating with backend developers to bridge the server side with the client side.
QA Testers
Often underappreciated heroes of the software development world. QA Testers are the gatekeepers, ensuring that the final product is free from glitches and offers a seamless user experience.
Role & Responsibilities
Creating detailed test plans and test cases.
Identifying, recording, and documenting bugs.
Conducting post-release and post-implementation testing.
Collaborating with the development team to ensure high-quality software.
Ensuring the final product aligns with project requirements and objectives.
UX/UI Designers
The bridge between your vision and your audience. They craft the journey a user embarks on when they land on your platform.
Role & Responsibilities
Researching and understanding user behaviors and needs.
Designing the overall look, feel, and functionality of the platform.
Crafting user journeys that are intuitive and engaging.
Collaborating with developers to ensure design feasibility.
Keeping up with design trends ensuring your platform remains modern and engaging.
Each of these roles, while distinct, is interconnected, working in harmony to bring your live-streaming dream to life. It's like a finely-tuned orchestra, with each player knowing their part but also understanding the importance of their teammates. And the best part? When you partner with IntelliSoft, you're guaranteed a team that not only understands each of these roles intimately but excels at them, ensuring your live-streaming website is nothing short of a masterpiece.
Common Challenges and How IntelliSoft Overcomes Them
Creating your own live-streaming website can be a thrilling experience. However, just like any grand adventure, it's often met with challenges. While many stumble upon these challenges and retreat, at IntelliSoft, we see them as puzzles waiting to be solved. Let's discuss some common challenges and see how IntelliSoft's expertise turns potential setbacks into stepping stones.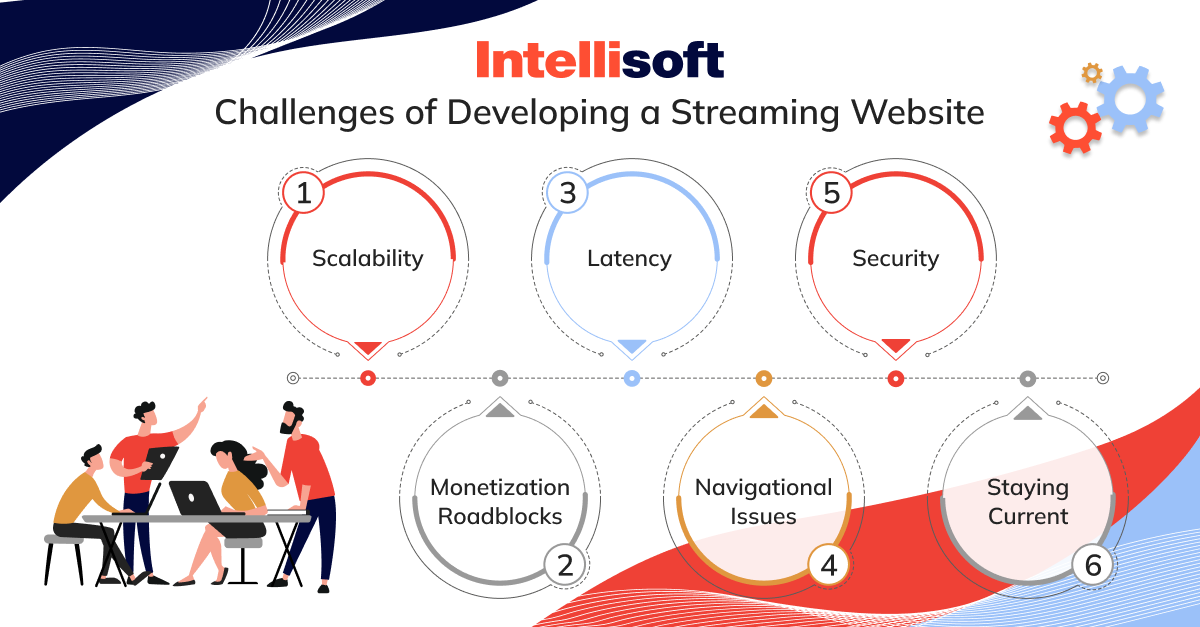 Scalability Concerns
As your platform garners more attention, it must cater to an ever-increasing user base. Many live streaming sites face lagging, crashing, or a dip in quality as traffic surges.
Our backend developers prioritize scalability from the outset. By using advanced server configurations and cloud solutions, we ensure that as your audience grows, your platform not only sustains but thrives.
Latency Issues
In the world of live streaming, even a few seconds of delay can mar the real-time experience, leading to frustrated users. Utilizing advanced streaming protocols and optimizing server-client communication, we reduce latency to an absolute minimum. The result? Real-time truly feels real-time.
Security Concerns
Live streaming platforms can be hot targets for hackers. Data breaches, unauthorized access, and content theft are genuine threats. We integrate robust security protocols, from encryption to intrusion detection systems. We believe that both your data and your users' data are sacred and deserve iron-clad protection.
Monetization Roadblocks
Building a platform is one thing; ensuring it's a revenue-generating machine is another. Many platforms struggle to effectively monetize their content without alienating users. We integrate versatile monetization options tailored to your audience. Be it subscription models, pay-per-view events, or ad integrations, we ensure you strike the perfect balance between earnings and user satisfaction.
Navigational Nightmares
A live-streaming site with poor navigation can make users feel like they're trapped in a labyrinth. An unintuitive interface can lead to dwindling user retention. Our UX/UI designers craft intuitive user journeys. With a keen understanding of user behavior, we ensure that every feature, button, and transition feels natural and seamless.
Keeping Up With Tech Trends
The tech world evolves at breakneck speed. Today's "in" feature can become obsolete tomorrow. Many platforms struggle to stay current. Staying stagnant isn't in our vocabulary. Our team is always on the hunt for emerging trends, ensuring that your platform isn't just relevant today but is future-proofed for tomorrow.
In the vast ocean of live streaming, challenges are but waves. While some may see them as deterrents, at IntelliSoft, we see them as opportunities, chances to innovate, adapt, and rise. With our experience, expertise, and passion, we successfully navigate these challenges and conquer them, ensuring that your live-streaming voyage is smooth, successful, and spectacular.
Conclusion
The realm of live streaming is expansive and filled with possibilities. As with any grand endeavor, the road to establishing a top-notch live-streaming platform will undoubtedly have its twists and turns. But with a keen understanding of the process, a talented development team by your side, and a proactive approach to challenges, the path becomes clear and invigorating.
Choosing the right partner for this journey is paramount. IntelliSoft's software solutions offer dreams transformed into digital reality. With a rich history of creating success stories, our expertise in the field is not just about code but about crafting experiences, building visions, and ensuring that every pixel, every feature, resonates with your brand's essence.
Dive into a world where technology meets innovation, where your ideas are nurtured and transformed into digital marvels. Whether you're a budding startup or an established brand looking to make waves in the live-streaming domain, IntelliSoft is your trusted partner. Our comprehensive web development services ensure that every aspect of your platform is meticulously crafted, rigorously tested, and primed for success.
Join hands with IntelliSoft and set sail on a live-streaming voyage that's bound to make headlines. Your dream platform awaits, let's build it together. Explore our services and let the IntelliSoft magic unfold!
FAQ