Right now, cloud computing is more than a trend. It is how businesses grow and stay ahead of their competitors in the swiftly growing market. With more and more businesses moving their operations to the cloud, they need to scale their resources fast and efficiently. That is when cloud scalability enters the picture. It's the cloud's capability to change (expand or shrink) according to business needs or computer resources.
At IntelliSoft, we have extensive experience in the cloud computing industry. One of our latest successful cases is ZyLAB. It is a SaaS platform that helps automate the eDiscovery process. The client needed to improve the system's performance, so our team was responsible for migrating the on-premise infrastructure to the cloud.
Our years of experience in the industry helped us gain the skills and expertise available to help our clients with cloud computing services, such as migration to the cloud and cloud scalability, and be able to help businesses optimize their processes and stay on top of the competition.
In this article, we will focus on the definition of scalability in cloud computing, the main benefits and features of cloud computing scalability, and discuss how to achieve it. You'll also learn about the techniques for optimizing cloud resources for scalability and how IntelliSoft can help you with that.
What is Scalability in Cloud Computing?
Cloud scalability is the ability of the cloud to adjust to changing business needs and computing requirements. In other words, it is the ability to decrease or increase your IT resources easily when your business needs storage or speed changes.
The importance of cloud computing scalability is that you don't have to worry about changes in IT resources. If you need more storage space for data – you can add it. If you need less storage, you just decrease the capacity. It is much easier than doing this with on-premise solutions, such as buying more servers.
As your business grows, cloud scalability allows you to quickly and cost-effectively adapt to the changes. Moreover, it offers multiple business benefits, such as increased performance, improved flexibility and reliability, and better cost control.
Cloud Scalability Benefits for Your Company
You may think: why is cloud computing important? In fact, businesses of all types and sizes can benefit from it. Let's take a look at the main benefits of cloud computing scalability: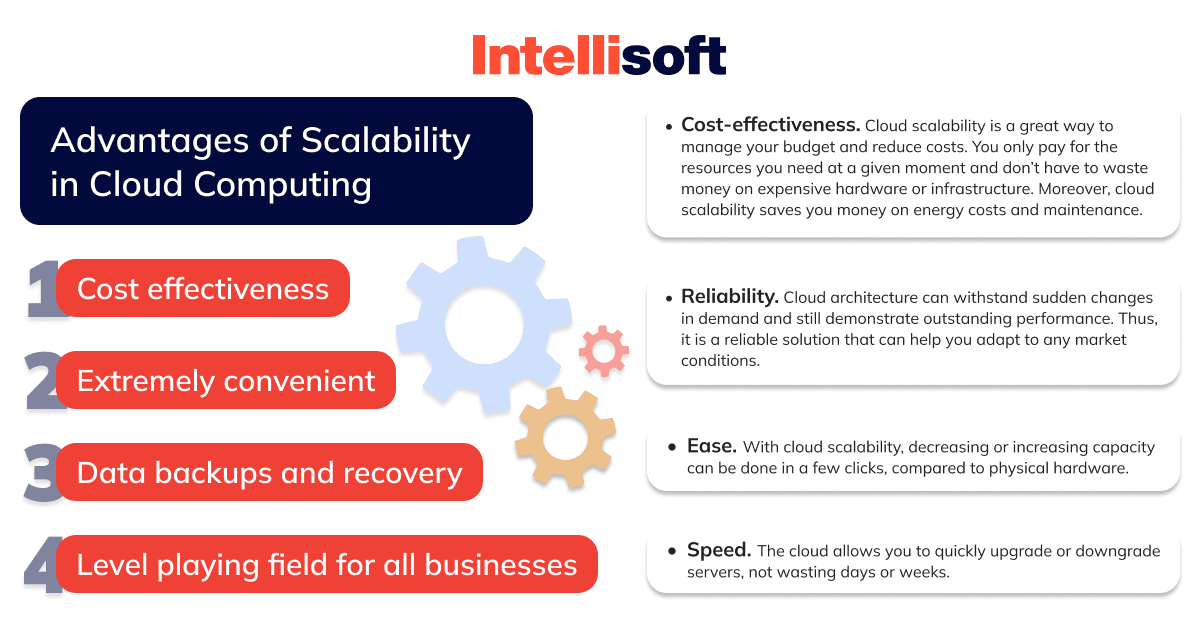 Cloud Scalability Challenges
Despite the outstanding benefits for business, cloud scalability also has some challenges:
Complexity. If you have a large organization, cloud architecture might be difficult to scale because of the amount of data and resources.
Service interruptions. If the systems are not optimized for scaling, it can cause interruptions in their work, so ensure that before scaling your cloud.
Lack of expertise. Cloud scaling is possible only if you have a development team who has enough expertise. If your in-house team does not have experience, either train them or use the services of a third-party provider.
Incompatibility. Using multiple cloud providers can cause incompatibility because of different approaches to scaling.
Data security. A wrong choice of a cloud provider can lead to security breaches and a lack of control, so ensure that your service follows all regulations and security measures.
Types of Cloud Scalability
There are three types of cloud scalability: horizontal, vertical, and diagonal.
Horizontal scaling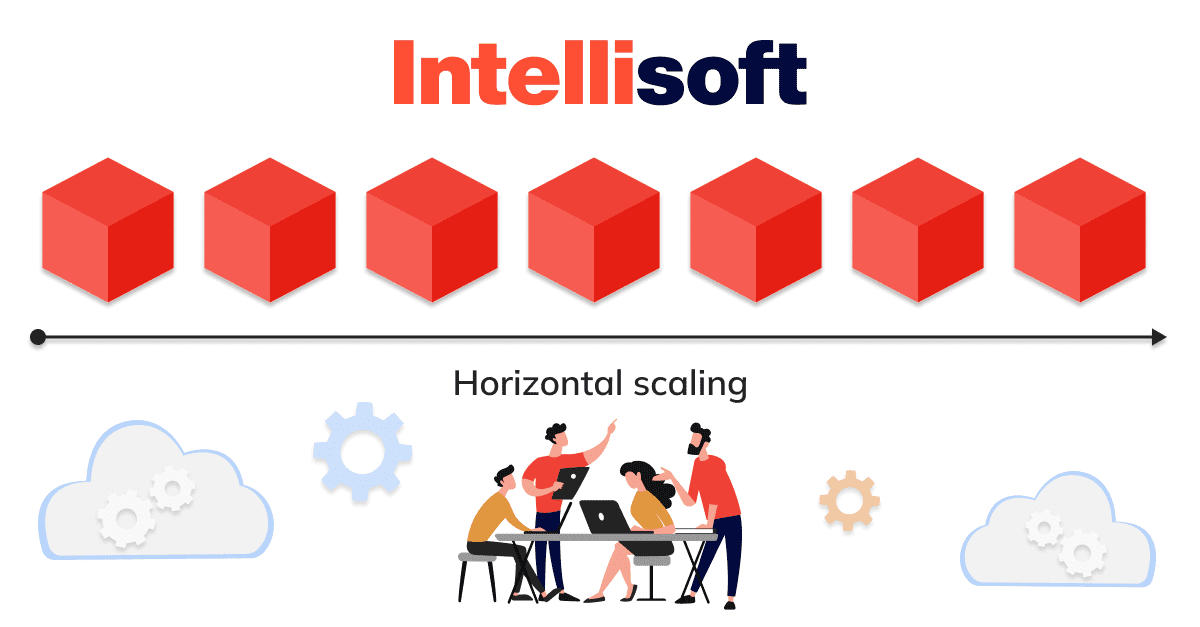 This type of scaling is about scaling in or out. It changes the number of available servers. For example, when you need higher performance, more storage, or more capabilities, you can add servers to your cloud, and they will work as a single system. Since each server should be independent for everything to work smoothly, it is a complex type of scaling. However, it allows your organization to grow infinitely without any limitations.
Vertical scaling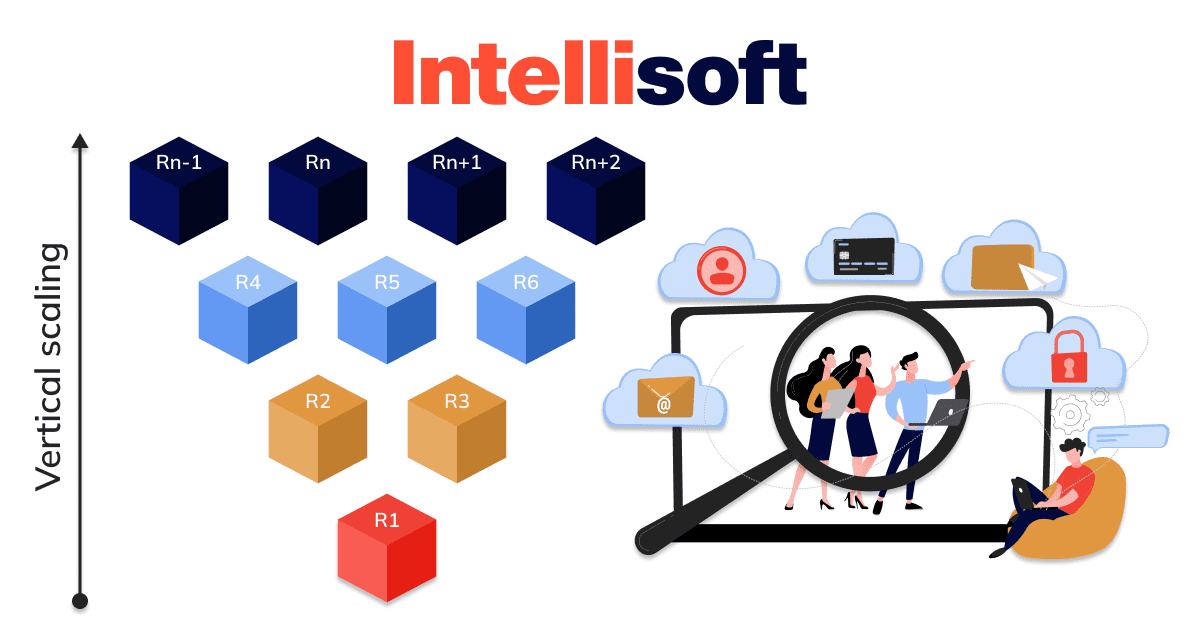 Unlike horizontal scaling, vertical scaling has limitations when growing your business. It involves scaling up or down by adding more resources, such as storage or processing power. You don't have to change your code for vertical scaling. Typically, this type is used for apps that need more processing power.
Diagonal scaling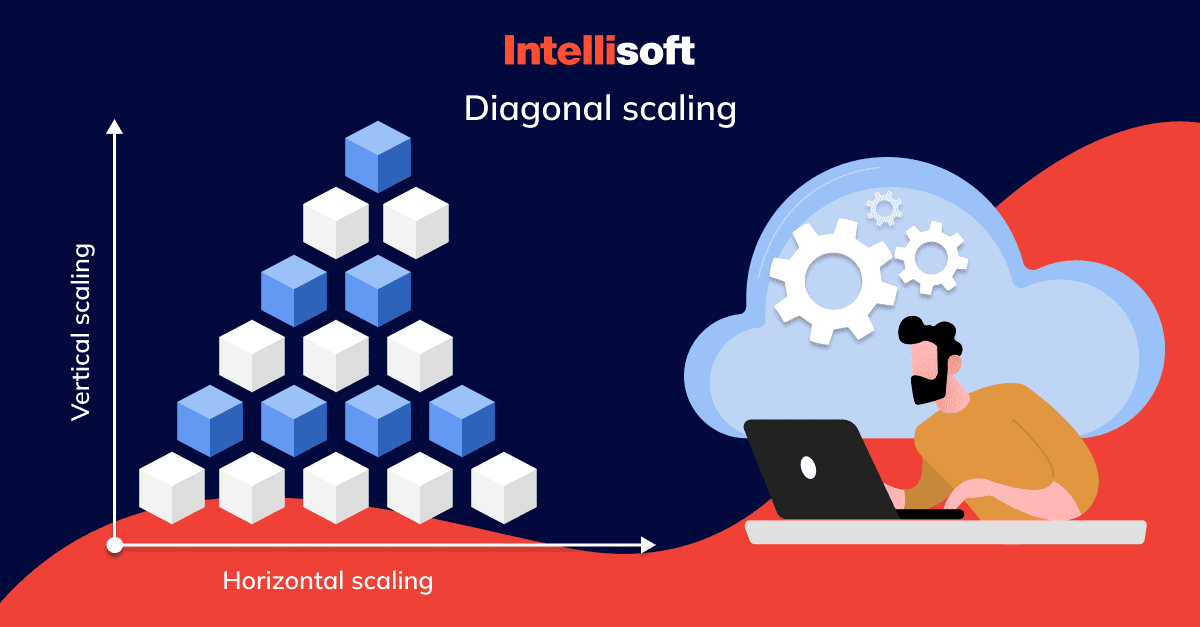 Diagonal scaling is also known as hybrid scaling. It influences both computer power and availability. For example, your organization can grow vertically at first, hit the server's limit, and then clone the server to add more resources. As a result, it offers more flexibility and quick solutions in unprecedented situations.
Cloud Scalability vs Cloud Elasticity: Main Differences
When reading about cloud scalability, you have probably come across the term "cloud elasticity." even though these terms are similar and are often used interchangeably, they have distinct differences.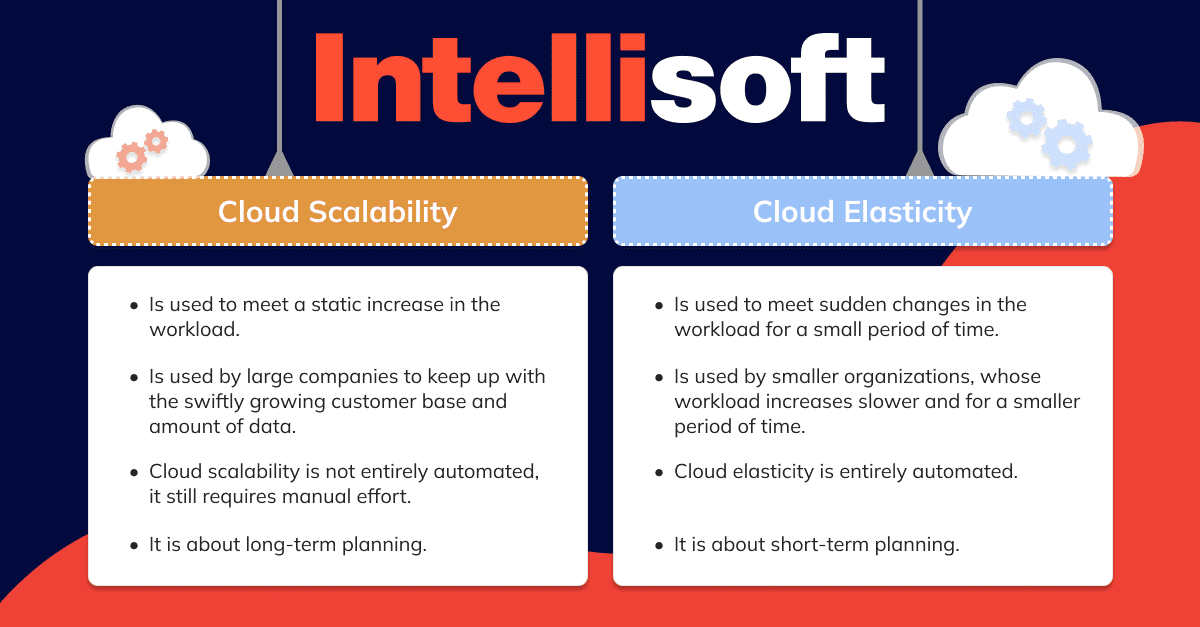 Related Readings:
Examples of Cloud Scalability
It can be difficult to understand cloud scalability in theory, so let's look at the examples:
Let's say you own a small company that wants to grow its customer base. You finally start getting more traffic to your website and realize that this number of visitors affects performance, slows down the website, and causes significant delays. It's time to scale vertically and move your web page to a larger cloud to improve website performance.
In a few years, you decide to merge your company with another business that has almost the same number of customers and an even bigger amount of data than you. Your old cloud is unable to store all of this information, so you decide to scale horizontally to be able to grow infinitely. This allows you to store the data across multiple channels and access it easier.
Finally, your company is growing even more, and there's a need to move the website again. Now it's time for diagonal scaling by moving to an even bigger cloud with more servers.
Key Features of Cloud Scalability
The main features of cloud scalability are the following:
Ease. With a cloud service, expansion is easy and straightforward.
Speed. Cloud scaling happens very quickly, and it is much quicker than purchasing gear by yourself.
Considerable variation. Scaling is about big adjustments, not little tweaks.
Not disruptive. It does not imply replacement, and there should be no latency when you are installing resources.
How to Achieve Cloud Computing Scalability
If you want to ensure cloud scalability, there are a few ways to do it. They include:
Automation. To ensure that your cloud is scalable, you can set the parameters to automatically scale depending on certain factors such as traffic growth.
Load balancing. To optimize capacity, you can distribute the processes over several resources. It can also help boost the accessibility of services your company provides.
Performance testing. Test performance regularly by measuring factors like load, capacity, and latency. This will help you see how your website is doing in various conditions and help you decide when to scale.
Caching. Implementing cashing can help your system be scalable enough to handle intense loads.
Designing scalable architecture
When designing scalable architecture, what matters the most is the approach you take rather than the choice of tools or brands. Let's look at the main tips on building scalable architecture:
Choose horizontal scaling if possible
Vertical scaling is effective in some cases, but it's only fast and secure under light loads. Once you start getting more traffic, vertical scaling can be challenging to scale. Instead, favor horizontal scalability in networking. It's the fastest and the most cost-effective way to scale, and you will be able to scale infinitely with it.
Don't stick with physical servers
Physical servers are mostly a waste of time and money and only work for multinational companies with a lot of capital. Servers are incredibly expensive to build and secure, so it's not the best idea to use them.
Take advantage of cloud storage
Cloud storage takes data and evenly spreads it out among different servers. Then, vendors can sell access to that storage through subscriptions. This way, companies don't have to worry about the security and maintenance of data.
Maximize the availability of resources
When planning the app's architecture, make sure to maximize the availability of resources that will be in high demand. You can use cashing, load-balancing software, or non-blocking IO calls to do that.
Consider a microservice architecture
This type of architecture breaks down large software into smaller pieces, and they can operate independently. Thus, if there's an issue or something goes wrong with one bit, the rest of the architecture can still work while that part is being repaired.
Critical considerations for designing a scalable architecture:
Decoupling. A decoupled architecture allows the distribution of workloads into independent services so that they can scale up or down independently.
Elasticity. It's the ability to adjust your resources based on the demand. It's the system's ability to add or remove resources to improve performance automatically.
Resilience. Your architecture should be able to withstand unexpected changes or failures and quickly recover.
Distributed workload. Distributing workload across multiple servers helps achieve better performance, scalability, and reliability.
Common cloud computing scalability patterns and strategies:
Sharding. This strategy involved breaking down data into multiple parts and distributing it across multiple servers. It enables the effective processing of data and storage of larger datasets.
Horizontal scaling. It involves adding more servers to be able to handle increased workloads.
Cashing. This strategy involves storing data that is the most frequently used data in memory. That way, you won't have to access the disk-based storage repeatedly.
Asynchronous processing. This allows you to process tasks in the background without locking the main thread. As a result, you can achieve better performance and scalability.
Best practices for designing a scalable architecture for cloud-based systems:
Plan for failure. Design your system with possible failure in mind. It should be able to handle any errors or disruptions. This will help you maintain performance even in critical situations.
Use automation. You can automate configuration, deployment, and scaling tasks.
Use stateless components. These components help you scale up without worrying about state management.
Use cloud-native technologies. If you want to design a scalable architecture, use cloud-native technologies designed for that.
Monitoring and optimizing cloud resources
You need to constantly optimize and monitor your cloud resources if you want to ensure that everything is working smoothly, control costs, and maintain software scalability. This means checking the system for performance issues and potential problems. Optimization means constant improvement of cloud resources to make sure that they work efficiently and scale up and down easily.
Looking For DevOps For Your Cloud App Support?
Write To Us
The key metrics that should be monitored include network traffic, CPU utilization, disk, and memory usage, etc.
Techniques for optimizing cloud resources for scalability:
Cloud-native architecture. Cloud-native architecture is the best fit for cloud scalability, and it can help you ensure that your system's performance is stable and can scale up effectively.
Autoscaling. Use autoscaling to automatically add or remove cloud resources based on the changes in traffic. This helps ensure that the system can handle sudden changes in demand.
Right-sizing resources. Analyze your cloud resources and ensure that they aren't over- or under-provisioned. It can help reduce costs, ensure scalability, and improve performance.
Load balancing. Distribute traffic across multiple servers so that they are not overloaded.
Planning for growth and handling sudden spikes in demand
Any cloud-based system must be able to handle sudden changes in demand. Thus, you must plan everything ahead and prepare for unexpected spikes. Here's how you can do it:
Meeting user expectations. When you plan for growth, you ensure that your cloud-based system can deliver a flawless user experience even when the demand grows.
Controlling costs. Planning for growth helps you think ahead and control future spending and optimize resource utilization.
Avoiding performance bottlenecks. Planning for growth helps ensure that your system is prepared for any issues.
How Can IntelliSoft Help with Cloud Scalability?
At IntelliSoft, we have years of experience developing custom cloud solutions for our clients and assisting them with achieving scalability and data safety. We provide our clients with highly-qualified experts in the field of cloud computing who have experience in Amazon cloud app development, migration, SaaS/IaaS/PaaS development, computing architecture, and Amazon cloud app creation.
Our cloud services include:
IaaS development
PaaS development
SaaS development
Cloud migration and integration
Cloud-enabled app development
Cloud consulting services
Cloud security
When creating our cloud solutions, we apply automatic recovery and dynamic scaling, pick the services for reduced attempts and expenses needed to build and run the app and use powerful SSL and data encryption.
Conclusion
Cloud computing scalability is vital if you want to grow your business and be able to easily deal with changes in traffic and demands. Cloud scalability is a safe, reliable, cost-effective, and easy way to adapt to changes in IT resources and ensure that your architecture's performance is the same no matter what. Depending on your type of business and needs, you can choose among three main types of scalability: horizontal, vertical, and dynamic. All three have their benefits and can be utilized at different stages of business growth. If you need a consultation on cloud scalability or are looking for a team to assist you with it, contact us.

About

Kosta Mitrofanskiy

I have 25 years of hands-on experience in the IT and software development industry. During this period, I helped 50+ companies to gain a technological edge across different industries. I can help you with dedicated teams, hiring stand-alone developers, developing a product design and MVP for your healthcare, logistics, or IoT projects. If you have questions concerning our cooperation or need an NDA to sign, contact info@intellisoftware.net.