Nearshore outsourcing definition
What are the major differences between offshore, onshore, and nearshore software outsourcing?
Top nearshore outsourcing examples
What are the opportunities and risks? SWOT analysis.
Benefits of outsourcing nearshore
How to choose the best nearshore outsourcing provider? 9 criteria guidelines
Have heard of nearshore outsourcing and even are thinking about its implementation? Great. Let's dive into the topic and study it far and wide. Outsourcing, as a part of the globalization concept, has already become a successful widely-used practice. Why? There are only 3 reasons:
Labour arbitrage, a global practice, which means sufficient cost-cutting  

Immediate access to the unlimited pool of talented human resources. It provides a better time-to-market approach 

The required expertise allows hiring top market professionals to do the job better than your team could, and in the meantime, you can focus on your core business and development.
Note, that you also have to understand clearly where you attract vendors and what model of cooperation you use,  which defines the depth of integration.
Nearshore outsourcing definition
So, what is nearshore outsourcing in software development? It's the delegation of separate parts or a complex of business processes to web developers in countries nearby within close time zones. The idea was born in the USA in the 1990-es, gradually developed in the 2000-es, and has gone truly global so far.
What are the major differences between offshore, onshore, and nearshore software outsourcing?
First, let's differentiate 3 types based on location: offshore, onshore, and nearshore outsourcing. What do they have in common and what are their major differences?
Pros
The biggest budget savings
Unlimited choice of talented experts over the globe
Opportunities to upgrade your products and services to be top-notch
Cons
Far away – difficult to reach for face to face meetings
Different time zones could cause problems with coordination
Possible cultural and language barriers
This model can save you a fortune with labor arbitrage, which has already turned into a worldwide practice.
Pros
Easy to reach the location for face to face meetings
No cultural and language barriers
Fast ramp-up time
Cons
More expensive than other models
Limited choice of software developers
It proves to be a reliable approach but you may face some limitations with the choice of outsourcing companies, the range of services, and the expertise they have. Local IT specialists may lack the skills and experience required for your particular project.
Pros
Attractive prices
Wide choice of providers
Geographical proximity lets you get to the partner in a couple of hours
Tiny or no cultural and language barriers
Small or no time zone differences give you overlap of working hours for effective communication and management
Opportunities to upgrade your service and work to the multinational level, enter new markets
Cons
Requires more attention and control than onshore
Small inconveniences are driven by other time zones, languages, and cultural background
Nearshore software development outsourcing is the best combination in terms of minimized risks and value for your business, which you can see in the comparison table below. 3 outsourcing directions are evaluated according to 5 key factors. These are important features to ensure a successful, efficient, and reliable partnership with your prospective software development outsourcing provider in the long run.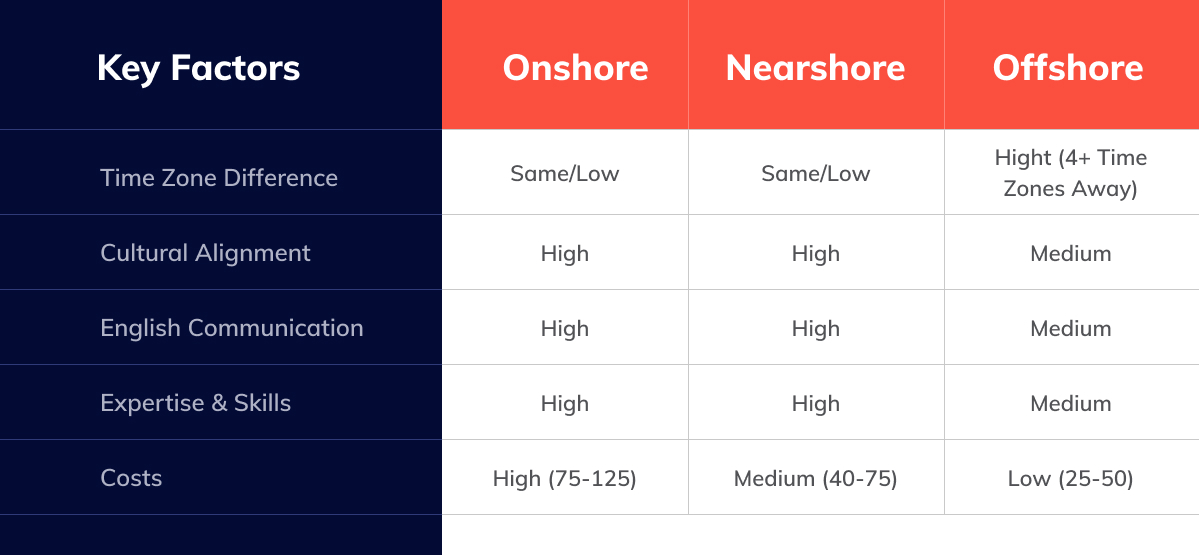 Top nearshore outsourcing examples
A good nearshore outsourcing example for Sweden, Britain, and other Western Europe is Eastern Europe: Czech Republic, Romania, and Ukraine. Close time zones provide a time overlap to have smooth communication. A huge talent pool and strong higher education, especially in exact sciences, ensure quick and reliable access to experienced, talented, and high-qualified teams.
However, remote team management implies more attention, effort, and control, it has become a real challenge and a must-have skill in pandemic times. Outsourcing nearshore makes possible face-to-face contact with your vendor, organizing negotiations or special training sessions even during the selection period. In fact, the main goal of the nearshore outsourcing model is to drive your costs down with minimum risks, but don't forget about lots of incentives you get as a bonus.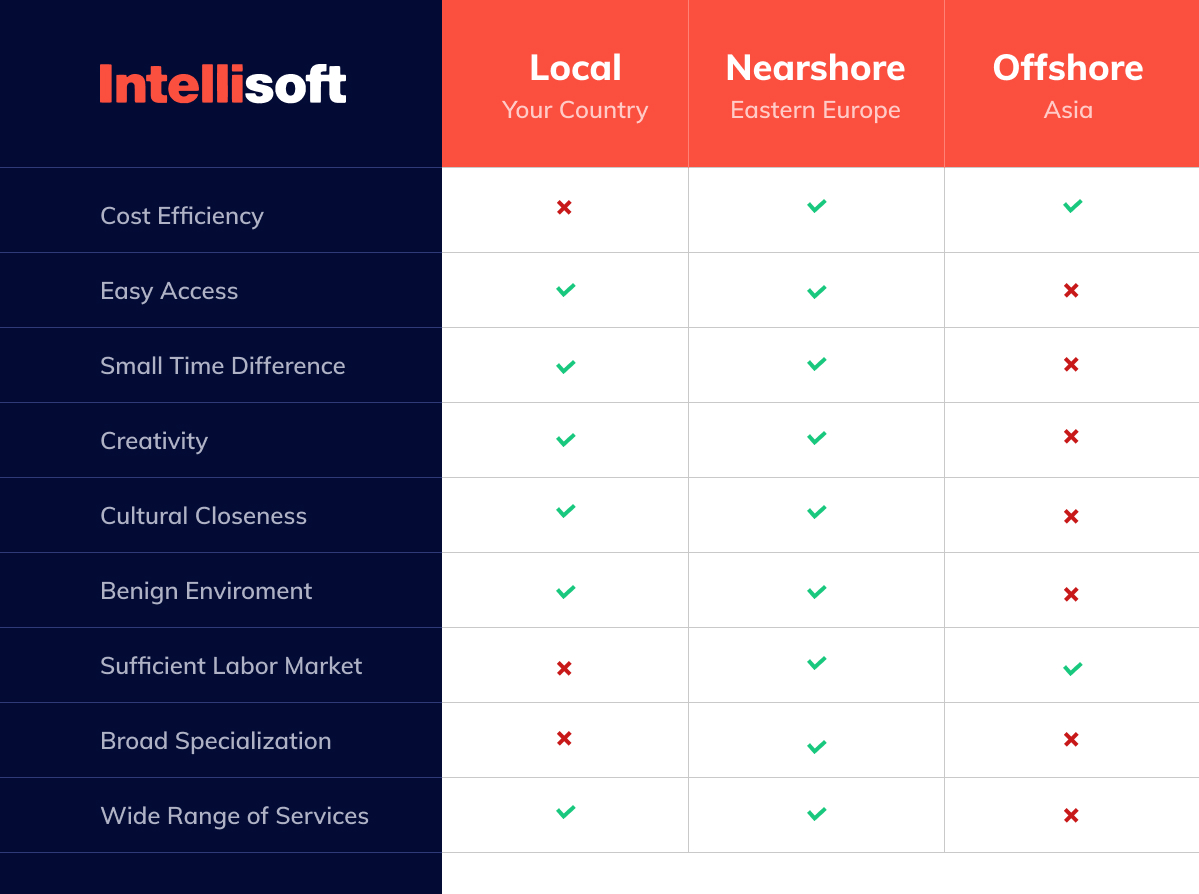 Eastern Europe can boast of more than 3000 software companies outsourcing nearshore, with an incredible pool of 1.3 million highly qualified and experienced experts. Plenty of Western businesses are already taking advantage of the situation. For example, ⅔ of German companies give preference to Eastern European providers, such as Ukraine.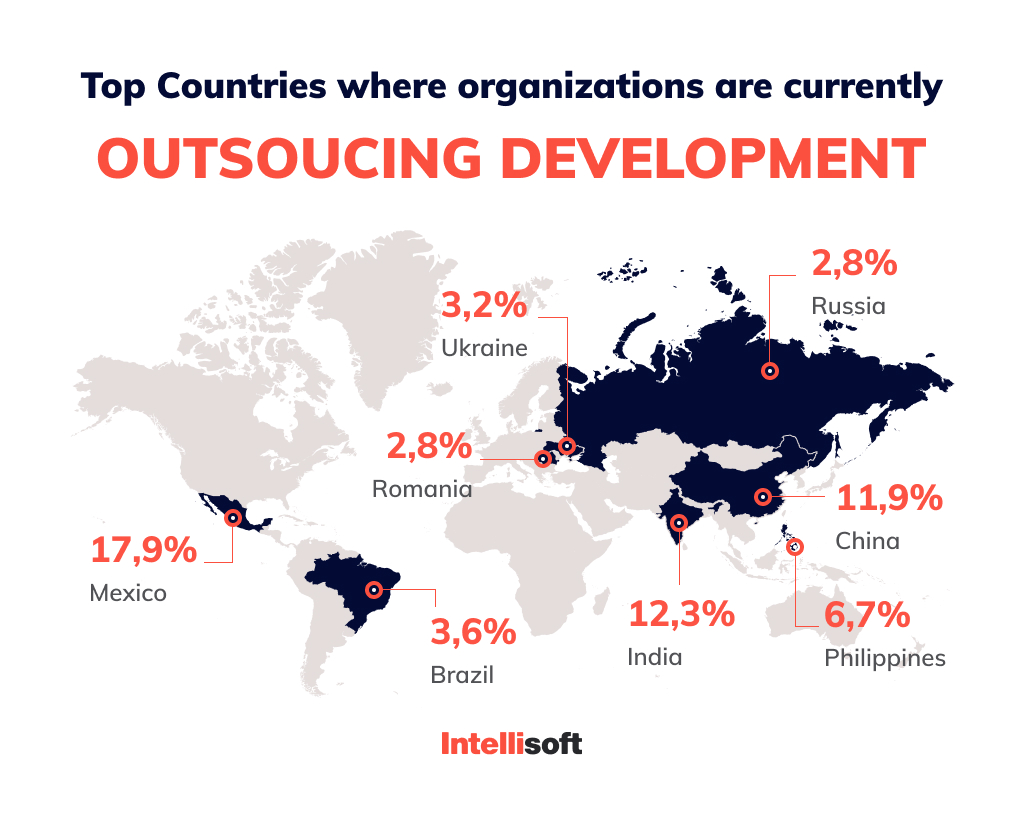 Ukraine is one of the top well-established destinations for nearshore development outsourcing. It has become popular due to the merger of the lowest hourly rates and high-quality performance.
Ukraine is №1 in the list of countries with a trustworthy reputation, outstanding expertise, and affordable labor force. The popularity has been gained by geographical and mental proximity, similarities in legal base, and business approaches. Just compare! The salary of an ordinary German developer is above 80K $ per year, whereas in Ukraine it's only a half.
What are the opportunities and risks? SWOT analysis.
SWOT analysis of Nearshore Outsourcing
in the software development field
Strengths
A sizeable pool of talented qualified developers
Easy to arrange a face to face contact due to geographical proximity
Working time overlapping with the same or close time zones to synchronize processes
Minor or no cultural and language barriers
Cutting-edge tech solutions
Versatile high-quality services
Weaknesses
More efforts and attention to manage the process are needed
Delays, errors, misunderstanding issues may occur
Opportunities
Effective cost-cutting with lower hourly rates
Delegation means more time for development
Possibilities to enter a new market
Advantages in taxation and regulatory spheres
Weaknesses
Unreliable or unsuitable providers may endanger the project or even company image
Lack of relevant experience may impact the quality
Benefits of outsourcing nearshore
Transfer( flights) takes less time for real communication and transparency compared with long and tiring traveling overseas.
No huge time gaps allow easy collaboration and synchronization of processes within typical working hours.
Minor differences in cultural background and language simplify the integration. However, English is a universal tool for communication around the globe and solves the problem with communication. Public holidays in another country may be a hindrance, but accurate planning and coordination help overcome all delays, errors, and misunderstanding issues.
Nearshore outsourcing practice is very cost-effective as you spend less for business trips to bordering areas. Except for attractive hourly rates other reduced costs will drive your total expenditure down.
A wide choice of professionals in various directions can meet all your business needs with advanced solutions.
Outsourcing nearshore you can upgrade your services to the world-class level and even help you expand to new markets.
Released resources can be directed to enhance performance efficiency and develop your business.
To utilize taxation and legislation privileges of the neighboring country can be a wonderful business solution.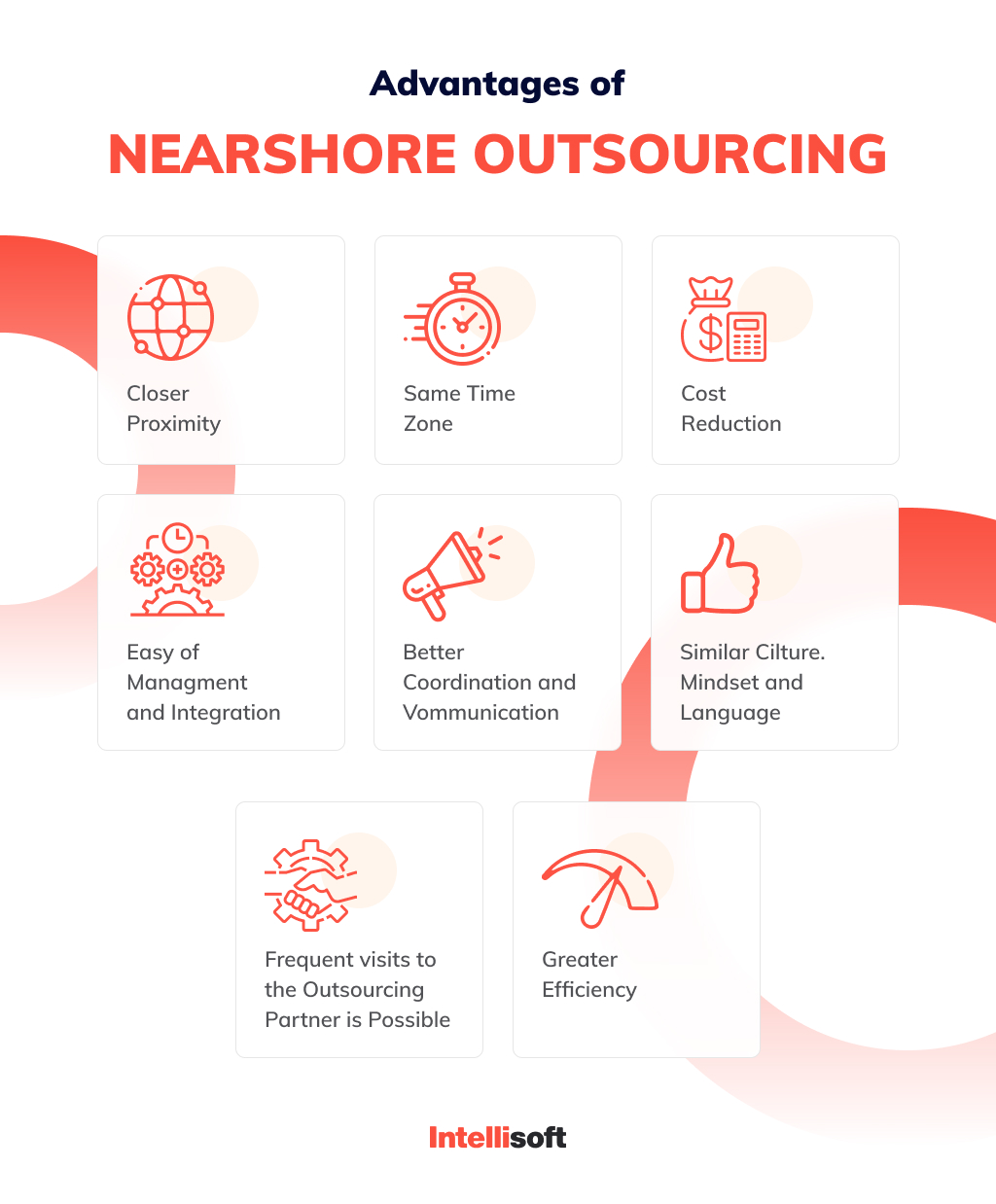 How to choose the best nearshore outsourcing provider? 9 criteria guidelines.
Use our 9 criteria guidelines to shortlist relevant candidates for a long-term and successful partnership. Outline the business tasks, you plan to outsource, allocate the preliminary budget to have the most accurate match. Consider carefully these points when choosing the best nearshore IT provider:
Location of business
Check various options concerning their geographical proximity, time zones, cultural background, and language differences for the most effective management and collaboration.
Reputation and record
Search for the potential provider's clients, their feedback, and recommendations. Contact them to receive all the answers, if needed, to have a view of the company's market image.
Qualification and proven expertise
Study carefully the range of services provided, portfolios, cases, the headcount, certification standards, and the structure. Consult the provider's experts and ask for a presentation, arrange interviews.
Guaranteed intellectual property security
Check the guarantees for intellectual property security to keep your code and software protected.
Compliance with best software development practices
During the selection stage, inquire about the application of best practices to ensure top-level software development.
Communication and management approaches
Compare organizational structures, business models, approaches, administration, and internal processes to match your daily operational needs best, to create a smooth flow of communication and deliverables. For this purpose, you will need a reliable person to keep in touch with your outsourcing provider.
Economic situation and taxation policies in the nearshore location
Consider if there are any advantages in taxation and economy that can be turned into benefits for you.
Local legislation
Speak to your legal advisors to review local regulatory compliance with European, American, or other legislation to prevent any problems in the future.
Transparency and flexibility
Transparency means trustworthy relations with your nearshoring partner. Check if your partner is eager to share enough information about its performance, business structure, internal procedures, etc. Reliability, responsiveness, and flexibility are important to best meet your business needs and preferences.
Use our 9 criteria guidelines to shortlist relevant candidates for a long-term and successful partnership. Outline the business tasks, you plan to outsource, allocate the preliminary budget to have the most accurate match. Consider carefully these points when choosing the best nearshore IT provider: