Information technology infrastructure is the lifeblood of any business. Just like the circulatory system that sustains life in a person's body, your IT system keeps the different departments of your organization functioning seamlessly, connecting them with a network of veins and arteries that allow the processes to flow and drive your everyday operations,
However, with great power comes great responsibility, so managing this IT system might often feel like performing a dangerous act without any safety net. You can't afford any missteps or errors as they can lead to deadly consequences.
The safety net you may have been looking for is closer than you think, and its name is managed IT services. They ensure that your digital lifeblood flows smoothly, your IT systems function harmoniously, and your business remains in great health. When you find a partner you can trust, this team will take on the responsibility and let your in-house employees focus on the core tasks.
Managed IT services are a must if you want to keep your business functioning flawlessly, and it's not just buzzwords; thanks to more than 15 years of experience in managed IT services, we know what we are talking about. At IntelliSoft, we have walked our clients through the digital tightrope with confidence, offering them a safety net and a map to guide them. Whether it's troubleshooting technical glitches, fortifying your digital security, or optimizing your IT infrastructure, our expertise is your insurance against IT disruptions. So let's dive into the article, answer the questions "What is managed IT services?" and "What is an MSP?", explore their benefits and key usages.
The Growing Need for Managed IT Services
Managed IT support services have entered the market in the late 1990s. Before that, there was one way to deal with technical difficulties – calling a professional and trying to resolve the issue as soon as possible without letting it disrupt the operations of the organization. As practice shows, it was not enough, and most business owners were at a crossroads: should they continue putting their companies at risk by using the outdated approach or opt for something else?
Nowadays, managed IT services have become a golden standard for addressing IT infrastructure issues. No one can afford to wait for issues to arise and take action in record time, especially with the changing and growing technology that requires an entirely new, innovative way of handling. An MSP now offers company owners a wide array of options and talents to choose from so they don't have to wander through the mazes of IT infrastructure optimization and management alone.
One of the key driving forces behind the growing demand for Managed IT services is the escalating threat landscape. Cybersecurity breaches, data leaks, and ransomware attacks have become alarmingly common, leaving organizations vulnerable to financial losses and reputational damage. Managed IT support services providers bring a wealth of expertise in safeguarding digital assets, implementing robust security measures, and staying ahead of the latest threats, serving as a digital fortress for businesses in an increasingly hostile online environment.
What is Managed IT Services?
Many businesses have stumbled upon the term and wondered what is IT managed services, and we're here to provide an answer. IT managed support services are all about outsourcing the migration, implementation, maintenance, and upgrade of IT infrastructure parts to a third-party provider that specializes in them. The main goal of a managed IT service is to help clients manage their network, take care of the software, and help with their cloud services.
Like any other type of outsourcing, it helps clients focus on core business tasks while a third-party team deals with IT infrastructure. In the managed service agreement, the managed service provider IT has full responsibility for the service's functionality and equipment, while the client pays a fee for the service.
At its core, managed IT service is all about proactive IT management. Unlike the traditional break-fix model, where IT issues are addressed after they occur, IT managed support services providers work to prevent problems before they disrupt business operations. They monitor, maintain, and optimize an organization's IT systems, ensuring that everything runs smoothly.
What is an MSP?
What is a managed IT service provider? The provider that is responsible for managed IT services is known as the managed service provider (MVP). This is typically a third-party company that operates in a different country or offshore and specializes in these services.
An MSP delivers services such as network, infrastructure, application, and security. In other words, this is a guardian angel of your business's technological realm, safeguarding your organization's IT infrastructure and keeping it running.
Most MSPs have a vast pool of experts who can handle everything from routine system maintenance and troubleshooting to strategic IT planning and implementing cutting-edge technologies, ensuring that your business sails confidently into the future.
Business processes that are typically outsourced to a managed service provider IT include:
Recruitment
Payroll
IT services and infrastructure
Workforce management
Vendor management
Contract management and compliance
Human resources
Now that you know what is IT managed services are, it's time to talk about the reasons to opt for them.
Common Reasons to Outsource IT
Outsourcing IT has become a strategic choice for many businesses of various types and sizes. Here's why companies opt for IT support managed services:
Small to medium-sized enterprises. Small businesses often need more resources to maintain a full-fledged in-house IT department. Thus, outsourcing IT services allows them to fill in the skills and resource gaps while saving money. They don't need to hire and train staff, which can help save a substantial amount of money.
Startups. Most startups prioritize growth and agility, so they opt for IT support managed services to quickly adapt to changing technology needs and have access to top talent.
Companies with busy IT departments. Some organizations have IT departments that are overburdened with tasks such as software upgrades, end-user support, and troubleshooting, so they can't focus on high-level, strategic tasks. As a result, these companies ask MSPs for help.
Businesses with complex projects. Some organizations' IT departments can easily handle infrastructure management on a daily basis. However, once it comes to complex projects, they need external help and turn to MSPs. The tasks they usually need help with include migrations, infrastructure upgrades, or Security Information and Event Management (SIEM) solutions.
Companies struggling with business growth. In the past, a single IT professional might have been enough for a company, but as their business grew, so did the technology and the need to manage it effectively. Thus, such companies turn to MSPs with time to handle the growing demand.
The Evolution of Managed Services
Let's take a look at how managed IT services have progressed over the years:
Stage 1 (break-fix model). In the past, when enterprise computing was developing, management of IT services was provided on a break-fix basis. At its core, it meant that companies would wait for something to break or malfunction and only then look for a professional who would fix that problem. Typically, these professionals were the same people who built or deployed the system.
Stage 2 (the rise of large manufacturers). This was the point when giants such as Apple, IBM, and Microsoft took over the system assembly, leaving smaller IT dealers less time for production and more time for fixing technical issues. Unfortunately, this approach was too expensive and time-consuming as professionals had almost no flexibility to grow their businesses.
Stage 3 (increase in managed services demand). While the number of computers on the market grew at the speed of light, the number of specialists able to handle them mostly stayed the same. The gap between them, and the need for professionals who could manage computers, led to the emergence of third-party vendors specializing in IT services.
Stage 4 (focus on efficiency). The revamped IT strategy introduced a more balanced approach, focusing on proactive maintenance, software updates, ongoing system monitoring, and efficient troubleshooting to proactively ward off potential issues. Companies also used automation and cloud services to manage things remotely and fix issues faster in the following years. This made their operations smoother and more cost-effective as they grew.
Stage 5 (managed services modernization). The MSPs we know now are in their modern stage, covering a multitude of IT skills and technologies. For example, there's professional services automation (PSA) software specifically made to aid MSPs in their day-to-day operations. Some other tools are great for ensuring MSPs can provide IT support and managed services round the clock every day of the year. These solutions prioritize client data security and empower MSPs to cut client costs while improving service quality.
Benefits of Managed IT Services
Businesses could manage all their IT processes in-house, but it would be pricey, time-consuming, and did not guarantee success. Instead, they opted for IT support and managed services because of the following benefits: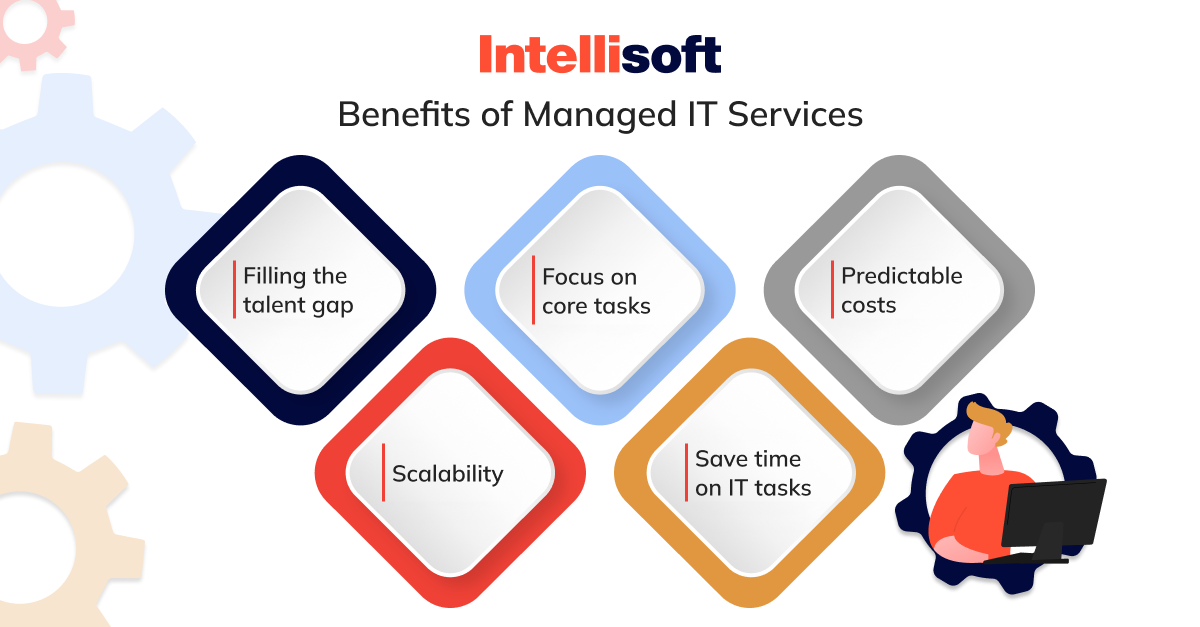 Filling the talent gap
The hiring process is usually a long and tiring process, during which a company goes over dozens, if not hundreds, of candidates in the hopes of finding a perfect match as soon as possible. Unfortunately, it's almost impossible to find an employee in the first days of the recruitment campaign.
With outsourcing any type of business tasks, the ability to choose among top talent and cover any skill gaps you have in a company is a true blessing. No matter how rare and niche the position you need is, you can be sure that you will have at least a couple of candidates to choose from.
Moreover, modern IT service providers always have a skilled team of talents you can work with. Your task here is to choose a reliable vendor with enough experience and a great rating, and your journey will start from here.
Focus on core tasks
One of the main benefits of managed IT services is also the focus on core tasks. Any business has to distinguish between core and secondary tasks and focus on the most initial matters first. Being successful here is not about being able to handle everything by yourself, but deciding which tasks can be delegated to professionals, freeing your time for tasks on top of your list of priorities.
A managed IT service provider will save you from burnout and stress, handling IT operations and freeing your in-house team's time for other tasks. In this way, you will be able to achieve more results faster while not putting your team's mental health at risk.
Predictable costs
Another great benefit of managed IT services is that they offer business owners a chance for more predictable and flexible costs. Once you choose a provider, they will calculate the final costs for their services before you start your cooperation, so you don't have to worry about unexpected expenses and focus on balancing your spending.
Moreover, many vendors have multiple payment models, some more flexible than others, so you can stick to the one that meets your budget capabilities. For instance, you can pay an hourly rate or on a monthly basis. This heightened flexibility is what draws businesses towards MSPs, as it allows them to see results even before the payment.
Scalability
No matter whether you are a startup owner or your company is mid-size, it will inevitably grow and require more employees, servers, security, and tools. You should prepare for this growth and be ready to meet these growing demands, and MSPs can assist you with that.
Instead of hiring more in-house employees, you can hire employees from an outsourcing company so you don't have to pay for software, office space, additional compensation, and hardware. With outsourced professionals, you will be able to scale up or down easily whenever you need to.
Save time on IT tasks
Saving time is also among the benefits of managed IT services. You probably know the saying – "many hands make light work." This saying perfectly describes what managed IT services are about – once you team up with your MSP, releasing a product becomes easier and faster. The smaller the time-to-market, the more time you have for user testing and fixing any issues that arise along the way. Moreover, if you have a lot of professionals working with you, your in-house team doesn't have to overwork, push its limits, and inevitably burn out.
Now that you know how beneficial managed IT services are for your business, you need to know exactly what you can outsource.
Related Readings:
Kinds of Managed IT Services
There are plenty of options of managed IT services outsource, so let's dig into the kinds of managed IT services.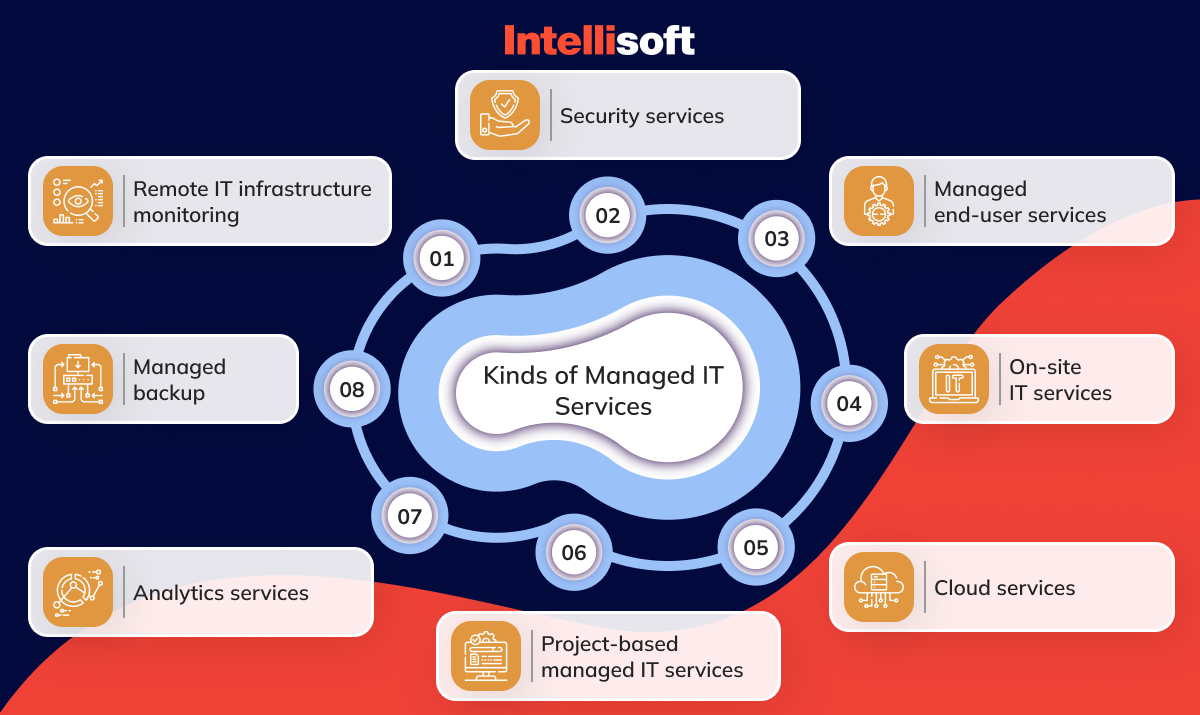 Remote IT infrastructure monitoring
One of the most popular categories of managed IT services is the remote management and administration of servers, mobile devices, and workstations. Since a lot of MSPs offer this service, the competition is mind-blowing, which is a plus for you and a challenge for providers. Due to the fierce competition, specializing in remote IT infrastructure alone is not enough to stand out and attract new clients, so MSPs now offer other services we will discuss next.
Security services
The evolving landscape of managed services has led MSPs to enhance their service offerings, prioritizing security services. Nowadays, customers demand comprehensive IT systems and data security assistance, pushing service providers to develop strategies or enter into strategic partnerships with cybersecurity experts to deliver fully outsourced, 24/7 cybersecurity solutions.
Due to the growing threat landscape, the need for continuous, robust security has never been greater. MSPs are diversifying their portfolios, investing in advanced technologies and experts to offer services ranging from intrusion detection and threat intelligence to endpoint security. Collaborations with cybersecurity companies ensure that you receive top-tier protection against a myriad of cyber threats, including malware, ransomware, and phishing attacks.
Managed end-user services
End-user services encompass a broad spectrum of solutions, primarily focusing on an organization's established IT support channels and processes for its employees and customers. Oftentimes, MSPs provide clients with professionals to work at the IT help desk or service desk, assisting with application installation and upgrades, management of operating systems and portable devices, connectivity issues, and other tasks.
On-site IT services
On-site services are also known as managed field services, and they involve assigning MSP experts to a specific area to work on IT tasks. As the name suggests, the tasks are carried out on-site, and they include equipment installation and maintenance, site assessments, and cabling. The provider is the one responsible for scheduling and assigning technicians, taking care of issue logs, and communicating with the client after the work is completed.
Cloud services
As cloud technology has taken the world by storm, IT services have no other choice but to include cloud services. Some MSPs specialize in infrastructure as a service (IaaS), collaborating with cloud providers such as Google, Amazon Web Services (AWS), and Microsoft. These services can also include the implementation of the cloud as well as its management, covering consulting, assessments, migration, and so on.
Project-based managed IT services
Some businesses need MSP's support with project-specific tasks. These services might include technology evaluation, salesforce implementation, and technical assistance for business apps. If you need a certain technological capacity or skills to complete a project, collaborating with an MSP can be a good idea. An MSP will provide a budget and schedule breakdown to guarantee that the job is done on time and within the budget parameters.
Analytics services
Managed data analytics services play a crucial role in the collection, analysis, and safeguarding of user and customer data. This entails activities such as monitoring website traffic, tracking social media engagement, identifying trends, and making predictions to improve outcomes. The Managed Service Provider (MSP) has the capacity to convert raw data into easily comprehensible insights that can be readily applied to inform business decision-making.
Managed backup
Managed backup services ensure the safety and accountability of essential data for organizations. These services are designed to effectively protect and secure vital information, providing business owners with peace of mind. Managed backup service usually involves a systematic and automated process of creating copies of a business's data and storing them in offsite or cloud-based locations.
The MSP you choose can also develop a disaster recovery blueprint for lost data and help you retrieve and restore data. Moreover, the vendor can assist you with identifying backup requirements and suggest how often the backups should be conducted.
Challenges of Managed IT Services
Unfortunately, managed IT services have some drawbacks that you should be aware of as a precautionary measure. Once you learn about them, you'll know how to address these issues and prepare for them in case they happen.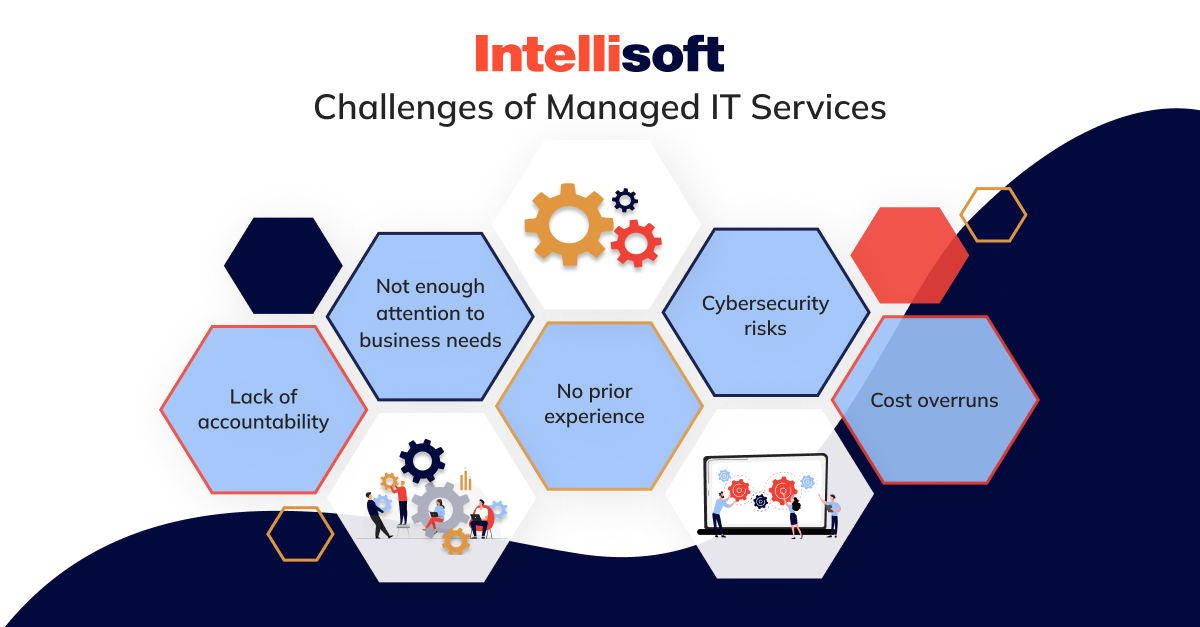 Lack of accountability
Outsourcing any type of operations always comes with a risk that the vendor you choose will end up being unreliable. As a result, you can lose time and money and end up either with no product or with a low-quality solution. Even though this issue is a common one, it is easy to avoid with proper preparation and thorough research during the hiring process. Choose a vendor that has a track record of finished projects, positive reviews on Clutch, and the technical and soft skills you are looking for.
Not enough attention to business needs
When choosing a vendor, select the one that is interested in your business needs from the very beginning. There's no use working with a company that does not help you with the strategic planning of infrastructure enhancements and configuration updates since you won't benefit from the collaboration at all. Discuss these matters during the hiring process so as not to waste time and money.
No prior experience
With the growing popularity of managed IT services, the number of providers is overwhelming. Unfortunately, some of them have no prior experience or market credibility, so keep that in mind when hiring a vendor. Check their cases, reviews, and skills. In other words, your vendor should have proof of quality and credibility.
Cybersecurity risks
A lot of MSPs on the market don't specialize in cybersecurity, so you have to take care of that on your own. Ensuring that your chosen MSP prioritizes data security and takes steps to safeguard your sensitive information, particularly in the event of a data breach, becomes paramount. A reliable managed backup service should incorporate robust security measures to protect not only your data but also the integrity of the backups themselves, safeguarding against potential cyber threats and data breaches.
Cost overruns
One of the primary reasons why businesses opt for outsourcing IT services is to save their budget and stabilize it. Indeed, outsourcing helps you receive high-quality services and products for less money, but you also risk paying more than you have expected. If the costs aren't laid out in the SLAs, you can be negatively surprised in the end, so make sure to go through this question at the initial stages of your cooperation.
How to Prepare for Managed IT Services
Now, it's high time to figure out whether the vendor's team matches your project requirements and what steps you need to take to onboard these professionals.
Compare the expenses
Before hiring a third-party vendor, compare the costs of working with an in-house team and outsourcing managed IT services. Calculate employees' average salary, money you would have to spend on software, hardware, office equipment, insurance, and any other additional expenses. If you have a small project that does not require complex architecture, working with an in-house team should be enough. However, larger, more complex projects usually require third-party help from experienced professionals.
Identify potential vendors
When looking for partners, check Clutch, GoodFirms, and other similar websites to create a list of potential candidates. Check their reviews, cases, and the English level of the team. Moreover, once you contact the vendors, ask about the cooperation models they offer and what types of payment plans there are.
Onboard specialists
Once you select a vendor that meets your goals and requirements, get in touch with them and discuss everything that matters. Define your needs, go through the project details, and ask the vendor to guide you through the process of cooperation. You should feel that you are on the same page and the vendor clearly understands what you expect from them.
Next, the company will select the best candidates that will work on your project, and they should invite you to join the interviews. You should have an opportunity to ask questions and make the final decision.
When the team of specialists is created, it's time to onboard them to your project by giving them access to corporate chats, project management tools, and other operational tools. Make sure to introduce the new employees to your in-house team.
Wrapping Up
If you are dedicated to the success of your company, you must be prepared for it to grow and challenge you. The more you invest in your organizations, the bigger the needs and goals will become, requiring a new management approach. Not every business owner is willing or prepared to manage the growing IT infrastructure, and there's no need to face this challenge alone anymore, thanks to the number of MSPs in the market.
These professionals will help you benefit from the latest technologies, focus on core business processes, and ensure that your business is in great health. If you are ready to jump on the bandwagon of managed IT services, IntelliSoft is here to offer its helping hand and lead you through this journey. All you need to do is contact us, tell us about your needs and requirements, and we'll schedule an initial consultation. Your ticket to digital transformation is only a click away.
FAQ