Does the hiring process take you too long? Would you like it to be more efficient? Almost every business leader faces this problem sometimes. Some entrepreneurs see the solution in IT staff augmentation services.  
By the end of 2020, employment in the tech field in the United States alone crossed the threshold of 8 million people. Most of them constitute technical and QA engineers, software developers, installers, designers, and repairers. Core tech roles are in high demand, yet they are challenging to hire. The question is whether staff augmentation is the right approach to solving this problem.
Augmentation agencies are companies that recruit suitable candidates according to the specified criteria and industry trends (e.g., top popular programming languages). These companies have access to a large number of databases. That is why an augmentation agent is capable of finding even a domain expert in the short term. Skilled agents are a lifesaver when it comes to finding experienced software developers and designers.
Augmentation staff deals with:
The attraction of candidates
The selection of the best candidates even if they do not respond to the posted vacancy
The search for talent in different remote locations
Providing confidentiality upon the client's request
According to the statistics provided by Global Advisor on Staffing and Workforce Solutions SIA, the industry of recruitment reached a turnover of $490 billion in 2018. Today, this figure is obviously higher. However, does this mean that this hiring model is the most effective approach today?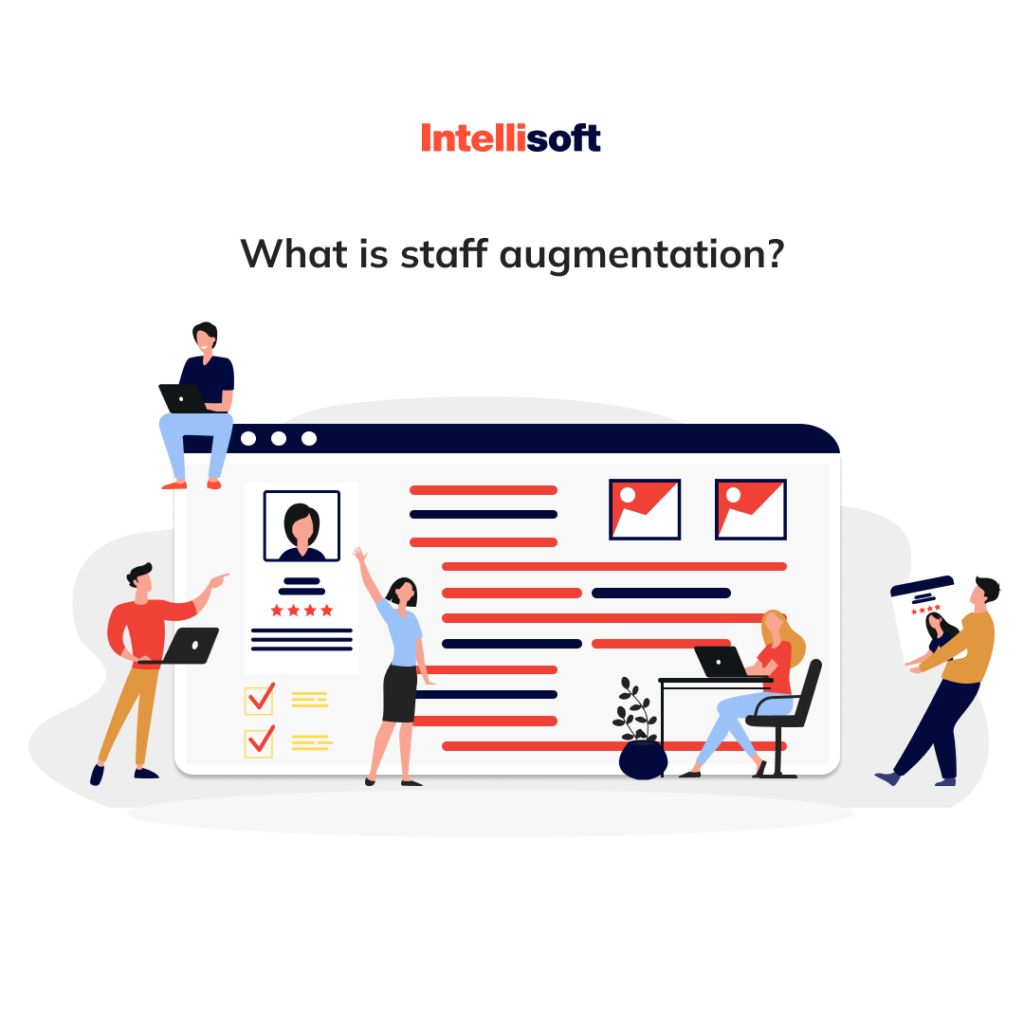 How Can Staff Augmentation Help Improve Your Business
First, we should understand the staff augmentation meaning. Searching and recruiting personnel with the help of experienced recruiters is an opportunity to attract talent in the shortest term. Skilled agents give you the chance to focus on your main goals while they're taking care of the recruiting process. Thanks to industry expertise, HR specialists are capable of hunting the most suitable candidates. After this, they arrange job interviews for the selected candidate so that you can take part in this process too.
Another task of external human resource (HR) managers is to attract the selected developer or designer, even if they do not plan to change their job. The talent to convince other people is one of the main skills required for HR specialists.
The Most Common Tasks of a Recruitment Agent
Here is how the process of talent recruitment is conducted in a staff augmentation model:
The determination of tasks of the future employee
The determination of the wage rate of the future employee
The preparation of an accurate, complete, attractive job description
The posting of the open position on several public platforms
The identification of main industry leaders and potential donor companies
The search for candidates according to the client's profile
Initial interviews with candidates
Profile interviews on competencies
The collection of recommendations
The selection of the most suitable talents
The first meeting between applicant and client
Further assistance in drawing up the job offer, onboarding, and training/support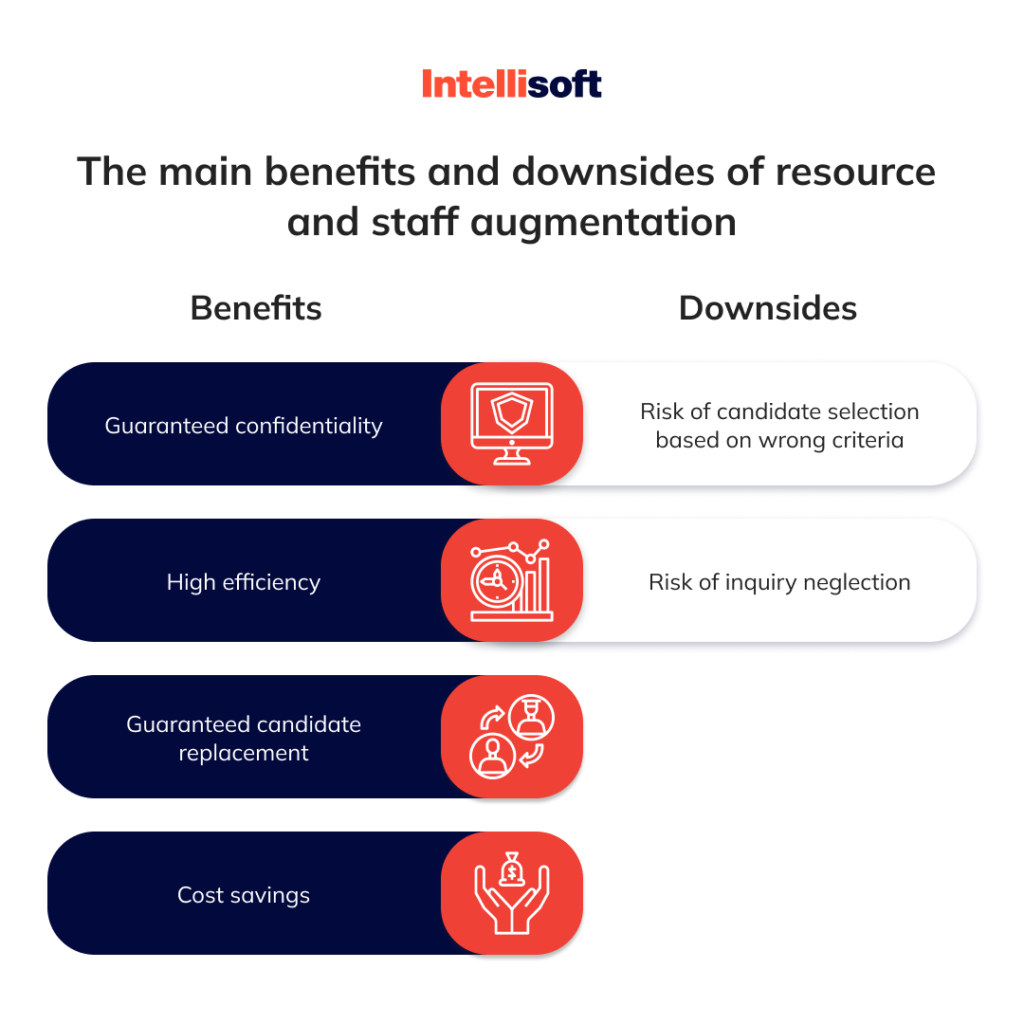 The Main Benefits of Resource and Staff Augmentation
Are you still hesitating whether to try staff augmentation service or not? Let's focus on staff augmentation benefits as the statistics above prove the effectiveness of this model.
Guaranteed Confidentiality
As stated by Harvard Business Review, the process of hunting candidates must be completely confidential. Otherwise, problems can arise both within and outside the company. Open vacancies are mostly publicly available. As soon as a new vacancy gets posted in a popular source (a social media or a job-hunting platform), that information becomes available to both potential candidates and competitors. Thus, don't include project specs or private data on your business or client base.
Still, sharing some sensitive data may be critical at the hiring stage to check the competencies of potential applicants. For example, revealing a unique selling proposition or buyer persona. How can you ensure that this info won't ever be disclosed to a third party? There is only one way out – to hire a professional recruitment agency. The agent, observing the confidentiality agreement, will refer to its contacts both in the vacancy description and during the job interviews with applicants.
High Efficiency
According to the World Economic Forum insight report, 75% of mature organizations are ready to outsource IT projects. We conclude that finding IT specialists (web and mobile developers, UX/UI designers, QA engineers) is tough today.
The process of hunting is voluminous. The main tasks of HR specialists include developing and promoting a vacancy, searching for experienced talents, selecting the most suitable candidates, conducting preliminary job interviews, preparing test tasks, and more. This all requires a lot of time. That might be overwhelming for in-house HR staff.
The best-recruiting agencies are focused solely on the result. They guarantee efficiency and quality of services provided.
Guaranteed Replacement of Candidate
As stated by Forbes, job-hopping (frequently changing your job) is a thing today. Sending the job offer to the selected candidate doesn't mean he will show up on his first day. That is another reason to contact recruitment agents. If the selected employee leaves during his trial, the hired recruitment agent will promptly find a new candidate for free.
HR professionals approach the selection of potential candidates very carefully. For instance, they check references one by one (or, at least, some of them). In this way, they try to eliminate risks.
Cost Savings
According to the stats from Zippia, it takes up to 42 days to close a vacancy in the United States. 42 days is a lot of time that could be used to focus on reaching important business goals. Considering this, recruitment agencies offer a great solution. No wonder a lot of entrepreneurs turn to recruitment services in order to save their money.
Recruiting agencies often use paid platforms while looking for talent. This way, they find suitable candidates where your direct competitors most likely aren't searching. In addition, recruitment agents have a lot of experience in job hunting. Experienced external recruiters know how to attract experts who already work for prestigious companies in your field. They can provide you with several potential candidates at once, which is also very cost-efficient.
The Main Downsides of Resource Augmentation
It won't be fair to discuss staff augmentation benefits only. After all, if your project has some nuances, the offshore staff augmentation model might not be the best option for you. Be aware of the possible challenges on your way.
Some Non-Professional Recruiting Companies Select Candidates Based on Wrong Criteria
Most unscrupulous recruiting agencies select candidates based on two factors: education and work experience. None of these criteria is an actual guarantee of the candidate's productivity.
Business owners know firsthand that a university diploma doesn't mean that the candidate is really qualified. Work experience also doesn't say much unless it refers to the narrow niche and is proven by the previous applicant's employers. Augmented staff is not suitable just because of education and work experience. This is when the old, rusty augmentation model isn't helpful.
Some Unscrupulous Recruiting Agencies Do Not Make Inquiries About Candidates
Many executives, who independently make inquiries about the agency-selected candidates, often find negative reviews from their past employees. It's very time-consuming to check every single agency-selected applicant.
Business leaders know firsthand how great the cost of a hiring decision can be. In the best case, low work efficiency and employee incapacity lead to lost profits. You also risk losing the good reputation you have been creating for ages.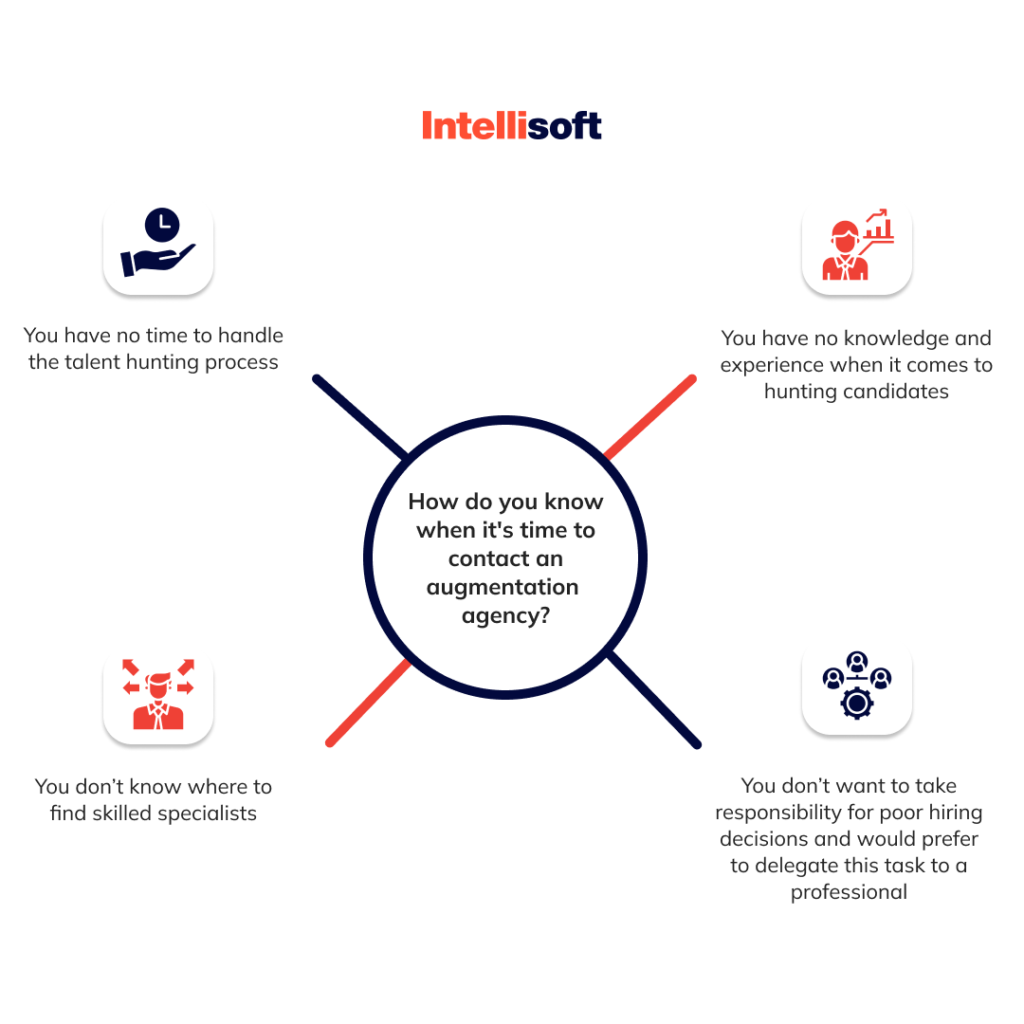 Who Should Turn to Staff Augmentation?
One of the reasons business owners turn to recruitment agencies is lack of time. The executive and the project management have many urgent issues to solve. Searching and recruiting talent is a time-consuming process that requires a lot of dedication. That is the main reason many project managers and entrepreneurs decide to contact experienced recruitment agents to help them solve personnel issues.
The next common reason business leaders turn to recruitment agencies is a lack of knowledge and experience. These experts or their HR staff don't know how to identify the right talent as the number of seekers can be quite big. In 2021, back-end developers just topped the list of the most in-demand tech jobs. Sometimes, HR managers have to deal with the low number of candidates responding to job vacancies.
The third common reason leaders choose software development staff augmentation instead of other methods to extend their teams is that they prefer to shift their responsibility for good or bad hiring decisions. The executive does not have to worry if the hired employee does not perform well – the agent will find a new suitable candidate for free.
Also, for many leaders, it is the lack of knowledge of where to find skilled specialists for the open positions. Even the most popular job sites are not always effective for finding the right domain expert.
When Should You Contact a Recruitment Provider?
Practice shows that sooner or later, any rapidly growing company comes to a point when it:
fails to find suitable candidates for its open positions (web or mobile developers, product or UX/UI designers, QA engineers, and others)
is in a situation when time is more valuable than money
needs guaranteed confidential search
These are the most common reasons to contact recruitment professionals. You don't want to waste time doing things you aren't good at.
If you're currently facing the problem of finding a skilled IT team, don't worry. At IntelliSoft, you'll find domain experts for your most complex IT needs. Turn to us now to book a free staff augmentation consulting service.
Related Readings:
What Are the Signs of Shady Recruitment Providers?
A quick guide on how to identify recruitment provides aimed at making quick money only:
Suspicious low service fee – less than an average monthly salary
Same price for the promised closing of any open position (finding a software developer is usually more challenging than finding a product designer or tester)
The company promises to find a suitable candidate in just a few days (while it may take weeks if we speak about just one applicant. The full team is usually ready to start in 3-6 months)
The company lacks specific industry experience
The agents don't request specific requirements for the open position
There is no information about the company on the internet, and it cannot provide its previous success cases or references
It's important to remember that it's the knowledge of the labor market that helps the agency to implement projects accurately and meet deadlines. Without that specific knowledge, it is impossible to find a suitable candidate.
An expensive professional service aimed at attracting employees is a returnable investment. Think twice before contacting recruitment agents you know nothing about.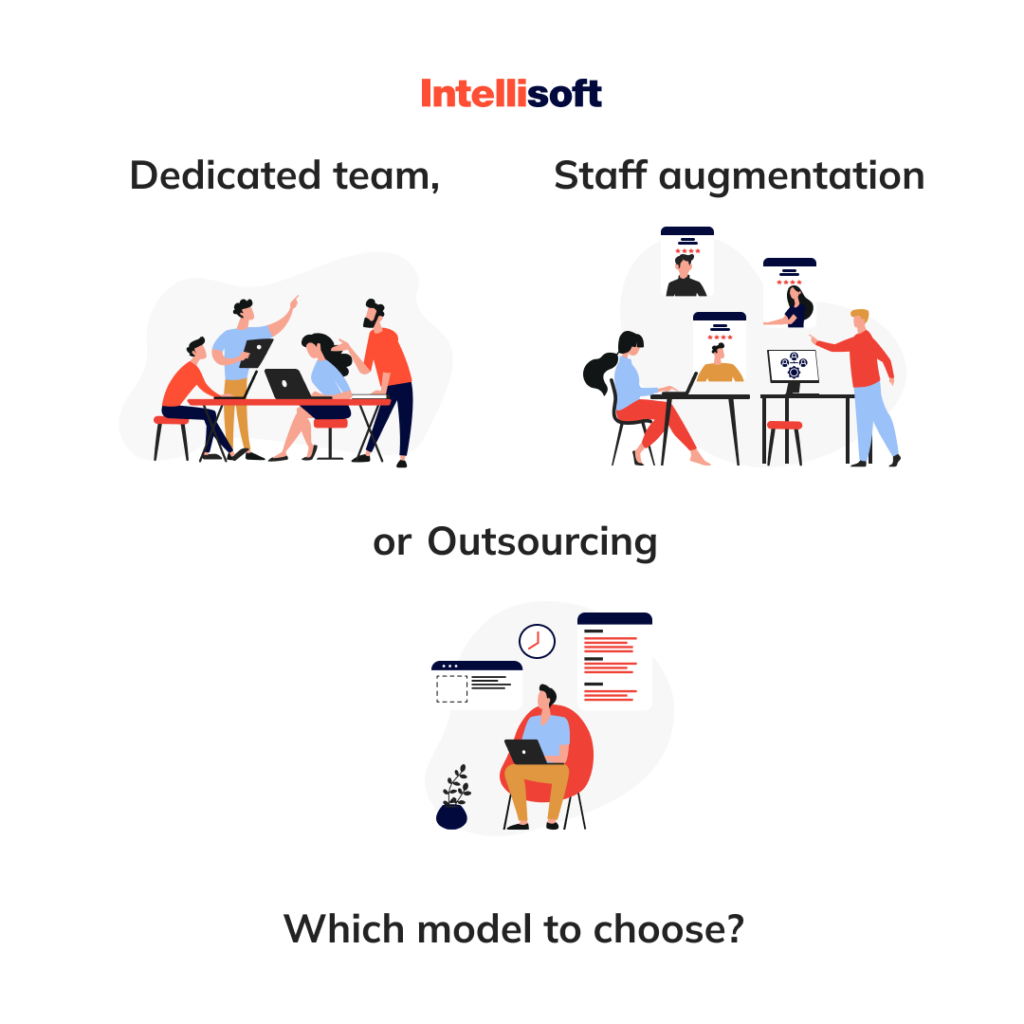 Conclusion
It's up to you what team extension model to choose for your company needs – dedicated team, staff augmentation, or outsourcing. Remember, there's no solution that fits every company.
Are you looking for web or mobile developers, UX/UI designers, or skilled QA engineers? Contact IntelliSoft, an IT staff augmentation company with vast experience and top talents involved, and we will help you choose the most suitable staff augmentation model for your IT needs.
FAQ