Building an app like Uber is not an easy feat. To make it work, you need to use the right technology, partner with the right development team, be smart with timing, and, of course, have a well-thought-out strategy and business model. And don't forget your head technology officer, who needs to put it all together. Welcome to your go-to guide for creating the ultimate "Uber-esque" masterpiece.
We'll start with market research, add a dash of legal seasoning, and top it all off with a drizzle of quality assurance. And why should you consider us your counselors in this ambitious endeavor? We are IntelliSoft, a globally acknowledged software development outsourcing company with a history of turning raw ideas into full-fledged, 5-star-worthy products. From Europe to the U.S. and everything in between, we've been perfecting our recipes for success in different industries, including logistics.
Buckle your seatbelts because we're diving into the nuanced world of ride-sharing apps. Get ready to explore the business model that turned Uber into a household name, the essential features that you absolutely cannot compromise on, and the tech stacks that can bake your app to perfection.
The Demand for Ride-Sharing Apps
The explosion of ride-sharing apps on the digital scene has been nothing short of transformative. If you're still taking conventional taxis or, God forbid, walking, then clearly, you haven't sampled the convenience that apps like Uber bring to the table. Imagine not having to wave frantically for a taxi in the pouring rain or trying to find a parking space that isn't a 10-minute hike away from your destination. That's the luxury these ride-sharing apps offer. It's like having a chauffeur on standby, but without the fancy uniform and the awkward "Should I tip him?" dilemma.
Convenience
In an age where instant gratification is not just desired but expected, the concept of "convenience" is the crown jewel. Ride-sharing apps leverage this to the max. Need to get to the airport at an ungodly hour? There's an app for that. Your car broke down in the middle of nowhere? Help is just a few taps away. It's the sort of convenience that elevates the term "easy travel" to a whole new level.
Remember those days of scrambling to find the exact change for the cab fare? Or deciphering your driver's scribbled directions because he wasn't familiar with your destination? Those days are as outdated as a floppy disk. Today's ride-sharing apps have integrated payment systems, navigation aids, and even features to share your ETA with loved ones. The term "convenience" hardly seems adequate – it's more like a lifestyle upgrade.
Success of Ride-Sharing Apps Such as Uber
Now, let's talk turkey. We're not merely discussing a fad here. Ride-sharing apps like Uber have fundamentally altered how we think about public transport. How successful are they? Well, consider this: As of 2023, Uber operates in over 10,000 cities worldwide and has completed more than 10 billion trips. If Uber were a Hollywood movie, it would be a blockbuster hitting all the right chords: action, drama, and a whole lot of cash.
The success isn't limited to Uber alone. Competitors such as Lyft, Didi, and Grab have all carved out their own slices of this lucrative pie. What fuels this success is a blend of consumer demand, technological advancement, and societal shifts toward shared economy models. This isn't just a market but an ecosystem. And like any thriving ecosystem, it's rich in opportunities for newcomers who bring innovation and value to the table.
In essence, the enormous demand for ride-sharing apps is a testament to the industry's inherent potential. If you're contemplating stepping into this arena, you're not just following a trend but tapping into a well-established, ever-growing market, hungry for innovation.
How Does the Business Model of Uber Work?
The business model of Uber is the Da Vinci Code of the startup world. Everyone's heard of it. Many have tried to crack it, but only a few have truly understood its genius. It's time to dissect this modern marvel of economics. By the time you reach the end of this chapter, you'll not only understand the intricacies of Uber's business model but also gain invaluable insights for your own venture. And yes, you'll be thankful you didn't skip this part.
Peer-to-Peer Service
So, how does Uber work? Let's start with the most basic yet radical innovation at the heart of Uber's business model: the peer-to-peer service. Forget about the days of licensed taxi services or fleets of cars managed by a central hub. Uber operates on a decentralized model where drivers offer rides to passengers directly via a mobile app. It's a matchmaker for the modern age, connecting drivers with empty seats to riders in need of a lift, with no mistletoe required.
How does this work, you ask? Imagine you're stranded in the city after a late-night party. You whip out your trusty smartphone, launch the Uber app, enter your current location and the desired destination, and just like that, drivers nearby are notified of your request. The first one to accept gets to play knight in shining armor, or in this case, a car.
The decentralized model eliminates the need for a central command, drastically reducing overhead costs. Drivers use their own cars, pay for their own gas, and essentially run their own mini-transport business under the Uber umbrella. It's like Airbnb but for cars. This democratization of the driving service breaks down the barriers to entry, enabling almost anyone with a car to earn money on the side. No wonder it's such a hit.
Revenue Streams
Revenue is the sweet nectar that fuels any business venture. Now, you might think that ride fares are the primary source of income for Uber. And you'd be right, but that's just scratching the surface. Beneath the obvious, there are multiple streams pouring into Uber's coffers, making it not just a ride-sharing app but a diversified platform.
Ride Fares
As you can understand, ride fares are Uber's bread and butter. When you take a ride, a portion of that fare goes to the driver, and the rest finds its way to Uber's bank account. But what sets Uber apart is its dynamic pricing model. Ever heard of "surge pricing"? When demand spikes, prices go up, incentivizing more drivers to join the fray. It's economics 101: supply and demand. The result? More revenue for both Uber and the drivers.
Advertising
Adds are the age-old revenue source for digital platforms. With millions of eyeballs glued to its app daily, Uber has a built-in audience for targeted advertising. Whether it's collaborations with local businesses or promotional campaigns with major brands, advertising is a lucrative side hustle for the platform.
Other Services
But Uber's ambition doesn't stop at getting you from point A to point B. The company has branched out into other services like Uber Eats for food delivery and Uber Freight for logistics. It's no longer just a ride-sharing platform; it's an evolving ecosystem offering multiple services under one brand umbrella. It's kind of like the perfect multitool; it's always handy and continuously adding new features.
That is the secret sauce behind Uber's wildly successful business model. In a nutshell, it's a combination of peer-to-peer interactions and multiple revenue streams, all orchestrated by a brilliantly designed mobile app. So, as you contemplate your journey into the realm of ride-sharing or any app-based service, keep these core principles in mind. Who knows, you could be the one writing the next chapter in this ever-evolving industry.
What Does Uber Consist Of?
Congratulations, you've made it to the next layer of the Uber onion. We promise this one won't make you cry unless you're the sentimental type who tears up at brilliant engineering and streamlined user experiences. So, what makes this digital colossus tick? Uber is a trinity of well-oiled components: the Rider App, the Driver App, and the Admin Panel. Let's explore each of them. And to make it crystal clear, we'll take the example of hailing a new ride through these components.
Rider App
The Rider App is where the magic begins, or, if you will, the starting point of your journey to anywhere. It's the part of Uber most of us are familiar with, featuring a map, a 'Request a Ride' button, and your soon-to-be best friend for the next few minutes, a live tracker of your approaching ride.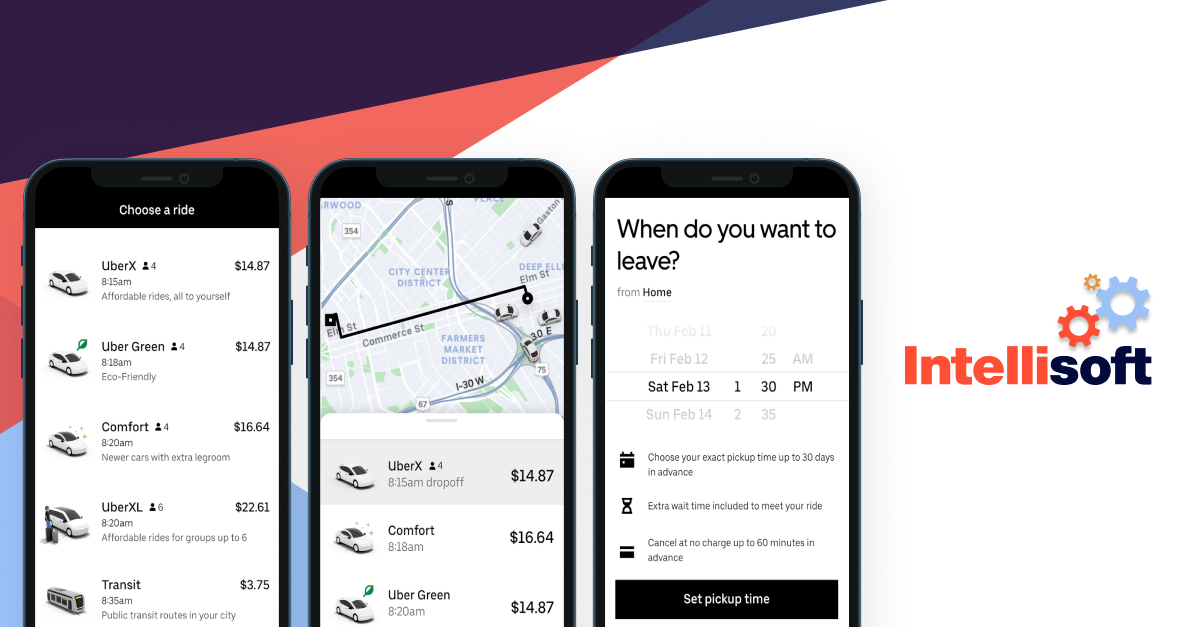 Requesting a New Ride
Imagine you're at a café and you've just realized you're late for an important meeting across town. No worries! You whip out your phone, launch the Uber Rider App, and input your destination.
Role of Rider App in the Uber Ecosystem
When you request a ride, the Rider App pings the nearest available drivers within a specific radius. It's like sending out a Bat Signal in the sky, but only Batman (or, in this case, Bob in his Prius) can see it. Once a driver accepts, the app starts the countdown, showing you the driver's ETA, car details, and even a photo to ensure you don't hop into a random vehicle by mistake.
Driver App
Now we switch gears (pun very much intended) to the Driver App. This is where all the owners of sedans and minivans hang out, awaiting the call to adventure.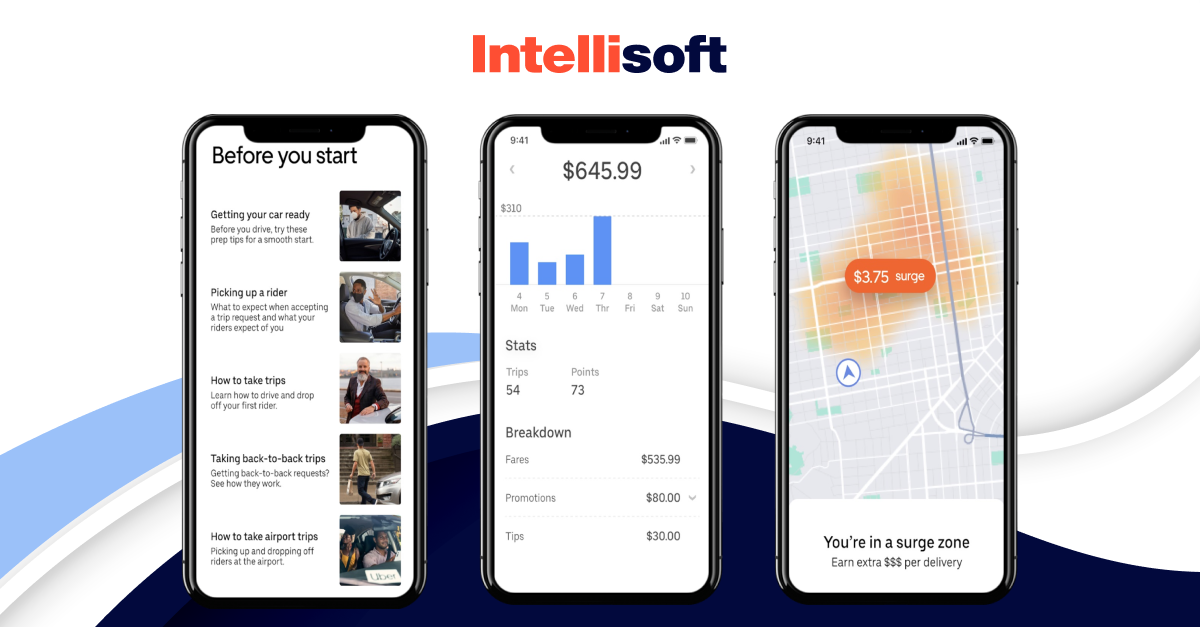 Receiving a New Ride Request
Back to you at the café. Your ride request appears on the Driver App of all available drivers within the vicinity. They see your location, destination, and a fair estimate of the ride. It's like a job listing but with immediate action. One of them accepts your request, and the app guides them to your location using real-time navigation.
Role of Driver App in the Uber Ecosystem
The Driver App is more than just a GPS navigator; it's a comprehensive dashboard that helps the driver manage rides, track earnings, and even take care of administrative tasks such as daily logs and expense tracking. Once they reach you and start the ride, the Driver App takes care of navigation, payment, and ride completion, freeing the driver to focus on the road and perhaps some light conversation if you're into that sort of thing.
Admin Panel
Last, but definitely not least, is the unsung hero of the Uber trilogy, the Admin Panel. You may not interact with it directly, but trust us, it's working hard behind the scenes to ensure your ride is smooth, timely, and hassle-free.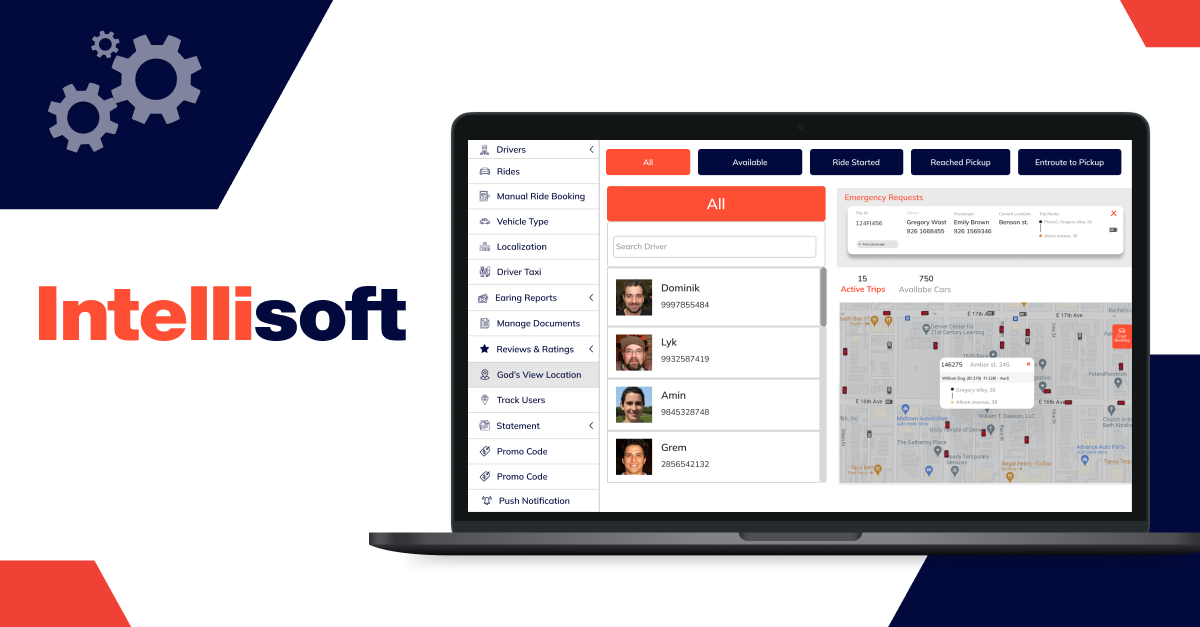 Coordinating a New Ride
When you made that ride request, the Admin Panel worked as a conductor, orchestrating the logistics. It ensures the algorithms are optimized for quick driver/rider matching, computes fares, and even keeps an eye out for any suspicious activities that might warrant intervention.
Role of Admin Panel in the Uber Ecosystem
This is where Uber manages its vast network of drivers and riders. It's the mission control center for every ride, ensuring safety protocols are followed, sorting customer complaints, and updating the system as needed. It gathers data analytics for demand prediction, dynamic pricing, and overall system improvement.
These are the three pillars that hold up the Uber experience as you know it. From the moment you open your Rider App to request a new ride, to the ping that alerts a nearby driver and the hidden algorithms that calculate your fare, each component plays its role to perfection. It's a well-choreographed dance where everyone knows their steps, leading to a finale that leaves everyone satisfied.
Related readings:
Key Features of an Uber Like App
So you're probably thinking, "Alright, I get it. Uber is this monumental triad of awesomeness. But what does it take to create an app that even remotely resembles it?" Let's dive into the nitty-gritty of the key features of Uber app analogs. And let's kick off this dissection with the feature set of the Rider Mobile App. After all, your riders are your customers, and in this game, the customer is king.
Rider Mobile App
Let's not mince words: the user interface is where many apps go to die. You could offer rides on a flying carpet, but if your app isn't user-friendly, no one's getting on board. So, what should be in your arsenal for the Rider Mobile App?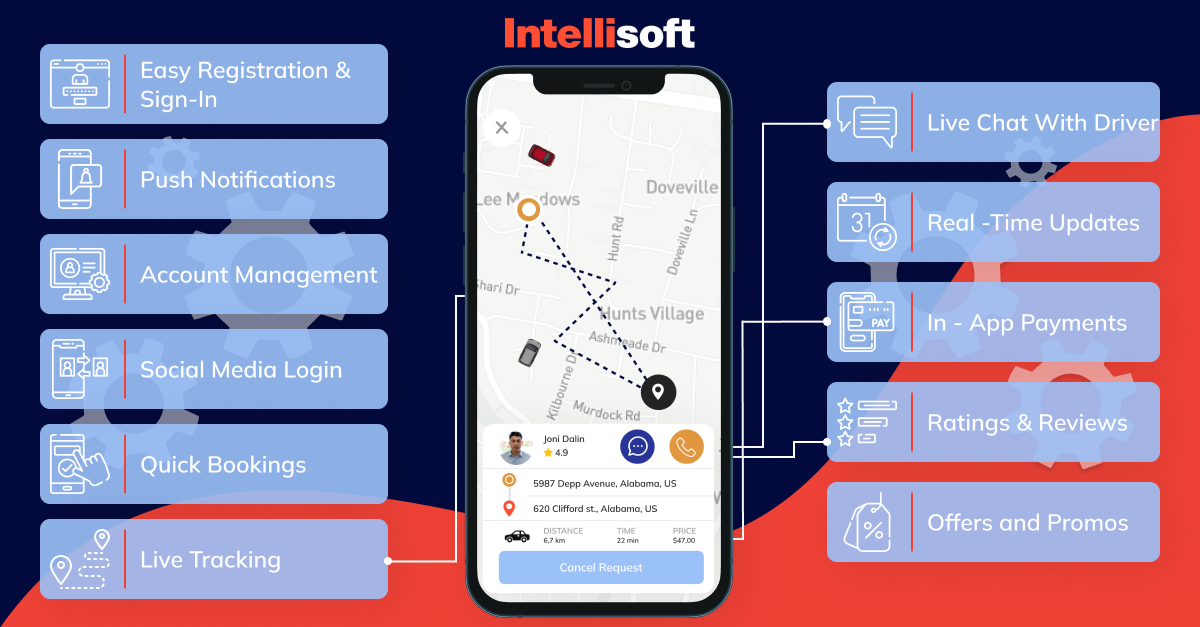 User Profile
A smooth onboarding experience sets the stage. In order to provide a seamless user experience, it's crucial to ensure that the sign-up and log-in processes are effortless and intuitive. Additionally, users should have the ability to efficiently manage their profiles, which includes uploading and modifying their photos, as well as being able to add and update their preferred payment methods with ease. You want them to feel like they're stepping into a digital limousine.
Maps and Geolocation Features
This one's non-negotiable. Users need a real-time map to select their pick-up location and track their ride as it arrives. Throw in estimated arrival times, and you've got yourself an app that's not just functional but lovable.
Hailing Functionality
The core feature of the Rider Mobile App is that users can hail a ride, specify their destination, and view the fare estimate. Make it as simple as possible. People want to get from Point A to Point B, not solve a Rubik's Cube.
Payment Integration
A seamless payment experience is a must. Allow for multiple payment options with credit/debit cards, digital wallets, and even cash options for wider accessibility. And, for heaven's sake, make sure it's secure. This is the part where users trust you with their money. Don't let them down.
List with Previous Rides
Users love this feature because it serves two purposes: it acts as a ride history and can simplify future ride requests. If you frequently travel between the same points, why input the details every time?
Reviews and Ratings
Give your users a voice. Let them rate their drivers, write reviews, and show these ratings to prospective riders. It's like a digital thumbs-up or thumbs-down, instantly helping others decide if they should take that ride or not.
Push Notifications
Alerts about ride status, driver arrival, and payment confirmation should pop right up on the user's screen. It's good to have this analog of a personal assistant providing helpful notes at the right time.
Ride Cancellation
Plans change, and your app should accommodate that. Allow riders to cancel their rides within a specified time frame without incurring a penalty.
The Rider Mobile App is your frontline in the ride-sharing battle. Make it intuitive, feature-rich, and simple to navigate, and you've already won half the war.
Driver Mobile App
As we said, the rider app has to be user-friendly and feature-rich, but the driver's side of the app should be a paragon of efficiency and straightforwardness. After all, time is money, especially when you're a driver waiting for your next fare. So, what are the must-have features of Uber app analogs for drivers? Let's dig in.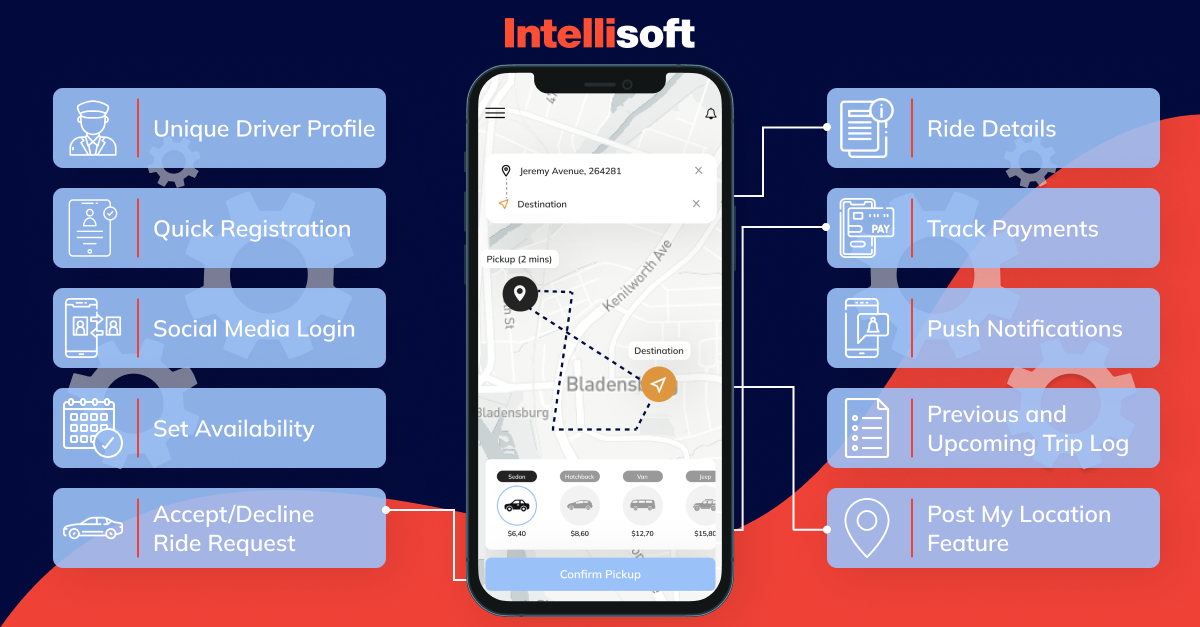 User Profile with Name and Info About the Car
First impressions count. The driver's profile should display their name, photo, and details about the vehicle they're driving. Think of it as an introduction before the first handshake (or, in this case, the first "Your ride has arrived" notification).
Ride Requests
A screen where all the magic happens. Here, drivers should see incoming ride requests with essential information: pick-up and drop-off locations, estimated fare, and the rider's rating. This helps drivers make an informed decision before accepting or rejecting a ride.
Approve or Deny a Ride
No one likes to be forced into anything, not even a $20 fare to the airport. Drivers should have the liberty to approve or deny incoming ride requests based on their current location, schedule, or even mood. Yes, mood. Sometimes, the driver may not be in the mood for a cross-town journey during peak traffic hours, and that's okay.
Geolocation
While riders want to know where their ride is, drivers need to know where they're going. Real-time geolocation is crucial for navigating to the pick-up spot, following the best route to the destination, and for safety reasons. No one wants to end up in Nowhereville when they were supposed to be heading Downtown.
List of Completed Rides
Just as riders like to review their past rides, drivers appreciate a well-organized list of completed journeys. This feature helps keep track of daily earnings and serves as a record for any disputes or queries that may arise.
After all, the Driver Mobile App should be a well-oiled machine designed to make the driver's life easier, not more complicated. It should offer a straightforward and efficient way to manage rides and earnings, all the while keeping things as transparent as possible for everyone involved. In the fast-paced world of ride-sharing, efficiency is the currency that keeps the wheels turning.
Web-based Admin Dashboard
So, we've taken a peek under the hood at the rider and driver apps. But who's the puppeteer pulling the strings behind this elaborate performance? That would be the all-mighty, Web-based Admin Dashboard. It's the control center, the mission control, the wizard behind the curtain if you will. This is where the folks who run the ride-sharing service get to play maestro, orchestrating the entire operation with the flick of a mouse or the tap of a key.
Control Everything
Here is where you get to wield the scepter of control. Imagine a dashboard so well-organized that you could see everything from individual user accounts to performance analytics at a glance. Now stop imagining because that's precisely what a well-designed admin dashboard is. You should be able to manage every aspect of the service, down to the tiniest details, all from one centralized hub.
Driver List
Imagine having a Rolodex of all your drivers, only digitized and more sophisticated. A comprehensive driver list should include everything from contact details to ratings and maybe even their favorite snack for those long drives. Keeping track of your drivers and approving or un-approving applications of newcomers is essential for the smooth functioning of any ride-sharing app.
Rider List
And let's not forget the people who make the whole operation worthwhile, the riders. Like the driver list, the rider list should include crucial details such as account status, previous rides, and ratings. If drivers are the stars, then riders are the audience, and you need to keep them coming back for more encores.
Manage Riders
This is your chance to put on your customer service hat. Manage rider accounts, resolve disputes, and even grant special promotions or penalties. If your ride-sharing app were a ship, this would be the navigation system guiding you through the choppy waters of customer relations.
Manage Drivers
Managing drivers is a whole other ball game. This involves not just tracking their earnings and commissions but also ensuring that they meet the set quality standards. Think of it as your internal HR department but specialized for a fleet of drivers.
Billing
Money makes the world go round, and in your case, it keeps the wheels turning (literally). The billing section should offer a comprehensive look at fares, driver earnings, and any applied promotions or discounts. Transparency is crucial here. You want to keep financial transactions as clear as a freshly cleaned windshield.
Earning Reports
Earning reports for ride-sharing services are like box-office numbers for movies, and it's a measure of success. Your dashboard should offer detailed earnings reports, breaking down incomes by day, week, or even ride type. It should also provide insights that can help you adjust your strategies for maximizing profits.
Ratings and Reviews
Ah, the court of public opinion. The Ratings and Reviews section is the marketplace's report card if you will. It's here that you can peruse what users have to say about your service. Praise? Concerns? Suggestions? They're all laid out here for you. A well-designed dashboard will allow you to sort and filter these reviews, making it easier to identify areas for improvement or, dare we say, celebrate your awesomeness.
Rides List
If you're wondering what's happening in your digital kingdom at any given moment, the Rides List is your crystal ball. This list, segmented into various statuses, completed, scheduled, pending, and canceled, gives you an immediate snapshot of your operation's heartbeat. And yes, seeing a long list of 'completed' rides might just make your day.
Vehicle Type
Remember those toy cars you sorted by type as a kid? This is the grown-up, business-critical version of that. Sorting and managing your fleet by vehicle type helps not only in strategizing but also in streamlining your service. Need to know how many SUVs are on the road versus compact cars or vans? The Vehicle Type section has got you covered.
Manual Ride Booking
In a perfect world, everyone would have a smartphone, and they'd all know how to use your app. But let's get real. Sometimes, a ride needs to be booked manually. This function allows you to enter the ride details yourself, whether it's a special request from a VIP customer or a booking made over the phone. Think of it as your ride-sharing service's "break glass in case of emergency" feature.
Map View
The Map View is your very own Marauder's Map of available drivers. This geospatial tool shows you a live layout of all your drivers in different locations. Need to know if there's a supply gap in a particular area? Or maybe you're just curious about how far your empire extends at 5 p.m. on a Friday. The Map View will give you the real-time insights you need.
Manage Documents
Last but not least, the admin dashboard should provide a space to manage essential documents. Whether it's insurance papers, licenses, or even your drivers' favorite playlists (because why not?), having a centralized place to store and manage important documents is a godsend.
With a well-designed web-based admin dashboard, you are the commander-in-chief of your own digital empire, making critical decisions that impact the lives of riders and drivers.
How to Build an App Like Uber Step-by-Step
So, you're thrilled by the idea of creating your very own Uber like app? The good news is you're not reinventing the wheel; someone's already done that. But you can certainly add some innovations that make sense in your area. This isn't a one-size-fits-all guide; it's more like a made-to-measure suit for your ride-sharing dreams.
Step 1. Market Research
Start by performing a thorough research and dig deep into the market. Who are your competitors? What do they offer? How big or small is your potential user base? If you think you're too cool for school and skip this step, let's just say your app might end up being the flash in a pan of ride-sharing platforms. So, put on your detective cap and identify your competition and potential users. The goal here isn't to mimic but to find gaps you can fill and do it better, smarter, faster. At IntelliSoft, we pride ourselves on providing technology scouting services, among others, to aid in this crucial step.
Step 2. Check Legal Requirements
The fine print, the stuff most people gloss over but absolutely shouldn't. This is where you consult legal experts to guide you through the murky waters of licensing, insurance, and other legal entanglements. You don't want to be that person who builds a majestic sandcastle only to have it washed away by the tide of legal repercussions. So, break out the law books and make sure you're building on solid ground. If you're unsure where to start, IntelliSoft has you covered with CTO-as-a-Service, which includes guidance on legal matters.
Step 3. Budgeting
Think of budgeting as planning a road trip. You wouldn't start driving without knowing how much gas you'll need, where you'll stay, or what roadside attractions are worth your time. Similarly, your budget isn't just for the app development. You have to account for marketing, customer support, and other expenses, such as server costs. It's a whole pie, not just a slice. Get your spreadsheets ready, forecast your expenses, and set your budget. And remember, if you need help estimating Uber app cost, IntelliSoft's extensive experience in this domain can come in handy.
Step 4. Hiring a Development Team
You wouldn't let just anyone decorate your dream home, so why settle when it comes to your app's development? One approach is hiring an in-house team. It's perfectly fine, but costly and time-consuming. Or, you could go the outsourcing route. Partnering with a seasoned outsourcing company like IntelliSoft not only fast-tracks your development process but also gives you access to a group of professionals with a wide range of technical expertise. We're talking about a squad of engineers, 60% of whom are Senior Software Engineering professionals. You can have your cake and eat it too, without ever needing to know how to bake.
Step 5. Choosing the Technology
Your tech stack for the app is where all the magic happens. So what should you consider?
Mobile Platform Choice: iOS, Android, or both? Your market research should guide you.
Back-end Technologies: From NodeJS to .NET, the options are many. IntelliSoft's rich tech stack, which includes Angular, .NET, NodeJS, and much more, gives us the flexibility to choose the right wand for your magical journey.
Front-end Technologies: Again, Angular or React could be your heroes here. It depends on your specific needs.
Technologies for Geolocation: What's a ride-sharing app without precise geolocation? Think Google Maps APIs or other geolocation services.
Remember, your tech stack isn't just a list of programming languages and tools. It's the lifeblood of your app.
Step 6. Consider UI/UX Principles in Design
You could have the most feature-rich app in the world, but if it's as confusing as a maze with no exit, users will bolt faster than you can say "uninstall." This is where UI/UX comes into play. Think of good design as the tour guide that not only shows users the ropes but also makes them want to come back for more adventures. A well-designed user interface is often the secret sauce that keeps users coming back, and that's no small feat in today's competitive marketplace.
Step 7. Development Phase
Embarking on the development phase is like stepping into a kitchen with all your ingredients and recipes ready. Now, it's time to cook up a storm. And the recipe you should follow for your app is called Agile. The Agile approach is your sous-chef, a method that's all about adaptability. You can taste-test your app after each sprint, making adjustments as needed. No longer do you have to wait until the end to realize you forgot to add salt, figuratively speaking, of course.
Step 8. Quality Assurance and Testing
Remember the saying, "Measure twice, cut once"? That's Quality Assurance (QA) for you. Except here, you're not cutting; you're testing. Perform usability testing to make sure your users won't need a Ph.D. to navigate your app. Load testing ensures your app doesn't crumble under heavy traffic like a badly baked cookie. Security testing? Well, that's just a given unless you fancy the idea of a rogue hacker commandeering your app. QA is your last line of defense to make sure the app is market-ready and as bug-free as a 5-star hotel room.
Step 9. Deployment and Maintenance
Let's talk about D-day, the deployment day. Planning your app's launch can be compared to planning a surprise party. It's all about creating a buzz, inviting the right people, and ensuring everything goes off without a hitch. After the launch, don't forget the after-party, also known as app maintenance. Technology evolves, user expectations change and your app should too. Regular updates keep your users engaged and help fend off any new competition.
So there you have it, a roadmap to building your own Uber-like app. It's not a stroll in the park, but neither is it a hike up Everest. With the right ingredients, research, planning, and a stellar team like the specialists at IntelliSoft, your dream of creating the next big ride-sharing app is well within reach. The journey might be long, but you've got a great 'driver' in the form of a dedicated development team.
Team Composition for Creating an App Like Uber
Crafting an app like Uber is no solo endeavor; it's an ensemble performance that requires the harmonious collaboration of various skill sets. Think of it as assembling a dream team where each member brings a unique skill to the table. Let's go through the roster, shall we?
Business Analyst
First up is the business analyst, whose job is to understand the market, scope out the competition, and identify opportunities that others may have missed. They gather requirements, create specifications, and basically set the stage for your app's mission.
Project Manager
Here's the one who keeps the team together and the project on track. The project manager ensures that deadlines are met, scopes are maintained, and goals are achieved. They're the decision-making guru, always planning three steps ahead, ensuring the project doesn't veer off course.
System Architect
The role of a system architect is all about building a strong foundation for your app. They design the system architecture and make pivotal technology decisions, ensuring that the app is scalable, maintainable, and capable of meeting your performance criteria.
Developers
Your team of developers must be powerful, capable, and at the core of the action. Their primary mission? They need to turn the specifications into a working app. Whether it's front-end or back-end development, these folks breathe life into your project through code.
UI/UX Designers
Consider these your experts at fine details that make a huge difference. UI/UX designers are responsible for how the app looks and feels, from the color schemes to user flow. They make sure the app is not just functional but also enjoyable and intuitive for end-users.
QA Managers
Last but not least, we have the QA managers, your mighty, sure-handed testers, leaving no room for errors. They wield their tools to squash bugs and certify that the app is worthy of being launched into the market.
So that's the all-star team lineup that you will need to create an app like Uber. It takes a village, or, in this case, a well-composed team of highly skilled professionals to build something extraordinary. And if you're looking to recruit such a team, consider a proven partner like IntelliSoft. We've got the experience and the expertise. All we need is for you to make the call.
How Much Does an App Like Uber Cost?
Building an app like Uber can be compared to buying a car. You could go for a bare-bones model, or you could opt for the luxury sedan complete with heated seats and a high-end sound system. Essentially, the bells and whistles you decide to include will directly affect your final bill. But worry not; we're here to give you a ballpark figure and break down the elements that contribute to the overall cost.
Development Team Costs
Hiring a well-oiled machine of a development team is the first thing you'll have to budget for. Whether you go in-house or decide to partner with a proven outsourcing company like IntelliSoft, you're looking at costs for business analysts, project managers, system architects, developers, UI/UX designers, and QA managers. If you're looking to cut costs on developer hiring, it's worth considering sourcing talent from regions with lower costs of living but a high level of proficiency in IT, such as Ukraine.
Design and Interface
If you've ever been wooed by the sleek design of a Tesla or the classic look of a Ford Mustang, you know how important design can be. The same applies to your app. Quality UI/UX design doesn't come cheap, but it's absolutely crucial for retaining users.
Functionality and Features
The list of features you wish to incorporate will significantly impact the price tag. Basic features like user profiles and geolocation are par for the course, but if you're looking at including more advanced attributes like real-time tracking or an AI-driven recommendation system, expect the costs to rise proportionally.
Back-end Development
Your back end is the engine under the hood. Just as with cars, you can go for a standard model or opt for something more powerful. If you're planning on supporting hundreds of thousands of users, you'll need a robust back-end, which means higher costs.
Testing and QA
No one wants to drive off the lot in a lemon, and the same goes for launching an app. Conducting comprehensive testing and implementing quality assurance measures are essential steps to ensure that your application is fully prepared for launch and meets the high standards of the market. This involves multiple types of testing and will usually cost around 15–20% of your total development budget.
Maintenance and Updates
Once the app is live, the expenses don't stop there. Regular maintenance, updates, and potential expansions all come with their own costs. A common rule of thumb is to budget around 20% of the initial development cost for annual maintenance.
It's hard to give a one-size-fits-all answer to how much it costs to build an app like Uber, but hopefully, this gives you an idea of the different factors that contribute to the overall price tag. The development costs of such a platform may range from $60,000 to $150,000, depending on the complexity of the project. And remember, choosing an experienced outsourcing partner such as IntelliSoft can offer both cost efficiency and top-tier quality, allowing you to get the most bang for your buck.
Challenges of Building an App Like Uber and How IntelliSoft Overcomes Them
Building an app like Uber is not for the faint of heart. You're entering a space where competition is fierce, and the stakes are sky-high. But hey, you're not planning on climbing Everest in flip-flops. You're going to be prepared. And that's exactly why you should be aware of the challenges ahead and how a seasoned tech partner like IntelliSoft can help you overcome them.
Regulatory Hurdles
Let's face it, the regulatory landscape for ride-sharing apps can be more confusing than assembling IKEA furniture with missing instructions. The requirements vary from location to location, and failure to comply could spell disaster. IntelliSoft's experience in dealing with diverse international projects ensures you'll navigate through this maze unscathed.
Data Security
With great power, or with handling user data, comes great responsibility. The more information you collect, the higher the risk of a data breach. IntelliSoft prioritizes state-of-the-art security measures, making sure your app is as secure as Fort Knox but without intimidating guards.
Scalability
What's worse than an app that crashes? Maybe stubbing your toe in the middle of the night, but it's a close second. Ensuring that your app can handle a sudden influx of users is crucial. IntelliSoft employs cloud development and advanced back-end technologies to guarantee your app scales smoothly, avoiding the dreaded crash and burn.
User Experience
A subpar user experience is like a rock in your shoe; you might not notice it at first, but boy, will it annoy you later. From intuitive interfaces to efficient load times, IntelliSoft's team of front-end developers ensures that your app is not just functional but also enjoyable to use.
Multiple Platforms
Your app needs to work perfectly whether it's accessed from an Android smartphone, an iPhone, or a web-based admin panel. IntelliSoft's diverse tech stack ensures compatibility across all platforms, offering a seamless user experience.
Competition
Let's talk about the elephant in the room: competition. The ride-sharing market is saturated with giants and up-and-comers vying for the same space. So, how do you stand out? IntelliSoft, with its extensive project portfolio and innovation-centric approach, can provide you with the competitive advantage necessary to not only survive but thrive.
Navigating the challenges of building an app like Uber might feel like you're walking a tightrope, but with IntelliSoft as your safety net, you'll be poised to perform like a skilled acrobat. Our tailored solutions and formidable expertise make us the perfect ally for overcoming these hurdles. With IntelliSoft at your side, you're not just building an app but building a success story.
Conclusion
Building an app like Uber may feel like assembling a 1,000-piece jigsaw puzzle where the stakes are sky-high, and the pieces keep moving. From conducting thorough market research to overcoming regulatory hurdles, from designing an intuitive user interface to scaling gracefully, the road to creating a stellar ride-sharing app is both challenging and rewarding. But just because the journey is complex doesn't mean you have to walk it alone.
Here's where IntelliSoft comes into the picture. With a legacy of delivering hundreds of successful projects worldwide and a portfolio that screams 'expertise,' we've got the knowledge, tools, and kick-ass team to turn your dream app into reality. And it's not just about getting your app off the ground but about sustaining it through innovative solutions and constant refinement, something we've mastered over the years.
So, if you're ready to make your mark in the ride-sharing world, why not do it with a tech partner that assures quality, scalability, and innovation? With IntelliSoft's mobile app development services, you're not just investing in an app, but investing in a future full of possibilities. Let's create something amazing together.
FAQ