Today's most efficient smart buildings use advanced IoT technology, powerful software, and artificial intelligence (AI) to create a healthy, comfortable environment for visitors and increase employee productivity. However, not many buildings can yet be classified as "smart" buildings.
Forward-thinking companies and private homes around the world are digitally transforming to increase the IQ of owned structures, save energy, reduce carbon emissions, and lower operating costs.
When considering technical methods of climate control, the history of HVAC systems began in 1902, when Alfred Wolf and Willis Haviland Carrier developed the first air conditioning system. Since then, the components of the system have been updated and their applications have evolved. The combination of the air conditioning system with heating and ventilation system allowed control of the climate in the room, which had an impact on improving the conditions of human presence in it.
Nowadays, heating, ventilation, and air conditioning (HVAC) systems are expected to grow from their 2018 value of USD $8.3 billion to reach USD 28.3 billion by 2025. Partially, that is because of new tech, such as IoT solutions. They improve the management of HVAC systems in both residential and commercial settings. Manufacturers, contractors, and end users may monitor the functioning of HVAC systems and identify problems before they lead to significant outages by connecting them to the IoT.
In this piece, we'll delve into the advantages, disadvantages, and complexities of creating an IoT solution for HVAC manufacturing.
IntelliSoft have valuable IoT solutions that we are ready to share with you. For instance, one of our clients, a well-known Swiss industrial heating systems provider, asked us to help leverage IoT devices for distant heating systems management and monitoring. Except for delivering the custom enterprise resource planning (ERP), we provided them with a dedicated team. You can learn more about this case on our site.
Problems with HVAC System Management
According to a technological analysis published by the US Department of Energy, residential and commercial buildings account for about 74% of the electricity used in the country and 40% of all primary energy use, with HVAC systems contributing up to 60% of the total energy used by the building.
Still, it's necessary to consider possible issues with such systems. These are a few difficulties that owners of commercial buildings encounter with HVAC systems.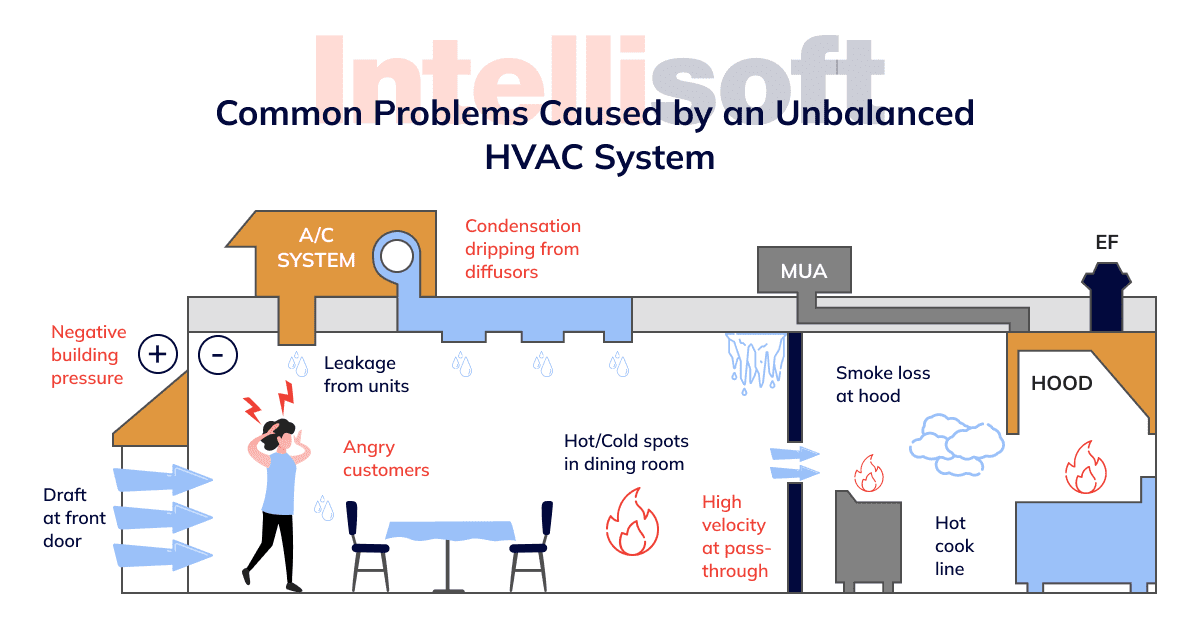 Relevant readings for you
A question of priorities
Building managers generally give energy savings a far lower priority in favor of managing HVAC building automation systems through trial-and-error modifications in response to tenant comfort input.
Outcome: Low energy savings.
Adaptation issues
In order to respond to tenant comfort feedback, building managers frequently tweak HVAC systems based on trial-and-error adjustments, pushing energy savings to the back burner.
Traditional thermostats control a room's temperature to a predetermined level. However, they disregard elements like ventilation, sunlight, humidity, and a person's degree of activity. Residents cannot just change the thermostat in large buildings on their own.
Outcome: The inhabitants' discomfort.
Monitoring an HVAC system is challenging
The infrastructure of HVAC is intricate and made up of various components. The performance of the entire system suffers if one component fails. For instance, a dirty air filter forces HVAC systems to work harder in an effort to compensate for the restriction in air flow, which eventually leads to system failure.
Outcome: Difficulties associated with controlling an HVAC system.
Constantly turning the system on/off
It's a common fallacy that you shouldn't turn off the air conditioner when you leave a building to avoid placing a stress on the system. However, leaving the air conditioner on results in unnecessary expenses and energy waste.
Fossil fuels are heavily used in the energy sector. Did you know that more than 75% of the energy used for cooling and heating comes from fossil fuels, while just 22% is produced using renewable energy? And as you are aware, the extraction and combustion of fossil fuels at an excessive rate have a number of negative impacts on the environment, including air pollution and global warming.
Outcome: Adverse impact on the environment.
Maintaining track of the entire HVAC system
It is a complex infrastructure with many moving elements, and the entire system suffers when one of its parts malfunctions. For instance, a clogged air filter makes HVAC systems work harder to make up for the decreased airflow, eventually leading to system failure.
It should come as no surprise that excessive electricity use, improper refrigerant charge, and duct leaks result in increases in electric bills. The majority of energy usage is usually attributed to heating, ventilation, and air conditioning.
Outcome: Exorbitant electrical expenses.
Inadequate HVAC Upkeep
Real estate owners frequently neglect HVAC maintenance and only take care of it when it's too late. On the other side, regular tune-ups improve HVAC unit performance and lengthen its lifespan by assisting in the early detection of potential issues.
High power costs are a result of heating and cooling cycles, but they might also be a result of equipment that isn't operating effectively. As a result, more resources are allocated to identifying the reason for the increase in energy demand and rectifying the machinery.
Outcome: Equipment failures and malfunctions.
Lack of regular HVAC maintenance
If something isn't broken, why fix it? Real estate owners often put off necessary upkeep until it is too late, whether they own private or commercial property. However, regular tune-ups aid in early problem detection, improve the efficiency of HVAC systems, and ultimately increase the lifespan of the installed equipment.
Outcome: Support & maintenance of the system are weak, not available 24/7.
Do you know the best solution to all these problems? IoT-enabled smart HVAC systems might be the clue, so let's have a closer look at this phenomenon.
How Is IoT Taking Over the HVAC Industry?
First, we want you to take a lot at some statistics on the IoT industry.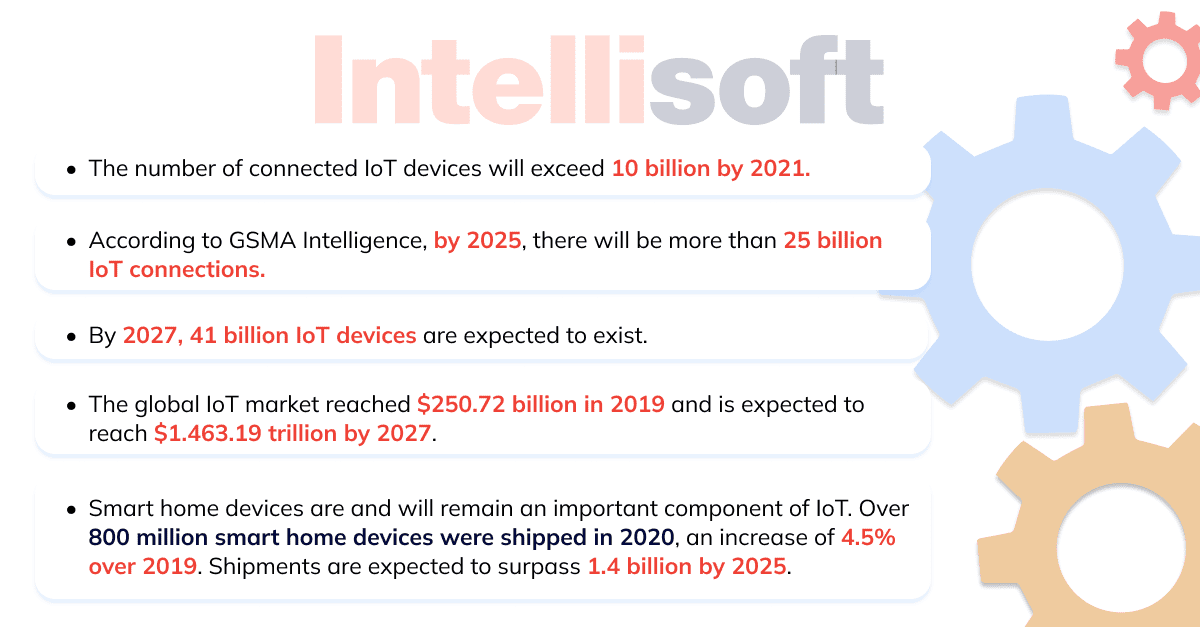 Those are just some facts that prove the great potential of the Internet of Things. Now, what does it have to do with HVAC systems? We have more stats to share!
The HVAC market is expanding more quickly than ever! According to a 2019 survey, 88% of respondents from HVAC services said 2019 was a "great" year for their industry. Of these, 43% anticipated a 5–10% increase in business.
Many consumers are entering the HVAC sector.
Look at the most recent employment data for the HVAC sector if you don't believe us. HVAC service providers in the U.S. employed about 1.2 million people in 2018. By 2028, it is expected that the HVAC sector would rise by 13%.
The HVAC sector will change to accommodate mobile-first communication. The majority of individuals use mobile devices, and about 45% of HVAC employees say they prefer texting to emails for communication.
Homeowners are becoming more interested in IoT and smart home technologies. More than 33 million households in the United States have smart thermostats now, and market spending on climate control has climbed by 20% since 2016.
Consider going eco-friendly. More than 50% of the market for HVAC services, according to the report, is willing to pay more for environmentally friendly goods.
The introduction of smart HVAC systems in offices and production facilities, replacing the current ventilation and air conditioning systems, significantly reduces the cost of heat and electricity used, while creating a permanent comfortable environment for employees. Many use smart HVAC systems for individual purposes – creating a smart home. That is when it is time to cover reasons for such a decision.
What Is an HVAC System?
Smart HVAC is a self-regulating HVAC system (Heating, Ventilation, & Air Conditioning) that is an essential part of a smart home. The task of the system is to maintain a comfortable indoor climate while optimizing energy consumption as much as possible. In its turn, Internet of Things (IoT) is the interconnection of sensors and devices over the internet for the purpose of data sharing and device control. The technical characteristics are as follows: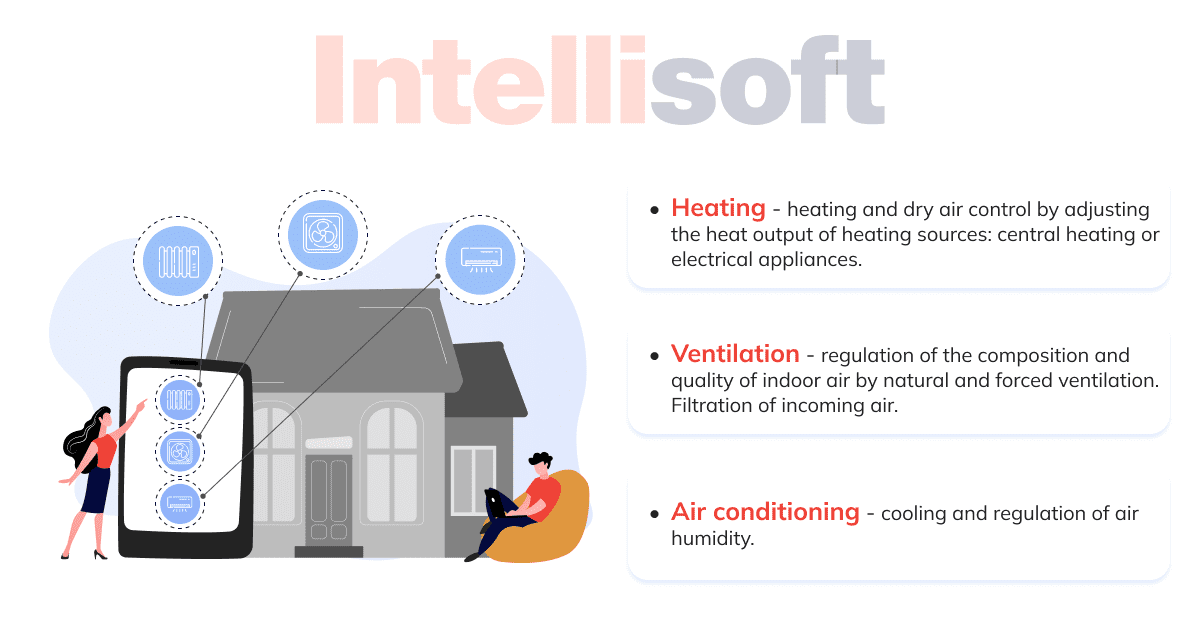 The smart HVAC is controlled from a single central interface. The peculiarity of the system is that it is not controlled over specific devices, but over the zones for which these devices are responsible. The HVAC system is closely integrated into the smart home systems and works together with the lighting systems.
It is mandatory for HVAC system devices to use common communication protocols such as RS232 and RS485.
Thanks to the IoT, today's HVAC original equipment manufacturers (OEMs) can create digital HVAC assets that can be monitored and controlled remotely. IoT helps consumers significantly save energy, in addition to the ever-increasing convenience.
The difference between "smart" and the traditional HVAC is that the system itself determines where and what kind of intervention is required to create a comfortable climate in the room. The user no longer needs to monitor the need to turn on devices, the system itself will determine the area with stale air, the level of oxygen in the air, temperature and humidity, as well as create comfortable conditions depending on your activities: rest, cleaning, work, serving guests, etc.
IoT-Based HVAC Solution Architecture
IoT system cannot be considered working unless it is linked to the four aspects given below:
Sensors/devices. Physical devices are intended here. One of the most common sensors used today is a temperature sensor.
Connectivity. This is the process of sending data to the cloud. WiFi, BACnet, and other methods can be used to complete it.
Processing of data. The data sent to the cloud must be processed; there is no other option. For example, it is extremely useful when determining whether the temperature captured by the sensors is acceptable.
User interface. The processed data can be presented in the form of an alert, informing the user of what needs to be corrected, and so on.
In terms of the smart HVAC industry, it is critical to remember that IoT makes it much easier to monitor equipment. IoT-enabled sensors, for example, can help with this. This helps to reduce repair time and overall maintenance.
How Does the Smart HVAC Internet of Things Ecosystem Function?
Typically, here are the parts of HVAC system:
Sensors for HVAC. They consist of temperature, motion, light, and other sensors.
A gateway that provides bi-directional communications from the device to the gateway and vice versa, allowing data to be fed into the smart HVAC system.
HVAC program for gathering information from various sensors, analyzing it as necessary, and uploading it to the cloud for additional research.
A wireless sensor network that transmits information to the cloud and the gateway.
Cloud analytics platform, where data may be filtered, examined, and shared as necessary with other systems.
A device or mechanism that receives electrical input from sensors, transforms it into motion, and acts.
Learning algorithms that use database data to aid in energy optimization, remote HVAC system control, and preventative maintenance. System managers are also informed of errors, alerts, and events via their mobile devices.
Now, here is how HVAC systems work in general:
HVAC software analyzes data from several sensor sites and instantly stores it in the cloud.
The software filters, aggregates, and shares the data on a cloud-based analytics platform connected to the system.
Built-in algorithms make use of database info to enable IoT HVAC system monitoring, control, and preventative maintenance and support.
The software then sends out dynamic notifications when it discovers aberrant behavior, including power consumption that exceeds the system managers' established baseline.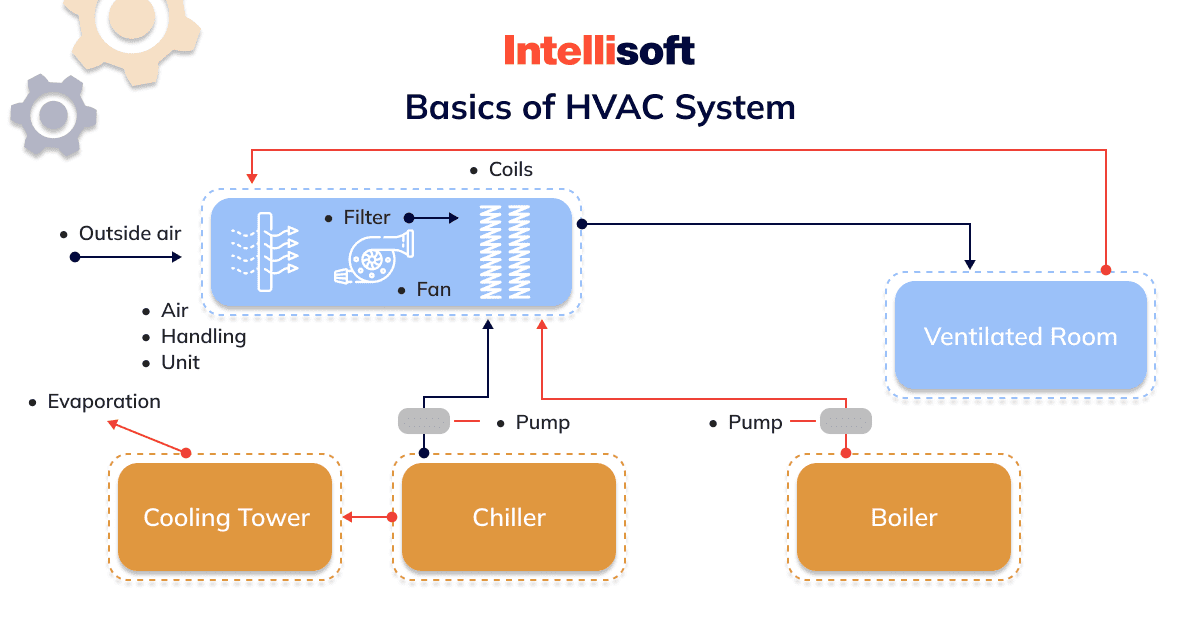 How Can One Benefit from Using a Smart IoT HVAC System?
In brief, by delegating the control and monitoring function to an automated system, you get rid of the factor of resource overuse, which has a positive impact on the economy of energy consumption.
Now, it is time to list the advantages an average household obtains when choosing to automatize HVAC systems.
Monitoring Air Quality
Quality in this case stands for the composition of the "home atmosphere," its purity and oxygen saturation. Ventilation, which is controlled by a smart home, is also activated either according to pre-programmed scenarios or the readings of carbon dioxide level sensors.
If people smoke in the house, you can install special indicators in the rooms that respond to tobacco smoke. Moreover, the automation, based on the combination of many factors, independently determines what kind of ventilation is needed, as well as whether it is necessary to turn on the hood or the weather allows you to open the windows without prejudice to the specified temperature.
Saving Energy
HVAC components are the obvious leaders in household energy consumption. Want to save money or contribute to environmental protection? Heating, air conditioning, and ventilation automation can cut energy costs by about one third.
The principle of savings is quite simple. Those rooms in the building not occupied are not heated or cooled. The scenarios like "batteries are heating, air conditioner is cooling, and electric meter is spinning while noone is at home" in a "smart house" is impossible by default.
Regulating the Humidity
When a room is humid, adjusting the temperature alone will never make it comfortable to live in. Not to mention the fact that high humidity can harm the health of the occupants. However, this parameter is extremely important not only for people living in the house.
For example, wooden furniture or elements of decoration, such as parquet, will quickly deteriorate if the rooms are too dry or, conversely, too humid. A smart air conditioning control setting will maintain an optimal humidity level of 40-60% both in wet rainy weather and in winter, when the heating equipment dries out the air, which, as you know, is not very healthy either.
Maintaining the Optimum Temperature
It makes no sense to heat the corridors in the same way as the living room. Also, it does not make sense to turn on the radiators at full blast when the owners go to work. Intelligent automatics will activate the heating just before you return. The implemented scenarios can depend on the time of day or even the weather outside. In the first case, light sensors and activation on a schedule are used, in the second – external weather stations.
Using for Commercial Purposes
Maximum energy efficiency, lower maintenance costs, easy operation – you will agree that these theses sound more than tempting when it comes to business. Automating the ventilation, air conditioning, and heating in your office means a lot of savings on your running bills, along with the comfort of your employees.
If we talk about hotel business, for instance, not only the mentioned savings, but also a real increase in the level of service will significantly boost profitability. Smart climate control technologies integrated into a hotel can become a serious competitive advantage and bring new customers.
Setting Up & Controlling Made Easy
Control is the Achilles heel of a modern HVAC complex. However, it does not refer to a smart home. You won't have to wander around the apartment looking for the right remote IoT HVAC controls or wake up in the middle of the night to open a window and turn off the underfloor heating.
The intuitive "one-touch" control is done from your smartphone. In addition, touchscreen panels with an interactive display are mounted on the room walls. Data from sensors and thermostats installed everywhere are continuously fed into the control center, so that the software makes the most rational, weighted, and virtually error-free decisions every second.
Soon, HVAC systems will be able to adjust and stabilize with little to no human intervention. To rephrase, HVAC units will acquire sentience. The thing is, algorithms, or pieces of computer code, used in HVAC systems have the ability to learn from experience and improve over time. The system will function similarly to the human brain soon.
One example is Honeywell's D6 smart controller takes this concept further. In this case, the controller could determine the user's location and then begin adjusting the air conditioner's start time based on the estimated time it demands to reach the set temperature. Therefore, the desired temperature is not reached until the user actually gets home.
Need more examples of smart HVAC applications? It's not a problem for us! Perhaps, some of them will seem similar to you!
The 5 Most Important Internet of Things HVAC Applications
Through the Internet of Things, businesses can gain the ability to intelligently track and manage the health and efficiency of their HVAC systems. The IoT is used to enhance these processes in five main ways.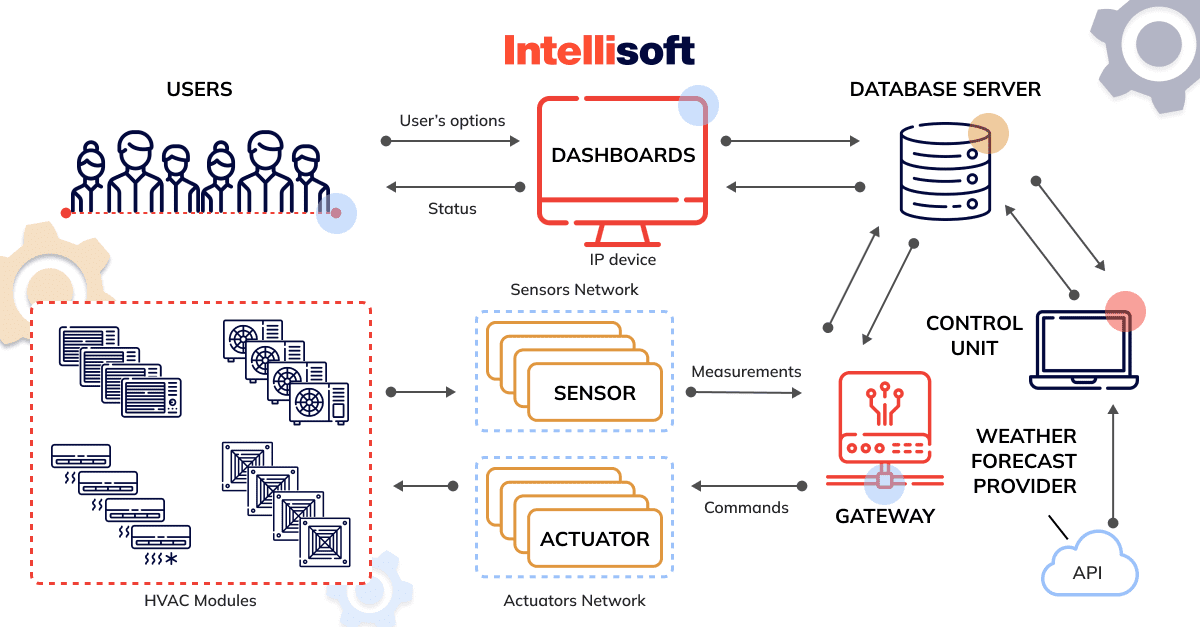 Remote System Monitoring and Control
The HVAC controls system functions normally until it stops. Expertise, tools, time, and effort are all necessary components of a successful diagnostic process. IoT advancements have made remote system monitoring as simple as checking a smartphone app or website, allowing homeowners, property managers, and HVAC contractors to gain insight into remote diagnostics.
Some sensors can detect leaks instantly, while others monitor variables like pressure, vibration, flow, temperature, humidity, on/off cycles, and fault tolerance. Having access to such data, at a granular level, provides technicians with the insights they need to make an accurate assessment of the system's health. What kinds of data you can collect and how they will be transmitted to you can be affected by the IoT protocols and standards you choose.
The Use of Energy Effectively
It can be challenging to monitor and optimize energy efficiency in buildings that use outdated HVAC systems. Data on energy consumption is typically not available until it has already been used, making it difficult to make adjustments or find compensation for. If a system is showing signs of a developing problem, it could limp along for days or weeks before finally giving out, resulting in even more useless energy consumption.
Installing Internet of Things (IoT) sensors on HVAC systems enables real-time data, which in turn enables monitoring of usage trends and the incorporation of weather forecasts to increase energy efficiency. The outcome is more efficient climate control indoors that uses less energy. Because of their connectivity, HVAC systems can also play an integral role in IoT-enabled smart grids.
Plans for Ongoing Maintenance
Most of an HVAC company's income typically comes from service contracts and maintenance agreements. Contractor and technician visits during the course of a warranty may be required, either on a predetermined schedule or as needed.
In the past, contractors had to make twice-yearly visits to the site to perform HVAC maintenance, but now, with IoT-enabled solutions, they can do the same work remotely and offer the same service guarantee and quality. Instead, they can provide a true hardware-as-a-service (HAAS) model by proactively monitoring and managing the HVAC controls system and only dispatching technicians when necessary.
Thanks to the Internet of Things (IoT), HVAC companies can give their customers access to real-time data in the form of dashboards that display information about energy consumption, energy-saving tips, usage patterns, and remote control capabilities. Packages including these goods and service agreements can boost monthly earnings.
Preventative Maintenance
In the past, HVAC technicians have had two options for dealing with issues in the field. One is when a customer calls to report an outage and request repair service after the fact. It's the so-called "reactive" upkeep. The customer has to wait for the company to send technicians to the location while the technicians try to figure out why the building is too hot or, vice versa, too cold.
The other way is through routine inspections and servicing at regular intervals or after a certain number of uses. Some businesses, for instance, schedule annual tune-ups with service technicians who come out on the same day each year. When a system reaches a predetermined usage threshold, others may perform routine maintenance.
In either case, the managers and technicians tasked with performing maintenance using the conventional approach often lack the necessary info to properly address the issue. When performing reactive maintenance, technicians are often sent to a site with only the details provided by the system owner.
A more condition-based approach to PM is available for HVAC contractors thanks to IoT sensors. In this case, data from HVAC systems is collected in real time by the sensors and uploaded to a cloud-based platform for analysis by HVAC contractors. If a drop in efficiency, high power consumption, or unusual amount of vibration is detected, technicians can examine the data remotely and often determine what the issue is without having to visit the site physically.
After detecting a problem, the company can contact the customer, often before they are aware of a problem, and send a technician along with the necessary supplies to fix the system during a single visit. Contractors can save time, effort, and money by taking a preventative maintenance approach and sending the right person for the job on the first truck roll, and customers are kept happy because service is never interrupted.
Conformity with Regulations
Most HVAC companies must employ a field agent to conduct routine inspections of equipment to ensure compliance with regulations. Additionally, many buildings and homeowners are looking for ways to demonstrate compliance with government or corporate environmental regulations in light of rising concerns and requirements around sustainability and air quality.
It is challenging to accomplish and record such compliance with disconnected HVAC systems, frequently necessitating a dozen paperwork and physical system inspections.
IoT smart HVAC has made this process considerably easier. In order to demonstrate compliance, real-time system data can be captured, saved, and, in some cases, automatically generated into reports by software tools.
How Should the HVAC System Be Properly Built?
Following are some guidelines for creating an IoT-enabled HVAC system:
Uphold the standard
Your devices must be connected to the cloud as the initial step. Even as a startup, you might eventually need to collaborate with international clients who want cloud-to-cloud communication with other IoT systems. To make HVAC IoT solutions simple to incorporate, use open native libraries and a cloud architecture sensitive to particular data types.
Make a development strategy for the app
While it should be incorporated into every level of related product development, some executives think that remote control of HVAC appliances via mobile or web apps is an afterthought. Planning the app's capabilities in advance is necessary, and the following questions must be addressed right away:
Will the dashboard of the application allow users to manage a large number of standalone HVAC systems?
Will there be limitations on remote control capability for security reasons?
What happens if your device's battery dies or your internet connection is lost?
Have we established a process to acquire and update offline local behavior data?
Make sure Over-The-Air (OTA) updates are easy to install
The fact that connected devices keep getting better once installation is finished is one of the main advantages of the Internet of Things and a defining quality of connected devices. Make sure you plan a method for quickly adding new features to HVAC equipment and that the system can be modified to fit the needs of the client without needless delay. Don't forget to take safety measures, though. Utilize all cutting-edge security measures, and the security system must be updated via OTA communication as necessary (it stands for over-the-air, which is a wireless technology used to: communicate with a SIM card, download applications to it, and manage a card.).
Hardware experimentation is not advised.
Don't leave any boxes blank when it comes to networking protocols and connections. Alos, don't try to save a few dollars by purchasing subpar Wi-Fi chips from an unreliable supplier. Instead, you require a thorough networking stack for the wireless communication of your HVAC system. Utilizing the high-quality hardware that the majority of popular smartphones already have is the simplest way to do that. Powerful security will also be delivered with the help of premium hardware, and compatibility problems along with low wireless range will be avoided.
Also, decide on the features to include:
Universal data connector
Data historian/analysis
Alarm logging & notifications
Device and data connectors
Visualization tools
IoT connectors
Networking features
SDKs and APIs
Over to You: Where to Get Help with Building Smart HVAC Solutions?
The deployment, management, and upkeep of HVAC devices are changing as a result of the Internet of Things. In addition to many additional advantages, businesses may use IoT data analysis to better understand customer behavior, increase HVAC efficiency, and prepare for emerging market trends.
HVAC systems are becoming smart rather than just connected thanks to cutting-edge technology like AI and ML. These improvements in HVAC technology can help manufacturers, utilities, and customers alike.
Smart algorithms are getting better at understanding and predicting human behavior. The HVAC sector will contribute to reducing energy consumption by implementing them across all communication and networking stages while delivering more individualized comfort.
HVAC systems operate more effectively when data is gathered and shared effectively. The information can also be applied in commercial settings.
Sharing it with the appropriate parties, such as the product, sales, and marketing teams, also facilitates the creation of creative products, the fulfillment of client expectations, and the formulation of wiser policies. Speak with Intellisoft experts right away if you want an IoT-enabled HVAC controls system for your company.
IntelliSoft offers top-notch IoT software solutions and has experience developing IoT software, so we can understand your needs and use the best technology to expand your company. Our goal is to give your IoT applications a scalable architecture so that people and devices may communicate with one another by:
Data collection & management
To collect data and offer visualizations, analytics, and information modeling, we can link to sensors, beacons, and connected devices.
By offering user interfaces that are focused on the needs of the consumer, our team is able to take advantage of the Internet of Things potential.
Providing integration & back-end infrastructure
Additionally, we create a front-end architecture that is powered by the cloud in order to store data, connect to your IoT devices, monitor them effectively, and manage them.
You can work with remote developers at IntelliSoft, knowing your project is in safe hands!

About

Kosta Mitrofanskiy

I have 25 years of hands-on experience in the IT and software development industry. During this period, I helped 50+ companies to gain a technological edge across different industries. I can help you with dedicated teams, hiring stand-alone developers, developing a product design and MVP for your healthcare, logistics, or IoT projects. If you have questions concerning our cooperation or need an NDA to sign, contact info@intellisoftware.net.