Imagine you have decided to create a true culinary masterpiece – something never heard of before and never served in Michelin-star restaurants. Creating an Enterprise Resource Planning (ERP) software is just like that – you must carefully pick up the freshest high-quality ingredients, follow the recipe, and transform everything into a unique meal that meets all your expectations.
In this case, you are the chef standing in front of various ingredients representing different aspects of your desired Enterprise Resource Planning system.
If you have made this meal before, you know what steps to follow and how to balance the flavors and textures. However, suppose you have never dealt with ERP development before. In that case, you're probably at a crossroads, overwhelmed with the number of approaches you can take and ingredients you can use, seeking a sous-chef to guide you through the steps of ingredient selection (feature planning), preparation (coding), cooking (integration), and plating (deployment).
At IntelliSoft, we have been software development sous-chefs for more than 15 years. We know what an ERP system is, where to find the best ingredients for your ERP system development masterpiece, how to arrange them, and how to prepare a digital meal that will impress even those with the most exquisite taste. Roll up your sleeves, grab your digital spatula, and let's cook your ERP solution meal together.
What is ERP?
Using Excel spreadsheets for managing your business data is no longer efficient. It has been a trend for some years, but most growing companies have noticed that Excel can no longer meet their demands. Whether they need to manage information from the sales department, or simplify the hiring and onboarding processes, the development of an ERP system is here to help.
If you have been wondering what ERP is, we're here to answer this question. Enterprise Resource Planning (ERP) systems help businesses collect and organize key business data and improve operational efficiency, especially when companies are growing.
Imagine your business as a breathing organism, each company department being a vital organ. Enterprise Resource Planning, then, is your business's central nervous system. It connects and coordinates all organs, ensuring they function properly. An Enterprise Resource Planning system ensures communication between the departments, efficient operation of all functions, and streamlines the flow of information and resources.
Modern ERP systems are more developed than the first ones. Now, they run on AI and ML-powered algorithms and utilize these technologies to provide visibility, intelligence, and incredible efficiency across all company departments. One example of modern Enterprise Resource Planning is Oracle Enterprise Resource Planning (ERP).
No matter how many departments you have in your organization, you can include all of them in your modern ERP system. It works like Lego, allowing you to add as many new details as needed to create an interconnected system to manage your business processes better.
Why Do You Need ERP System Development?
There are multiple reasons why you might need an ERP system: to reduce expenses, grow business, improve operational efficiency, and more. An ERP software solution generally helps you manage your current operations and create an image for the future, strategically planning your next steps and how you will grow your company.
Here are some of the main benefits of enterprise resource planning system for your business: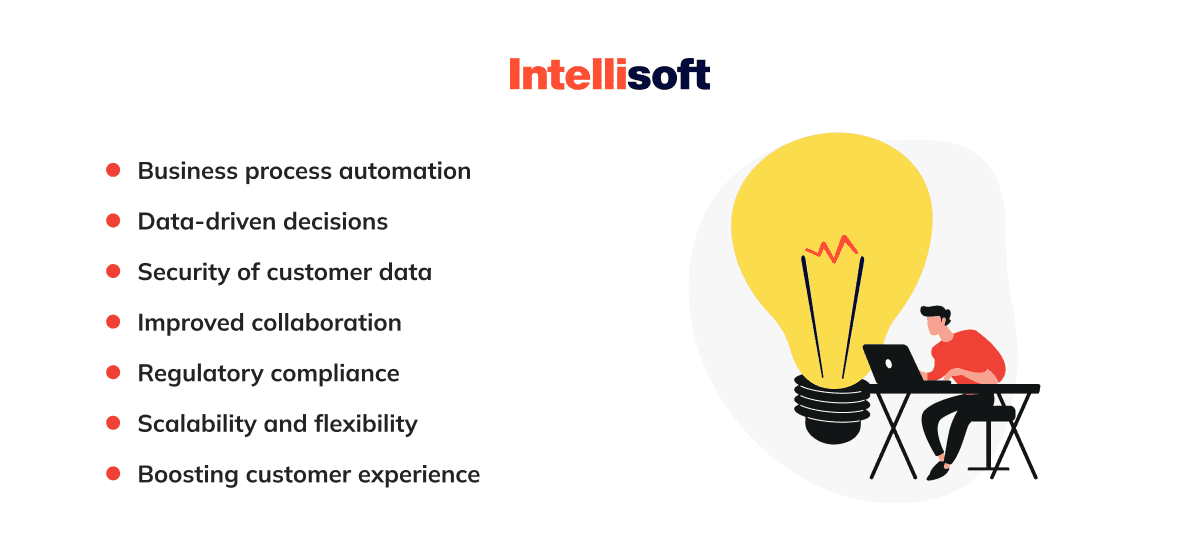 Business process automation
Forget about manually handling all your tasks and wasting tons of time on something that can be automated and completed in seconds. An ERP can help your company put your internal processes in auto mode, freeing up time and effort for core business tasks. Moreover, automation helps avoid duplication instances, rework, and human error. With this software you will be able to complete more tasks in less time and forget what repetitive tasks mean.
Data-driven decisions
An ERP system is like having a full panoramic view of all your operations, trends, and issues that would usually be hidden if you used spreadsheets and various databases. As a result, your decisions are more data-driven, supported by the insights gathered in an ERP, and stored securely. Moreover, a custom ERP system tailored to your needs gives you an opportunity to add a lead analysis feature for your sales department, enabling the team to make more balanced decisions.
Security of customer data
Whether you have an on-premise or cloud ERP solution, it will provide incredible security options for your business. In the modern digital age, the security of customer data is of utmost importance as all companies collect, store, and analyze information about their customers. They should protect customer data at all costs and ensure it is stored securely. The development of an ERP system is a great tool to ensure that all information is protected by a robust shield, covering it from unauthorized access and cyber threats. It has advanced encryption options, authentication protocols, and access controls, ensuring that data is kept confidential and secure.
Improved collaboration
An ERP is like a digital nexus; it closely connects all your company's departments and teams, allowing them to communicate easily and collaborate without any disruptions. Think of it as a virtual conference room, with all your teams sitting by a round table, having an open conversation 24/7, exchanging insights, recommendations, and brainstorming ideas. They can work together on projects, have access to all company data round the clock, and make more informed decisions as a result.
Regulatory compliance
With an Enterprise Resource Planning system, compliance with industry-specific regulations is built-in; it comes with the system itself, as the system keeps track of the latest rules and regulations and changes in them. An ERP is an excellent tool for tracking industry laws and compliance changes. In this way, you won't have to research everything and worry about meeting the regulations; the system will do it for you.
Scalability and flexibility
Any business that wants to grow and expand needs to have a system that meets its growing needs and allows it to scale up easily. Custom Enterprise Resource Planning allows you to adjust its scale depending on your needs and current situation. It works both ways, whether you need to expand or reduce the size of your company or operations. It can handle various changes, including production increases, new functions, users, services, and inventory changes.
Boosting customer experience
Finally, an ERP system helps you provide an excellent customer experience. With the ability to collect, store, and analyze customer data, you get a full picture of what your customers like, their behavior patterns, and how their needs and interests change. As a result, you can offer a more personalized experience and make it easier for managers and customer support to communicate with clients. An ERP helps you avoid delays and issues with customer data and better understand who you're working with.
Related Readings:
Who Would Benefit From Building an ERP System?
According to the Panorama 2023 ERP Report, ERP software systems are mostly used by medium and large companies in manufacturing (25.7%) and information technology (16.9%) industries. Other industries include healthcare, distribution, finance and real estate, retail, public sector, agriculture, and others.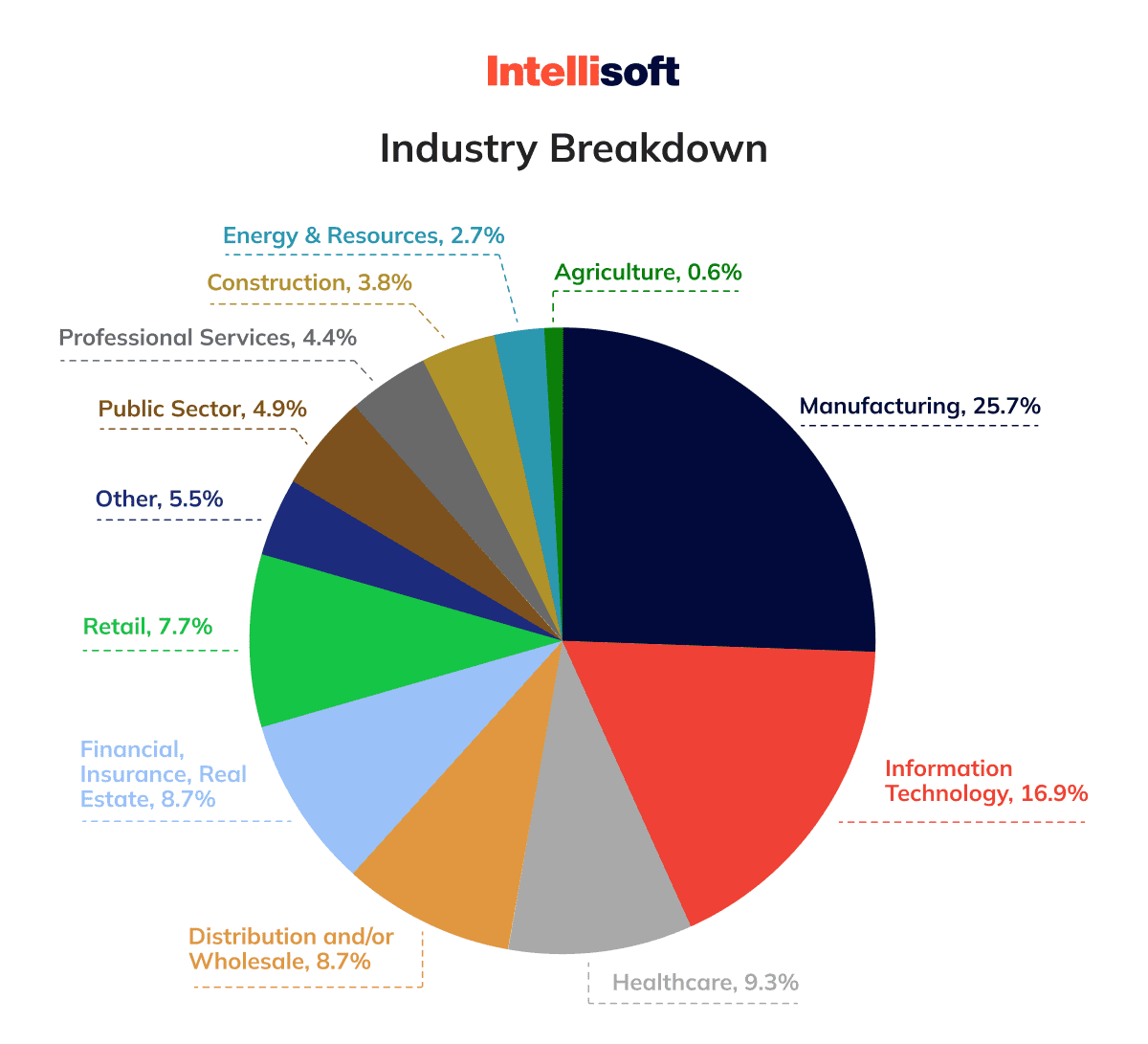 As you can see, many various industries would benefit from custom ERP software development, be it a large enterprise or a medium-sized company that is still growing. The functionality of ERP software makes it incredibly useful and ready to meet the needs of different types of businesses at all stages of their journey.
Features of ERP Software
Now that you know what an ERP system is, it's time to talk about its main features. ERP software solutions have several distinctive features that make them stand out among similar products. Those features include: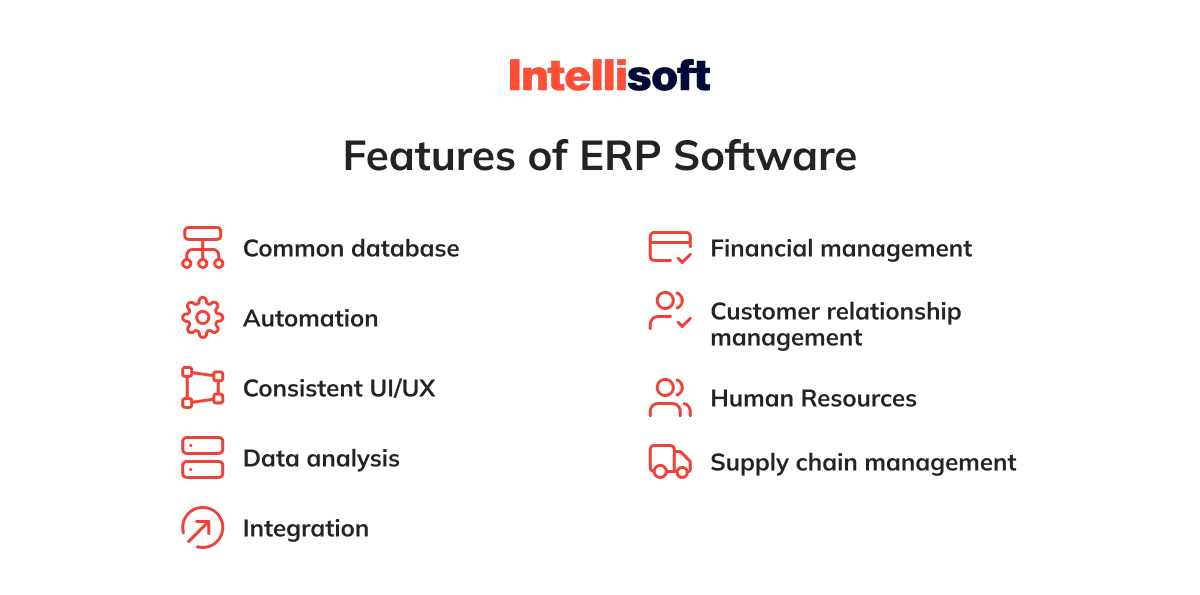 Common database
All ERP systems have a common database, allowing companies using these systems to centralize various types of information. As a result, all data is stored in the same database and there is no need to merge different databases manually. It gives you a complete picture of your company and enhances business efficiency.
Automation
Automation is another great feature of ERP systems. These software solutions are incredible at automating repetitive tasks and helping you focus on core tasks instead. You can automate invoicing, order processing, payrolling, and other processes.
Consistent UI/UX
When different teams and departments of your company use the same ERP, they receive a consistent UI/UX experience. The sales department, finance, HR, inventory management, or other modules all feel and look the same, making it easier for employees to utilize this system and share insights across the company.
Data analysis
When all parts of your company work with one ERP, all data is stored and analyzed there, and it can be easily shared with numerous departments and teams. This accessibility of data, and the ability to share it easily, also allows you to analyze it quicker and share insights with all organization members. It promotes real-time feedback and faster, more data-driven decision-making.
Integration
ERP software can be connected with other apps or systems to improve data-sharing capabilities and gather insights more effectively. Integration with other systems also improves productivity, communication, and operational efficiency. If your company has multiple departments that need to be connected to each other, an ERP solution is the perfect idea.
Financial management
An ERP solution always has a financial module for managing assets, creating reports, and making better, more informed business decisions. You can use this module to keep track of any business information you need.
Customer relationship management
All ERP systems have a built-in CRM module that lets you take care of customer data and track their interactions with your company. CRM gives you a complete picture of your business customer-wise, allowing you to learn about their preferences, needs, and behavior patterns. Moreover, a CRM can help you get the most out of your marketing efforts, sales, and customer service.
Human Resources
This module helps automate all the tasks that involve people in your organization. It includes recruiting new employees and boosting team productivity. The HR module is also great for payroll capabilities, including payment processing and application of deductions.
Supply chain management
This module helps logistic providers, manufacturers, and retailers manage the goods, their flow, and other services. It's the module where you can see everything going on in the supply chain and solve any issues that arise quickly.
Types of ERP systems
If you have been pondering deploying an ERP system for your business, you've probably thought about how to do it. Can it be deployed in only one way, or are there different paths to take?
Let's explore the benefits of enterprise resource planning deployment options for your organization:

On-premise ERP: An on-premise ERP gives you full control, like the owner of a garden you planted. When you have a huge garden, you take care of each plant, flower, tree, and pathway, controlling their growth and watering them regularly. The same applies to an on-premise solution; you have direct oversight over all software and data infrastructure. However, to deploy this type of ERP, you need to have a team on your premises ready to help you with server maintenance.
An on-premise ERP offers several benefits; you can customize it how you want, it offers integration options with your other systems, and a third party won't handle all your sensitive data.
Cloud-based ERP: This type is also referred to as a Software as a Service (SaaS). A cloud-based ERP is like a garden that someone else takes care of for you. A third-party provider is responsible for its maintenance, safety, and any changes it requires. As a result, you don't need to have an in-house team to handle this ERP, and it usually costs less. Such ERPs often include an enterprise cloud communications platform, too.
Hybrid ERP: We get it if you want to experience the benefits of both types of ERP. That's when a hybrid ERP comes in handy. When using this deployment type, you use the help of a third-party vendor but keep access to your sensitive information secure.
Open-source ERP: If you are looking for an inexpensive or even a free option for an ERP, you can use an open-source ERP available online. Numerous ERP providers offer their clients the ability to download their ERP solutions for free and then pay a small annual fee if they need access to the cloud version. However, this ERP comes with minimal support from the provider, and you need to take care of all improvements and maintenance.
How to Build an ERP System from Scratch?
A custom-made ERP is an excellent way to meet all your needs, requirements, and current business capabilities. It's like making an exquisite meal from all your favorite ingredients, ensuring that they create perfect harmony and that you are 100% happy with your taste.
Even though an open-source ERP solution might seem cheaper at first, a custom ERP solution saves money in the long run. Let's learn how to build an ERP from scratch step by step.
Step 1. Define your goals and requirements
Once you find a development team you can trust, you need to discuss your needs and requirements with them. Depending on the goal of your ERP, the needs might differ; thus, talk to your departments and teams, gather their feedback, and build your requirements list based on the problems that need to be solved.
Among your goals and requirements, don't forget to mention process automation and management of data flow for your sales, financing, HR, and distribution departments.
Step 2. Decide on the ERP type
Once you know all your requirements and have them clearly listed, it's time to choose an ERP type. Depending on your current business state and capabilities, the vendor you work with will help you choose the right type. Usually, the choice falls on one of the following types:
On-premise ERP is a smart choice if you need complete data security and total control over the system's maintenance. However, you would need help from third-party providers to maintain the servers and apps.
Cloud ERP is provided by a vendor you choose to work with. They administer this solution and allow the client to save and access data from any device.
Hybrid ERP is an excellent choice if you need the capabilities of the on-premise and cloud ERP at the same time. Your data is kept safe and only to yourself, and you can use the help of a third-party provider.
Open-source ERP is suitable for some businesses as well. If you don't need constant support from the vendor and can take responsibility for system improvements, then this option is for you.
Step 3. Build UI/UX
You can never overlook the design part of any project. An ERP system should be incredibly user-friendly and intuitive, so all your team members can quickly learn how to use it. ERP software solutions usually should have multiple user roles, charts, elements, and buttons, so pay close attention to your vendor's designers and how they handle them. Check your vendor's portfolio of ERP designs and choose the one that suits your needs and requirements the most. Moreover, remember to take on the mobile-first approach so your ERP loads fast and smoothly on all devices.
Step 4. Product development
The development process starts with building an MVP. Usually, it does not include a ton of features; it has the basic set of functionalities needed to collect feedback and see how the solution will look and function. The development team focuses on creating basic features like the admin platform, user authorization, user profiles, data analysis, reporting, and data visualization.
Later, they work on the finance module, research, development, engineering module, and asset management module. Sales, supply chain, manufacturing, sourcing, and human resources modules also have their basic set of features that are further developed later in the process.
During the development process, the vendor also chooses a tech stack for the solution.
Depending on your needs, the tech stack may include C++ or C# and Swift or Objective-C. Moreover, software engineers use Angular, JavaScript, and Node.js for the web version of the solution.
Step 5. Integrate third-party services
It is critical to integrate third-party services into your ERP solution, too. The popular third-party services include G Suite, Office 365, Jira, Salesforce, FreshBooks, and SAP. By integrating these services, you will be able to centralize and interconnect all of your business tools and ensure no data loss or duplication.
Step 6. Collect feedback
Once the ERP is developed, the journey doesn't stop there. It's time to introduce it to the user and collect their feedback. You need to know how the application functions, whether the users like the design, and if any bugs or issues need fixing. Collecting user feedback will help the development team perfect the solution and tailor it to users' needs as much as possible.
These are the ways to collect user feedback:
User interviews
Sending emails to the users with questioners
Gathering focus groups and doing surveys
Using social media to collect reviews and read what people think about the solution
Step 7. Support and maintenance
A responsible ERP development company will always provide support and maintenance after the ERP is deployed. It includes constantly checking the collusion for bugs, upgrading it, adding new features, and adjusting its functionality according to user feedback.
ERP Implementation Challenges
Like any other software system, ERP has its implementation challenges that any organization can stumble upon. Even though you can avoid these issues with thorough planning, preparation, and choosing a reliable partner, it's worth learning about them and getting prepared.
Training: Using an ERP for the first time is never easy, primarily if your organization has never worked with software like that before. It requires proper training, which can take a lot of time and effort. Moreover, if you already have experienced ERP users, and they leave your company, you need to train new employees from scratch, spending time on that.
High deployment costs: When deploying and maintaining an ERP solution, you would be required to spend a lot of money as well as hire additional tech staff. When the software is deployed, it will require updates, maintenance, and various fixes, requiring even more spending. Thus, assess your budget before deciding to build an ERP solution to avoid serious issues.
Tweaking: No matter whether you use a custom-built ERP or an open-source solution, both of them will require to be adjusted to your specific business case and company structure. It also requires additional time, resources, and investment.
Conclusion
Building an ERP is not an easy journey; it can encounter various crossroads, paths that lead to a dead end, and traffic jams along the way. Navigating this journey alone is possible, yet it's not worth the risk. Fortunately, at IntelliSoft, we have been guiding our clients through the world of ERP development for more than 15 years, and we know the short cuts to success.
With our teams of experienced guides and developers, your ERP development process will turn from a challenging trip to a delightful journey with beautiful views, where you can relax and trust us to drive you to your destination. Contact us, tell us about your experience, needs, and fears about ERP development, and we'll build a path specifically tailored to your organization, taking into account all your wishes and ideas.
FAQ