Ah, education, the grand old gateway to wisdom, once limited to the stiff-backed chairs of classrooms, has now morphed into a fantastical digital landscape, thanks to the pandemic's unexpected twist. Imagine trading in those chalk-dusted blackboards for sleek screens and virtual portals, such as the bustling online hubs where students and teachers now rendezvous. It may feel like stepping out of a dusty library into a futuristic learning utopia.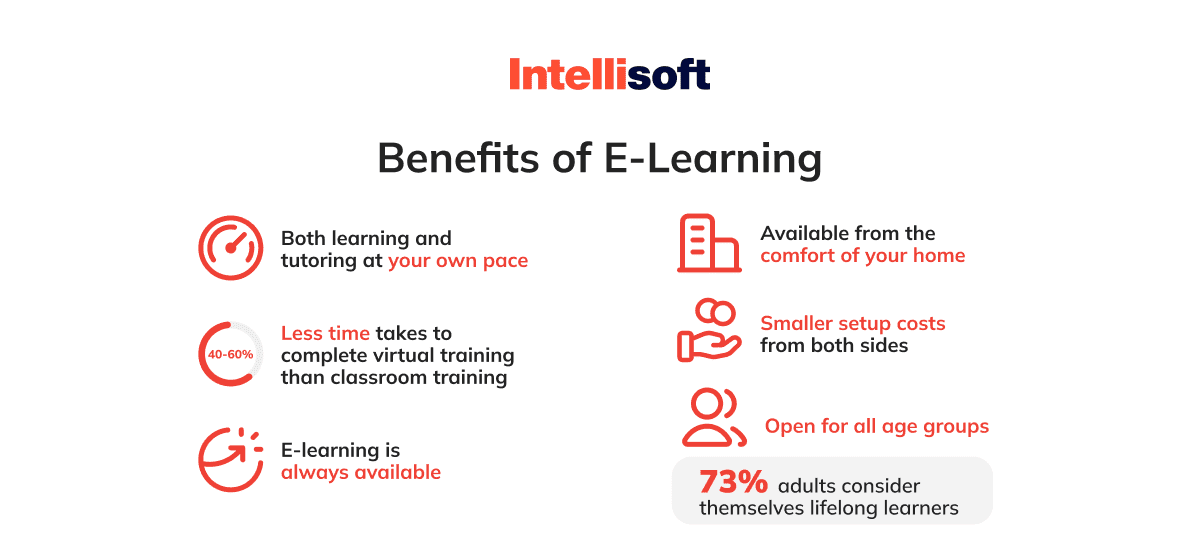 Introduction to Web E-Learning Platforms
In a world where the virtual has become a reality, web e learning apps have emerged as the architects of a new educational paradigm. They've become repositories of information, virtual classrooms, interactive laboratories, and global communities rolled into one. The digital transformation of education is here, and web e-learning platforms are at the forefront of this technological revolution.
From coding to cooking, mathematics to music, web e learning platforms have become the digital mega-malls of education. Looking to become a data scientist? There's a course for that. Want to master the art of French pastry? Just click and enroll. With an ever-expanding catalog of courses and a constant influx of new subjects and specializations, these platforms have transformed the pursuit of knowledge into an exciting experience. No more set menus – you can pick and choose, mix and match, and indulge your intellectual appetite in ways that were unimaginable a decade ago.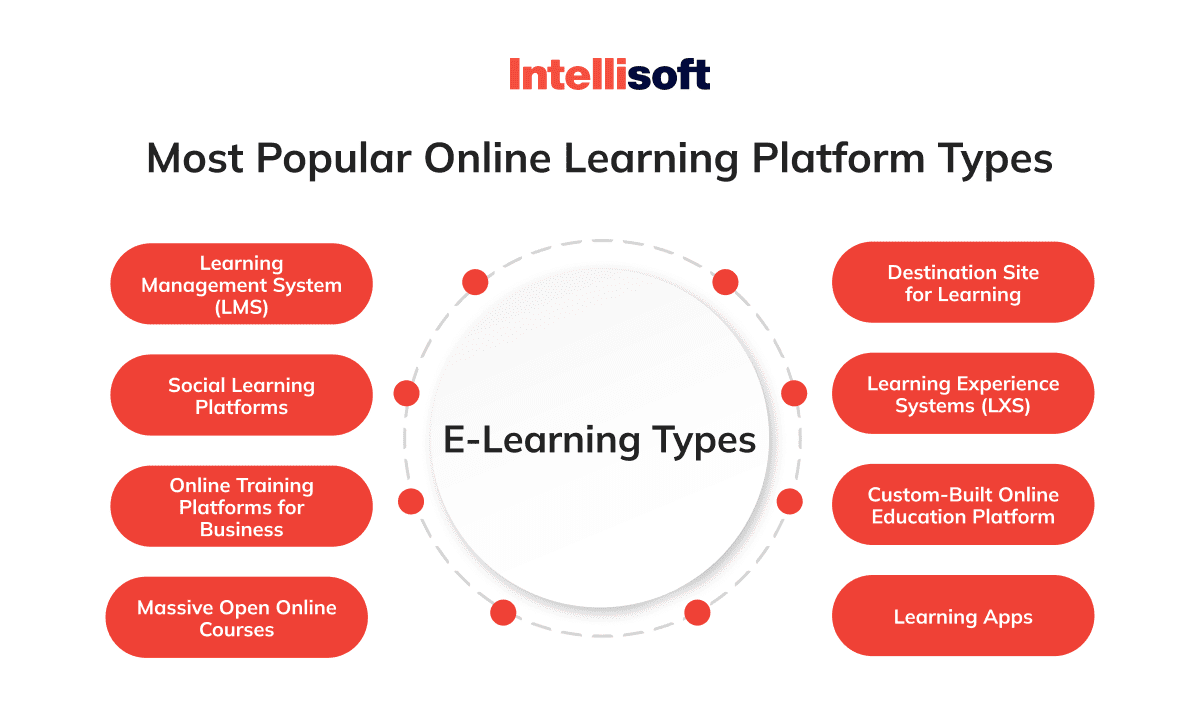 Types of Online Education Platforms
Online Course Marketplaces
The Amazon of the educational world, online course marketplaces are vast, bustling hubs where learners can find just about anything they want. Platforms like these offer a diverse range of courses from various providers, catering to virtually every conceivable interest and skill level. Think of them as a bustling marketplace where vendors from around the world come to peddle their educational wares, and you're free to browse, sample, and purchase at your leisure.
Open-source Online E-Learning Platforms
In the spirit of freedom and collaboration, open-source platforms are the communal gardens of the e-learning landscape offering free or low-pay courses. They're built on transparent, accessible code and often foster a sense of community, allowing educators and developers to work together, adapt, and innovate. It's education without borders or barriers, where the collective wisdom and creativity of the community drive the learning experience.
Virtual Classrooms
If you've ever wished you could teleport into a classroom halfway across the world, virtual classrooms are the next best thing. They replicate the live classroom experience, complete with real-time interactions, group discussions, and even virtual blackboards. It's the classroom of the future, where geography is no longer a constraint, and the world becomes your campus.
Custom E-Learning Content Management Systems
For those seeking a tailored fit, custom e-learning content management systems are the bespoke tailors of the virtual learning world. These platforms allow institutions, corporations, or individual educators to craft unique learning environments, complete with customized courses, features, and user experiences. It's the personal touch and the attention to detail that sets these platforms apart.
Harnessing the power of custom e-learning content management systems, you and your dedicated development team have the opportunity to craft a unique e-learning platform from the ground up, ensuring it's equipped with every feature your educational venture demands. This approach places the reins firmly in your hands, offering unparalleled control over your project's trajectory.
Besides, the flexibility to integrate essential functionalities via third-party plug-ins and APIs is always a big plus. Opting for this route often offers better monetization opportunities compared to other e-learning software categories.
Beyond your curated educational content, there's potential to seamlessly incorporate courses from affiliated universities, directly invoice students without the need for middlemen, feature advertisements, and continually expand the capabilities and reach of your platform.
Monetization Models of E-Learning Web Platforms
Free + Premium
Also known as the "freemium" model, this approach allows users to access basic content or features for free, while premium content or advanced features come with a price tag. It's like getting a taste of a delicious cake for free, with the option to buy the whole slice if you like what you taste.
Subscription-based Model
Think of this as the Netflix of e-learning. With a subscription-based model, users pay a recurring fee, often monthly or annually, for unlimited access to a library of courses. It's a buffet of knowledge where you can eat all you want as long as you keep your subscription active.
Advertising
Here, the courses are often free, but the platform generates revenue through advertising. It's akin to commercial breaks during your favorite TV show, a necessary interlude that pays the bills and keeps the content coming your way.
Licensing Model
This model involves licensing content or the entire platform to institutions, businesses, or other third-party entities. Think of it as renting a fully furnished educational apartment, complete with everything you need to educate, engage, and inspire.
Course Promotion
Some platforms also offer promotional opportunities for course creators, charging them a fee to feature their courses prominently. It's the educational equivalent of a billboard on a busy highway, catching the eye of potential learners as they browse through the platform.
Web e-learning platforms are much more than just a modern trend. They are the very embodiment of the 21st-century educational ethos, encapsulating the diversity, flexibility, and inclusivity that define our globalized world.
Whether you're a curious beginner, a lifelong learner, or an educational institution looking to expand your reach, these platforms offer a doorway to a universe of knowledge just waiting to be explored. The traditional walls of the classroom have crumbled, and in their place, a new structure has risen, one that is as vast and varied as the human thirst for learning itself.
Related readings:
Must-Have Features of an Effective E-Learning Platform
In an age of rapid technological advancements, the world of e-learning has seen numerous innovations that have transformed how educators approach pedagogy. An effective e-learning platform is a fusion of traditional educational principles with modern tech nuances, ensuring a rich, immersive, and interactive experience. But what truly defines an effective platform? Delving deeper, we find that accessibility, gamification, and analytical tools stand out as crucial cornerstones.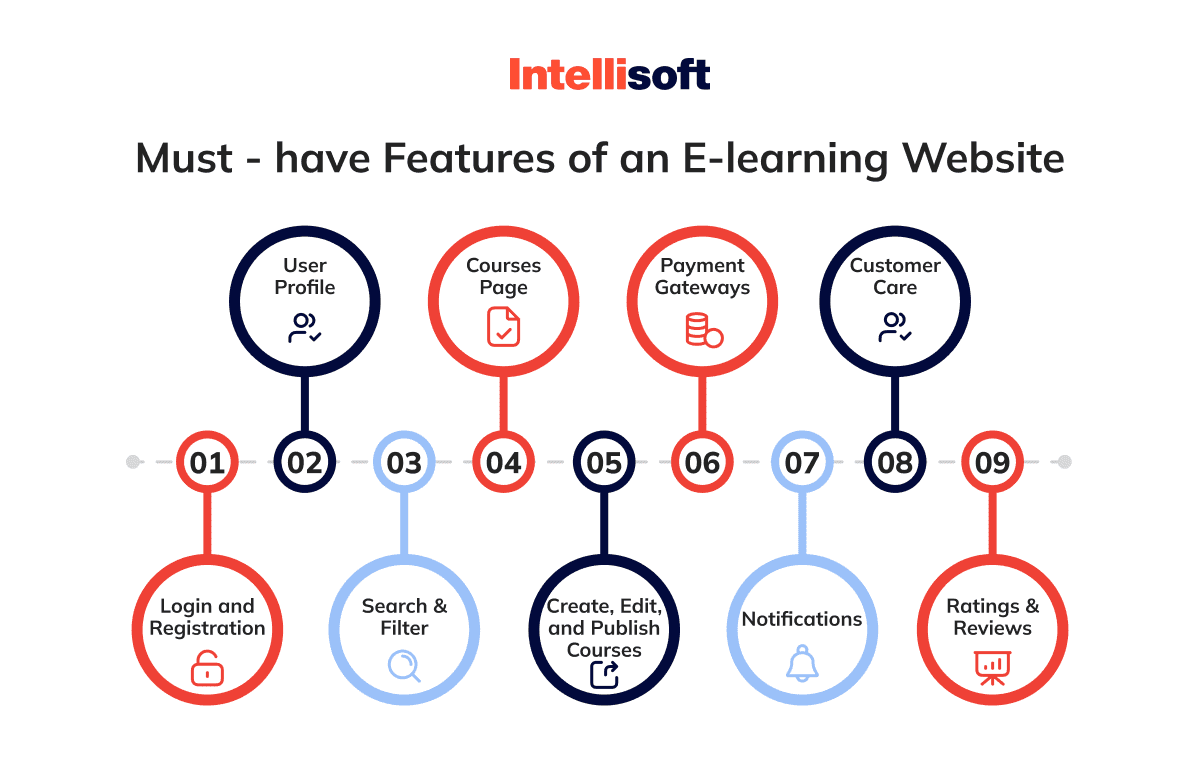 Accessibility
Imagine a world where knowledge is available but only to a select few. Sounds unfair, right? The essence of education lies in its universality, and this principle must seamlessly translate to the digital realm. An e-learning platform must be designed in such a way that everyone, irrespective of their physical or cognitive abilities, can access, navigate, and benefit from it.
Ensuring e learning app accessibility is not merely a nod to inclusivity – it's a mandate. This means optimizing for screen readers, providing closed captioning for videos, using contrasting colors for readability, and ensuring keyboard navigability, among other features. Additionally, content must be presented in various formats – textual, auditory, and visual – catering to diverse learning styles and needs. By prioritizing accessibility, you aren't just adhering to global standards and regulations -you're championing a cause, ensuring that learning remains a universal right, not a selective privilege.
Gamification
Whoever said, "All work and no play makes Jack a dull boy," probably foresaw the importance of gamification in learning. Gamification strips away the monotony of conventional learning and introduces elements of play, competition, and reward, making the entire process enjoyable.
Why is gamification so crucial? Firstly, it taps into our innate love for challenges and rewards.
When learners feel they are progressing, earning badges, or leveling up, it boosts their motivation. For instance, a complex mathematical concept might appear daunting, but when presented as a puzzle or a game, it becomes a challenge that students are eager to tackle.
Additionally, gamified elements can stimulate real-world situations. Think of simulations where learners can practice skills in a risk-free environment. Whether it's a medical student practicing a procedure or a manager learning to handle team conflicts, these simulations offer practical experience, making learning more impactful.
In essence, gamification isn't just about making learning' fun.' It's about enhancing the depth of understanding, ensuring that learners are not just passive recipients but active participants in their educational journey.
Analytical Tools
Remember the time when report cards were the only metric for understanding a student's progress? Fortunately, with modern e-learning platforms, those days are behind us. Enter analytical tools – the unsung heroes that offer insights, not just scores.
The power of analytical tools lies in their ability to meticulously track a student's journey. From the time spent on a module, areas of struggle, and patterns of errors to engagement levels – these tools offer a holistic view of the learner's progress. And the benefits? They're manifold.
For starters, educators can tailor content to suit individual needs. If a section of learners struggles with a particular topic, educators can delve deeper, offering additional resources or varied teaching methodologies. This ensures that learning is not a one-size-fits-all approach but is as unique as the learners themselves.
Furthermore, these insights aid in continuous improvement. Thanks to understanding which modules engage students and which don't, educators can refine their content, ensuring it remains relevant, engaging, and effective.
Lastly, for the learners themselves, analytical tools offer a mirror to their progress. They can understand their strengths and areas of improvement and pace their learning accordingly. It instills a sense of ownership, encouraging them to take charge of their educational journey.
While several factors contribute to the success of an online education platform, ensuring accessibility, incorporating gamification, and harnessing the power of analytical tools are non-negotiable. They are the pillars that support an immersive, inclusive, and insightful learning experience, setting the stage for academic success and lifelong learning.
Step-by-Step Guide for a Successful E-Learning Software Development
Starting an eLearning app development is not an easy task. While the vast ocean of possibilities is exciting, it's crucial to have a reliable compass and map in hand. This step-by-step guide on how to build an eLearning platform aims to be that compass, directing you through the initial stages of crafting an exceptional learning experience for your users.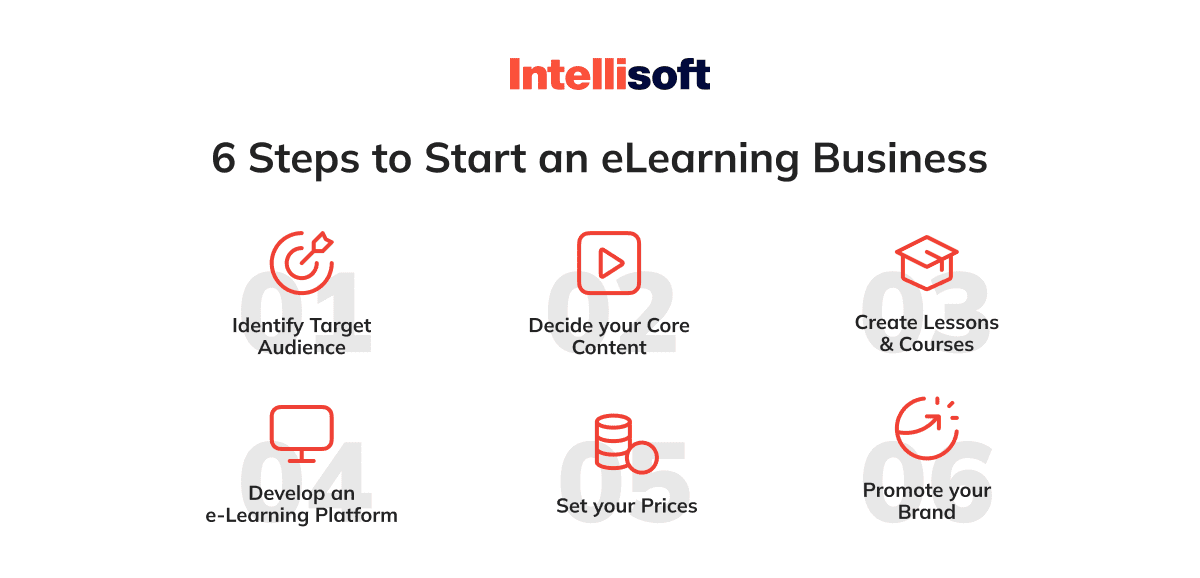 Step 1. Understanding the Target Audience
Before building anything, be it a skyscraper or a software platform, it's paramount to understand who it's for. The audience, in this case, will shape the form, function, and features of your e-learning platform.
Who are they? Is your platform aimed at school-going students, professionals looking for upskilling opportunities, hobbyists wanting to delve deeper into their passions, or perhaps a specific niche group with unique learning needs? Identifying this primary audience will significantly influence your platform's structure and content.
Beyond just identification, understanding your audience goes a step further. Dive into their needs, preferences, and learning styles. For instance, while students might prefer interactive quizzes, professionals may lean more toward case studies or simulations. By tailoring your platform to cater specifically to your audience's tastes and requirements, you ensure a greater degree of engagement and success.
Step 2. Choosing Content Strategy
With a clear picture of your audience in place, it's time to design a content strategy that resonates. You need to curate your list of offerings. Your content should not only be diverse but also presentable and digestible.
Planning the Curriculum
Start by mapping out the broad topics and modules you aim to cover. This blueprint will provide a clear path both for content creators and learners.
Selecting the Formats
Given the plethora of content formats available today—from videos, podcasts, and eBooks to interactive quizzes, simulations, and webinars—it's essential to choose wisely. Reflect on your audience's preferences and the nature of the subject matter. While some topics might be best explained through videos, others could benefit from interactive quizzes.
Ensuring Quality
This step is non-negotiable. No matter how advanced or user-friendly your platform is, if the content quality is subpar, your platform will not thrive. Invest in good content creators, vet material for accuracy, and regularly update it to stay relevant.
Step 3. Assessing Budget and Resources
An e-Learning app development, like any substantial project, requires careful financial planning. It's not just about how much you're willing to spend but where you allocate those funds.
Establish a Clear Budget
Start by defining an overall budget. This amount should be a balance between what you can afford and what is needed to bring your vision to life.
Resource Allocation
Distributing resources requires a keen understanding of priorities. While it might be tempting to invest heavily in a sleek design, remember that content quality is paramount. Similarly, budgeting for post-launch marketing and maintenance is as crucial as the e learning application development phase.
Step 4. Hiring Dedicated Developers
Once you've laid the groundwork, it's time to bring in the experts who'll turn your vision into reality. Building an e-learning platform is no small feat, and having a dedicated team of developers can make a world of difference.
Outsourcing Web Developers
Depending on your in-house expertise, outsourcing can be an excellent option. Outsourced developers often bring a wealth of experience from diverse projects, offering fresh perspectives and solutions.
While there are many fish in the sea of development, choosing a partner like IntelliSoft offers distinct advantages. With a proven track record in the e-learning sector, IntelliSoft's team is well-versed in the nuances and challenges of this space. Additionally, our commitment to quality, timely delivery, and post-launch support ensures your platform not only comes to life but thrives and evolves in the ever-changing digital landscape.
Step 5. Choosing Core Technologies
When constructing a house, you begin with a solid foundation, erect the pillars, put up walls, and finally add the roof. In the world of web development, the equivalent of these construction elements are technologies. Understanding and choosing the right technological foundation is pivotal for your e-learning platform's stability and growth.
Languages
Dubbed the holy trinity of web development, HTML, CSS, and JavaScript technologies act as the cornerstone of any web platform. HTML provides the structure, forming the bare bones of your website. CSS then comes in to clothe this structure, adding colors, styles, and aesthetic appeal. JavaScript breathes life into this structure, ensuring interactivity and dynamic content changes.
Frameworks
Once your foundational elements are set, you can further streamline development using frameworks. Just as architects use prefabricated materials to speed up construction, developers use frameworks like Angular or React to fast-track web development. These provide predefined, reusable code structures, ensuring faster, more consistent, and reliable results.
Libraries
Ever noticed how some websites just look better than others, almost like they've had a professional makeover? Libraries like Bootstrap are the stylists behind these transformations. They offer a set of design templates and components, enhancing the overall aesthetics and ensuring a consistent look and feel.
Step 6. Designing the Platform
Design isn't just about making things look pretty—it's about creating an effective, user-friendly environment. In the realm of e-learning, this translates to a platform that is intuitive, engaging, and conducive to learning.
UX/UI Principles
User Experience (UX) and User Interface (UI) are the heartbeats of design. While UX focuses on the overall feel and the user's journey through the platform, UI delves into the specific interfaces the user interacts with.
Responsive Design
In today's multi-device world, learners can access your platform from a desktop, laptop, tablet, or smartphone. Responsive design ensures that they get a seamless experience, regardless of the device. It's like having a book that magically resizes itself, whether you're reading it on a giant desk or cramped subway seat.
Integrating Multimedia
Long gone are the days when learning was confined to text-heavy books. Modern learners thrive on multimedia, be it videos, audio clips, infographics, or interactive simulations. By integrating diverse multimedia elements, you can create an enriching learning experience.
Step 7. Development Process
With design blueprints in hand, it's time to build the e-learning structure. But instead of bricks and mortar, you'll be using code and data.
Adopting Agile Methodologies
Traditional web development was like building a house from start to finish without feedback. Today's Agile methodologies, however, favor regular check-ins and adjustments. It's like you're constructing a room, getting feedback, making tweaks, and then moving to the next. This iterative method ensures that the final product is closely aligned with user needs and expectations.
Testing
Think of testing as the safety inspections of the digital world. Before any e-learning module is launched, it needs to undergo rigorous testing. This ensures functionality, compatibility across devices, and user-friendliness. You need to check every nut, bolt, and wire before launching a space shuttle. Your e-learning platform undergoes similar checks before the launch as well.
Maintenance
Once your platform is live, the journey doesn't end. Just like any complex machine needs regular servicing, e-learning platforms need maintenance. This could range from updating content and fixing bugs to incorporating new features based on user feedback.
Remember that while tools, technologies, and methodologies are vital, the real essence of an e-learning platform lies in its ability to enrich, educate, and empower its users. As you proceed with development, always keep the learner at the heart of your decisions.
The Cost of Developing a Custom E-Learning Platform
Calculating the cost of the custom e-learning development can be compared to planning a grand vacation. The overall expense can vary significantly depending on whether you're opting for a simple weekend getaway or an all-out luxury excursion spanning multiple continents. In the world of custom e-learning platforms, the costs usually oscillate between $50,000 and $200,000. The range may seem staggering at first. But before your eyebrows reach the stratosphere, let's dig into the intricacies of this estimation.
Factors that Influence the Budget
Money, in its elusive nature, tends to be influenced by a myriad of factors, especially in the realm of software development. Here are some of the major parts that play a pivotal role in the final invoice you'll receive.
Project Complexity
Complexity is the foremost determinant in this equation. A basic platform with minimal features, designed for a limited audience, will be far more budget-friendly than a comprehensive, global platform with multilingual support, myriad features, and intricate functionalities.
Website Type
The nature of the e-learning website directly correlates with its cost. Let's say a local yoga instructor wants to share online classes. A single-instructor platform will have a different price tag than a massive online open course (MOOC) platform aiming to rival giants such as Coursera or Udemy.
Developers Rate
This factor is the wild card in the cost equation. Developers' rates can vary drastically based on their location, expertise, and experience. It's essential to find the right balance between cost and quality to ensure that your platform is both robust and budget-friendly.
Hiring a rookie freelancer might be cheaper and might get the job done, but the result may not fully meet your expectations. In contrast, when collaborating with a reputed e-learning development company such as IntelliSoft, you're paying for expertise, quality, and reliability. Besides, we offer a convenient development team cost calculator to help you plan your budget.
The cost of developing a custom e-learning platform isn't merely a number – it's a reflection of the platform's vision, scope, and quality you seek. As with most investments, the key lies in understanding what you're paying for and ensuring that every dollar spent adds tangible value to your project. Remember that a well-crafted e-learning platform is an investment that can produce substantial returns in the rapidly growing world of online education.
Final Thoughts
Navigating the expansive universe of e-learning development might seem intimidating at first glance. From conceptualizing the platform to its final launch, every phase of e-learning development requires meticulous attention, passion, and dedication. However, the fruits of this laborious journey can be incredibly rewarding. As education continues its shift to the digital realm, there's never been a better time to invest in creating a platform that not only educates but also captivates and motivates its users.
Remember, successful custom e-learning development is more than just code and content – it's a dynamic space where knowledge is imparted, skills are honed, and lifelong learners are nurtured. It's a bridge that connects educators and students, transcending geographical boundaries and time zones.
Undertaking this journey solo is certainly admirable, but having a reliable and supportive companion by your side can truly enhance the experience and increase your chances of success.
Why Choose IntelliSoft for Your E-Learning Journey?
We at IntelliSoft built a perfect team that combines expertise, innovation, and passion to deliver custom web development services tailored to your needs. We take pride in sculpting platforms that aren't just functional but are also user-friendly, engaging, and aesthetically pleasing.
Our approach is comprehensive and guarantees the realization of your vision to its maximum potential, whether you're developing the site from scratch or renovating an existing platform. Contact us any time and dive into the world of e-learning with IntelliSoft. Let's co-create e learning platform that resonates, educates, and elevates.
FAQ