Have you ever thought about how a custom Electronic Health Record (EHR), or Electronic Medical Record (EMR) system could be a game-changer in your patient care? Well, we at IntelliSoft sure have. We've been in the tech game for almost two decades, fusing our tech expertise with a mission to empower healthcare innovators.
In this short guide, we will walk you through the nuts and bolts of how to build an electronic medical record system. It's like building a digital fortress for patient data but made super simple. With such projects as Cambio, we've been doing this long enough to know what works, and we're all about sharing that know-how with you. So, let's dive in.
EHR as the Backbone of Modern Healthcare
In the healthcare realm, a quiet yet profound transformation is underway, reshaping the interaction between medical practitioners and patient data. This shift is propelled by Electronic Health Records (EHRs), a digital initiative swiftly becoming the central support system of contemporary medical practice. So, what is an Electronic Health Record System? What is EHR software? Picture it as a secured digital vault that preserves and organizes a patient's health records, offering quick and protected access to medical professionals, thus enhancing the care provided.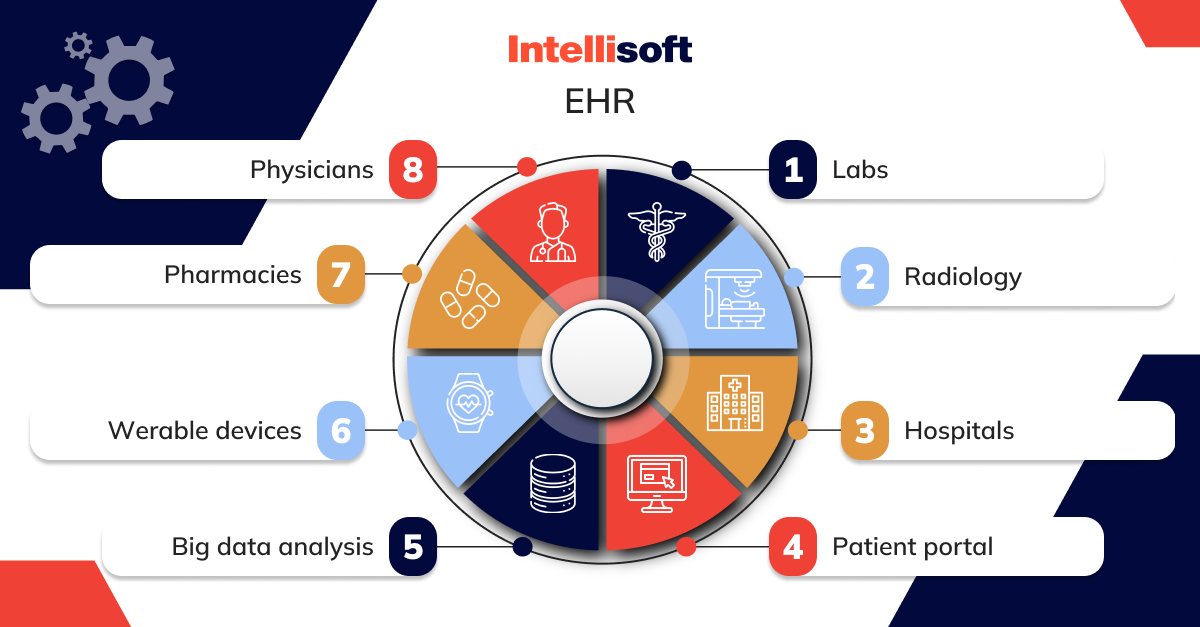 EHRs surpass being mere electronic replicas of a patient's paper records found in a clinician's office. The electronic health record is a computerized system of maintaining patient health details electronically. It's a comprehensive, current, and patient-centric record-keeping system that grants legitimate users immediate and protected entry to medical information. Unlike traditional records accumulated in a medical provider's office, EHRs include a more extensive array of patient details; they offer a complete view of a patient's healthcare journey.
EHRs are essential for multiple reasons. Healthcare experts depend on precise medical records to deliver exemplary medical attention. AI-enabled tools can promote superior health outcomes by refining the precision and lucidity of these records, enhancing the accessibility of health data and making the care process more efficient. Advanced algorithms have the capacity to sift through large volumes of health data, offering insights that aid medical professionals in making more informed decisions about patient treatment.
Additionally, AI's capability to automate regular tasks liberates time for medical staff, enabling them to focus more on providing top-quality patient attention and dedicating more time to patient interactions. It's about delivering a streamlined, unified, and orderly healthcare experience, free from the physical bulk of paper records. EHRs ensure the immediate availability of patient histories, which can be crucial during emergencies and promote improved management of long-standing illnesses, thanks to the straightforward patient data monitoring over time.
Difference Between EMR and EHR
Grasping the difference between EMR and EHR is vital for navigating the digital healthcare records landscape. EMRs are digital iterations of paper records in a clinician's practice, detailing a patient's medical history and care under a particular clinician or within a single facility. They concentrate on routine medical and clinical data accrued by one healthcare provider.
In contrast, EHRs offer a more expansive perspective on a patient's healthcare journey. They extend beyond the information compiled in a clinician's office, providing detailed patient histories. EHRs are structured to facilitate information exchange among various healthcare entities, allowing a patient's records to move seamlessly to different healthcare specialists, institutions, and care homes, and even across different regions. This feature underscores the more integrative and comprehensive nature of EHRs compared to EMRs.
The Benefits of EHR Customization
Acknowledging that a one-size-fits-all EHR system may not fulfill the unique demands of every medical practice is crucial. Here lies the significance of a tailored EHR system, which becomes evident. Customized EHR applications can significantly uplift patient care by modifying functionalities to align with the specific operational methods and care plans of diverse medical providers.
When considering how to build an Electronic Medical Record system that resonates with the specific needs of your practice, it begins with establishing well-defined objectives. These customized platforms can be equipped with tailored notifications, reminders, and support options for making informed decisions regarding patient care, all designed to fit the unique protocols and everyday routines of various healthcare settings.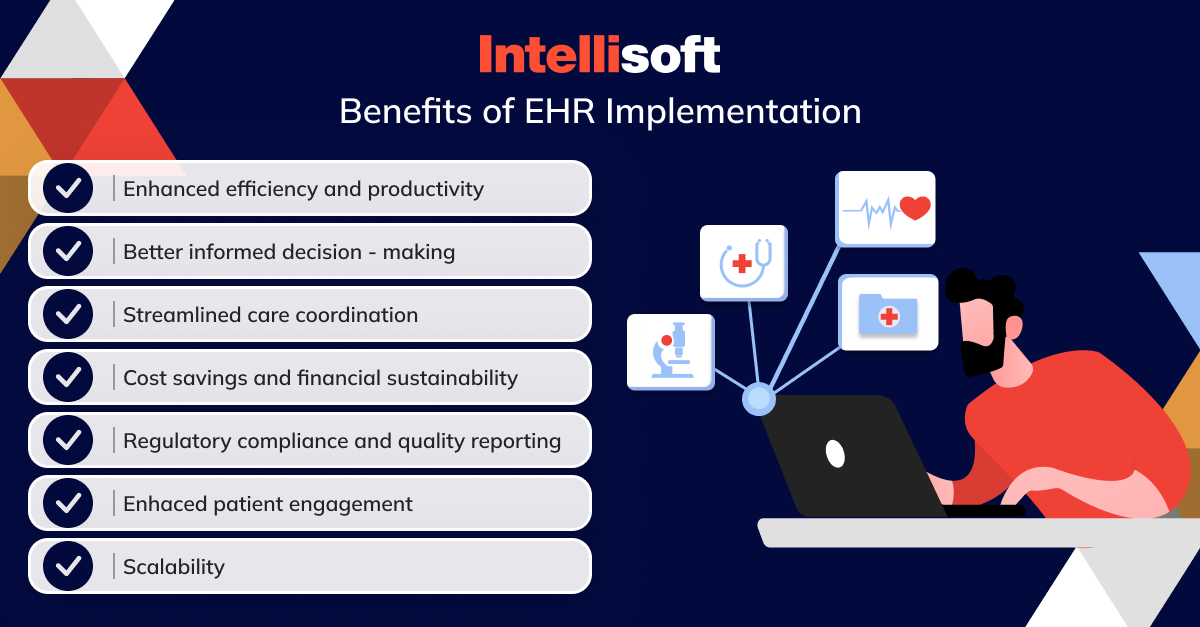 A personalized EHR system can substantially enhance operational efficiency. From managing appointments to processing payments, and maintaining clinical records to prescribing medications, such systems can markedly decrease the time and labor involved in administrative tasks, reduce errors, and allow medical providers more time to focus on delivering high-quality patient care rather than getting bogged down with paperwork.
EHRs are an integral element of modern medical infrastructure, but their fullest potential is realized only when tailored to the specific needs of the healthcare facilities and populations they serve. A custom EHR is pivotal for improved health outcomes, patient involvement, and coordinated care.
Essential Components of EHR Software
What is EHR software? It's a comprehensive system that assists healthcare providers in effectively managing patient care and electronic medical records, enhancing operational efficiencies and ensuring the precision of health documentation. Indeed, for every healthcare practitioner, having a platform designed to meet their specific operational needs is essential.
Nevertheless, certain fundamental elements are necessary for an EHR system to perform effectively within the current healthcare ecosystem. Here are some indispensable components vital for an EHR system's efficacy in modern medical practice.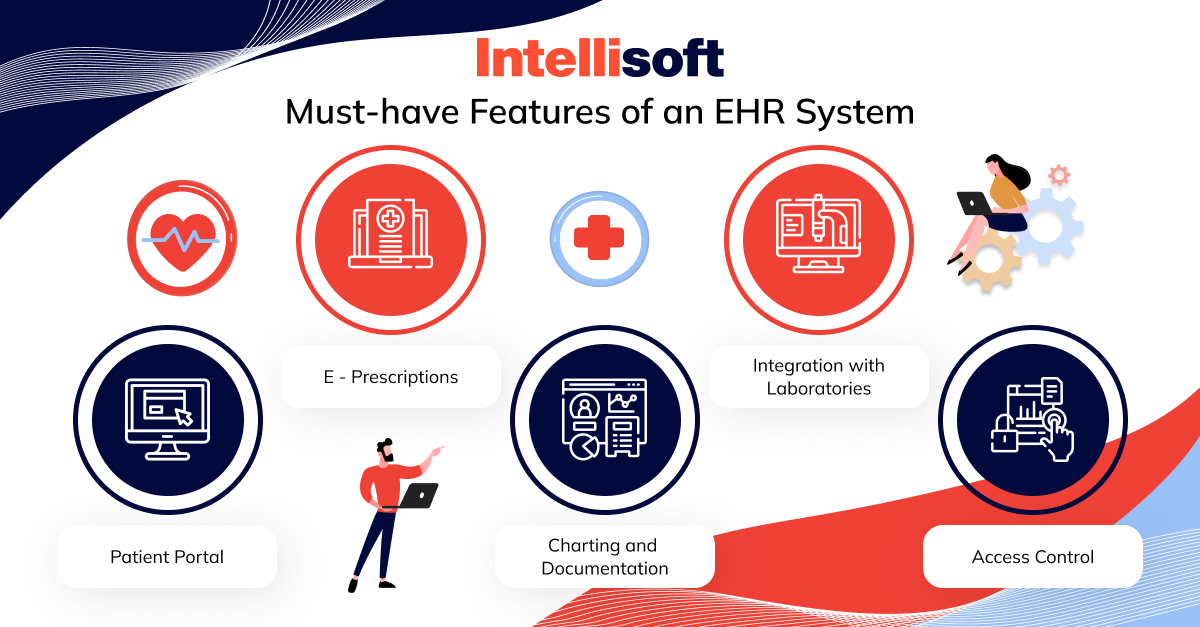 Patient Access Portal
Patients have the ability to visit a secure web-based portal to review their health information at any moment, from any location with internet connectivity. They simply sign in with their credentials to access a wealth of information such as previous doctor visits, discharge summaries, current medications, immunization records, and lab results.
This portal offers the convenience of staying current with their health details from the comfort of their own space and facilitates direct communication with healthcare providers. It supports scheduling appointments, managing prescriptions, and taking an active role in their own healthcare. It's a dedicated space for patients to interact with their healthcare teams and take charge of their health journey, bolstering their involvement in managing their well-being.
Digital Prescribing
Digital prescribing allows healthcare professionals to electronically send prescriptions to pharmacies. This approach reduces the likelihood of errors linked with manual prescriptions or transcription oversights. It also refines the prescription process, conserving time for both medical staff and patients, and facilitates rapid checks for drug interactions and insurance confirmations.
Charting and Documentation
The essence of any EHR system lies in its capability to support detailed and organized patient charting and records. This functionality should facilitate efficient data entry through adaptable templates, voice commands, or touchscreen input. It's also crucial for maintaining a patient's medical trajectory, encompassing diagnosis updates, care strategies, progress annotations, vaccinations, and known sensitivities.
Integration with Laboratories
Effortless connectivity with external lab and imaging facilities is vital for an EHR system. This function should permit the digital request of lab tests and direct incorporation of results into the patient's EHR. Not only does this save time, but it also diminishes the likelihood of errors from manual data entry, while ensuring comprehensive and current patient records.
Access Control
With sensitive health data at stake, it's essential to implement stringent access control measures within the EHR system. The system ought to endorse role-specific access parameters, ensuring only approved staff can view sensitive patient data. Such measures are key to preserving data confidentiality and reducing the probability of unauthorized data exposure.
These components are fundamental to a robust EHR system and play a significant role in refining patient care processes, optimizing medical workflows and upholding the integrity of patient data. An EHR system equipped with these features stands ready to cater to the intricate needs of modern medical care delivery.
Ready-made vs. Custom EHR Solutions
When healthcare organizations consider implementing an Electronic Health Record (EHR) system, they are faced with a critical decision: opting for a ready-made solution or investing in a custom-built system. By weighing the pros and cons, you can ensure that the choices you make are well-informed and tailored to meet the specified needs of your organization.
Ready-made EHR Solutions
Ready-made EHR systems are off-the-shelf software products designed to suit the general needs of healthcare providers. Companies with expertise in healthcare technology typically develop these solutions and are continuously updated to comply with current standards and regulations.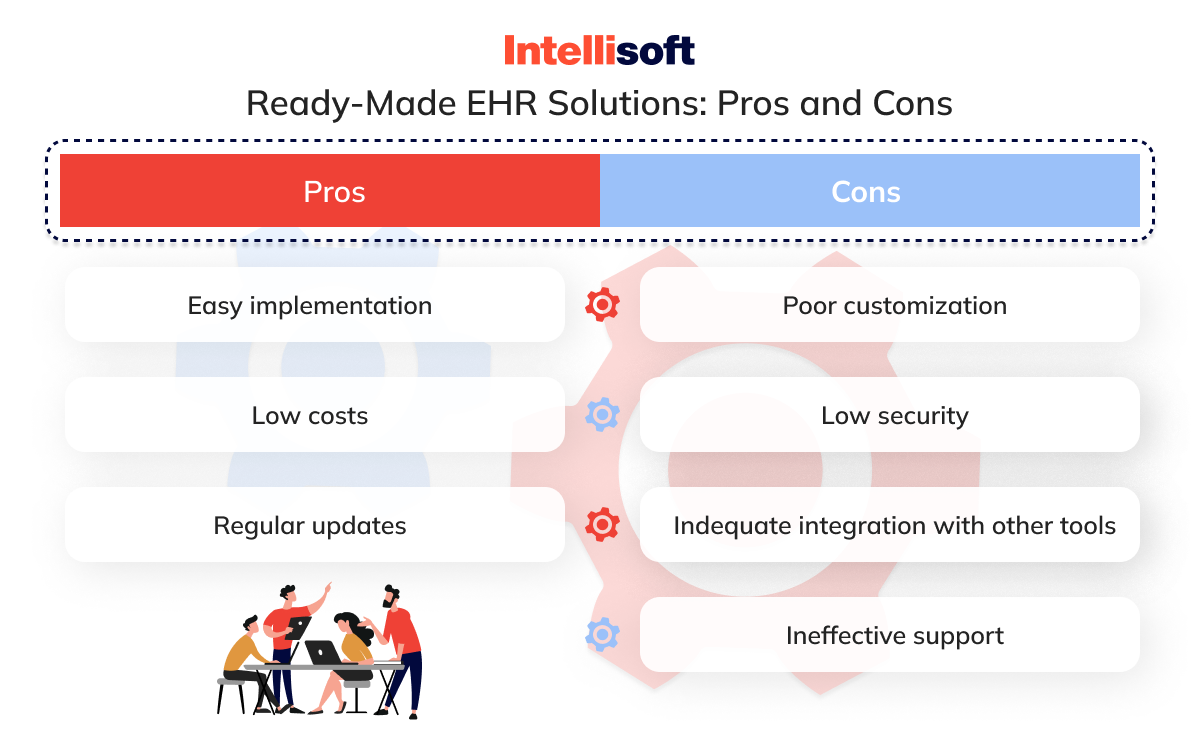 Advantages:
Ready-made EHRs are often less expensive up-front than custom solutions because the EHR software development costs are distributed across multiple clients.
Since the software is pre-developed, it can be deployed more rapidly than a custom solution.
These systems have been tested in various environments, with bugs and issues addressed over time.
Vendors usually offer maintenance and support services as part of their package.
Limitations:
These systems may not cater to the unique processes of every healthcare provider, potentially leading to gaps in functionality.
Adapting a ready-made system to specific workflows or integrating with existing tools can be challenging.
They may include additional features that are not needed, making the system more complex and cumbersome.
Custom EHR Solutions
Custom EHR solutions are built from the ground up to address the specific requirements of a healthcare organization. They are tailored to fit unique workflows, integration needs, and future scalability.
Advantages:
A custom EHR system is designed to support the specific workflows and processes of the organization, potentially improving efficiency and user adoption.
The system can be scaled and modified as the organization grows or needs change, providing a long-term solution.
Custom systems can be more easily integrated with existing IT infrastructure, minimizing disruption and data silos.
Limitations:
The cost of developing a custom EHR can be significantly higher due to the resources required for EHR software development, although it can be a more reasonable investment in the long run.
Custom solutions take time to develop, which can delay implementation.
The healthcare organization may be responsible for the ongoing maintenance and updates, requiring a dedicated IT team.
Choosing between ready-made and custom EHR solutions requires carefully assessing your healthcare organization's size, budget, workflow, and long-term goals. While ready-made solutions offer quick and cost-effective implementation, custom EHR systems deliver tailored functionality that can provide greater benefits in the long run. Ultimately, the decision should support the primary aim of any EHR system: to enhance patient care, improve operational efficiency, and ensure data security.
Developing your own EHR software requires you to take several steps, including preparation and project discovery, hiring healthcare developers, and others. Let's dig deeper into the process of developing a custom EHR.
Planning and Discovery Process
Starting the journey of EHR system development can be compared to planning an intricate expedition. It requires a clear vision, detailed mapping, and careful preparation. Let's unpack the crucial steps of the planning and discovery process to ensure your EHR project sails smoothly.
Setting Clear Objectives for the EHR System
The first step is like setting the destination for your voyage. What do you want your EHR system to achieve? It's essential to establish clear, concise objectives. Are you looking to improve patient care, streamline administrative tasks, enhance data security, or all of the above? Setting these goals early on gives your project a focused direction and provides a benchmark against which you can measure success.
Identifying Specific Requirements for Your Healthcare Institution
Next, dive into the specifics. Each healthcare institution has its unique heartbeat – its workflow, patient demographics, specialty services, and compliance needs. This step is about understanding and documenting these specifics. What features are must-haves? Do you need a robust patient portal, advanced data analytics, and telemedicine capabilities? This phase is about asking the right questions to uncover the detailed requirements that will shape your EHR system.
Creating a Detailed Project Plan, Timeline, and Budget
Now, it's time to chart the course. A detailed project plan outlines the scope, phases, milestones, and resources required for your EHR system development. This plan should include a realistic timeline, considering the complexities and potential challenges that may arise.
At IntelliSoft, we create all of those documents during the project discovery phase. Other deliverables of a project discovery include:
Team composition plan
Clickable UX/UI prototype
Technical proposal
High-level project plan
Vision and scope document
Budgeting is also key. It's essential to allocate funds not just for the EHR software development but also for training, maintenance, and future upgrades. A well-thought-out project plan is your roadmap to navigating the EHR development process efficiently and effectively.
The planning and discovery phase is the foundation upon which a successful EHR system is built. By setting clear objectives, understanding specific needs, and crafting a detailed plan, you lay the groundwork for an EHR system that meets and even exceeds the expectations of your healthcare institution.
Data Security and Compliance
In healthcare, patient data is as precious as gold, and safeguarding this treasure becomes paramount. Data security and compliance in EHR systems are about building trust and ensuring a fortress-like protection of sensitive information.
The Fortress of Data Security in Healthcare
Think of your EHR system as a digital fortress. The walls? Robust data security measures. Healthcare data is a bounty of personal and sensitive information. Breaches can lead to disastrous consequences, not just legally but also in terms of patient trust. Emphasizing data security involves implementing strong encryption, secure user authentication, and regular security audits. It's about creating a system so secure that even the craftiest of digital intruders can't breach its defenses.
Navigating the Maze of Regulatory Requirements
Regulations such as HIPAA in the U.S. and GDPR in Europe aren't just hoops to jump through – they're essential guidelines that ensure the privacy and protection of patient data. These regulations are like the rulebook for managing patient information. They dictate how data should be collected, stored, processed, and shared. Understanding these laws is crucial. It's like having a map in the complex world of healthcare compliance, helping you navigate without losing your way.
Strategies for Data Privacy and Compliance in EHRs
Implementing strategies for data privacy and compliance involves regular training for staff on data handling, conducting privacy impact assessments, and ensuring that all system updates are compliant with current regulations. It's also about having clear policies for data access and sharing and implementing measures like audit trails to track who accesses what data and when. These strategies help avoid penalties and create a culture of respect and responsibility towards patient data.
Ensuring an EHR system is secure and compliant is a dynamic, ongoing process. It requires a proactive approach to technology implementation, an in-depth understanding of regulatory requirements, and a commitment to creating a culture of security within the healthcare institution. Robust data security and strict adherence to regulatory requirements are commitments to safeguarding the very essence of patient care.
Related readings:
Selecting Technology Stack
Choosing the right technology stack for an EHR system is a pivotal decision. The goal is to assemble an all-star team of technologies, each playing a critical role in the system's functionality, scalability, and future readiness.
When constructing an EHR system, there are a lot of technological avenues to explore.
For the backbone, robust and scalable languages such as Java or C# are top contenders.
Databases form the system's memory hub, with options such as the structured SQL databases (MySQL, MS SQL Server) or the more flexible NoSQL databases (MongoDB).
Front-end frameworks such as Angular or React can make the user interface visually engaging and user-friendly.
In the middleware arena, technologies like Node.js or .NET serve as the critical link between the database and the front end.
Additionally, incorporating APIs (Application Programming Interfaces) is crucial.
They allow seamless integration with other healthcare systems and databases, ensuring the EHR can communicate effectively with external services and data sources.
Pros and Cons of Different Technology Choices
Each technology in the stack brings its strengths and weaknesses.
Java, for instance, boasts portability and scalability but can be complex for smaller projects.
SQL databases offer strong data consistency but might lack the flexibility of NoSQL databases in handling unstructured data.
Front-end frameworks have their trade-offs too. Angular provides a comprehensive solution but may have a steeper learning curve than React.
APIs, while essential for integration, need careful management to ensure security and efficiency.
Data migration is another critical aspect. The choice of technology should facilitate smooth data migration from existing systems to the new EHR, ensuring data integrity and minimizing downtime.
Take Your Institution's Unique Needs into Account
The ideal technology stack varies based on factors like the institution's size, the complexity of the EHR system, scalability needs, and existing technical expertise. A smaller clinic may benefit from a simpler stack, whereas a large hospital may require robust and scalable solutions. The need for customization and integration with other systems also influences the choice of technologies, including the approach to APIs and data migration strategies.
Selecting the technology stack for an EHR system is about finding the right balance between current needs and future growth. It involves carefully evaluating each technology's strengths and how they align with the institution's unique requirements, ensuring the EHR system is efficient, adaptable, and prepared for future healthcare challenges.
User Interface and User Experience
Regarding EHR systems, the user interface (UI) and user experience (UX) are more than just aesthetic concerns. They are the heart and soul of how users interact with the system. A well-designed UI and a thoughtful UX can make the difference between an EHR system that's a joy to use and a constant source of frustration.
Crafting a User-Friendly EHR Interface
The UI of an EHR system is like the face of a friendly assistant – it should be welcoming, intuitive, and easy to understand. The interface must involve a clean, uncluttered design, logical navigation, and easy-to-read fonts and color schemes. It's about presenting complex medical information in a way that's accessible and straightforward. A great UI reduces the learning curve for new users and makes daily tasks more efficient for experienced users.
Designing an Intuitive User Experience
UX goes deeper than the surface. It's about understanding how healthcare professionals interact with the system in their daily workflow. This experience includes streamlined processes for entering and retrieving patient data, efficient scheduling of appointments, and straightforward methods for managing billing and insurance information. The UX should anticipate the user's needs and make common tasks easy.
Usability Testing and Feedback
A critical step in UI/UX design is usability testing. This step involves real users – doctors, nurses, and administrative staff – trying out the EHR system and providing feedback. Observing how users interact with the system in a real-world setting is invaluable. It can reveal areas where the UI or UX can be improved to better meet the needs of those who will use it every day.
The UI and UX of an EHR system are not just about good looks or trendy designs. They are about creating a tool that healthcare professionals can rely on for efficient, error-free, and pleasant daily use. A great UI/UX can significantly enhance the effectiveness of an EHR system, ultimately leading to better patient care and smoother healthcare operations.
How to Build an EHR System
The development process of an EHR system is a complex yet fascinating journey involving multiple stages and a skilled team of professionals. Breaking down this process into distinct phases ensures that each aspect of the system is crafted with precision and care.
The Composition of an EHR Development Team
Before diving into the stages, let's introduce the healthcare development team composition behind a successful EHR project:
Front-end Developers
These are the architects of the user interface, working on platforms based on the app requirements. They ensure the EHR system is accessible, visually appealing, and user-friendly.
Back-end Developer
The system's backbone handles core logic, database management, and security. This role is critical for the robust and efficient functioning of the EHR system.
Dedicated API Developer
Specializing in creating and managing APIs, this developer ensures seamless integration with other systems and databases.
QA Engineers
The guardians of quality conduct thorough testing to ensure the system is reliable, efficient, and bug-free.
UX/UI Designer
Responsible for crafting an intuitive and engaging user experience and interface, aligning with the needs of healthcare professionals.
Product Manager
They oversee the product's vision, ensuring the EHR system aligns with your healthcare institution's objectives and user needs.
Project Manager
The conductor of the orchestra, coordinating the team's efforts, managing timelines, and ensuring that the project stays on track.
Stages of EHR System Development
Requirement Analysis and Planning
This stage involves understanding the specific needs of your healthcare institution and outlining the system's requirements. It plays a critical role in laying the groundwork for the entire project.
Database Design
Here, the structure for efficient storing and retrieving data is created. The database design must ensure data integrity, security, and compliance with healthcare regulations.
Back-end Development
This phase involves building the core logic of the system, including patient management, record handling, and security features. It's the engine room of the EHR system.
API Development
Developing APIs for integrating other systems (labs, billing, etc.) is crucial for a holistic EHR solution.
Front-end Development
This stage focuses on creating the user interface, where design and functionality come together to provide an optimal user experience.
Testing and Quality Assurance
QA engineers rigorously test the system to identify and rectify issues, ensuring the EHR system is reliable and user-friendly.
Using agile methodologies in EHR development brings several benefits. It allows for flexibility, continuous improvement, and adaptation to changing requirements. Agile fosters collaboration and communication within the team and with stakeholders, ensuring that the final product aligns closely with user needs and expectations.
Developers who know how to build an ehr system understand that it's a multifaceted process that requires a diverse and skilled team. By breaking down the process into clear stages and adopting agile methodologies, the development journey can be managed effectively, resulting in a robust, efficient, and user-centric EHR system.
EHR Integration and Interoperability
In the intricate ecosystem of healthcare technology, integration and interoperability of EHR systems play a vital role. In the healthcare industry, the ability to smoothly communicate and exchange data between different systems plays a critical role in improving the quality of patient care and streamlining operations.
Integration with Essential Healthcare Solutions
Integration begins by linking the EHR system with other critical healthcare solutions. These integrations, identified during the Discovery stage, ensure that the EHR system doesn't operate in isolation but as part of a larger, interconnected healthcare network. Some key integrations include:
Health Information Exchange (HIE) Networks
These facilitate the smooth sharing of patient information across different healthcare providers and organizations, ensuring patient data is accessible when and where it's needed.
Laboratory Information Systems (LIS)
By integrating with LIS, EHRs can directly store and retrieve laboratory test results, streamlining the workflow and improving data accuracy.
Radiology Information Systems (RIS) and PACS
This integration allows direct access to radiology reports and diagnostic images within EHRs, offering comprehensive patient imaging data at the fingertips of healthcare providers.
Patient Portals and Personal Health Record (PHR) Systems
These integrations empower patients to access their health records, view test results, and communicate with healthcare providers, enhancing patient engagement and self-management.
Billing and Revenue Cycle Management Systems
Streamlining financial workflows and automating billing processes, this integration boosts administrative efficiency and accuracy.
Electronic Prescription Drug Monitoring Programs (PDMPs)
Integrating with PDMPs aids in monitoring prescription drug use, preventing abuse, and ensuring patient safety.
Industry Standards for Data Exchange
To ensure smooth and secure data exchange, adherence to industry standards like HL7 (Health Level Seven International) and FHIR (Fast Healthcare Interoperability Resources) is crucial.
HL7 sets the guidelines for the exchange, integration, sharing, and retrieval of electronic health information.
FHIR, a newer standard, focuses on ease of implementation and leverages the latest web standards.
Both these standards are pivotal in ensuring that different systems can 'speak' the same language, which is crucial for interoperability.
Interoperability in EHR systems is about creating a network where patient data can move freely and securely across different healthcare systems. This approach requires careful planning and implementation, ensuring that the EHR system can communicate effectively with other systems, both within and outside the organization. It involves constant testing and validation against standards such as HL7 and FHIR, regular updates to keep up with evolving technologies and standards, and a commitment to data security and privacy.
Integration and interoperability are essential components of an EHR system that enable cohesive and efficient healthcare delivery. By integrating with various healthcare solutions and adhering to industry standards, an EHR system can become a powerful tool for enhanced patient care and operational excellence.
Testing and Quality Assurance
In the development of an EHR system, testing, and quality assurance are critical phases that ensure the system is not only functional but also reliable and safe. This stage is like the final, rigorous inspection of a high-performance machine before it's ready for use.
Testing is the process of meticulously checking every aspect of the EHR system to ensure it works as intended. It involves various types of testing:
Functional Testing
The testers check if the system functions correctly and meets the specified requirements. It's like ensuring every gear in a watch moves perfectly.
Performance Testing
Here, the system's responsiveness and stability under various conditions are evaluated. You can compare it to testing a car's performance in different terrains and weather conditions.
Security Testing
This step is crucial, especially given the sensitive nature of health records. Security testing involves probing the system for vulnerabilities ensuring that patient data is safeguarded against breaches.
Usability Testing
This step ensures the system is user-friendly and intuitive for healthcare professionals, an essential aspect for smooth day-to-day operations.
Quality Assurance
Quality Assurance (QA) goes beyond testing. It's a holistic approach to ensuring the EHR system meets the most rigorous standards of quality and compliance. QA involves continuous monitoring and review of the development processes to prevent errors and defects. It's about ensuring exceptional quality standards at every stage of the development process, starting from the initial conceptualization and design phase, all the way through to the final deployment and implementation.
QA also ensures compliance with healthcare regulations and standards, ensuring the system adheres to laws such as HIPAA in the U.S. or GDPR in Europe. This compliance is non-negotiable in healthcare technology, where patient safety and privacy are paramount.
Through rigorous testing and comprehensive quality assurance, an EHR system can achieve reliability, efficiency, and compliance. This process is crucial in building trust – trust that the system will perform flawlessly, maintain data integrity, and protect patient privacy. Testing and quality assurance form the backbone of EHR system development, ensuring that the final product is a reliable, efficient, and secure tool for healthcare professionals.
Deployment and Training
The journey of creating an EHR system culminates in its deployment and the subsequent training of healthcare staff. This phase is critical as it transitions the system from a developed product into an integral part of daily healthcare operations.
Launching the EHR System
Deployment is installing the EHR system and making it operational within the healthcare setting. It feels like setting a ship to sail after painstaking construction. This phase involves several key steps:
Final Testing and Validation
Before going live, the system undergoes a final round of testing to ensure everything works seamlessly.
Data Migration
If transitioning from an existing system, data migration is crucial. It involves transferring patient records and other pertinent data to the new EHR system while ensuring data integrity and security.
System Integration
We integrate the EHR system with your existing healthcare and administrative systems to ensure cohesive functionality.
Going Live
The system is finally made operational. This step may be done in phases, starting with less critical functions to minimize disruptions.
Training: Equipping Healthcare Staff for Success
Training is perhaps as crucial as the system itself. A sophisticated EHR system is only as effective as the people using it. This phase involves:
Educating Staff
We conduct comprehensive training sessions to educate healthcare staff on using the new system. The class of trainees includes doctors, nurses, administrative staff, and anyone else who will interact with the system.
Hands-on Practice
Practical, hands-on training sessions are crucial for staff to get comfortable with the system.
Support Materials
Providing manuals, quick-reference guides, and online resources can help staff recall training and troubleshoot common issues.
Ongoing Support
Initial training is just the beginning. Continuous support and refresher training sessions can help staff stay updated with system changes or updates.
A key objective of the deployment and training process is to facilitate a seamless transition to the new Electronic Health Record (EHR) system while ensuring that all users are able to effectively and efficiently adopt the new system. This includes providing comprehensive training materials and support to help users become familiar with the new system's features and functionalities.
Ultimately, the aim is to enable all users to confidently and competently utilize the new EHR system to its full potential, improving the quality and efficiency of healthcare services. It's about minimizing disruption to healthcare services and maximizing the benefits that the new system brings.
Adequate training and support can significantly increase the efficiency, accuracy, and satisfaction of healthcare staff with the EHR system. They transform the system from a technological construct into a dynamic tool in the hands of healthcare professionals, enhancing the quality and efficiency of patient care.
The Cost of EHR/EMR System Development
Discussing the cost of developing an Electronic Health Record (EHR) or Electronic Medical Record (EMR) system is crucial for your healthcare organization embarking on this digital transformation journey. It's important to understand that the investment in an EHR/EMR system can vary significantly based on the scope, features, and complexity of the system.
The Price Spectrum
The development cost of a mid-level EHR system can start from around $400,000, while a comprehensive, full-featured platform might require an investment of up to $1,000,000. These figures might seem daunting at first glance, but they reflect the complexity and the value that such systems bring to healthcare operations.
For many healthcare institutions, the needs might be more modest, focusing primarily on integrating existing systems. These integrations typically fall well within the $100,000 range, making them a more cost-effective option for those looking to enhance their current digital healthcare infrastructure without building a new system from scratch.
Prototyping: A Cost-Effective Start
For organizations that are still exploring the digital healthcare landscape, developing a prototype is a practical and economical approach. A decent prototype for a web-based EHR/EMR system, excluding mobile clients, can be developed in the $150,000 to $200,000 range.
This prototype phase allows healthcare organizations to get a feel for how their custom EHR/EMR system would look and function, enabling them to make informed decisions about further development and investment.
When considering developing an EHR/EMR system, it's essential to balance the cost against the value it brings to your healthcare organization. A well-designed EHR/EMR system can streamline operations, enhance patient care, improve data management, and ensure regulatory compliance. These benefits often translate into long-term cost savings and improved operational efficiencies.
While the initial cost of developing a custom EHR/EMR system can seem significant, it's important to consider the long-term benefits and value it brings to your healthcare organization. Whether you opt for a full-blown platform, integrations to enhance your current system, or a prototype to start your journey, each investment is a step towards a more efficient, effective, and modern healthcare service.
Conclusion
How to build an electronic medical record system? This is a crucial question for healthcare providers aiming to digitize and streamline patient care. In this article, we discussed how to develop an EHR system. It is an intricate process that requires time, commitment, and dedication. The benefits of a well-designed, custom EHR system extend far beyond its initial deployment.
Such systems enhance the efficiency of healthcare operations, improve patient care, and ensure higher levels of data accuracy and security. They offer scalability and flexibility, adapting to the evolving needs of healthcare providers and patients. In the long run, a tailor-made EHR system can catalyze growth, enabling healthcare institutions to stay ahead in the dynamic healthcare landscape.
At IntelliSoft, we understand the intricate nuances of EHR system development. With our vast experience and expertise in the field, we are uniquely positioned to deliver EHR solutions that are technologically advanced and deeply aligned with your specific needs. Our custom EHR development services are designed to provide you with a system that's not only efficient and compliant but also a perfect fit for your unique operational workflow.
We invite healthcare institutions to explore the possibilities with us. Partner with IntelliSoft and take the first step towards a future where technology and healthcare come together seamlessly, enhancing the care you provide to your patients and streamlining your operations. Let us help you turn the vision of an ideal EHR system into a reality.
FAQ