65% of companies can't find a suitable team dedicated to software development, according to a KPMG survey. If you are one of the business representatives wishing to hire a team dedicated to your IT dep tasks, change your strategy and hire a dedicated development team. Like others, you may face difficulties with your IT team due to a limited talent pool in your area, a lack of relevant expertise, and sky-rocketed rates for vetted experts. A dedicated team model can solve these problems, boost your project's pace, scale, and quality, and significantly cut costs. Should you hire a dedicated development team? Let's find out.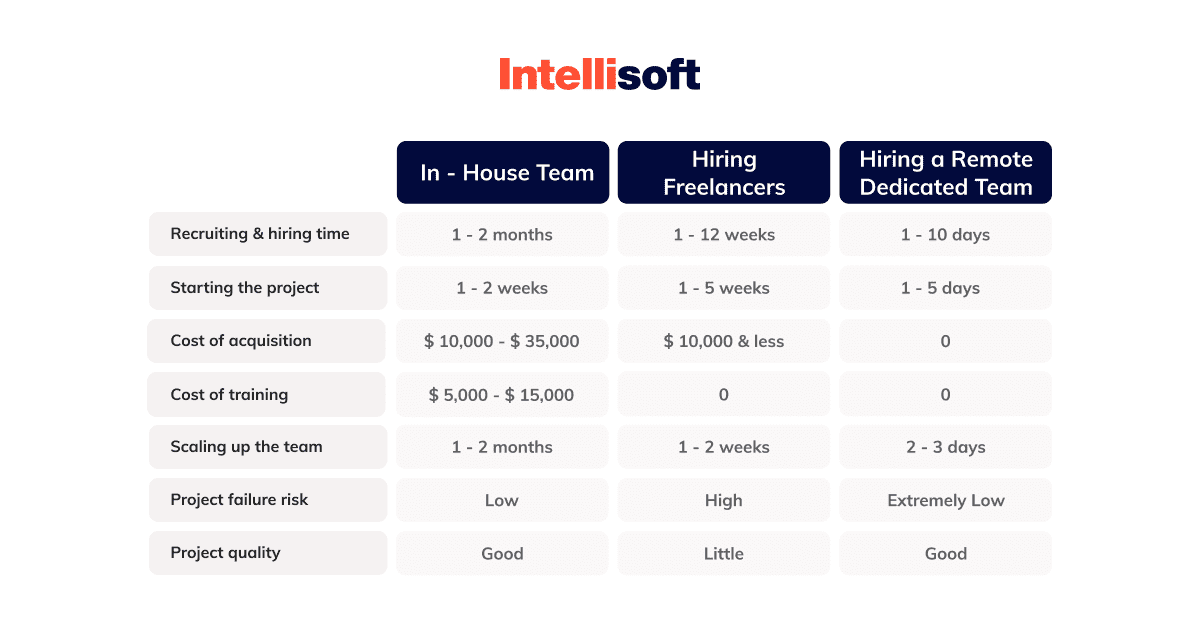 Before you hire team of developers, answer these questions to check if you are ready for an offshore dedicated development team model:
Are you unhappy with a poor choice of talents in your area?

Does your IT team need support or backup?

Are you planning to scale up fast but not sure of your team's capacity to cope with the increasing workload?

Does your in-house staff have insufficient expertise for specific tech project requirements?
With most Yes, continue reading about a dedicated project team model concept. It has already become a trend in business strategies, meeting essential business needs: hiring top-notch experts with incredible cost-cutting optimization. 
So, should you hire a dedicated team or choose another method? What are the benefits and pitfalls after you hire a team for IT development? Get the answer in the post below.
Dedicated Team Model: What It Is
Before hiring a dedicated development team, define it and learn its aspects. A dedicated team (DT) model is popular for tight cooperation with an outsourcing partner. A team of qualified developers, selected precisely for your project, works exclusively for you. After you hire a dedicated development team, you'll have control over the authentication of the decision-making process but pay only agreed hourly rates. Luckily you leave all the headaches for the outsourcing partner.
A dedicated team looks like an outsourced development center, saving your budget from overhead costs, expenses for staff training, infrastructure, and upgrades investments. Compared to fixed price (FP) or time and material (T&M) models, a dedicated development team is the most flexible and efficient, especially in cases:
Your project features are complex, and large-scale.

You have a crazy high in-house turnover.

You're planning or already implementing multiple development projects with a workload exceeding your in-house development capacity.

Your existing/local staff don't have the skills to work on your new project.

You need to start fast and stay flexible.

Your vision and desired deliverables are still vague.

Hiring the all-star dev team you want in your area would blow your budget.

You are at the discovery stage with uncertain R&D objectives and product requirements.

Your current IT team needs staff augmentation, but you'd like to outsource this part of the work.

You're tearing your hair out with recruitment and payroll.

You predict you might change scale or schedule but strive for high-quality software development.
Are you unhappy with your current project's pace? Missed deadlines and milestones signal possible risks. Let's look at some signs and risks of failing your project's deadline when you'll hire a development team.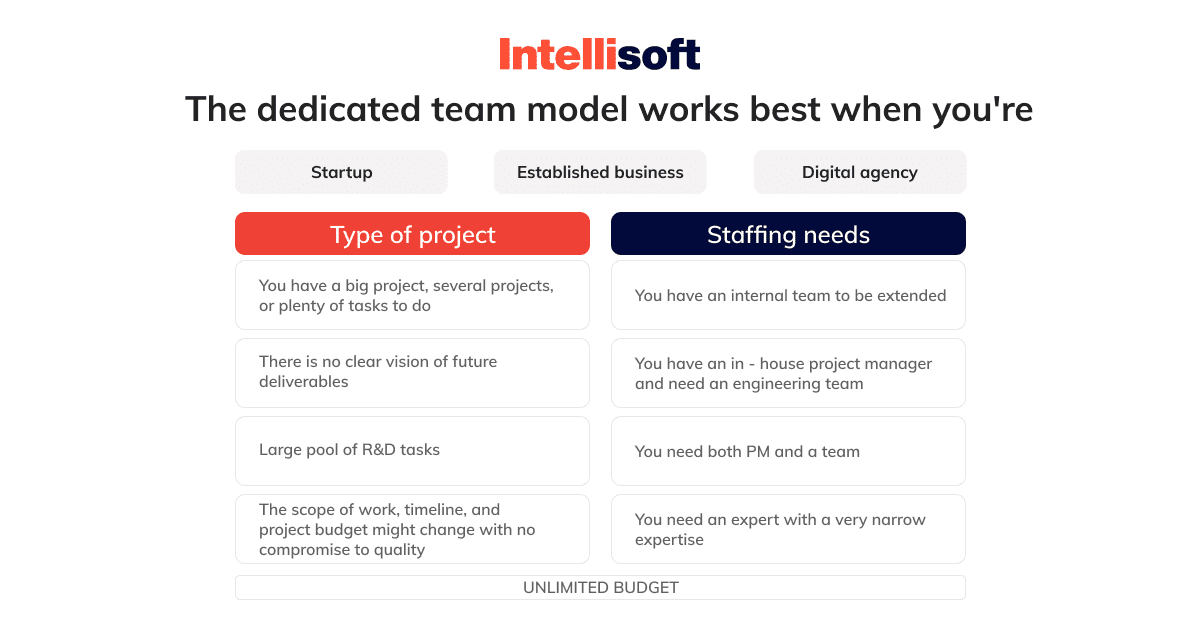 How Does It Work?
According to your project specifications, a team of dedicated developers with the required skill set is established. You finalize time and cost estimations and sign a legal contract to hire a development team. As a client, you have total control over staff or project management so that your team produces the best deliverables.
The structure of hiring a dedicated development team model is easier to explain through the following steps:
The customer must have an idea of exactly what they want. They must determine the number of employees required for their project(s) and the necessary technical (and personal) skills.

The contractor hires or organizes developers outsourcing a dedicated team to meet the requirements of the project. The team, together with the customer, agrees on the workload and requirements of the project for a specified period.

Specialists begin work during their typical or agreed working hours.
The customer has full control over the project and the team, while the team focuses on ensuring the best possible results.
Team Extension vs. Dedicated Team Model (DTM)
It is worth mentioning that in both models, your company benefits from a global talent pool because your choices are not limited to specialists from your region. With outsourcing, you get immediate access to some of the best IT talents you can find.
Team Extension Model
Team extension is a type of software development service outsourcing in which the company provides its specialists in the shape of external hiring, usually on a time and materials (T&M) contract basis.
With a team extension model, your company can minimize the costs associated with hiring, payroll, and project management (PM). This model is also scalable, meaning it's much easier to scale a development team than an employment contract. In addition, this shift in responsibility allows you to reduce human resources (HR) and employment formalities and focus on your core business.
Dedicated Team Model
The dedicated software team model is a type of outsourcing where you hire a dedicated team of remote extended development teams and outsource the project to them. The outsourcing company you choose forms a dedicated software development team, but it also includes a PM, which eliminates the need for hands-on management by the client.
This model implies a much broader partnership than team extension, as it also covers a wide range of software-related services, such as business analysis, design, UI/UX design, quality assurance, project management, and support & maintenance. In contrast to team extension, in the DTM, the software service provider is deeply involved in the development process, so their incentive to achieve the best possible result is higher. In fact, the software provider acts as a close and trusted partner rather than a temporary service provider.
Which Model to Choose?
Every software development project is unique. That's why software outsourcing companies offer several models that fit the needs of different projects. With extended staffing and dedicated team models, you can take advantage of the best technical skills of developers outsourcing from a dedicated team in the IT industry. The outsourcing team will work exclusively on your project, accumulating knowledge and experience in your field. They should be integrated with your internal team and become part of your company. That would be a perfect scenario. This way, you can build your development team according to your project needs and scale it up or down in the future, depending on your business goals.
If you have doubts or concerns about augmentation services, it is best to get a professional consultation. At IntelliSoft, you can get a free consultation from our experts. Describe your project, requirements, time & budget constraints, and expected level of flexibility, and our consultants will find the most convenient and profitable model for you. You can also check our cases to see what we have done for some of our clients.
Related readings: 
Pros & Cons of Dedicated Team Model
Undoubtful perks of the cost-saving and high flexibility of this model can lose brightness in front of responsibility for all the risks and communications. However, you'll double or triple the benefits with an upmarket service provider like Intellisoft, avoiding the pitfalls. Before you jump into the water, study everything in detail.
Pros
A dedicated software development team has more advantages than disadvantages. Thus, based on our experience, we want to start with the benefits of this model.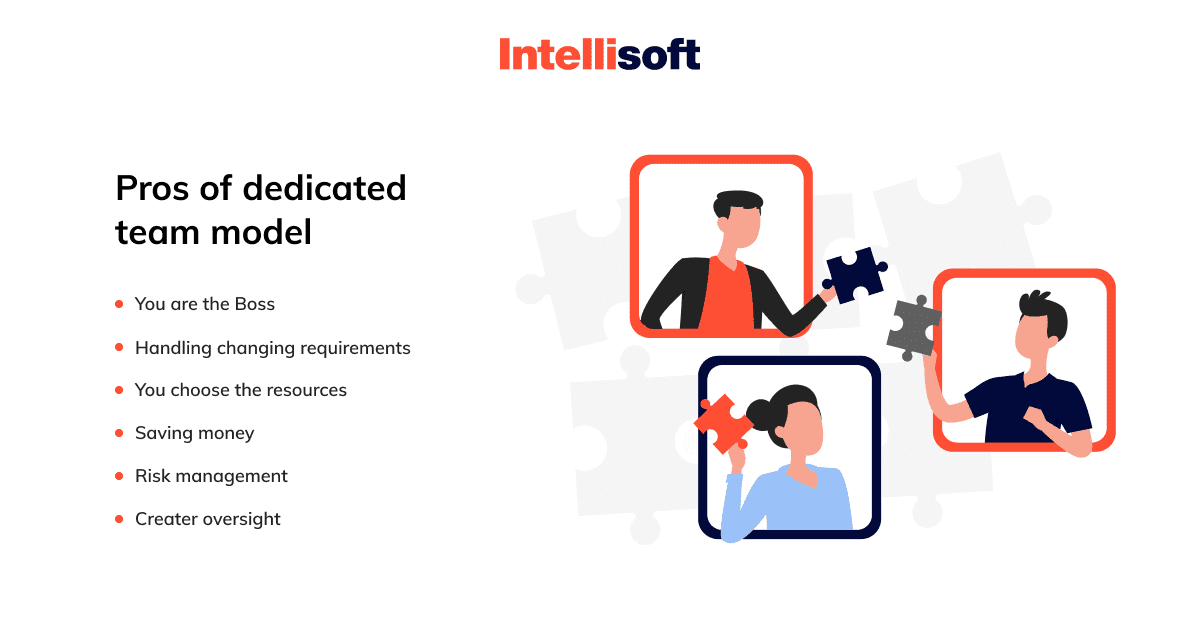 Team
Staff augmentation companies can easily provide you with a top-notch team of talented, experienced developers.
Costs
Collaborating with a DT reduces costs as you pay less than your regular in-house employees. The hourly or monthly rates usually relate to the labor market of a cost-effective outsourcing destination and seem very attractive.
The fact is that assembling a team can be a time-consuming process. You have to consider numerous candidates, their pros and cons, their professional skills, and their overall role in the work process. It takes a lot of time and effort to assemble a team that's 100% fit for the project. In the fast-paced, competitive world of software development, that is usually severely lacking. Another unpleasant thing is that recruiting can be quite a burden on the budget.
The dedicated team model is a viable solution because the team already exists and is set up for a particular type of project. Giving up the organizational part gives much more time to focus on the project itself and save money for other important processes, such as tech research and business analysis.
Flexibility
Being dynamic means being intelligent and cost-effective. You are free to add new members to the team if you want to speed up or scale up. You can cut your costs by reducing the headcount. With your permanent in-house developers on the payroll, fast or temporary shrinking or extension isn't possible.
Adaptability
One of the biggest benefits of the dedicated software development teams is the focused approach. You have a team at your disposal without unnecessary distractions. Increased immersion in the project allows for additional focus on certain things, which, in turn, generates much more diverse and unconventional ideas.
Greater focus is accompanied by increased adaptability. The dedicated team model can be reconfigured at every stage of the project according to current requirements. The dedicated team is fully focused on one project, which helps it not to lose focus on the task and provide the best results.
Speed
Take the lead to gain a competitive advantage over your rivals or a bigger market share. You can increase the number of dedicated members to speed up. Vendors form a product team in several days, and you'll waste months picking up the right staff. Last but not least is the speed of work gained from experience on multiple projects and from double-checking. Team members are accountable to both a vendor and you as a client.
In addition, if you also implement the DevOps/DevSecOps approach, it will simplify the workflow and automate most of the routine operations, guaranteeing more time to work out its essence.
Control
The client gains full control over the selection, motivation, and management of allocated team members.
Integration
To succeed, a project must constantly evolve: add new features and improve existing ones. This is especially important for B2C e-commerce platforms, where UX is one of the key factors and generates conversions.
The DTM is very effective for projects that require growth and development over time. In fact, the team can remain in its initial composition, and the entire project will move to another stage without having to scale or create another team to support the product.
Another important process is product optimization. Due to evolving technology, such a requirement is vital to maintaining and developing the product.
Cons
Despite the multiple advantages, the use of the dedicated development team model also has low efficiency for short-term projects. While this statement is true to some extent for any method of software development, this model is particularly effective only when applied to long-term projects. When the project is short-term in nature, another development outsourcing model would be better.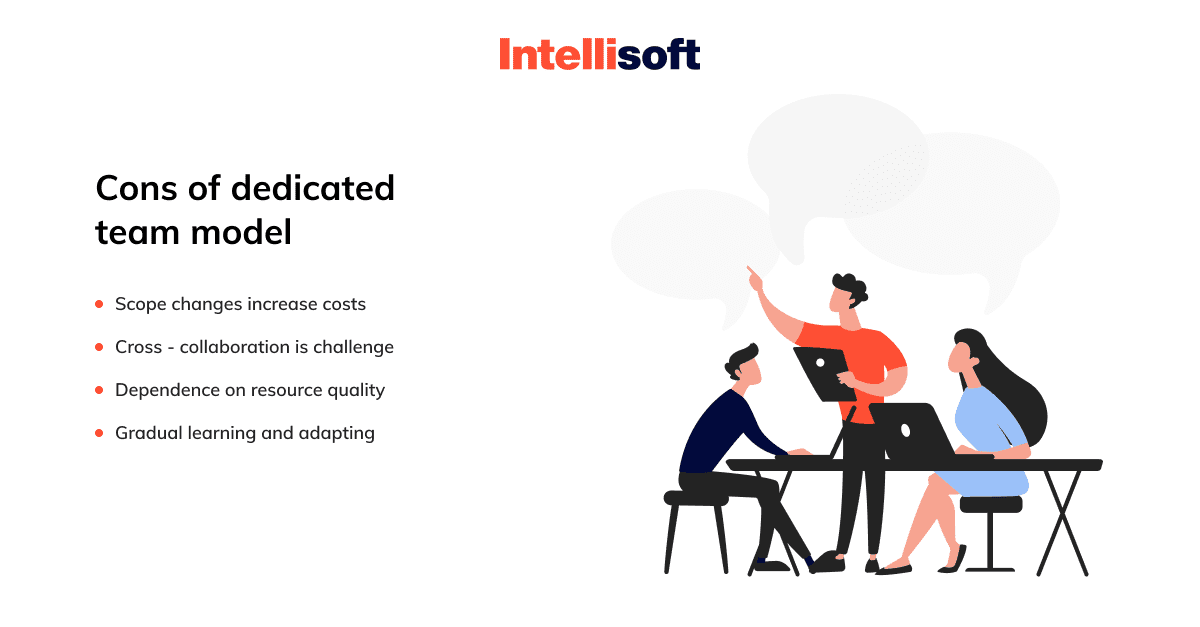 Budget
Budget estimating may seem complicated if you have no experience working with such a model. For basic calculations, rely on the hourly, monthly rates of the team. In case of changes, bring in necessary adjustments to the budget.
Communication
Collaborating remotely implies communication via online tools. Utilize them effectively to ensure smooth communication. An experienced project manager can contribute a lot to this issue. Differences in time zones can provoke some friction, so agree on the working schedule before starting cooperation.
Organization
Get ready for some paperwork, negotiations, calls, and mailing to establish a partnership with a dedicated team provider. Still, this kind of joint venture allows further easy cooperation for your next projects or in case you resume the process.
How to engage a dedicated team? What to start with? If you want to build an intense basement for future thriving cooperation, launch your project fast, and follow our step-by-step formula.
As you can see, the same point can be an advantage and a disadvantage at the same time. For example, look at the Cost/Budget. It depends on how well you approach the process of team selection and where/how you look for the partner.
Where to Look for a Software Development Team
Hiring employees one at a time is not very effective. You need to find your HR, allocate more funds for salaries, wait for weeks or months until the right employees are recruited, etc. Therefore, companies often turn to companies that offer specialists in outsourcing or outstaffing to pull up the working resources for the project quickly.
The best places to look for developers depend on your niche. Let's say you develop video, computer, or mobile games. Then, consider these options:
Game development communities such as TIGSource or IndieDB

Freelance networks such as UpWork

Recruiting agencies that have their own database of programmers and specialize in recruiting IT staff

Communities of online game developers

Internet game development communities like TIGSource or IndieDB (the profiles of experts are not verified but contain info about their members' skills and projects)

Networking at conferences

Social media channels
Apply these points to your industry, and you're there! Perhaps, the best thing you can do is to invite an outsourced agency to help. All the MVPs of the project will be done for you in this case. Many studios offer a well-coordinated team of developers which previously worked on similar products. From custom software development companies to blockchain development teams, there are many places where you can look for IT professionals.
Costs of Hiring Software Development Team
According to statistics, there were 26.4 million programmers worldwide in 2019. This figure is expected to rise to 27.7 and 28.7 million in 2023 and 2024, respectively. These and further statistics are provided by EEWeb.
The rapid development of technology and the increasing complexity of development led to a huge demand for professionals with profound knowledge of IT and development in particular. However, there are not so many professionals on the market. That's why hiring costs grew astronomically, as did the salaries.
Job opportunities in software development will probably increase by 24% in the next five years. This is primarily due to the increasing demand for IT security, healthcare development, and mobile applications. By comparison, all other professions will not show more than 11% in total.
A DT model is popular due to outstanding cost savings, flexibility, and product quality. Clients often choose this approach if they plan to change the scope or requirements in the process. How to estimate time and costs correctly?
Time. Together with a team, make a detailed plan of your project, and split it into sprints with milestones and deadlines. You may spend 3-6 months searching for the right engineers on your own or just a week or two if you turn to IntelliSoft.
Cost. As a DT model implies, the vendor charges you an amount every month. This sum comprises hourly or monthly rates of team members (indicated in your contract) multiplied by hours worked.

Why is it better to turn to an agency like IntelliSoft for a dedicated team than hiring employee by employee on your own? Let's assume, for instance, that you need a senior software developer with relevant experience and skills. The following would be included in the cost:
Annual salary: $94,083 (according to PayScale)

Recruitment agency fees: $20,698

Losses during the hiring process: $33,251
Not as cheap as chips, huh? Well, you know what to do then. However, here comes another question: how should you select the software development team extension company?
How to Choose a Software Development Team
Suppose you want your partner to meet your expectations in terms of quality and terms ultimately. In that case, you need to specify certain standards from the outset for choosing a software development company.
Communication. The desire of both sides to clarify all the nuances with you ensures the comfort of your further cooperation.
Staff training. The supplier should take care of the staff's professional development and provide them with the necessary tools, such as professional certificates, leadership programs, career maps, etc.
Company's size. Medium and large outsourcing suppliers have more resources and candidates. They can easily expand the development team to handle the increasing workload and move people to another project if you need to speed up the process.
Geo-location. Short flight distances, slight time difference, and visa-free travel opportunities are a few benefits that can significantly improve outsourcing partnerships.
Pricing. A dedicated development team (DDT) is the optimal choice for long-term projects with changing requirements.
Expertise. When looking for a certain skill set, you should choose those providers who have developers experienced in this field.
Feedback/Reviews. When choosing a software development firm, visit popular review platforms such as Clutch, GoodFirms, AppFutura, and others to get honest customer feedback on various vendors.
Flexibility. It's vital to choose a software development firm that can keep up with innovation.
Corporate culture. Eastern European software developers share a Western culture, so it is easier for them to work with North American and European businesses.

Signs That You Risk Failing to Meet Your Project's Deadline
Are you worried about meeting your project's deadlines? To overcome the risk of failure, take a closer look at the following.
Sign #1
Your in-house team lacks the required skills to cope with new, large-scale projects or an entire product development cycle. You need software engineers, Scrum Masters, QA professionals, and other experts. Maybe you want your team to focus only on existing tasks.
Sign #2
You don't have enough headcount to cover all the tasks in multiple projects in progress. It doesn't matter whether you wish to launch a brand-new project from scratch or just enlarge your developing capacity; staff augmentation through outsourcing can be a perfect way out. It works best in case of a limited local talent pool, needs for expertise in a particular tech niche, or a quick fix.
Hiring a dedicated team excludes time and money spent searching for the right employees, onboarding, and training, especially with the high turnover rates of the software industry. In a DT model, service providers take care of any unexpected changes and can find an adequate substitution. For you, it can be a real challenge with delays for weeks or months, additional costs, and frustration.
Sign #3
You can't keep hiring the best local IT experts within budget but strive for top-quality products. To find a decent substitution, choose a partner in cost-effective outsourcing destinations like Ukraine. The previously allocated budget will now be enough. According to Statista forecast, this year, small and medium-sized businesses have a 12.3% expenditure increase for IT collaboration, so spend smart!
Sign #4
You want a quick breakthrough allowing flexibility. To gain a competitive advantage, the speedy time-to-market of your app solutions can be your priority or even a critical need. If you see that searching and hiring the team can take longer than actual product development, find a dedicated team to launch the project in a couple of days. Experienced developers will cope better with emergencies, tight deadlines, new skills deployment, and sophisticated tech requirements.
Sign #5
Your inner staff turnover is high. Due to the vast tech professional shortage in many countries, like the USA, the attrition rate remains high. Do your workers leave faster than you manage to employ them? With a partner, it's no longer your headache. The project's milestones, schedule, and structure won't suffer. Vendors are ready to replace the quitted developer with an expert of the same level.
Sign #6
You're fed up with recruitment, training, high salaries, taxes, and other employment drawbacks. All this requires lots of your time. You make enormous efforts and spend money, losing your focus. Your partner may take care of them, allowing you to concentrate on your core business. But is it so smooth? Let's look at the advantages and disadvantages of a dedicated team model.
The Process of Engaging a Dedicated Team
To begin with, you should clearly understand models of work. We have covered and compared two of them in this post: a dedicated team and a team extension. After that, stick to the steps below.
1. Primary arrangements
During the negotiation phase, discuss vital aspects of further cooperation. For sure, you'll adopt some changes later. However, accurate planning and a smooth launch are half of your project's success. First, pay attention to your dedicated team composition and size, professional requirements, like skills, expertise, preliminary schedule, springs, milestones, deadlines, and relocation options. Clarify your project's specifications, and distribute responsibilities. Avoid outdated tech stack solutions and set challenging tasks to reach the maximum.
If you turn to us, we'll determine exactly what tasks you need a team for, how you will need to work, and what results will be achieved. The outcome should be a clear list of requirements for developers for the most accurate selection of the team.
2. Composing a team
Recruiting IT staff is never easy. It's even more challenging to hire a development team remotely based only on their resumes and a few Zoom interviews. However, there are some qualities that can shed light on an applicant's ability to become part of a successful team:
Good engineers are team players.

They are proactive.

They take responsibility.

They strive to go beyond their comfort zone.
Vendors offer prospects from the available talent pool. You must set certain criteria for candidates and participate actively in recruiting. After testing and interviewing together with your partner, select the best match. If you can't find a certain specialist, your service provider will search for them from the labor market to fill this gap.
A typical productive software development team consists of 5-7 employees. This size allows each member to fully immerse themselves in the details of the project and understand the scope, problems, and possible solutions. If there are more than seven specialists on the team, you need to establish guidelines and workflows.
3. Signing a contract
Study a contract before signing it! This way, you'll know both the short-term benefits and the long-term benefits for each side.
When applying for outsourcing, remember that this practice is not associated with the movement of personnel from the contractor's company to the customer's company, so the actual place of work remains the same. The contract should include the following:
A detailed description of services

Deliverables

Payment schedule, often a net-30 basis

Terms and conditions

Insurance requirements

Warranties

Inspection and acceptance

Governing Law

Independent contractor clause

Severability
Choose between the flat-rate outsourcing contract, time and materials contract, fixed price contract, or flexible scope. The names of these contracts say it all.
4. Integration
Help the team members get acquainted with the project details, allocated tasks, communication channels, and working hours. Make final adjustments to your development requirements or approaches, and supervise the adaptation process.
5. Plan time for code writing
When building your development team, remember that technical work requires intense focus and total dedication. Make sure your teams have at least a few hours a day to focus on their core activities.
Create opportunities to focus time on coding by removing major distractions. For example, schedule team meetings for the first half of the day.
You can also create a group-wide rule that the time between 2 and 5 p.m. is sacred programming time, and you can turn off notifications in the communications that you use during those hours.
6. Promote a mentoring culture
Software development, with its dynamic and constantly evolving environment, needs professionals more than any other industry to build expertise, continually evolve, and adapt quickly.
By promoting a culture of mentoring and coaching, companies can encourage leadership and development within their teams. Mentoring is not just for junior employees to learn from senior employees; everyone on the team can learn from each other. Software engineers will continually gain new skills and create shared value for the organization.
7. Promote innovation & continuous improvement
"Innovation often comes not from a single breakthrough idea, but from the constant pursuit of continuous improvement." (c) Elon Musk
When building a development team, promote a culture of innovation and continuous improvement. Medium to large organizations prefer to create innovation management processes and use innovative software. However, if you're a team of ten not ready for the extra expense, keep it simple. Study fresh ideas from your development team, setting up regular discussions to identify areas for improvement. Set aside time for sprint reviews after each iteration.
8. Provide the necessary tools
Make sure your IT team has the tools that will make their work easier and faster. Ask them what software and hardware they lack, and be ready to provide it.
Software development team leaders recommend JIRA, ClickUp, and Trello. They are often combined with other Atlassian tools, such as Bitbucket and Confluence. You can also choose other products, such as Microsoft TFS and VSTS.
9. Monitoring
After onboarding the team, you may have to make some improvements in the development process, like communication scheme tweaks. The vendor often encourages the team to reach the peak of productivity.
10. Backup
Now the project is up and running. Still, some extra work besides the outlined project tasks may occur, like business strategy and analysis, staff provisions, additional paperwork. The vendor is typically in charge of all this, but don't let it loose, too.
11. Upscaling/downscaling
Remain flexible, and balance your team according to needs and circumstances. To speed up or scale up, introduce more developers or particular specialists, like BAs, and PMs, for certain tasks, and stages, or just to enhance coordination. You may reduce your team size gradually before the finish line.
How Does the Professional Team Plan the Project in this Model?
To plan the project effectively:
Clarify your vision, requirements, and desirable deliverables
With your partner, set project specifications, form a team
Split up the whole piece into sprints, assign tasks
Predict possible shrinking or expansion, include it in the schedule and budget estimations
How Does a Dedicated Team Work?
According to your project specifications, a team of dedicated developers with the required skillset is established. You finalize time and cost estimations and sign a legal contract to hire a development team. As a client, you have total control over staff or project management so that your team produces the best deliverables.
When Does a Dedicated Team Fail?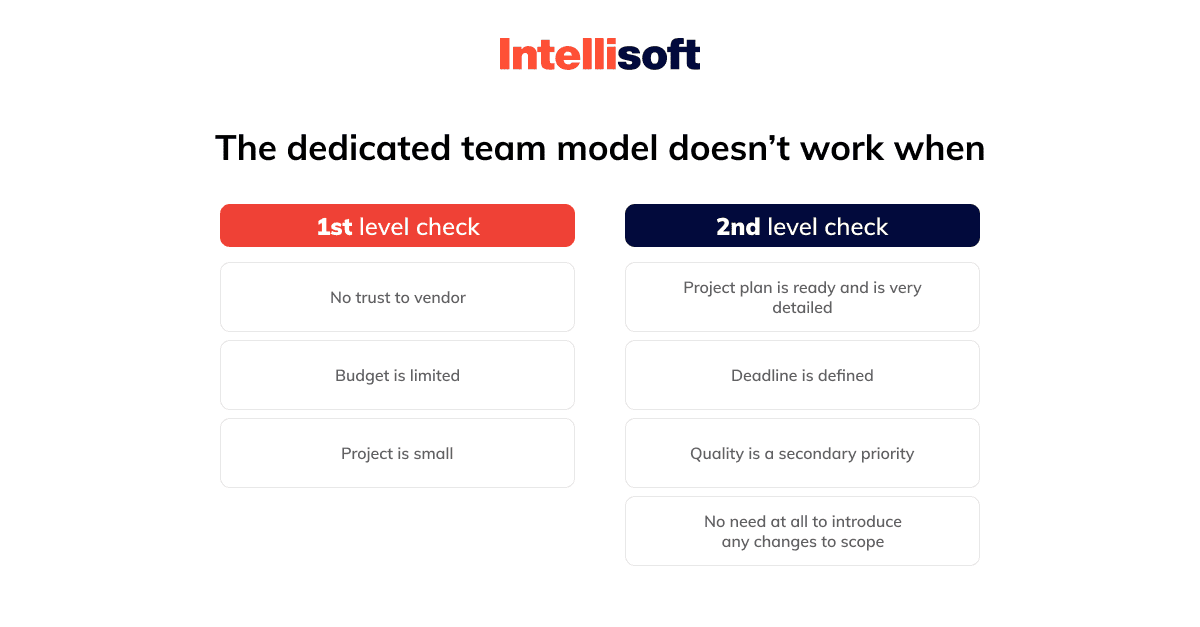 Beware of several points which mean a DT model isn't a perfect fit:
You lack trust in your provider
Your allocated budget is fixed
A small scale
Project details, like plan, schedule, and milestones, are predefined
Quality is not your top priority
The scope will be stable
How Might Your Dedicated Team Look?
The development team composition varies from project to project, but if you are a startup owner, we advise you to find a full-fledged team. It is better to give the project to contractors right away because experienced outsourced teams are usually hard-working and stable. The better the team – the fewer worries. 
The basic composition of a development team is usually as follows:
Project Managers (PMs)

Developers (front-end/back-end, web, mobile)

Designers (UX/UI)

QA engineers & testers

Business Analysts
A DT may also consist of several developers or a crowd of experts, depending on your business needs. If you hire developers with a PM, this person will be your main contact, dealing with management and monitoring operations and staff for you.
PM organizes the work process and keeps in touch with the client. The main goal of the project manager is to implement the client's idea together with the development team timely. The project manager sets tasks, monitors their implementation, and holds regular meetings with the team.
Front-end developers design and implement interfaces. These guys do everything to make it easy for the user to interact with the website or software. Everything you see on this site is the work of a front-end developer/layout designer. Their task is to make the designer's layout with HTML and CSS. They usually know the basics of JavaScript.
Back-end developers are responsible for the website's logic. For example, when you enter a query on a search engine page and press Enter, the front-end ends, and the back-end takes off. Your query is sent to a Google or Yandex server, where the search algorithms are located. This is where all the "magic" happens. As soon as the information you were looking for appears on the monitor, it's back to the front-end zone again. Basically, the server is the same computer, just more powerful. It stores data and responds to user requests.
UI/UX designers are the lords of interfaces, buttons, and wireframes. Design sets the direction of the project, so UI/UX experts are just as important as developers. Without designers, in fact, there would be nothing to create. In most companies, the process of creating an app/site starts with this stage. As a rule, the development team has one designer who performs both roles.
A QA engineer or tester is a person who checks how apps work and looks for all sorts of bugs and vulnerabilities to fix. This specialist is guided by tech documentation as well as common sense. The tester looks at a piece of software not only through the eyes of the developer but through the eyes of the user. That is why they sometimes "interfere" in the development process and offer to add more convenient features to the application. Usually, the tester checks the app itself, its performance, and its appearance, but some other tasks may be added.
Business analysts (optional) handle presales and estimating. At the start of any project, it is important to correctly estimate the time developers, designers, testers, and other team members will need. If a business analyst makes a wrong estimate, their teammates will probably have to work late in the evening and even on weekends.
Final Thoughts
Many experts call a dedicated team the most reliable team extension model. This is achieved through its flexibility, transparency, and 100% payback of the hired team. The model avoids many risks, including overpayments during product creation.
If you have any doubts about whether to hire a dedicated team, remember that you're investing in the future. Experience shows that dedicated experts are proactive, and the solutions they offer can be surprising. Before choosing a third-party vendor, you need to think carefully about your business goal, assess the required resources, and the project's scope and duration.
A dedicated team model can be your win-win scenario. Start now a reliable and productive partnership enjoying the freedom of flexibility, significant budget savings, and top-notch quality.