65% of companies can't find suitable developers, according to a KPMG survey. If you are one of them, change your strategy. Like others, you may face difficulties with your IT team due to a limited talent pool in your area, lack of relevant expertise, and sky-rocketed rates for vetted experts. A dedicated team model can solve these problems and boost your project's pace, scale, quality, and significantly cut costs.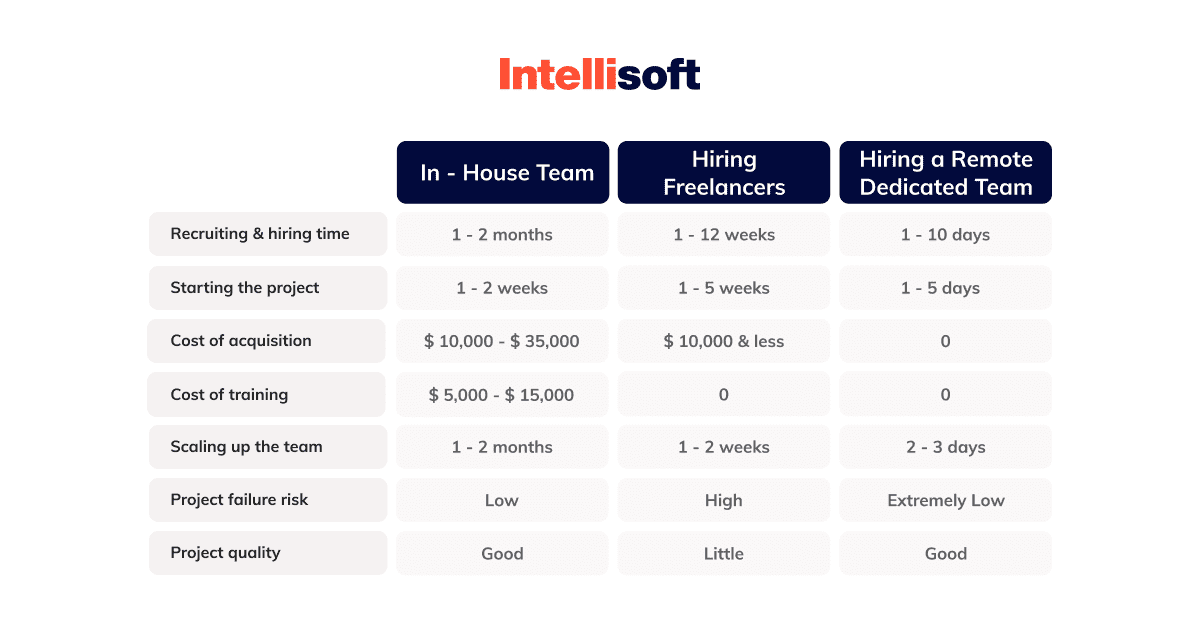 Answer these questions to check if you are ready for a dedicated development team model:
Are you unhappy with a poor choice of talents in your area?
Does your IT team need support or backup?
Are you planning to scale up fast but not sure of your team's capacity to cope with the increasing workload?
Does your in-house staff have insufficient expertise for specific tech project requirements?
With most Yes, continue reading about a dedicated team model concept. It has already become a trend in business strategies, meeting essential business needs: hiring top-notch experts with incredible cost-cutting optimization.
Dedicated Team Model: What It Is
A dedicated team (DT) model is popular for tight cooperation with an outsourcing partner. A team of qualified developers, selected precisely for your project, works exclusively for you. You have control over the authentication of the decision-making process but pay only agreed hourly rates. Luckily you leave all the headaches for the outsourcing partner.
A dedicated team looks like an outsourced development center, saving your budget from overhead costs, expenses for staff training, infrastructure, upgrades investments. Compared to fixed price (FP) or time and material (T&M) models, a dedicated development team is the most flexible and efficient, especially in case:
Your project features large scale, complexity
You're planning or already implementing multiple development projects with a workload exceeding your in-house development capacity
Your vision, desired deliverables are still vague
You are at the discovery stage with uncertain R&D objectives, product requirements
Your current IT team needs staff augmentation, but you'd like to outsource this part of the work
You predict you might change scale or schedule but strive for high-quality software development.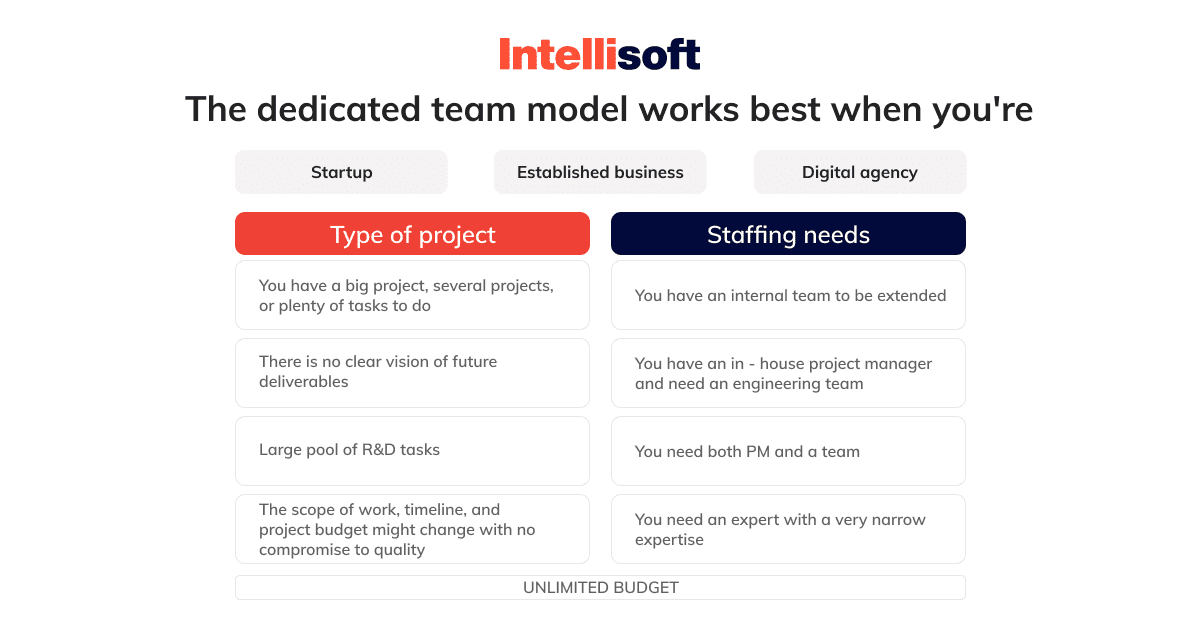 Are you unhappy with your current project's pace? Missed deadlines and milestones signal possible risks. Let's look at some signs and risks of failing your project's deadline.
Where to Look for a Software Development Team
Hiring employees one at a time is not very effective. You need to find your HR, allocate more funds for salaries, wait for weeks or months until the right employees are recruited, etc. Therefore, companies often turn to companies that offer specialists in outsourcing or outstaffing to pull up the working resources for the project quickly.
You can invite an outsourced agency to help. All the MVP of the project will be done for you in this case. Many studios offer a well-coordinated team of developers, which previously worked on similar products. From custom software development companies to blockchain development teams, there are many places where you can look for IT professionals.
How to Choose a Software Development Team
Suppose you want your partner to ultimately meet your expectations in terms of quality and terms. In that case, you need to specify certain standards from the outset for choosing a software development company.
Communication. The desire of both sides to clarify all the nuances with you ensures the comfort of your further cooperation.
Staff training. The supplier should take care of the staff professional development and provide them with the necessary tools, such as professional certificates, leadership programs, career maps, etc.
Company's size. Medium and large outsourcing suppliers have more resources and candidates. They can easily expand the development team to handle the increasing workload and move people to another project if you need to speed up the process.
Geo-location. Short flight distance, slight time difference, and visa-free travel opportunities are a few benefits that can significantly improve outsourcing partnerships.
Pricing. A dedicated development team (DDT) is the optimal choice for long-term projects with changing requirements.
Expertise. When looking for a certain skill set, you should choose those providers who have developers experienced in this field.
Feedback/Reviews. When choosing a software development firm, visit popular review platforms such as Clutch, GoodFirms, AppFutura, and others to get honest customer feedback on various vendors.
Flexibility. It's vital to choose a software development firm that can keep up with innovation.
Corporate culture. Eastern European software developers share a Western culture, so it is easier for them to work with North American and European businesses.

Signs That You Risk Failing to Meet Your Project's Deadline
Are you worried about meeting your project's deadlines? To overcome the risk of failure, take a closer look at the following.
Sign #1
Your in-house team lacks the required skills to cope with new, large-scale projects or an entire product development cycle. You need software engineers, Scrum Masters, QA professionals, and other experts. Maybe you want your team to focus only on existing tasks.
Sign #2
You don't have enough headcount to cover all the tasks in multiple projects in progress. It doesn't matter whether you wish to launch a brand-new project from scratch or just enlarge your developing capacity; staff augmentation through outsourcing can be a perfect way out. It works best in case of a limited local talent pool, need for expertise in a particular tech niche, or a quick fix.
Hiring a dedicated team excludes time and money spent searching for the right employees, onboarding, training, especially with high turnover rates of the software industry. In a DT model, service providers take care of any unexpected changes and can find an adequate substitution. For you, it can be a real challenge with delays for weeks or months, additional costs, frustration.
Sign #3
You can't keep hiring the best local IT experts within budget but strive for top-quality products. To find a decent substitution, choose a partner in cost-effective outsourcing destinations like Ukraine. The previously allocated budget will now be enough. According to Statista forecast, this year, small and medium-sized businesses have a 12.3% expenditure increase for IT collaboration, so spend smart!
Sign #4
You want a quick breakthrough allowing flexibility. To gain a competitive advantage, the speedy time-to-market of your app solutions can be your priority or even a critical need. If you see that searching and hiring the team can take longer than actual product development, find a dedicated team to launch the project in a couple of days. Experienced developers will cope better with emergencies, tight deadlines, new skills deployment, sophisticated tech requirements.
Sign #5
Your inner staff turnover is high. Due to the vast tech professional shortage in many countries, like the USA, the attrition rate remains high. Do your workers leave faster than you manage to employ them? With a partner, it's no longer your headache. The project's milestones, schedule, structure won't suffer. Vendors are ready to replace the quitted developer with an expert of the same level.
Sign #6
You're fed up with recruitment, training, high salaries, taxes, and other employment drawbacks. All this requires lots of your time. You make enormous efforts and spend money, losing your focus. Your partner may take care of them, allowing you to concentrate on your core business. But is it so smooth? Let's look at the advantages and disadvantages of a dedicated team model.
Pros & Cons of Dedicated Team Model
Undoubtful perks of cost-saving and high flexibility of this model can lose brightness in front of responsibility for all the risks and communications. However, you'll double or triple the benefits with an upmarket service provider like Intellisoft, avoiding the pitfalls. Before you jump into the water, study everything in detail.
Pros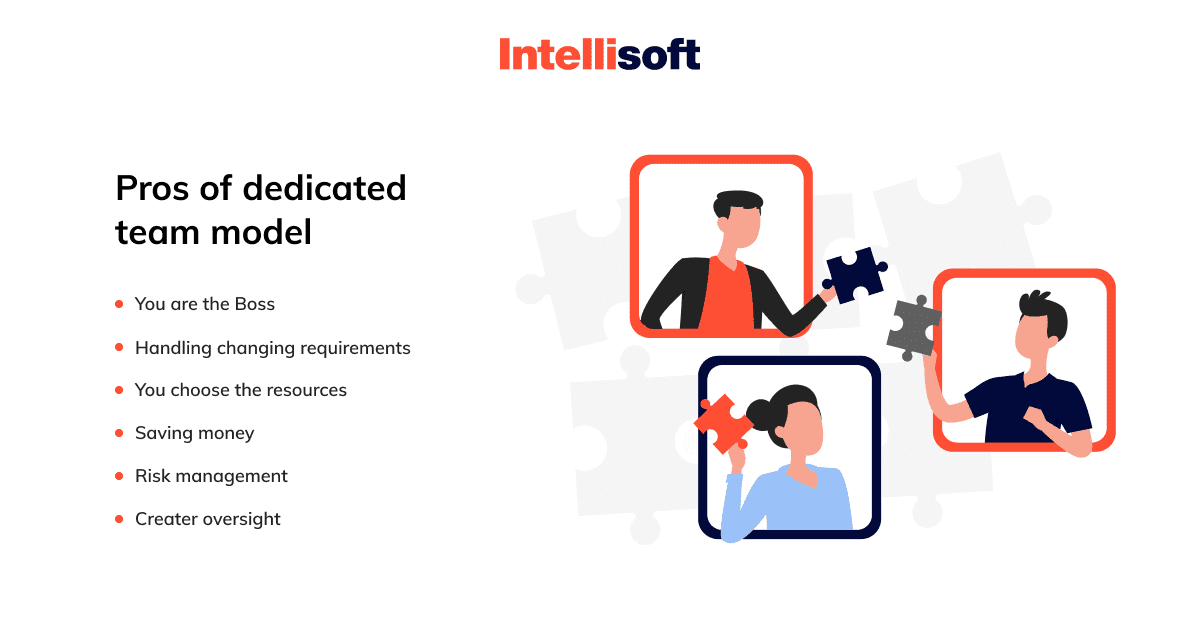 Team
Staff augmentation companies can easily provide you with a top-notch team of talented, experienced developers.
Costs
Collaborating with a DT reduces costs as you pay less than your regular in-house employees. The hourly or monthly rates usually relate to the labor market of a cost-effective outsourcing destination and seem very attractive.
Flexibility
Being dynamic means being intelligent and cost-effective. You are free to add new members to the team if you want to speed or scale-up. You can cut your costs by reducing the headcount. With your permanent in-house developers on the payroll, fast or temporary shrinking or extension isn't possible.
Speed
Take the lead to gain a competitive advantage over your rivals or a bigger market share. You can increase the number of dedicated members to speed up. Vendors form a product team in several days, and you'll waste months picking up the right staff. Last but not least is the speed of work gained from experience on multiple projects and from double-checking. Team members are accountable to both a vendor and you as a client.
Cons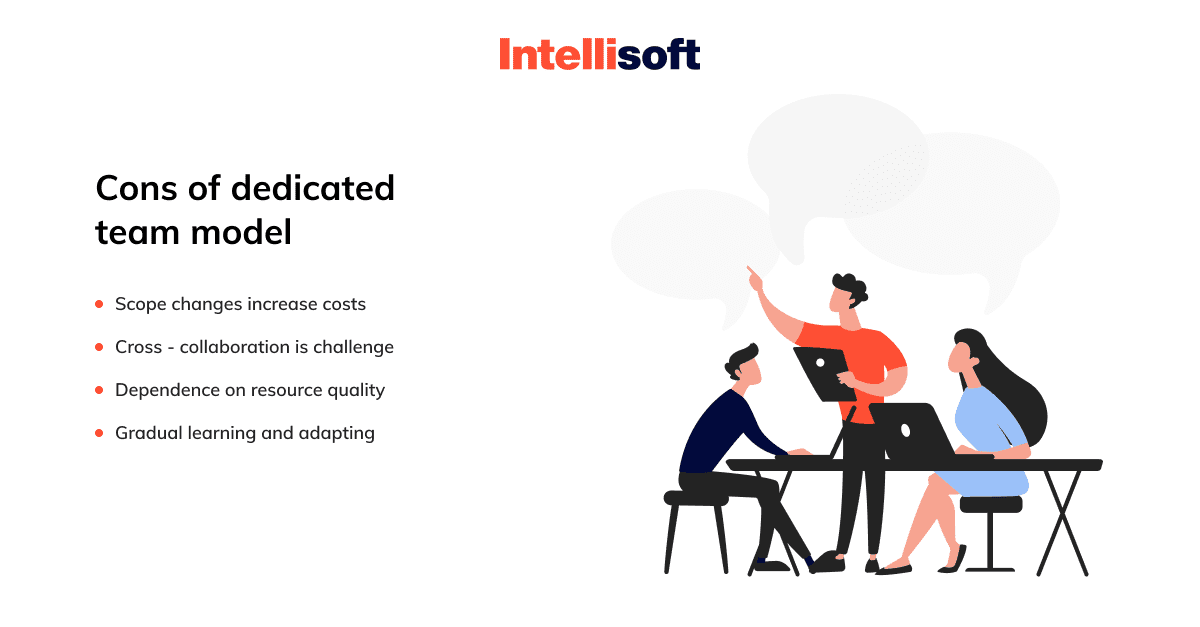 Budget
Budget estimating may seem complicated if you have no experience working with such a model. For basic calculations, rely on the hourly, monthly rates of the team. In case of changes, bring in necessary adjustments to the budget.
Communication
Collaborating remotely implies communication via online tools. Utilize them effectively to ensure smooth communication. An experienced project manager can contribute a lot to this issue. Differences with time zones can provoke some friction, so agree on the working schedule before starting cooperation.
Organization
Get ready for some paperwork, negotiations, calls, and mailing to establish a partnership with a dedicated team provider. Still, this kind of joint venture allows further easy cooperation for your next projects, or in case you resume the process.
How to engage a dedicated team? What to start with? If you want to build an intense basement for future thriving cooperation, launch your project fast, follow our step-by-step formula.
The Process of Engaging a Dedicated Team
1. Primary arrangements
During the negotiation phase, discuss vital aspects of further cooperation. For sure, you'll adopt some changes later. However, accurate planning and smooth launch are half of your project's success. First, pay attention to your dedicated team composition and size, professional requirements, like skills, expertise, preliminary schedule, springs, milestones, deadlines, relocation options. Clarify your project's specifications, distribute responsibilities. Avoid outdated tech stack solutions and set challenging tasks to reach maximum.
2. Composing a team
Vendors offer prospects from the available talent pool. You must set certain criteria for candidates, participate actively in recruiting. After testing and interviewing together with your partner, select the best match. If you can't find a certain specialist, your service provider will search for them from the labor market to fill this gap.
3. Signing a contract
When applying for outsourcing, remember that this practice is not associated with the movement of personnel from the contractor's company to the customer's company, so the actual place of work remains the same.
4. Integration
Help the team members get acquainted with the project details, allocated tasks, communication channels, working hours. Make final adjustments to your development requirements or approaches, supervise the adaptation process.
5. Monitoring
After onboarding the team, you may have to make some improvements in the development process, like communication scheme tweaks. The vendor often encourages the team to reach the peak of productivity.
6. Backup
Now the project is up and running. Still, some extra work besides the outlined project tasks may occur, like business strategy and analysis, staff provisions, additional paperwork. The vendor is typically in charge of all this, but don't let it loose, too.
7. Upscaling or downscaling
Remain flexible, balance your team according to needs and circumstances. To speed up or scale-up, introduce more developers or particular specialists, like BAs, PMs, for certain tasks, stages, or just to enhance coordination. You may reduce your team size gradually before the finish line.
How Does the Professional Team Plan the Project in this Model?
To plan the project effectively:
Clarify your vision, requirements, desirable deliverables
With your partner, set project specifications, form a team
Split up the whole piece into sprints, assign tasks
Predict possible shrinking or expansion, include it in the schedule and budget estimations
How Does a Dedicated Team Work?
According to your project specifications, a team of dedicated developers with the required skillset is established. You finalize time and cost estimations and sign a legal contract to hire a development team. As a client, you have total control over staff or project management so that your team produces the best deliverables.
When Does a Dedicated Team Fail?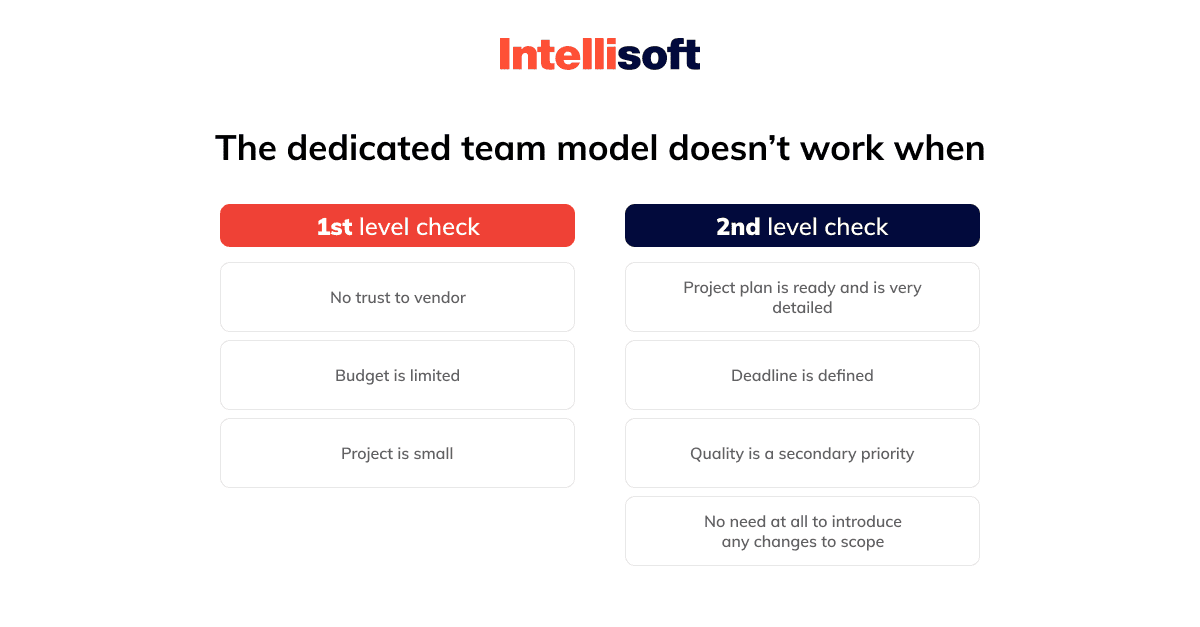 Beware of several points, which mean a DT model isn't a perfect fit:
You lack trust in your provider
Your allocated budget is fixed
A small scale
Project details, like plan, schedule, milestones, are predefined
Quality is not your top priority
The scope will be stable
How Might Your Dedicated Team Look?
The perfect image of a DT includes:
Developers (frontend/backend, web,mobile)
Designers (UX/UI)
Artists (2D/3D)
QA engineers
Testers
DevOps engineers
Business Analysts
Project Managers
A DT may also consist of several developers or a crowd of experts, depending on your business needs. If you hire developers with a PM, he'll be your main contact, dealing with management and monitoring for you.
Costs of Hiring Software Development Team
A DT model is popular due to outstanding cost savings, flexibility, and product quality. Clients often choose this approach if they plan to change the scope or requirements in the process. How to estimate time and costs correctly?
Time
Together with a team, make a detailed plan of your project, split it into sprints with milestones and deadlines.
Cost
As a DT model implies, the vendor charges you an amount every month. This sum comprises hourly or monthly rates of team members (indicated in your contract) multiplied by hours worked.

Final Thoughts
A dedicated team model can be your win-win scenario. Start now a reliable and productive partnership enjoying the freedom of flexibility, significant budget savings, and top-notch quality. Intellisoft will turn your ideas into an amazing solution! Contact now for more details.