OpenAI, a famous American research and deployment company, introduced the GPT-3 in late May 2020. The solution was built for texting with a small sample size. 570 gigabytes of text, or 175 billion parameters, were used to test the model. The GPT-3 can translate, produce poetry, decipher anagrams, and respond to inquiries about the content it's reading.
According to a statement from OpenAI, it introduced the GPT-3 text generation API due to advancements in security. Developers could register and start testing GPT-3 demo right away. Open AI vets apps with GPT-3 before launching them, monitors their misuse, and supports developers in scaling products. The company has also promised that as security improves, it will expand the use of GPT-3.
In general, the main idea of this innovation is to show how well it can handle the work that humans usually do. Find out more about OpenAI's GTP-3, its role in artificial intelligence, common usages, benefits, and more.
The IntelliSoft team has vast experience in training AI and integrating models. Thus, in case you need to hire an experienced AI developer, we are always here to give a helping hand.
What Is ChatGPT?
GPT-3 (Generative Pre-trained Transformer 3) is OpenAI's largest and most advanced language model. It can logically complete a narrative, write lengthy research papers on a specific topic, compose poems, and translate texts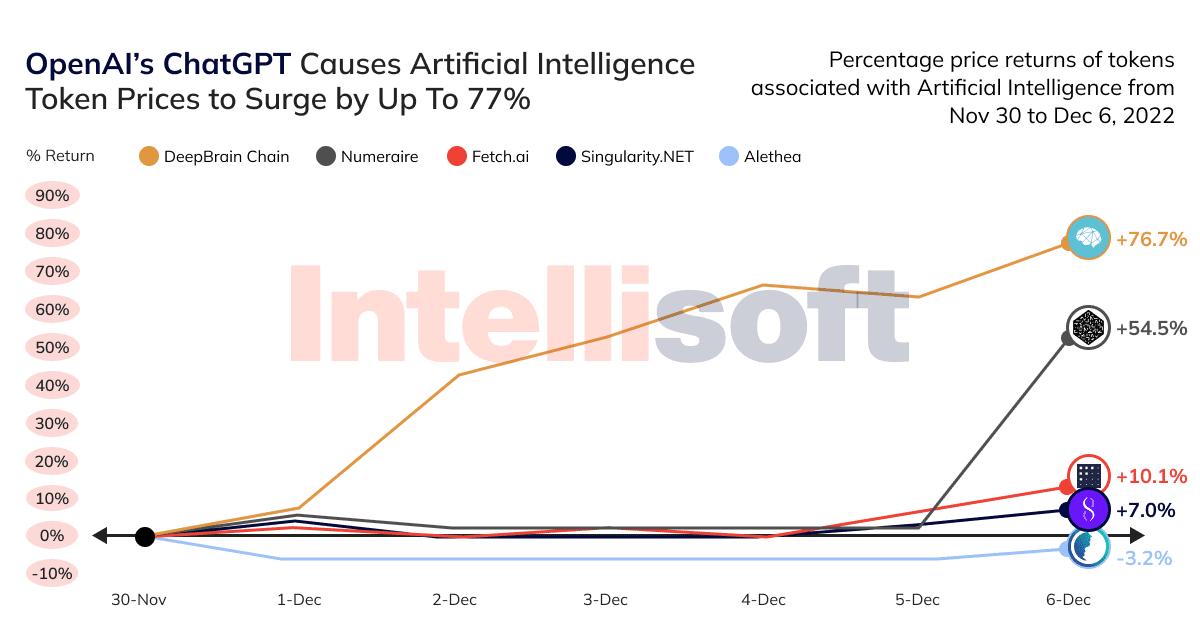 This neural network is part of the third generation of natural language processing models with the so-called transformer architecture, first presented in 2017 by Google Brain researchers. Transformer networks, which work similarly to language models but have a different architecture, predict which words will appear in a text. Such networks accomplish this faster and with less processing power than their predecessors. They are excellent at remembering complex word dependencies and even better at extracting the most important words from context.
Unlike its predecessors, GPT-2 and GPT-1, GPT-3 has no training dataset or source code. The medical industry has already tested this approach to interacting with patients. Some improvements are still needed, so Open AI is about to release GPT-4 in the near future.
How to Use GPT-3?
GPT-3 makes use of unsupervised learning. It's capable of meta-learning (learning without prior instruction). The GPT-3 training corpus is a dataset of the common-crawl type. It contains 45 TB of textual data downloaded from the Internet. The human brain has 10-100 trillion model parameters, whereas GPT-3 has 175 billion.
Natural language processing is the most obvious option when it comes to GPT-3. It deals with computer analysis and synthesis of texts, using a language model to create texts for commercial purposes. Several solutions based on OpenAI's neural network have already been launched, such as email and ad-writing services.
The main highlight of GPT-3 chatbot is its huge data corpus and endless learning possibilities. Learning itself is not subject-specific, but it allows the algorithm to understand how to do any subject-specific task. Ask the algorithm to write a SQL query, and it can do it. Ask it to help compose a text on a sports topic – it can also do it.
​​The GPT-3 works better with multiple frames of instructions: when a user gives a prompt and some examples. Imagine you gave a few books to a freshman and asked them to answer relevant questions. Sometimes they succeeded, and sometimes they failed. So you keep giving more and more books to that person, asking more questions to improve their skills and knowledge. They do this by familiarizing themselves with new materials and looking at examples.
The GPT-3 is learning all the time. It's the best algorithm in the field of AI. However, this GPT model can't behave exactly the same way humans do. GPT-3 learns from the Internet. It can mimic natural language, but when it comes to natural thoughts, the AI still fails. There is a fine line between natural language and natural thought. GPT-3 chatbot has proven that scaling a language model can improve the accuracy of statements. To use language identical to human language, a machine needs a considerable amount of data, not a soul.
You may also like:
The Difference Between ChatGPT and GPT-3
Both language processing models apply deep learning to generate content similar to what a human being would write, making them particularly effective for various language processing tasks. Nevertheless, despite their common features, they differ enough to be useful for various purposes.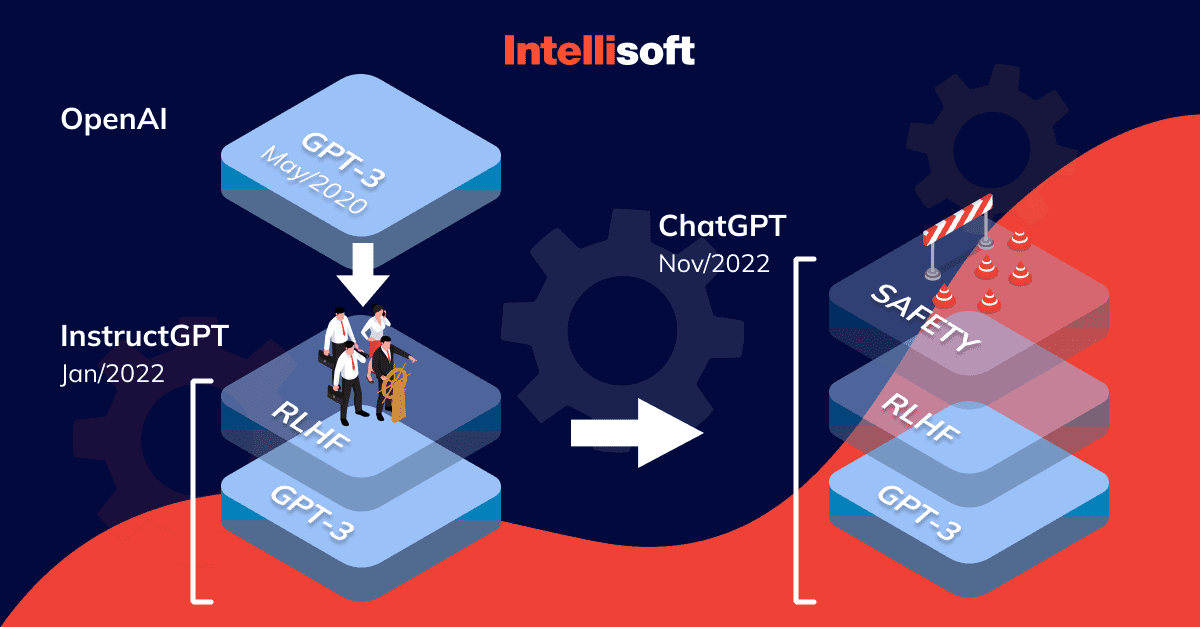 Contrarily, ChatGPT is significantly lower than GPT-3 in terms of file size. However, because ChatGPT generates responses more quickly than the former due to its conversational architecture, it's more suited to real-time chatbot applications.
The GPT series was created to enhance the performance of language generation models by training them on substantial data sets and optimizing for certain tasks and apps. Contrarily, ChatGPT was designed as a GPT-3.5 variation for incorporation into chatbots and other conversational systems. ChatGPT has appeared to be quite effective in producing pertinent and cogent responses in a number of circumstances.
Because ChatGPT was developed expressly for chatbot apps and was optimized on a dataset of conversations created for online chatbot AI software, it produces higher-quality responses to user input in a conversational setting.
GPT-3 processes up to 500 billion words and numbers using vast amounts of training data and deep learning tech to produce human-like responses. Businesses can tailor these responses to their specific requirements using the model's simplified API.
ChatGPT was created with chatbot AI and conversational system solutions in mind. The model can respond to follow-up questions in detail, reject inappropriate suggestions, dispute unfounded claims, and admit mistakes in general.
To sum up, ChatGPT is a GPT-3 variant explicitly designed for online chatbot AI applications. It is not as powerful as GPT-3 in terms of performance, but it's better suited for chatbot applications. It is also faster and more efficient than GPT-3, making it a better choice for real-time chatbot systems. Overall, ChatGPT and GPT-3 are both powerful language models, but they have different purposes, strengths, and weaknesses.
Does Your Business Need Chat GPT?
GPT-3 has a variety of applications. For instance, copywriters can significantly speed up their job using AI-powered paraphrasing tools. Its algorithm is fundamentally different from other artificial intelligence models created for a single purpose, for which all parameters and datasets are initially sharpened.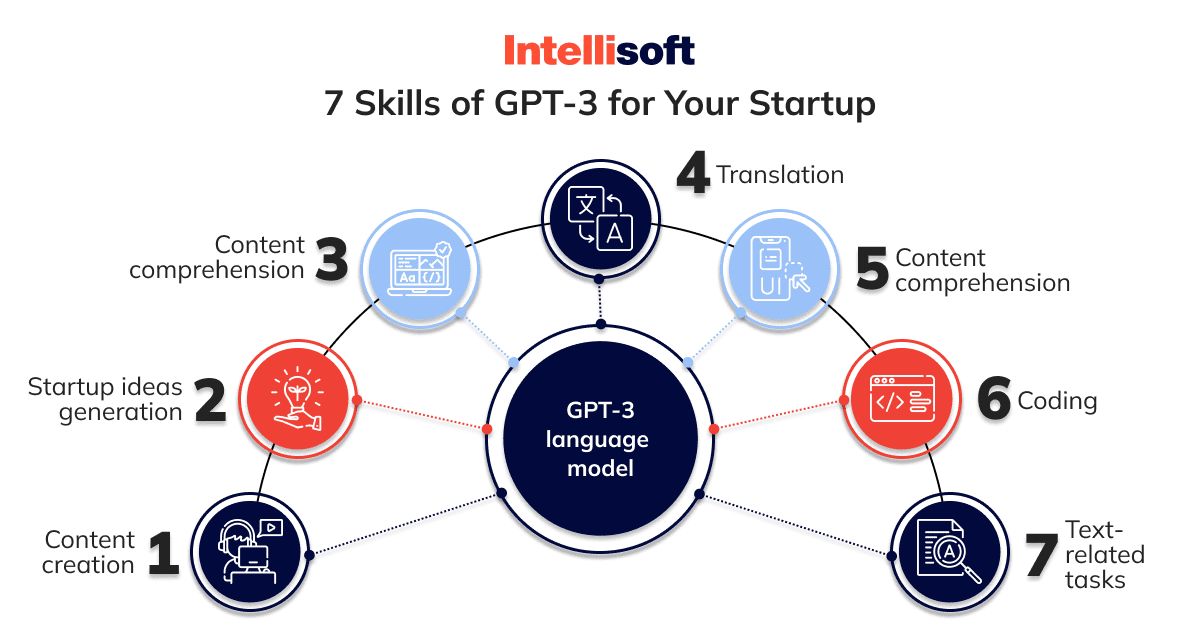 GPT-3 chatbot is more flexible than its predecessors. Instead of re-training on additional data, it's enough to express the problem as a text query, description or examples. Look at the main features of GPT-3 to see how it can be useful for your business needs.
Translations
Did you know that ChatGPT is way better than any translator? You can produce translations and texts with different emotional tones, accents, professional slang, and jargon. You also can use this solution for automated translation of the texts on the site and localization of its interfaces. The tool recognizes more than 95 languages.
Content Development/Generation
ChatGPT can be used to generate ANY content for your product, especially if the content is a service (feature) of your product.
Newsletters, articles, blog posts, brief excerpts from books/articles/studies, game scenarios, case studies, and market analytics – ChatGPT cracks it all like nuts and produces content on any topic in seconds. Both internal and external marketing benefit from this solution.
Data Processing
With ChatGPT, it's possible to automatically extract useful information from any amount of data and sources and analyze, sort, and prioritize them. Apply ChatGPT to assess your user feedback and improve your product.
Moreover, CharGPT can refine requests/questions from users, expanding their responses and collecting more user data, which you can then use to tailor the product functionality to the individual needs of any cohort of users. It's like saying "hi" to hyper-personalization!
Data Validation
Checking data correctness is the easiest thing ChatGPT can do for your product. Say no to typos, inaccurate data, and crooked user searches – ChatGPT can check texts in any language and offer corrections, reducing irrelevant responses and related rejections.
E-Learning
GPT-3 chatbot can provide individualized tutoring or quick, concise answers to various questions that students may face. This can greatly improve the interaction and involvement of students' digital instructions (guides).
Additionally, because ChatGPT can handle enormous volumes of data, it can provide students with accurate and timely data to help them learn and recall new material.
Chatbots
Developers may use ChatGPT to create chatbots that comprehend and respond to human input naturally and intuitively. A GPT-3 chatbot can be programmed to do a variety of functions, including answering customer questions, directing clients through an online business, and connecting with users on social media.
Because ChatGPT makes it possible for developers to create chatbots, they can seamlessly be integrated into platforms and applications, making them an invaluable tool for businesses trying to improve customer interactions and optimize their business operations.
Virtual Assistants
Companies can use ChatGPT to build virtual assistants that can perform a variety of tasks for users, such as travel booking, appointment scheduling, and making recommendations based on user preferences. For instance, a lawyer may use GPT-3 to schedule a call or face-to-face meeting with the client so that both feel comfortable with the time and should not attend the physical office.
Natural language processing capabilities of virtual assistants, such as ChatGPT, improve productivity and convenience. They are capable of comprehending and responding to user requests in a human-like manner and providing accurate, relevant recommendations. Users can talk to GPT-3 just like they would to a real person.
Customer Care
ChatGPT has an API, which means it can be linked to your current chat consultant or ticketing system to simulate and automate responses to frequently asked questions (FAQ) by users. This way, support managers will be transformed from key-knockers into teachers-operators of correct answers.
SMM
ChatGPT is an excellent choice for managing social media accounts because it understands and responds to social media interactions in a natural and human-like manner. As a result, a company's social media presence will be significantly enhanced, as will its relationship with customers.
Furthermore, because ChatGPT can generate texts that sound like human speech, it can create engaging and relevant social media content, saving businesses time and effort in content creation.
Pros & Cons of Using GPT-3
GPT-3 is currently in closed access, as developers fear the harm it can cause. Still, today, the model is used by more than three hundred applications: online support services, chatbots, and games. Business, as a rule, uses GPT-3 to write various texts: newsletters, blog posts, advertisements, etc. However, the neural network can still make mistakes, give false arguments, or generate texts unrelated to reality. Let's consider the benefits and drawbacks of GPT-3 from Open AI.
Advantages
As developers admit, GPT-3 can be used to solve basically "any problem in English." What exactly do they mean? How can you benefit from implementing GPT-3?
Generating large amounts of text. The smart tool will generate dozens of text fragments. You just need to enter the data. For instance, input the text to translate or rewrite. It will save you so much time compared to if you would do it manually.
Including multiple use cases. With GPT-3, one can generate and implement a variety of ideas. However, a creative aspect is not the only one. GPT-3 also allows for processing data arrays, calculations, and statistics. Companies may use this technology to create software and machines like search engines. Finally, GPT-3 may serve as a personal assistant, trainer, online chatbot AI, companion, mentor – whatever.
Demonstrating the power of AI. As an artificial intelligence and machine learning tool, GPT-3 allows you to write texts and letters and create mailing templates in seconds. You just need to select the types of text content, enter the company's name, and describe your product in a few phrases.
Bringing new business opportunities. The main advantages of GPT-3 for businesses are low niche entry and no competition. This will not always be the case: there are more startups every day, and as the number of clients grows, so do the costs of API calls. In spite of this, the possibilities of GPT-3 application are almost limitless.
Limitations
Slow inference time. GPT-3 also has a slow inference time because the model takes a while to produce findings.
Limited explainability. The shortcomings of many neural networks, including GPT-3, include their inability to interpret and explain why particular inputs lead to particular outputs.
Restricted input size. The input size of transformer topologies, including GPT-3, is constrained. A user cannot input a large amount of text for the output, which can restrict some apps. The prompt limit for GPT-3 is roughly 2,048 tokens.
Restricted pre-training. Transformer topologies, such as GPT-3, are restricted in their input size. Some apps may be constrained by the inability of users to submit vast amounts of text for the output. For GPT-3, the prompt limit is approximately 2,048 tokens.
Also, keep in mind that even though GPT-3 excels in mimicking the style of human-generated text, in many applications, it struggles with factual accuracy. You can first try GPT-3 online free services to see if this solution works well for your needs.
Tips & Tricks for Using Chat GPT-3
As experts with solid experience in using GPT-3, we came up with some hints you may find helpful.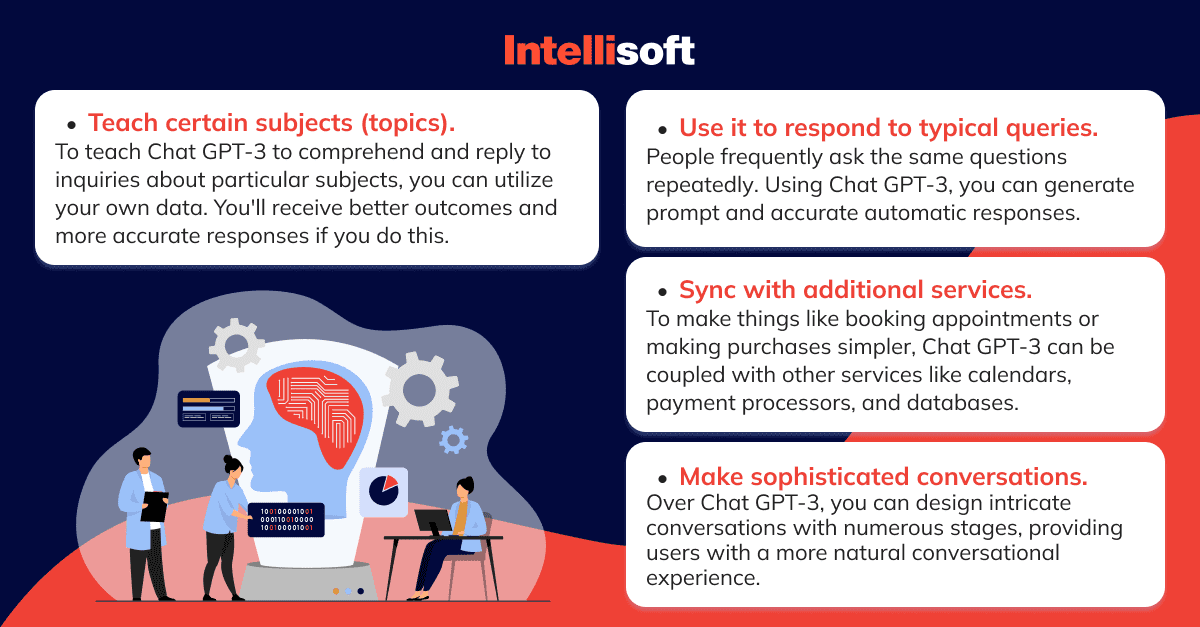 Hiring IntelliSoft For GPT-3 Implementation
Do you need a human-machine interface? We can do that. Are you looking for highly-interactive bots to communicate with your customers? Our specialists know how to do that as well. You can turn to IntelliSoft to optimize your business operations. Our team assists businesses with creating AI-based solutions like GPT-3 chatbot or adding corresponding features to their current projects.
Our services work this way:
We collect your requirements to understand who will fit your project perfectly.
We select the best candidates from our talent pool to implement your ideas.
The chosen specialists get involved in your business. We discuss all the nuances – and launch the project.
With our reports sent regularly, you'll be in full control over the process. We also provide post-support and maintenance. Give us a call or send us a message to get started!
FAQ