Time passes, and everything changes. You must continually be updated with new ideas and innovative concepts to stay competitive. After all, many statements that once contradicted earlier classical theories and hypotheses later became mainstream after testing them in practice. They themselves became classics. The MVP has become such an idea.
The Minimum Viable Product (MVP) projects have been used in startup marketing and building for nearly 20 years. This type of Lean Startup methodology contrasts sharply with the traditional method of product or service development in the background style, in which businessmen draw up a detailed business plan covering an extended period, spending significant resources on this process.
The idea of MVP is quite mainstream, and many IT developers and startups are working with it. We at IntelliSoft have been using it constantly and for a long time. For MVP features example, we developed the Daintel project as MVP. In this article, we would like to talk about prioritizing the features of a product or service before releasing its MVP.
MVP features Prioritizing Model at IntelliSoft
What does mvp mean in software development? An MVP is more than just a prototype but less than what a product can become in the future. This model challenges old ideas about developing a service or product that can be earned. The reason is simple – the fear of making mistakes.
Often this fear is justified. After all, an idea remains just an idea until it is implemented. It takes hundreds of hours of work and thousands of dollars to make it materialize. And it's a shame if these resources are wasted. Therefore, in 2001, Stephen Blank and Eric Rice came up with the idea of ​​a kind of "pilot." A product with a minimum set of features is released to the market. The primary target audience of such a sample is active fans – people who, for various reasons, buy something innovative first and, at the same time, are not very demanding on quality.
After this stage of market promotion, it is much easier to conduct initial market research to collect the opinions of a kind of focus group. After processing this to decide whether it is necessary to continue the activities of this startup at all and, if so, what mistakes to take into account, and also what to add to it?
The Beast Called Feature Prioritization
The primary reason startups fail is the lack of need for them in the market. Therefore, such businesses cannot obtain a sufficient level of profit to recoup the initial investment. From this point of view, an MVP is something that will prove the viability of a particular idea.
An MVP in business is actually analogous to an experiment in science. It is helpful for startups that are more concerned with searching for potential opportunities for entrepreneurship than with implementing a ready-made isolated business model.
In this context, the question of choosing those features of a product or service that will be included in the set of a minimally viable product comes to the fore because developers have no right to make a mistake.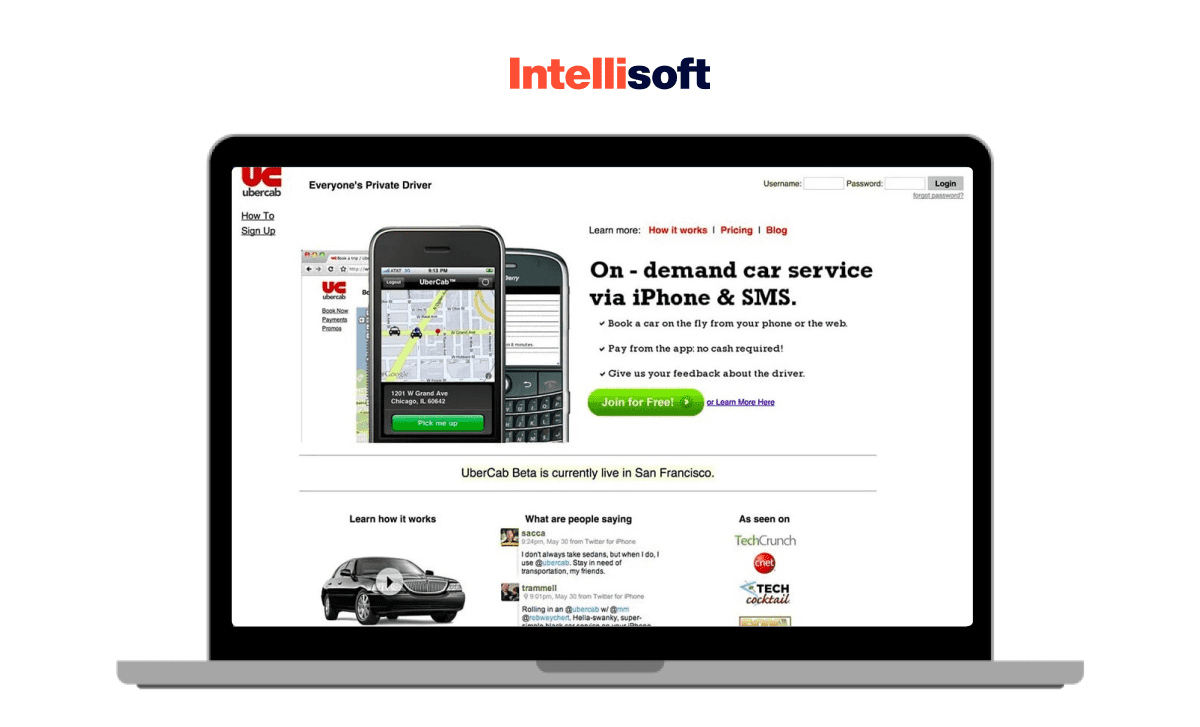 Uber is a striking example of an MVP. Think of how many different innovative functions this application now contains. The service was targeted at residents of San Francisco and New York. At the beginning, there were only three functions. All willing customers could join UberCab (as their MVP was called) by emailing one of the founders. It all started with three cars. The second function was booking a trip on the app. The customer had to enter their location (or send an SMS), and Uber would send the car upon request.
Lifehacks of Prioritizing Features for MVP
When developing an MVP you need to know the methods for prioritizing features. Below we will explain them in more detail.
Numerical Assignment
Here is the first of the two easiest methods. Its second name is grouping because it is necessary to divide all functions into three groups. These are additional, moderate, and high priority, or call them something else. The point is the same.
Then assign a number to the functions of each group. Only high-priority parts should enter the MVP. But all stakeholders must agree to this status.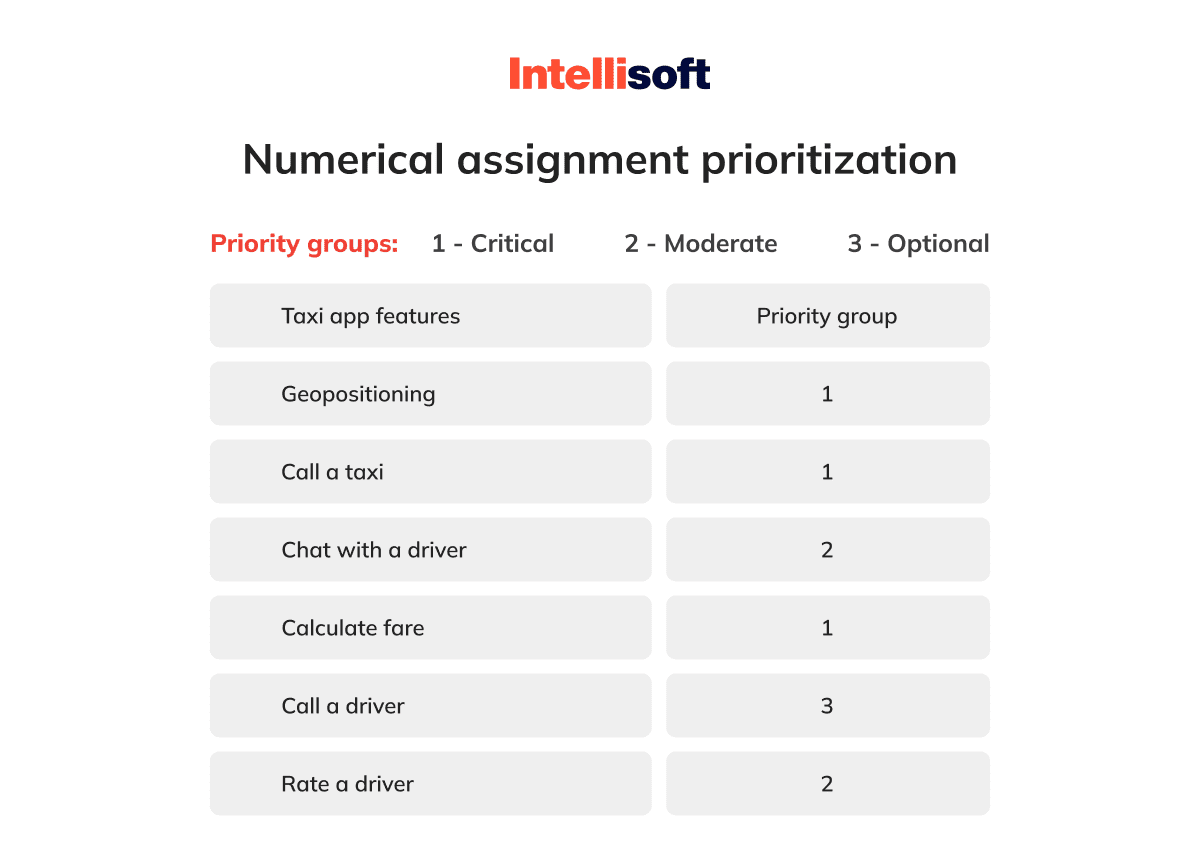 Then there is a second method.
Bubble Sort
This method is as easy as bubbles in a winner's champagne glass: it is iterative. During brainstorming, the presenter divides all functions into pairs.
After that, a detailed one-to-one comparison of each item is conducted.
After the first round, the winners of the pairs are compared with the winners and the losers – with other losers.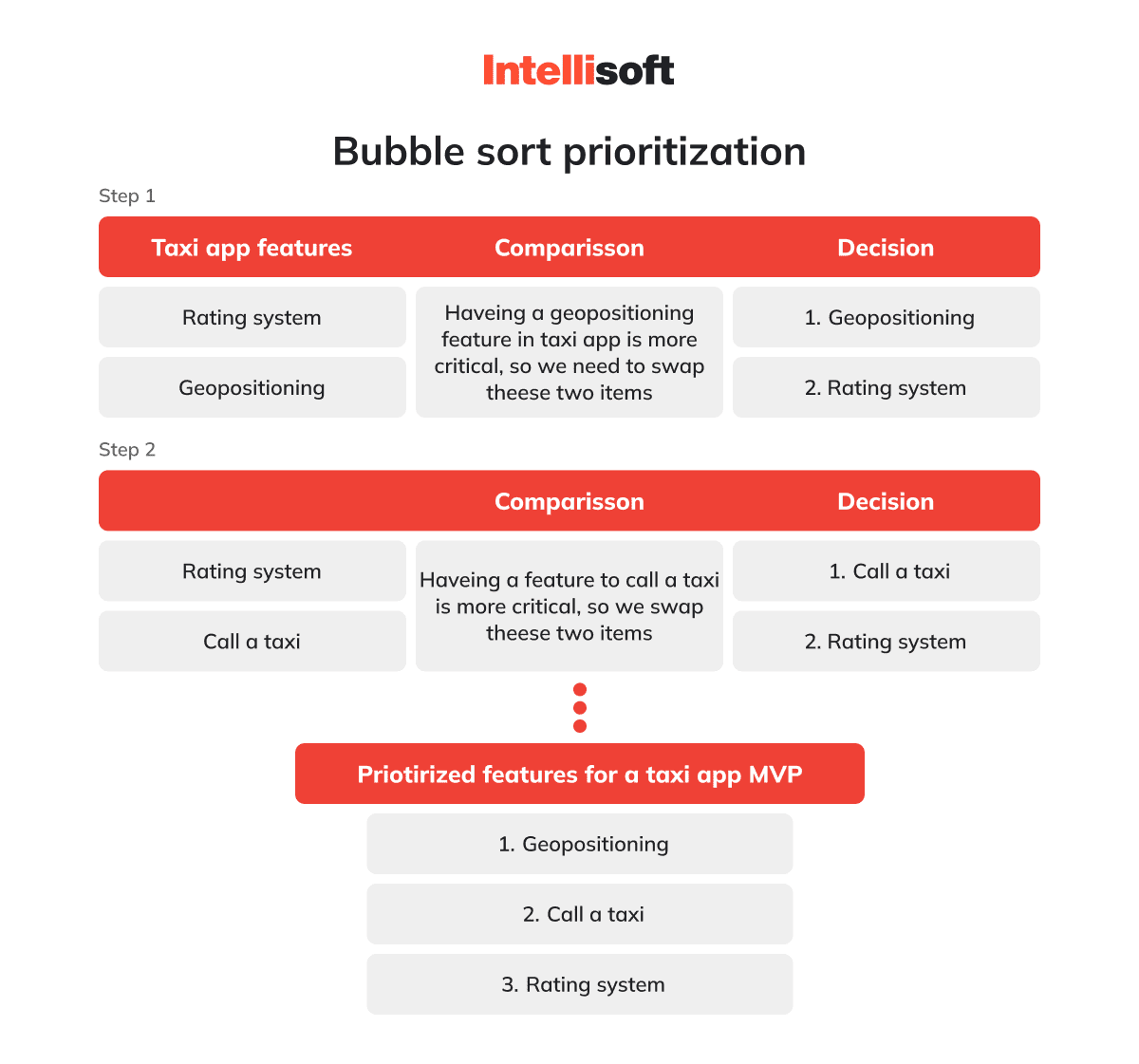 And so on until we find several champions. In this way, the most valuable functions are prioritized, rising to the top like gas in drinks.
The Ways IntelliSoft Influence Product Features
Don't forget that any MVP approach can be very creative.
Speed Boat
Speed boat is the first of a whole series of Agile methods. We will talk about others below. The selection here takes place through the game of stakeholders.
Imagine your product as a boat that is rushing towards its final destination – the island. Now it is looking for the most optimal way there. And here, it is necessary to determine the functional capabilities that accelerate its movement.
It has sails – essential functions to solve the user's pains. Also, the boat has anchors – parts that inhibit movement while not having fundamental importance for the product's operation.
So, the brainstorming task is to determine which functions are the sails of your boat, and which are the anchors.
Opportunity Scoring Technique
This method is not the cheapest, but it is a must-have in prioritizing features for your MVP. After all, with its help, you will know your earliest users better.
This survey of your potential customers focuses on the performance of competing products. The task of the researcher is to identify two lists. First, a list of the most critical features of the product. Second, the list with low satisfaction ratings. After comparing these two lists, you have a third – with features that received both a low satisfaction and a high importance rating.
If you implement quality reproduction of the functions from the third list, you will get many potential customers, bypassing the competition.
Actors and Their Key Roles in Feature Prioritization
A project MVP must be discussed and considered from all sides.
User Story Mapping
This is another method that most Agile teams like to use. Interestingly, all professionals related to the product are involved in the work here: developers, marketers, salespeople, designers, product managers, etc.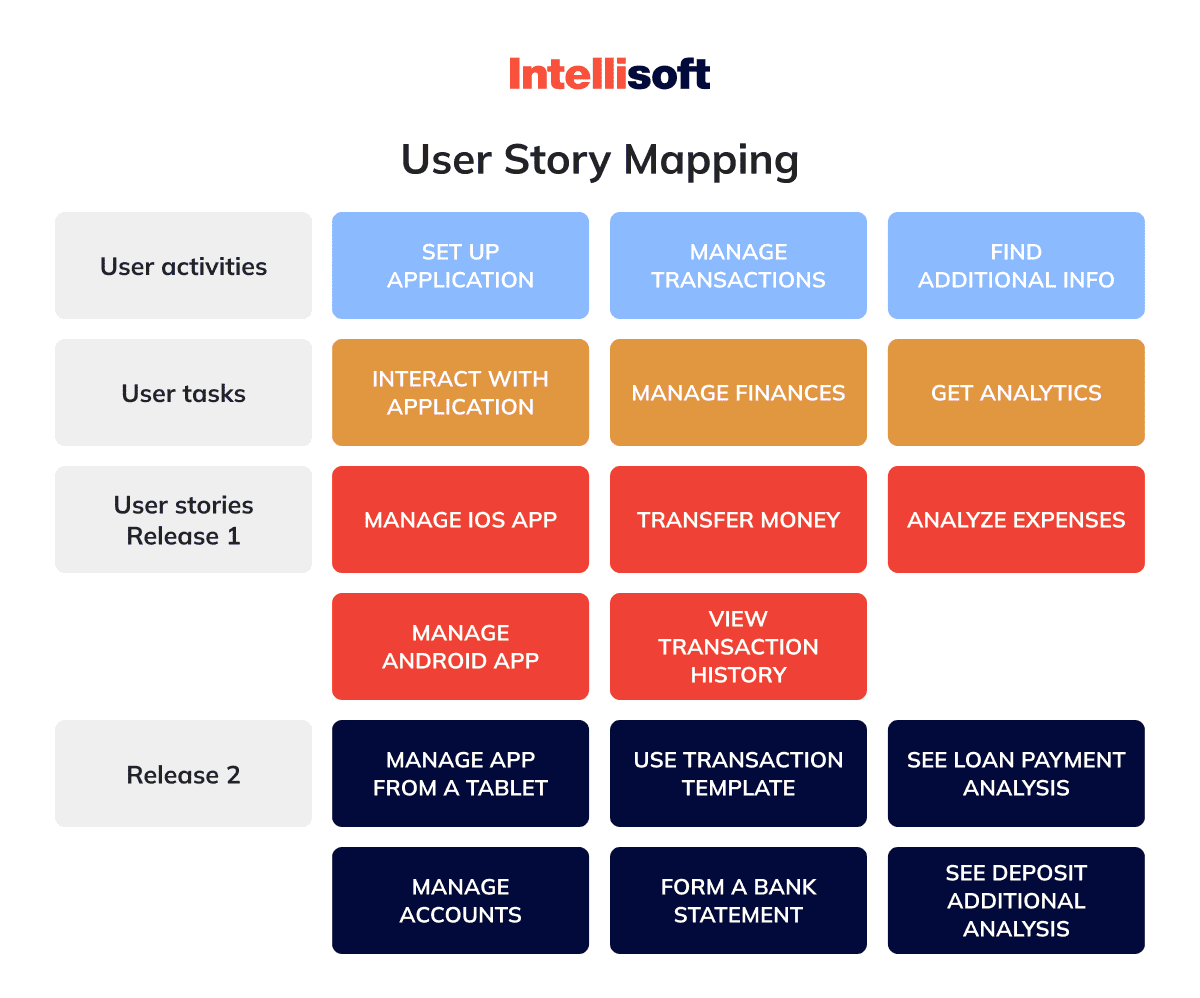 The participants put themselves in the place of the application user to record the scenarios of his behavior, breaking this whole process into "tasks." Each customer action is divided into sub-steps, which are written as follows: "As a user ( ___ type of user), I want (____ step), so (____ value)."
These value-added cards are then arranged on a board where the vertical axis represents the priority of product releases, and the horizontal axis represents the sequence. Each release must be separated by a flat bar.
Pyramid of Needs, or How to Prioritize Features of Competitors
MVP approach has a different focus, but is designed to clarify the pyramid of needs of all the main categories of the customers in order to make the multi-day work of the development team successful.
Value vs Cost Quadrant
This complex technique allows you to look at the process of creating a product from an economic point of view.
Values and costs of all project components are compared here. Researchers evaluate the benefits of all project points, both for customers and for business.
After that, they analyze what the costs will be for the implementation of each item. If possible, they plot the value and worth of each item.
Such a technique helps to quickly identify high-priced and low-cost items, which optimizes the development and production process.
Buy a Feature
'Buy a feature' is a technique by which the evaluation of MVP features in project management is done not by developers but by clients.
The researcher seems to force the members of his focus group to look at all the functions through the lens of their own wallets. Let's imagine that each person has X money, and this figure must necessarily be less than the total value of all the functions of the future product.
After revealing all the points of your MVP creation roadmap, they should choose the features they are interested in. Before the start of brainstorming, the organizers derive values based on the actual cost of developing this feature.
The product manager will use this method later to understand the customer's behavior based on the decisions he or she makes.
Styles of Prioritization Techniques in Agile
Below we will talk about the most important prioritization techniques in Agile.
The Use of the Kano Model
To apply this Kano model, the researcher must conduct thorough research and lead several customer focus groups.
In general, adding features should be strategic and well-reasoned. After that, all functions are divided into five categories: we pay attention to the threshold, productive, and hype categories and reject the indifferent and dissatisfaction types.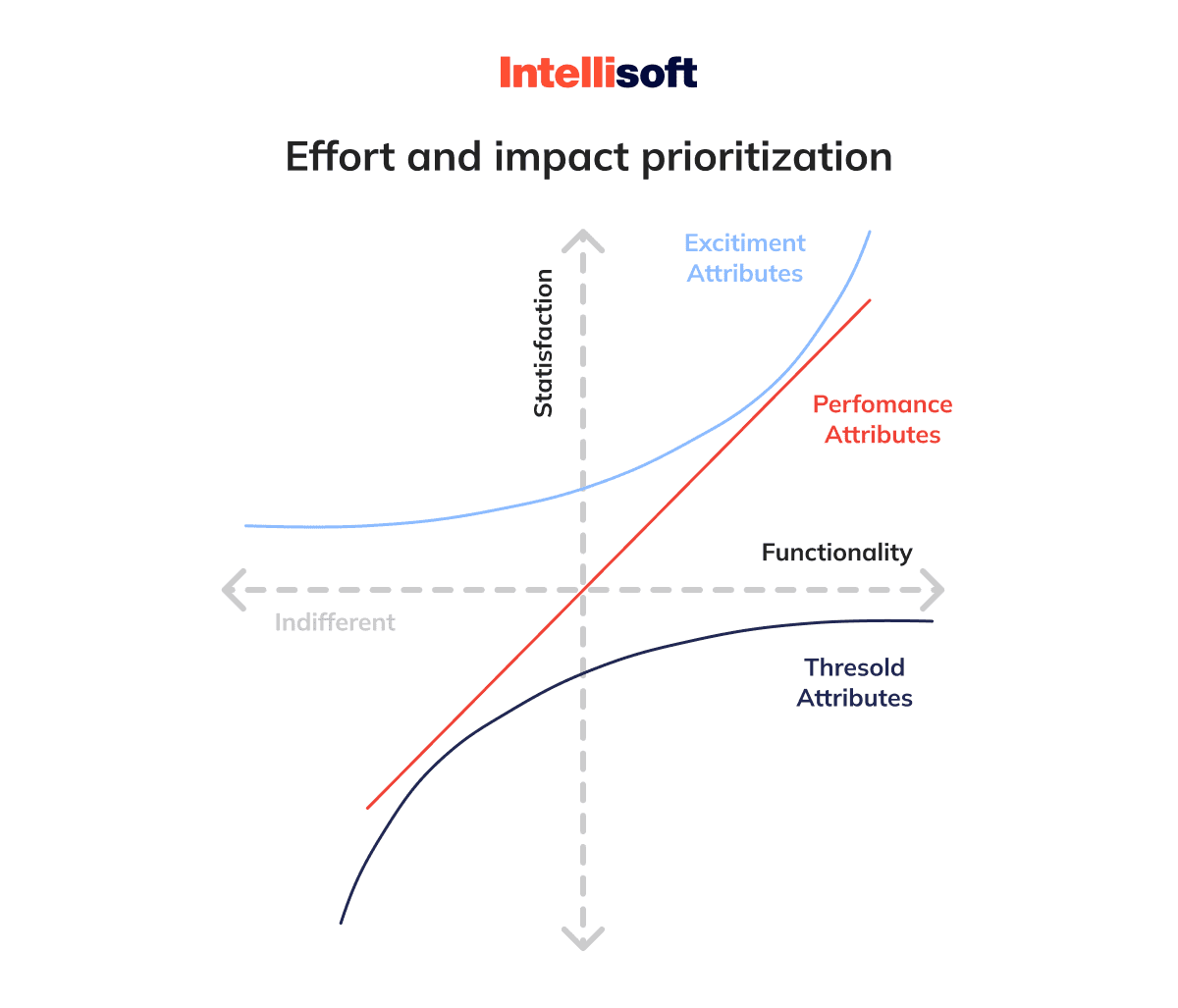 After all, the dissatisfaction category are features that frightens customers, and the indifferent type are functions they do not like to use. To delight users, you need to implement high-performance and engaging features.
At the same time, thresold are fundamental functions. Productive are the features you invest in to ensure greater customer satisfaction. If you see on the infographic you will notice there is a linear correlation between happiness and your investment in the segment. The hype functions have no real impact on the product's competitiveness, but they are reacted to.
MoSCoW
Such a handy matrix is divided into four quadrants. It's about "must-haves," "should-haves," "could-haves," and "won't-haves."
The first category represents those functions that even an MVP cannot do without. It is the foundation of your product.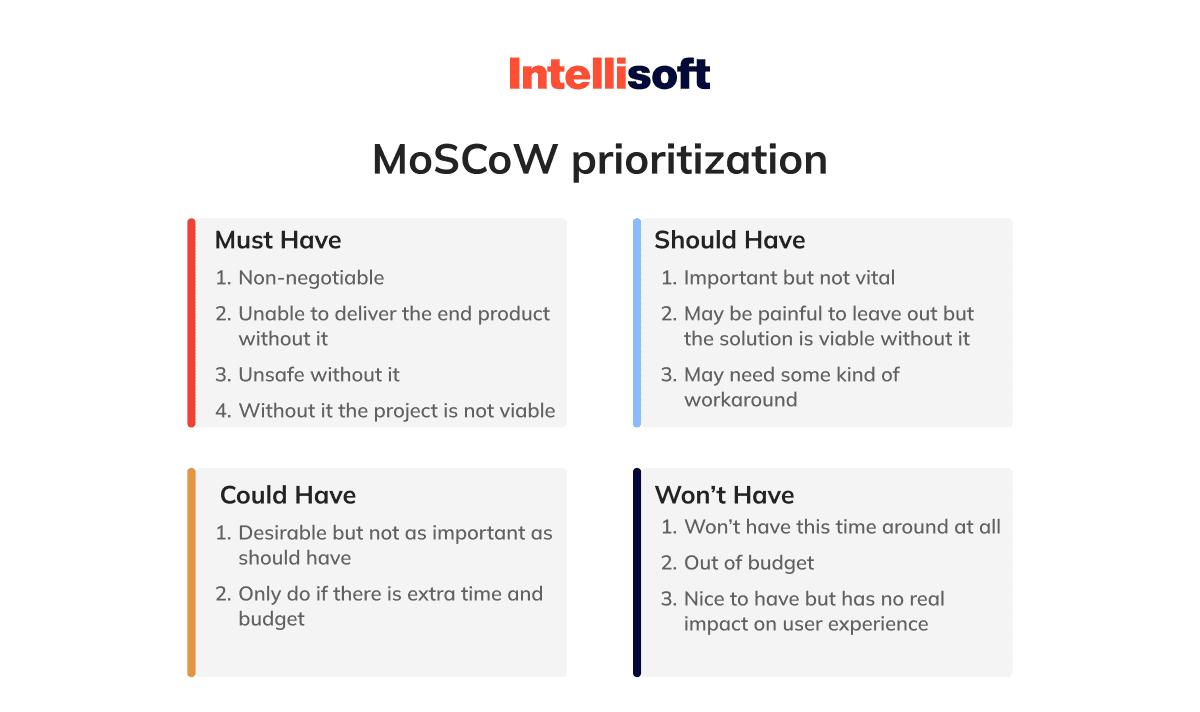 The second category shows those functions that are also important but the absence of which does not have a critical effect on the product.
The third category is for features interesting to an MVP but not more.
The fourth category includes all functions that are not needed in our MVP.
Relative Weighting Prioritization Technique
Another matrix where the quadrants are named "benefit" (advantages of implementing a feature), "penalty" (consequences of not implementing), "cost" (cost of developing a part), and "risk" (potential challenge in the future). It sets the SWOT analysis methodology.
All values are evaluated in numbers from 1 to 9 points, and then the formula (penalty + benefits) / (risk + cost) is used to calculate the value of the functions.
Both the developers and the customer should work together on the assessment. This technique is based on concepts from both the Kano model and MoSCoW matrix.
A Roadmap – How to Prioritize Features
A project MVP also can be analyzed. You will get to know how to prioritize a roadmap.
For this you must gather information. You have to have previous, existing, or potential customer feedback. Researchers should conduct surveys, collect customer support conclusions, customer feature recommendations, support tickets, conversations in social media, and email messages, bug reports. MVP features in project management performance data also helps him or her. The next technique can assist you with this.
Effort and Impact Prioritization
With this technique, each feature is evaluated in two ways: its value to users and its importance to your company.
The complexity of implementing each function (operational costs, associated risks, and development hours) must also be considered here. Four quadrants are also used here.
The y-axis shows the impact – high or low. The x-axis shows the level of effort – also low or high.
High impact and low effort are called "fast wins."
The combination of high impact and effort is called "main projects."
The combination of no impact and effort is called "fill-ins."
The combination of low impact and high effort is called "reconsider."
Related readings:
Minimum Viable Product (MVP): Step-by-step Guide from IntelliSoft
Our Guide on How to Write Proper Software Requirements Specification (SRS)
Time-Saving Success: Crafting the Perfect Scheduling App from Concept to Launch
From Concept to Creation: How to Master the Discovery Phase of Product Development
Modern Approach to the Product Prioritization Frameworks
Product Tree
This is one of the best product prioritization frameworks. This diagram allows a better understanding of how a market capture plan can be implemented. Imagine that your product is a tree. The roots will be the infrastructure of the project, stem – the requirements to support the plan, branches – different ways of its implementation, leaves – unique minimum viable product (mvp) features, and the fruits and flowers – hype features of the product.
RICE
You can quickly evaluate various ideas for creating different MVP features using this formula.
RICE stands for Reach, Impact, Confidence, Effort. These terms are factors used in weighing ideas for a project.
The first defines the community that the MVP idea will benefit from. The second means the impact on everyone (estimated with numbers from 0.25 to 3). The third will rank the degree of confidence from 50% to 100%. The fourth counts the number of months for implementation. The estimate starts from 0.5 months.
The next step is to apply the formula (Confidence x Influence x Reach) / Effort.
Feature Buckets
If you do not have time for thorough research, divide all functions into buckets. Forget about low priority right away. For medium-priority features, think about it after you've released your prototype. But the high priority is precisely what you need for MVP.
Conclusion
The primary technique for prioritizing features in your future MVP is your mind. It's about logical thinking and your intuition, which is developed simultaneously with life experience.
Also, you can divide features into four types: unique, demand-driven, ancillary, and fresh market hits.
We guarantee that if you conduct at least a few of the studies described in the text above, your awareness of your MVP will increase significantly, as will the likelihood of its success.
FAQ