As a transportation company owner, you probably want to manage your fleet of vehicles efficiently, ensuring symphony and synchronization among them. How do you achieve that?
You need a conductor to ensure that each part of your fleet orchestra is playing in harmony, and this conductor's name is the Internet of Things (IoT). With telematics and fleet management, your company's data and vehicles mix together into a river of innovations and prospects, allowing you to easily coordinate between many vehicles, control your assets, and get real-time updates. If you have been looking for a way to interconnect all your technologies and manage your fleet from anywhere in the world, welcome to the universe of IoT, where all your vehicles and systems merge into constellations, empowering you to take your business to a whole new level.
At IntelliSoft, our team has been guiding clients from the transportation industry for more than 15 years, helping them develop software solutions and bringing their wildest ideas into reality. We can't keep our experience with IoT to ourselves; it's time to reveal all the secrets and insights, introduce you to the incredible world of interconnected devices, and let you take an active part in it.
What is IoT Fleet Management?
Modern commerce and public mobility heavily rely on fleet vehicles. That is why fleet managers need to regularly review their vehicles for performance, safety, and efficiency. In the past, it was a long, time-consuming process with a high risk of human error. Fortunately, in the last couple of years, a new technology emerged and revolutionized how fleets are managed worldwide. IoT now helps improve manageability, savings, and visibility thanks to its advanced telematics solutions and data analytics.
IoT fleet management is like having the most experienced orchestra conductor in the world, ensuring that your symphony is played flawlessly in perfect harmony. This technology allows fleet managers, drivers, and logistics operators to make more data-driven, informed decisions and ensure complete network connectivity via IoT devices.
IoT-enabled devices allow transportation companies to collect and store and analyze tons of data swiftly. This process is also known as processing data at the edge. The built-in processor capabilities of IoT devices provide a connection between the fleet, the cloud, and the manager, ensuring that this connection is seamless and fast.
For instance, as a fleet manager, you can use these solutions to collect, store, and analyze data about the conditions of the roads using AI, GPS, and technology for analyzing onboard conditions. All of this information can help drivers and managers monitor and predict vehicle conditions, time of delivery, etc.
IoT Fleet Management Market: An Overview
We have witnessed a drastic change in fleet management in the last couple of years, and the industry keeps evolving, influenced by AI and ML technologies, cloud computing, wireless communication technologies, and the distribution of business data.
According to recent research, the global Internet of Things (IoT) fleet management market size is expected to touch USD 16.86 billion by 2025.
The largest manufacturers of fleet management IoT market worldwide include:
IBM Corporation
Cisco Systems
Sierra Wireless
Trimble
AT&T
Intel Corporation
Verizon Communications
Omnitracs
Oracle Corporation
According to the Fortune Business Insights report, the global fleet management IoT software market will reach $46.5 million by 2025 at a CAGR of 16.52%. These numbers indicate that the industry has realized that IoT has incredible potential and can help revolutionize fleet management. As a result, more and more companies are investing in IoT software solutions, turning it from a trend to a must-have for any business.
Why Do You Need IoT Technology for Fleet Management?
If you have ever tried tracking vehicles, devices, or any metrics connected to fleet management manually, you know by now that it's close to impossible. It's a daunting task that would take all your time and effort and lead to nothing positive, especially if you run a big company with hundreds of vehicles.
IoT, telematics, and big data arise as your guiding stars and help you navigate the complex world of fleet management, making the previously impossible tasks a piece of cake. With IoT technology, your vehicles become your data sources, and the roads are now information highways. Moreover, IoT allows you to make more informed decisions more easily and with more confidence, alerting you about tiny problems before they become huge issues, providing insights into performance, and even analyzing factors like weather and traffic.
With IoT, data becomes flexible clay that you can mold, change, and use any way you want instead of being a rock that you have to smash with the tremendous endeavor.
Related Readings:
Benefits of IoT Fleet Management
An IoT fleet management solutions offers numerous benefits for companies ready to adopt it, resulting in greater efficiency, cost savings, safer workspace, and improved customer satisfaction. Let's uncover the main advantages of IoT fleet management solutions together: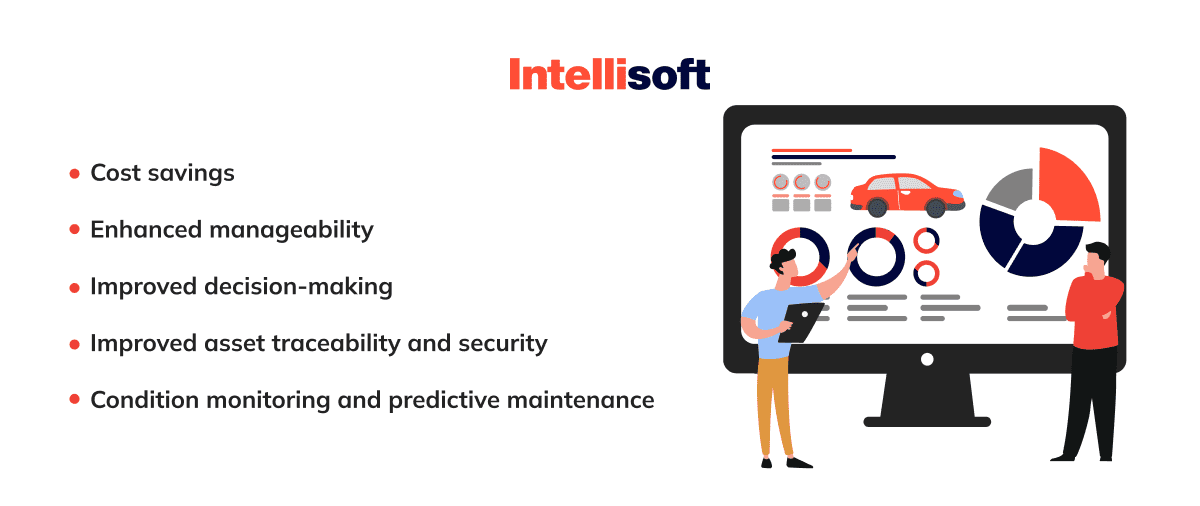 Cost savings
In the universe of fleet management, every cent counts. Thankfully, IoT solutions for fleet management are one of the most effective ways of saving costs and optimizing a company's budget. First of all, telematics can predict various needs and not let the issues become too expensive. Secondly, IoT can help optimize fuel consumption, identify efficient routes to reduce vehicle breakdowns and cut other unnecessary costs. In other words, IoT can be your experienced financial advisor who you can always turn to.
Enhanced manageability
Even if you manage thousands of drivers and vehicles, you can have a bird's-eye view of your entire fleet company thanks to IoT. With the help of this technology, you can manage and control everything from your smartphone or other device, tracking vehicle location, receiving alerts, monitoring performance, and so on. The entire fleet world can be in your pocket, helping you react swiftly to changes, streamlining operations, and ensuring that your fleet runs are smooth.
Improved decision-making
Data-driven decision-making is detrimental to the success of any fleet company. In this case, you act as a conductor orchestrating a complex symphony; the sound of it depends on your ability to make informed decisions based on data insights. IoT helps you analyze driver behavior patterns, traffic conditions, customer satisfaction, and other factors that influence your future decisions, making them more data-driven. With IoT, everything is interconnected, and you know how one part of the link affects the other. Thus, it enables you to think more thoroughly before making decisions.
Improved asset traceability and security
Your fleet is your most valuable asset, and you should always protect it. Fortunately, fleet management and telematics act as its guardian angel, always keeping an eye on how it's doing. It provides you with GPS tracking and real-time monitoring capabilities so you can control your vehicles, ensuring that everything and everyone are safe. You can use both onboard and peripheral solutions to have visibility in and around the vehicle, as well as save video recordings in case of legal proceedings.
Condition monitoring and predictive maintenance
IoT allows you to track your fleet's health at any time. It monitors vehicle performance and provides you with insights so you can spot potential problems before they become worse, predict possible outcomes, and prevent breakdowns. It's like having a doctor by your side who always keeps an eye on your fleet and tells you about tiny health issues before they become emergencies.
IoT in fleet management: Use Cases
IoT has multiple use cases in fleet management, helping with everything from vehicle tracking to delivery management and predictive fleet maintenance. Implementing IoT for fleet management and telematics is not a piece of cake as it requires significant resources, but once you decide to jump into it, you'll see that it's worth it.

Vehicle routing and tracking
At the forefront of IoT's role in fleet management is its pivotal application in vehicle routing and real-time tracking. This is exemplified through a specialized app known as Telematics, tailored explicitly for vehicular oversight. Telematics empowers continuous fleet monitoring, enabling dynamic rerouting and optimizing scheduling. This infusion of IoT expedites routing, trims operational costs, and fosters agile responsiveness to changes, thereby epitomizing operational efficiency.
Modernized vehicle maintenance
With IoT, vehicle maintenance reaches a whole new level. It no longer burdens your company's budget as you have everything at hand to establish a schedule of preventive maintenance. By preventing issues instead of dealing with them when they escalate, you can save substantial costs and extend the life of your vehicles.
IoT also allows managers to track vehicle downtime caused by emergencies, breakdowns, and towing. Moreover, they can identify patterns of issues that arise the most often and create a schedule that takes them into account.
Tasks and processes automation
Automation is the future of any industry as it is the golden ticket to saving time, money, and optimizing resources. Performing tasks manually is an anti-trend these days. Why do it if it is time-consuming and causes human error? You can't afford to have human error if you are a fleet manager, as it can lead to accidents. The automation provided by IoT technology helps reduce the chance of human error by sending automated notifications about the state of the roads, weather conditions, route changes, etc.
Engine performance and fuel efficiency analysis
Without IoT, it can be almost impossible to properly monitor engine performance and fuel efficiency. You can interconnect the devices to collect and transmit information about vehicles, such as how many kilometers it has traveled and so on. With the help of IoT sensors, you can easily control fuel levels, monitor engine performance, and know how the vehicle is performing.
Perfected delivery management
In fleet management, every delivery is a promise. Fortunately, IoT technology makes sure that all promises are kept. GPS and RFID technology allow managers to ensure that all deliveries are on time, routes are optimized, and you know exactly where your vehicles are. Moreover, you can estimate delivery times and know which routes are congestion-free. IoT allows you to become a master of delivery management who has all essential information at your fingertips.
Driver safety control
Safety should be a responsibility of any transportation company, making fleet managers digital guardians for the drivers. IoT allows you to use its smart sensors and telematics to monitor drivers' behavior, patterns, issues, and adherence to safety protocols. With IoT, you can prevent possible hazards and serious problems, keeping your drivers safe and the process running smoothly.
Increased customer satisfaction
Thanks to IoT technology, it is possible to significantly shorten the delivery times and monitor when people's parcels are delivered. People love tracking their deliveries and knowing that they will receive a package tomorrow by 2 pm, as it makes their lives easier and improves satisfaction. For instance, according to the latest reports, customer service has improved by 54% because of vehicle fleets and GPS tracking.
Compliance with regulations
Integrating IoT into your fleet management systems is like finding a guiding star in the night sky. Fleet management business is subject to incredibly strict regulations, and complying with them would be a lot more challenging without IoT technology. Its connected sensors and devices help you orchestrate a symphony of data and keep in tune with industry regulations. Moreover, with IoT technology, you can build a fortress against fines, violations, and reputational dissonance. The sensors can even monitor the temperature and climate inside the vehicles so that everything, especially food or medicine, is delivered safely and according to temperature standards.
Predictive fleet maintenance
Do you need a fortune-teller by your side who will foresee the future of your vehicles and tell you how to avoid certain issues? IoT can do that easily. AI-powered solutions can help you see into the future and be prepared for failure scenarios or other problems. These solutions utilize data about weather conditions, road quality, traffic, and driver behavior to predict what could happen in the future. Predictive fleet maintenance gives you a permanent sense of reliability and confidence in what tomorrow brings.
Technologies Used for Fleet Management
The IoT in fleet management stands on three pillars: GPS, OBD II, and RFID. GPS and RFID provide critical vehicle data and statistics, and OBD II helps track and manage assets.
GPS provides you with real-time vehicle statistics and other critical data. If an emergency happens, GPS allows you to track and manage assets and vehicles. It is the guiding star of this constellation, offering you a clear view into the heart of vehicle dynamics.
RFID technology includes various vehicle microchips that emit radio waves. It allows tracking, identification, and control of objects with sensors and connects the RFID technology to the Internet.
OBD, or an onboard diagnostic system, monitors and influences the performance of vehicles. This system checks how vehicles are doing in terms of various criteria and reports any changes and engine-related issues.
In this technology symposium, GPS, RFID, and OBD II converge to create a harmonious melody of efficiency, safety, and control, composing a timeless sonnet of fleet management prowess.
Conclusion
IoT technology is a transformative power that reshapes the fabric of fleet management. It uncovers a whole new level of efficiency, control, and safety thanks to the seamless integration of RFIS, GPS, and OBD II, illuminating you on the path toward success in the transportation industry. With IoT, you get access to all kinds of data, knowing everything about your vehicles right as it happens or even before that, helping you foresee the future and get prepared for any kind of problem or changes. Even though implementing IoT in your fleet management practices can be a stressful change, the effort is worth it, taking into account all of its benefits.
IntellISoft logistics development company can help you go through these changes seamlessly and without any stress. We will be your guides into the intricate world of interconnected IoT devices, helping you improve your operational efficiency, ensure smooth voyages, and minimize any disruptions.
Contact us, and we will embark on the exciting journey, helping you enjoy every step of it without worrying about traffic jams along the way. Our team will take the wheel, control the conditions inside the vehicle, and drive you to the destination safely and efficiently.
FAQ