Ever feel like your business is a sluggish, rickety wagon trudging through the prairie? Well, cheer up! We're here to hitch your enterprise to the rocket of cloud computing, where the sky's literally the limit. Making the leap to the cloud is like upgrading from a tricycle to a Ducati—everything becomes faster, more agile, and, yes, a lot cooler.
Continue reading if you want to learn how to cut your operating expenses and why enterprises are obsessed with digital security. Why trust us? We're IntelliSoft, a software development company with almost two decades of IT experience that knows a thing or two about enterprise cloud computing solutions.
Why Businesses Can't Ignore Cloud Computing Anymore
Remember those days when "the cloud" was just a buzzword floating around, something you thought was probably important but didn't quite understand? Ah, nostalgia. A lot like VHS tapes, some may consider it a relic of the past. But unlike those, the cloud has evolved from a mere buzzword into a full-fledged game-changer for businesses. It's the universal tool in the modern enterprise toolbox, and ignoring it is like turning down a free lifetime supply of perfect computing solutions.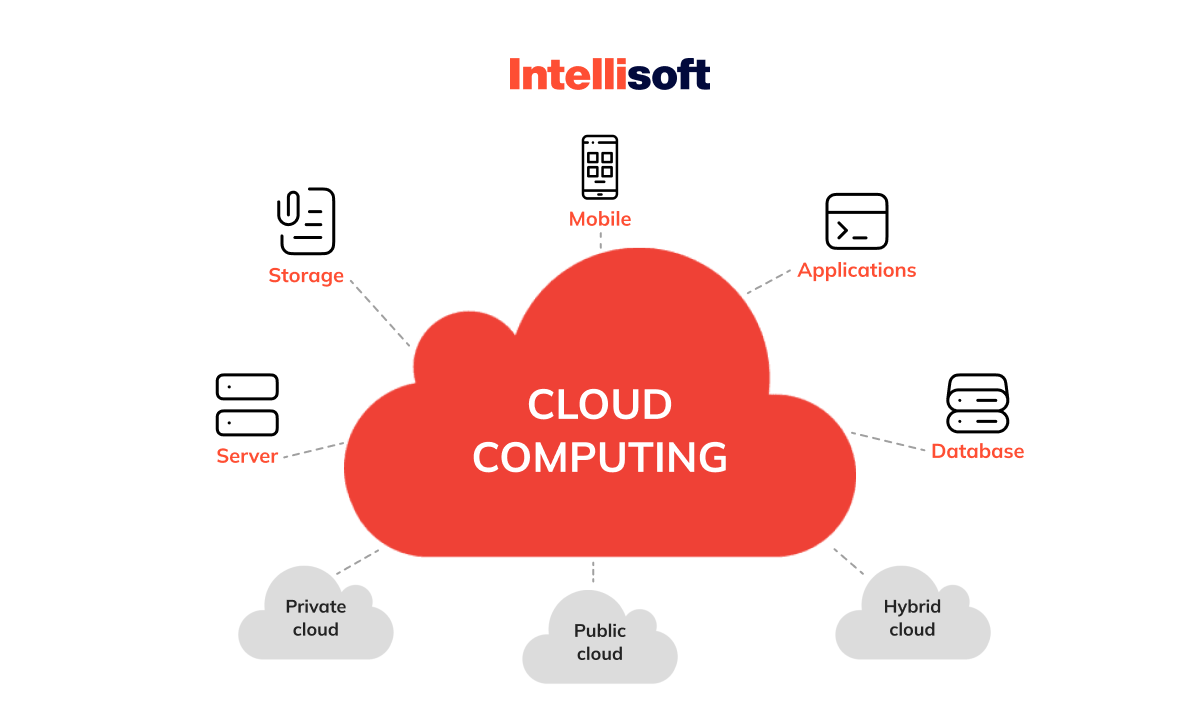 The Cloud Evolution: From Gimmick to Game-Changer
In the early days, cloud computing was seen as a glorified storage locker. It was just a place to stash your digital keepsakes, kind of like a dusty attic filled with forgotten toys and old yearbooks. But oh boy, has the cloud grown up or what? Its transformation from a mere storage solution to an intricate platform for computing, analytics, and even artificial intelligence is nothing short of revolutionary.
For instance, let's take Infrastructure-as-a-Service (IaaS). Once upon a time, if you needed computational power, you had two choices: buy expensive servers that sat in your basement like a brooding teenager or rent space from someone else's expensive servers. Enter IaaS. Now, you can rent precisely the computing power you need for exactly as long as you need it without having to worry about the grim reaper of obsolescence knocking at your door. In other words, you get the milk without buying the cow, and you don't even have to build the barn.
Or how about Platform-as-a-Service (PaaS)? This is where the cloud really starts flexing its muscles. Think about constructing a house with no tools, just getting your hands dirty with bricks and cement. That's what software development used to be like. PaaS gives you a full toolbox (and the construction crew) so you can focus on designing the dream home, not fretting about whether your hammer is going to break. From development frameworks to database tools, PaaS has it all.
Then, there's Software-as-a-Service (SaaS). This is the cherry on top of the sundae. No more buying expensive software licenses that get outdated faster than you can say "Windows Vista." With SaaS, you rent the software, benefiting from regular updates and maintenance carried out by someone who actually knows what they're doing.
And let's not forget the cherry cherry on top—cloud security. If you think your data is safer on your local server, guarded by the digital equivalent of a 'Beware of Dog' sign, think again. Providers have 24/7 security, regular upgrades, and teams of experts focused solely on protecting your data. So, unless you're planning on hiring your own cyber-navy, the cloud has you beat.
But the benefits of this technology aren't just about cool tools and heavy-duty security. Businesses that adopt enterprise cloud computing services can see substantial increase in employee productivity. And they can also drastically cut operating expenses. That's not pocket change – that's 'take-your-team-on-a-retreat-to-Hawaii' kind of savings.
The cloud offers unprecedented scalability. You can grow your services without having to grow your infrastructure, like a digital expandable suitcase. Got a killer quarter and need to scale up? No problem. Hit a rough patch and need to scale down? Easy. The cloud bends and stretches according to your needs.
Now, if you're still sitting on the fence, let us hit you with this: Most enterprises are running applications or experimenting with Infrastructure-as-a-Service. That means your competitors are probably already up in the cloud, sipping on a cocktail of efficiency, security, and innovation. And you shouldn't hesitate still trying to figure out if you should take the leap.
Cloud computing has moved from being a "nice-to-have" to a "must-have" quicker than a cat on a hot tin roof. It's the kind of technological advance that changes the rules of the game. So, don't find yourself left behind, clutching your VHS tapes and wondering what happened. The cloud is no longer an optional gimmick – it's the playground where all the cool kids are. The question is, are you ready to join them?
Introduction to Enterprise Cloud Computing
We already talked about the formidable evolution of cloud computing from a mere novelty to a business imperative. But what if I told you that was just the tip of the iceberg? For businesses, especially large enterprises, there's another layer to this game: enterprise cloud computing. If general cloud computing is like a public library, offering a little something for everyone, then think of enterprise cloud computing as the private study room you can reserve, complete with bespoke book collections, noise-cancellation, and perhaps a dedicated librarian at your disposal.
What Makes Enterprise Cloud Computing Special?
Enterprise cloud computing is like a VIP club within the already-exclusive world of computing services. It offers all the perks of standard cloud computing—scalability, security, and cost-effectiveness—but turns the dial up to eleven. In this setup, everything is calibrated and customized to suit the unique needs of large organizations, where complexity isn't just a challenge – it's a given.
Firstly, let's talk about customization. With general cloud services, you often have to fit your operations into the pre-existing structures the service provides. That's like wearing off-the-rack suits—they'll do the job, but they're not going to fit like a glove. Enterprise cloud computing is the bespoke tailoring of the digital world. Whether it's specialized databases that only your organization uses or unique workflows that your business has perfected over the years, the enterprise cloud can be molded to fit your exact needs.
Secondly, enterprise cloud computing offers a level of security that goes above and beyond general computing services. We're talking military-grade encryption, multi-factor authentication, and airtight firewalls. It's like having a digital Fort Knox where you store your most precious assets. With cyber threats becoming increasingly sophisticated, this extra layer of security is not just a luxury – it's a necessity.
Thirdly, there's support. Sure, general computing services offer customer support. You can call them up, and you'll get someone to guide you through basic troubleshooting. But with enterprise cloud computing, you don't just get a customer service rep – you get a dedicated team of experts. These experts not only help you troubleshoot issues but also proactively manage your services to ensure that you're getting the most out of your investment.
Lastly, there's the issue of governance and compliance. Large enterprises often have to adhere to a complex web of regulations, whether it's GDPR for data protection or HIPAA for healthcare. Enterprise cloud computing allows businesses to easily comply with these regulations by providing specialized tools and reporting features. Instead of navigating the compliance maze alone, you get a GPS to guide you.
Cloud Computing vs Enterprise Cloud Computing
The line between general cloud computing and its enterprise counterpart might seem thin, but the difference in their impact can be enormous. To provide some clarity, let's dissect how they differ:
Scalability
Both general and enterprise cloud services offer scalability, but the latter provides it on a much grander scale. With enterprise cloud, you're not just stretching your resources to meet the needs of a team – you're stretching them to meet the needs of entire departments or even global operations. It's the difference between inflating a balloon and inflating a hot air balloon.
Security
General cloud services offer robust security measures, but enterprise cloud brings out the big guns. Advanced encryption, more extensive authentication processes, and specialized security protocols cater to the high-stakes requirements of large organizations.
Customization
General cloud services offer a one-size-fits-most solution. Sure, you can tweak a few settings, but at its core, you're working with a standardized product. Enterprise cloud is like getting a service tailored to your exact measurements, right down to the length of the cuffs.
Cost
Now, it's important to note that all these bells and whistles come at a price. Enterprise cloud computing is a significant investment. However, for large organizations, the cost is often justified by the value it brings—be it through operational efficiency, security, or scalability.
Customer Support
Think of general cloud customer support as a first aid kit: useful but basic. Enterprise support, on the other hand, is like having a personal physician on call. You don't just get help during an emergency – you get ongoing check-ups to make sure everything is running smoothly.
Governance and Compliance
General services offer baseline features for governance and compliance, but they often lack the specialized tools that large enterprises require. Enterprise cloud computing fills this gap, offering a rich set of tools for policy enforcement, auditing, and compliance reporting.
Enterprise cloud computing caters to the specific needs of large organizations, offering a range of technological solutions to assist them streamlining operational efficiency. This solution is custom-made to help businesses keep up with the rapid pace of their industry. It's designed to give them a competitive edge and stay ahead of the curve. From customization to high-grade security, it offers an array of features that serve the specific, often complex, needs of an enterprise.
So, if you're running a large organization, settling for basic cloud computing is like going to a gourmet restaurant and ordering a salad, you can do it, but you'd be missing out on the full experience. Choose enterprise cloud computing, and let your business feast on the best that the market has to offer.
Related readings:
Key Advantages of Enterprise Cloud Computing
Let's dig a bit deeper into the unique advantages of enterprise cloud computing. It's one thing to know that the enterprise version is "better," but it's another to understand the concrete benefits it can offer to your organization. Let's discuss the key advantages, scalability, flexibility, and security that make enterprise cloud computing indispensable for large organizations.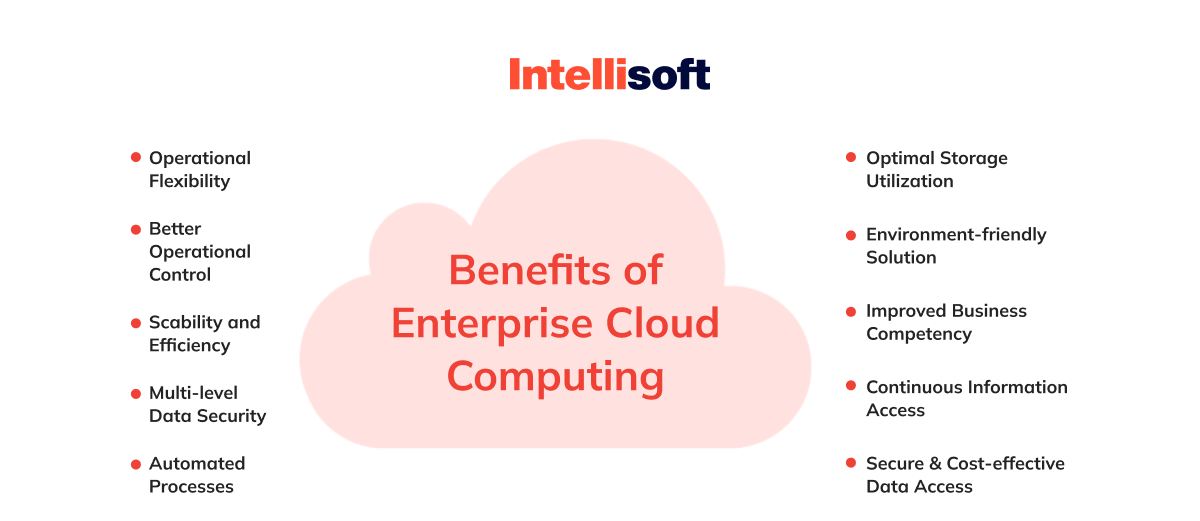 Scalability
In today's fast-paced business environment, scalability is not just an advantage, it's a survival skill. You need to be able to grow quickly to capitalize on new opportunities and, similarly, contract your resources when needed without incurring a financial burden. Enterprise cloud computing takes the notion of scalability to an unprecedented level.
Imagine launching a new product that suddenly goes viral. With traditional IT infrastructure, you would have to rush to purchase and set up additional servers, which not only takes time but also entails a high upfront cost. With enterprise cloud, you can scale your resources up almost instantaneously to meet the demand. And what's more, you scale down just as easily once the demand subsides.
However, scalability in the enterprise cloud isn't just about size, it's also about efficiency. You can allocate resources to different departments or projects dynamically, ensuring optimal utilization. For instance, your marketing team may need additional computing power during a campaign launch but may not need it afterward. Enterprise cloud enables you to reassign those resources easily, thus preventing wastage.
Flexibility
In a traditional IT setup, making changes to your system can be compared to turning a giant ship – it's slow, cumbersome, and fraught with risks. One of the strongest advantages of the enterprise cloud is its unparalleled flexibility. Want to switch from one software application to another? Easy. Need to integrate new features into your existing system? No problem.
Moreover, flexibility extends to the choice of cloud computing enterprise architecture and deployment models. Whether you opt for a public, private, or hybrid cloud, you have the leeway to pick and choose the configurations that best suit your organizational needs.
Flexibility also means being able to adapt to market trends and technological advancements quickly. Let's say a new tool emerges that can automate one of your business processes. In a traditional setup, implementing this tool would mean months of preparation, including hardware purchases, software updates, and potential downtime. With enterprise cloud, you can implement new tools in a fraction of the time, keeping your business agile and at the forefront of innovation.
Security
If scalability and flexibility are the alluring bait of enterprise cloud computing, then security is the sturdy hook that seals the deal. When you're managing sensitive data, be it customer information, trade secrets, or intellectual property, the stakes couldn't be higher. In an era where cyber-attacks are not a question of 'if' but 'when,' having top-notch security is non-negotiable.
Enterprise cloud computing offers multiple layers of security, starting from physical security in data centers to network security, application security, and finally, data security. Imagine this as a series of increasingly impenetrable barriers. An intruder would need to break through multiple walls, dodge a maze of lasers, disable advanced biometric scanners, and crack a cryptographic puzzle, figuratively speaking, to get to your data.
The security features often include advanced encryption algorithms, intrusion detection systems, and stringent access controls. Plus, there's often a dedicated team monitoring security incidents around the clock.
Also, let's not forget about compliance. Regulations like GDPR, HIPAA, or SOC 2 Type II require companies to follow strict data protection standards. The enterprise cloud often comes with built-in compliance features, making it easier for large organizations to meet these requirements without the agony of gradual implementation.
This trio of compelling advantages makes enterprise cloud computing an almost irresistible choice for large organizations. Scalability ensures that you can grow and adapt your resources in real time, flexibility allows for rapid changes and customization, and advanced security measures provide the peace of mind that every enterprise sorely needs in today's volatile cyber landscape.
Enterprise Cloud Computing Architecture
The enterprise architecture and cloud computing model form the skeleton and blueprint that gives form to the digital side of your organization. Understanding its nuances not only provides a holistic view of how various services and components interact but also gives insights into why enterprise cloud computing is so effective in what it does. Let's break down the key components of cloud computing for enterprise architectures and explore why it is so integral to overall functionality and effectiveness.
Key Components
Enterprise cloud architecture isn't a monolith, it's a carefully organized combination of several different elements that work in tandem. While the specific architecture can vary depending on the service provider and the requirements of the business, the following are generally the key components:
Compute Resources
This is where all the processing happens. Compute resources can range from virtual machines to containers that execute applications and services.
Storage Services
Think of this as the virtual equivalent of file cabinets and storage rooms. Enterprise cloud storage is far more advanced than your regular hard drives, offering high-speed access and superior data redundancy.
Networking
This forms the backbone of the cloud architecture, interconnecting various services and components. Enterprise cloud networking often includes load balancing, VPNs, and private subnets for enhanced security and efficiency.
Database Services
These are specialized storage services optimized for handling structured data. They serve as the backend for applications that require data retrieval and storage capabilities, often in real-time.
Content Delivery Network (CDN)
A CDN helps in distributing the flow of network traffic across multiple servers, ensuring high availability and reliability. It's particularly crucial for businesses that serve a global audience.
Monitoring and Analytics Tools
These tools keep tabs on performance metrics, usage statistics, and security incidents. They are essential for maintaining optimal performance and security.
Security Services
Enterprise cloud security includes features such as Identity and Access Management (IAM), encryption, and intrusion detection systems, in addition to basic firewalls.
APIs and SDKs
These are the building blocks that allow for customization and integration with other services and applications. They offer the means to not only extract more value from your cloud services but also to integrate them seamlessly into existing workflows.
Orchestration and Automation
These components allow businesses to automate repetitive tasks and orchestrate complex workflows, enhancing efficiency exponentially.
Why Architecture Matters?
At this point, one might ask, why is understanding this architecture important? Can't businesses simply enjoy the benefits of enterprise cloud computing without diving into its structural nuances? Well, they can, but that approach might keep them from unlocking the full potential of what enterprise cloud computing can offer. Here's why the architecture matters:
Optimal Resource Utilization
Understanding the architecture allows for the optimal allocation of resources. Knowing what each component does can help in assigning the right resources for the right tasks, eliminating waste, and improving efficiency.
Security
While enterprise cloud services offer robust security features, understanding the architecture can help you implement additional security protocols where necessary. For example, you may decide to add an extra layer of security to sensitive data stored in cloud databases.
Strategic Planning
A sound grasp of the architecture can inform strategic business decisions. For instance, knowing the capabilities of the orchestration and automation components can drive initiatives for enterprise-wide automation.
Compliance
Different industries have different compliance requirements when it comes to data storage and handling. Understanding how and where data is stored within the cloud architecture can help in ensuring compliance with regulatory standards.
Troubleshooting and Maintenance
If something goes wrong, knowing the architecture can be invaluable in pinpointing the issue and resolving it quickly. It's like knowing the layout of a building; if there's a fire, you'd know the quickest way to the fire extinguisher.
Customization and Scalability
The architecture is essentially a blueprint for scalability and customization. Knowing the limits and capabilities of each component can guide businesses in customizing solutions that are both scalable and aligned with their specific needs.
While you can certainly enjoy the machine's functions without understanding how it works, having an in-depth understanding opens up avenues for optimization, troubleshooting, and enhancement that would otherwise remain unexplored. From ensuring optimal resource utilization to driving strategic initiatives, the architecture serves as the roadmap to navigating the complex yet rewarding realm of enterprise cloud computing.
Your Cloud, Your Rules: Enterprise Cloud Platform
The one-size-fits-all approach rarely works when each enterprise has unique needs and operational constraints. An enterprise cloud platform should offer the flexibility and customizability needed to adapt to your specific business requirements. Let's examine the must-have features that a modern enterprise cloud platform should offer and then look at some of the leading vendors in the field.
Must-Have Features for Modern Business
Multi-Cloud and Hybrid Cloud Support
In today's complex operational landscape, the chances are that your business might require resources from multiple providers or even a mix of remote and on-premises solutions. A good enterprise cloud platform should support multi-cloud and hybrid configurations seamlessly.
High Availability and Disaster Recovery
Businesses can't afford downtime. The cloud platform must guarantee high availability and should have a robust disaster recovery plan to ensure business continuity.
Automated Scaling
As your business grows, so will your computing needs. The platform should offer automated scaling options to handle increased loads without requiring manual intervention.
Comprehensive Analytics and Reporting
Understanding resource utilization, performance metrics, and cost management is crucial for ongoing operational efficiency. An ideal enterprise cloud platform will provide detailed analytics and reporting features.
DevOps Integration
Speed and efficiency are of the essence in software deployment. The cloud platform should provide robust DevOps tools and integration options to streamline development, testing, and deployment processes.
Cost Management
The platform should offer transparent pricing models along with tools to monitor and optimize usage, helping businesses manage their cloud budgets effectively.
Compliance Management
Regulatory compliance is a significant concern for enterprises, especially those dealing in sensitive industries like healthcare or finance. The cloud platform should facilitate compliance with various industry standards and regulations.
Ecosystem and Community Support
A thriving community and ecosystem around a cloud platform can be beneficial for support, third-party tools, and general knowledge sharing.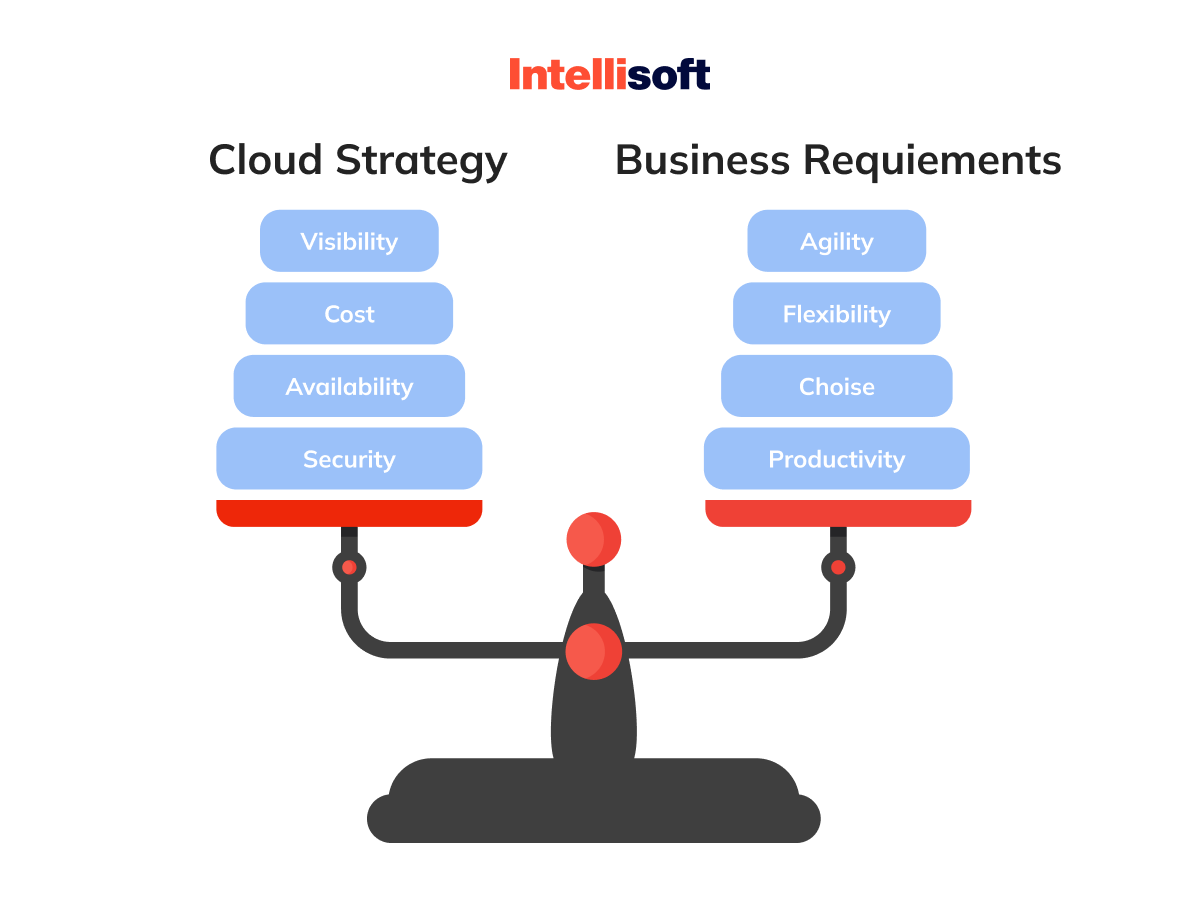 Leading Vendors
Amazon Web Services (AWS)
Arguably the most popular cloud service provider, AWS offers an extensive range of services, from computing power to machine learning capabilities. Known for high reliability and a wide array of customizable options, it's a go-to for many enterprises.
Microsoft Azure
Offering seamless integration with Microsoft's software products, Azure is often the choice for enterprises already committed to the Microsoft ecosystem. Azure also offers a range of AI and machine learning services, making it a competitive choice for those looking into future-proofing their operations.
Google Cloud Platform (GCP)
Known for high-performance and premium networking, Google Cloud focuses on high-compute offerings like Big Data, analytics, and machine learning. It also offers robust open-source integration.
IBM Cloud
Particularly popular in sectors like healthcare and finance, which have strict compliance regulations, IBM Cloud offers a range of IaaS, PaaS, and SaaS solutions, with a focus on AI and machine learning capabilities.
Oracle Cloud
With a strong focus on databases, Oracle Cloud is an ideal choice for enterprises that require robust data storage solutions. It also offers a full range of application, storage, and computing services.
Salesforce Cloud
Primarily known for its CRM solutions, Salesforce has expanded its cloud offerings to include a wide variety of service, sales, and marketing options.
When it comes to enterprise platforms, the phrase "Your Cloud, Your Rules" aptly sums up the necessary philosophy. Modern enterprises need customizable, secure, and robust platforms that can adapt to their unique business requirements. Knowing the must-have features will guide you in making an informed decision, and understanding the strengths and weaknesses of leading vendors will help you choose the right partner in your journey.
Enterprise Cloud Computing Solutions
The enterprise cloud computing landscape is vast, and while certain common features define its core functionalities, there's a significant level of customization available to meet industry-specific needs. As the cloud has evolved, so have the solutions designed to maximize its potential. They range from specialized industry offerings to platforms that streamline enterprise-wide communications. Let's discuss these targeted solutions and their benefits and explain how they can be customized for your specific needs.
Industry-Specific Solutions
Healthcare
Compliance with healthcare regulations like HIPAA is non-negotiable. Cloud solutions for healthcare often feature enhanced security protocols and specialized data management systems to handle sensitive patient information.
Retail
Scalability is the key feature for retail enterprises. Cloud platforms for retail typically offer robust e-commerce solutions, inventory management systems, and point-of-sale functionalities.
Finance
In a highly regulated industry, cloud solutions focus on compliance and security, offering features like real-time auditing, encrypted data storage, and fraud detection algorithms.
Manufacturing
Manufacturing cloud platforms offer robust supply chain management functionalities, Internet of Things (IoT) integration for machine monitoring, and data analytics for performance optimization.
Education
Educational institutions require cloud solutions that enable virtual classrooms, secure test-taking environments, and data storage solutions for academic records.
Entertainment and Media
Streaming services, content libraries, and real-time analytics are some of the features often seen in cloud platforms tailored for this sector.
Selecting an industry-specific solution not only streamlines operational efficiencies but also reduces the complexity involved in adhering to industry regulations.
Enterprise Cloud Communications Platform
Communication is the cornerstone of enterprise operations. The shift towards remote working conditions has made cloud-based communication platforms more essential than ever. These platforms offer a variety of communication tools such as email, instant messaging, voice, and video conferencing, all integrated into a single cloud-based interface.
Here are some advantages of using an enterprise communications platform:
Unified Communication
Say goodbye to switching between multiple platforms for email, video calls, and instant messaging. Everything is housed in one place.
Global Collaboration
Cloud communication breaks down geographical barriers, enabling real-time collaboration among team members located around the world.
Cost-Efficiency
Eliminate the need for separate ISDN lines, hardware, and other associated infrastructure. All communication takes place in the cloud, reducing overhead costs.
Security
Advanced encryption algorithms ensure that all forms of communication are secure.
Scalability
As your organization grows, so can your communication requirements. Cloud-based solutions can scale up easily to meet increased demand.
Business Continuity
With data backup and recovery features, business communications can continue uninterrupted, even in the face of unforeseen events like hardware failures.
Tailoring Your Cloud Solutions
No two enterprises are identical, and therefore, it is highly unlikely that an off-the-shelf solution will meet all your requirements perfectly. Customization is often necessary for achieving the best results. Here are some pointers on how to tailor your cloud solutions:
Requirements Analysis
Start with a thorough analysis of what you need. Take a closer look at your current systems and pinpoint where improvements can be made. Make a list of the features you want to add to take your operations to the next level.
Vendor Consultation
Once you have your requirements sorted, consult with vendors to discuss customization possibilities. Some vendors offer modular solutions that let you pick and choose functionalities.
Proof of Concept
Before fully committing, it's a good idea to implement a proof of concept to gauge the efficacy of the tailored solution.
User Training
Customized solutions often have unique functionalities. Ensure that end-users are adequately trained to make the most of the system.
Ongoing Assessment
Once the solution is implemented, regularly review its performance. Look for bottlenecks, security issues, or any other areas that may need adjustment.
As enterprise cloud computing continues to evolve, the solutions it offers become more refined and tailored to specific industry needs. Whether it's a platform designed for healthcare compliance or one that simplifies global communications, the cloud is flexible enough to accommodate a multitude of requirements.
From industry-specific solutions that cater to sectoral regulations and requirements to communications platforms that unify your entire organization, the enterprise cloud computing landscape offers a rich tapestry of options. But remember, no solution will be a perfect fit right out of the box. Customization is key to leveraging the cloud's full potential.
Advantages and Disadvantages of Cloud Computing for Enterprise Resource Planning
Enterprise Resource Planning (ERP) arrangements are an essential component for many organizations, providing integrated management of core business processes. However, traditional ERP systems often require significant investment in hardware, software, and manpower. Cloud computing is a go-to tool when it comes to scalability and cost-effectiveness.
It's the perfect solution for those looking for a more efficient way of managing their data. But like any technology, cloud-based ERP is not without its challenges and concerns. We'll try to offer a balanced view, detailing potential drawbacks.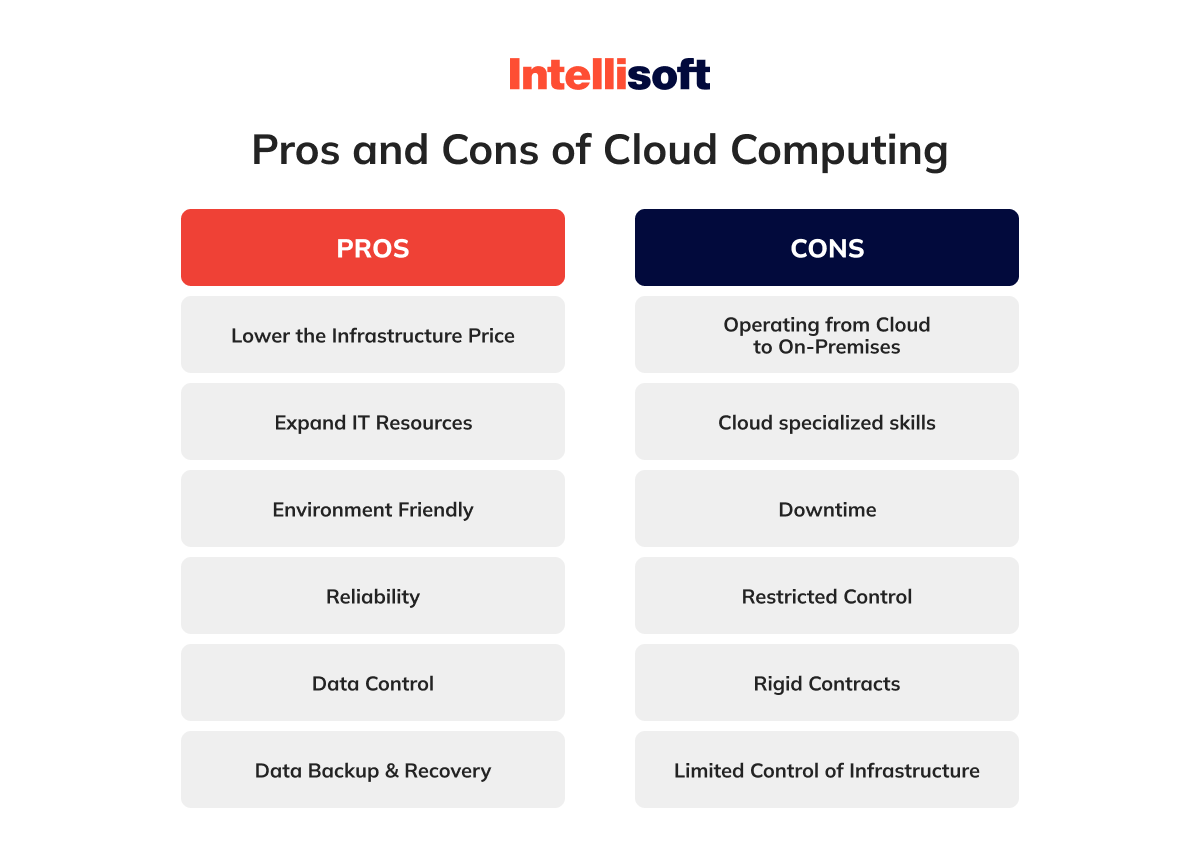 Challenges and Concerns
Data Migration
One of the most daunting challenges when transitioning to a cloud-based ERP system is data migration. The process is often time-consuming and can result in data loss if not done carefully.
Customization Limitations
Traditional ERP systems often offer more scope for customization compared to their cloud-based counterparts, which might offer limited options due to their multi-tenant architecture.
Downtime
While cloud providers promise high uptime, there's always the risk of downtime due to maintenance, updates, or unexpected issues.
Vendor Lock-In
Switching vendors in the future can be a daunting task when using cloud ERP solutions that rely on proprietary technology. This can not only be expensive but also time-consuming.
Compliance and Legal Issues
For businesses operating in industries with strict regulations, cloud-based ERP solutions may pose a challenge as they may not be fully compliant. As a result, additional workarounds or systems may be required to ensure regulatory compliance.
Security Risks
Data Breaches
Storing sensitive data in the cloud always comes with the risk of unauthorized access. While providers invest heavily in security, no system is entirely foolproof.
Data Loss
Whether through accidental deletion or a catastrophic event like a cyberattack, the potential for data loss is a significant concern.
Account Hijacking
If an attacker gains control over your cloud account, they can tamper with your data, introduce malicious software, and conduct other unauthorized activities.
Insider Threats
It's important to be aware that employees who have access to the ERP system on the cloud can inadvertently or intentionally put your data at risk.
Third-Party Risks
Cloud ERP often involves multiple third-party services, and each introduces its own set of security vulnerabilities.
Cost Implications
Initial Investment
While cloud-based ERP often requires less upfront investment compared to on-premises solutions, there are still costs involved in migrating data and training staff.
Ongoing Costs
Subscription fees, additional storage, and other feature costs can add up over time.
Hidden Costs
These can include charges for data transfer, additional security measures, and third-party integrations that are not included in the initial price quote.
ROI Uncertainty
While cloud ERP solutions promise better ROI due to lower upfront costs and scalability, this is not guaranteed and can vary based on a multitude of factors, including how well the system is utilized and managed.
The move to cloud-based ERP solutions offers a range of benefits, including scalability, flexibility, and potential cost savings. However, businesses should be aware of the associated challenges, security risks, and cost implications. Thorough due diligence, including a comprehensive risk assessment and cost analysis, should precede any decision to move your ERP to the cloud. By doing so, you can maximize the benefits while minimizing the risks, ensuring that your ERP system supports your business goals both now and in the future.
Future Trends of Enterprise Cloud Computing
The enterprise cloud computing landscape is not static. It's continually evolving, influenced by other groundbreaking technologies and methodologies that are shaping the way businesses operate. Let's explore the major trends that will shape the next generation of enterprise cloud computing.
Artificial Intelligence and Cloud Computing
The symbiosis between Artificial Intelligence (AI) and cloud computing is absolutely fascinating and has been generating a lot of buzz in the tech industry lately. While AI provides the "brains" to process massive amounts of data and make intelligent decisions, cloud computing provides the "muscle" to store this data and run complex algorithms. Here's how AI is expected to influence this technology in the future:
Automated Decision-Making
AI algorithms can analyze data in real time, allowing for quicker and more accurate business decisions. Cloud computing makes this high-speed, data-intensive operation feasible.
Enhanced Security
Machine learning algorithms can identify and react to security threats in a more nuanced manner than traditional security measures. These algorithms can be trained and updated in the cloud, offering dynamic security solutions that evolve with the threat landscape.
Optimized Operations
AI can help in resource allocation, ensuring that computing resources are deployed efficiently. This is crucial for cloud environments where optimizing performance while minimizing costs is key.
Personalized User Experience
AI can analyze customer data to offer more personalized experiences, from e-commerce recommendations to customer service interactions. The cloud enables this by offering the necessary scalability to handle large data sets and the computing power to analyze them.
The Role of Edge Computing
Edge computing represents another significant trend that is poised to impact the future of cloud computing. In an edge computing model, data processing happens closer to the location where it is generated, such as a local server or even an IoT device, rather than being sent to a centralized cloud-based data center. This has several benefits:
Reduced Latency
The implementation of edge computing is instrumental in minimizing the duration it takes for data to travel, which ultimately leads to a reduction in latency. This is of utmost importance in real-time applications such as autonomous vehicles and telemedicine, where even the slightest delay can have significant consequences.
Bandwidth Efficiency
Transferring data back and forth between local devices and centralized data centers requires significant bandwidth. Edge computing can reduce this need by processing data locally, saving bandwidth for other critical tasks.
Data Privacy and Security
Processing data locally can also reduce the risk associated with data transmission, including the potential for data loss or interception. This is increasingly important as data privacy regulations become more stringent.
Interplay with the Cloud
While edge computing can handle real-time data processing, the cloud still plays a crucial role in storing data for long-term analysis and providing the computational power for more complex tasks. In this way, edge and cloud computing can work in tandem to offer a more comprehensive solution.
By incorporating AI and edge computing into your cloud strategies, you can not only optimize the current operations of your organization but also prepare for future challenges and opportunities.
Conclusion
In a world where technological advancement is a necessity for survival, cloud computing stands as a pillar of modern enterprise strategy. From its roots as a novel concept to its evolution as a game-changer for businesses, cloud computing has come a long way. Its manifold advantages, such as scalability, flexibility, and security, make it indispensable in today's digital age.
The landscape of enterprise cloud computing is ever-changing, influenced by emerging trends like artificial intelligence and edge computing. These trends are not only enhancing the capabilities of cloud-based solutions but are also paving the way for more efficient, secure, and real-time operations.
However, as with any technology, cloud computing is not without its challenges. Concerns regarding security, cost implications, and the need for tailored solutions still exist. Therefore, enterprises must adopt a balanced and well-thought-out cloud strategy, one that aligns with their unique needs while also allowing the flexibility to adapt and evolve.
Unlock the Future with IntelliSoft Cloud Development Services
If you're looking to harness the power of enterprise cloud computing but don't know where to start, IntelliSoft is here to guide you every step of the way. Our expertise lies in creating personalized solutions that not only cater to your current business requirements but also prepare you for long-term triumph.
We understand how important it is to have a hassle-free and smooth cloud experience. That's why our experienced team of professionals is committed to ensuring that every step of your journey is seamless, from the very first planning stages right through to the final deployment and ongoing maintenance. So you can sit back and relax, knowing that we've got you covered every step of the way. Transform your business operations, achieve unparalleled efficiency, and prepare for the future with IntelliSoft. Contact us today to discover how our cloud development services can propel your enterprise into the next era of digital innovation.
FAQ