We are now witnessing a fierce three-way battle for dominance in the cloud computing world. The players are AWS, Azure, and Google Cloud. It's almost impossible to make any bets and choose who to cheer for, as the three platforms are performing neck and neck. However, modern companies need to settle for one cloud storage platform to transform their businesses and create new opportunities. Companies like Netflix, Boeing, and other tech giants, have already decided, so it's time for you to make a choice of a cloud computing provider. To make it easier, we have prepared a detailed comparison guide to help you decide which platform to use for migrating to the cloud and explore its endless possibilities.
Fortunately, being in the cloud computing industry longer than most cloud services has allowed IntelliSoft to explore all their ins and outs, and why should we keep this information to ourselves? Let's jump into the exciting world of cloud computing and AWS vs. Azure vs. Google Cloud services comparison, and choose a top player in this powerful trio to help you scale your business and outperform your competitors.
What is Cloud Computing?
Cloud computing has proven to be the ultimate solution for companies that want to keep up with the world of technology evolving at the speed of light. It delivers various computing services, such as servers, networking databases, software, storage, and intelligence. The primary objective of cloud computing is to enable companies to accelerate innovation, rapidly scale their operations, and efficiently manage their data.
External vendors, known as cloud providers, offer accessible cloud computing resources that can be remotely accessed from anywhere globally. These resources are classified into three main types: infrastructure as a service (IaaS), platform as a service (PaaS), and software as a service (SaaS). Cloud services come in both private and public variants, all geared toward providing flexible and scalable access to IT services and computing resources.
In this article we'll be talking about cloud platforms, so it also makes sense to define them. A cloud platform is a set of powers and servers provided by third-party teams of developers. These platforms include analytical tools, computational resources, and databases for companies of all sizes.
Benefits of cloud computing
As practice shows, cloud computing is one huge benefit. It has so many options for managing, storing, and processing data that it can get overwhelming. We have prepared a list of cloud computing benefits to show you that it's indeed a golden ticket to digital transformation.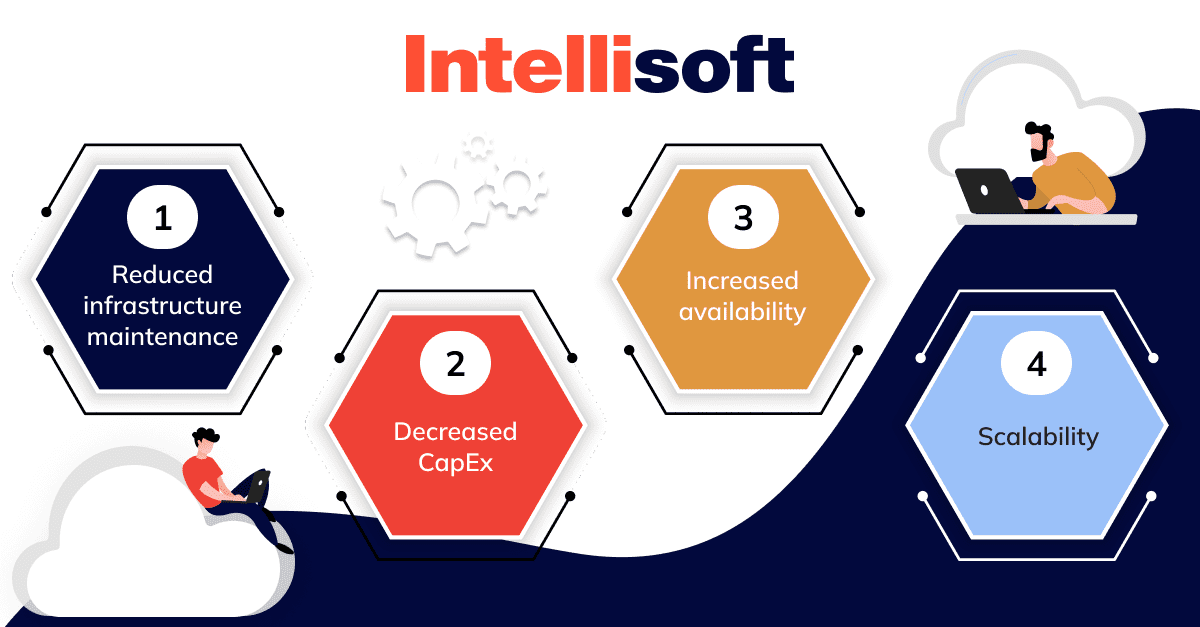 Reduced infrastructure maintenance
You can forget about physical storage and manual maintenance with cloud computing resources. Everything is stored on the cloud and can be accessed remotely, and your teams can focus on more critical tasks than maintaining the infrastructure manually.
In the absence of cloud resources, a business would typically have to invest in upfront capital expenses to set up the necessary IT infrastructure. This could involve purchasing servers, equipment, and other hardware, which requires significant financial planning and commitment.
However, by adopting cloud computing, these upfront capital infrastructure expenses can be replaced with more manageable and flexible low-variable costs. Cloud services allow businesses to pay for resources on-demand and as they go, eliminating the need for large upfront investments.
In this way, they no longer have to spend substantial amounts of money on purchasing and preparing for hardware in advance. Instead, they can scale their computing resources based on their actual needs and capabilities, providing a more cost-effective and efficient approach to IT resource management.
With cloud computing platforms, all IT resources are at your fingertips, no matter where you are. Thus, developers can access the resources immediately, not affecting the timelines and efficiency of the development process. This increased availability is an excellent boost for your company's agility.
If you need to scale up, you can do it smoothly with cloud computing. There's no need to purchase any servers because everything is already there: bandwidth, computing power, and storage.
Related Readings:
What is AWS?
One of the best cloud web services is Amazon Web Services (AWS) – a current market leader created by Amazon.com, Inc. It was released in 2006 and has grown to a massive platform with more than 200 services for developers, enterprises, and governments worldwide. AWS has a focus on the public cloud, offering services like Elastic Compute Cloud (EC2), Elastic Block Store (EBS), Content delivery network, Amazon CloudFront, and others.
Users of AWS
Coca-Cola
Expedia
Netflix
Coursera
Formula 1
Lyft
Airbnb
Food and Drug Administration (FDA)
What is Azure?
While Azure holds the second position in terms of users and services, it remains an immensely popular cloud platform, widely adopted by numerous tech giants. In the present day, Microsoft Azure stands as one of the most rapidly expanding platforms, catering to enterprises heavily integrated with Microsoft. Its extensive offerings encompass IaaS, SaaS, and PaaS solutions, providing a comprehensive range of services such as networking, storage, analytics, and more.
Its hybrid cloud allows Azure to interoperate with data centers and bridge the legacy data center environment with the cloud. One of the main reasons why Azure is so popular is that a massive percentage of large and small businesses rely on Windows and Microsoft software.
Users of Azure
HP
Renault
Starbucks
FedEx
Bosch
Audi
ASOS
What is Google Cloud?
At its inception, Google Cloud Platform (GCP) was formed as an extension of App Engine. Similar to Azure, GCP was developed in 2010 and has since evolved to provide clients with a vast array of over 100 services. Among these services are Chrome OS, Google Workspace, and many others. Over the years, Google Cloud Platform has grown into a robust and diverse platform, catering to a wide range of client needs and requirements.
GCP runs on the same infrastructure as Google. Its initial goal was to strengthen Google products, but now it's also used by other enterprises.
Users of Google Cloud
Twitter
Toyota
Spotify
Nintendo
UPS
Target
Paypal
AWS vs Google Cloud vs Microsoft Azure: the Key Differences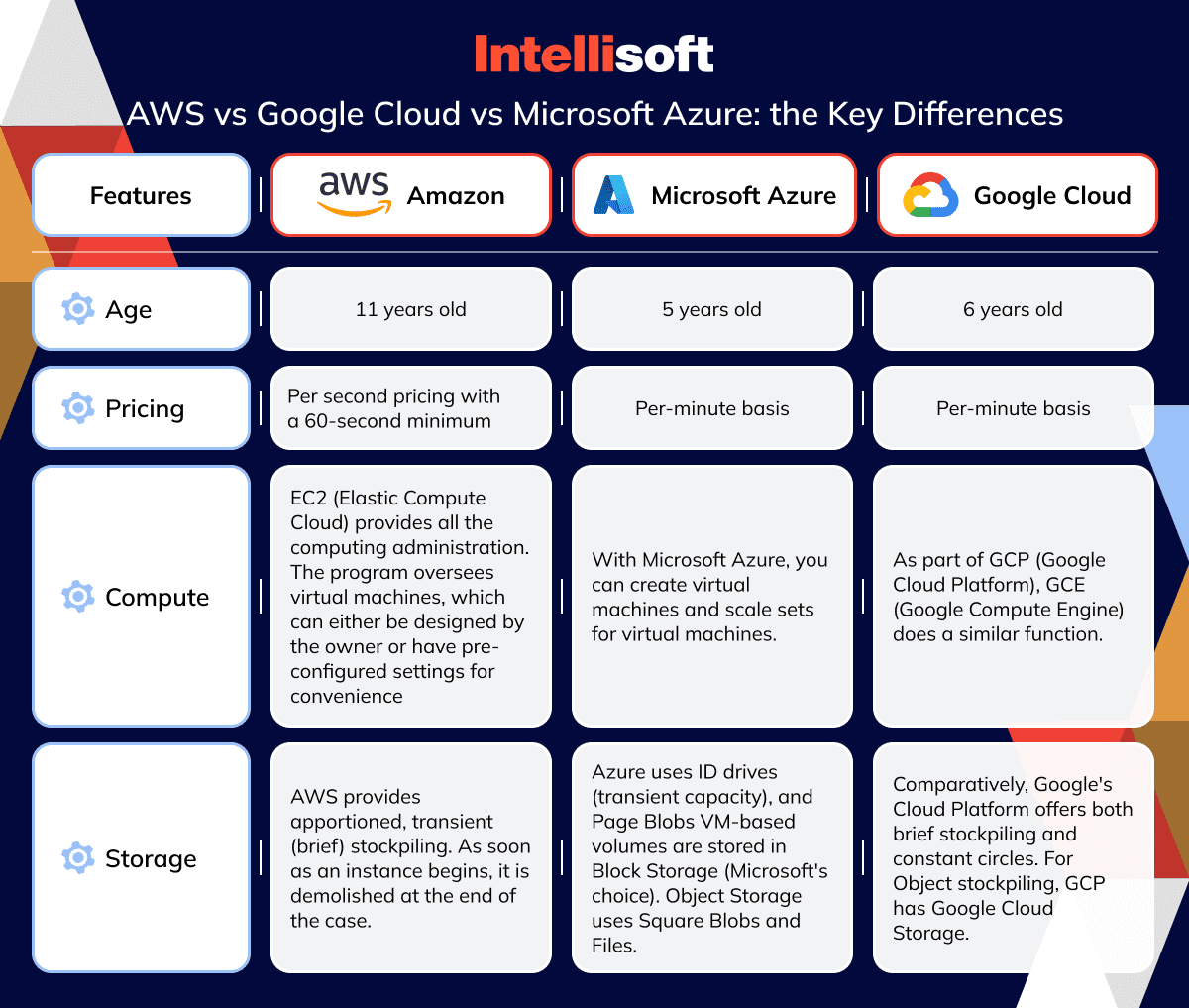 Establishment
Before comparing the features and services of each platform, let's focus on the histories of their creation since the starting points influenced their further development.
AWS
It's the oldest cloud platform out of the three, entering the tech world in 2006 with services like Elastic Compute Cloud (EC2) and Simple Storage Service (Amazon S3). Later, in 2009, Amazon CloudFront and Content Delivery Network (CDN) were added. As the years passed, the platform grew bigger and stronger, adding new features and gaining the trust and support of thousands of developers.
Azure
Microsoft Azure emerged on the horizon in 2010 as "Azure." In 2014, it was renamed "Microsoft Azure," yet its initial name is still widely used. This platform has also grown drastically and has an extensive user base worldwide.
Google Cloud Platform
Google launched the Google Cloud Platform 2008 to strengthen its products, including YouTube. The effectiveness of the platform, and its success, demonstrated to Google that it's not fair to keep the platform to themselves, and they have launched services available to anyone interested.
AWS vs Google Cloud vs Microsoft Azure: Regions and availability
AWS has 31 Launched Regions, each with multiple Availability Zones (AZs), 99 Availability Zones, and 450+ points of presence. The platform services 245 counties and territories, 35 local and 29 wavelength zones. Moreover, it has 400+ edge locations and 13 Regional Edge Caches.
Microsoft Azure operates in 54 regions, each having three Availability zones and 116 Edge Locations.
Google Cloud Platform operates in 34 cloud regions, 103 zones, and over 200 edge locations.
Market share
According to Statista, AWS has taken a significant lead in the market share race, surpassing its competitors. In the first quarter of 2023, AWS dominated the worldwide cloud infrastructure market with an impressive share of 32%. Azure followed in second place with a 23% share, while Google Cloud secured a 10% share, trailing behind the top two providers.
Who uses them?
Naturally, AWS – the oldest cloud platform – has a more extensive user base and community support. It is a well-known brand with an established list of tech giants trusting it, including Netflix, Samsung, Airbnb, Unilever, and others.
Azure keeps pace with AWS in terms of established clients. It has more than 500 companies as its clients, including Polycom, HP, Apple, ASOS, Starbucks, Bosch, Fujifilm, etc.
Google shares the same infrastructure as YouTube and Google Search, and that's the reason why established companies trust the Google Cloud Platform. Clients of GCP include PayPal, Dominos, Bloomberg, 20th Century Fox, etc.
Services
AWS has the most extensive set of services, while Azure runs second in this race, offering AI, ML, and analytics tools. GCP comes in third place.
Compute Services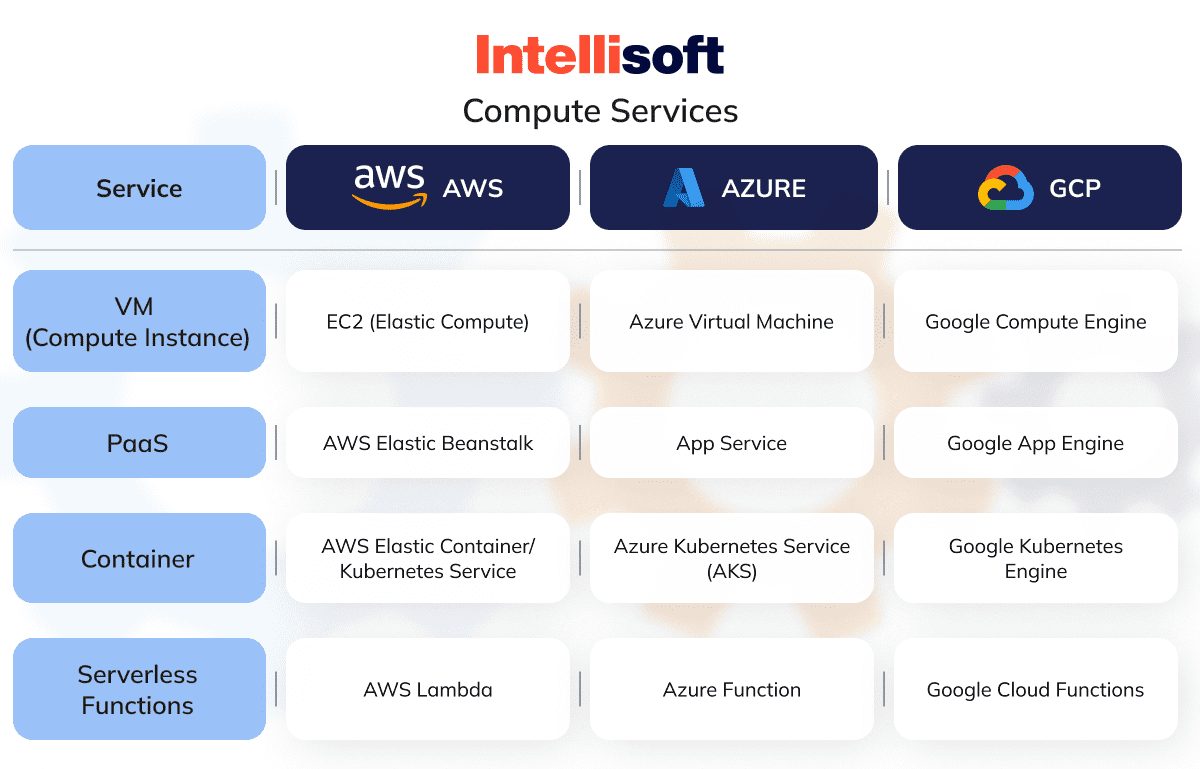 Database & Storage Services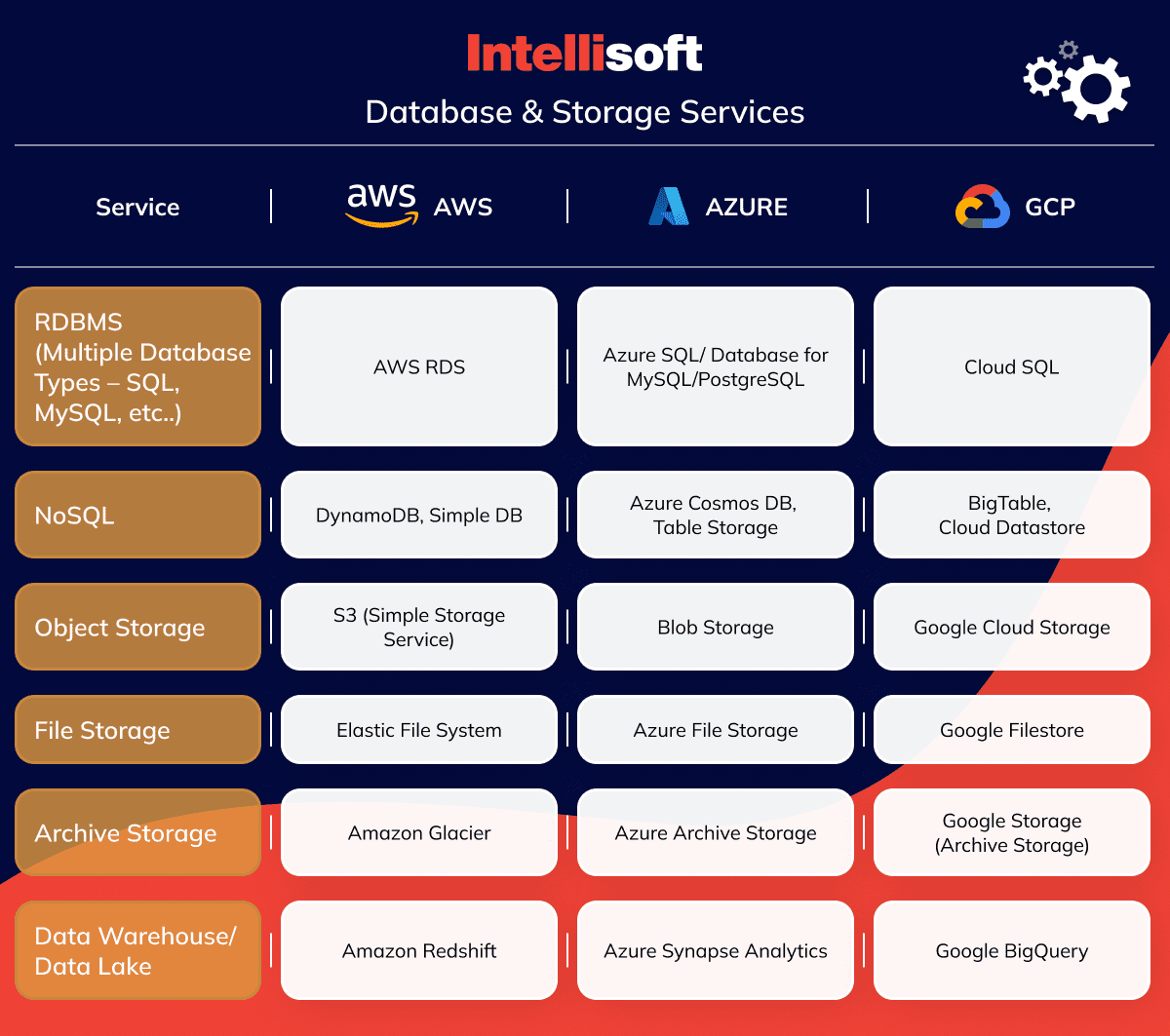 Networking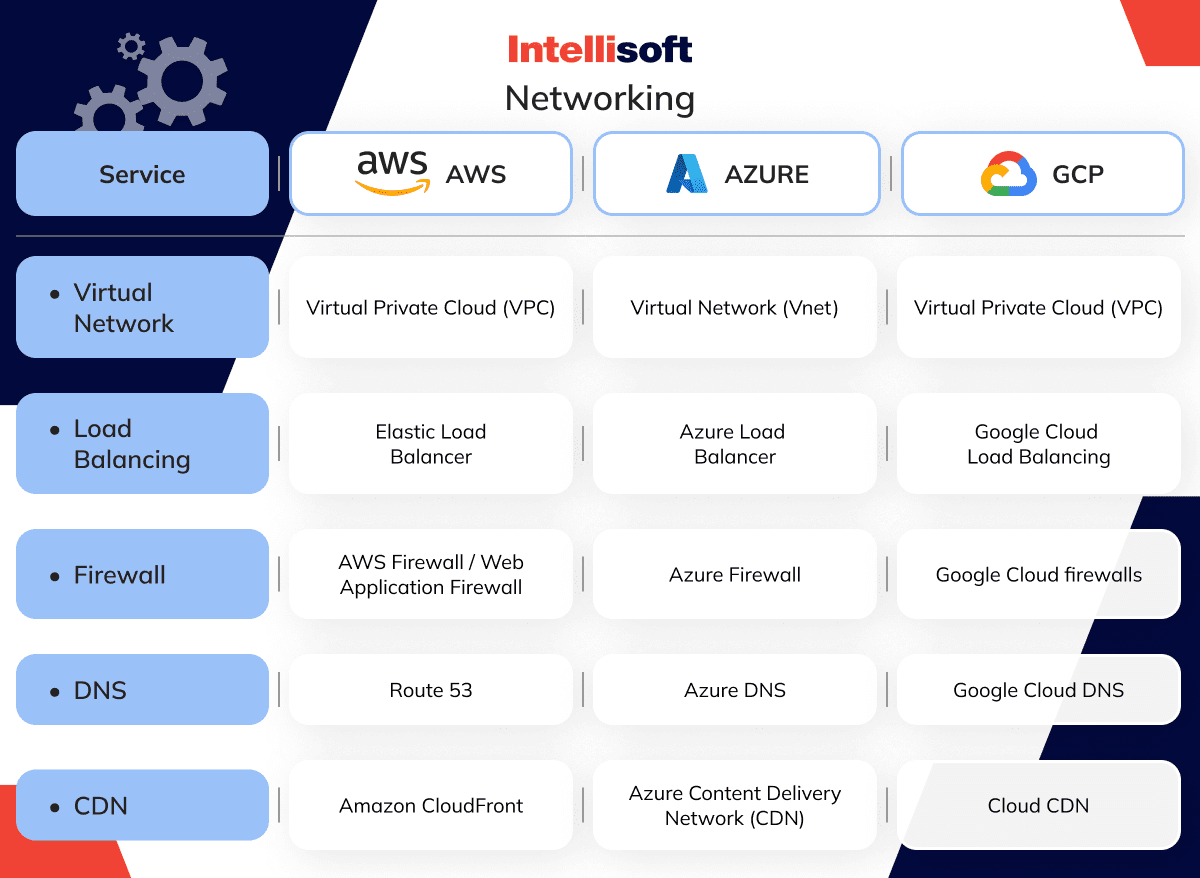 Specialized services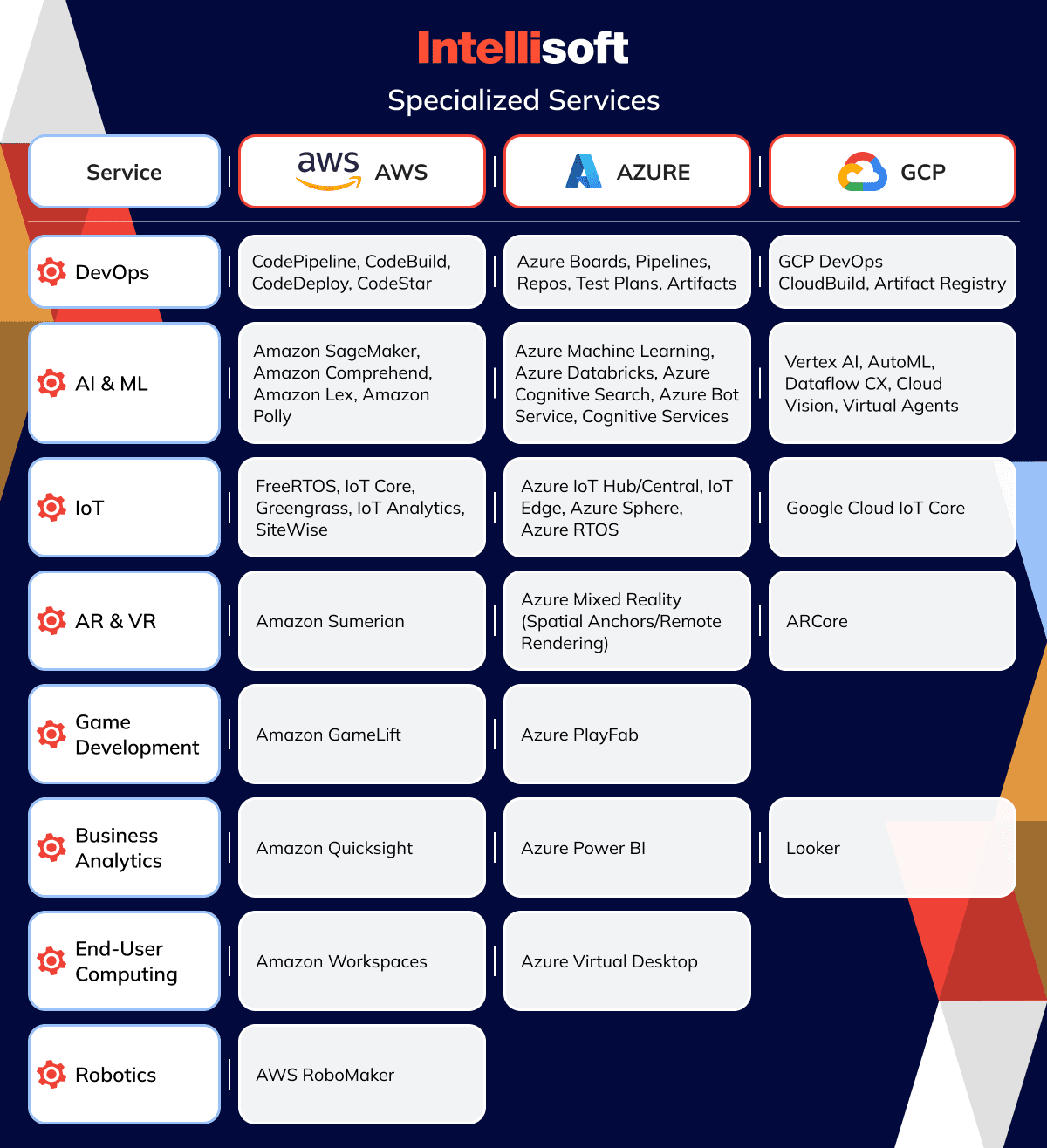 AWS vs Google Cloud vs Microsoft Azure: Key cloud tools
AWS
AI and ML: AWS offers services with an AI-powered camera, Deeplens. It can be used to develop and deploy ML algorithms for OCR. AWS has also announced an open-source deep learning library, Gluon. Developers can use it to build neural networks, even if they do not know AI.
Serverless computing services: AWS's services include Lambda, Greengrass, Lex, and SageMaker.
Container services: AWS also offers container services that support Kubernetes, Docker, and Fargate. These services allow companies to manage clusters, automate servers, and execute computing tasks in batches. Moreover, they allow scaling up any web application.
Elastic Compute Cloud: EC2 is a flagship cloud tool for AWS. With this tool, it is possible to easily and securely scale up the computing capacity in the cloud.
Azure
Cognitive services: Azure has a set of flagship services, including Text Analytics API, Web Search API, Computer Vision API, Face API, and Custom Vision Service.
Virtual machines: It is the primary computing service of Azure. It offers enhanced security, available instances, hybrid cloud capabilities, instances optimized for AI and ML, and support for SQL Server, SAP, Linux, and others.
Google Cloud
IoT to serverless: GCP offers APIs for speech, natural language, and translation and offers IoT and serverless services.
Compute Engine: This service offers Linux and Windows support, predefined and custom machine types, carbon-neutral infrastructure, automatic discounts, per-second billing, and other features. It is the primary service offered by GCP.
Kubernetes: If your company wants to deploy containers, GCP offers the Kubernetes Engine.
Big on AI: TensorFlow, offered by Google Cloud, is an open-source library for developing ML applications and utilizing AI.
AWS vs Google Cloud vs Microsoft Azure: Hybrid and multi-cloud options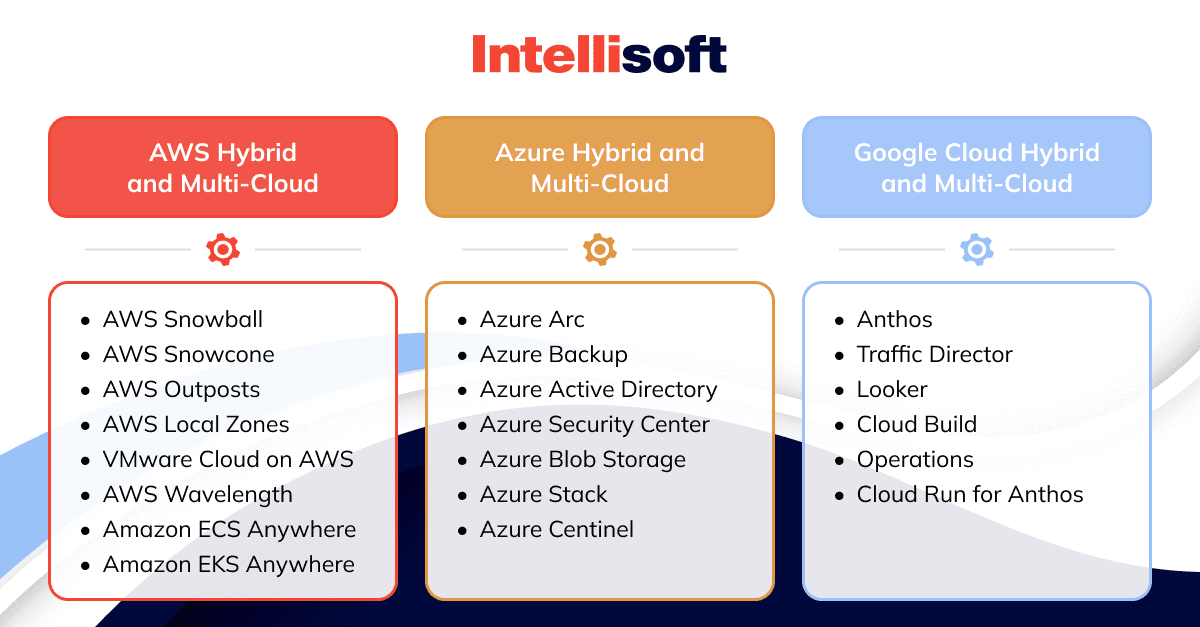 AWS, Azure, Google: Price comparison
There's no universal pricing for cloud platforms as the costs depend on your business requirements, the services you want to use, and what for you will use the platform. Here's the table of the approximate pricing of the three cloud computing platforms: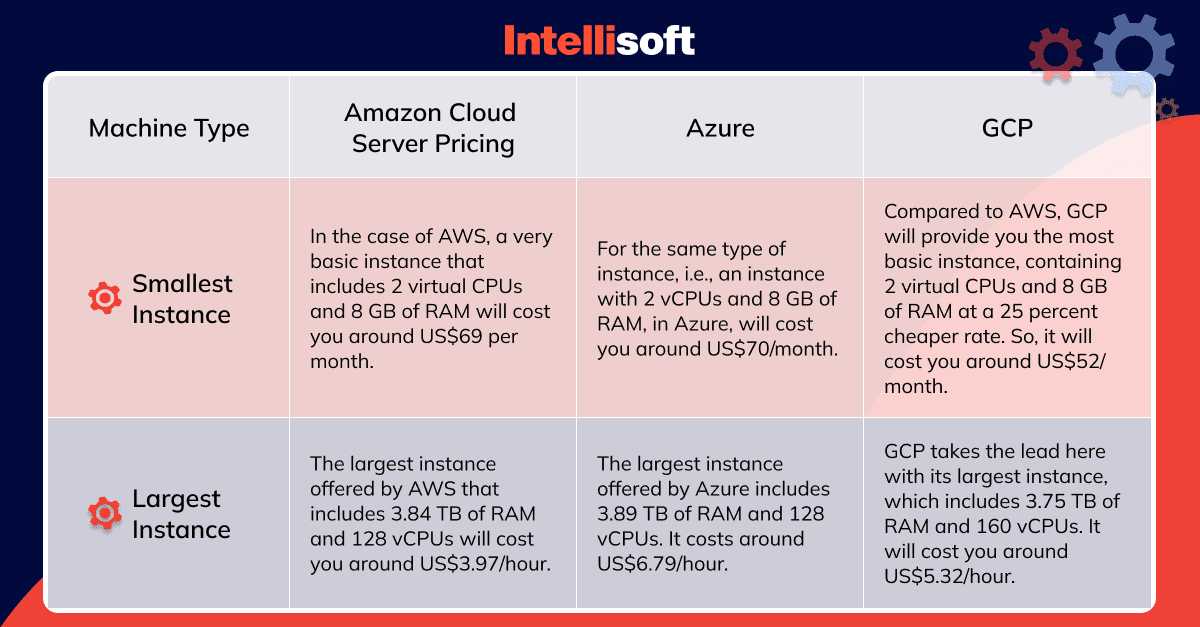 AWS vs Google Cloud vs Microsoft Azure: Pros and Cons
None of the cloud platforms is perfect; all of them have limitations, and the key is learning how to deal with them. Let's explore their key benefits and disadvantages so your choice is easier and more informed.
AWS Pros
Vast service portfolio: AWS is a leader in the number of solutions and services it offers to companies, including storage, analytics, ML and AI, and computing power. Essentially, it can meet any business needs, no matter the size of your business.
Global infrastructure: AWS's data centers are scattered across the globe, allowing low-latency access and the ability to build and deploy apps close to their users, significantly improving user experience and overall performance.
Security and compliance: If you're worried about the security of your data, it won't be an issue with AWS. It provides various security features and compliance with the latest regulations. As a result, all your business data will be protected against breaches and leaks.
Scalability: As your business grows, so do your requirements and resources, and there's a need for easy scaling up. AWS allows you to scale up or down quickly and select flexible computing power and network resources options.
AWS Cons
Complexity: The number of features and solutions offered by AWS can be overwhelming for those unfamiliar with the platform. Learning how to use them and manage everything can take some time, thus you should invest in employee training if you decide to adopt AWS in your company.
Vendor lock-ins: It's a disadvantage of any cloud provider; migrating your apps to a new cloud platform can be burdensome.
Pricing: AWS's pricing models are pretty flexible, but the structure is still complex. If you don't plan your budget or optimize costs, you can waste time and money.
Limited support: Here, the support you receive depends on your chosen plan. In some cases, the AWS support plans might not align with your requirements, so you need to seek additional support elsewhere.
Azure Pros
A lot of services: Azure also impresses with its number of services. They include virtual machines, analytics, machine learning and artificial intelligence, and various databases.
Integration with Microsoft ecosystem: Azure is great for integration with other Microsoft products and services, such as Office 365, Windows Server, Active Directory, and others. If that's a breaking point for you because you rely on the Microsoft ecosystem, Azure is a perfect choice.
Global presence: Azure also distributes its services worldwide, just like AWS.
Hybrid cloud: This platform supports hybrid cloud deployments, so that companies can integrate on-premises infrastructure with the cloud.
Azure Cons
Complexity: Azure can also be complex for beginners, requiring learning and training.
Documentation: The platform offers extensive documentation, yet it can be too overwhelming. Moreover, Azure also has different support plans, and they may not suit your needs.
Cost management: Dynamic cloud makes managing and understanding costs challenging. You need to carefully monitor your spending or else you will be faced with unexpected expenses way over your budget.
Service availability: Azure offers high availability but doesn't guarantee disruptions and service outages. Yet, if you have a proper disaster recovery plan, you can take care of those problems.
Google Cloud Pros
Security: Google's main priority is security and compliance with regulations, so all your data and apps will be highly protected.
Scalability: You can scale your resources up and down with GCP quickly.
Global infrastructure: GCP also offers a vast global network for your clients worldwide.
ML and Big Data: GCP offers tools for big data processing, AI features, and machine learning for advanced analytics and more data-driven insights.
Google Cloud Cons
Competition: GCP faces severe competition with Azure and AWS, often not being the first choice, so it's essential to evaluate all features and solutions wisely before making a choice.
Cost: Google hosting pricing has a lot of options for all types of businesses, but sometimes, the prices can rise depending on your services, so you need to consider that. However, when it comes to Google Cloud VPS pricing, you can get a free VPS when you first create a new Google Cloud account.
Support: It seems to be the common disadvantage of cloud computing platforms, but GCP may not always meet your support requirements.
Service outages: All cloud platforms can face service outages, so you need to come prepared for that.
AWS Vs. Azure Vs. Google Cloud: What is Best for You?
Unfortunately, there's no one-size-fits-all cloud solution. The best cloud platform is the one that meets your business needs and capabilities, thus the choice will depend on your specific case. Let's rate the three solutions and make your decision a little easier.
Market shares: AWS holds around one-third of the market shares, so we give it five stars.
Establishments: The winner here is also AWS, as it's the oldest and most advanced solution.
Availability zones: AWS has more availability zones and covers most regions; consequently, it wins in this category.
Growth rate: GCP has a growth rate of almost 100%, being a total winner.
Who uses them: All three platforms come hand in hand here, as industry giants use all of them.
Services: If you care the most about the number of services, AWS comes first. However, if you need your cloud platform to easily integrate with open-source and on-premise systems, then choose Azure.
AWS seems to be a winner among the three platforms, yet it still doesn't mean it will be a perfect solution in your case. Moreover, considering how fast Azure and GCP are growing, they might overrun AWS in the coming years. For example, sticking to Azure might make more sense if your organization relies on Microsoft infrastructure. GCP, on the other hand, offers the best pricing models. Thus, the choice depends on multiple factors that you need to consider wisely.
Conclusion
We get it; choosing among the three best cloud platforms is not a piece of cake. It might seem that any option will suit your case, considering that tech giants use those platforms successfully, but remember that they didn't make this choice overnight. Consider your current business state, budget, computing capabilities, and scalability requirements when choosing among AWS, Azure, and GCP. If the choice seems too simple, don't hesitate to contact us. At IntelliSoft, we will consult you on the matter and help you integrate cloud services into your organization, manage them, and provide any needed support.
FAQ