If you are looking for a senior developer with ten years of JavaScript experience, chances are, competitors are looking for such a person too. Industry giants like TerraCycle Inc. from the US, BAASS Business Solutions Inc. from Canada, and London School of Business & Finance from the UK outsource their IT staff. Competing with them is rather challenging for start-ups and small businesses. The truth is, companies with big names and strong brands are at an advantage.
Based on the statistics from LinkedIn, nearly 75% of all job seekers choose employers based on their reputation. The company's main values and philosophy are what matters when it comes to competition, not salaries and vacation.
The multi-stage HR process is fading into oblivion. Candidates aren't happy about passing tests, multiple interviews, and other deep-rooted bureaucracy. It's crucial to restructure the process of hiring and create a thought-out adaptation system. That's why the role of good HR specialists is crucial.
Today, businesses are often faced with the problem of finding skilled software developers and designers. Let's discuss the main benefits and downsides of internal and external recruitment. Should you go for the staff augmentation company?
The Global Staff Shortage
The international community Manpowergroup is stating that hiring is becoming more difficult with each new year. According to their statements, in 2021, the labor shortage reached its 15-year high.
Some time or other, every company faces a great concern when expanding its staff. At the same time, the hiring process itself, despite numerous new techniques and methods, is not becoming easier. For example, according to a study conducted by USA Today, an offer is no longer a guarantee that a vacancy is closed.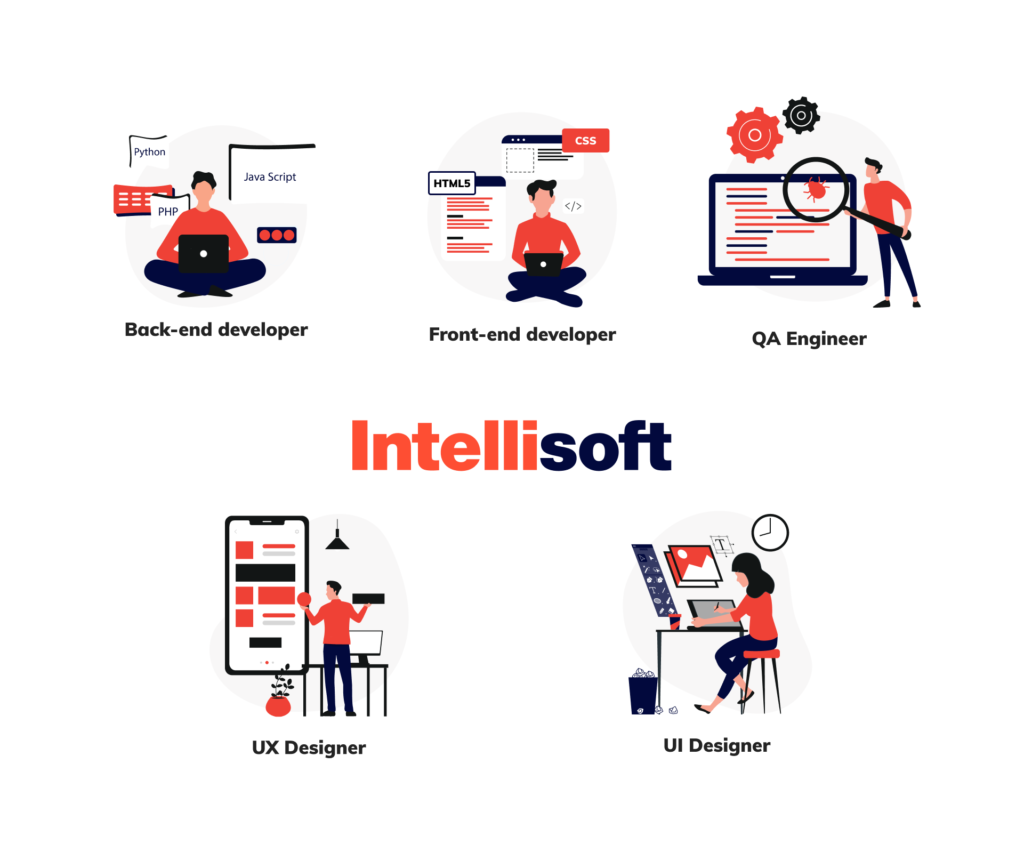 According to interviewed recruiters, about 20-50% of candidates do not make it to the job interview or show up on their first working day. At a certain point, there are so many interviews that the management is faced with the need to either create an internal HR department or outsource this task. Intellisoft knows a better way out: how about outsourcing the teams of IT experts (e.g., back-end/front-end developers, QA engineers, and UI/UX designers)? In any case, businesses today should be aware of such terms as staff augmentation and in-house recruitment or staff augmentation vs outsourcing. Let's check the difference.
What Is Staff Augmentation?
What is the most accurate staff augmentation definition? It is a flexible outsourcing approach that makes it possible to recruit tech talent worldwide and manage the team directly. Your company can then cut or extend the team at any time. Recruitment providers are intermediaries that search for candidates for a client company according to specified criteria. They search, select, interview and examine the applicant's provided recommendations.
Recruitment companies are engaged in both mass and individual search for employees, as well as the search for temporary personnel. Their services include a selection of executives, administrative managers, top and middle managers, outsourcing, outstaffing, consultations on employee and labor protection, and the solution of documentary issues.
Augmentation agents do not only seek suitable candidates but also conduct interviews with them and help in solving employment issues. The process of recruitment has the following stages:
Criteria clarification
The search for a suitable candidate in the talent database
Selection of the most suitable staff
Organization of a face-to-face meeting between candidate and employee
Accompaniment and support
Signing an agreement and hiring
Why Do Companies Need Recruitment Agencies?
Let's have a look at the main benefits recruitment agencies can provide.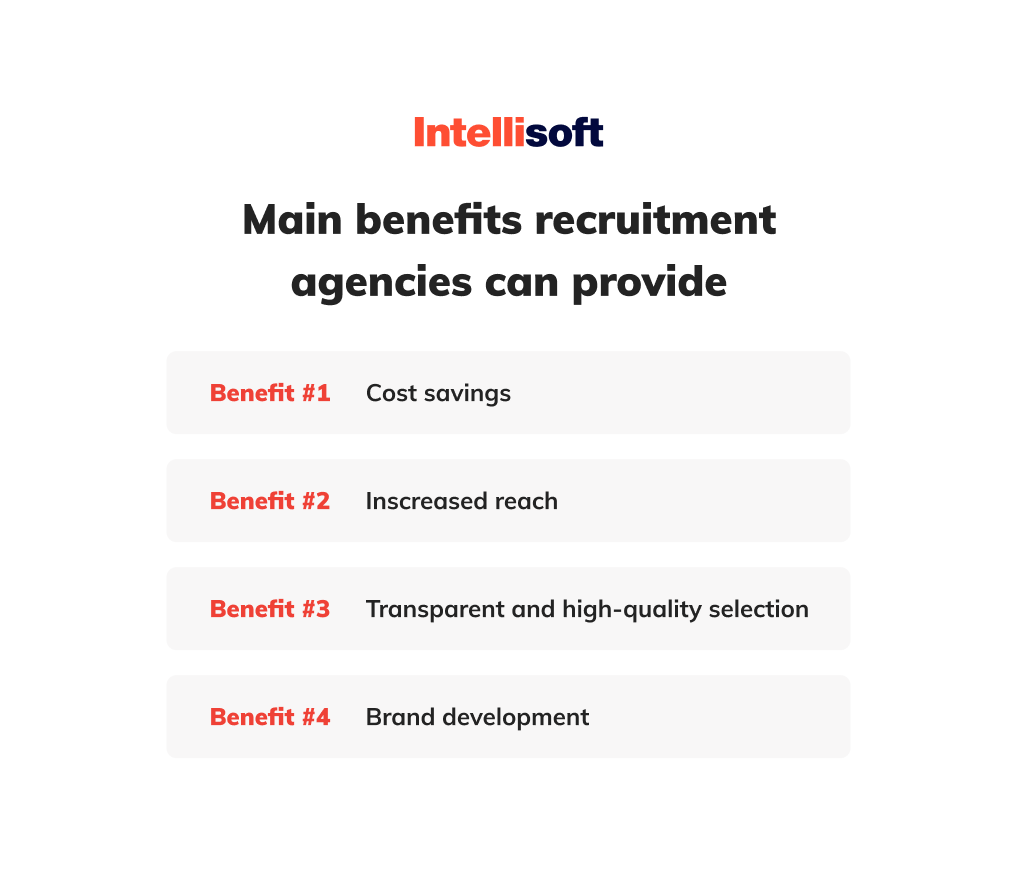 Benefit #1: Cost Savings
According to the review website GlassDoor, the average US company spends about 4,000 USD on hiring an employee and about 52 days to close a vacancy. Cooperating with augmentation providers reduces the staff cost by 20-30%.
What is more, recruitment agencies usually provide a guarantee for candidates they select. If the suggested candidate does not pass the probation period, a replacement for this person will be found free of charge, no matter if the company is looking for a UX designer or a software developer.
Benefit #2: Increased Reach
Today, experts agree that the odds are in the favor of employees instead of the employer. According to the statistics provided by the news portal CNBC, there are more job offerings than people open to work.
Another thing, the services of a recruitment agency are useful when looking for a field expert. You're lucky if such a candidate is open to work, but most recruiters have a hard time hunting.
Benefit #3: Transparent and High-Quality Selection
In-house recruiters can afford to take their time, relying on their ideas of the perfect candidate. Recruiting agencies are interested only in the result.
Even if a company's in-house recruiter is qualified enough, the applicant by default perceives them as biased. The advantage of an external specialist is that he or she is a detached and independent participant.
Benefit #4: Brand Development
According to the search engine GlassDoor, 3 of 4 recruiters consider recruiting new employees their priority. However, only large companies with big HR departments can afford painstaking recruitment without neglecting their staff.
Instead of plugging holes, sometimes, it's worth paying attention to the retention of employees and good corporate culture. In addition, it is not uncommon for offshore staff augmentation companies to provide feedback on the company's internal processes as part of their customer service.
What Is In-House Recruitment?
The main task of an internal HR department is to assist employees in solving personal or corporate issues. HR specialists usually seek, train, and reward talents. At the same time, recruitment specialists aren't able to do this alone – in this regard, supporting departments are essential. HR specialists do not only search for candidates. They are also responsible for other important tasks. They help develop good corporate culture and do wage management.
Why Do Companies Need In-House Recruitment?
Today, it is hard to imagine an enterprise with the number of employees surpassing 50 people without a recruitment department. Recruitment departments are not only a functional unit but the face of the company since it is the HR specialist who is seeking, selecting, and communicating with every new candidate.
The purpose of the recruitment department is to contribute to achieving the company's goals by providing the company with the necessary personnel and creating a good corporate culture by communicating with the existing team and potential future employees. The search and selection of candidates are both carried out using the following recruitment strategies:
submission of detailed information about the open vacancy in different employment services
selection of suitable talent
organization of job interviews
support of new employees
The main task of internal recruiters is to examine the employees' work. They write down the right number of working, off and sick days of employees and submit this information to the accounting department. Internal recruiters do also track the overall mood of employees. One of their tasks is also to notice any signs of mental health issues. Thus, they play a vital role in project outsourcing.
Let's have a look at the main reasons to hold an internal HR department.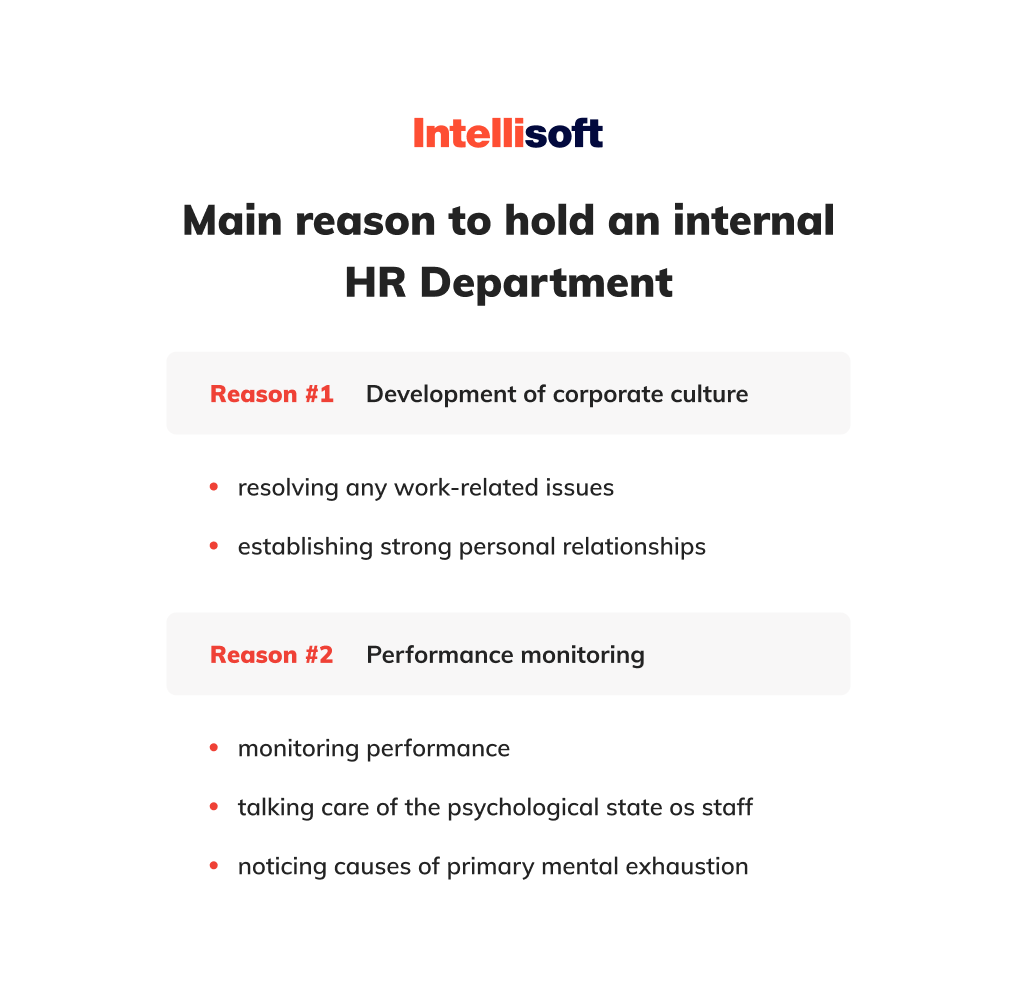 Reason #1: Development of Corporate Culture
In-house recruiters help to create a corporate culture by helping their colleagues resolve any work-related issues. That's why HR managers need to establish strong personal relationships.
Reason #2: Performance Monitoring
In-house specialists help managers to control the performance of employees, track their psychological state and identify the causes of primary mental exhaustion. Therefore, companies get the chance to focus on achieving their business goals.
Some Things to Consider Before Hiring an Internal HR Expert
The primary thing to ensure is that the target recruitment team is well aware of the recent trends and practices in the industry and that they are well-connected as well. Before creating an internal HR department, you should also consider the following factors.
More Expenses
Maintaining internal HR specialists can cost a company more than outsourcing recruitment. This is due to the fact that professional HR managers often have high salaries. If you choose to deal with augmentation services, you may significantly cut your labor costs.
Potential Conflict of Interest
Close relationships with employees can be a disservice to the HR department. On the one hand, the above contributes to the formation of corporate culture; on the other hand, it prevents HR managers from remaining completely impartial, as a result of which they cannot distance themselves from their colleagues and soberly assess conflict situations that might emerge.

When Is It the Right Time to Create an Internal HR Department?
The need for internal HR specialists usually arises at a tipping point in the company's growth. This often happens when the number of staff exceeds 50 people. If the management loses control over their subordinates, the local team might get bogged down in internal conflicts. Good specialists resolve disputes among coworkers, contribute to the development of the company's culture and remind the management of how to reach their goals.
Conclusion
It's up to you to decide which in-house or staff augmentation model to choose to hire new talent. Remember, no solution that fits the needs of every business.
Are you looking for tech-savvy specialists but can't find the right candidates? Intellisoft offers you three collaboration options: Dedicated Teams, Staff Augmentation, and Outstaffing. Your perfect development team is already waiting for you. Already interested? Contact us!