The shortage of qualified personnel, including software engineers, is a global problem. McKinsey reports that 87% of organizations are experiencing a talent shortage. It has serious implications: a lack of professional help and support could cause a business to lose $8.4 trillion.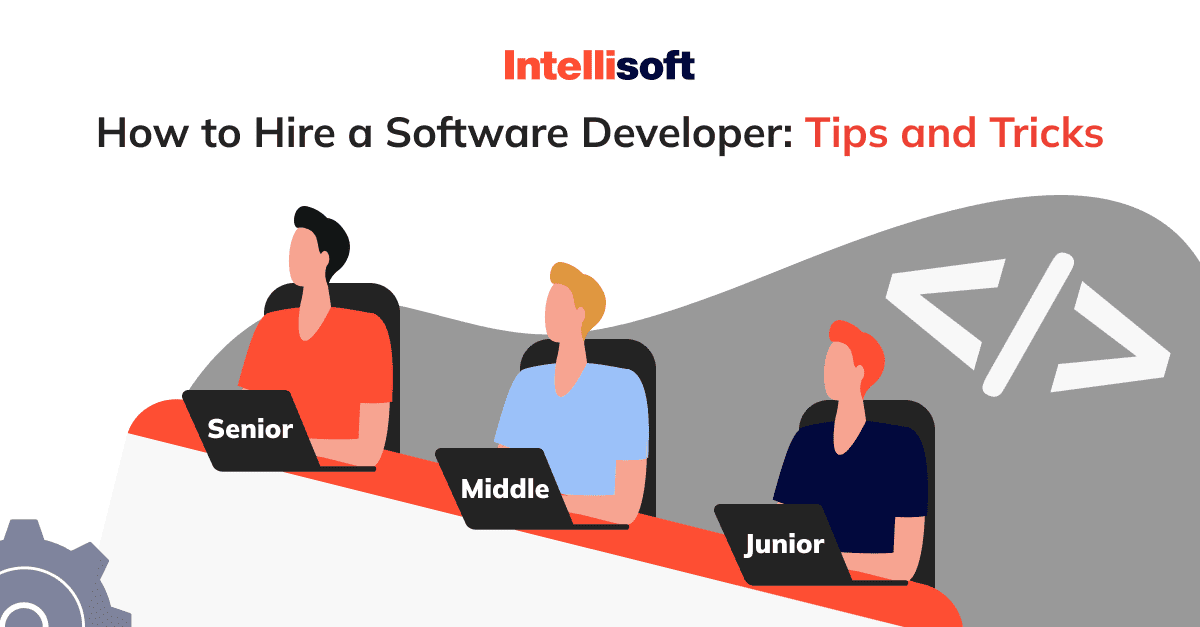 If you need new IT talents, don't hesitate and start looking for professionals right now. In this article, we will tell you how to choose a software engineer, what skills they should have, and what model is optimal for work.
Who Is a Competent Software Developer?
In the 1st quarter of 2021, IT vacancies accounted for about 13% of ads in Europe (this figure was 11% in 2020). During this time, employers placed roughly 90,000 ads in the hopes of finding technology employees. The leading jobs are those related to software development, programming, and web design. As you can see, businesses are in dire need for professional engineering because this is the only way to guarantee success in a highly competitive market.
A developer is a professional who can deal with a project from suggesting an idea to implementing it using any technical means. If we are talking about a mobile/desktop application, a corporate platform (CRM, ERP, or PIM), a game, or a database, such specialists are necessary. They are usually involved in coding and design, but their skills often go beyond programming and project management. These professionals also advise, identify bugs, and update existing code.
What skills should a competent specialist have? It depends on the specialty (back-end, front-end, full-stack) and qualifications (Junior, Middle, Senior, Lead).
Developers can solve the following tasks in your IT project:
Front-end. Implementation of the "external" part of the project, i.e., interface, with which the users will interact. The task is to make the product convenient, user-friendly, and visually attractive. Key requirements: knowledge of JavaScript, HTML5, CSS, JS frameworks, preprocessors.
Back-end. Working with the part of the project that is hidden from the users. The task is to create the foundation for the entire system: database, architecture, and program logic. Key requirements: knowledge of Python, C++, Java, understanding of database technologies (SQL).
Full-stack. Fulfilling all of the above responsibilities. Yes, it is a universal soldier who takes on a project at the very beginning, making it through to an end. The task is to develop, coordinate, and launch the project. Key requirements: related to both front-end and the back-end.
There are also narrow-profile specialists who provide services in particular areas: desktop, mobile, graphical, embedded, game dev, CRM, etc. Of course, you can hire other kinds of developers, for example, specializing in security or big data processing. According to SlashData, many strive to work with innovations: robotics, computer vision, mini-apps, AI, etc.
Anyway, if the task is to hire talented professionals, you first should look at the experience in their fields. Regulatory documents consider dividing developers into three qualification categories depending on their education and work experience.
Required skill level
Junior: students of senior courses or graduates with a real experience of 0.5-1.5 years. Their knowledge is incomplete in the subject area, but they can still solve standard problems. Beginners need some time to delve into the project specifics and master the toolkit. For example, a junior needs about an hour to solve a task that a senior will complete in 10 minutes. Hiring a junior, you should prepare for frequent checks and joint work on bugs. Saving time and resources is the reason why most companies choose senior developers.
Middle: an employee with 1-3 years of experience. Unlike the younger colleague, a middle specialist completes tasks independently, has sufficient knowledge of the subject area, and is familiar with essential technologies. Such a specialist performs lengthy, non-standard tasks that might take 1-2 weeks, understands business requirements, and makes architectural decisions based on them. However, they still lack some advanced skills and experience to carry out complicated projects and lead the team. Middle experts might disturb you from time to time, interrupting the core business activities.
Senior: a specialist with 4-7 years of relevant experience. This is a pro who is 100% knowledgeable of the subject area, conducts code reviews, makes global decisions, understands the consequences, and offers alternative technologies when necessary. In dedicated teams, seniors often hold managerial positions. Intellisoft offers only senior specialists to minimize your time and effort.
This classification helps to formalize the criteria for differentiating positions and ensure dynamic career growth. Experts note that the speed of career advancement depends on the ​​development area: the more specific it is, the slower the growth. For example, web development allows becoming a Senior pro faster than game dev. However, real experience is determined only by the variety of tasks performed in practice. These boundaries are subjective, as each company has different requirements.
So, by looking at a CV and interview results, employers evaluate hard (tech) and soft (socio-psychological) skills to get a first impression of the candidate. Without hard skills, a person cannot be called a specialist in their field. For a developer, it means knowledge of programming languages. Soft skills do not depend on the profession, but they affect the quality of work and are important for team players: discipline, sociability, decisiveness, empathy, etc.
Regardless of whom you want to hire, a lone freelancer or a dedicated development team, always check the direction, qualifications, and skills of the specialists. Also, discuss in advance the cooperation model. It will help assess the real possibilities and potential limitations.
Models of Cooperation with Developers: Which One Is More Profitable?
In-house Model
It is a traditional and simple model: you involve your internal team to start and develop a project. Do so if the company has established business processes and communications, and you are sure that the performers will independently solve all the tasks.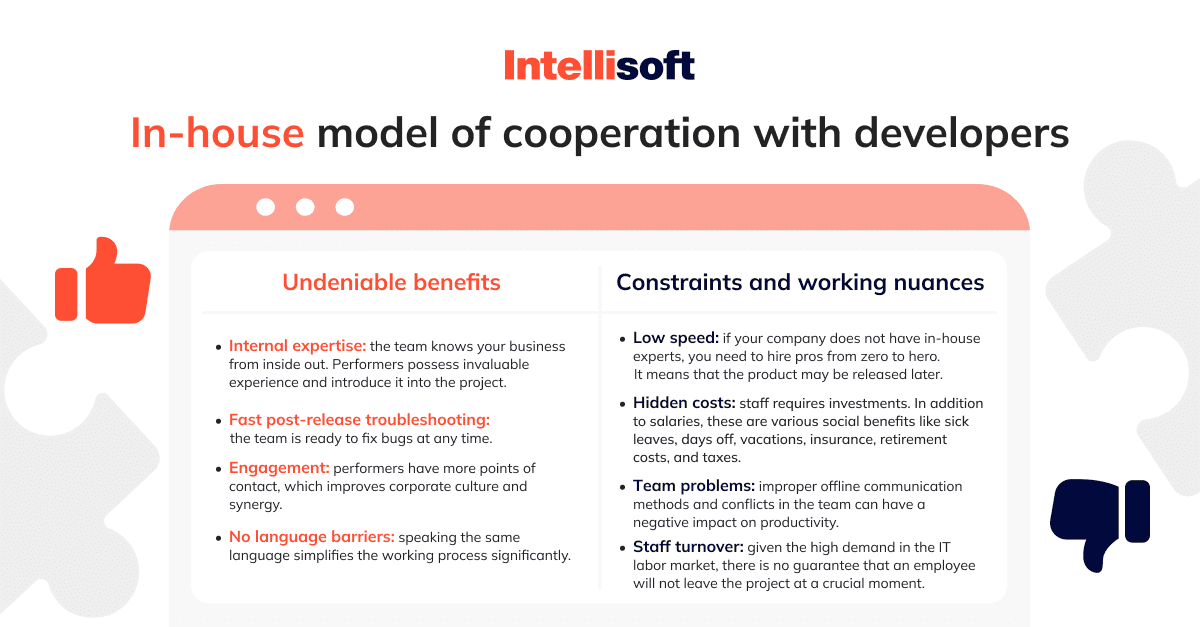 When to use the in-house model:
At the post-release stage;
When a long-term strategy is built;
When your budget is not tight;
If major day-to-day activities require continuous participation;
When you have well-developed IT infrastructure and resources accumulated over the years of work;
If a product needs to be constantly optimized and updated.
Dedicated Model
To create a quality product, you need regular face-to-face contact with various professionals and access to advanced tools. With this approach, the classic model may be ineffective, and then it makes sense to contact dedicated software developers. Basically, outsourced specialists are integrated with your team, and you have complete control over them.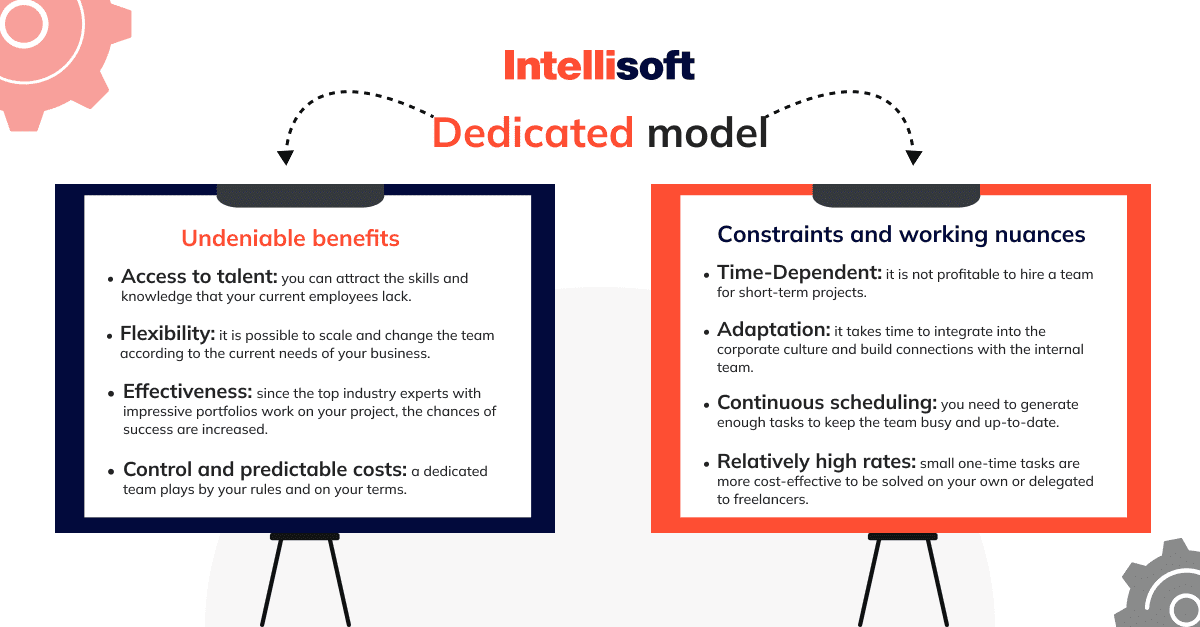 When to use the dedicated model:
If your project has imprecise requirements and specifications or incomplete data;
At the initial stage, when it is difficult to estimate the final cost of the product;
If long-term strategy and continuous flow of tasks cannot be determined in advance;
When there is a need for complete control of processes and the ability to influence "the game rules"
If an innovative project uses new and non-standard technologies.
Augmentation Model
Can't decide on a model? Choose a hybrid approach that combines elements of in-house and outsourcing. It's about Staff Augmentation. This model implies the involvement of third-party specialists for the short- or long-term cooperation, during the high season or to replace an employee.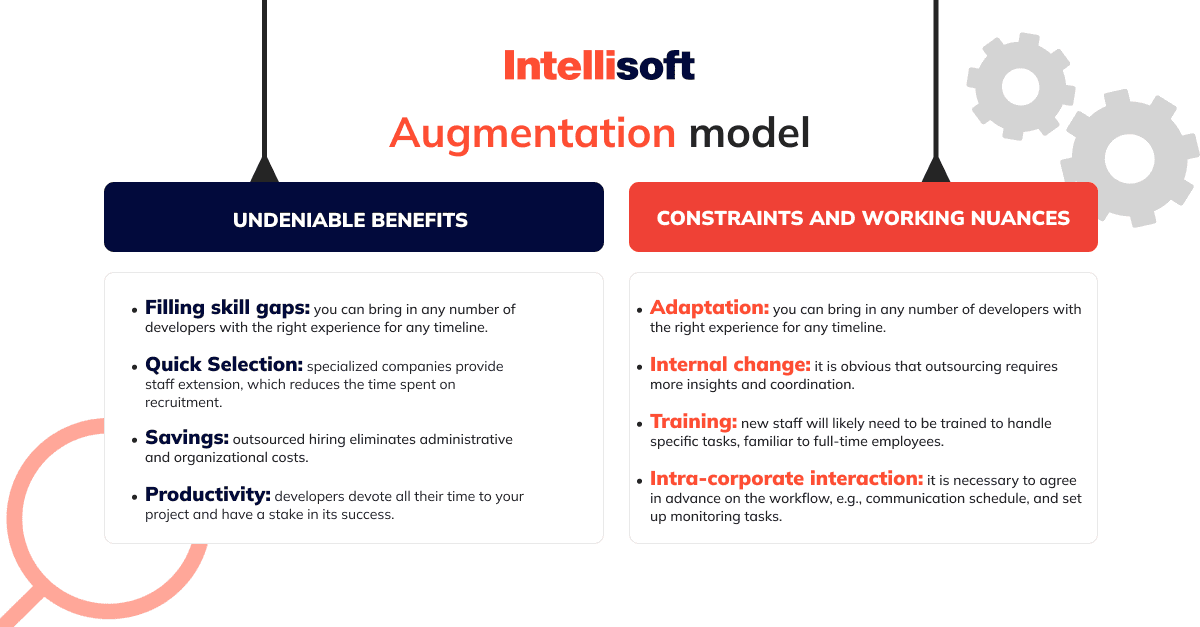 When to use the augmentation model:
If your project develops in several directions, which is difficult to achieve on your own;
There is a lack of developers with the necessary competencies in the local labor market;
At high season and peak periods when there are not enough resources to meet your demands;
At the vacation period when it is necessary to replace employees, still maintaining productivity;
When you have a large-scale project that requires narrow-profile specialists who are expensive to keep in a team all the time.
In some situations, it is better to contact a freelance software developer (for example, when you need to complete a tiny task shortly). In general, model selection plays a vital role in hiring strategy for both freelance and dedicated developers. Let's take a look at the key steps of this procedure.
How to Hire Software Developers: 5 Key Steps
Analyze your needs. Decide whom you are looking for, what responsibilities must be delegated now and in the future, and what roles new team players will have. Understanding the goals is the foundation for choosing the right profile and qualifications.
Select the methods for finding candidates. For in-house, select talented developers using job sites and social networks. For augmentation, third-party HRs perform the search. A dedicated approach simplifies the process: you get a ready-made team, and the only thing is to decide on a partner. Intellisoft provides you with the third solution to maximize your project's results without having to hire staff on your own.
Conduct an interview. Regardless of the approach, state all the terms in advance; formulate the level of experience and proficiency, repare test tasks, come up with the list of responsibilities, etc.
Estimate the costs. Ideally, personnel costs (salary, vacation pay, sick leave, retirement costs, taxes) should be paid off with a profit from the project.
Say "yes." Give preference to candidates with hard skills that are 100% consistent with your requirements. They also must have personal qualities like being ready for your tasks and conditions, providing an adequate response to criticism, and taking responsibility for works performed (feedback from previous employers/clients will help).
A Few Words About Costs: How Much Does It Cost to Hire a Developer?
Indeed reports that the average developer salary in the US is $85,000 per year, $6,000 per month, and $74,5 per hour. According to data based on the industry report for 2020, the salary may reach $110 thousand per year. This figure depends on experience and seniority.
How much does it cost to find a candidate? Consider an HR manager's salary of $30 per hour. For instance, if HR spends about 40 hours on recruiting, the costs will reach $1,200. If you plan to engage a third-party recruiter, the cost will be about 25% of a new employee's salary for the first year.
Engaging developers from abroad can be much more profitable than hiring local ones. So, the most affordable prices are offered by outsourcing agencies from Eastern Europe. For example, in Ukraine, they start from $19 per hour (on average, $29 per hour).
About 90% of companies have already experienced difficulties hiring specialists and believe that this trend will continue in the coming years. It is more profitable to assemble a team of professionals than wasting time on hiring and training personnel from scratch. We recommend that you responsibly (and in advance) approach the selection of personnel: research the market, formulate precise requirements and objectives, as well as calculate costs. We also recommend testing new search methods. Today, in the digital transformation age, you can quickly hire a software developer by choosing remote collaboration models.
Want to appreciate the benefits of working with a dedicated or augmented team of professionals? Contact Intellisoft, and we will find the right solution for your business!